It is safe to say I just finished my favorite room in the house. The best part is it was REALLY simple. Our blue Grand Millennial playroom reveal this month is a result of a need to pivot on a room. It is pretty, perfectly moody, and simple perfection.
This post may contain affiliate links.  The sofa in the room was graciously gifted to me as a part of the room makeover.  Thank you for supporting the brands and companies that support my blog.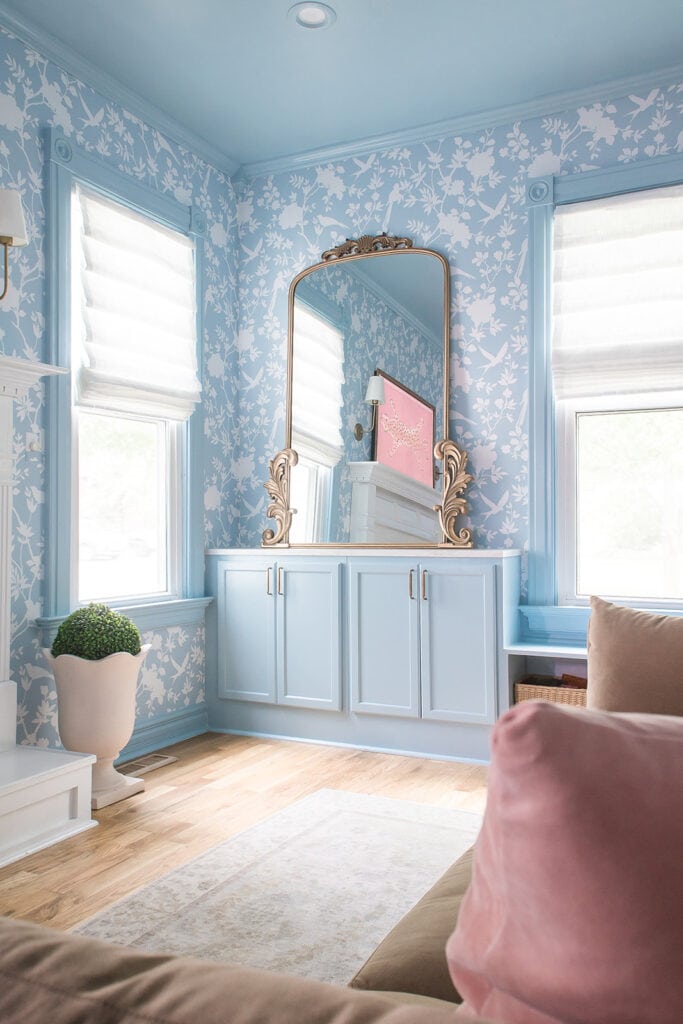 Grand Millennial Playroom Reveal
I am a mama to 4 kids with ages 10, 8, 6, and 3.  Over the years I have had so many different playrooms and set ups. As my kids have grown our needs have changed. My youngest baby just started preschool which means there are less kids playing in our house on a daily basis.  
Truthfully, Goldie is the only one who really plays with toys. So although, it is a play room we are in the in- between- stages of a playroom and a 'hang out' room.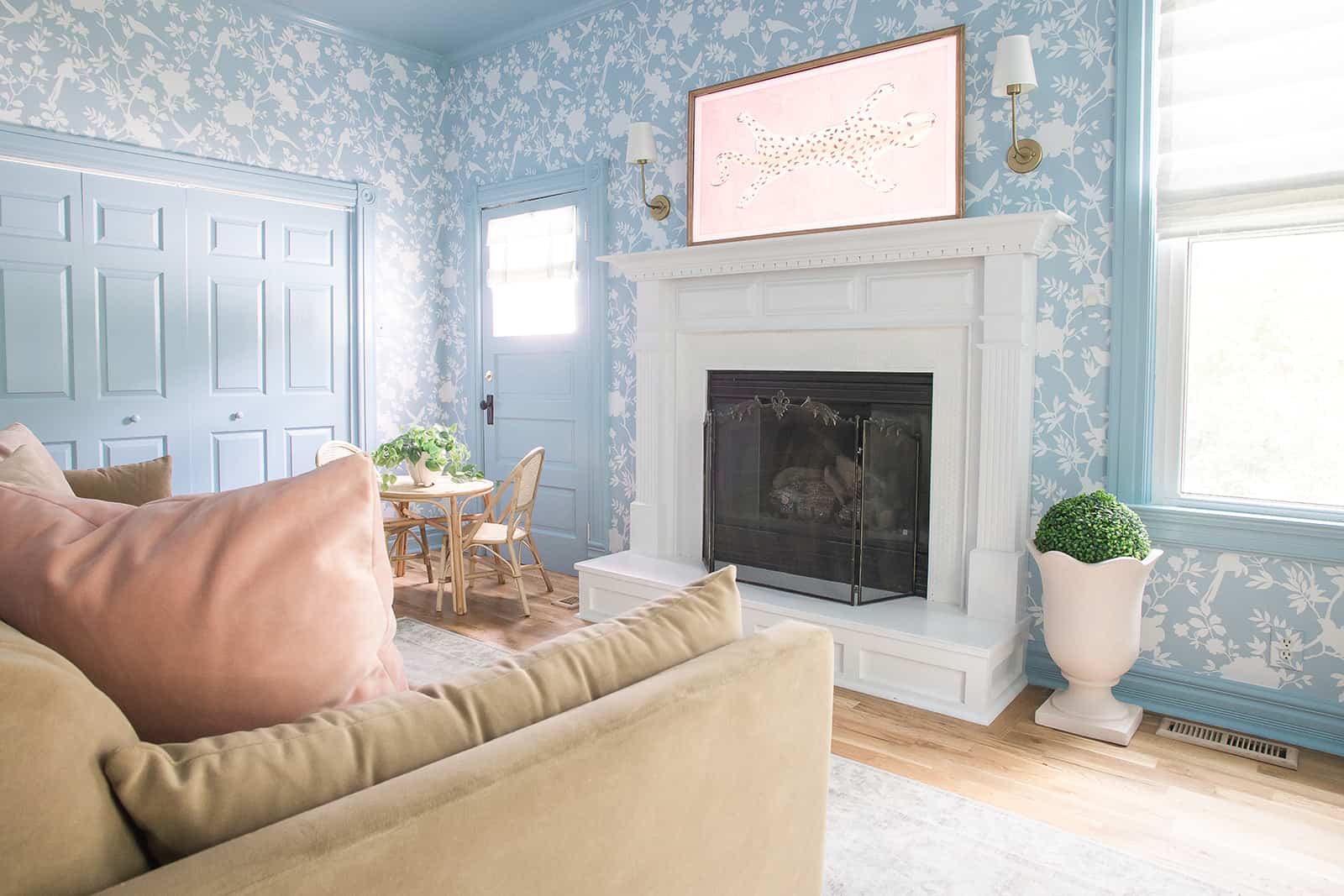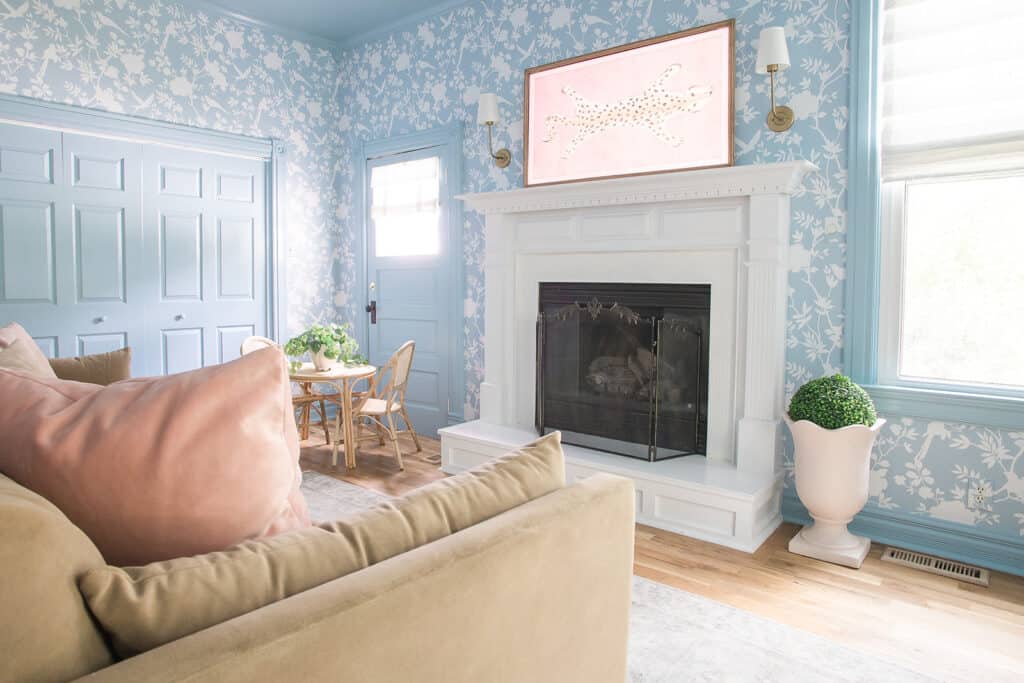 Since it is a playroom I kept the home decor and furniture simple.  I always aim for as much floor space as possible in a playroom. Someday I'll probably have some horrible recliner for the kids, but for now I am keeping things simple. To tie my interior design vision together is a gorgeous sofa from Jonathan Louis.
Turning Things Blue
This room came together due to a need to pivot on wallpaper and design. The previous wallpaper we had hung didn't work with our fireplace heat. So we took down the old wallpaper to start fresh.
I am a pink girl through and through. Picking blue wallpaper is not my normal.  Adding blue paint with it is definitely NOT my normal.  However, I am so glad I took a risk with this blue color palette because it is so pretty.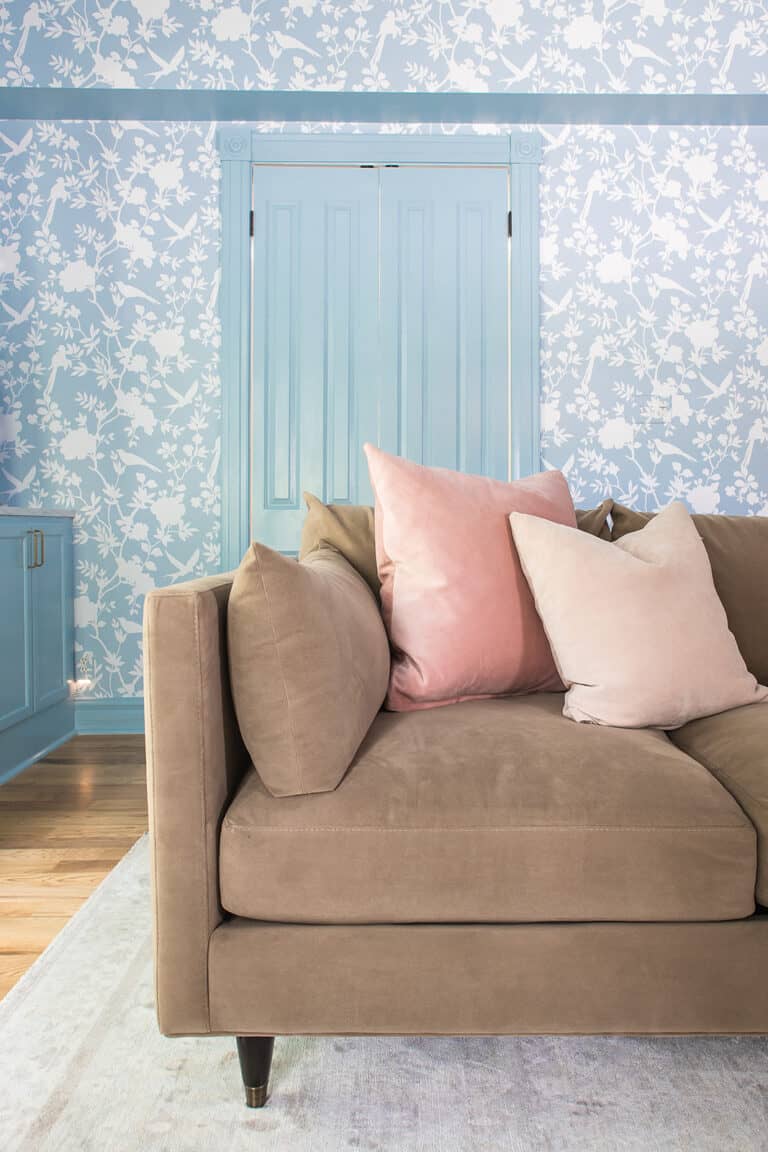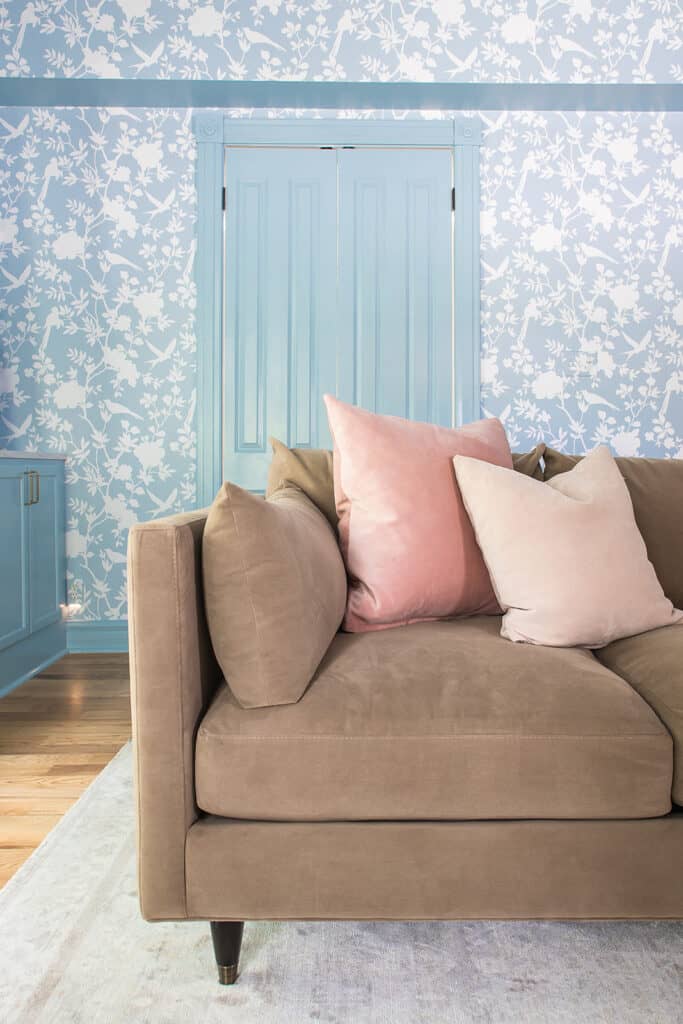 For the wallpaper we went with this one from Amazon.  It's very affordable in the world of wallpaper and the paper roll is peel and stick. In other words, it is really easy to manage on your own.  The pattern is also really forgiving. So if you are looking for a place to start with wallpaper this would be a great spot. 
I decided to paint the built ins (DIY tutorial here) blue. Once I started all bets were off.  The blue was so pretty that I decided to paint the trim and moldings all blue.  Once that was done, we added blue to the ceiling too.
I have never gone this over the top with paint, bright colors, and wallpaper before. I am so glad I did it because it is such a good design decision and really tied together my grandmillennial style with the rest of our home.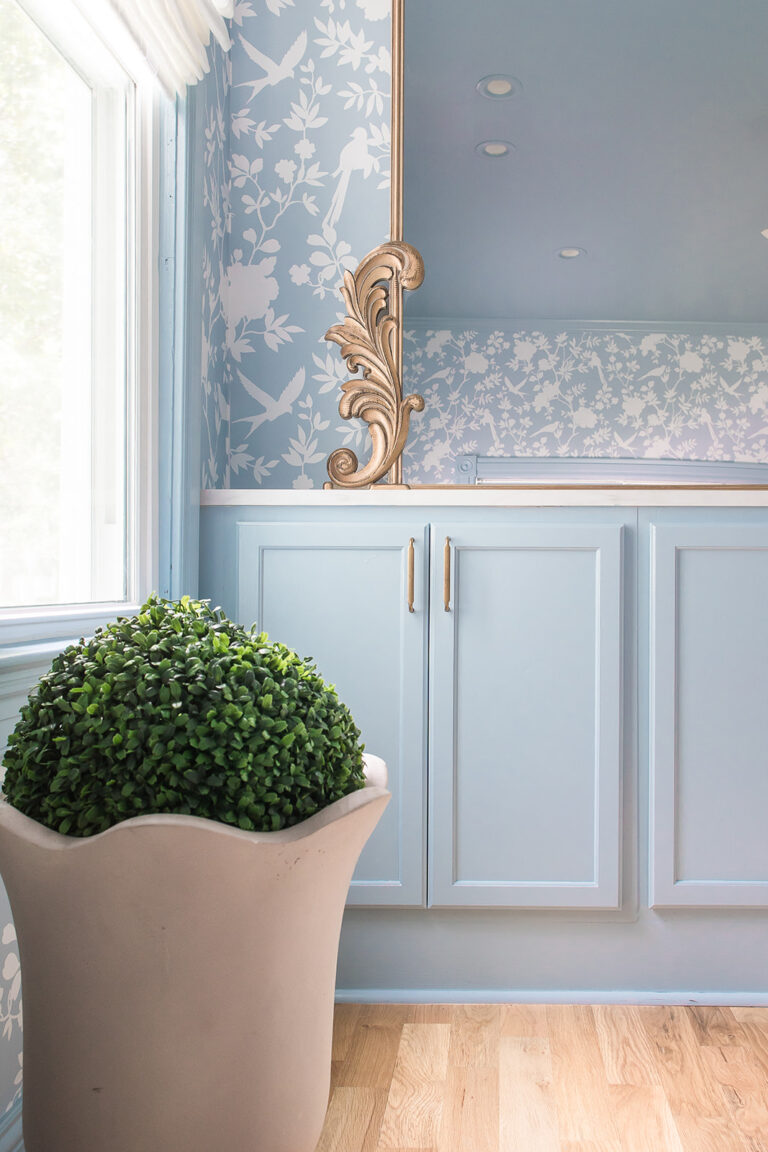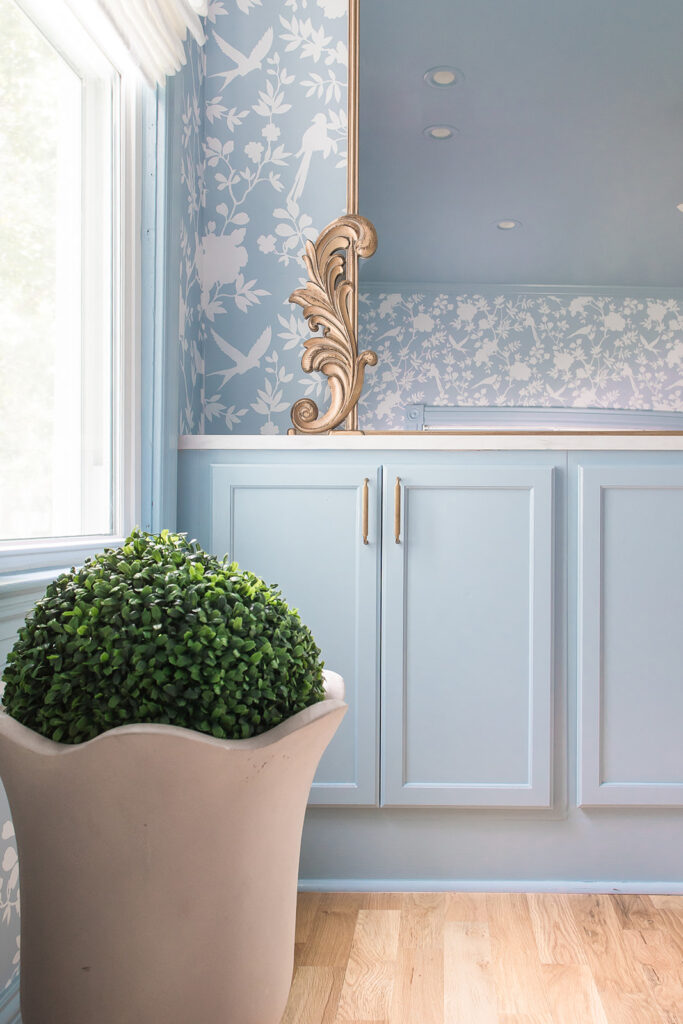 I went with Behr Spring Storm for the paint color. All of the finishes are in a high gloss for a more elevated, grand millennial look. 
Jonathan Louis Sofa
I had three major requirements for our sofa: comfort, easy to clean, and pretty.  
Playroom couches are tricky. While I want the space to be comfortable and aesthetically pleasing, I also need something that can stand up to kids being kids since it is their space. 
It was a pretty quick decision for me when it came to the sofa. We had owned the Pia Sofa in Bella coffee in a love seat version before.  Sam and I have stated for years that is the most comfortable sofa on the planet. I still stand behind that statement.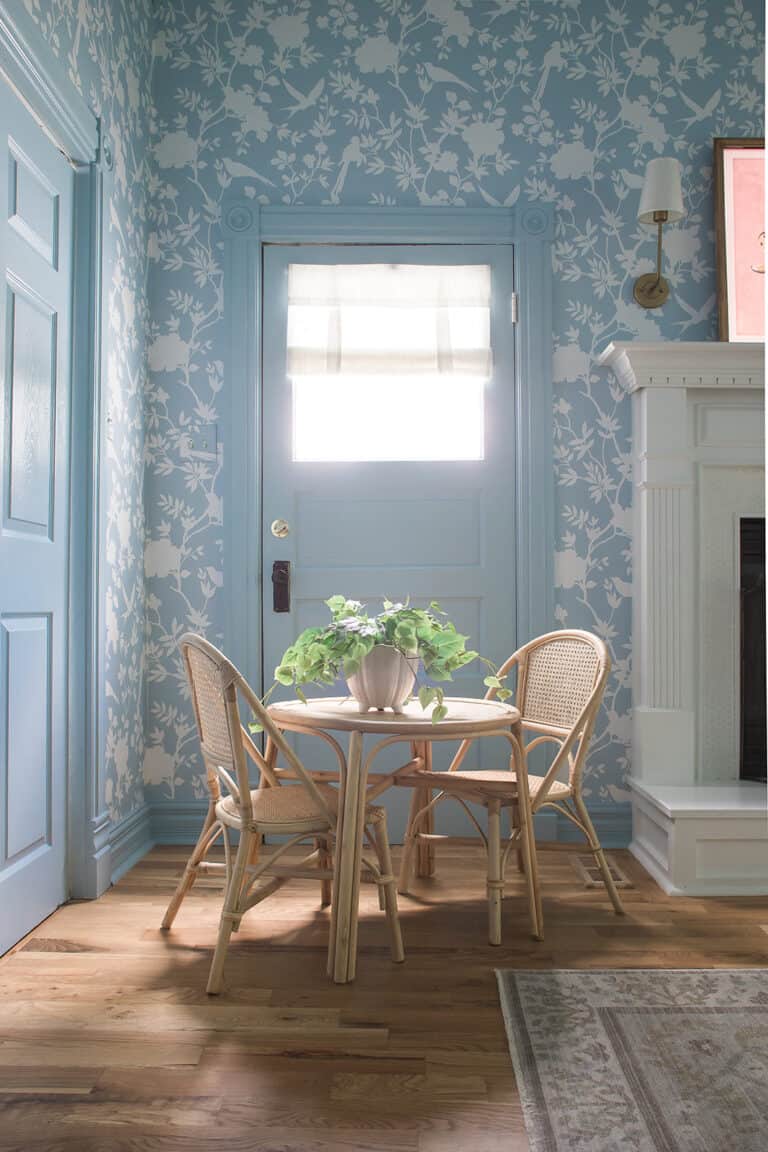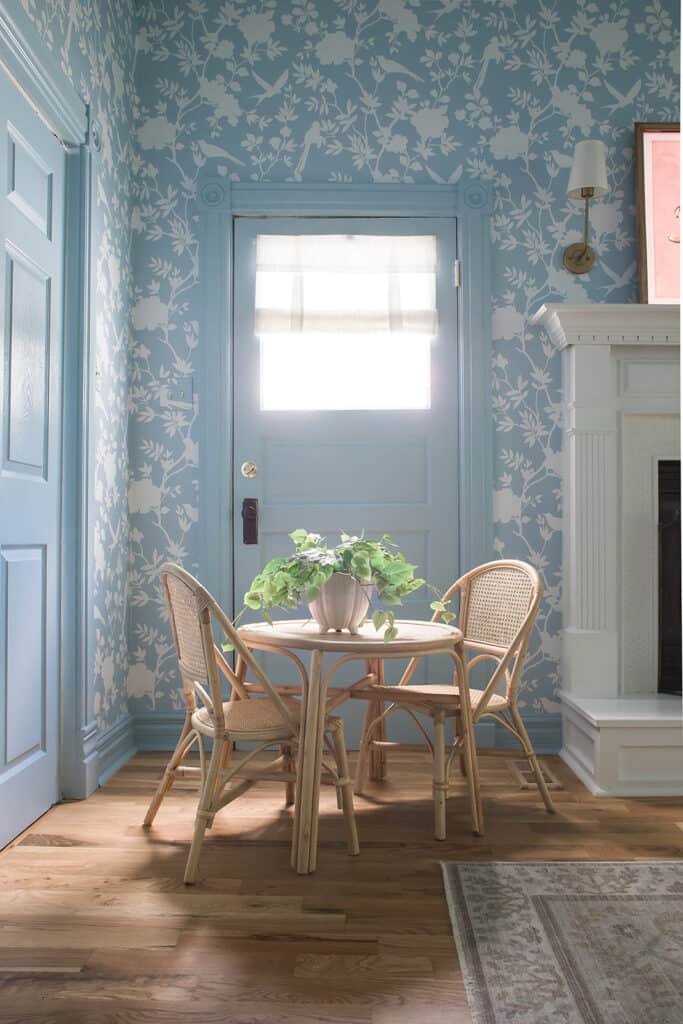 This time we went with the full sofa. Let me tell you that being able to fully lay on it is just heaven!  The Bella coffee fabric is a performance fabric. It truly is the easiest color and material to keep clean, but it still has this elevated velvet look. 
The throw pillows on the couch are also Jonathan Louis in both royal blush and gypsy blush.  I loved the play on pink. I have the same two colors for pillows in another room. So, I knew it would tie the spaces together nicely.  
With Jonathan Louis I can find both the right couch, as well as the right fabric for the space.  It creates a totally custom feel to your bonus room.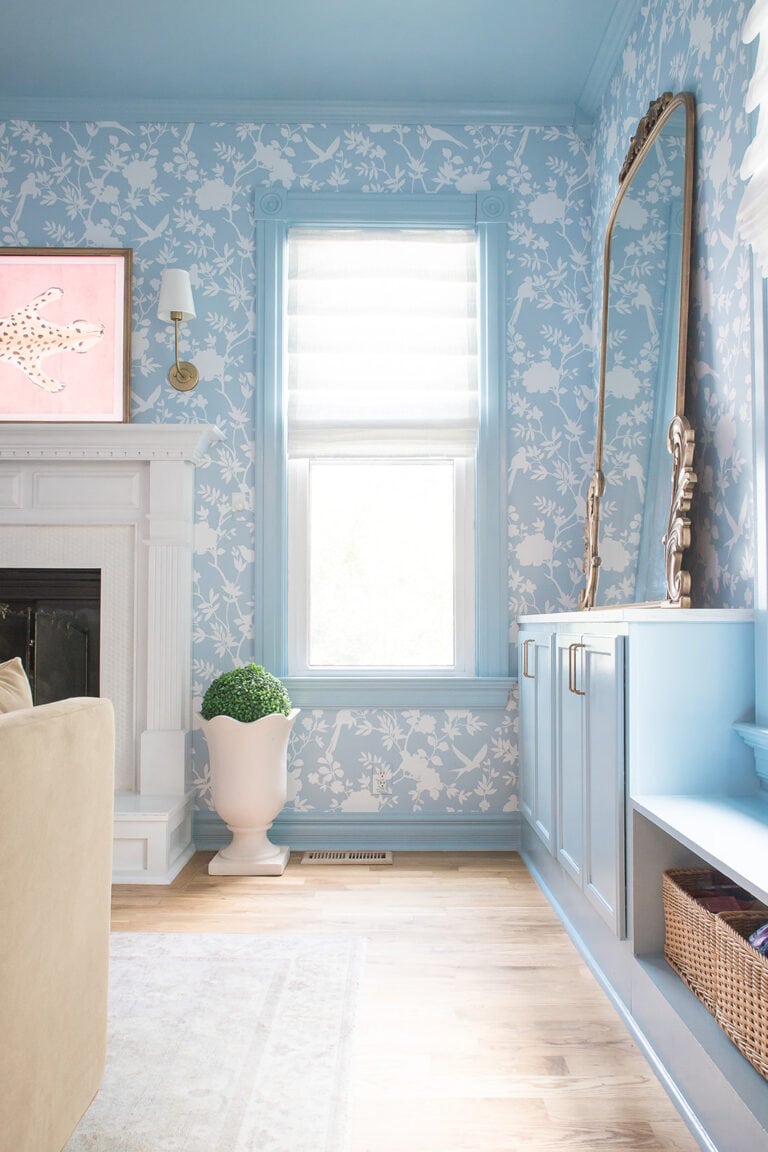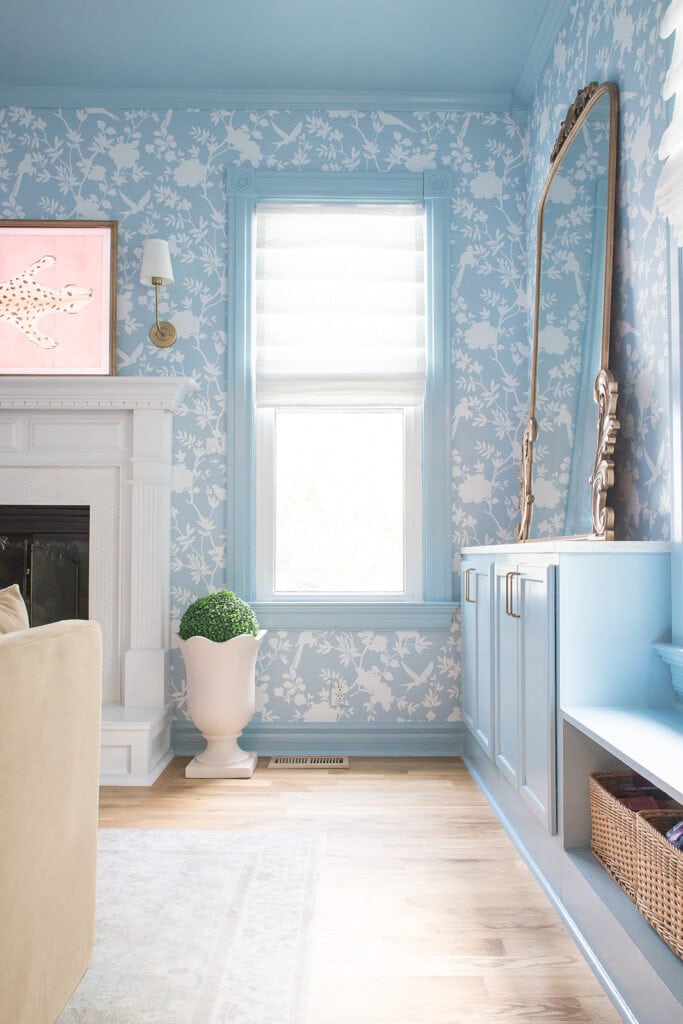 The Finishing Details
I kept decor simple because this is a playroom. The last thing I need are extra items that will eventually be broken with a ball or flying Barbie. 
We did two identical leaner mirrors over the built ins. The mirrors are much more affordable than you might think. If you have been looking consider checking them out, or you can see some other options here. I love how they add a mix of vintage as wall hangings.
The wallpaper helps make the space feel grand and open while also adding elegance. The wallpaper takes up all the wall space with texture and dimension. As a result, you don't need to go overboard with wall decor.
I added this Rifle Paper Co rug on the floor.  It has been in the room for over a year. It has held up great which is noteworthy with my kids. So my rug source gets my seal of approval.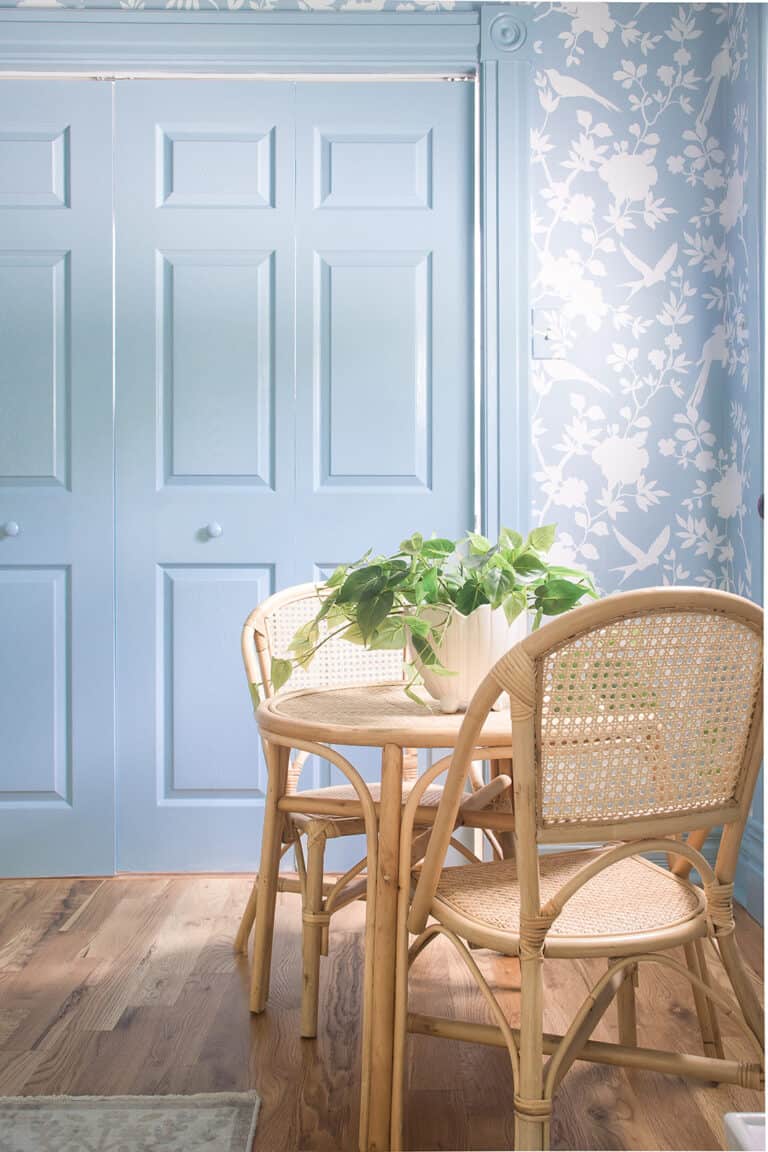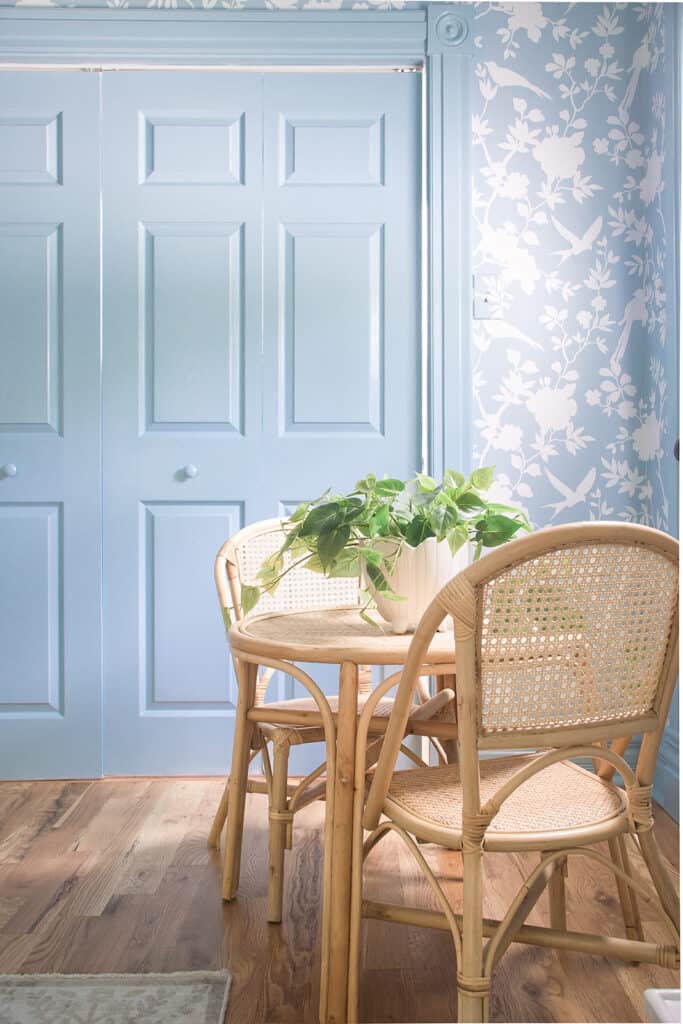 The table and chairs are from Home Goods. Here is a similar set that we have also owned. I love the simple rattan look that adds natural texture to the home design.  
We went with a Frame TV over the fireplace which I LOVE.  We have 3 of them in our house.  We also added a simple light pink planter (from Home Goods) and a faux boxwood for the added bit of natural. 
For window treatments I went with Select Blinds roman shades in cloud white.  This was my first time ordering from them. We have been really impressed.  I wanted something affordable but high enough quality to keep a decent amount of light out because this doubles as our guest room.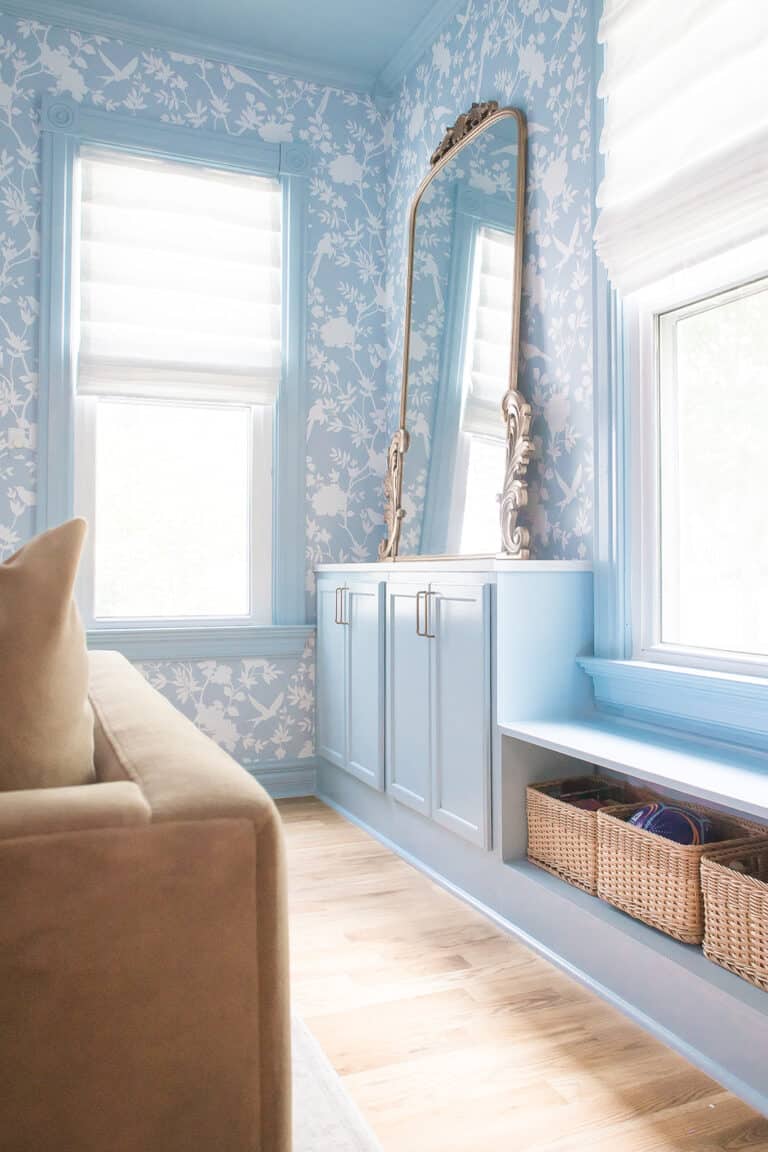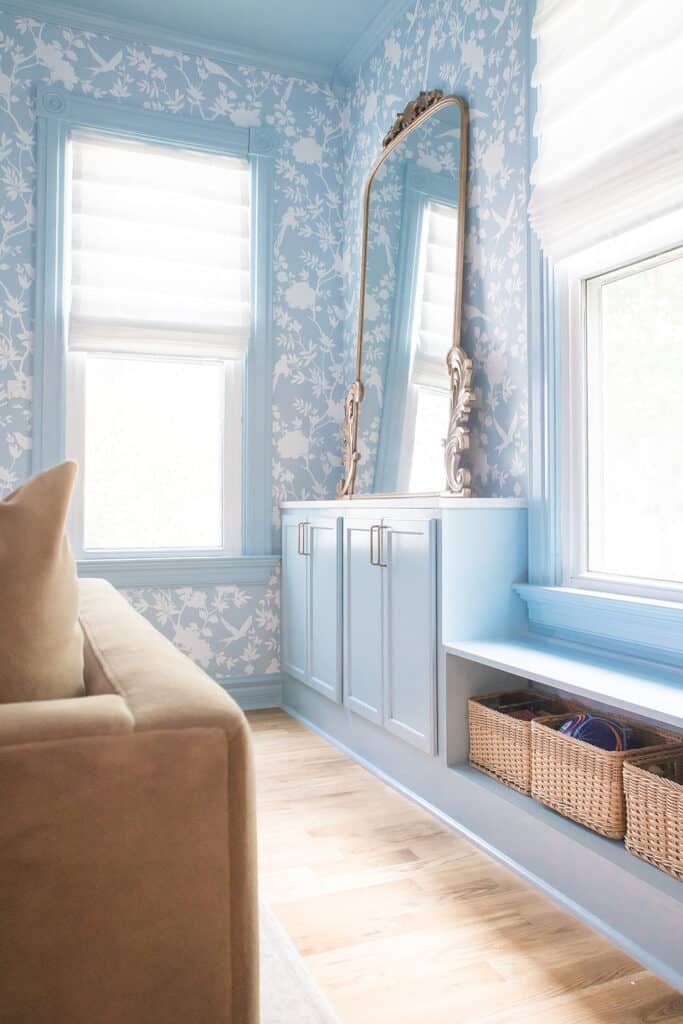 Whether you are designing a grand playroom, living room or another space in your house, I hope this gave you inspiration.
Other Posts You'll Love
DIY Arched Built In | DIY Built In Cabinets From Stock Cabinets | Bright And Airy Hearth Room
Follow Social For The Latest & Greatest
Pin The Photo Below For Later