You don't need to spend a fortune on Halloween decorations. I've rounded up my favorite 15 easy and scary DIY Halloween decorations that are not only a fun way to celebrate Halloween, but are also within anyone's budget.
If you love getting crafty, these easy Halloween decorations are a great way to have fun with your kids and get in the Halloween spirit. Head to your Dollar Tree, Hobby Lobby, or Dollar Store and pick out some crafts supplies to make your very own homemade Halloween decorations.
This post may contain affiliate links.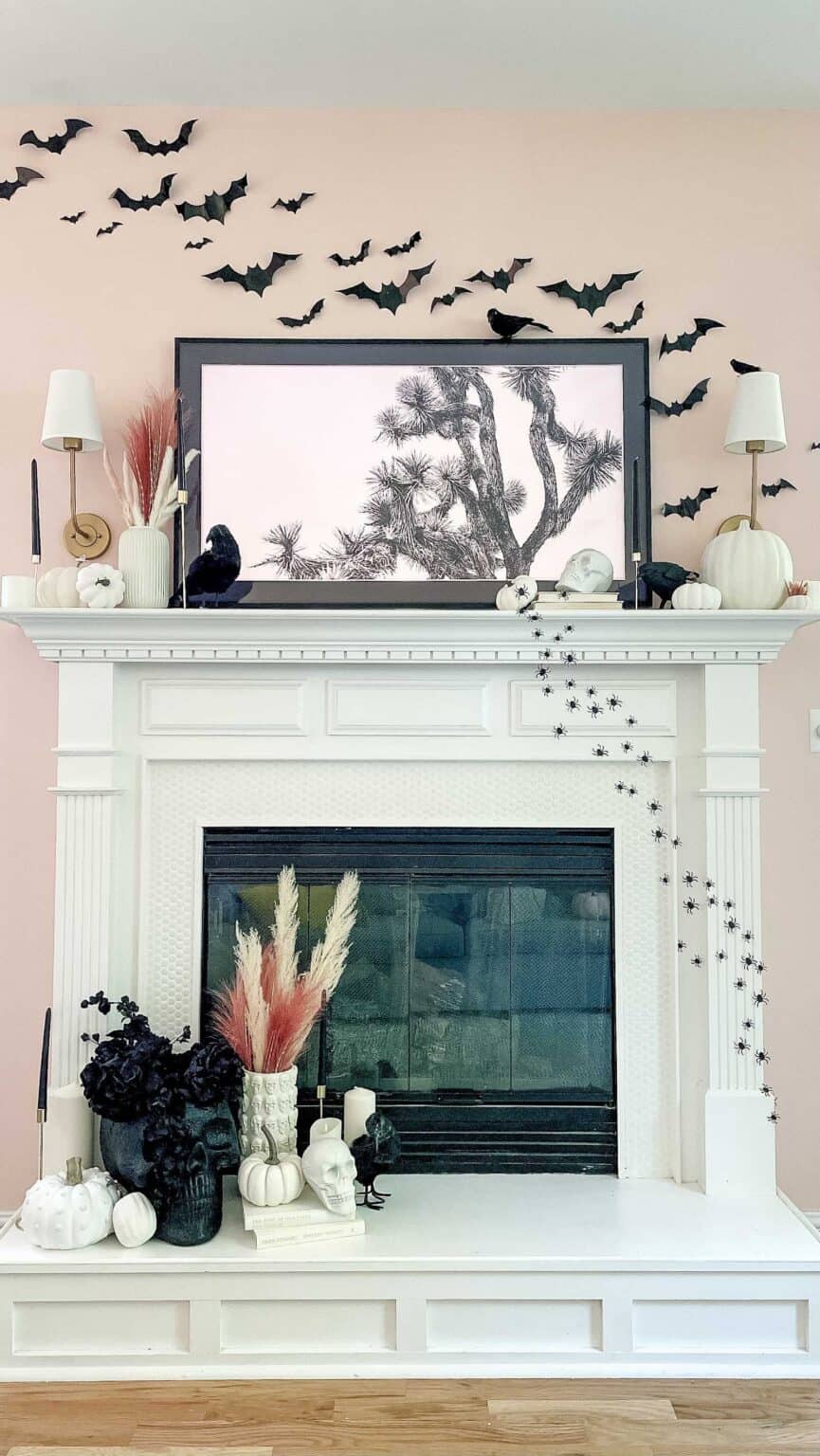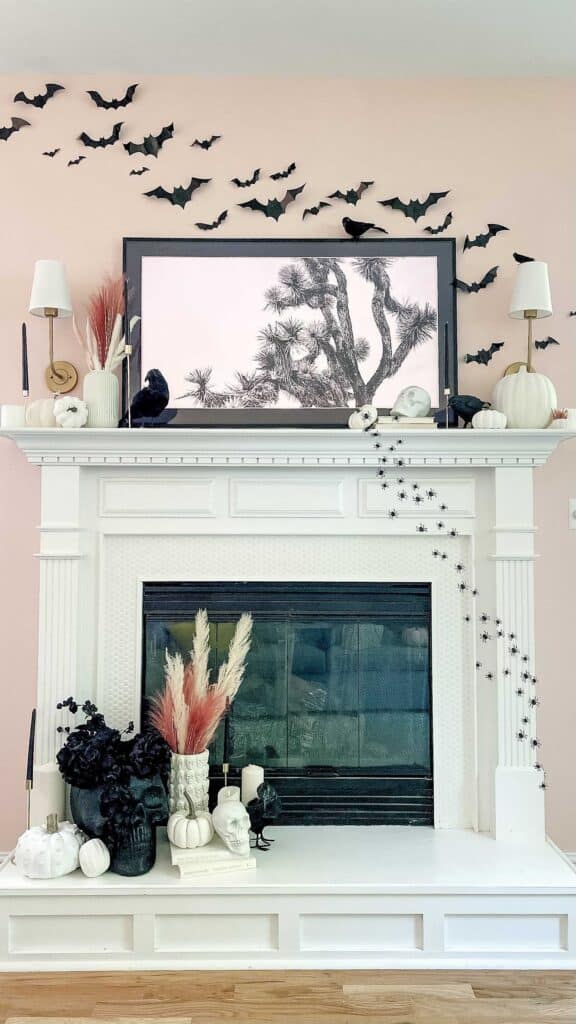 15 Scary & Easy DIY Halloween Decorations
My friends and family know that I love crafting and I'm a big Halloween fan. So it should come as no surprise that I love creating easy Halloween crafts!
It can get extremely expensive between outdoor Halloween decorations, a Halloween costume, candy, and Halloween decorating indoors too. It's easy to see how you could spend lots of money for one holiday. Here's the thing: you don't have to!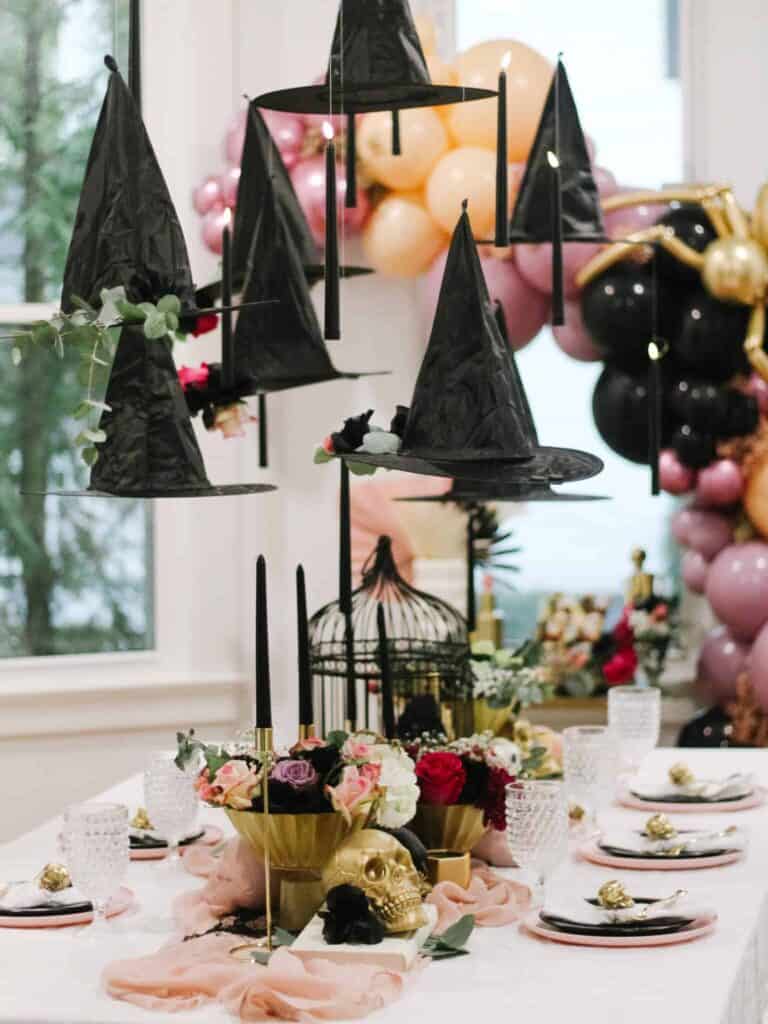 I love walking through Target, Hobby Lobby, and other local stores to find Halloween inspirations. You don't need to spend an arm and a leg on scary Halloween decorations. With a few supplies, you can easily make your own.
I've taken inspiration from the best Halloween decorations in stores and have rounded up my favorite DIY decorations. So if you are in need of a spooky makeover, you'll be sure to find something for your next Halloween party. Here are the 15 best DIY Halloween decorations to bring your home to life!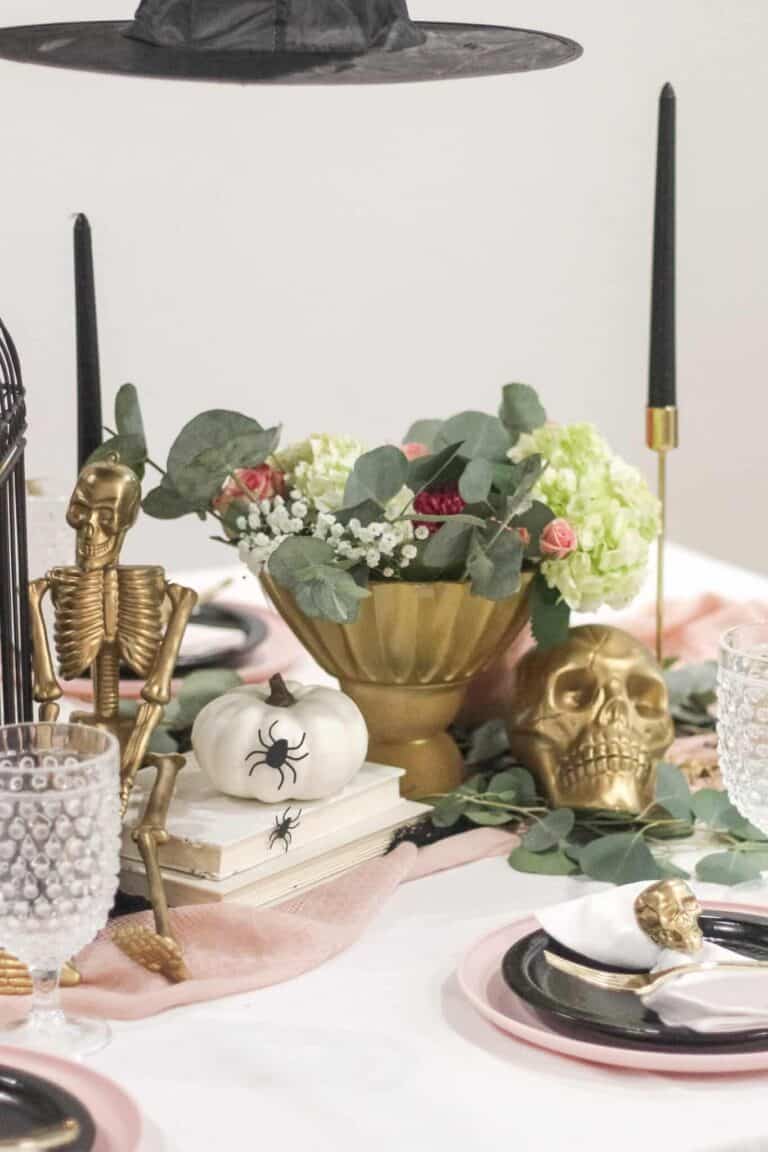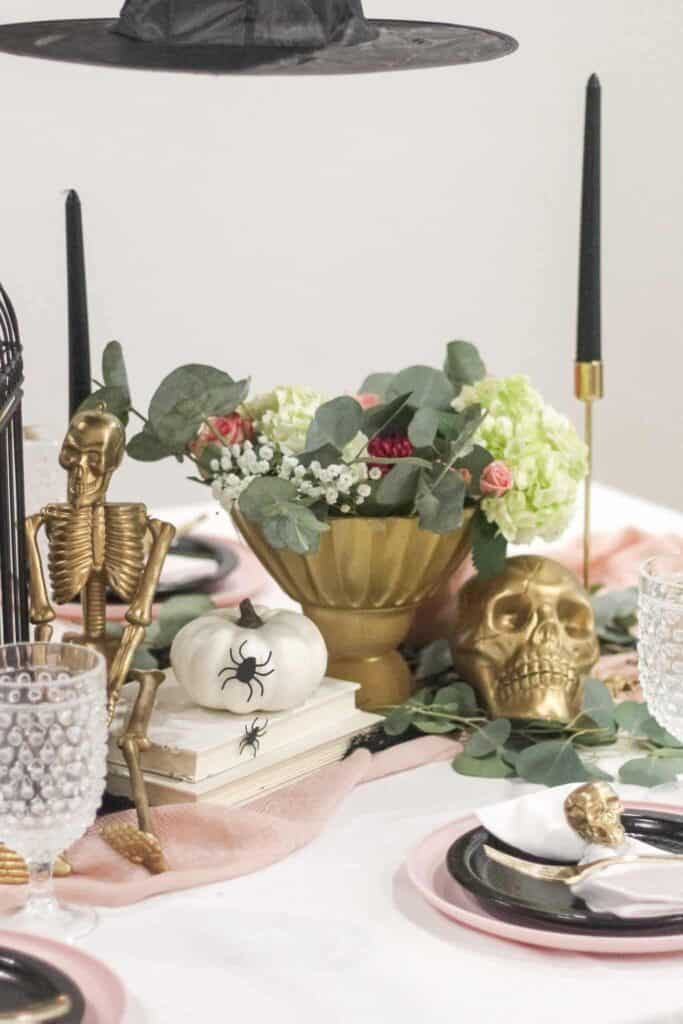 1. DIY Halloween Wreaths
I love creating a seasonal wreath for any occasion. Wreaths can be extremely expensive to buy from you local store. If you take the time to plan out a design and make it, you'll end up saving more in the long run.
Wreaths are an easy way to greet your guests and decorate your front door. Best of all, there are tons of choices and designs to choose from for Halloween door decorations.
For the past 2 years I've made different versions.
This year, I'm hoping to do something entirely different. If you want some inspiration for your own Halloween wreath, check out my post on Halloween Wreath DIY Ideas!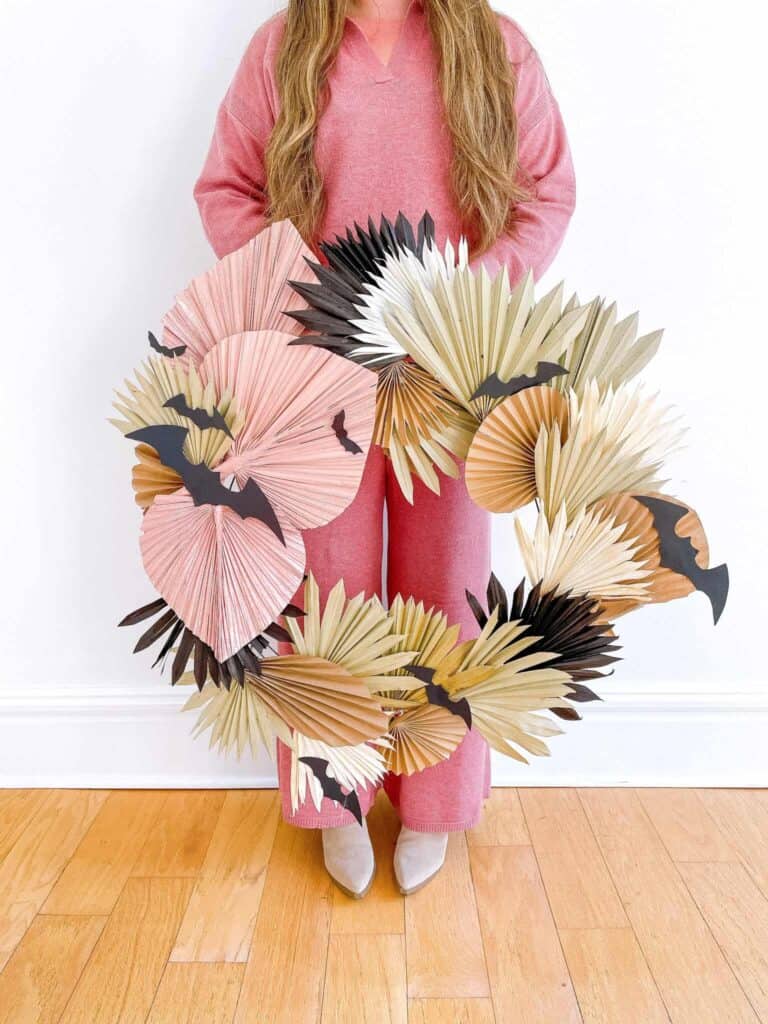 For my first wreath, I used wire wreath form, a hot glue gun, palm leaves, black construction paper, and paper bats to create an elegant, yet spooky wreath. I love the way it turned out and the best part is it was so easy!
Another wreath I created was used for decorating inside our home. It added a spooky touch to our living area and was a fun decoration to create. All you need is some tree branches or florals, a wire witch hat from The Dollar Tree, and some construction paper.
I love how it has girly elements for a fun pop of color. Check out my Dollar Tree witch hat wreath for the full tutorial!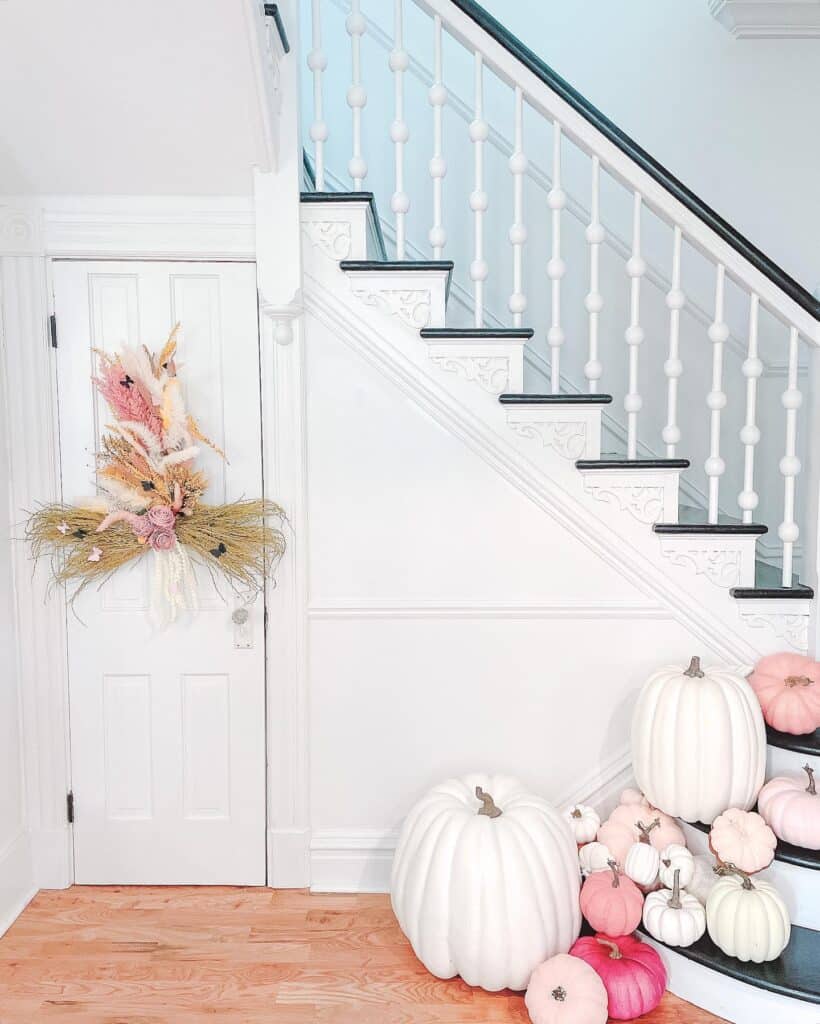 2. DIY Skull & Ghost Planters
​I originally found this idea online when I come across the cutest Halloween planters. The biggest problem is that those planters started at $220 for the smallest size. There was no way I was going to buy that but it gave me a great idea!
With a glass vase or mason jar, resin, a silicone mold, and acrylic paint, you can make almost any themed planter.
I started off small for my first planter and it was such an easy craft. Once I got the hang of it, I went a bit bigger with a large Terracotta skull planter to sit on my front porch. Find the step by step instructions on your own DIY Skull Planter.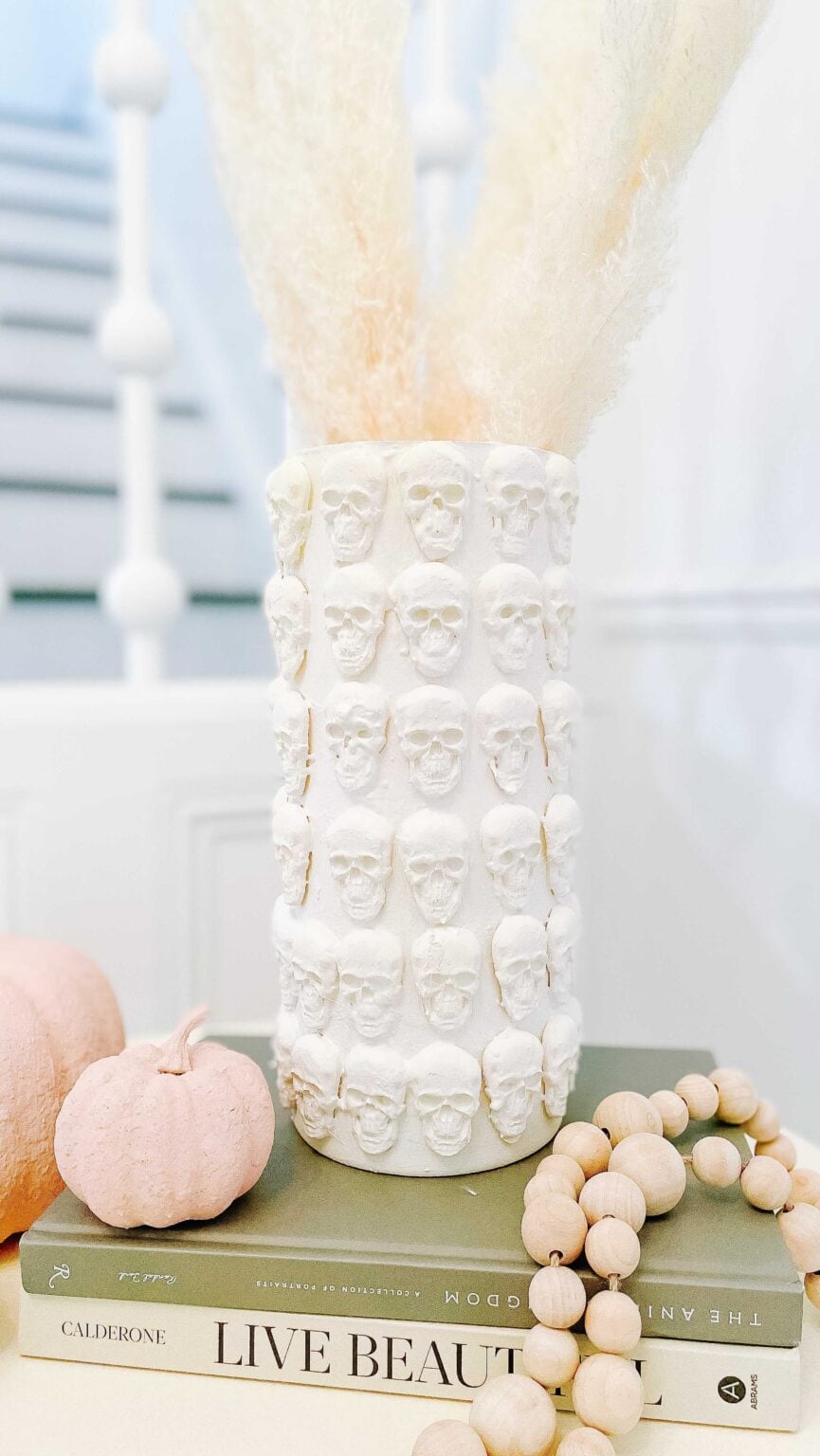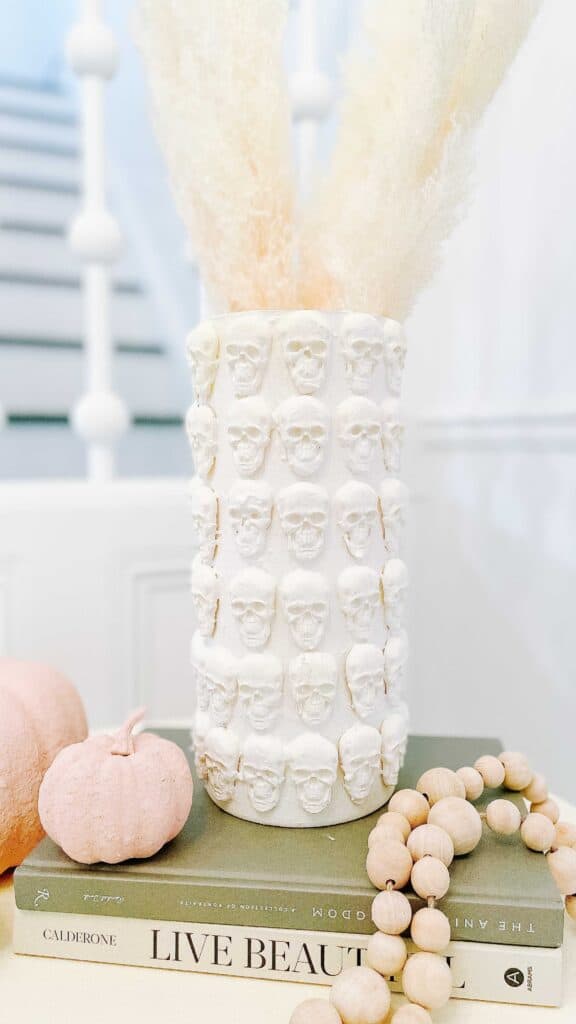 If skulls aren't your thing, make sure you check out my DIY Ghosts too! I love how these friendly ghosts turned out! They are a great option to set on your porch, outdoor patio, or indoors too.
This is another super easy idea that only requires a few supplies: planters, cement, white and black acrylic paint, a styrofoam ball, and hot glue. These ghosts are the perfect addition to your outdoor decorations.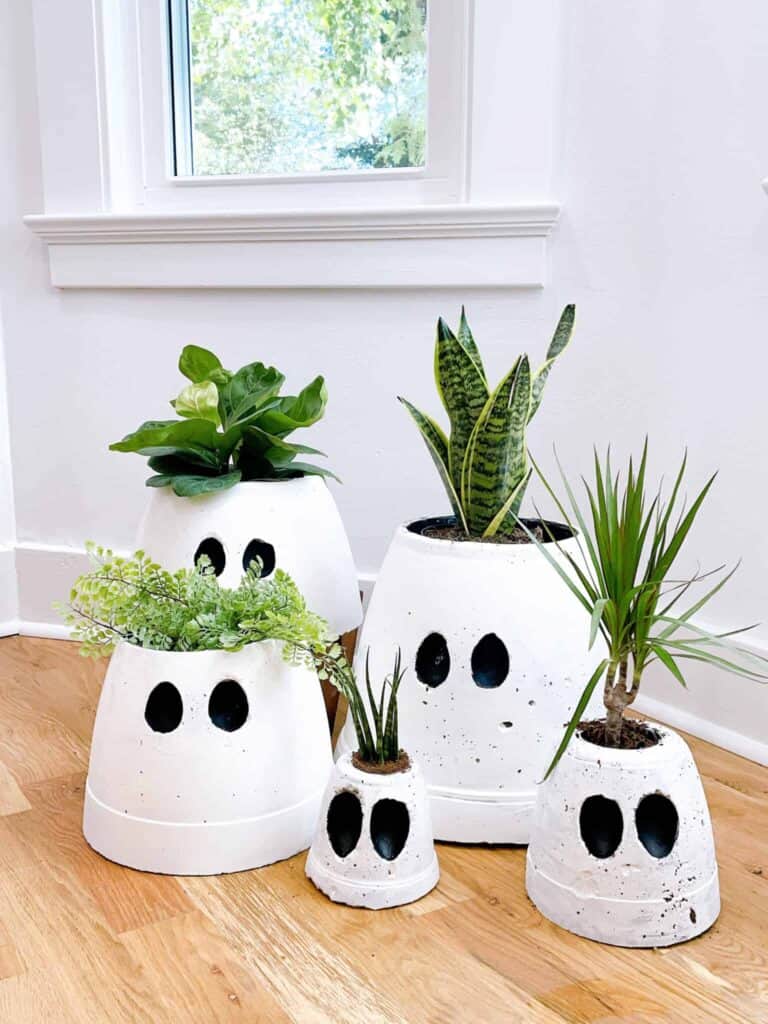 3. Hanging Witch Hats
​You don't have to stick to decorating just your built-ins. In fact, one of my favorite ways to decorate for Halloween is by hanging fun decor from the ceiling. My hanging witch hats add the perfect ambience for spooky decor with an elegant twist.
​A great place to hang your hats is in your kitchen or dining area. This is so much fun and adds that pop of extra for any party guests or visitors. If witch hats aren't your thing, you can easily apply this same DIY and swap out witch hats for candlesticks. Floating candlesticks will give you a great hall vibe via Harry Potter.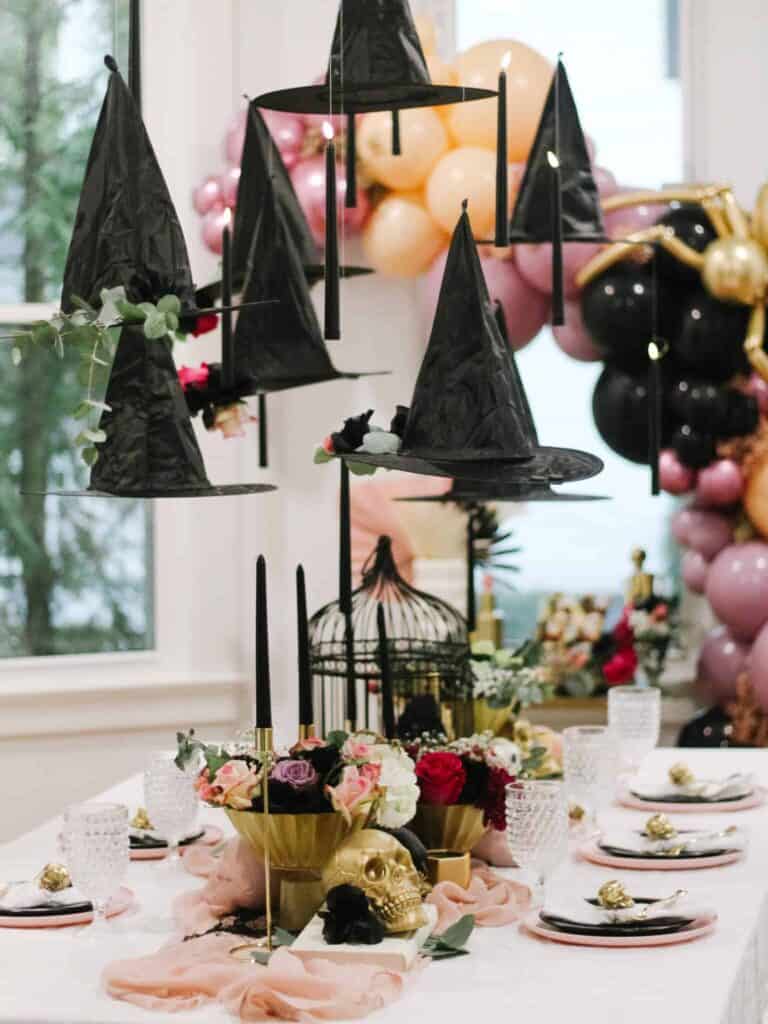 Grab your supplies: fishing wire, command strip ceiling hooks, witches hats, and/or candles, and florals. You can glue florals or embellishments to your witch hats before hanging them or leave them as is. From there, you'll tie your fishing wire to your hats and candles, and hang them using your command hooks.
You can hang them at different levels to give off different heights. The full tutorial is available in my Halloween Party post!
These are such easy decorations that give you that wow factor!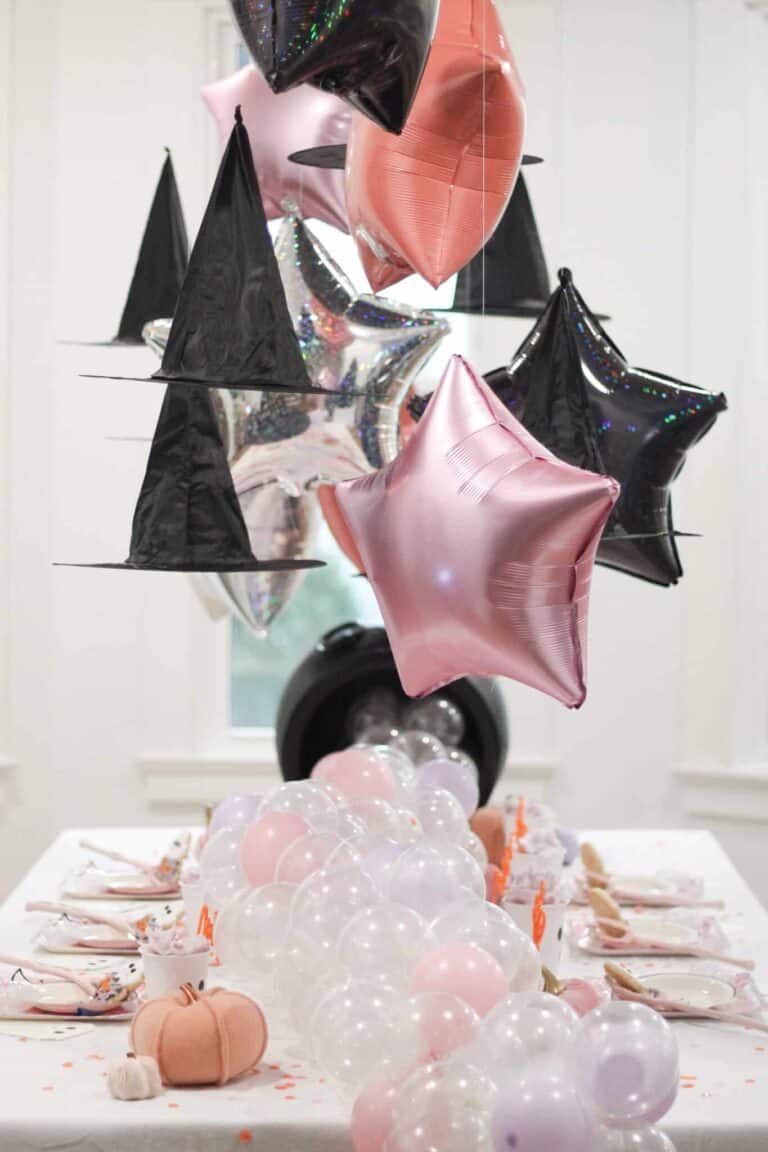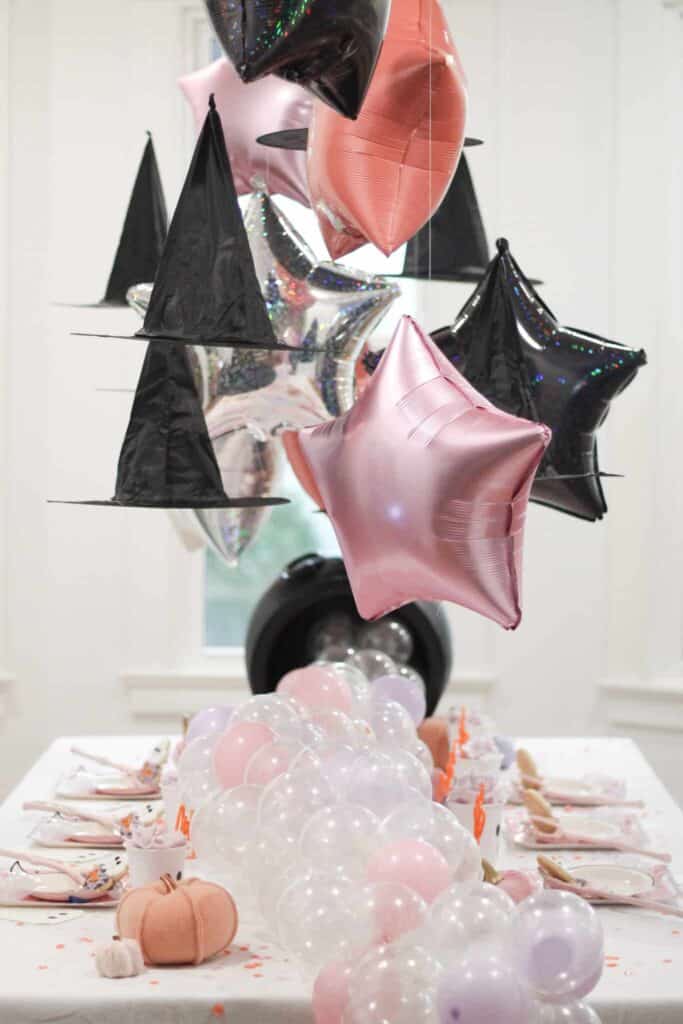 4. Balloon Garland
Of course an easy and fun way to make a big impact is by putting together your own Halloween balloon garland. My friends over at Party Hop Shop always have the best balloon garland kits!
With several different sizes and colors, you can make a balloon arch that takes up an impressive amount of space. From there, you can fill it with plastic spiders or balloon giant spiders, googly eyes, or spider webs. Any filling you can find at a Dollar Tree works well to stick between the balloons to add to your decor.
If you plan on having a Halloween party you won't want to miss out on the balloon garland.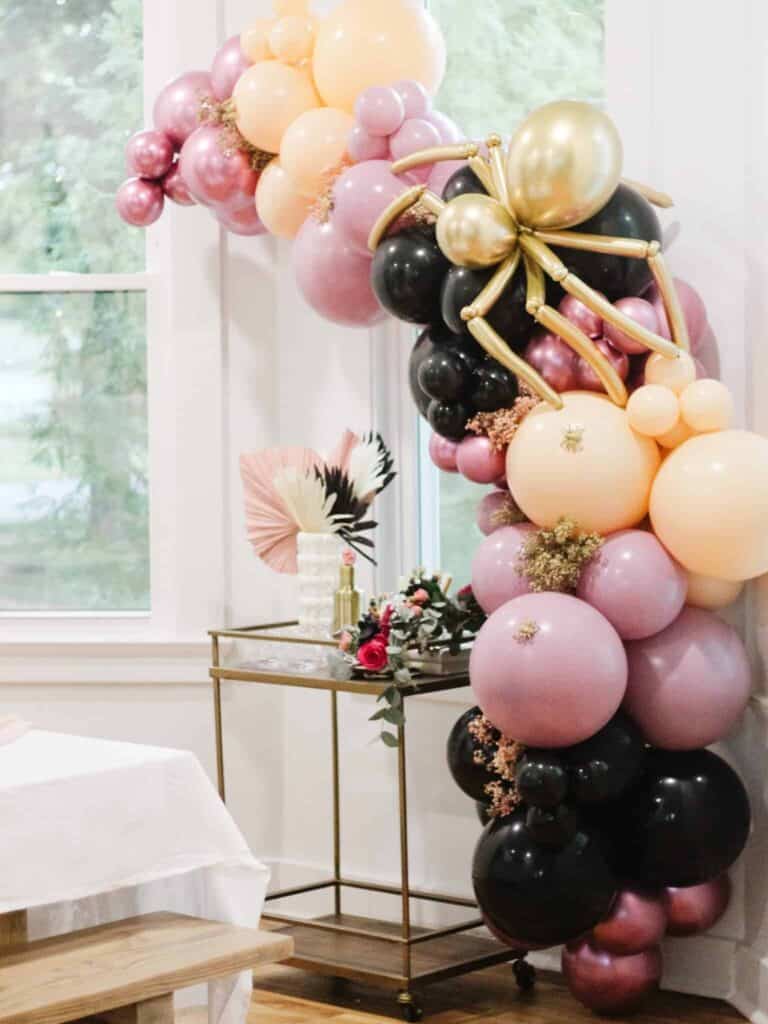 5. Rub N Buff Plastic Pumpkin Vase
​There is no shortage of creative ideas when it comes to using items you can find at the Dollar Store.
One of my favorite DIYs is taking a plastic pumpkin that is often bright orange and in my opinion, ugly. From there, take your rub and buff, and apply to cover the orange. This will turn the pumpkin a bronze or gold shade.
Next, add florals and you're done! You have a beautiful pumpkin centerpiece for very little time or money!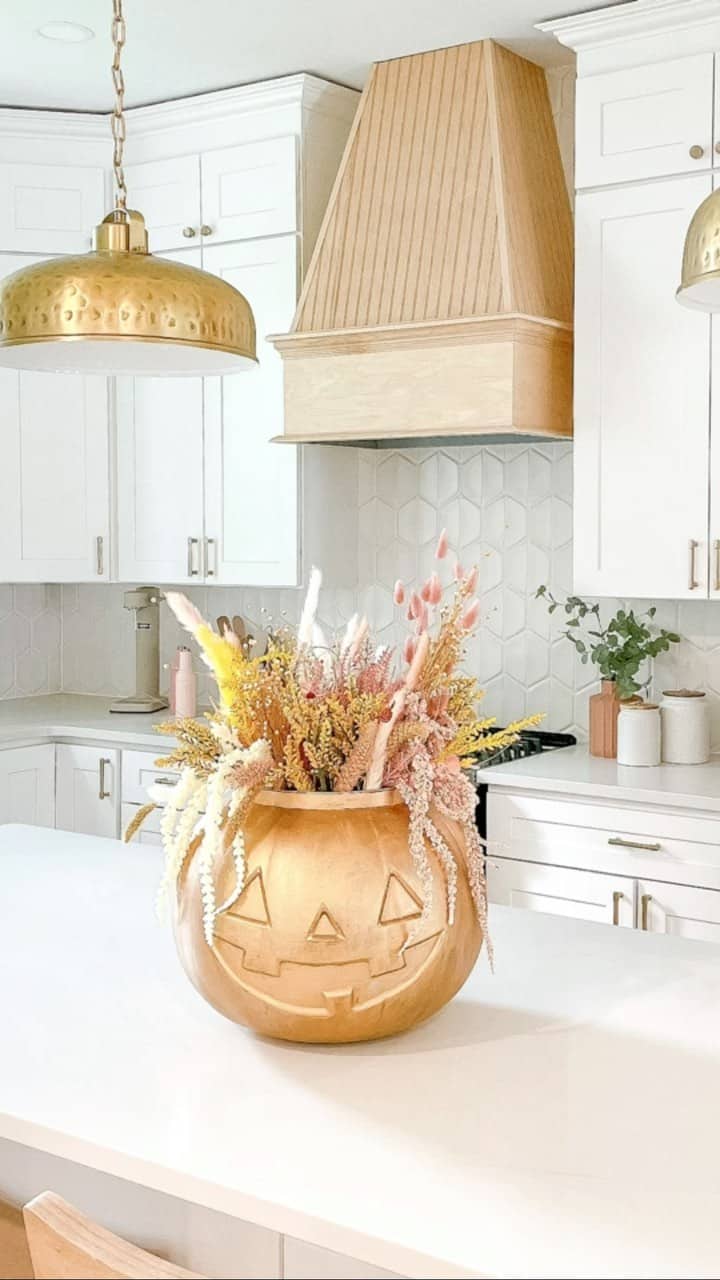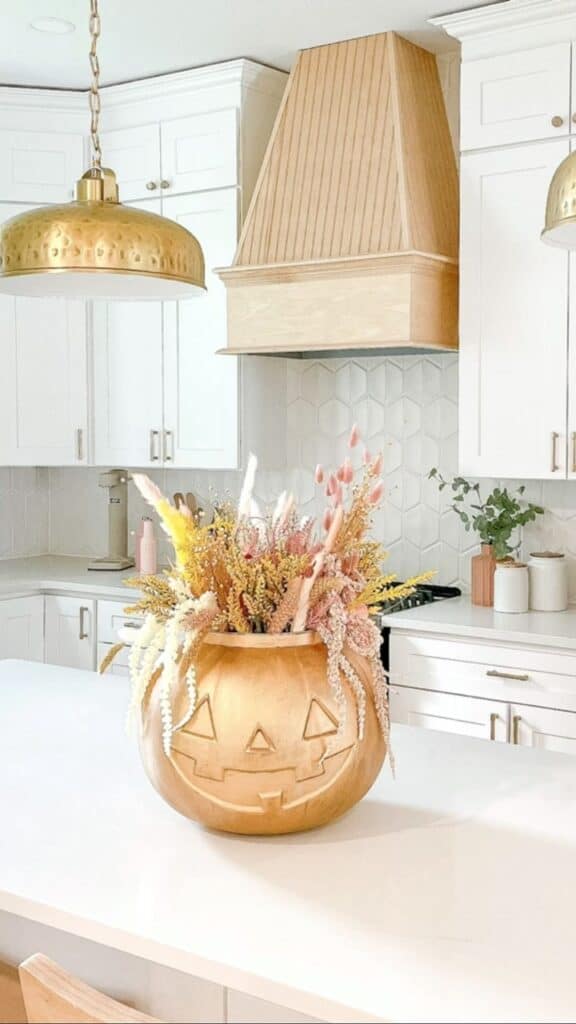 6. Color Block Pink Pumpkins
​Have I mentioned I'm not a fan of bright orange pumpkins? When I'm using pumpkins in my decorating, I try to stick with white pumpkins or pink. Sometimes pink pumpkins are hard to find. Frankly, sometimes I just want to make my own pumpkins to go better with the color scheme in my house.
Simply take some white pumpkins, add painters tape, and paint the bottom or top half of the pumpkin. You can use any type of paint you'd like and any color. From black paint to pink paint, it is totally your decision.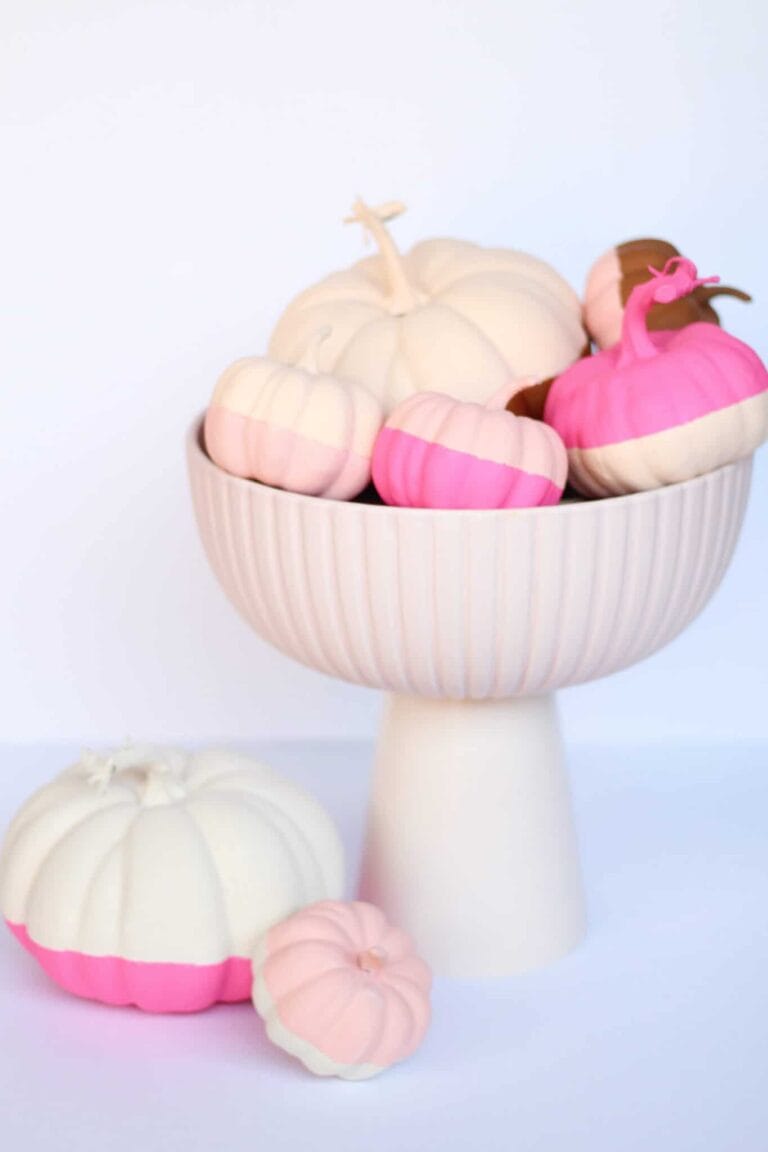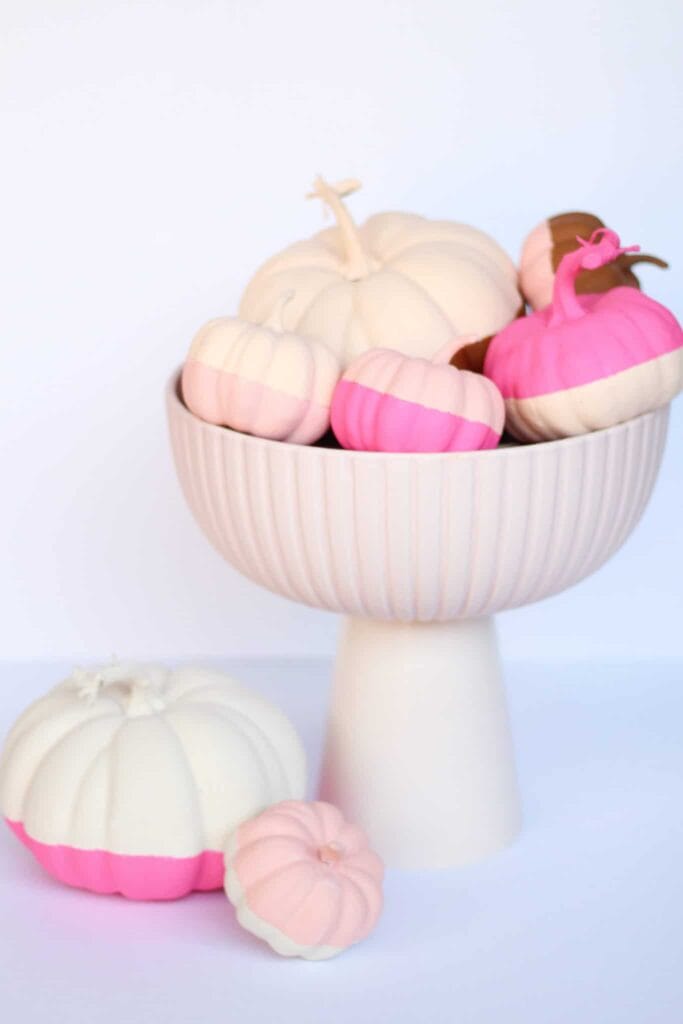 Once you remove the tape, you have your very own color block pumpkins! These are cheap Halloween decorations and will look great indoors or outside.
If you do plan to use these outdoors, I wouldn't use faux pumpkins. You can use white pumpkins that are found at your local grocery store. You may also need to make sure that you keep them on a porch to avoid the elements ruining your paint.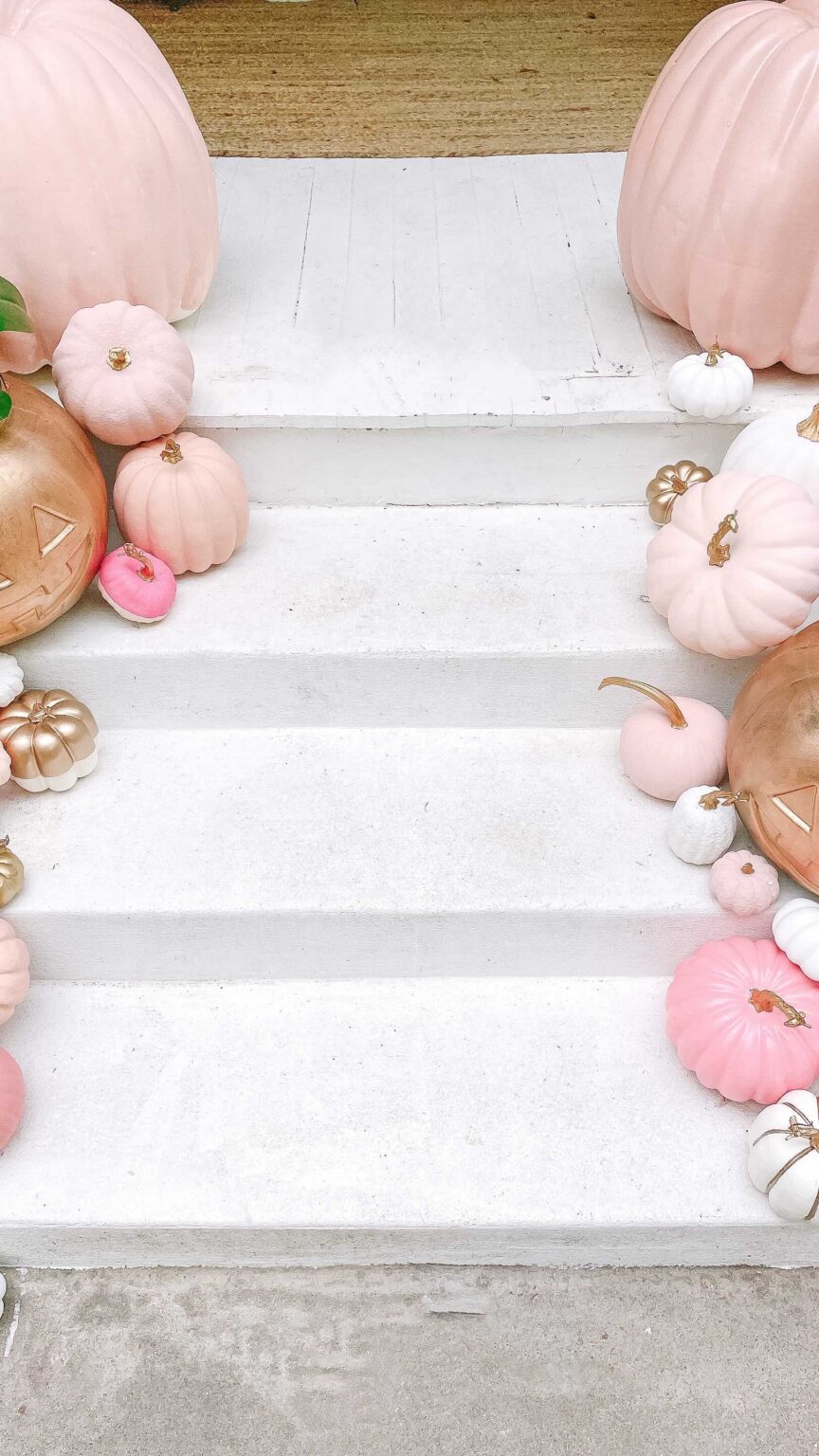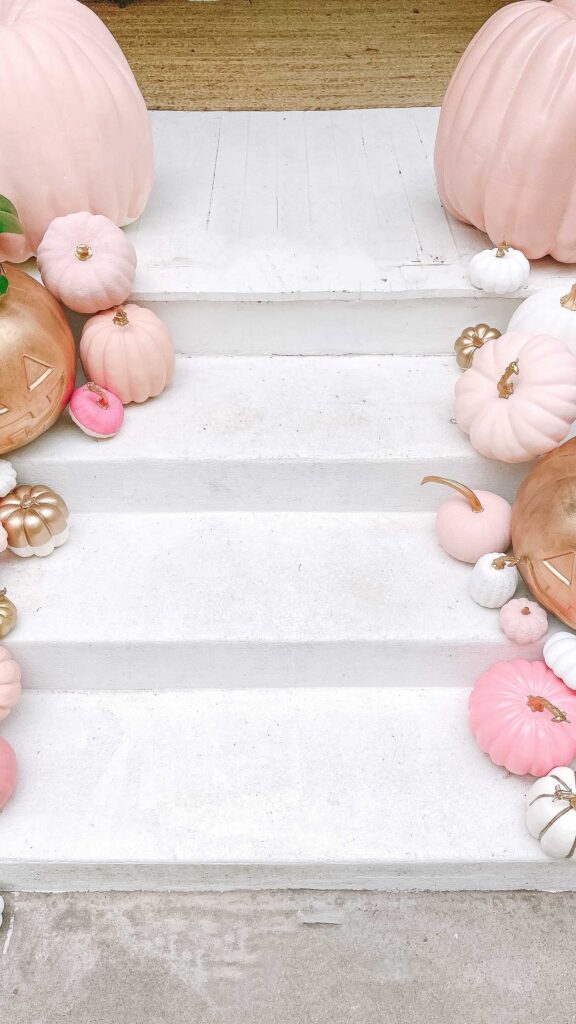 7. Dollar Tree Hanging Ghosts
​My kids love Halloween just as much as I do. So, I don't limit my decorating to just the main family areas. Instead, I try to bring the spooky season to each of their rooms.
Last year, Ave had her own hanging ghosts that were a huge hit! I found these ghosts at Dollar Tree and simply cut the legs, arms, and bow off. Next, I added some pink yarn and applied fishing wire to hang them up. You don't necessarily have to go with pink yarn, you can pick a black ribbon or any other color of your choice!
You will also notice I have a giant cauldron holding several stuffed animals and books!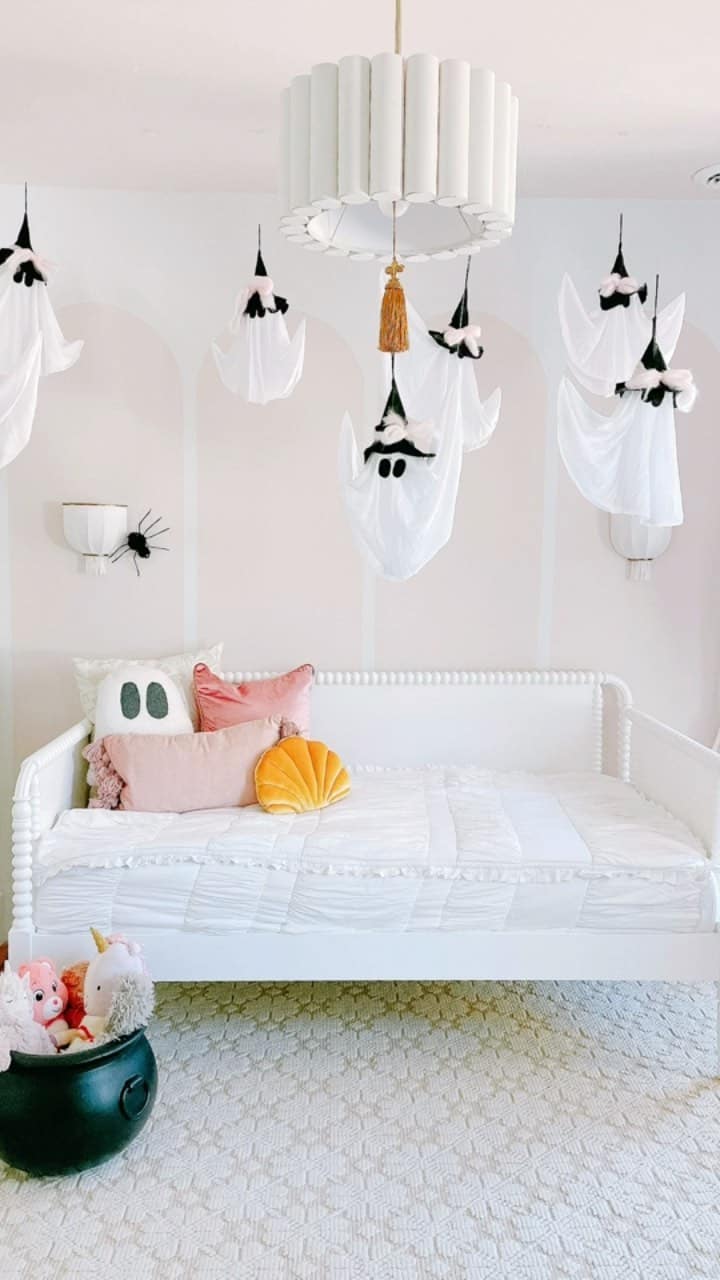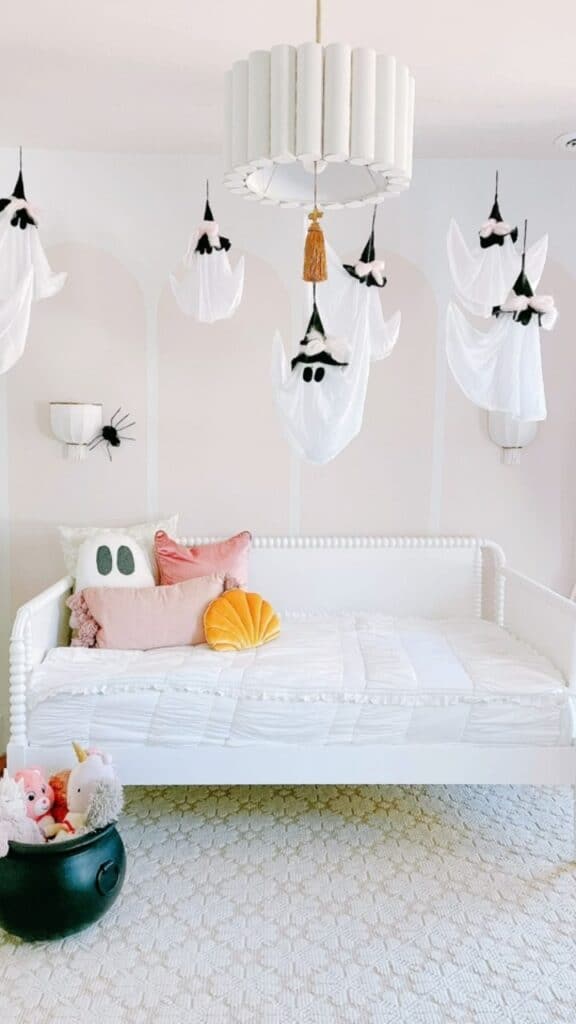 8. Ghost Candles
​File this next DIY under easy Halloween decoration ideas. This may be the easiest DIY ever! These ghosts candles are so stinking cute and add such a fun and whimsical look to your candle holders.
Simply use a sharpie to draw on a ghost face to your white tapered candles. Voila! Done! The best part is, it won't cost you anything!
If you want to add even more ambience, add some spooky apothecary jars using empty bottles and place a tea light inside. They will accompany your ghost candles perfectly.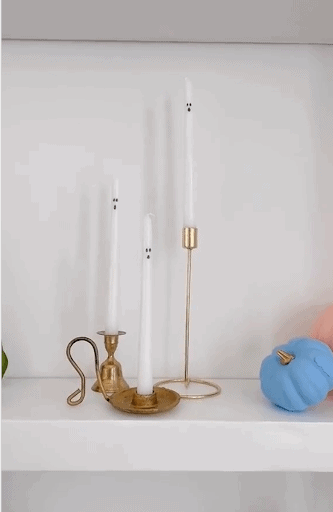 9. Spider Bowl
​If you haven't guessed by now, I love using resin to create unique seasonal pieces. My spider bowl is just another example of a fun and easy DIY. While I've seen this idea in stores, I wasn't willing to pay over $40 for a decorative bowl.
Instead, I picked out a bowl that was way cheaper and added spider decor using resin molds. Once you make your spider resin molds, you can use black spray paint and glue them on the bowl.
I love how this spider bowl looks like spiders have taken over! This is a great idea for your kitchen island!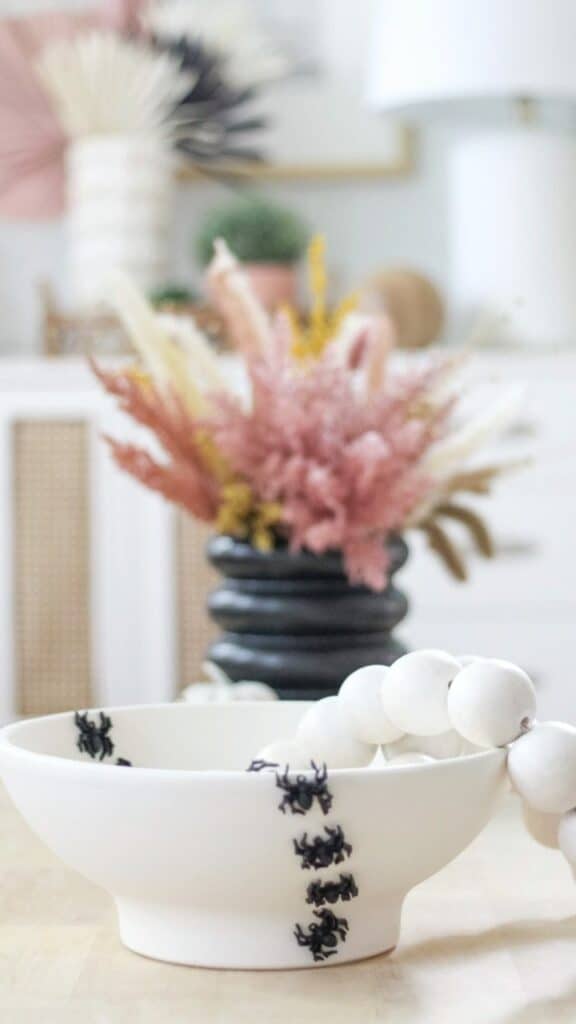 10. DIY Halloween Doormat
I love how creative you can get with you own DIY Halloween doormat. The sky is the limit! All you need are a few supplies and if you have a Cricut it is even easier.
Grab your plain doormat, plan out your design and cut it in Cricut, then use an outdoor paint such as Flex Seal to uphold to the elements. While I've created an everyday doormat, you can create one that is Halloween inspired or any other holiday.
I love this DIY Disney Halloween doormat!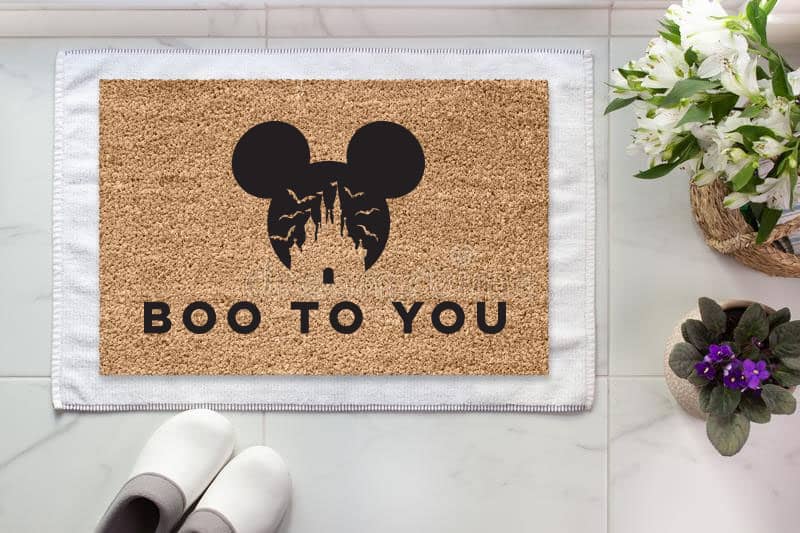 11. DIY Dollar Tree Mop Head Ghost Pillow
​I love adding in textiles that go with the holiday season. But, changing out textiles for every season can be expensive. Frankly, I don't want to spend top dollar on a pillow that will only be used for a month out of the year.
I found this DIY Dollar Tree mop head ghost pillow that is pure genius! I love how she uses a thrift store pillow, a mop head for yarn, glue, and black marker to create this gem!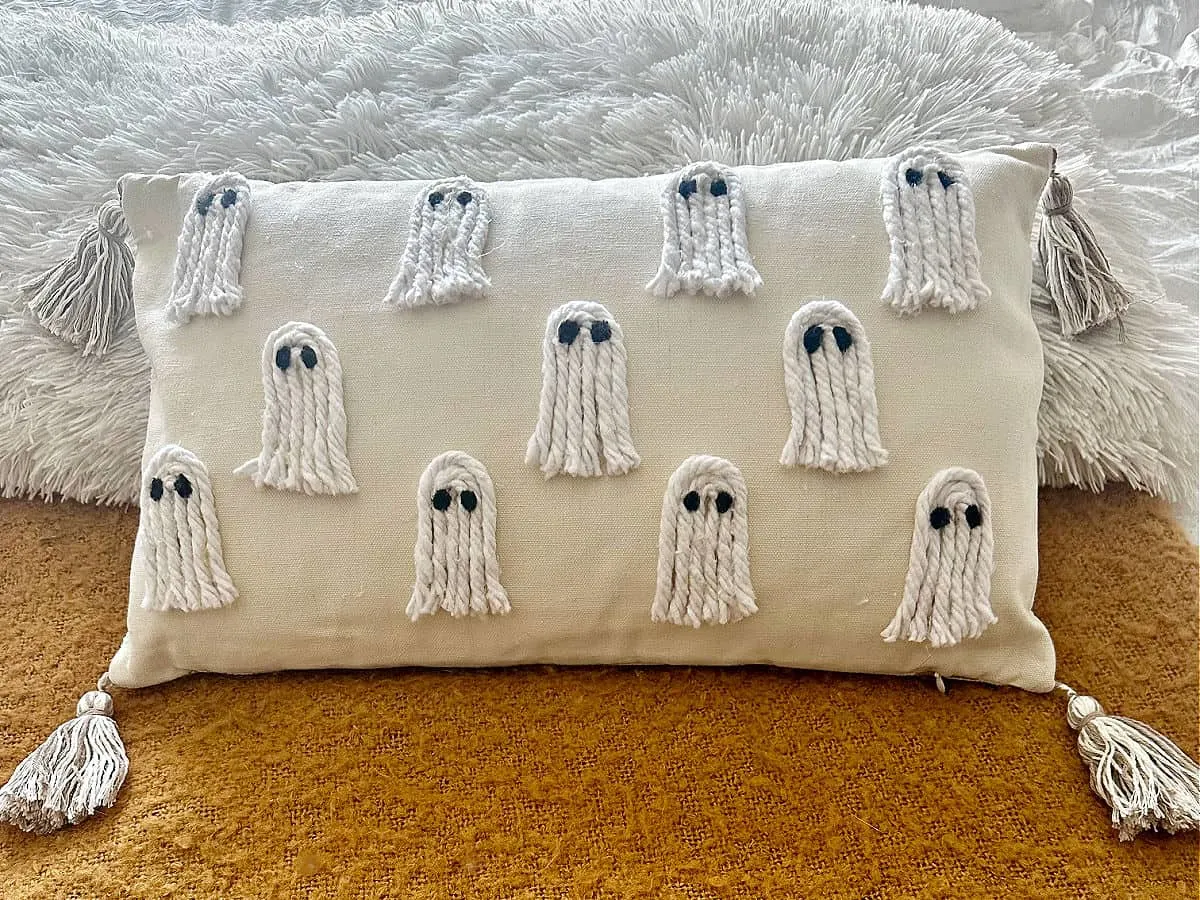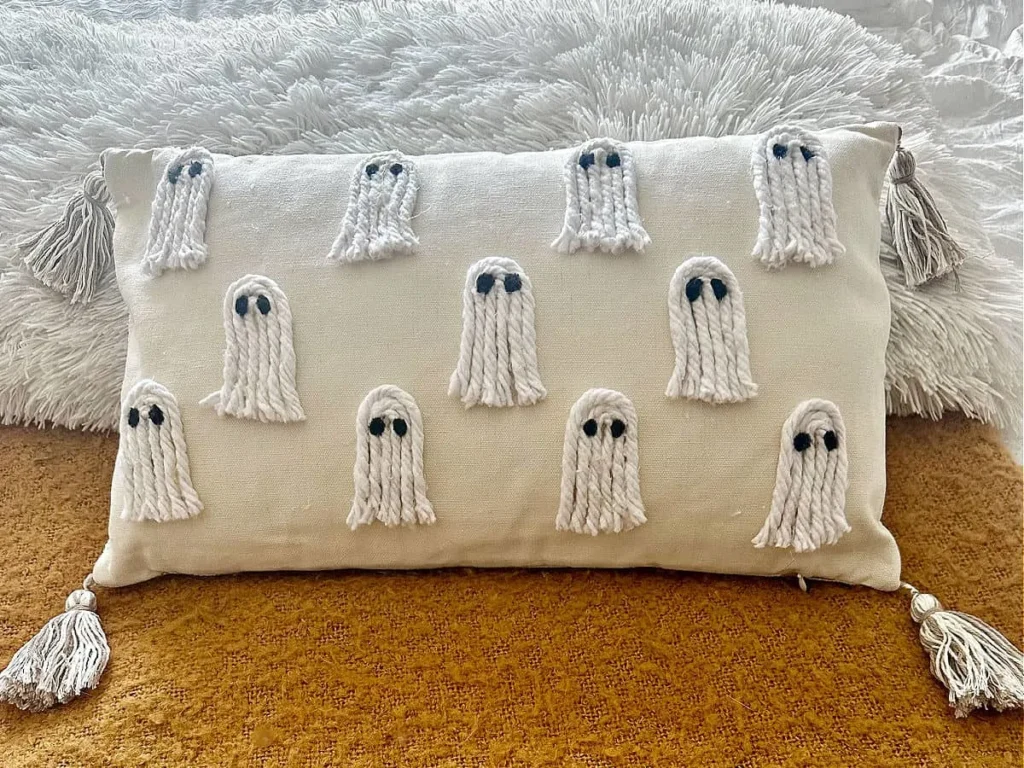 ​12. DIY Halloween Village
​Forget Christmas villages! I love seeing a haunted house village made from unfinished houses or older Christmas village homes. You can paint them and add Halloween embellishments like plastic skulls and string lights to make it pop!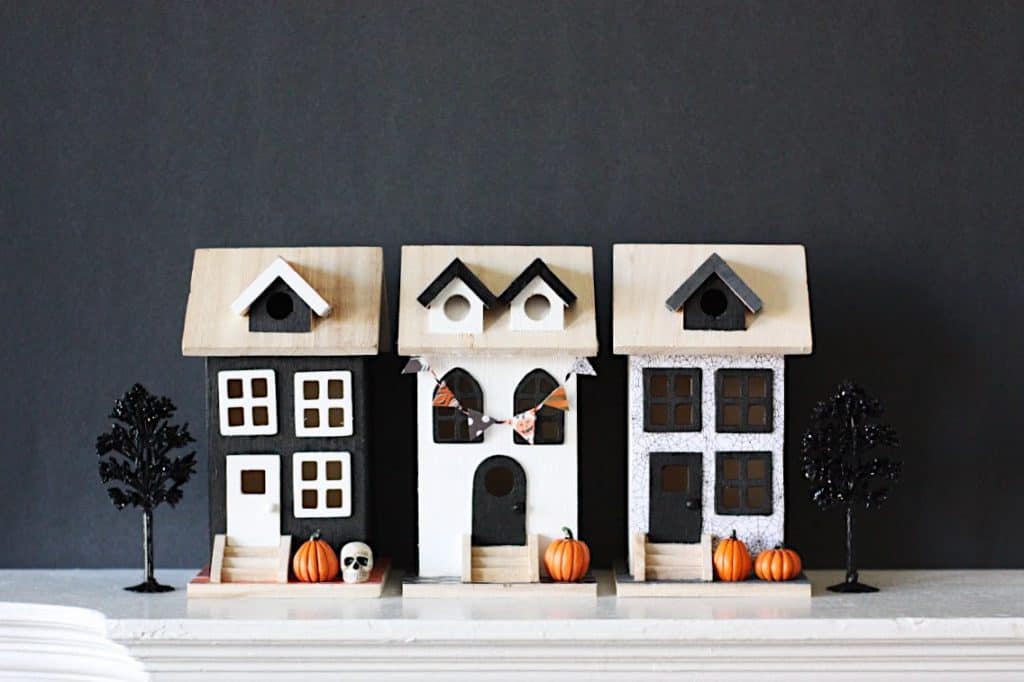 13. DIY Ghost Garland
Ghost garland makes for a great decoration to add to your fireplace mantle. You can easily make this in a few hours using supplies found in stores. You'll need some extra sheer curtains or gauzy material, fluff to fill the ghosts, elastic bands, a black marker, and black ribbon!
You can add more embellishments like sparkles or spiderwebs to take it up a notch!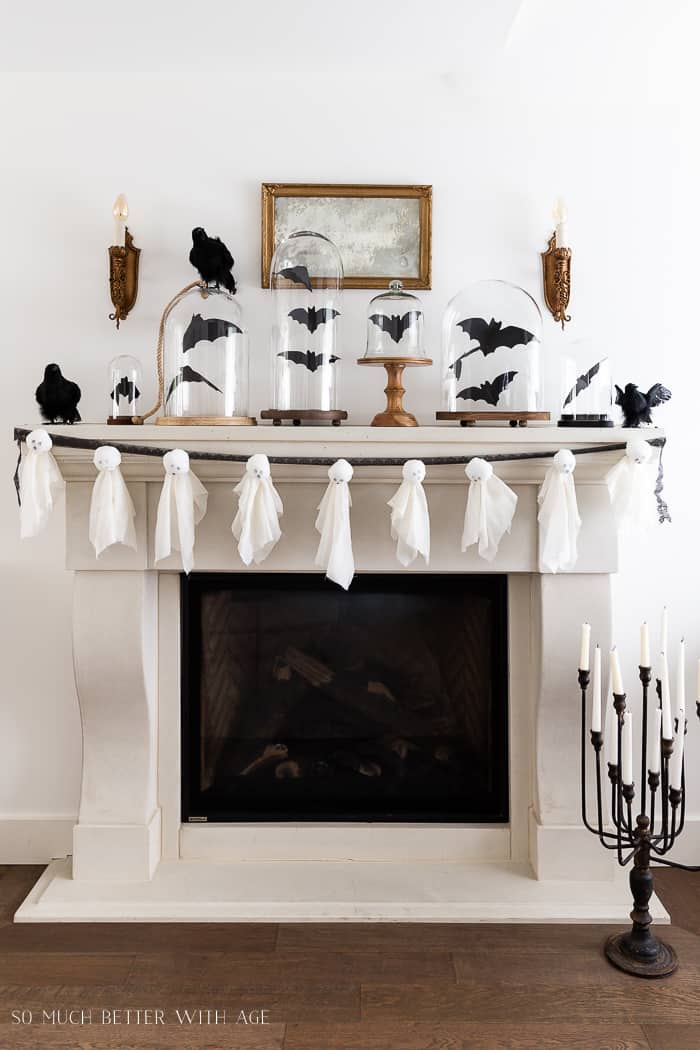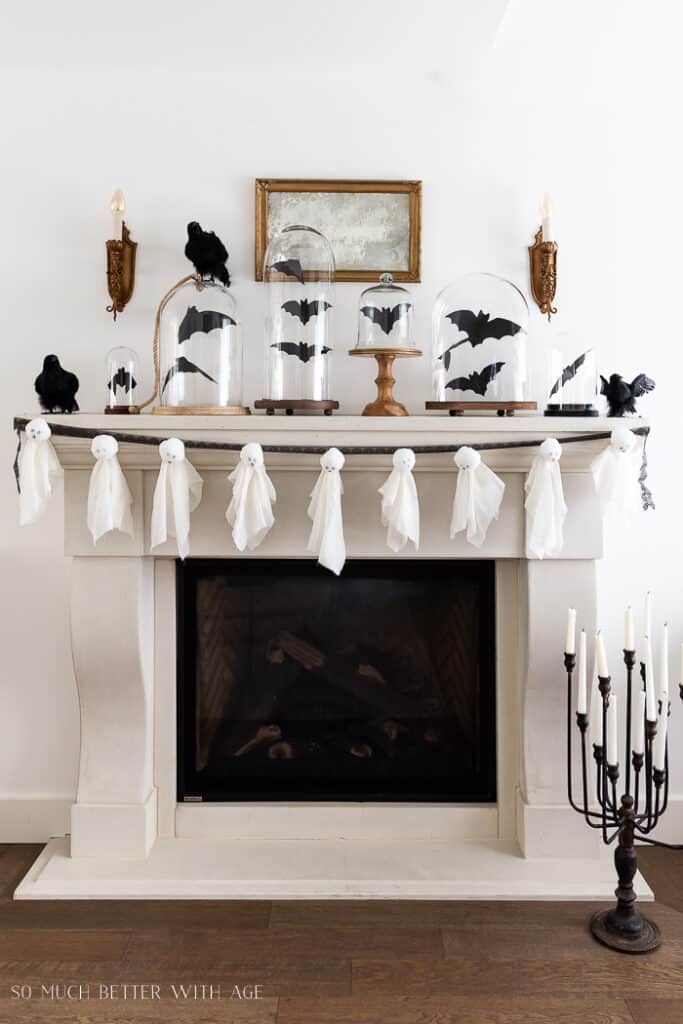 14. DIY Potion Bottles
Once fall hits, Target generally puts out all of the Halloween decorations. For the past several years they have had potion bottles in the dollar section. You can remove the old labels from the bottles, paint them, and add your own labels that match your decor!
Add your DIY potion bottles to your mantle, built-ins, or kitchen shelves!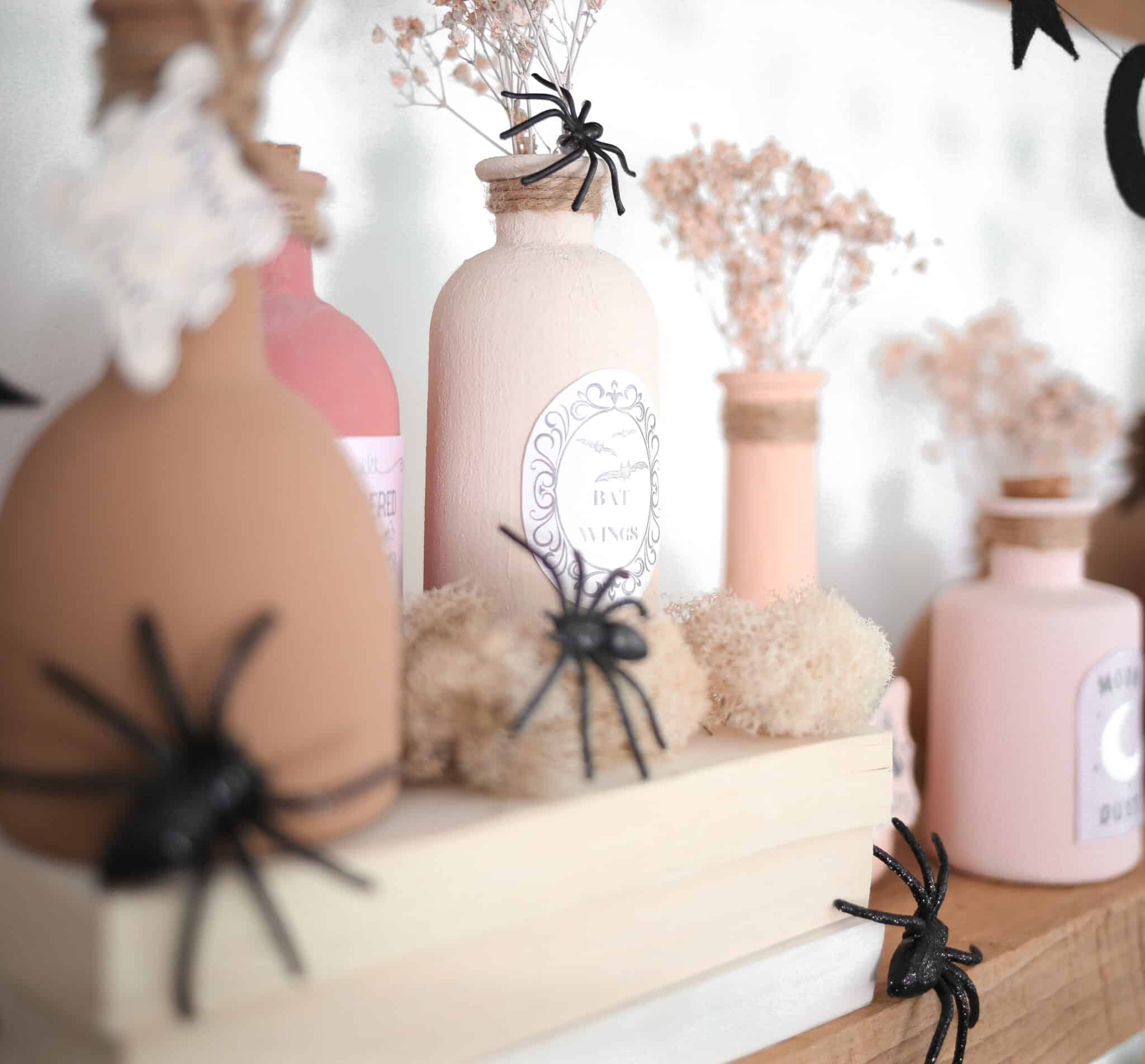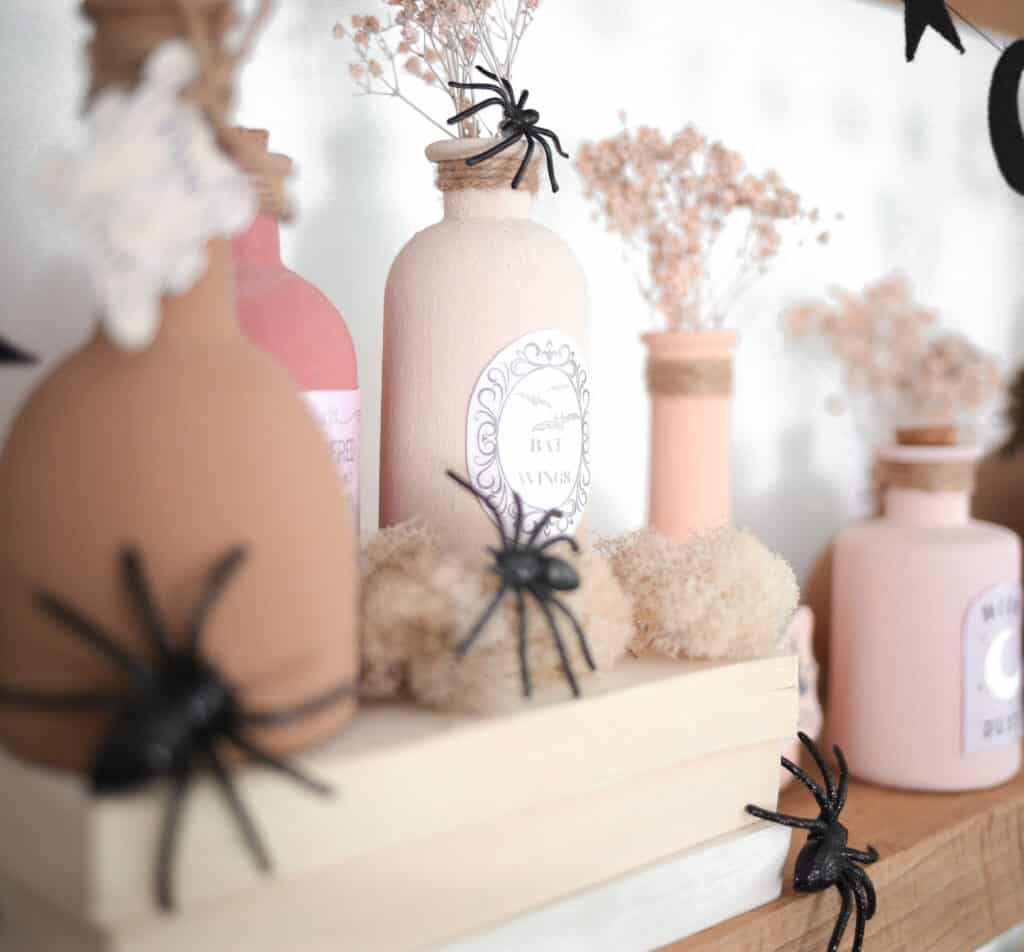 15. Cheesecloth Spirits
To take your spooky up a notch, consider trying your hand at these cheesecloth spirits. You can easily hang them from your ceiling or front porch.
You'll need to grab cheesecloth, styrofoam head mannequins, a brush, watered down glue, screw eyes, and fishing wire. Make sure you check out the full tutorial for these cheesecloth spirits.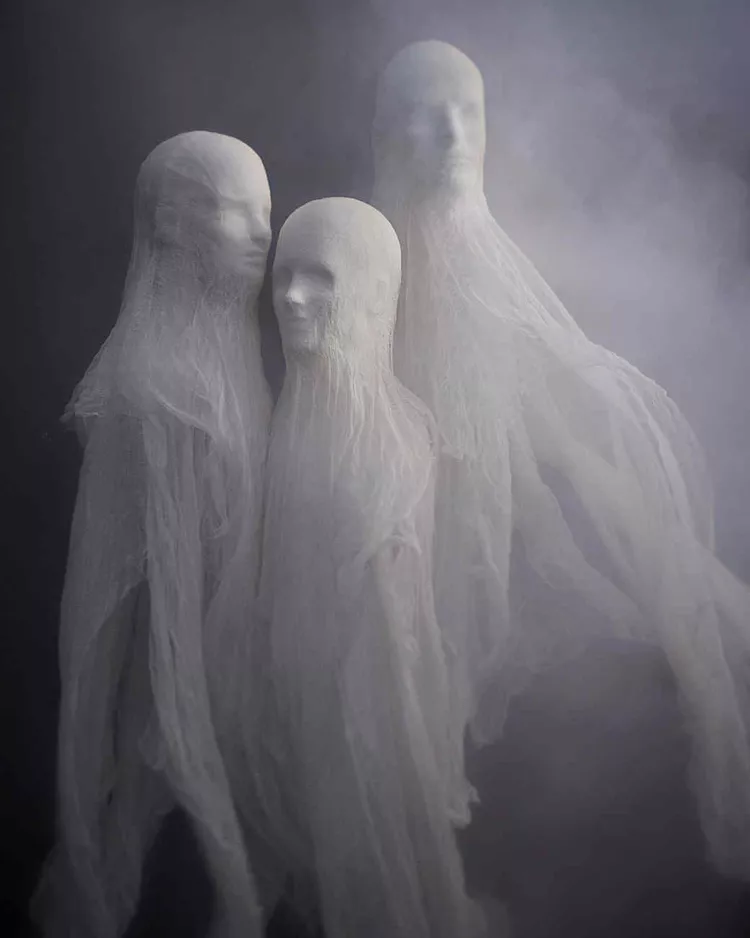 Shop Supplies For My Favorite DIY Halloween Decorations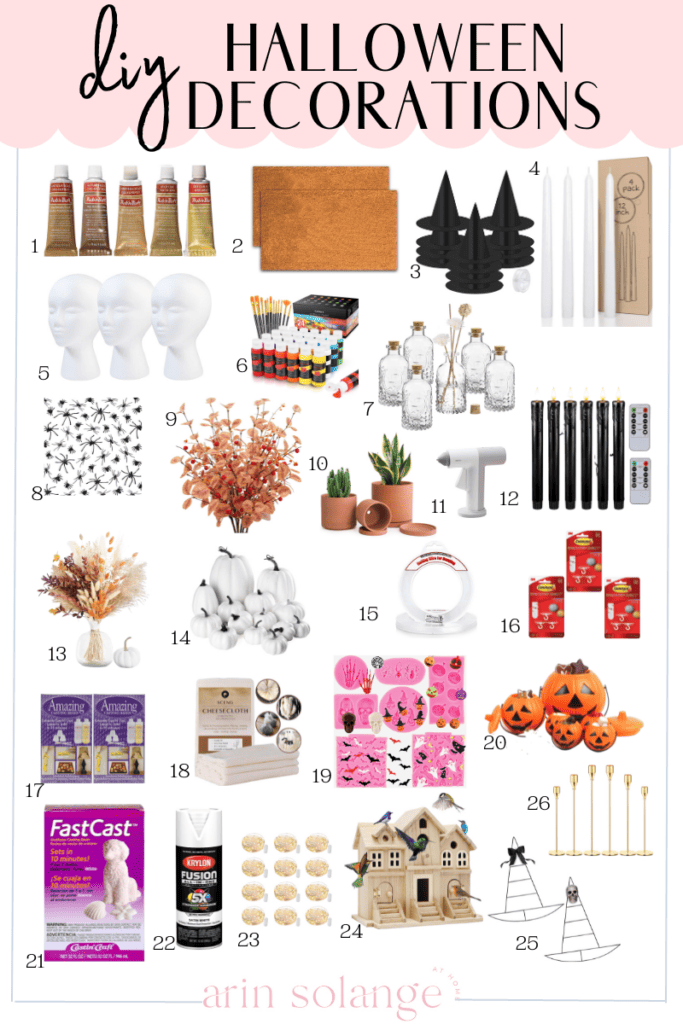 1 | 2 | 3 | 4 | 5 | 6 | 7 | 8 | 9 | 10 | 11 | 12 | 13 | 14 | 15 | 16 | 17 | 18 | 19 | 20 | 21 | 22 | 23 | 24 | 25 | 26
Other Posts You'll Love
Kids Halloween Party | Best Family Halloween Costumes | Fun Halloween Hairstyles
Follow Social For The Latest & Greatest
Pin The Photo Below For Later
I hope you found some easy and scary DIY Halloween decorations that you feel confident to complete! Regardless of how crafty you are, these DIYs are perfect for beginners!
You don't need to go overboard by spending tons of money on Halloween decorations. Instead, try your hand at creating your own and make some fun memories with your kids! Feel free to DM me on Instagram or leave a comment in the comments section if you have any questions!