I am so happy to bring you my monthly best sellers list so that you can easily see all the items in one place. All the items in this round up are from Amazon and can be found in my Amazon storefront. And if you find yourself wondering how to use any of these items in unique ways, make sure you head over to my Tik Tok where I am able to share more detailed reviews of items in video format.
This post may contain affiliate links.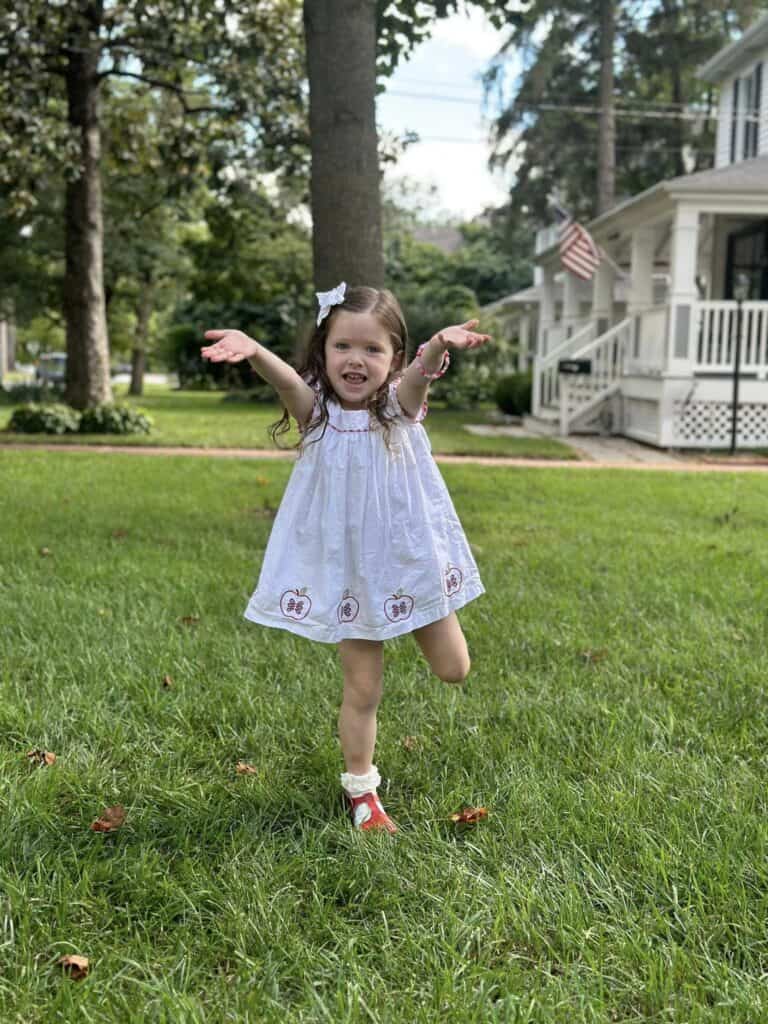 Amazon Best Sellers List- August 2023
School is back in session! I repeat, this is not a drill! School is back!
Parents everywhere rejoice! While I am so excited that my kids are back in school, it is also bittersweet. We had such a fun summer filled with tons of adventures. I'll miss having them home and hearing their voices echo throughout the house.
I am, however, very excited to be back in a routine and have a set schedule. This is the first year that all four of my kids are in school together. They were eager to get back too – well almost all of them!
Now with summer coming to a close and cooler temperatures on the horizon, I am dreaming of all things Fall!
Whether the weather is getting cooler where you live or not, it will be the holidays before we know it. Now is the time to start preparing for that busy season of life. I hope you are able to find something in this guide that may make your morning routines a bit easier. Or, maybe you find something special for a loved one in your life to give in just a few short months.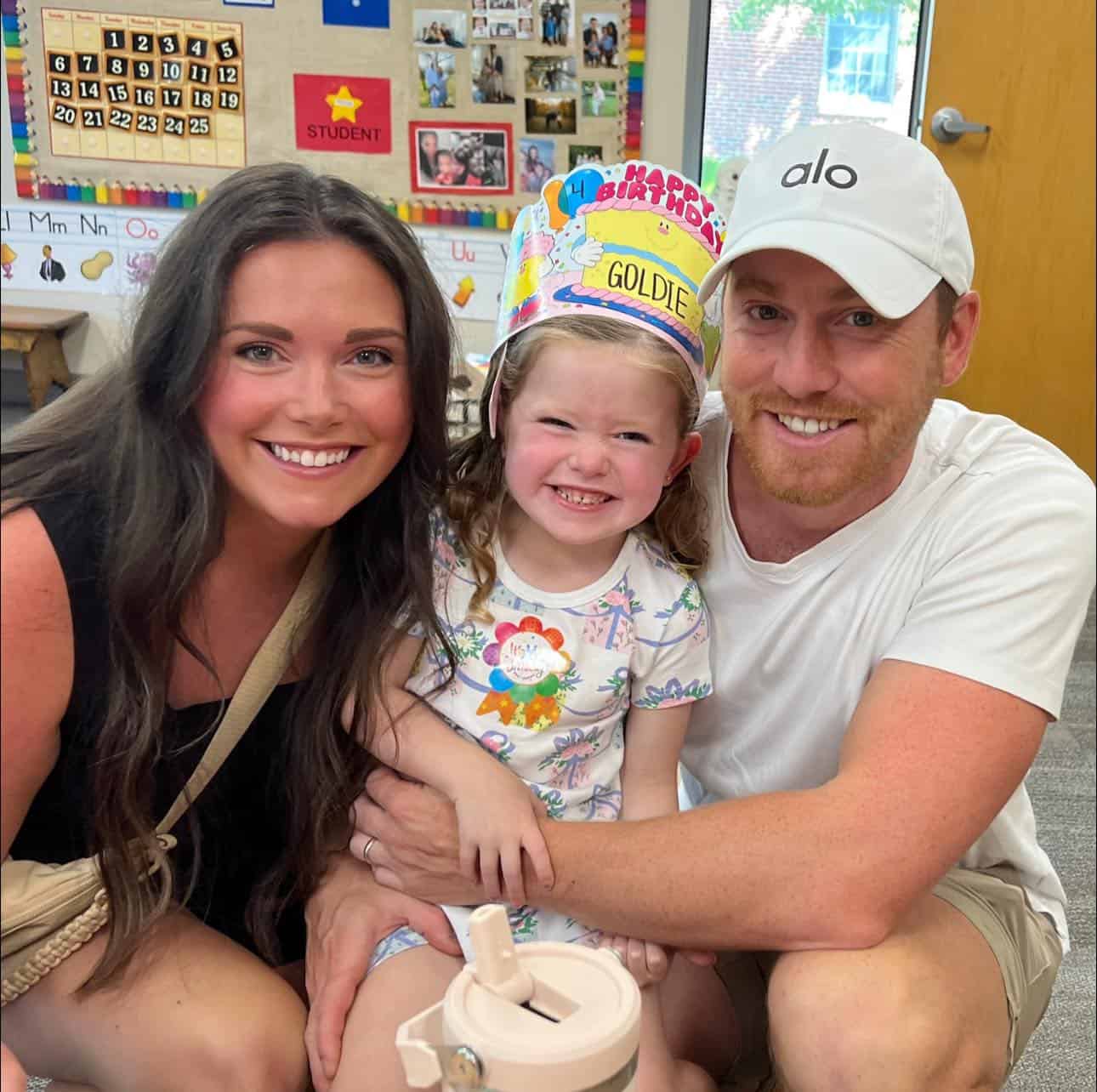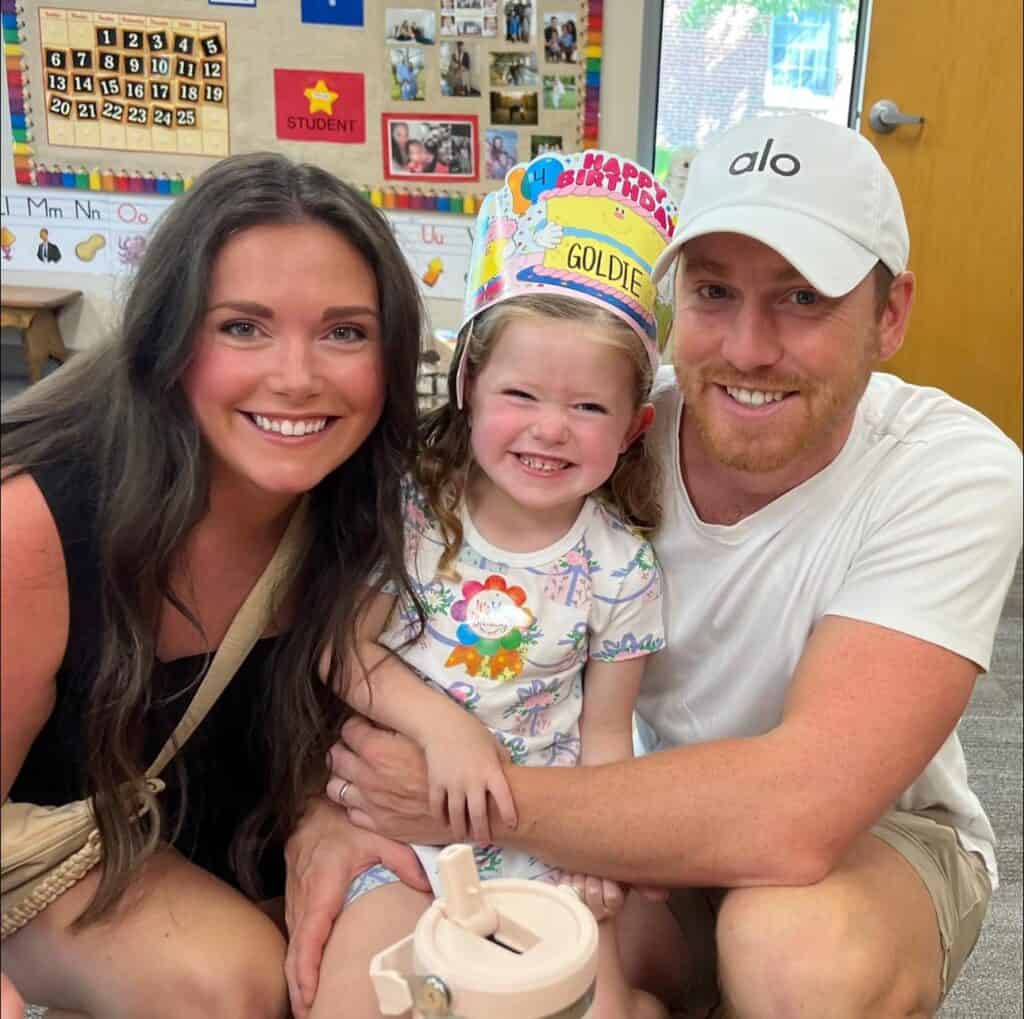 Life Updates For August
Now that the kids are back in school, Sam and I are able to focus on completing more projects around our house. I have some exciting goals planned for this year and I can't wait to share them all with you over time.
Project Update
We are coming up on three years since we bought out home and two years since we completed the HGTV renovation. It has been an uphill road and learning process, to say the least. When we bought our home we knew we would need to complete a full renovation to have the home of our dreams. It wasn't always easy, but I can say that now that we are nearing the finish line it was worth it!
While I am grateful we did the HGTV show, I am still in the process of changing out some of the decisions that were made for the show. My style has evolved and as I look around our home, there are a few rooms that I am changing to be more in line with my vision.
Playroom Reveal
The biggest news in our home is that we completed our playroom remodel. It is exactly what I envision and I am so happy with the results. The blue wallpaper is so serene and we went for a cohesive look with blue trim and doors. Overall, this playroom flows effortlessly into the other rooms of our home.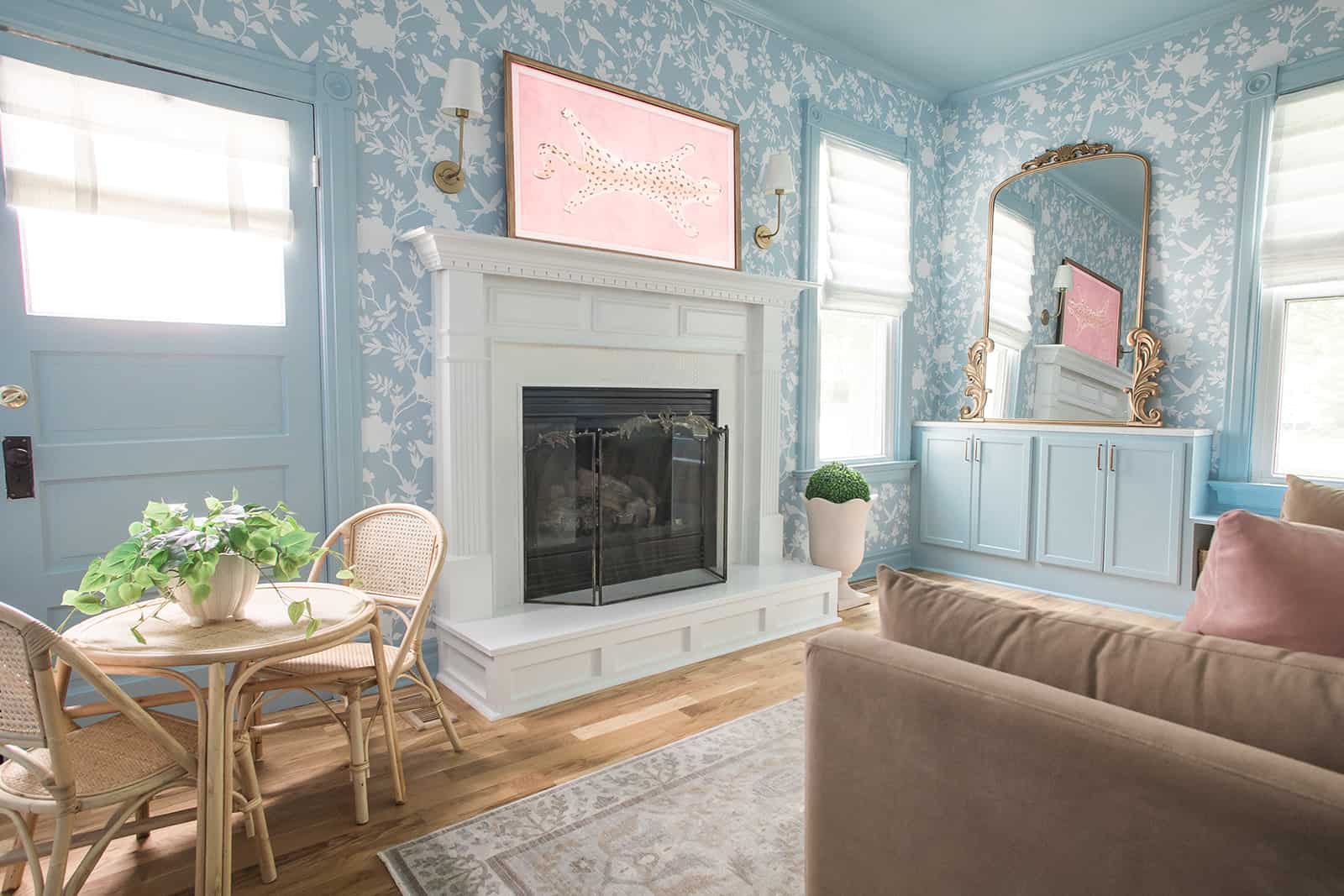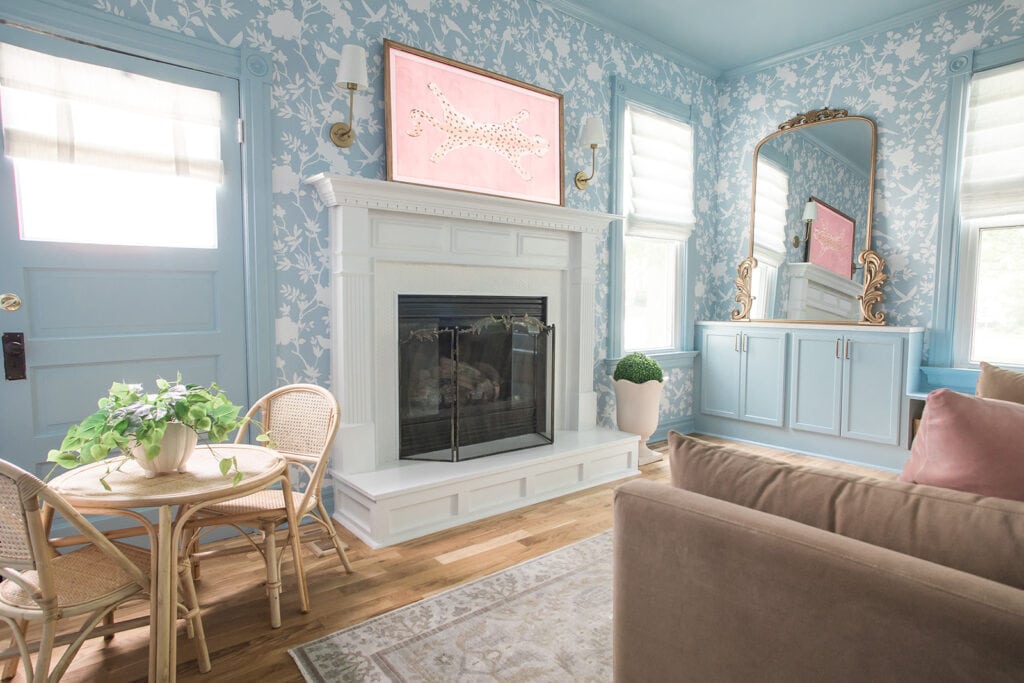 Main Floor Bathroom Update
Next up on our agenda was to switch out our DIY PVC fluted wall bathroom. While I love the color pink, it was time for a change. I am heavily inspired by grand-millennial decor. I envisioned our main floor bathroom off our mudroom to have a bit more elegance to it.
In reality, I needed the main floor bathroom to capture the essence of our home. Unfortunately, the PVC wall wasn't cutting it anymore.
I found some wallpaper that I absolutely fell in love with. From there, the vision came to life centered around this wallpaper. I never thought I would be brave enough to go so bold with a paint color like we did. I am so glad I took the risk because the end result is stunning.
Once we complete the ceiling and door jam, the bathroom will be ready for its full reveal. In the meantime, enjoy this sneak peak!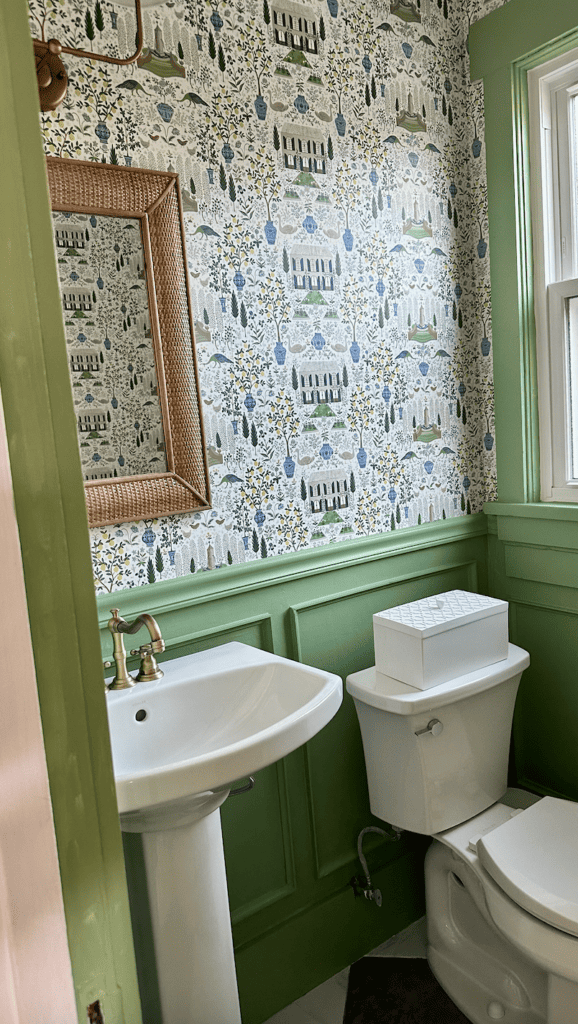 Works In Progress
We still have several projects that are a work in progress. I still have Goldie's room on my agenda as a top priority. I was able to find some wallpaper to help bring my vision to life. Unfortunately, right when I got her wallpaper, we ended up having our entire HVAC system replaced.
Not only did we have our HVAC system replaced, it fell on the hottest week of the entire year. It was straight up smoldering in our home. Thankfully, we had lots of fans going throughout the house so we were still able to stay in our home. Needless to say we didn't get much work done in her room because of the dangerous temperatures outside.
My hope is that we will get that completed once we have finished the main floor bathroom. In the meantime, Goldie and Avé are enjoying spending more time together- both at school and home.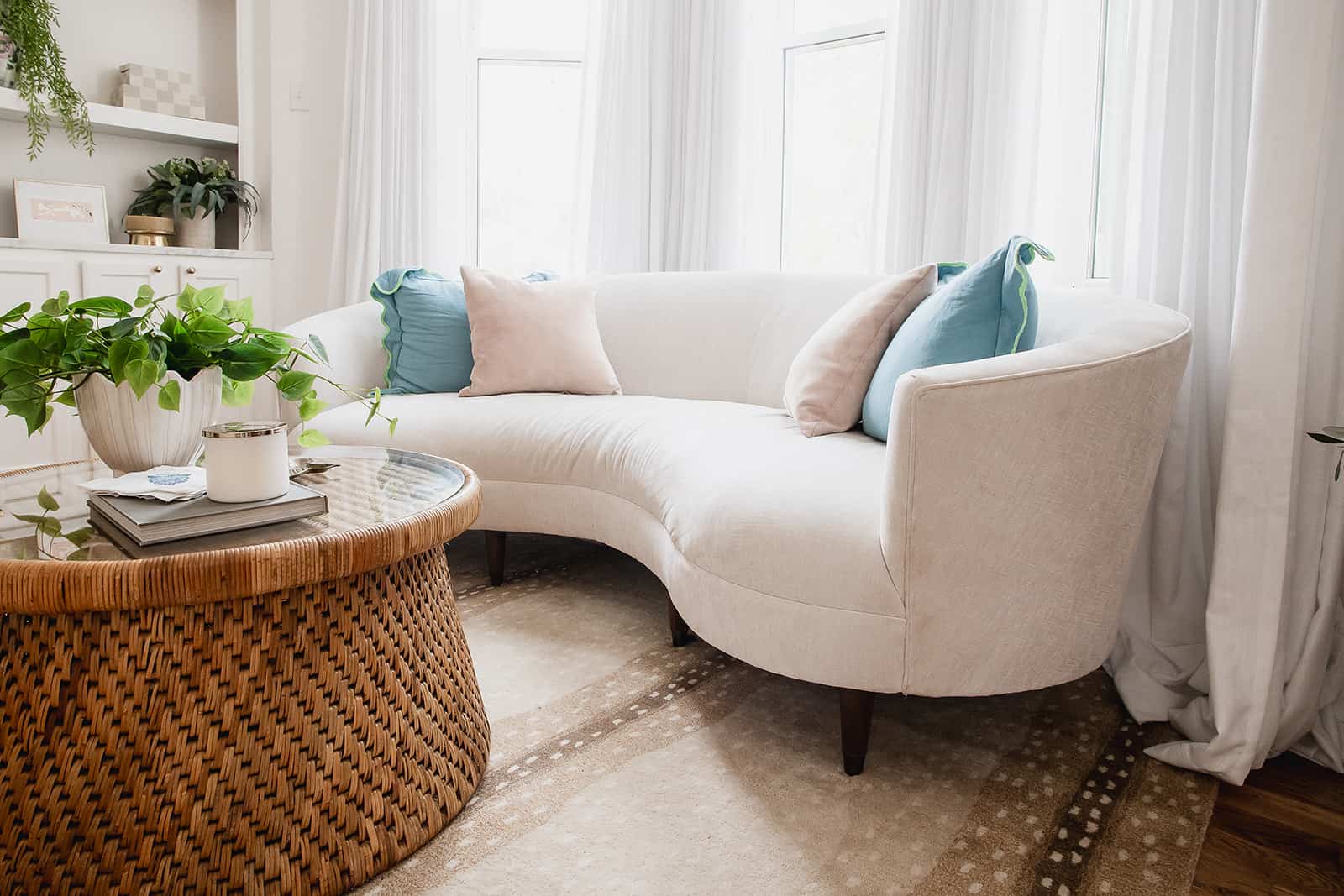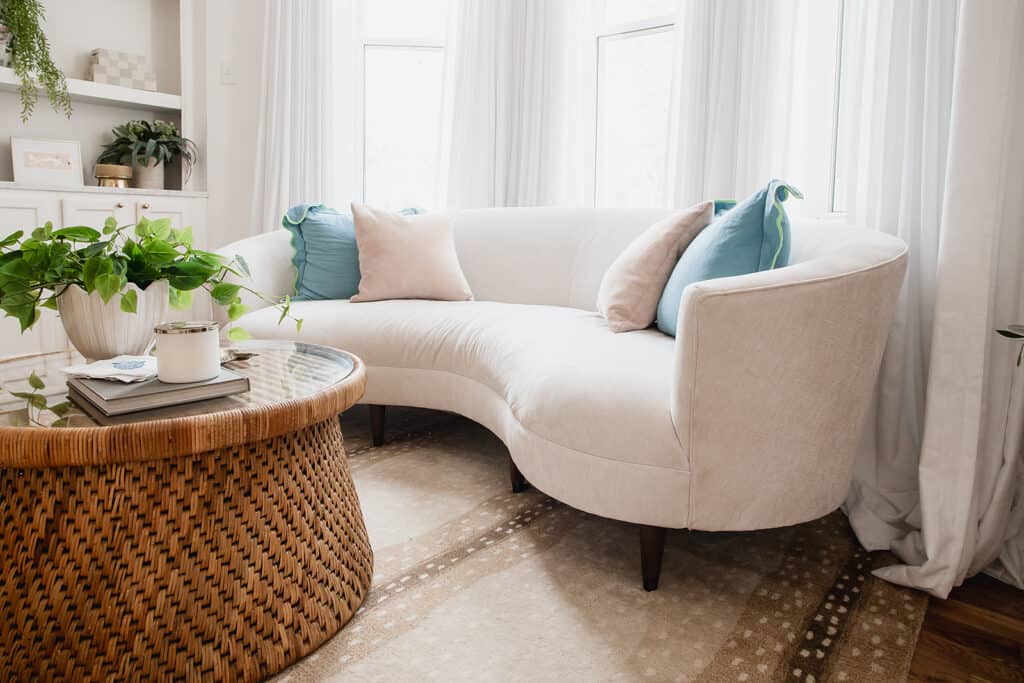 Once Goldie's room is complete, we also plan on changing up our formal living room. The wallpaper has been picked out. Our furniture may also make some moves, but we will mostly be focusing on changing out textiles for an easy update.
Lastly, I know many of you have been eagerly awaiting the swimming pool reveal. Unfortunately, the timeline has not gone like what we expected. There is a lot of red tape and hoops that have to be jumped through before we can break ground. At this point, we are still in a waiting game. While we wait, so do our plans for our outdoor space.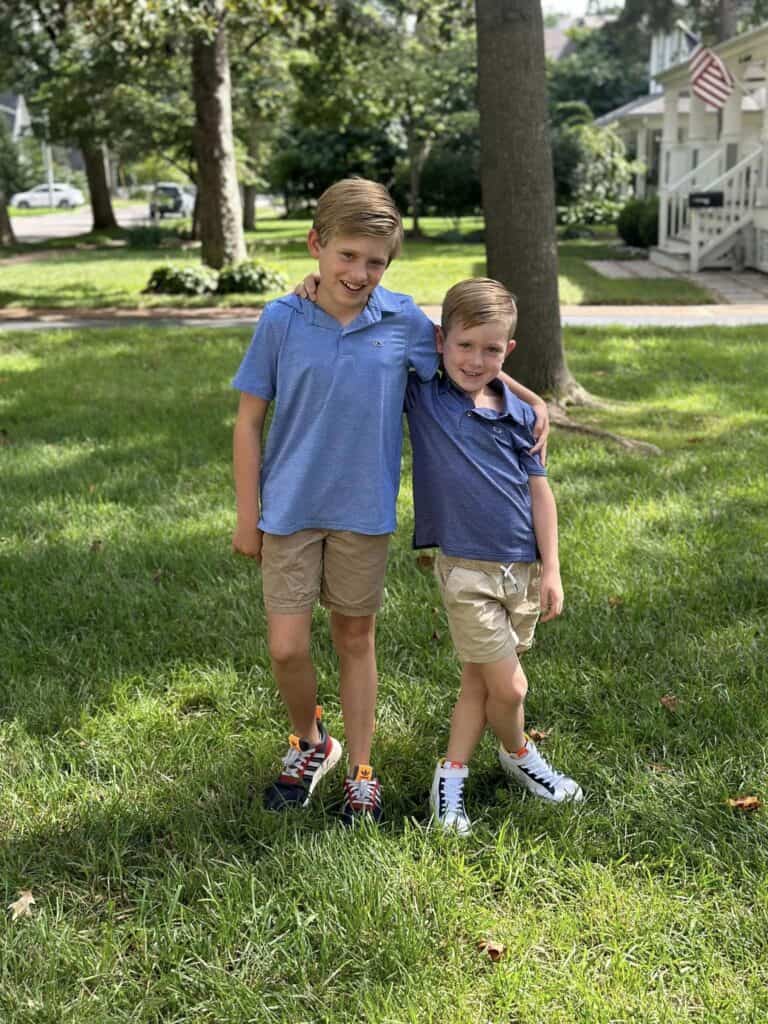 Family Updates
Our family update this month is much like many families everywhere. All four of our kids have started school. This is a new feeling of emptiness as our youngest, Goldie, has started Pre-K at the same school as her older siblings. We are so lucky to have a school we love and an environment where our kids can learn and grow safely.
Jack started 5th grade and is excited to be a big kid at school. I am so proud to be his mom and watch as he matures into a young man. It is almost mind boggling to me that I have a pre-teen on my hands!
Meanwhile, Avé started 3rd grade and has been such a big help with Goldie. When Goldie first started school, she was very unsure in the beginning. There were tears from both her and I! I should have known that big sister would save the day and be a calm and comforting presence for her at school.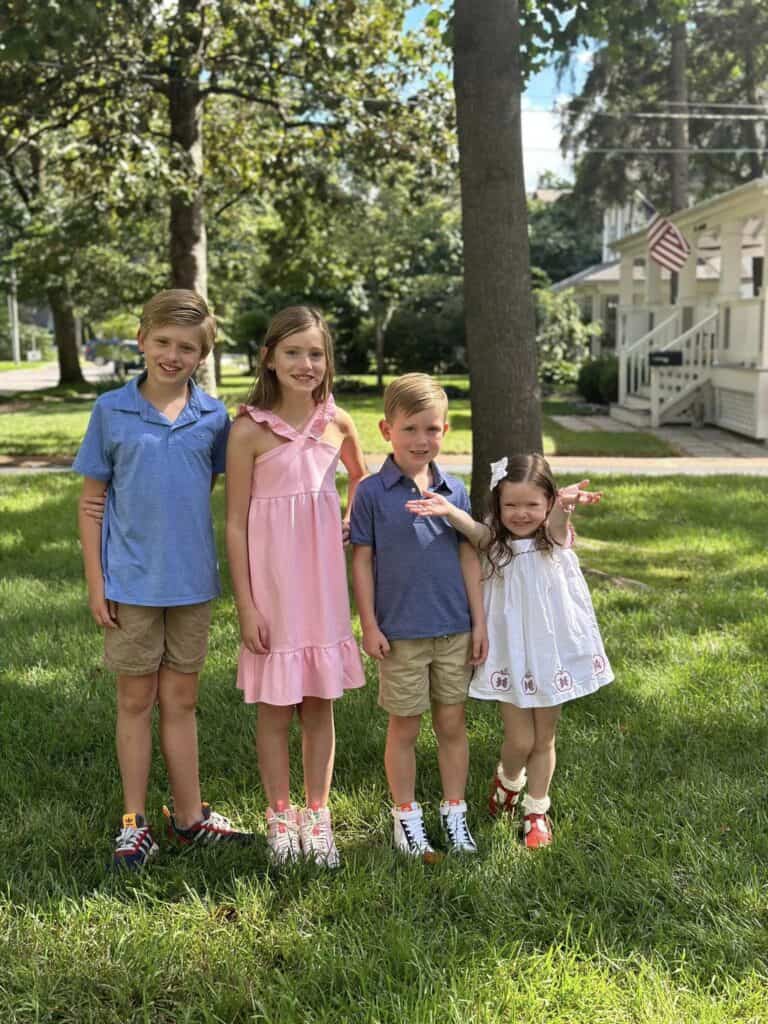 Walker is officially a Kindergartener and I can't believe it! He has gone from my wild man to….still my wild man! He is determined, brave, and so silly. I love watching his personality shine and can't wait to see what this year has in store for him!
At the end of the school days, everyone in our crew has an after school activity. Our girls are still dancing and love the spotlight. While our boys are playing soccer this fall.
Overall, this is a very busy season of life. Sam and I are so blessed to be given this beautiful opportunity to watch our kids thrive and do what they love most.
In the meantime, Sam and I are also very tired! When we look at those smiles on their faces, we get over the tiredness and are just grateful.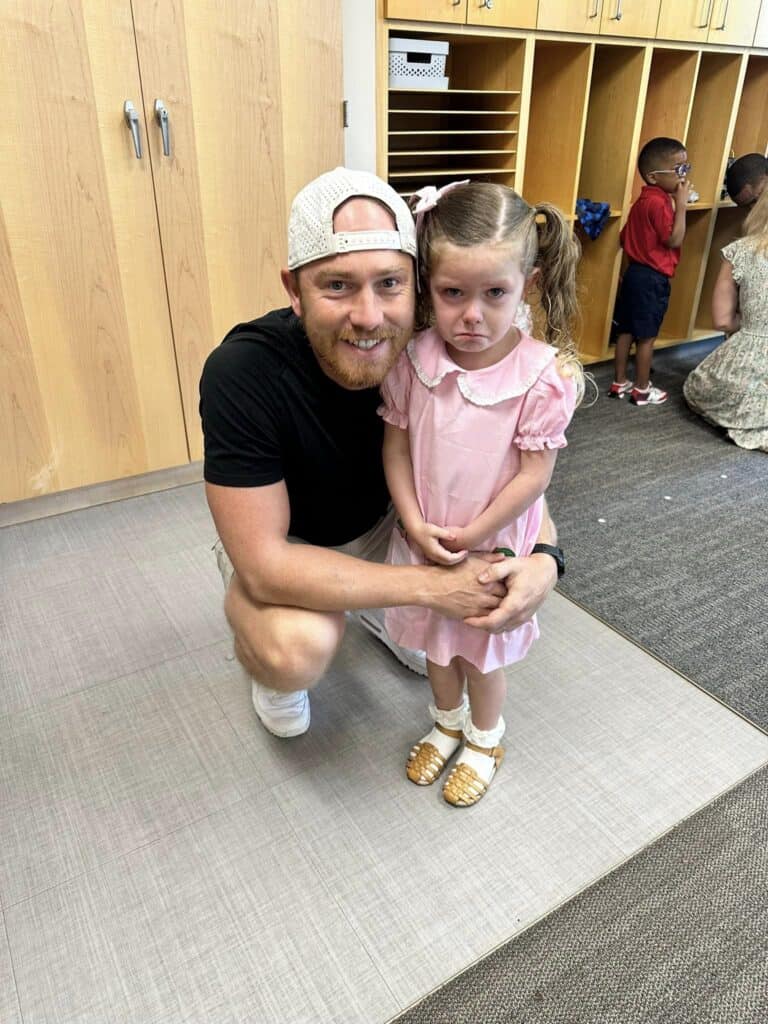 Shop Amazon Best Sellers For August 2023
Our Amazon best sellers for August 2023 has many products to help streamline your life for this busy season. Whether it means helping get your kids ready faster in the morning, organizing their closets for easy access, or prepping dinner, there is something for everyone.
I hope that you are able to find a product that you love and that will make your life much easier in the long run. As parents, our time is spent working, shuttling kids around, and preparing our kids for the next school day.
If you are lucky, you get to spend that quality time with them. I try to find products that help save time and energy so we always have room at the end of the day together.
As always, I have much more in my Amazon storefront for all of your organizational needs too! Make sure you don't miss out.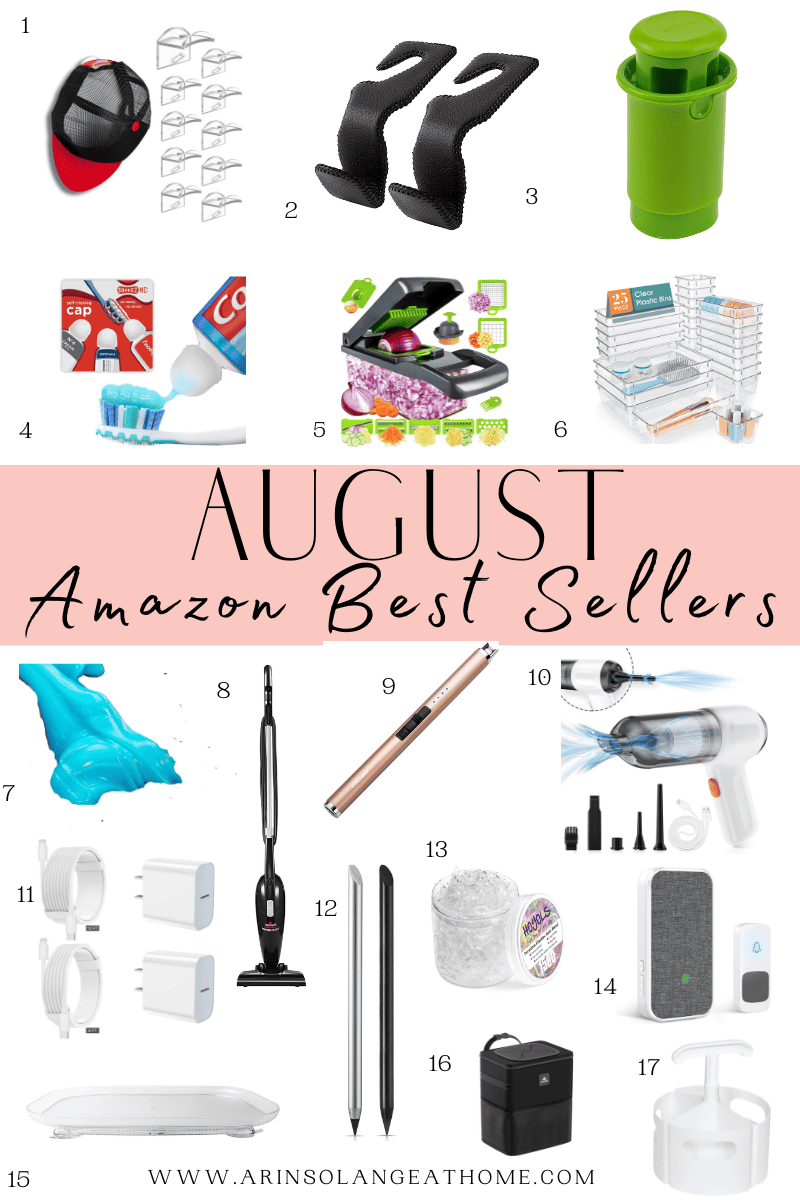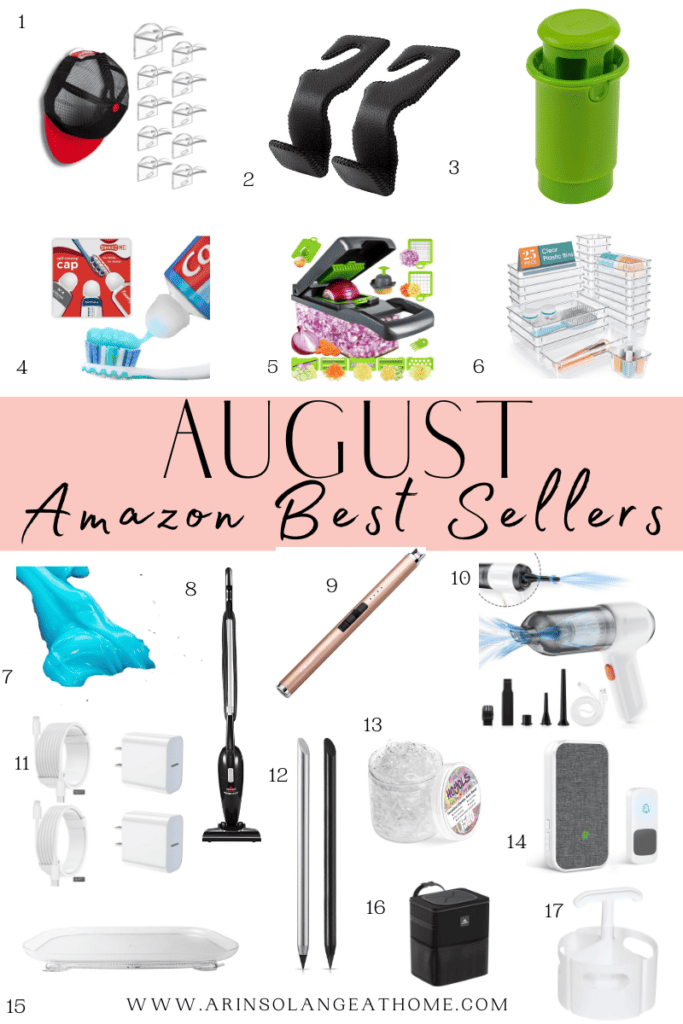 1 | 2 | 3 | 4 | 5 | 6 | 7 | 8 | 9 | 10 | 11 | 12 | 13 | 14 | 15 | 16 | 17
To be the first to see Best Sellers + enjoy a sneak peek at my end of year 'Best of' series, subscribe to my email list below!
Other Posts You'll Love
Tips On How Low Should Kitchen Pendant Lights Hang | Painting Stone Fireplace Ideas | Gifts For 8 Year Old Girls
Follow Social For The Latest & Greatest
Pin The Photo Below For Later
Be sure to pin the photo below for later, and if you don't already – follow me on Instagram (@arinsolange) and Tik Tok (@arinsolange) for more fun! Be sure to check my Amazon store front for all things best seller, home organization, and DIY.