A hospital bag checklist is in theory every pregnant mamas dram right? As a mom of 4 I am back to update a post I did when I was pregnant 3.5 years ago with baby #3 with my what you really need – c-section or vaginal delivery I will have you covered!
This post may contain affiliate links – post originally published 6/17 and updated 9/20
Hospital Bag Checklist
I have had 4 kids ranging ages almost 8 to just turned one. My first three deliveries were pretty picture perfect vaginally deliveries, and my last was a pretty horrific emergency c-section. A year later I have been thinking about what to REALLY bring to the hospital.
Packing your hospital bag is a big pat of being pregnant – it is an exciting step that means you are nearing the end, but also a step that no matter what baby number you are on probably has you thinking 'do I have it all?'
I wanted to think of a way to make sure you could have everything you needed, but also give you some of my favorites OF THOSE items. So I am going to include a a printable hospital bag checklist, as well as lots of links to those items and my favorites of the brands.
Monthly Baby Favorites
If you are here you are likely pregnant – one thing I did with my last baby instead of giving a baby registry was tracked my favorite items month by month. So these posts might be worth checking out to see what lasted and what didn't!
Print Your Hospital Bag Checklist
If you are looking to print and check off the items you need for the hospital below is a checklist. 99% of this list applies to moms who plan to deliver vaginally with the side prep of a possible c-section.
That said I labeled the post with a few items you should ignore if you know you are going to deliver vaginally and or via c-section.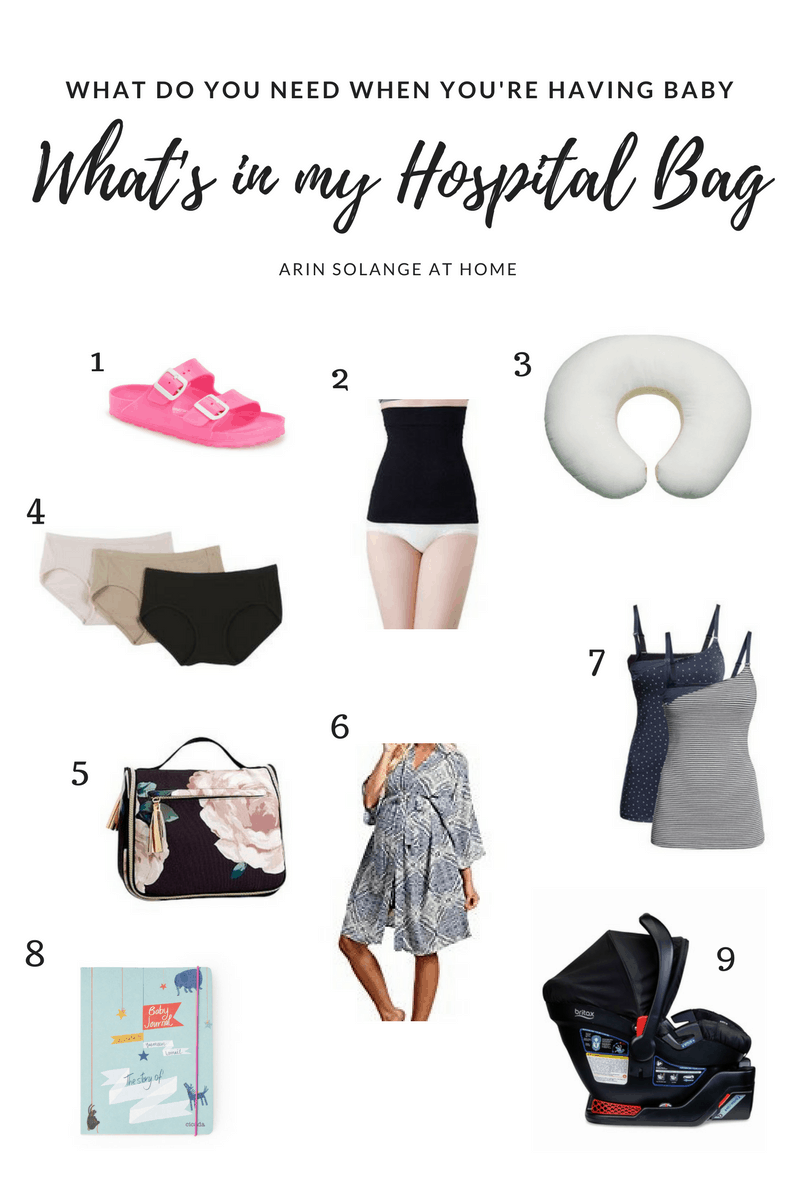 What's in my Hospital Bag
Baby book – or an extra sheet of paper foot foot prints. All of my babies have different baby books from different shops, but Etsy is my go to for finding them!
Boppy/nursing pillow – you may end up being a mom who hates them. But until you know – just bring it.
Sandals or slippers to walk around in. – these are my current favorite
PJs/lounge clothes
Some comfy granny panties. I know — not glamourous, but you will thank me later. These are my favorite!
A belly Binder of some kind – this is totally optional, but I personally have used a Spanx esque product right after each baby was born to help my tummy to not feel so gross.
A robe. Pink Blush has an amazing selection!!
Something for pictures for baby – even if you're not doing the hospital newborns you still may want to take a few cute ones – so for you this may be a cute swaddle and hat/headband, or outfit, but its fun to have something.
A coming home outfit…and at least 1 backup. I personally bring 4 outfits for the hospital. They are small..it doesn't hurt, but bring at least two. We planned to bring jack home in this cute little football onsie until he pooped all over it. Sh** happens….literally with babies. haha.
The carseat – Just leave it in the car until you're ready to leave because the rooms are small.
Toiletry bag: You can do as little or as much as you want on this front. I made sure to shower, do my makeup AND hair at the hospital. Baby will be getting tests done and such, so I like to take that opportunity for one last shower and beauty session before we're home and doing it on our own!
Electronics: Phone charger, laptop or iPad for watching shows, camera AND charger – and so on!
Chapstick
SaveSave