I am 99.9% sure I am not the only one with a 7 year old that is Pokemon obsessed. My oldest son, Jack, and his whole class is obsessed with Pokemon, so with Valentine's Day around the corner I knew I needed to get crafty. I figured I would show you all how to make a DIY Pokeball, so we can all be cool moms together.
This post contains affiliate links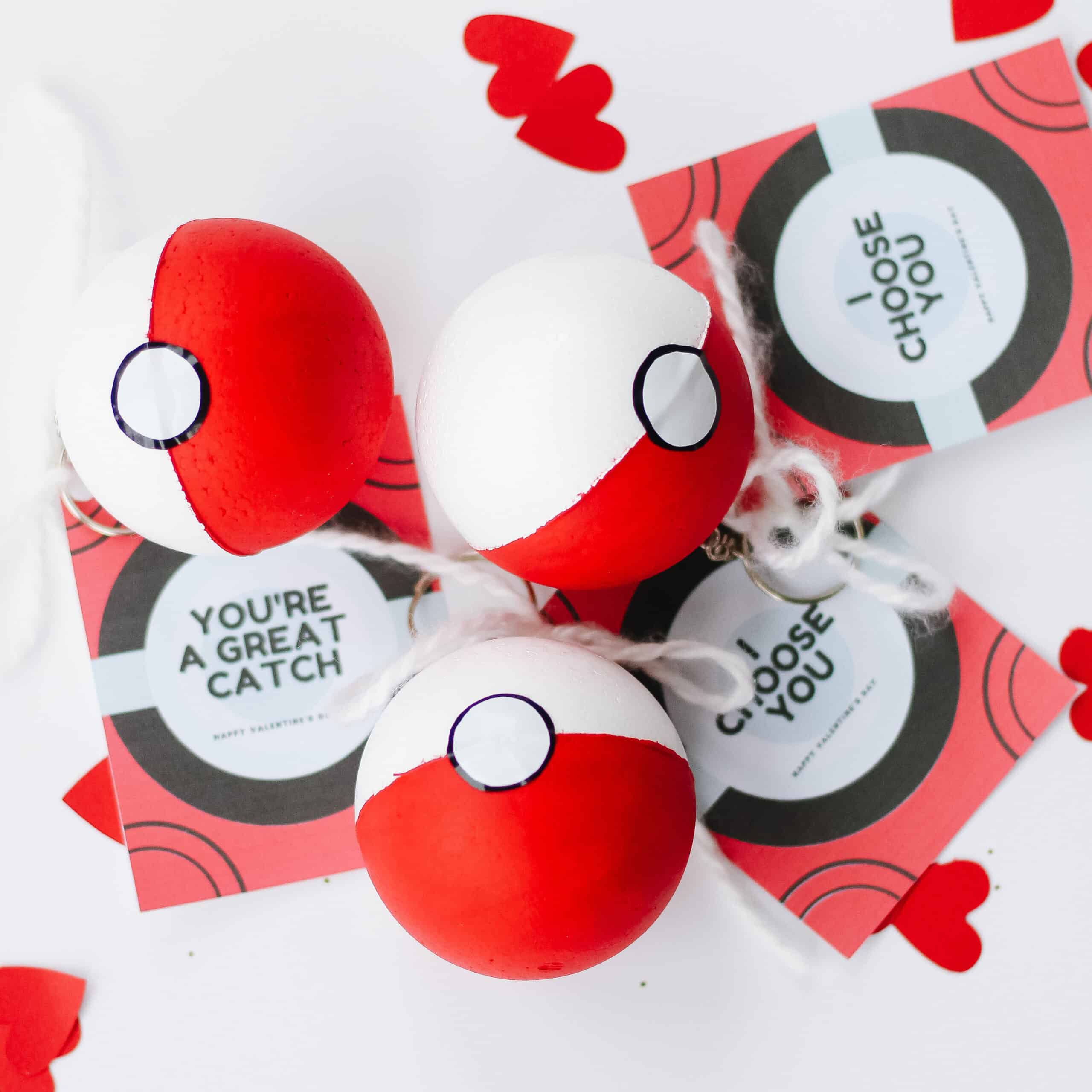 This little DIY was very simple, and such a hit with my son. I love doing DIY Valentine's when I have time, so this year I set out to do Pokeball keychains for Jack's class boys, and Ice-cream Cone keychains for the girls in his class (first grade).
For Avé's preschool class I made wands and peg doll superheros, and those posts will be up in the next week or so.
They go to a smaller school that makes it a bit easier to do these fun Valentine's – but I also set the goal to have them all done before Feb 1 so that it wouldn't be such a stressed this year!
Supplies Needed for DIY Pokeballs
Like I said above, I turned mine into keychains, BUT I actually originally had the idea to add a piece of stretchy string to each with a loop hole for their fingers so they could throw them. Definitely a fun idea to do with these if you would rather that over the keychains.
For that you would simple trade out the keychains for some tiny eye bolts and string.
Red Craft Paint
Black Craft Paint or Black Vinyl
White Craft paint or Vinyl
Hot Glue gun and glue
Painters Tape
Paint brush
Foam dot brushes in 2 sizes IF YOU WENT WITH THE BLACK AND WHITE PAINT INSTEAD OF VINYL
Basically you can do all of this with paint or with Vinyl. I liked both versions I made just as well!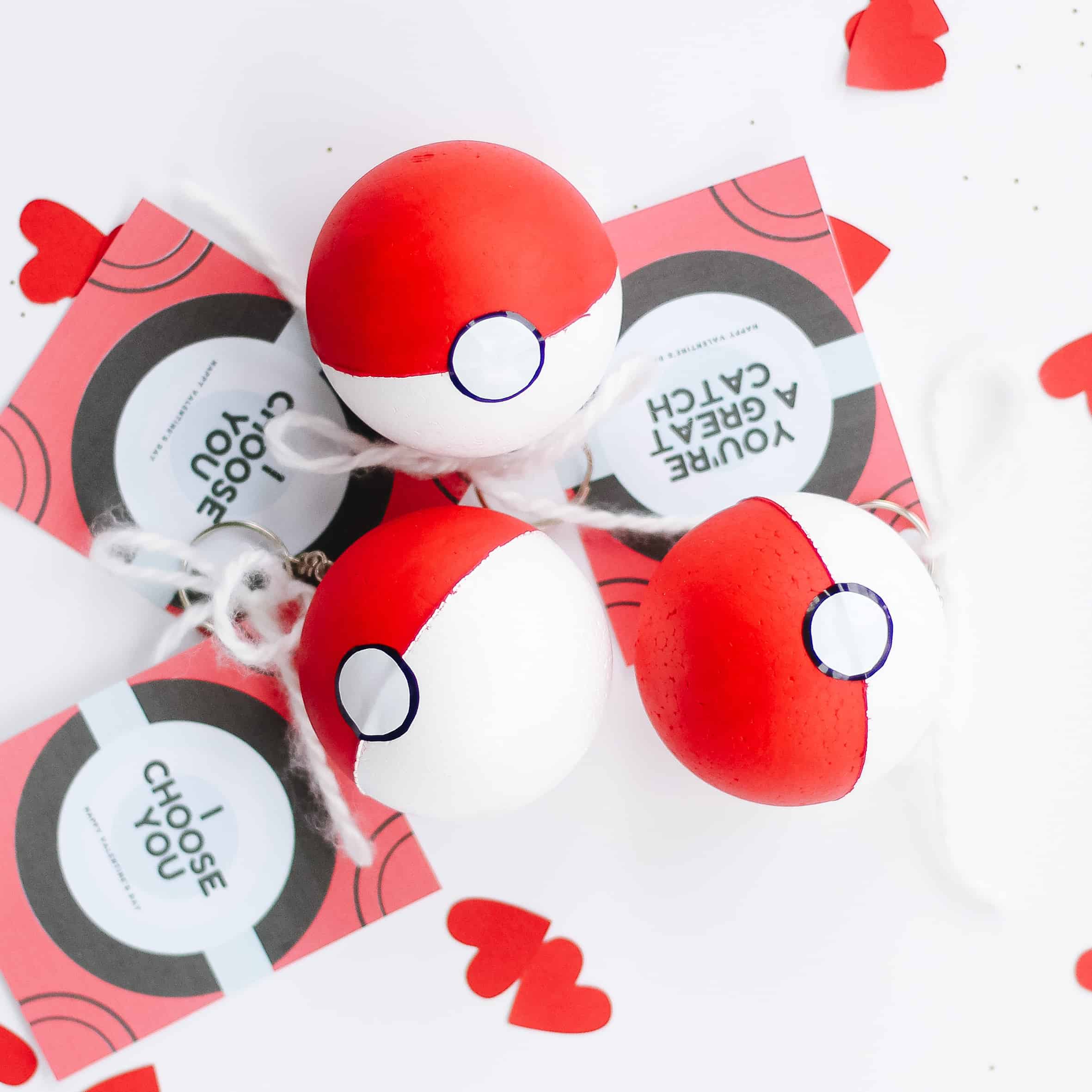 How to Make a DIY Pokeball
Now for the steps.
Tape with painters tape around your foam balls so that you can paint only one side. Take your time and get a good straight line. The balls have a seam you can follow.
Paint one side of each ball with red paint. For me each ball needed two coats of paint.
Remove your painters tape and get ready to add your dots. You can do this in 1 of 2 ways.

Cut a vinyl black circle and apply it centered over the red and white line split. Then cut a slightly smaller white circle and place it in the center of the black dot. I used a glue stick and a lipstick for my circle sizes!
Or you can use paint. If you use paint, put your foam circle brush in your black paint and do a test dot on a paper plate. Then firmly push the brush on the ball on the red and white seam to get a black dot. You will need to let that fully dry then add a white dot in the same way in the of the black dot.

Once your balls are fully dry you can add your keychains. For this step, first put the two keychain parts together in the bag ( you will know what I mean). Fill the small hole in the foam balls and insert the one end of the keychain into the hot glue and hold it really still while the glue starts to dry. Once its sort of set up you can set the ball down to finish drying.
That is it! These were such a hit with my son! He seriously thinks I am the coolest mom, and I am sure your kids will too.
Free Printable Pokemon Valentines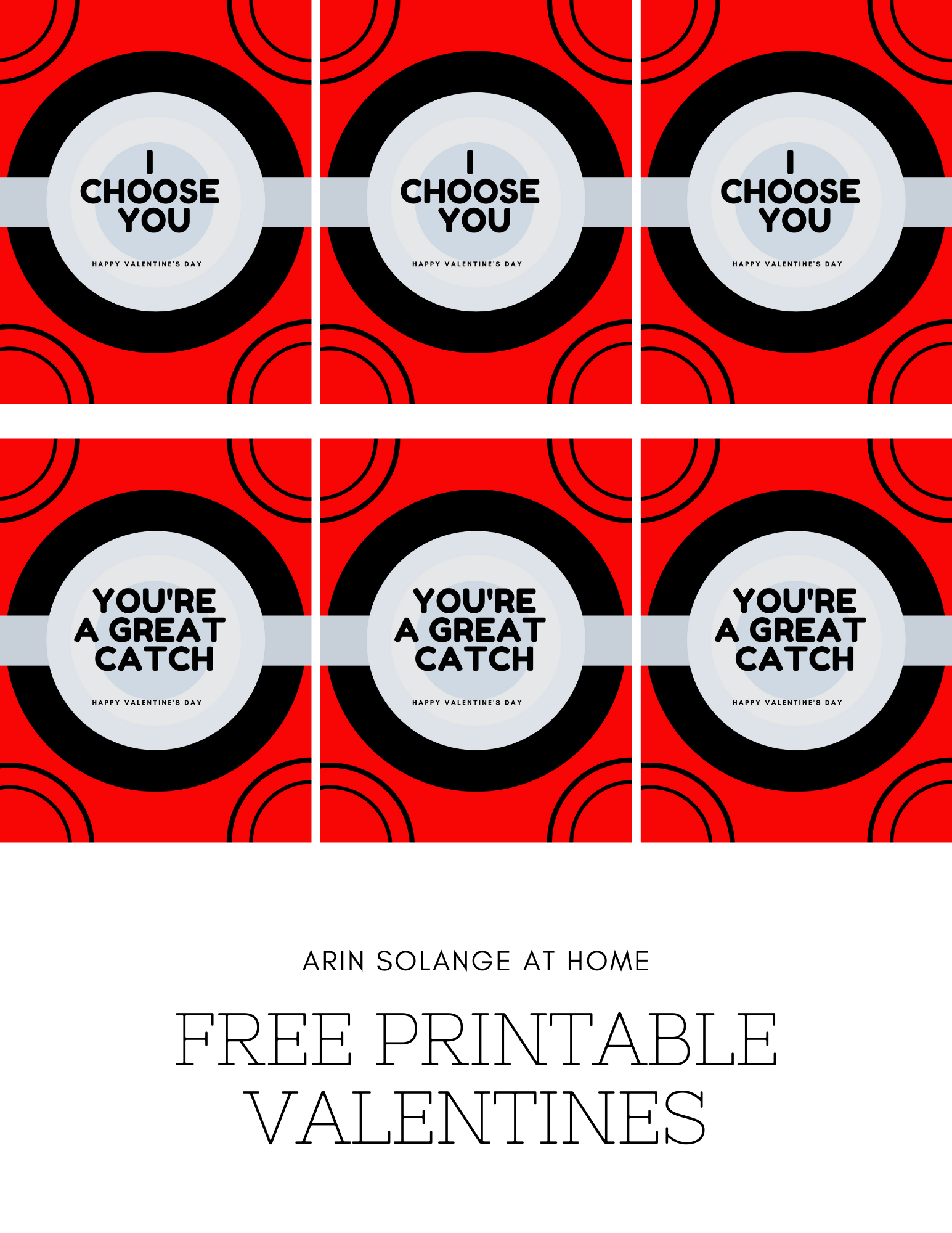 If you have any questions, let me know in the comments below, and as an added bonus, I wanted to make things really simple and created these free printable Valentine's you can add to your pokeballs.
My hope is that they look like a Pokedex…also why do I know all these terms? What has my life come to? haha. To print them just click below and enjoy! I simply used a hole punch and tied them onto the keyring with yarn.
FREE PRINTABLE POKEMON VALENTINES
I hope you enjoyed this fun DIY, and be sure to follow me on Instagram to see more DIY fun, and subscribe for my emails to get notifications of the rest of the DIY Valentine's this year.
PIN THE POST BELOW FOR LATER