It is no secret that every family has that one kitchen drawer. The drawer where all of your tupperware and water bottle collection goes to disappear. Just when you think you've cleared out all the unmatching pairs, you find another one. With summer coming up, that means lots of hot days in the sun and lots of water bottles to keep track of. If you are struggling to keep all of your water bottles together, I'll share how to organize water bottles in kitchen using storage solutions that work.
This post may contain affiliate links.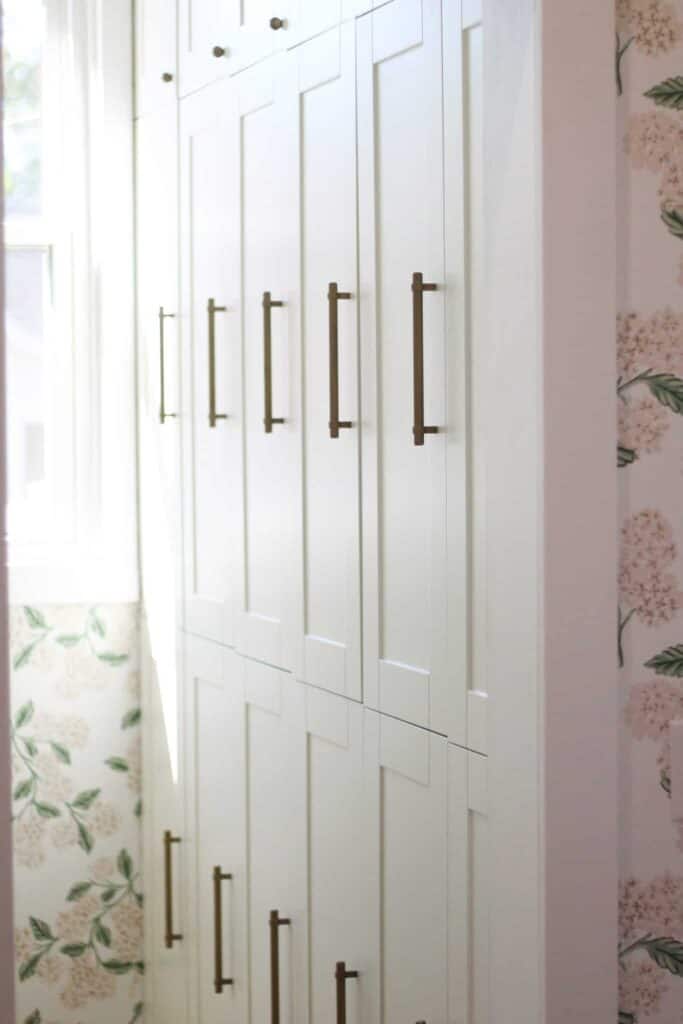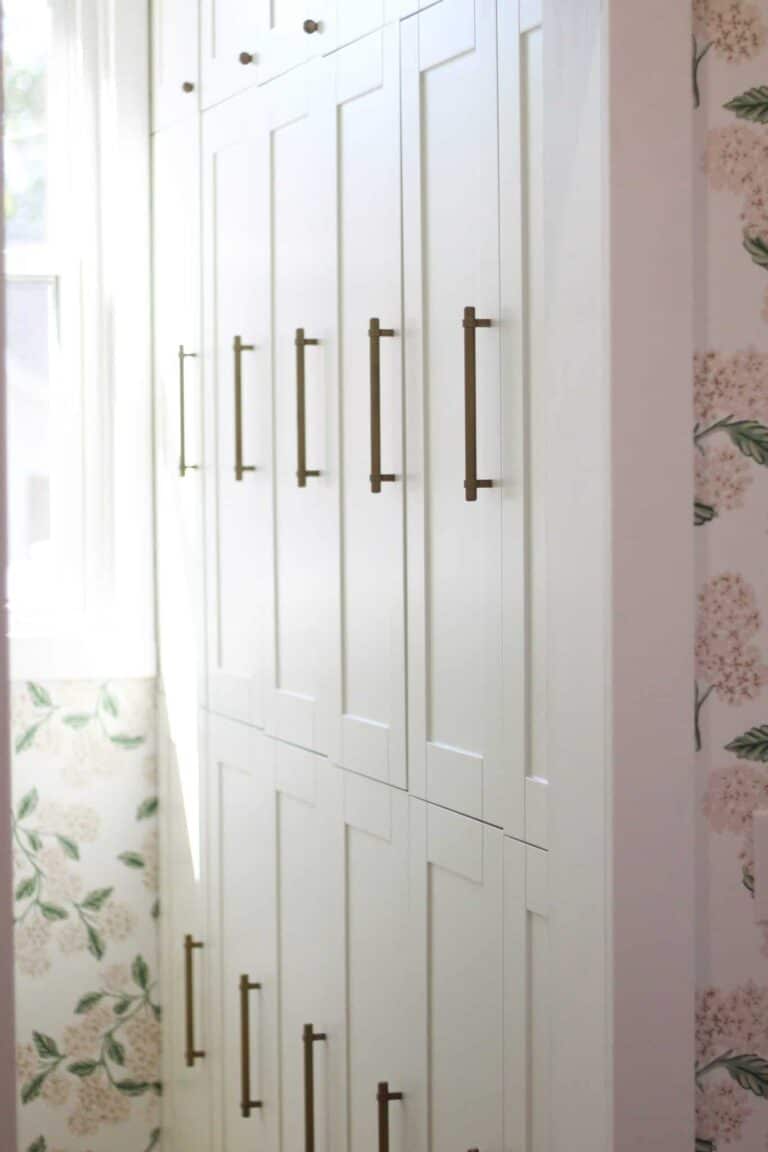 How To Organize Water Bottles In Kitchen: Smart Storage
We are finally getting a taste of Spring with warmer temperatures. I can't wait for those warmer months when we can finally come out from our homes and enjoy the outdoors more. My big kids are big into sports. So every weekend we end up being out at the baseball field cheering on our favorite team.
If you want to check out my must have products to help you battle the heat, check out my Amazon storefront for sports here. One thing we never leave home without are our lot of water bottles. There is nothing worse than having a cranky, sweaty, dehydrated kid in the summer.
While I may remember to pack my kids' water bottles, organizing those bottles is a different story. With some prodding, I'm lucky if my older kids remember to bring their bottles in from the car. From there, then I have to overcome the obstacle of making sure our larger collection of reusable water bottles are placed in an organized space.
If you are struggling to keep your kitchen cabinets space functional and track of your favorite water bottle, then you're in luck. I'll be sharing some creative ways to store water bottles. No more mismatched tops or misplaced bottles. Take back your kitchen space with these water bottle storage ideas.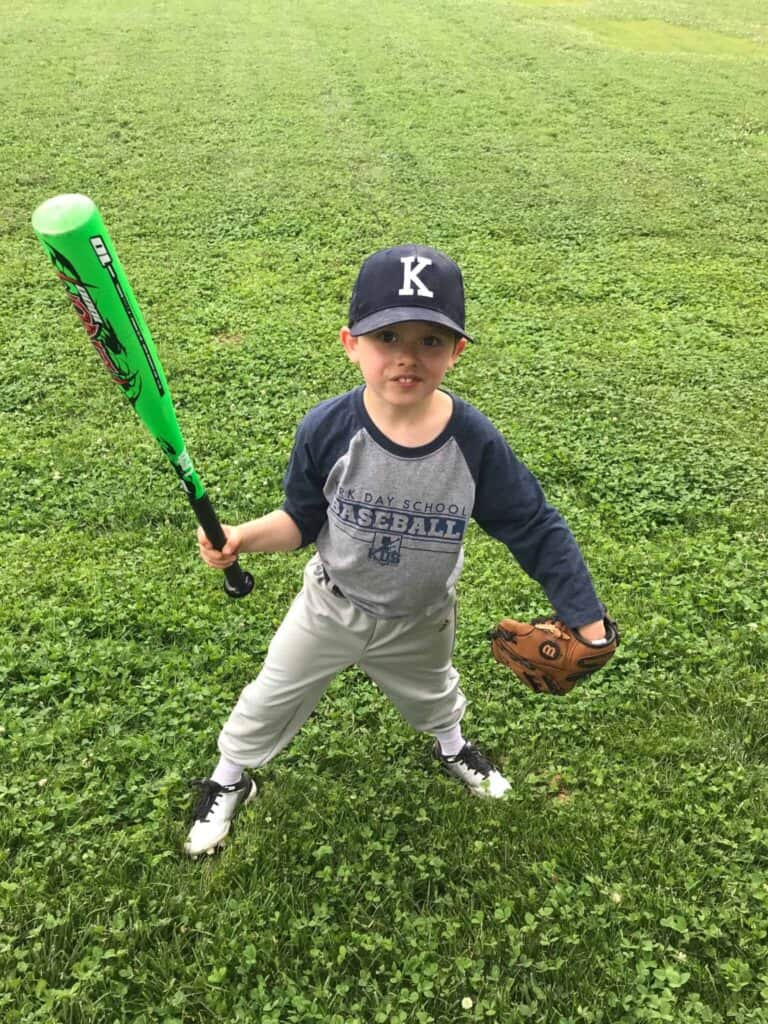 Do A Little Prep
First things first, you are going to have to do a little prep work before you can implement your water bottle storage hack.
Over the years, you may have noticed that you have lots of water bottles. For some reason, my collection seems to grow each year. So not only do I have more drinking glasses to keep track of, but I also have to find enough room in my kitchen cabinets to fit all of them.
Before you go out and buy a water bottle organizer, you'll want to do a bit of prep work. That means, go through your collection. I know this may seem like a step you can skip, but trust me, you can't. Kitchen clutter can accumulate so quickly. If you have a small kitchen, you likely don't have the extra space to hoard all of those mismatched bottles.
One of the easiest ways to begin organizing your collection is by pairing it down. Time to declutter and decide what bottles should be kept and what ones may be missing parts and donated. This takes a little extra time but requires no extra cost. It is a simple solution if you already have fairly organized cabinet shelves, but just lacking on available space.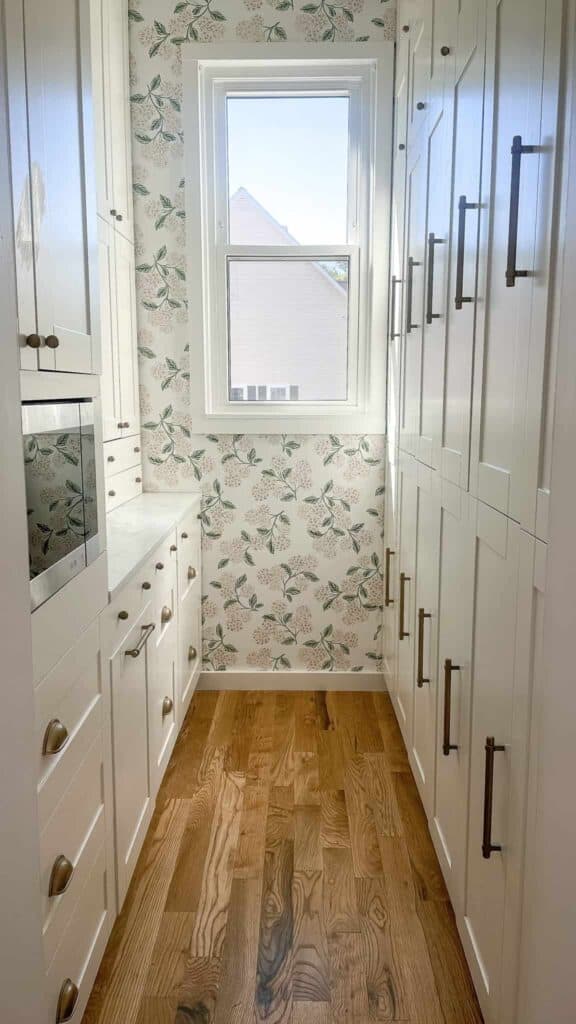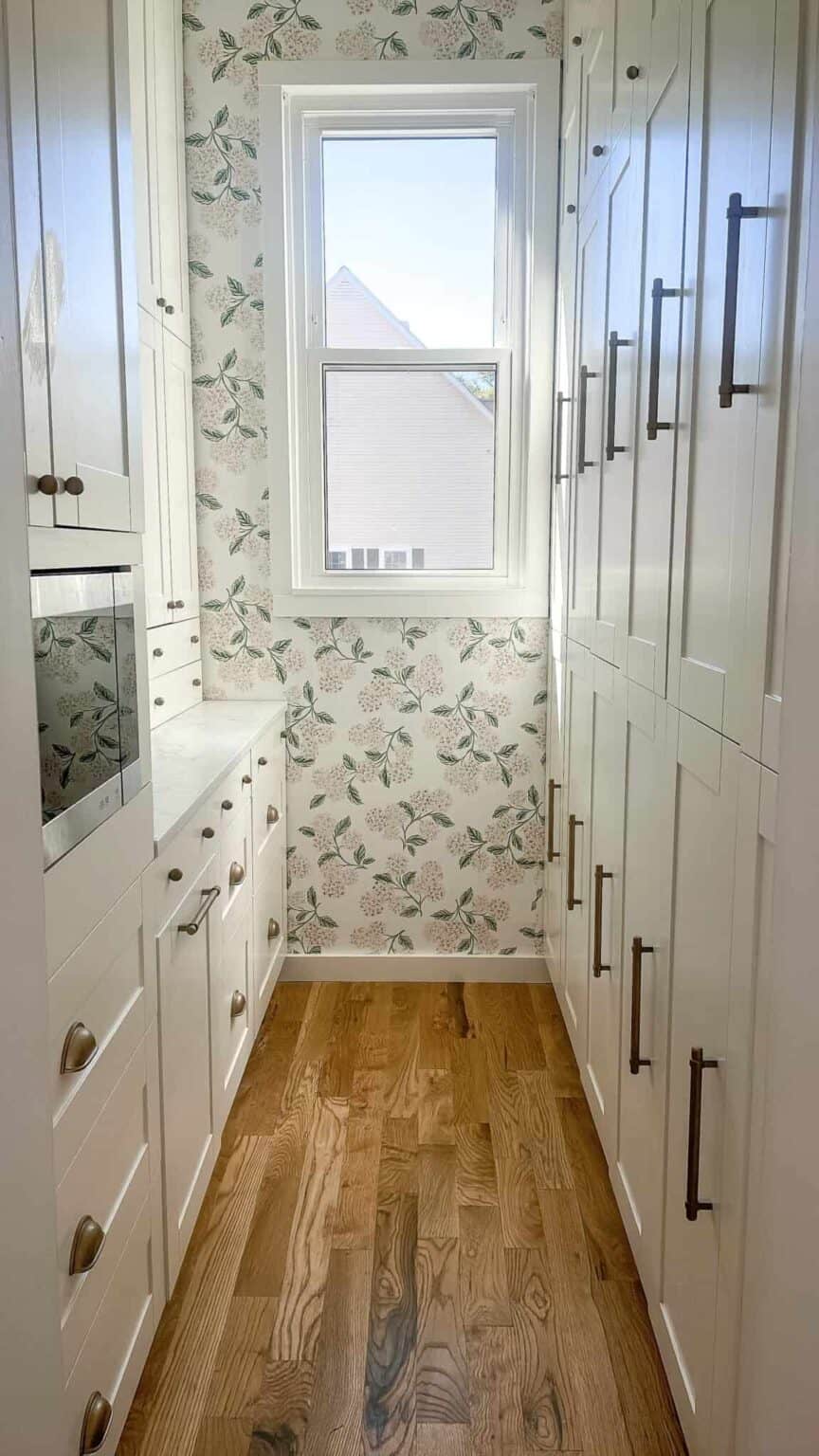 Consider Your Space & Size
You can't get good use out of your water bottle organizer unless you consider your space first. This means, don't end up buying a stackable water bottle storage rack if you don't plan on putting it in a cabinet shelf that can accommodate it for the height of the rack.
You need to decide on where you intend to store all of those bottles. The size and location of your collection will impact the organization ideas you can implement. For example, if you don't have a dedicated cabinet space, a cabinet door may be an option. If that is the case, utilizing a door shoe organizer is a great idea if you don't have a lot of space.
For a large family, a dedicated lower cabinet may be a great option. Generally, base cabinets are deep and have plenty of room to house a large collection. It can also be ideal because of it being easy access for those smaller kiddos who want to use their independence. Keep in mind that if you do place your collection on a lower pantry shelf or cabinet, you're likely to have to re-organize often if you have a family member with little hands. For some reason, base cabinets make the best hiding spot in hide and seek.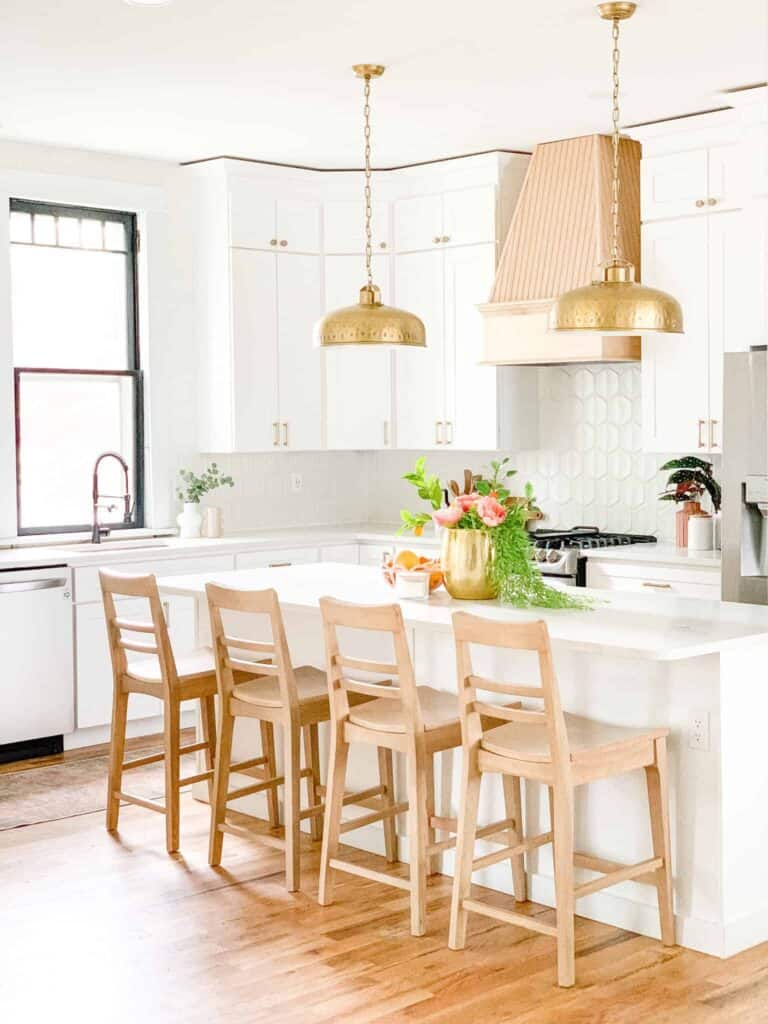 Take Inventory Of Your Water Bottle Collection
By now you should have already paired down your collection. I like to make sure all the bottles, lids, straws, and tops are all together and accounted for in my collection. If any parts are missing, time to remove them out of your rotation or buy the missing part to make it complete.
Now is also the time to organize your bottles by size and shape. You don't need to go crazy and do a color-coded system. Instead, a simple option is to just put your bottles together by similar heights and widths. Since water bottles come in various sizes, you may have a storage solution that is better suited based on your water bottle's size.
Do you have a collection of taller bottles that need to be placed on their sides? Or, do you have wide stainless steel mugs that may be shorter and easily stacked? The size and shape of your collection will play a big role in the type of water bottle storage solution you can implement.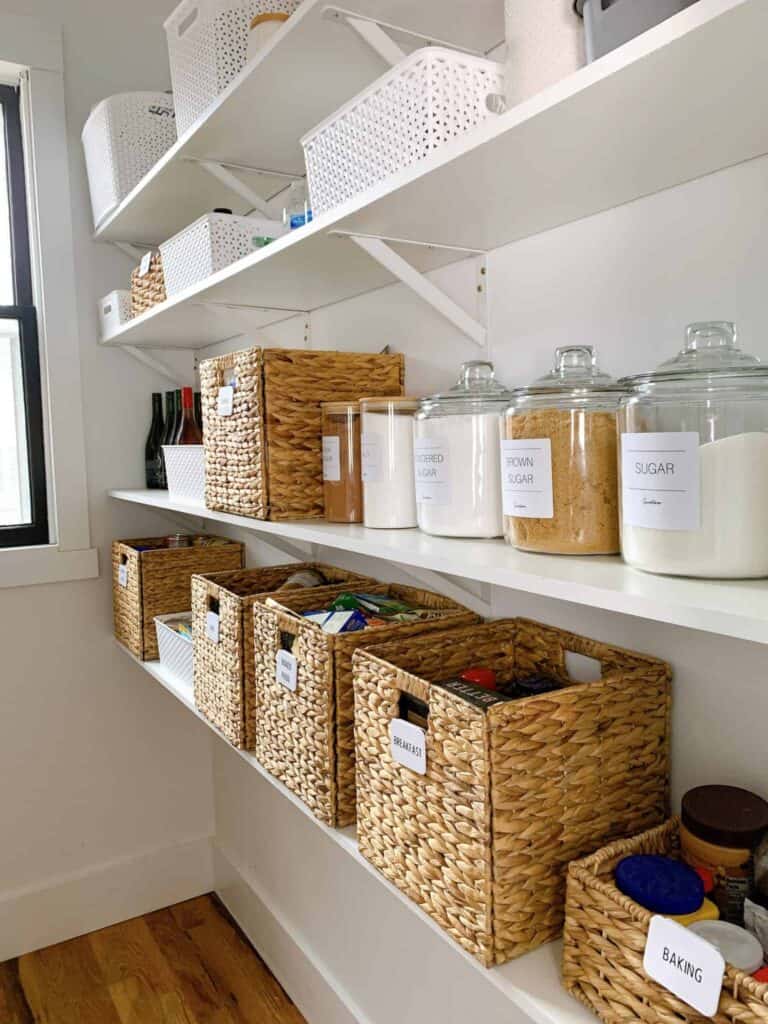 How To Organize Water Bottles In Kitchen: Storage Solutions For Any Space
Regardless of where you plan on storing your bottles or the different sizes of your collection, you can find a storage solution to fit any need. Here are a few of my favorite solutions to answer the question of "How to organize water bottles in the kitchen?"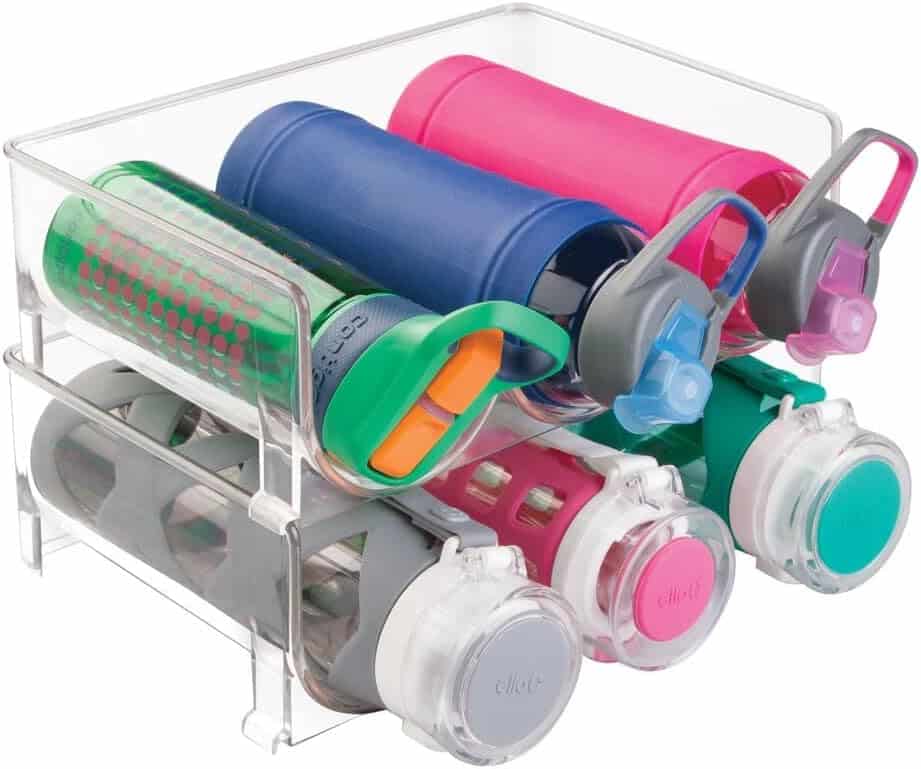 This stackable water bottle rack is the perfect solution for all of your water bottle woes. You'll notice though, that the rack accommodates 6 bottles total. If you need a larger option and have the space, you can always add additional shelves. You may be limited on the size and shape of your collection. Either way, this is a great water bottle holder that will work for most types.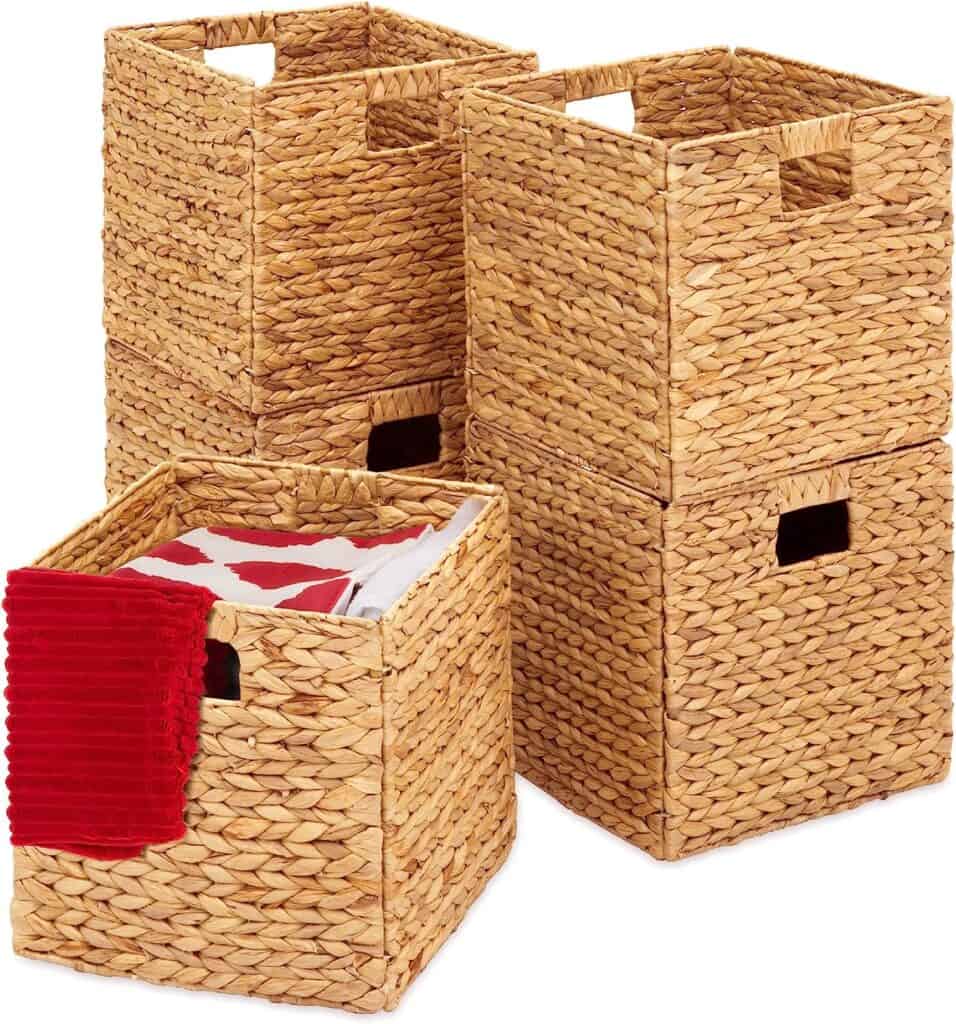 I have several travel mugs that have a wide base. As a result, the special rack isn't a great solution. Instead, I love using a storage box like these cute wicker baskets to hold those awkward sized bottles.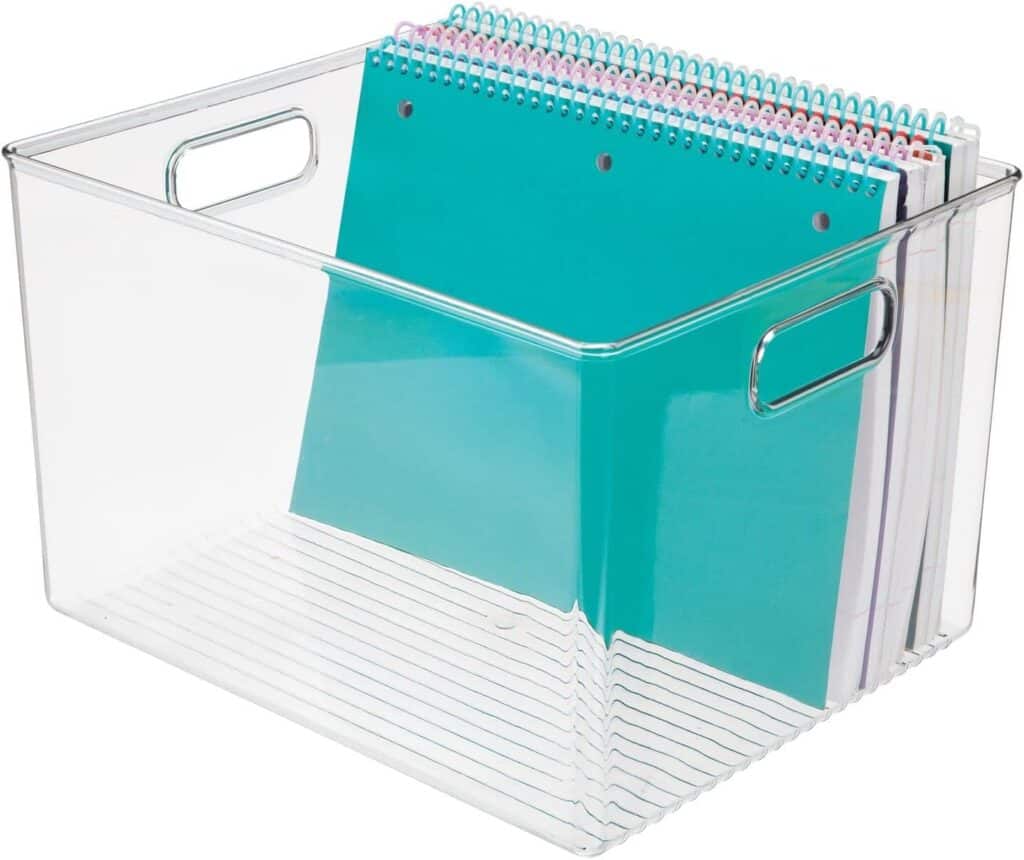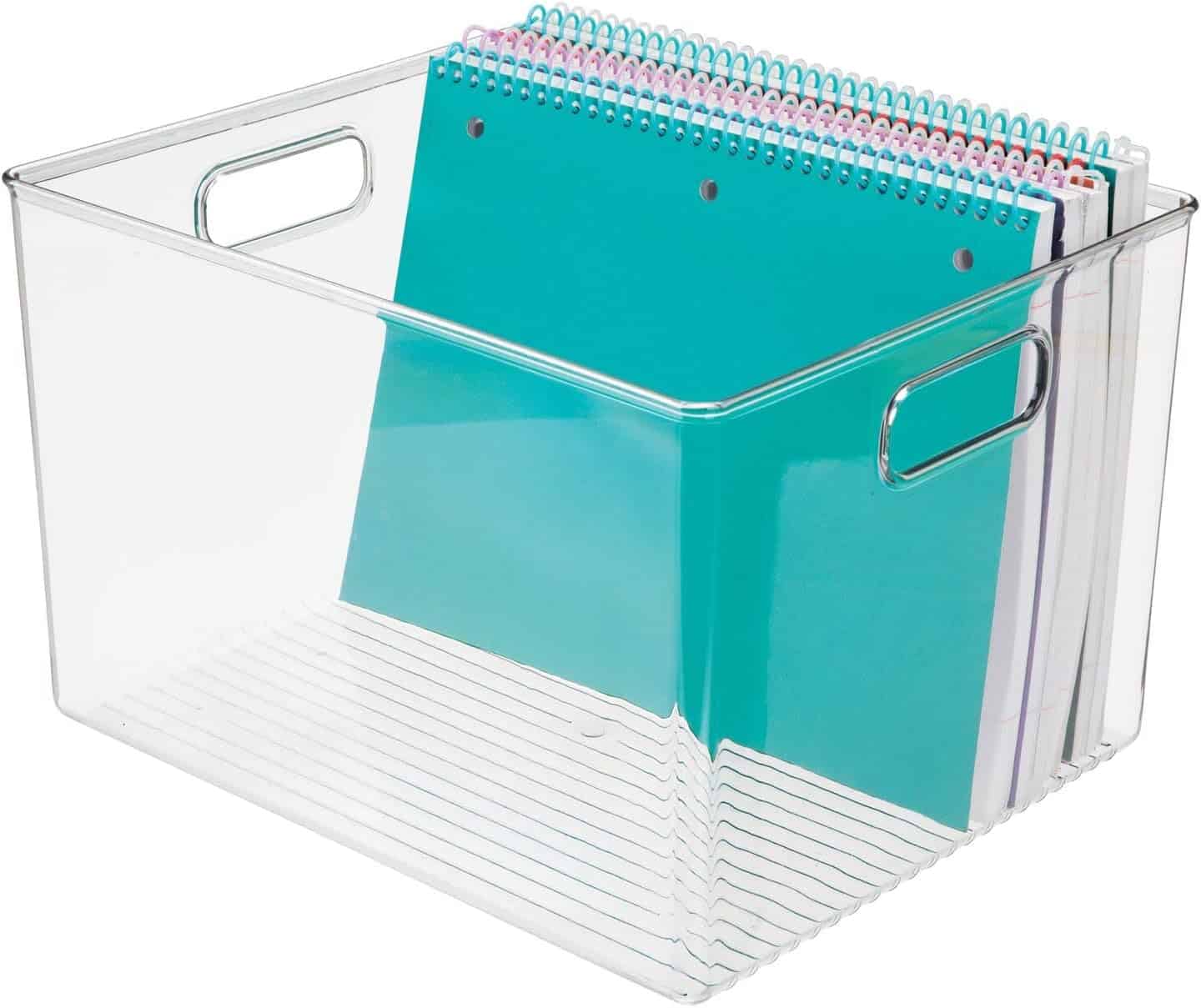 While I love a good wicker basket, I will say that nothing beats being able to quickly see what is in my bins. Wicker baskets can be easily placed out in plain sight and still look aesthetically pleasing while serving its purpose. If you have the space, I much prefer clear containers, but understand that some people may not have the ability to utilize an entire base cabinet or large drawer.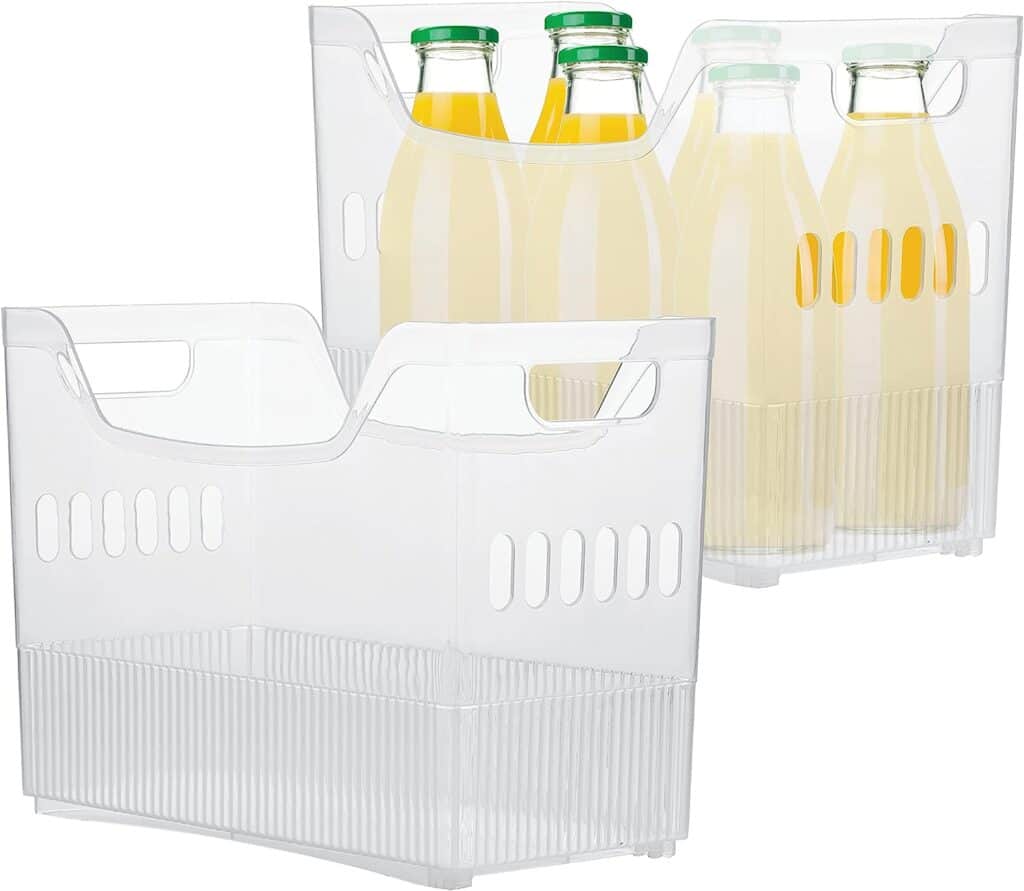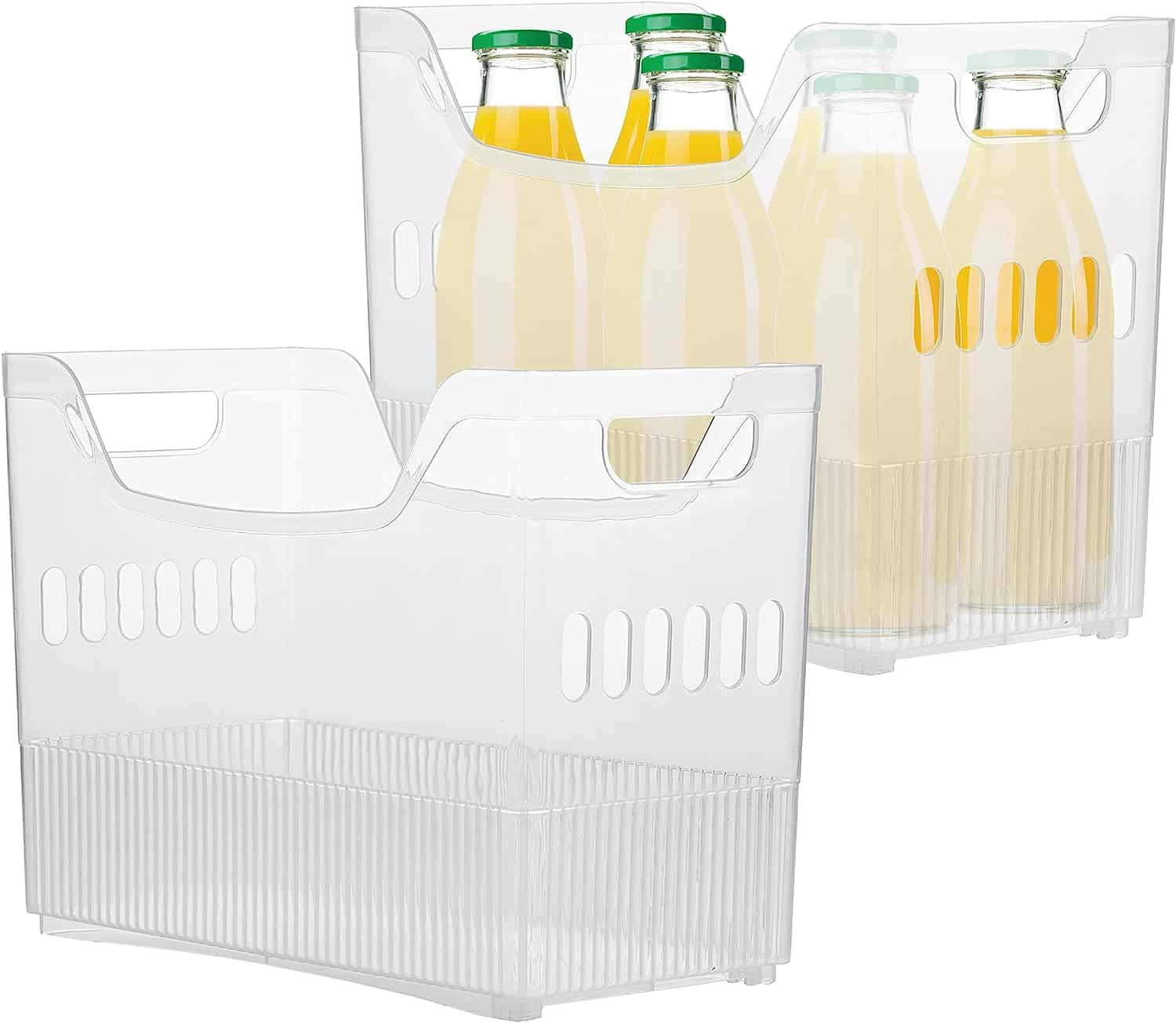 These plastic storage baskets are another great alternative. You may have a hard time dedicating enough space to accommodate those larger solutions. These storage baskets are a great way to display your collection on a pantry shelf. I will warn you that they come in and out of stock frequently. I've linked a similar item since my original was out of stock.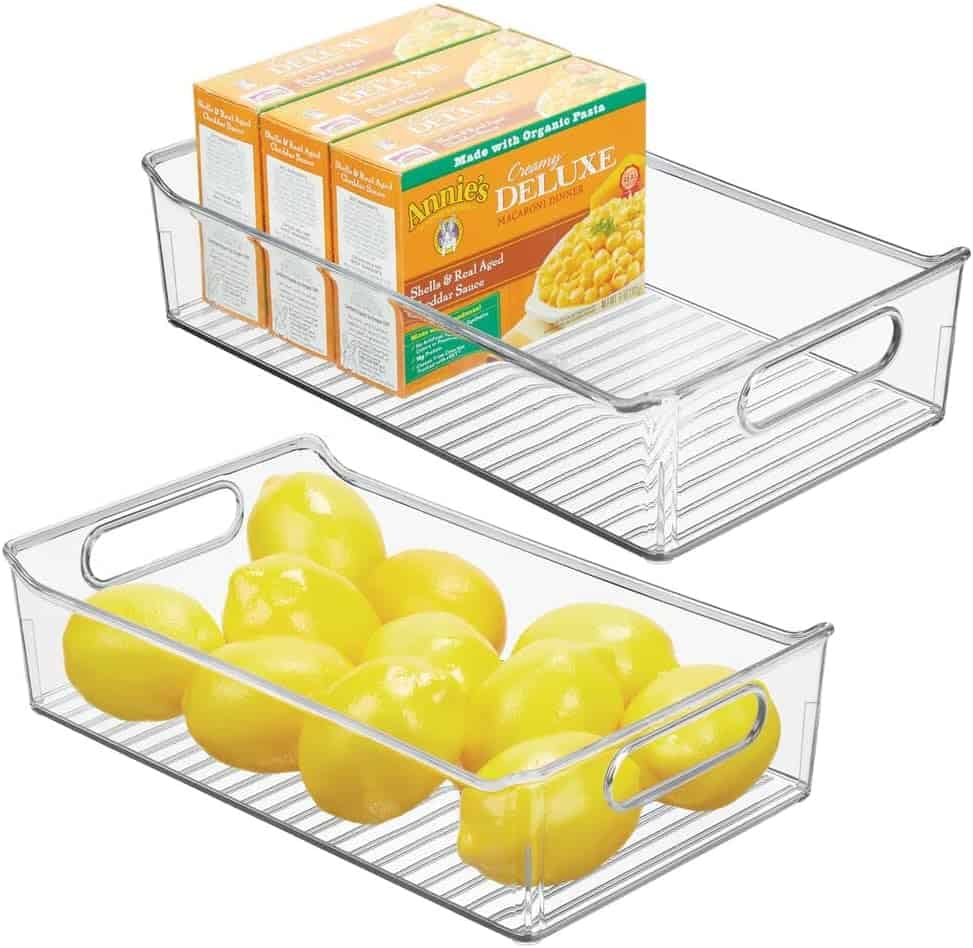 These clear storage bins are just another example of an easy way to quickly organize your collection. The size is more forgiving for small spaces and can easily hold several bottles. I'd place these in a deep drawer. If you have multiple sizes of bottles, this bin would be a great alternative for your smaller kid cups.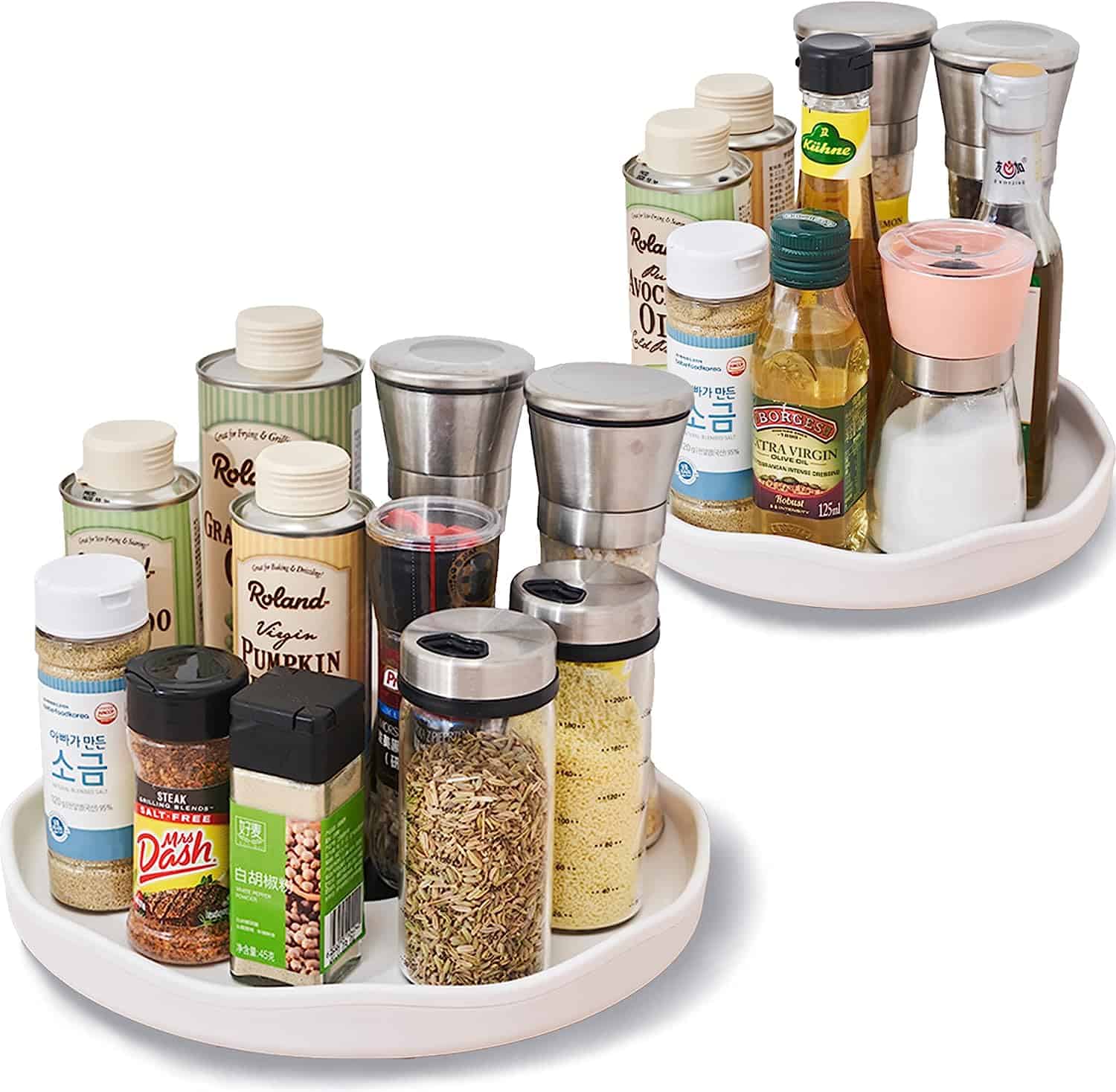 Lazy Susans may be one of the most versatile storage solutions on the market. You can use them from storing condiments in your fridge to storing beauty products on your bathroom counter. It should come as no surprise that a lazy Susan is a great way to utilize shelf space to organize those water bottles.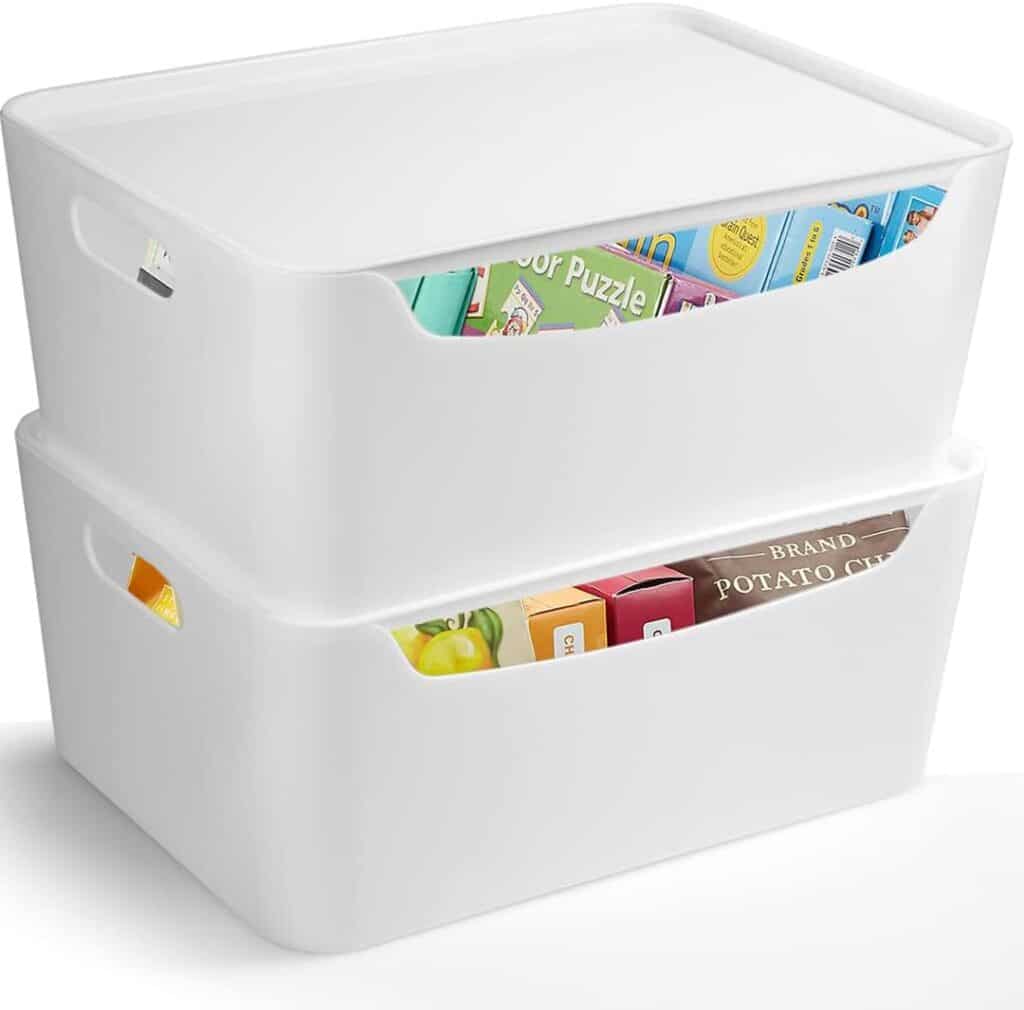 If you need a way to organize all of those smaller parts of your collection, these stackable bins with lids are a great option. I love that you can store straws, lids, and even bottles in these bins. The lids allow you the ability to stack the bins to further maximize storage space.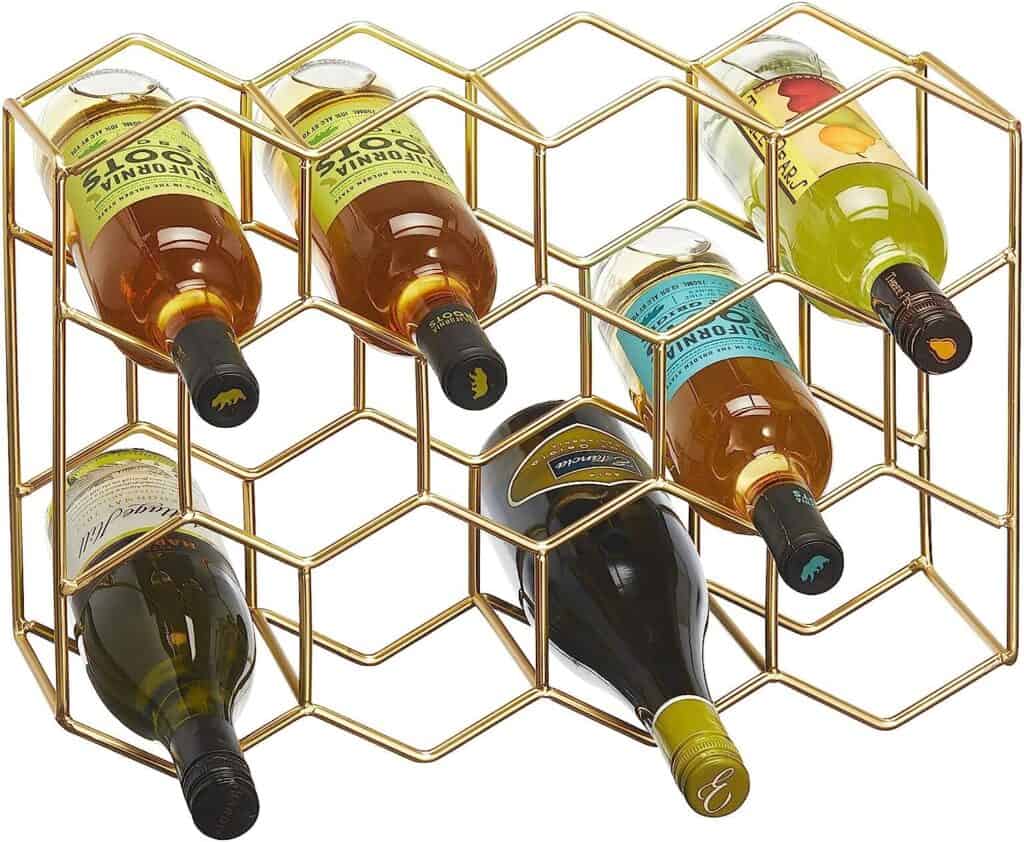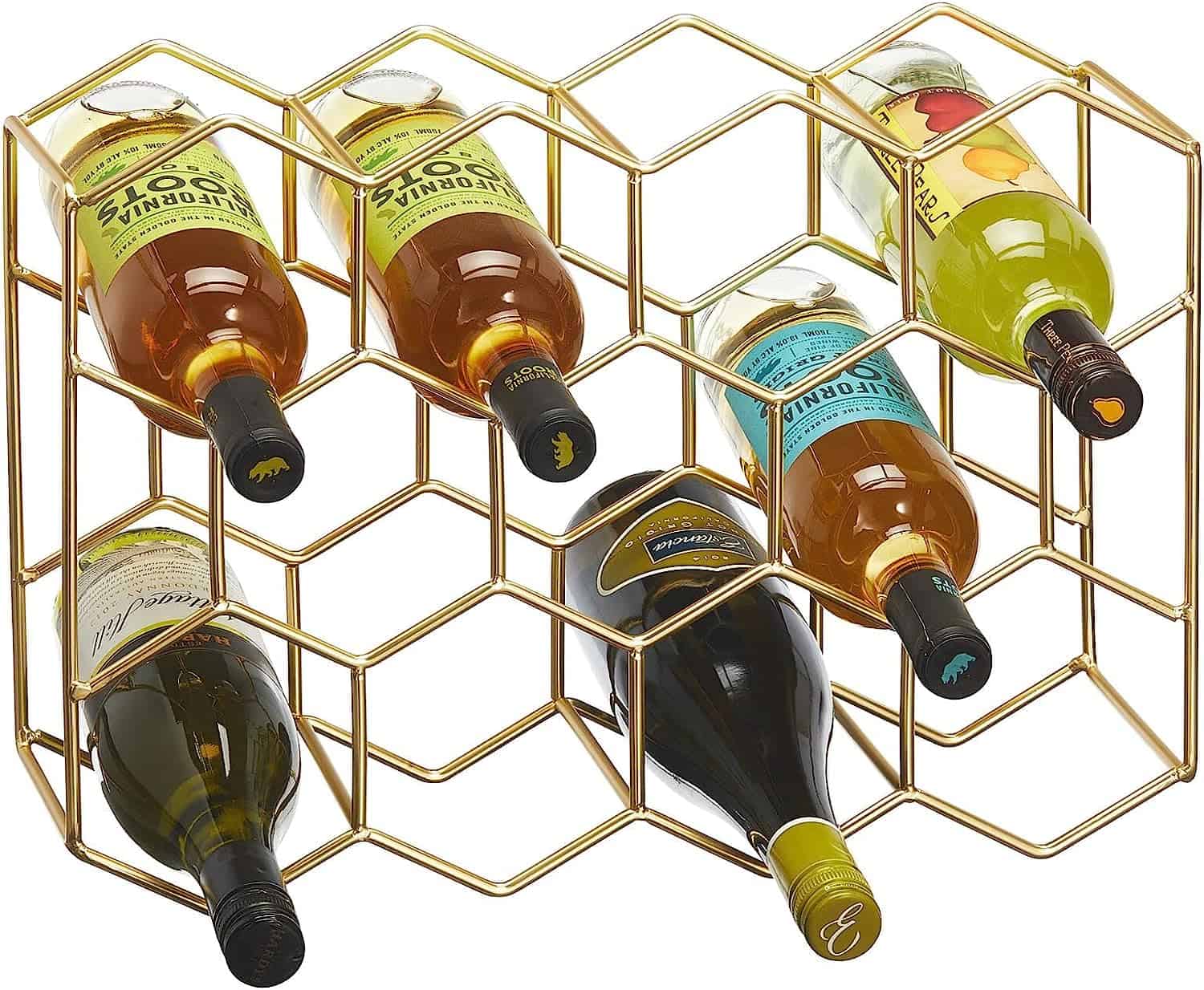 It's not that far of a fetch to use an old wine rack to help organize your water bottle collection. A bottle is a bottle, afterall. I love this beautiful gold rack that can hold up to 11 wine bottles- er water bottles. This options works well if you need to showcase your storage solutions due to space. Store is on your kitchen counter for a beautiful storage piece.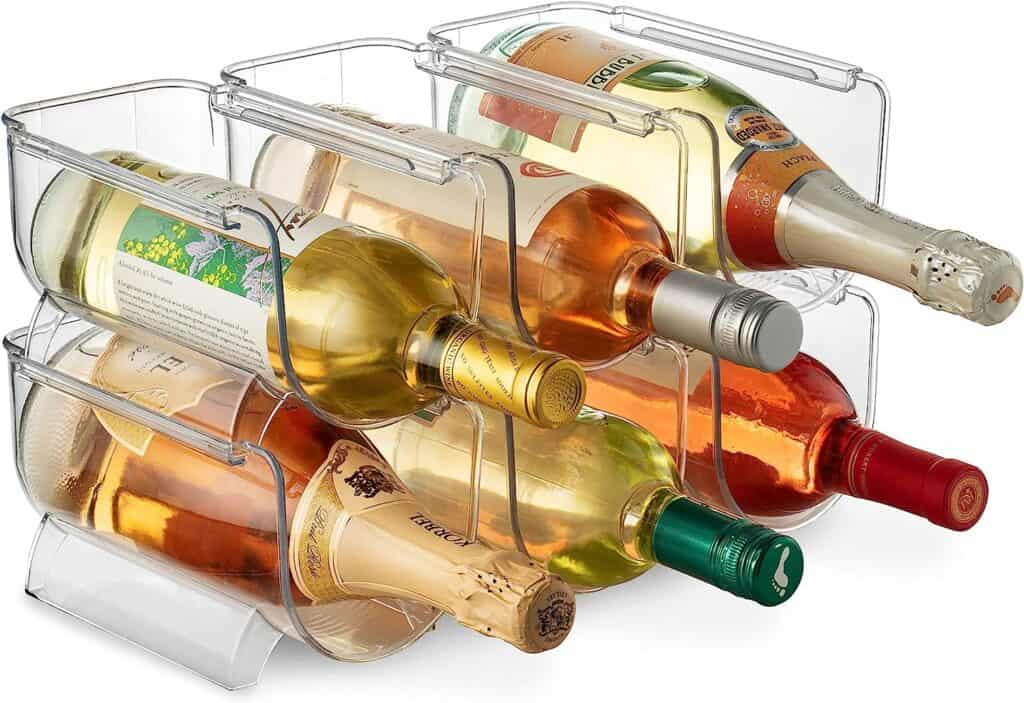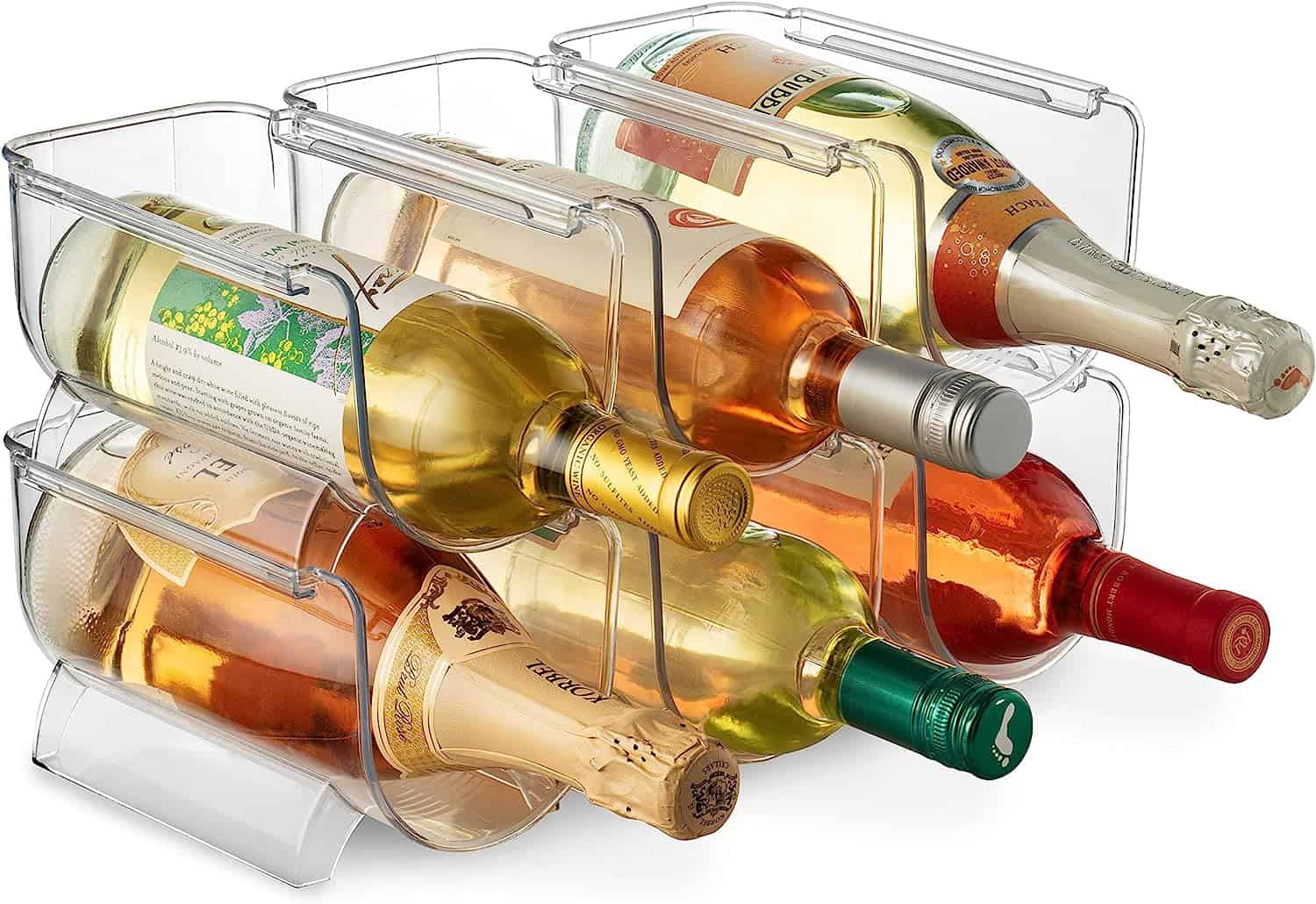 Do you love the idea of using a wine rack but have limited space? This stackable wine rack is one of the best ways to still utilize that solution. I love that you can have multiple rows and columns to fit almost any space you need. Stack it 3×3 or even make it one tall tower.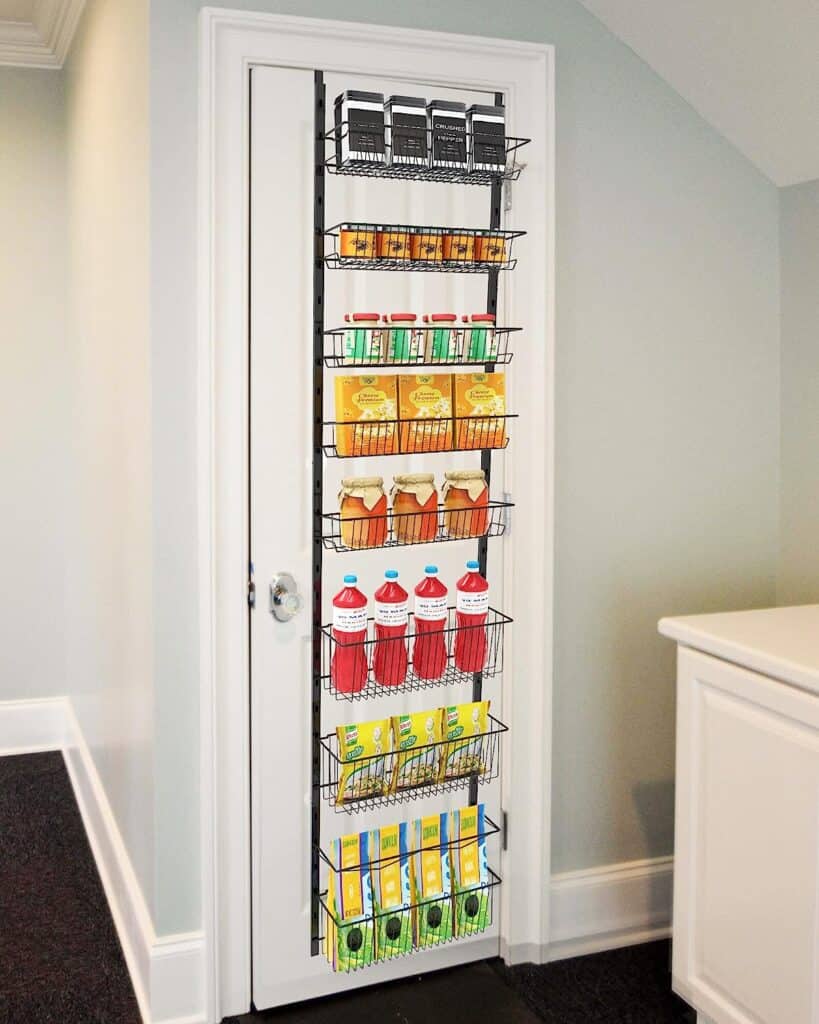 Sometimes you need to make use of every inch of storage space you can find. If you have a laundry room or pantry, consider adding this over the door wire rack. You can store water bottles and other items that you need to grab quickly to be out the door. The perfect solution for a quick grab and go- sunscreen, water bottles, shoes, etc. You have a built in mudroom in these 8 shelves.


Sure you can use an over the door shoe organizer, but this water bottle organizer takes the cake. If you need an over the door storage solution this is a great option. With enough room to hold up to 12 bottles, there are separate spots for lids and other accessories.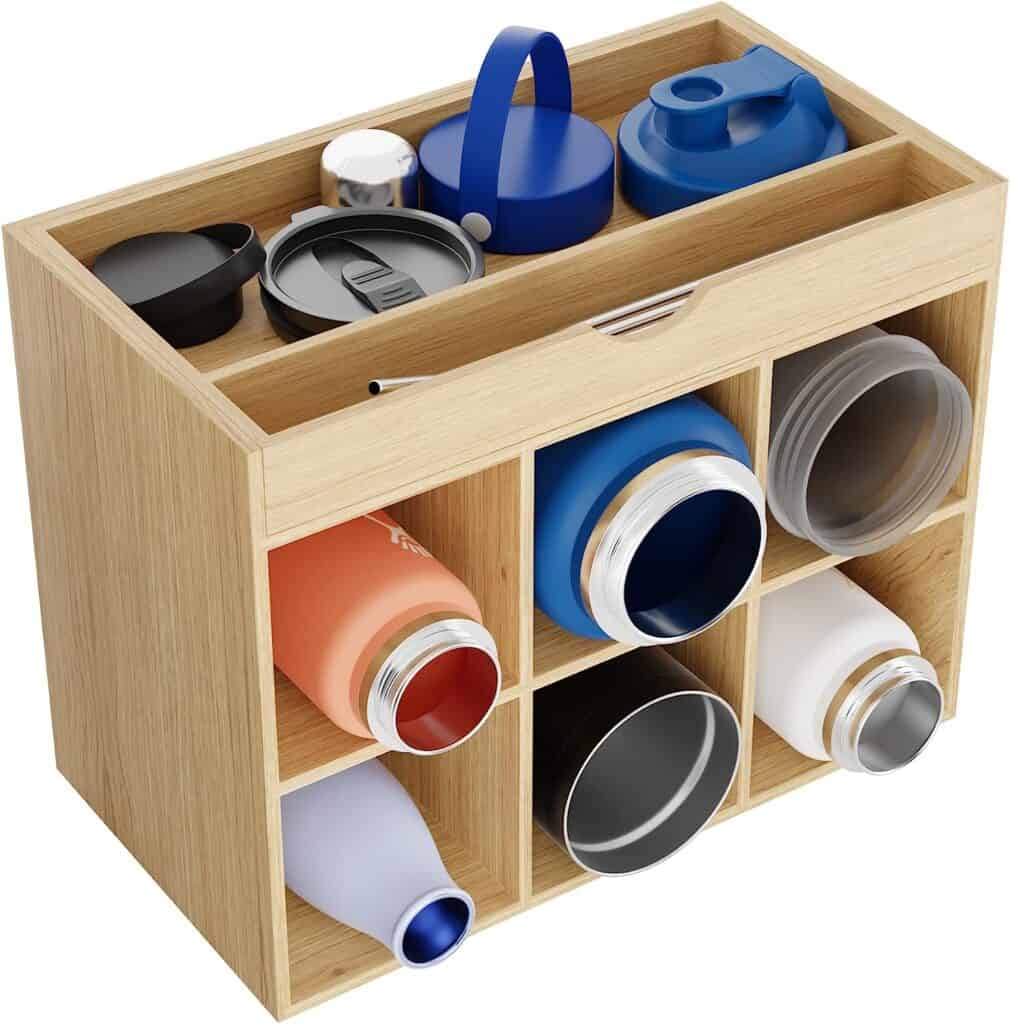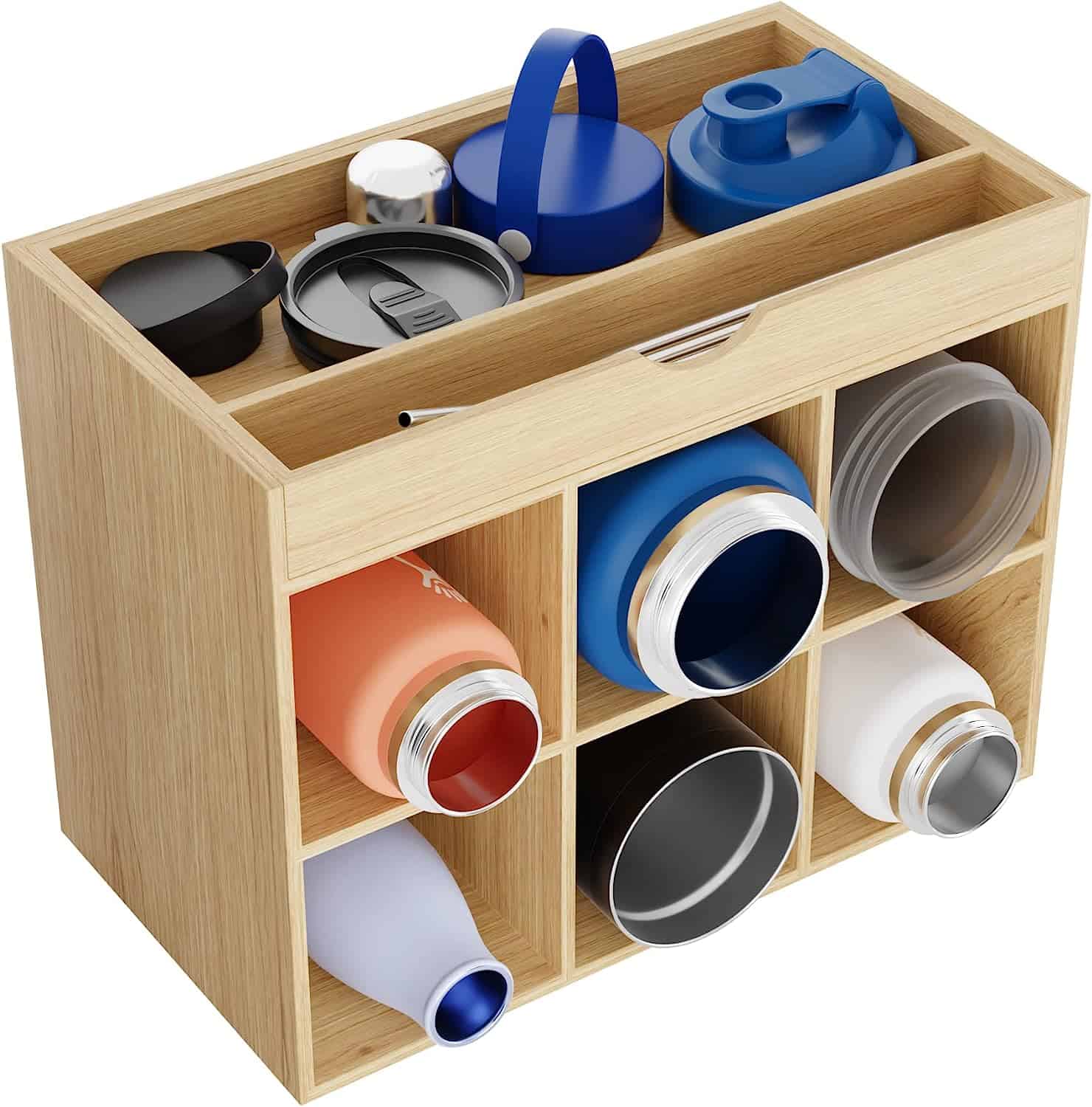 If you need another option to store a small collection of bottles, this bamboo organizer is a great choice. You can easily place it in a cabinet or keep it out on display. There are 6 cubbies to hold your bottles and then a flat storage area above to hold any accessories or tops.
Water Bottle Kitchen Storage Solutions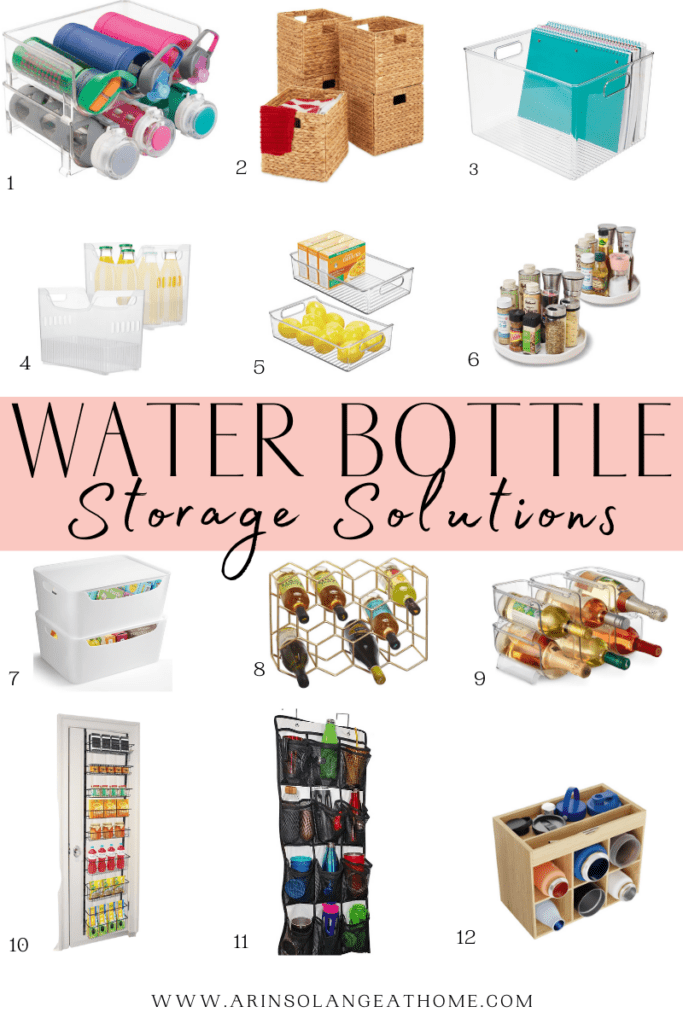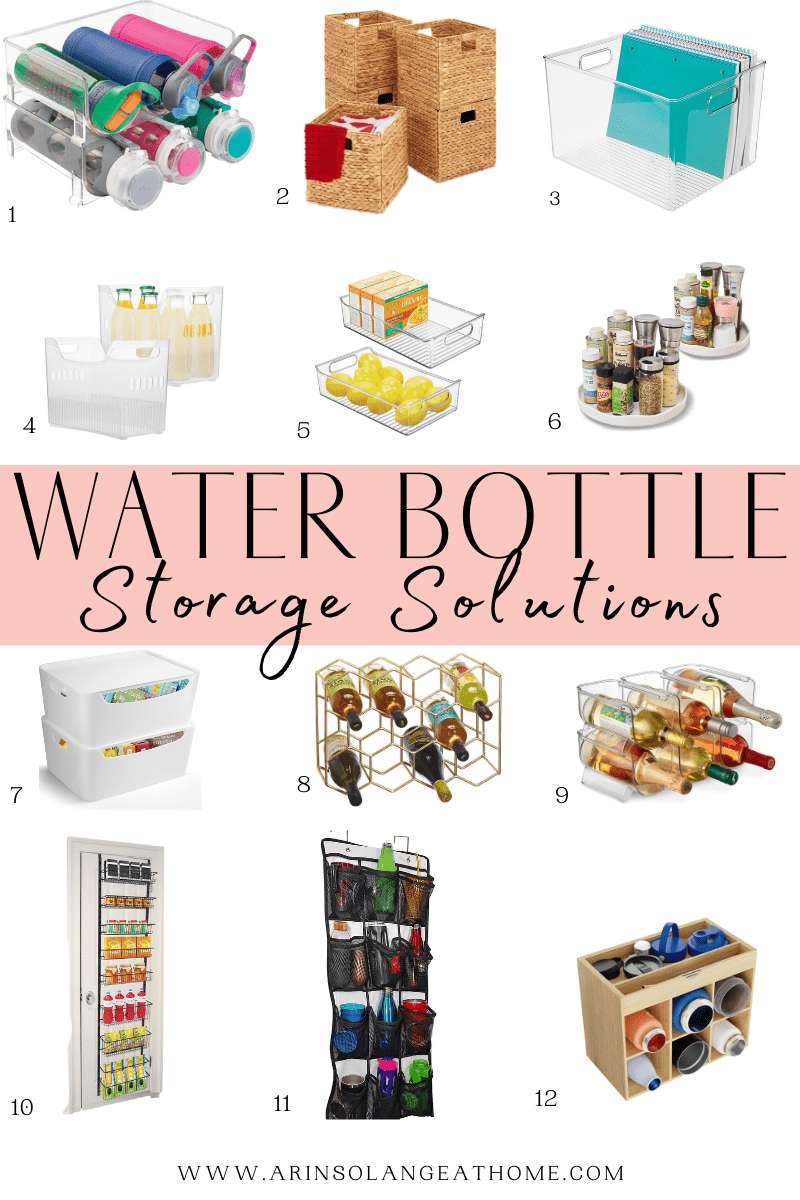 Shop Water Bottle Storage Solutions
1 | 2 | 3 | 4 | 5 | 6 | 7 | 8 | 9 | 10 | 11 | 12
Other Posts You'll Love
How To Organize A Garage | Kitchen Organization | How Deep Are Kitchen Wall Cabinets?
Follow Social For The Latest & Greatest
Pin This Photo Below For Later
I hope that these smart storage solutions help you answer the question "how to organize water bottles in kitchen?" Regardless of how much storage space you have available, there is something for every kitchen. With a few easy steps and products you'll have a functional water bottle station. If you need ideas for other smart solutions, check out my Amazon storefront here.
Be sure to pin the photo below for later, and if you don't already – follow me on Instagram (@arinsolange) and Tik Tok (@arinsolange) for more fun!