Are you looking for creative DIY bar shelf ideas to spruce up your home bar? DIY bar shelves are a unique way to add a stylish touch to any home bar. Whether you're trying to create a rustic, vintage-inspired look or something sleek with a more modern look, there are plenty of DIY bar shelf ideas that can help you achieve the perfect look. From hanging shelves made from reclaimed wood, floating shelves attached with metal pipes, and built-in lights, these DIY projects will help you create the perfect atmosphere for your own bar.
This post may contain affiliate links.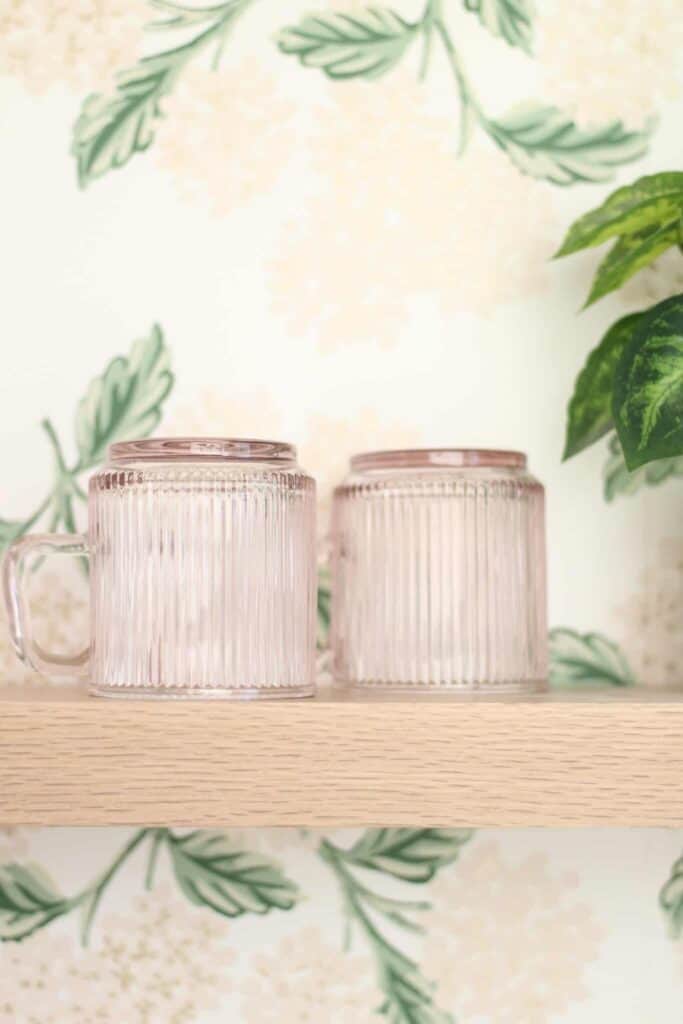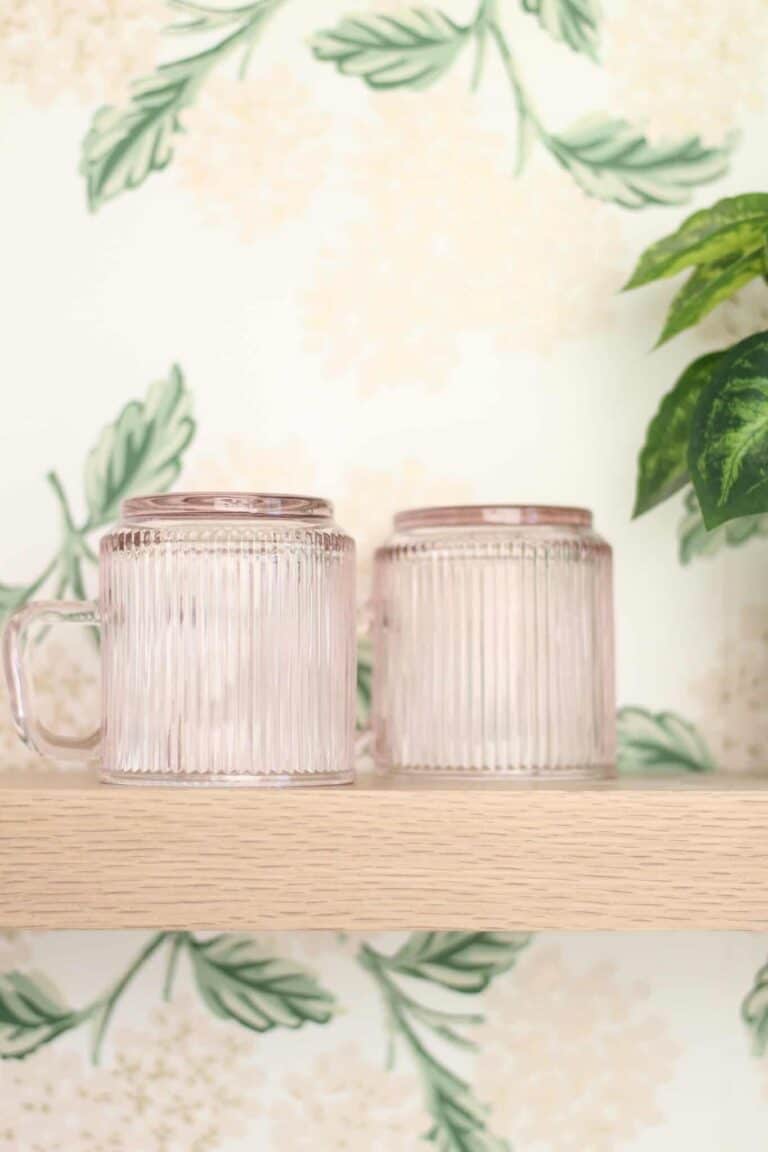 DIY Bar Shelf Ideas: Build Stylish Storage Shelves
Creating a home bar can be an exciting project. With the right DIY bar shelf ideas, you can turn your space into a stylish and functional area for entertaining. Whether you're looking for a focal point to draw attention or creating a color scheme to set the mood, you can find creative solutions to fit your needs.
From bar tools like cocktail shakers and bottle openers, there are plenty of options when it comes to styling your own home bar. With the right shelving unit and some clever ideas, you can easily create an inviting atmosphere with all the necessary items at hand.
DIY bar shelf ideas are becoming an increasingly popular trend as they allow you to create a unique and functional space that reflects your own style. From a classic bar cart to a more elaborate wet bar setup, there is something for everyone. Whether you want something that is easy to build or something more complex, we have compiled some of the best DIY bar shelf ideas so that you can create the perfect home bar for any space.
Keep in mind that home bars aren't just for alcohol. If you don't drink, you can certainly use these as DIY coffee bar ideas or create a station for your drink of choice.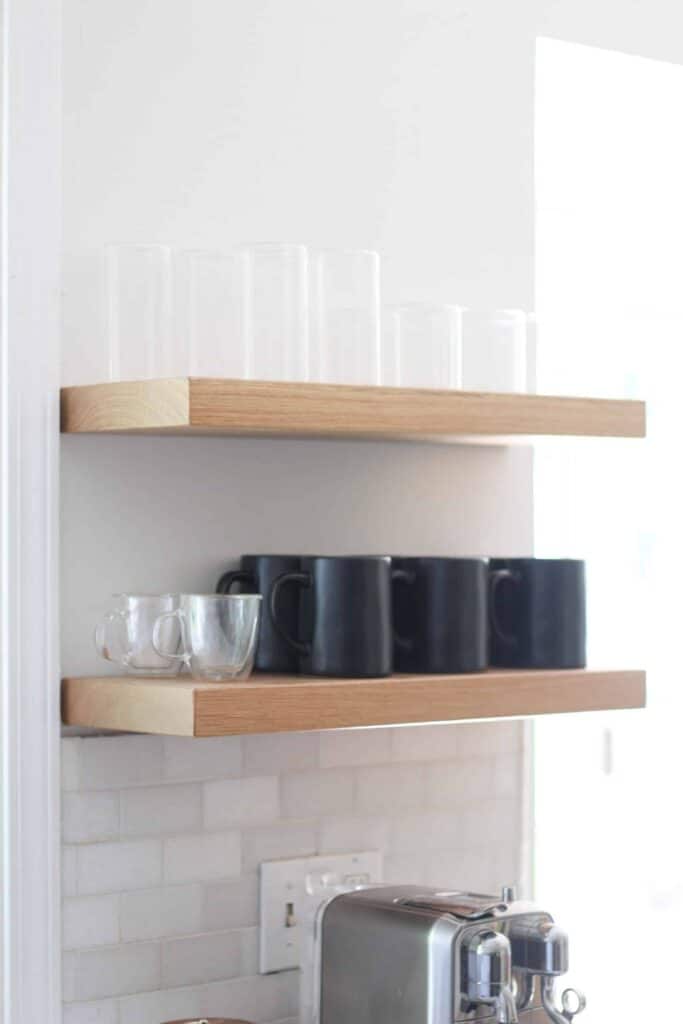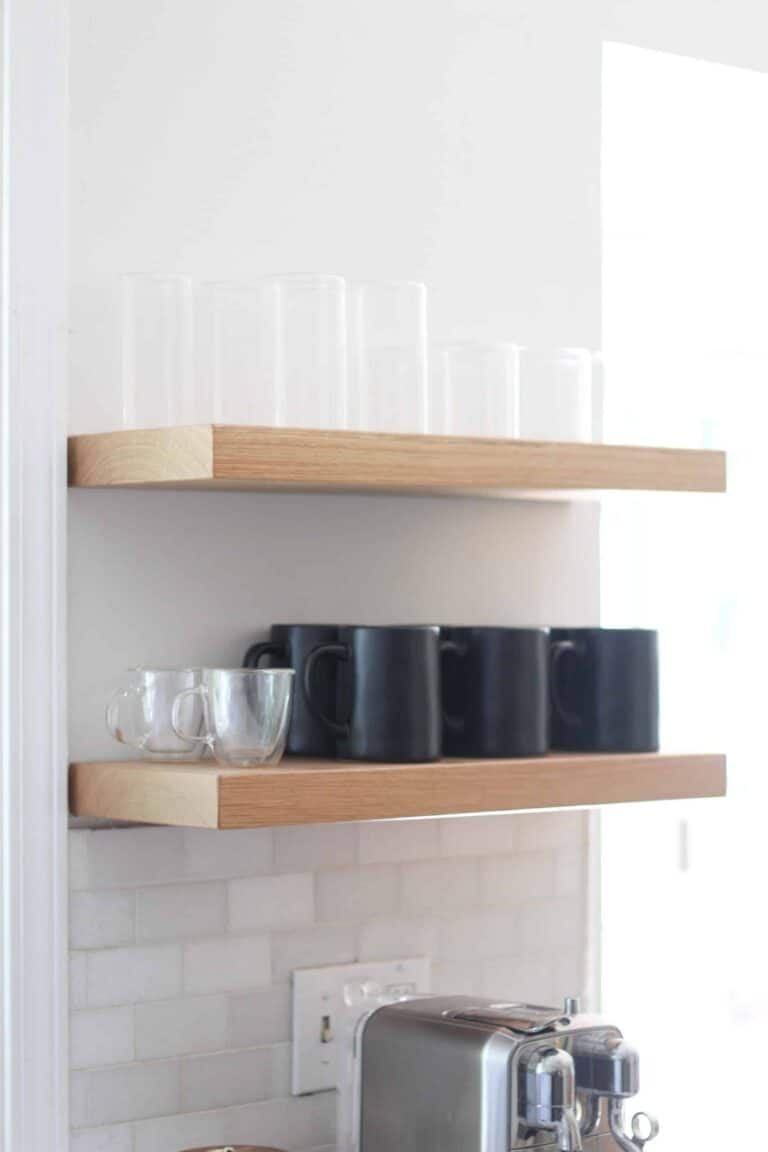 Why Create Bar Shelves?
The importance of shelves in a bar is to keep everything neat and organized. Open shelving can be aesthetically pleasing if it is kept tidy. Storing bottles up high on a shelf is a great place to keep bottles from breaking and ensure that your liquor is stored properly.
If you are looking for a way to add a touch of style and sophistication to your home, then consider adding a bar shelf. Whether you have a small space or a large space, there is an option available for you. Bar shelves come in various shapes and sizes, so it is easy to find one that fits perfectly in your home. Furthermore, these shelves provide extra storage space for drinks and other items that can help make your bar area look stylish and organized. With the right DIY bar shelf ideas, you can create an inviting atmosphere that will be sure to impress your guests.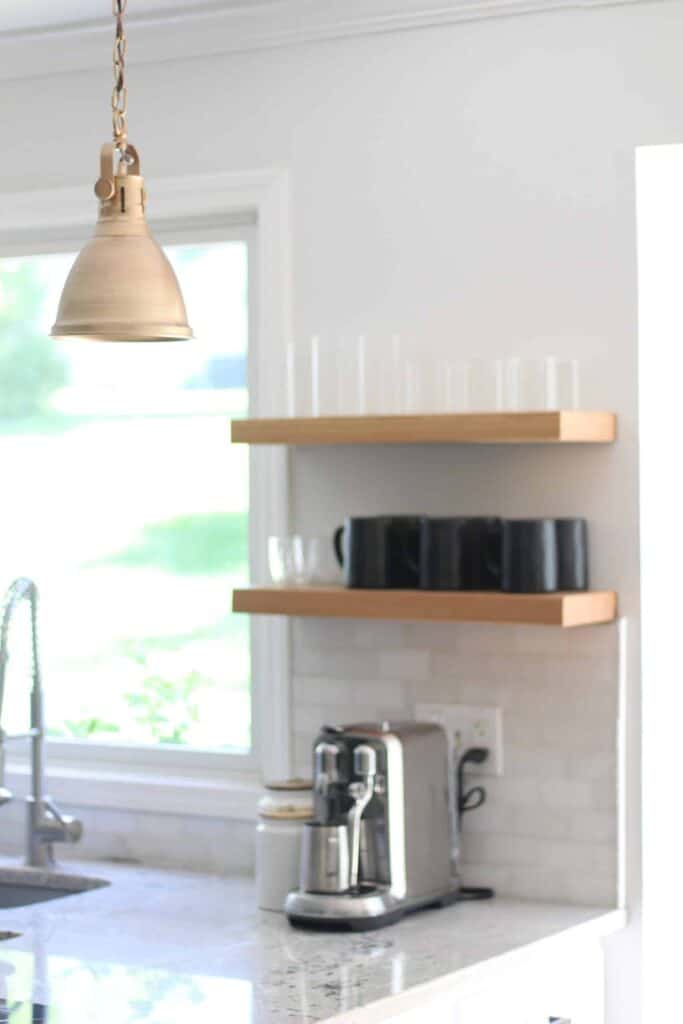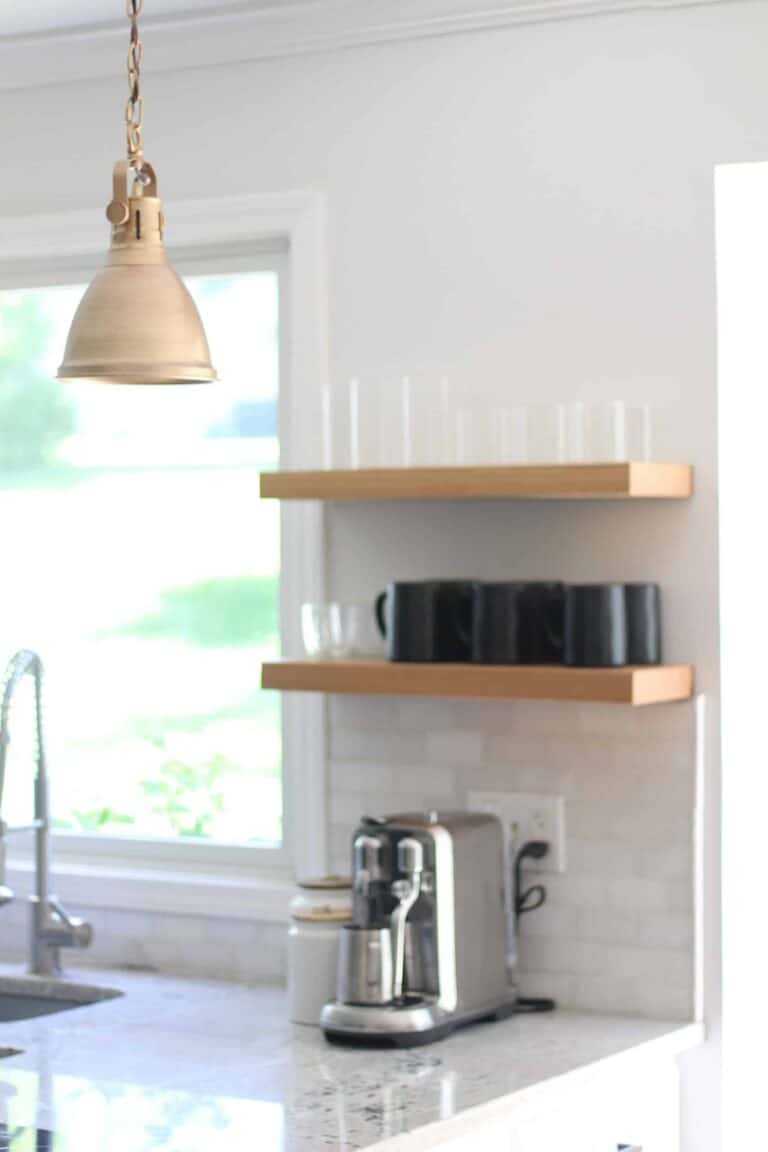 Things To Consider
Some things to consider when choosing the best DIY shelves for your space are the number of shelves that will fit best. Once that is decided, you can determine the length that your space allows. When deciding the length, you should also consider what height would be best suited for your space, keeping in mind your height and what you can reach. Of course you can put a high shelf that you'll need a stool to access if you don't mind or you don't use the items stored on it very often.
Next you can choose the style and material you like best. We will go over some different options below. Some of your choices will depend on what your budget is, but you are sure to find something that will fit your style on any budget. Lastly, you can also decide if you prefer lit or unlit shelves depending on your personal preference and the look you are going for.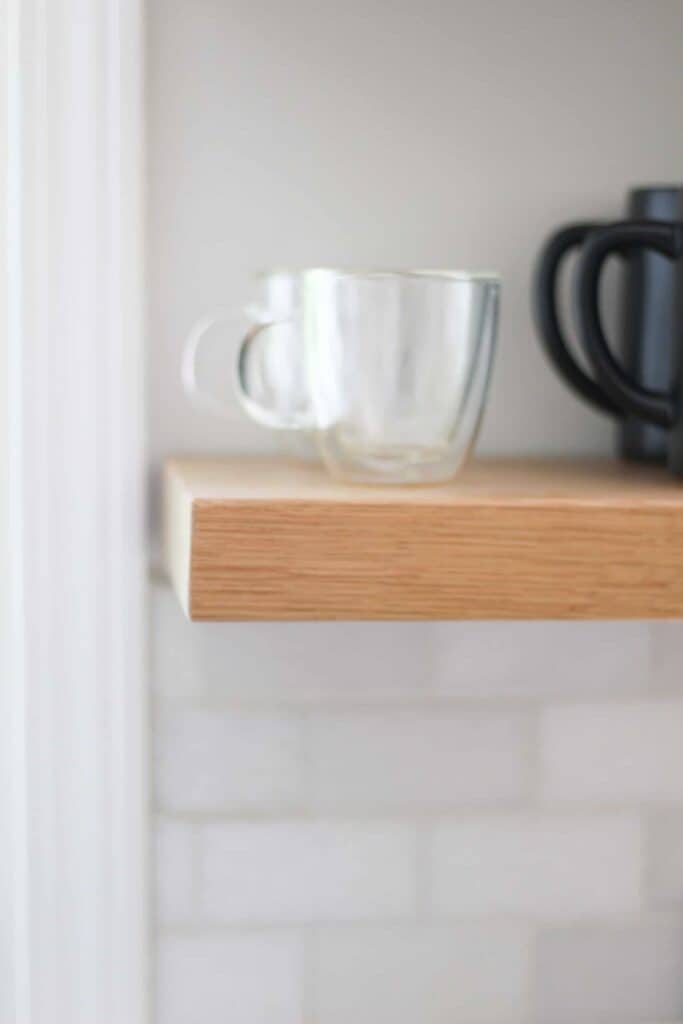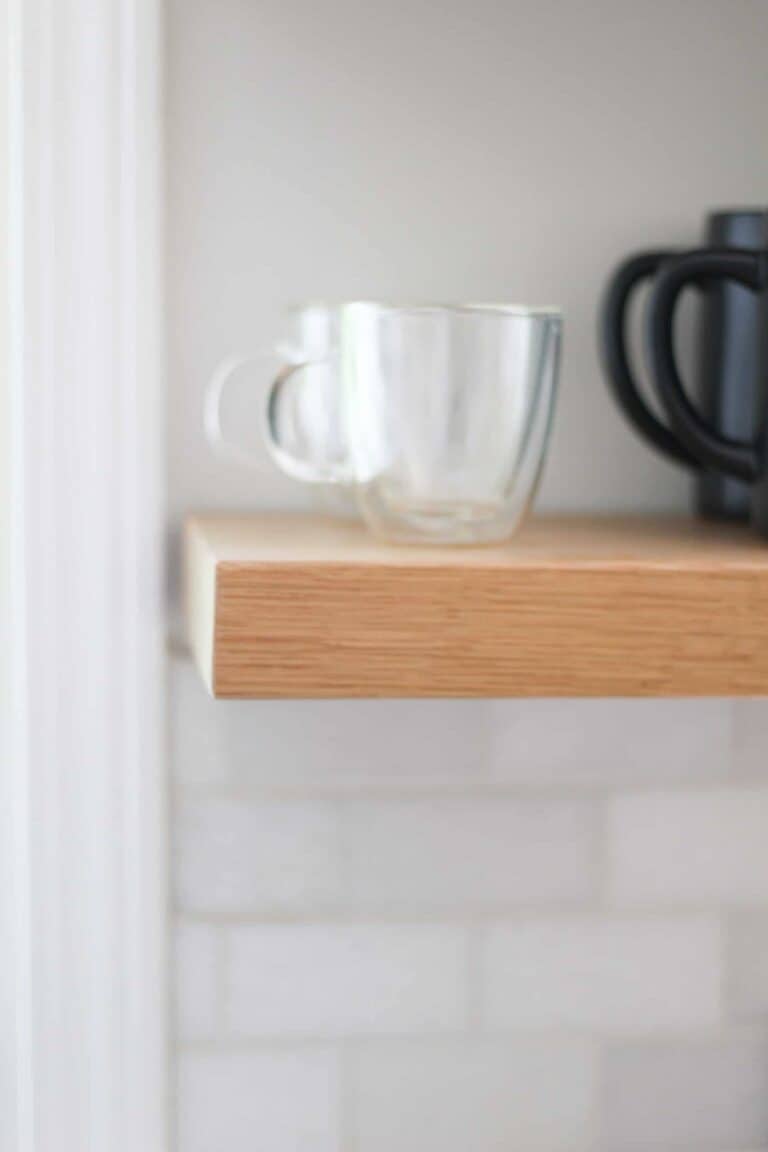 DIY Bar Shelf Ideas For Anyone
Lighted
With the help of LED light strips, you can create a beautiful and unique bar shelf that will make your home bar stand out from the rest. You can easily add a touch of sophistication and style to your home bar while still keeping it affordable. One option would be to add LED light strips to shelves you already have in place. Another is to add them to your own DIY built shelves.
I love adding LED light strips to the underside of my cabinets and shelving units. Not only does it provide extra light, it also just elevates your space to feel more customized. You don't need to have these lights hardwired by an electrician either. You can easily find rechargeable LED lights that stick on with strong adhesive for an easy DIY. Check out these under counter rechargeable adhesive lights on Amazon.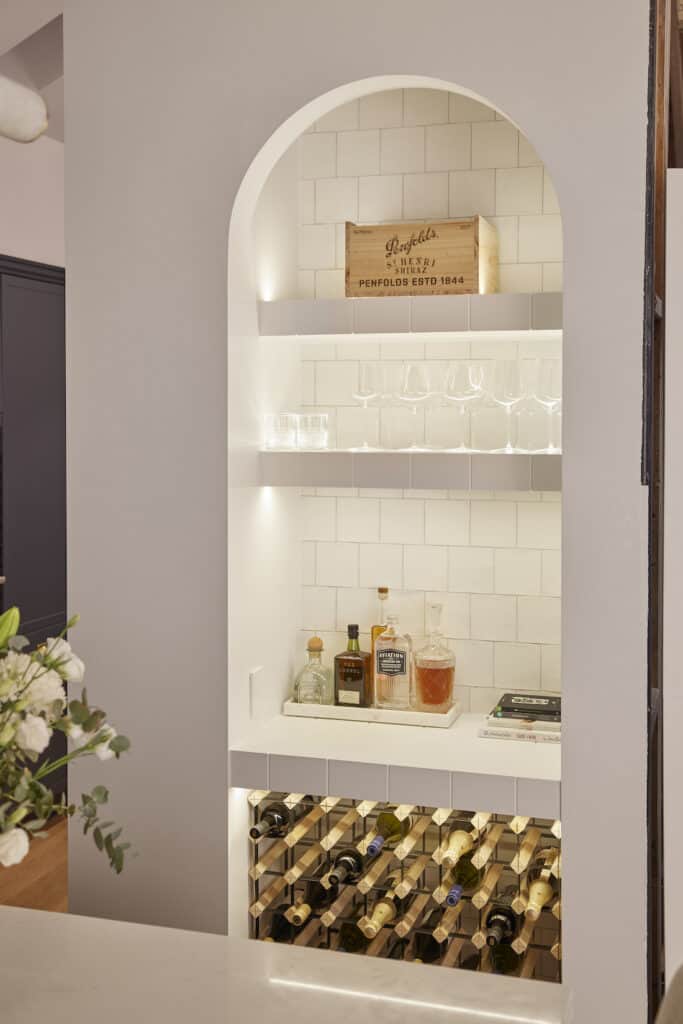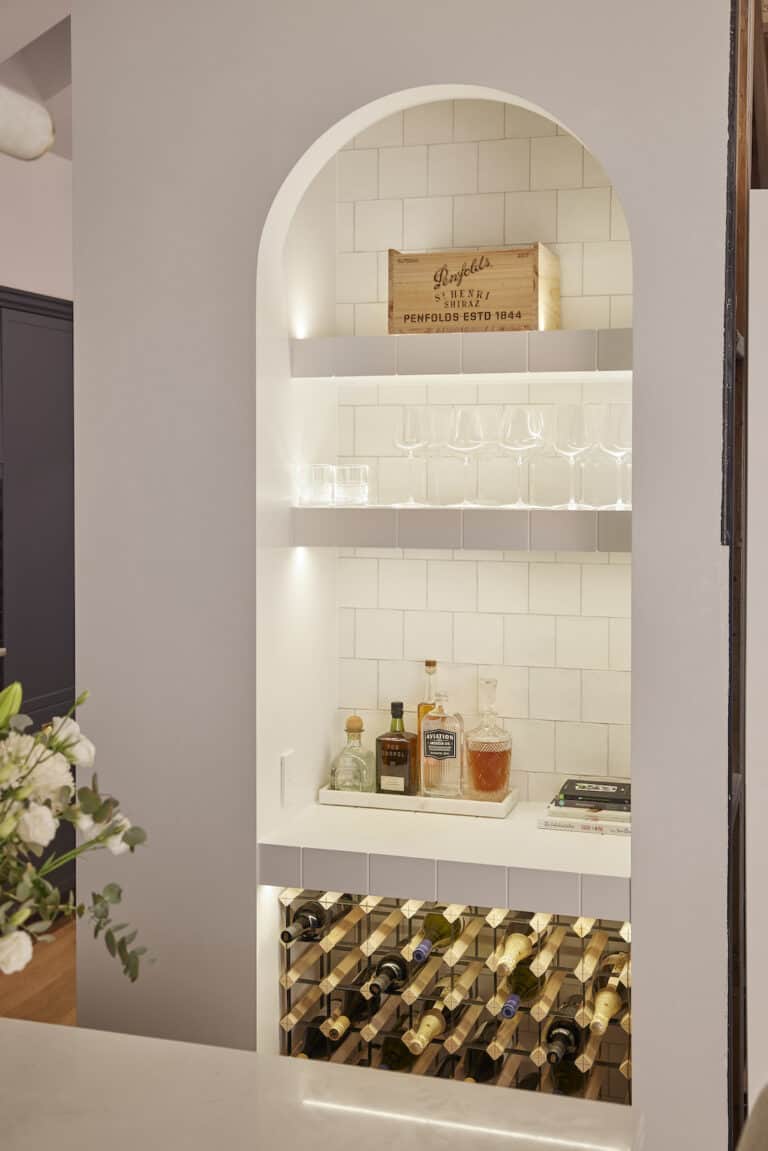 Floating Wooden Shelves
If you're looking for an easy and affordable way to spruce up your home bar, why not consider installing some floating wooden shelves? This is an easy DIY project that anyone can do, and it's sure to add a touch of style and sophistication to any bar area. Floating wooden shelves are a great way to store all of your favorite liquors and mixers, as well as creating extra space for glasses and other accessories. Plus, they look great too!
I have done this DIY before in my craft room. It was an affordable way to make a big impact. The only supplies I used were wood and paint and the tools I needed I already had, which included a nail gun, wood filler, drill and screws, stud finder, level, and miter saw. If you don't have a miter saw, you can ask the lumber store to make the cuts for you. You can check out my tutorial here.
This is a super beginner friendly project and I love that you can use these floating shelves in other aspects of your home. Feel free to add these to your kitchen, living room, dining room, or any place that needs a little extra storage and sophistication.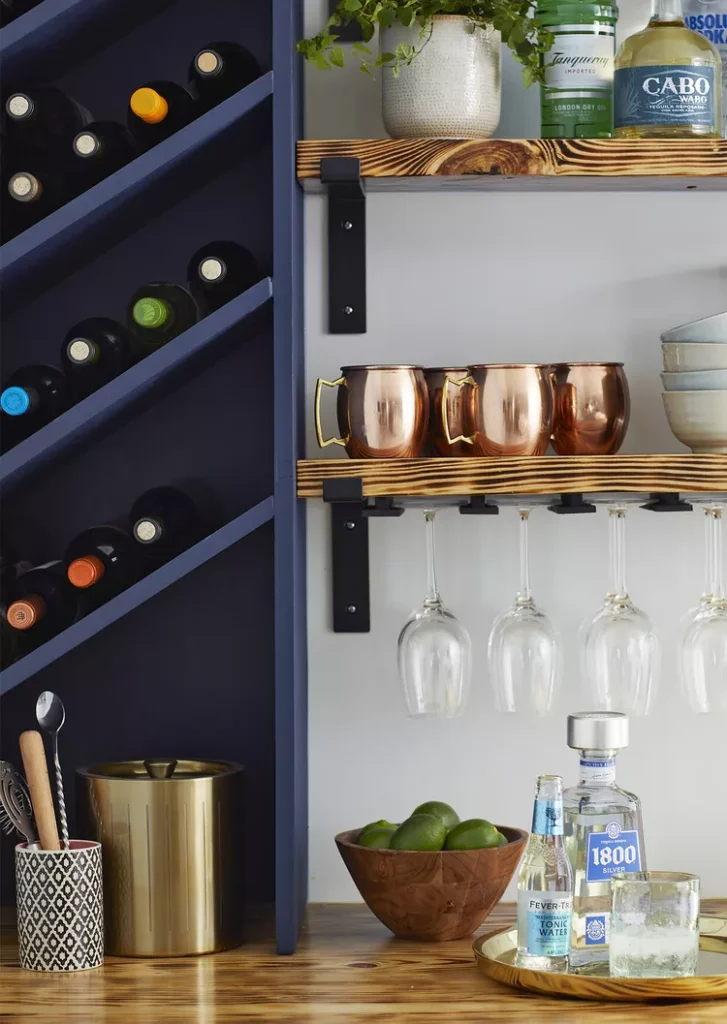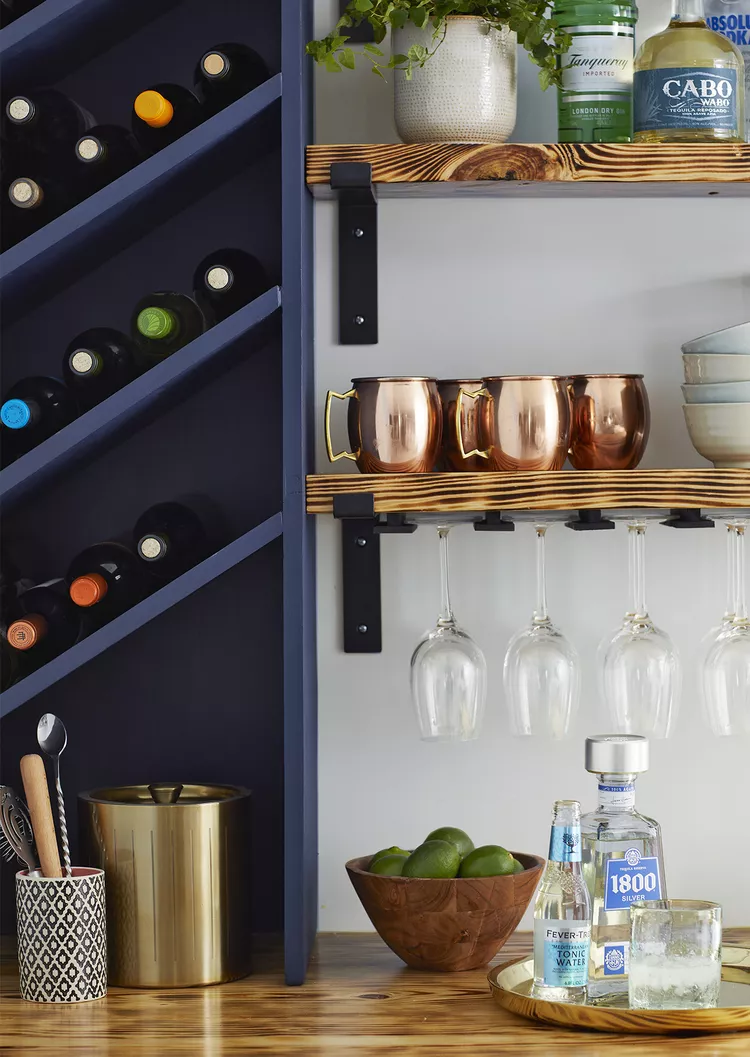 Industrial Shelves
Floating shelves made from metal pipes are a quick DIY project that will make an instant impact on any home bar. They're easy to build and can be adapted to fit in with the style of your home. For this project, you'll need a pipe, two screws per pipe, one screw with a nut and washer for each screw and some metal shelf brackets that can hold the shelf in place. To finish off the floating shelves made from metal pipes, add a piece of wood and coat them in paint or sealant for protection.
Marble Bar Shelves
Marble bar shelves are the perfect solution to your storage woes. Not only do they look great, but they are also incredibly durable and can be used in any room of the house. You can get marble cut to size at a Lowe's, Home Depot, or your local stone company and make your own shelves this way.
Alternatively, you can use wooden shelves and paint them to look like faux marble at a fraction of the cost. To make this marble look-alike, you'll need epoxy and pigment to make the marbling design. White and black or gray would all work depending on what you want the end result to look like.
You'll do this project in steps, so you'll have plenty of time to ensure you have the perfect faux marble veining design. I haven't done this project yet, but do have a friend who has and it turned out beautifully.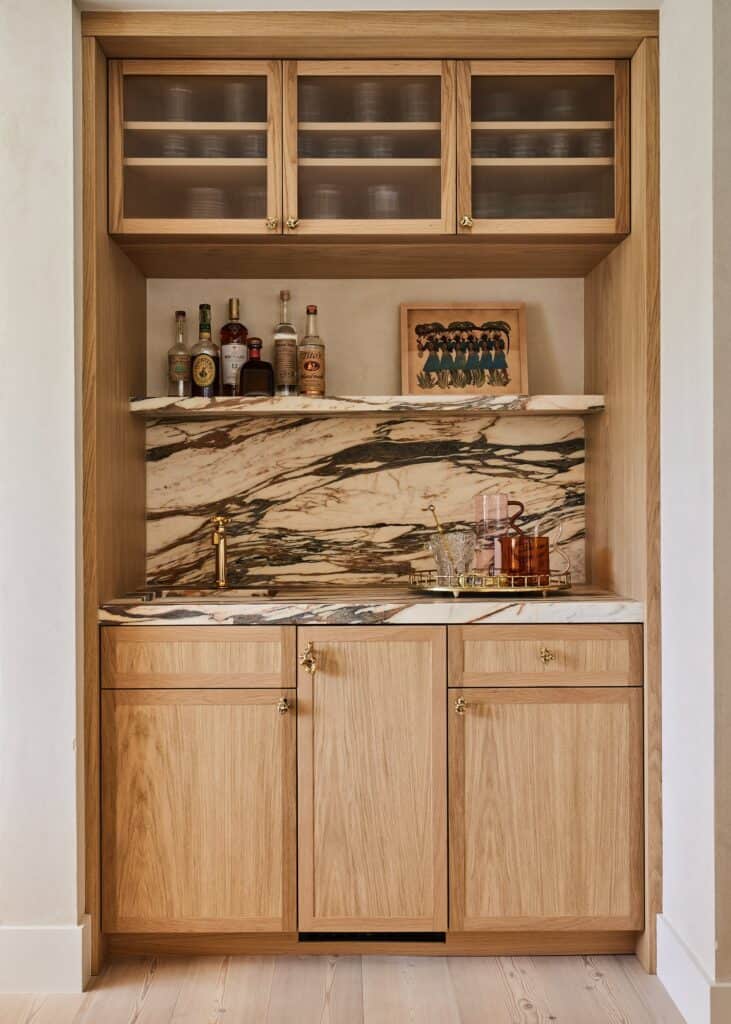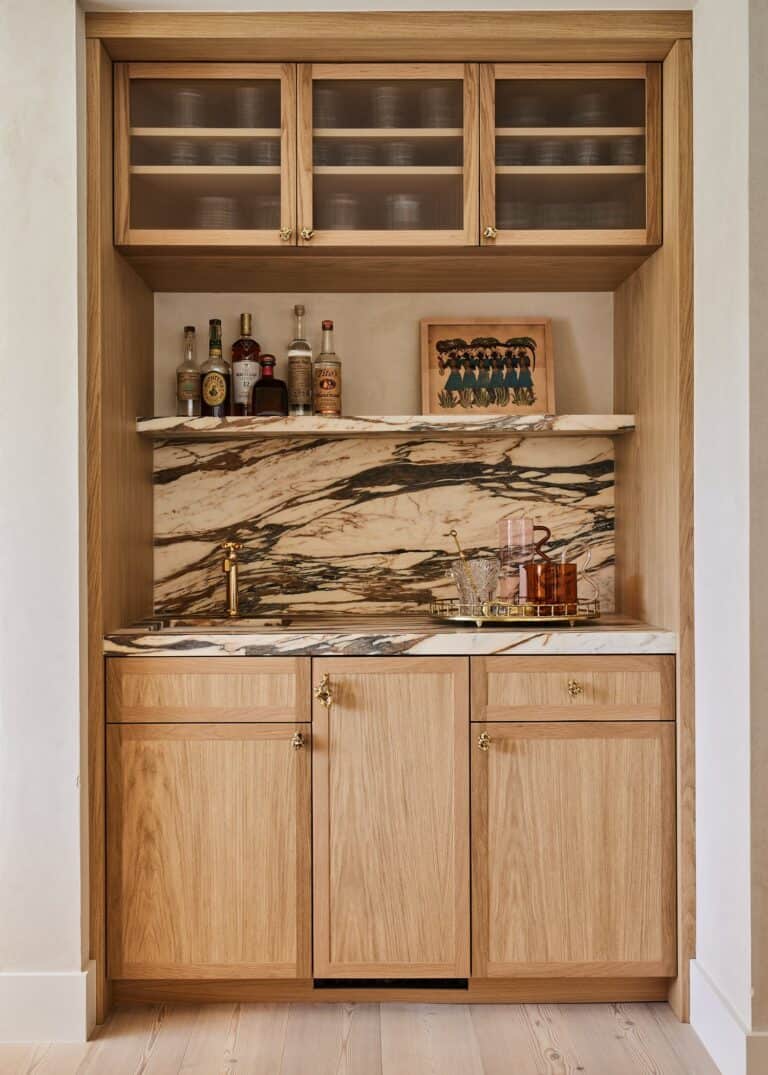 Glass Shelves
Glass shelves will require you to order them to be sized appropriately. For safety, your glass should be at least four millimeters thick. Tempered glass is preferred. It can be up to four times as tough as untreated glass. Plus, if it breaks, it shatters into crumb like pieces with no sharp edges or shards. Of course it is best to air on the side of safety when possible, but especially when the glass will be holding beer or wine glasses and liquor or wine bottles.
Use Contact Paper
With the right materials and tools, you can give your bar shelf a complete transformation. From using contact paper to create a faux marble look to wallpaper lined shelves, there are many ways to customize your bar shelf and give it any design style you want. You can even use wood shelves that need repair and give them a new life with just a few simple steps.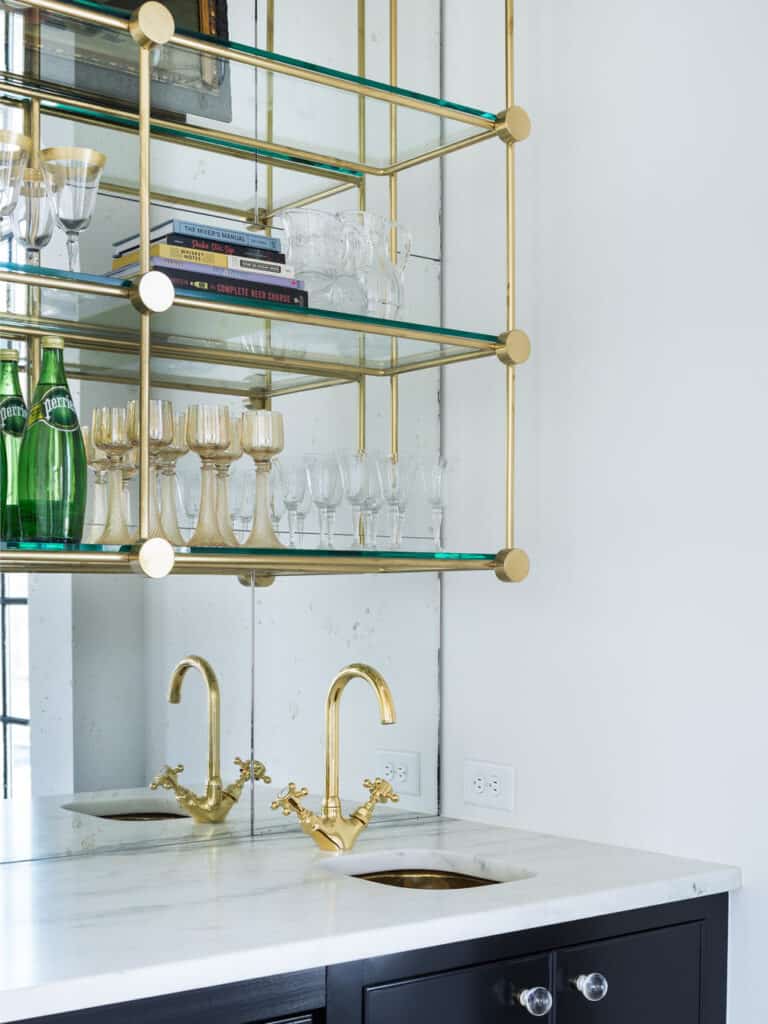 Recycled Bookcase
Another option is to recycle a bookcase to create unique bar shelving. It may be ready to go as is, or you can sand it down and stain it, paint it, or cover it with contact paper. You can also add lighting underneath the shelves to make the bottles easier to see and also add a professional looking touch.
Coffee Storage Turn Bar Storage
With a few simple supplies, you can transform any coffee storage into a stylish bar shelf that will give you plenty of space to store your favorite drinks and mixers. This is a great option if you are limited on space and need a small area designated to hold wine bottles, glasses, and other bar tools. This also works great as is to hold coffee mugs, syrups, and coffee pods for your coffee bar. You can easily find these to buy in stores or you can try your hand at building your own.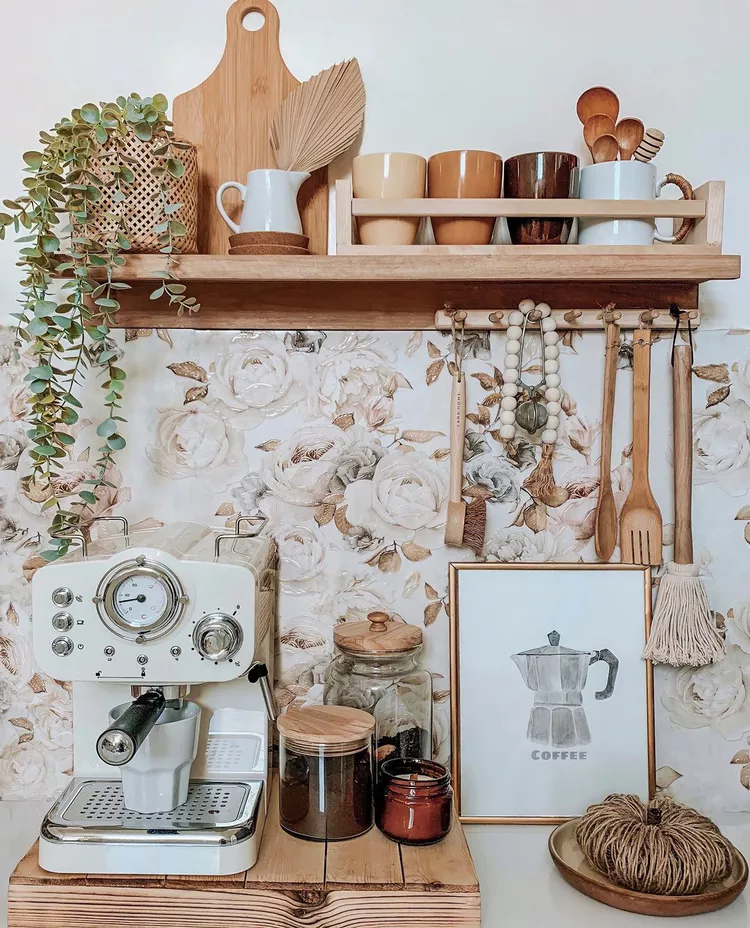 Other Posts You'll Love
Floating Shelf Brackets | DIY Floating Shelves Tutorial | Best Ice Machine For Home Bar
Follow Social For The Latest & Greatest
Pin This Photo Below For Later
DIY bar shelf ideas are a great option for those who want to create their own unique style without breaking the bank. With a few simple materials, you can create a great looking home bar that is both functional and stylish. The best part is that these DIY bar shelf ideas don't require any special tools or skills – just some creativity and imagination. And the good news is that there are plenty of great ideas out there, so no matter what your budget or style preference is, there's sure to be a great choice for you. Whether you're looking for something classic or modern, rustic or industrial, there's sure to be the perfect combination of materials and design elements available to make your DIY bar shelf look amazing!
Be sure to pin the photo below for later, and if you don't already – follow me on Instagram (@arinsolange) and Tik Tok (@arinsolange) for more fun!