Having kids means ALL SORTS of extra stuff. I mean lets face it – every room is affected. I want to talk about how to Organize your kitchen with kids stuff in this post.
Incase you missed it this is my week 1 post for our 6 bags for 6 weeks challenge! This week Jen and myself are walking you through how to declutter and organize your kitchen. She has so many tips on her blog post, so be sure to check it out!
AND if you missed downloading both documents for the post, just subscribe to our emails in this link and you will get them straight to your inbox.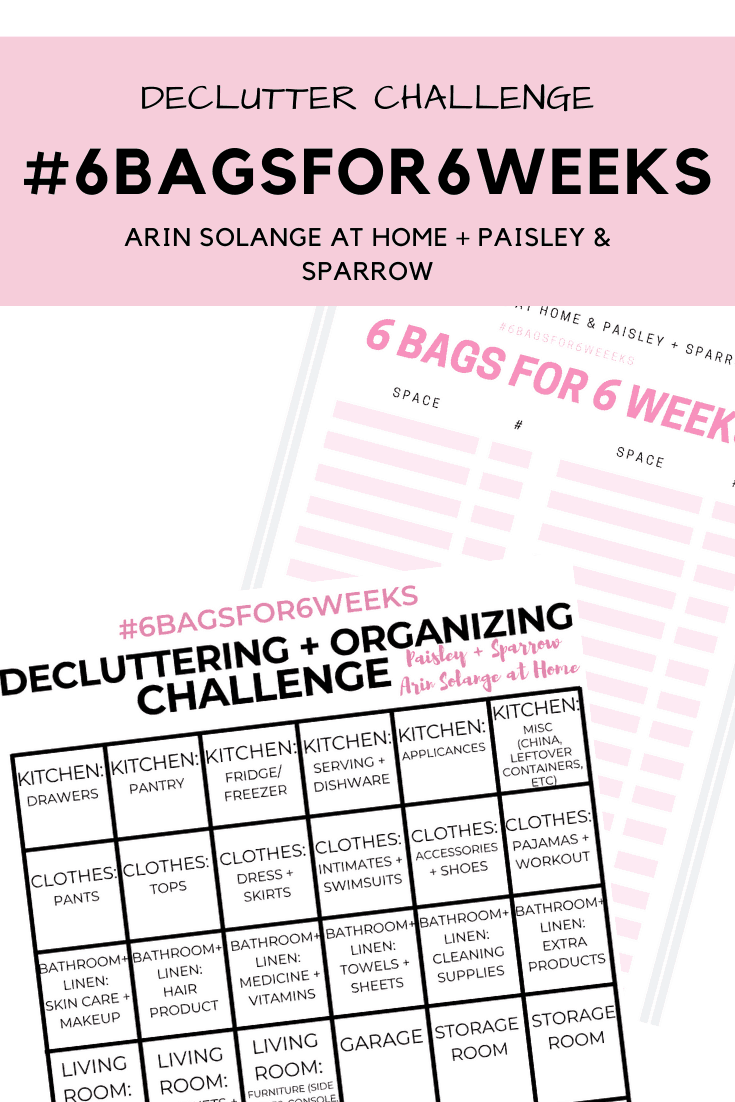 Week 1 – 6 Bags for 6 Weeks
Before I get to the nitty gritty of organizing that kitchen full of kid products, lets recap this challenge. For the next 6 weeks Jen and I will be walking you through every area of your house to clean and declutter your spaces. The end goal is to trash or donate at least 36 bags of stuff, and to have a cleaner, more organized home for 2020!
This Weeks Guest Blogger
Each week we will have a guest blogger, and this week we have Lex from Restoring Radiance! Lex is one of the best food bloggers we know and since we're tackling our kitchen this week it's only fitting that we have a food blogger involved!
Lex is a mama to 1 and pregnant with her 2nd. She's as sweet as can be and we know you'll love her! Be sure to check out her Instagram for tons of ideas for meals and her blog for amazing recipes!
This Weeks Giveaway
Each week we will also have a giveaway. The details will be listed on an Instagram post by Jen, myself and the guest blogger each week, but I will also always share the prizes and brands here too.
Branch Basics is an amazing home cleaning supply company. They have one concentrate that cleans everything! Their multi-purpose concentrate saves you money since you're able to mix your own cleaning solutions, saves you space since all you need is the concentrate (if you're like me you have extra of everything – soap, cleaner, etc – in case you run out) and it really works! They'll be sending one lucky winner a Starter Kit (and be sure to complete the entire challenge because they're also giving our grand prize winner a trial kit!).
Style and Dwell shares all things organizing on their Instagram and blog and create amazing boards to help you stay organized when it comes to your shopping list, meal planning and more! They'll be donating one of their boards to one person this week!
How do I win?
First off follow both Jen and I. Then, when you've completed every area for the week, head to either post and comment "done". You'll also need to follow Branch Basics, Style and Dwell and Lex from Restoring Radiance to be entered to win.(Direct tags to each of these accounts will be on our post!)
You can get a BONUS entry each time you share your progress and tag both @arinsolange and @paisleyandsparrow with the hashtag #6bagsfor6weeks on your stories!
Another way to get a BONUS entry is to tag a friend on our posts to encourage them to get involved!
How to Organize your Kitchen with Kids Stuff
Okay now onto this weeks tips. You will hear me say this over and over again – LESS IS MORE. When it comes to living an organized life you need to have less stuff, and more of the right stuff.
I have a blog post about this in some regards here, but for me Replay Recycled is hands down your best choice in products for your kitchen with kids. Everything they have stacks, so you can have 15 plates, but they will all be in one stack. Prior to this I had such a mishmash of plates and bowls and my cupboards didn't stand a chance.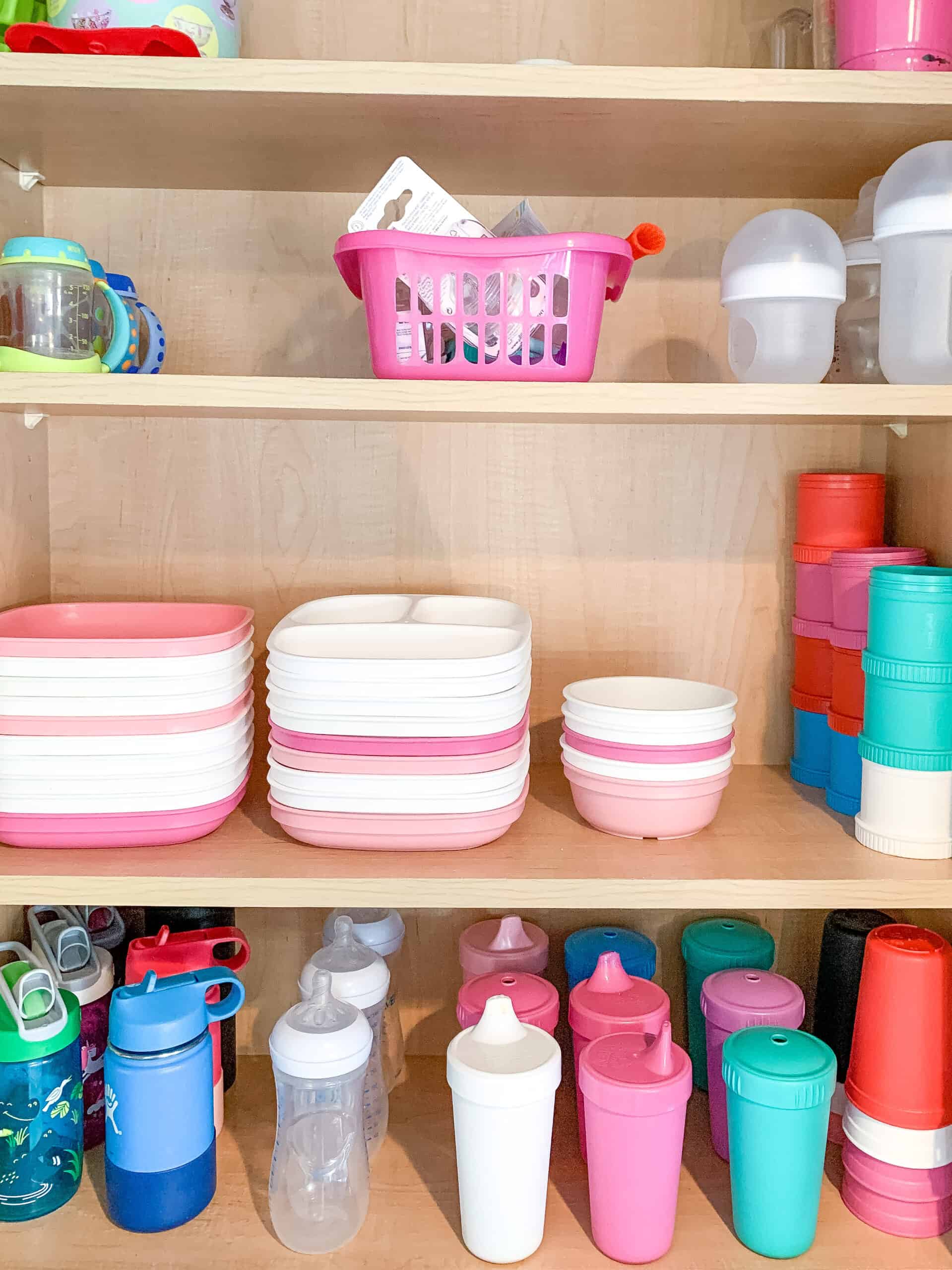 For my kids I have:
For water bottles this summer I cut back the number of Camelbaks I had and got each kid a hydroflask. That said – I keep some camelbaks as well because I don't want them losing the nicer bottles at school. I also do have a few odds and ends for the kids that I will touch on here in a second!
How do I store and organize it all?
All of my kids stuff is confined to 1 cupboard and 2 drawers.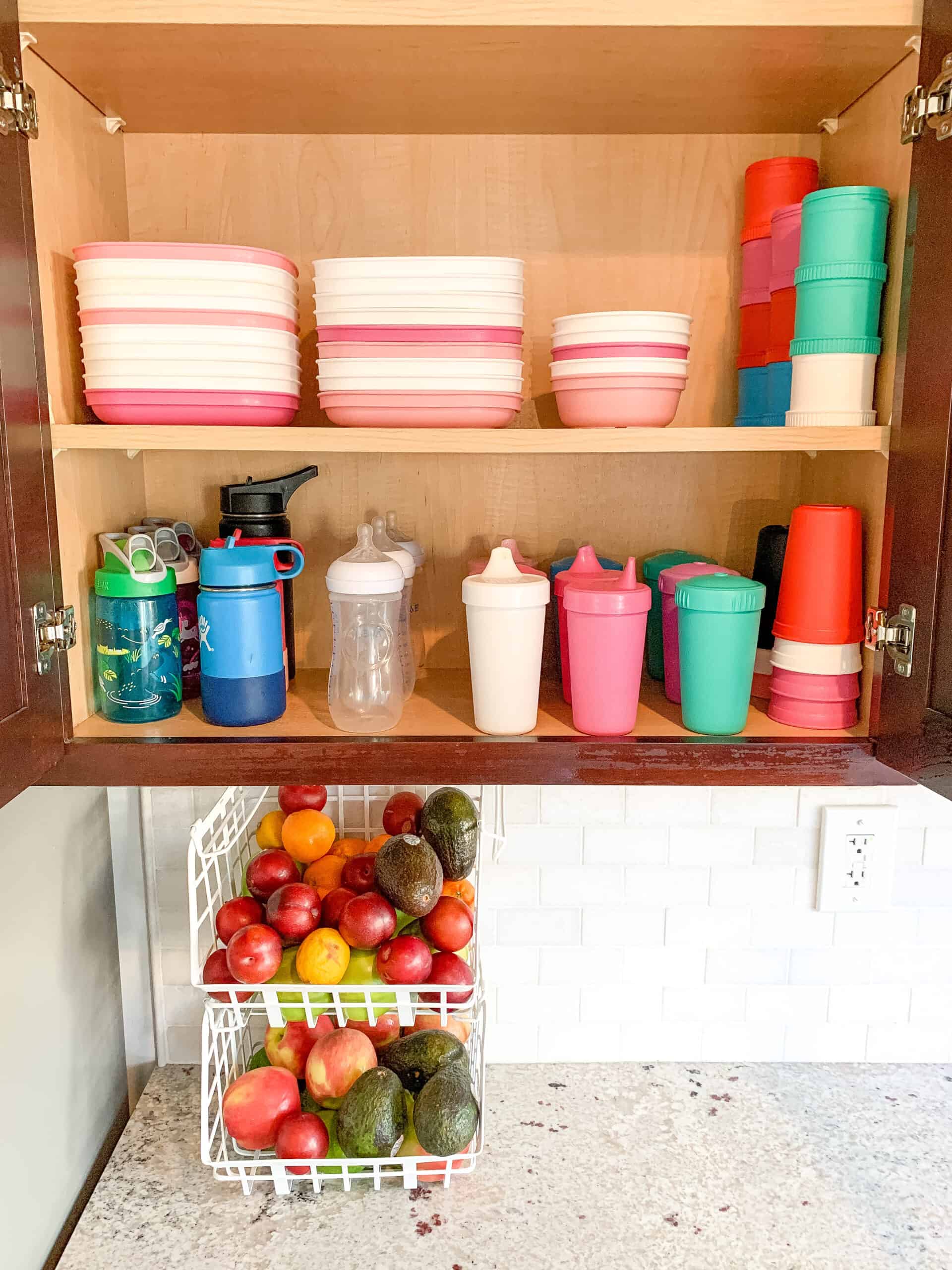 Cupboard
We have tall cupboards so I keep things that I use the most lower then move up. On the bottom shelf I keep cups, sippys, water bottles, and bottles for the baby.
The second shelf is the stacks of plates, bowls, and snacks stackers.
Third shelf is baby bottles we don't yet use (some that she didn't like as a tiny baby but I know we will want to use by 1 year), and a basket with the odds and ends.
This basket holds those extra lids to the snack stackers, a couple of mesh feeder type things for the baby, extra nipples for bottles, and extra camelbak mouth pieces. They are all items I don't need frequently at all, but are items I need none the less.
The top shelf is just a few sentimental type bowls and such, and some silicone molds to make baby food and free it.
Drawers
I also keep all the kids stuff separate when it comes to drawers. – We use a small drawer with all our straws (so technically thats for all of us), and a small basket is in it for kids cutlery. At the back there is also a small basket for extra lids to their cups that come up from time to time.
That is it. I want them to be able to get in that drawer and not be messing around with other stuff.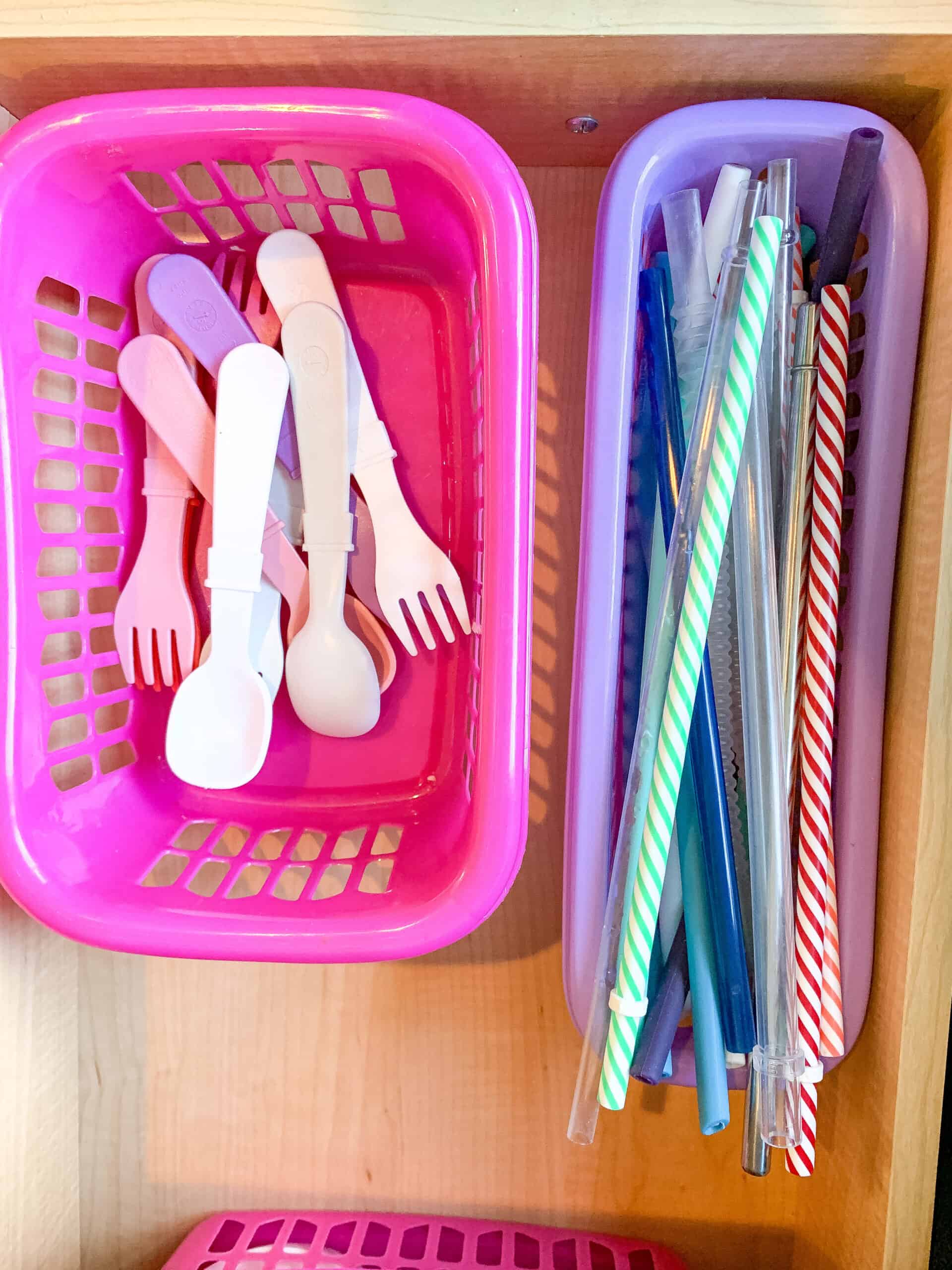 We also keep an optional extra drawer with bowls and containers. This drawer is within reach for the kids, so allows them to get their own snacks. I don't like the kids climbing the cupboards so it was the best solution.
The bottom drawer honestly, before this started was FULL of random cups and bowls. What I decided to do was order 3 new sandwich containers that are uniform for the kids to take sandwiches to school.
I ordered THESE for Goldie to have snacks to go when that time comes, or the occasional time I would need them for Walker. I then also ordered extra Replay Recycled bowls. I figured having less random cups and bowls would make things easier and so far its been amazing.
Organizing Their Food/Items in the Pantry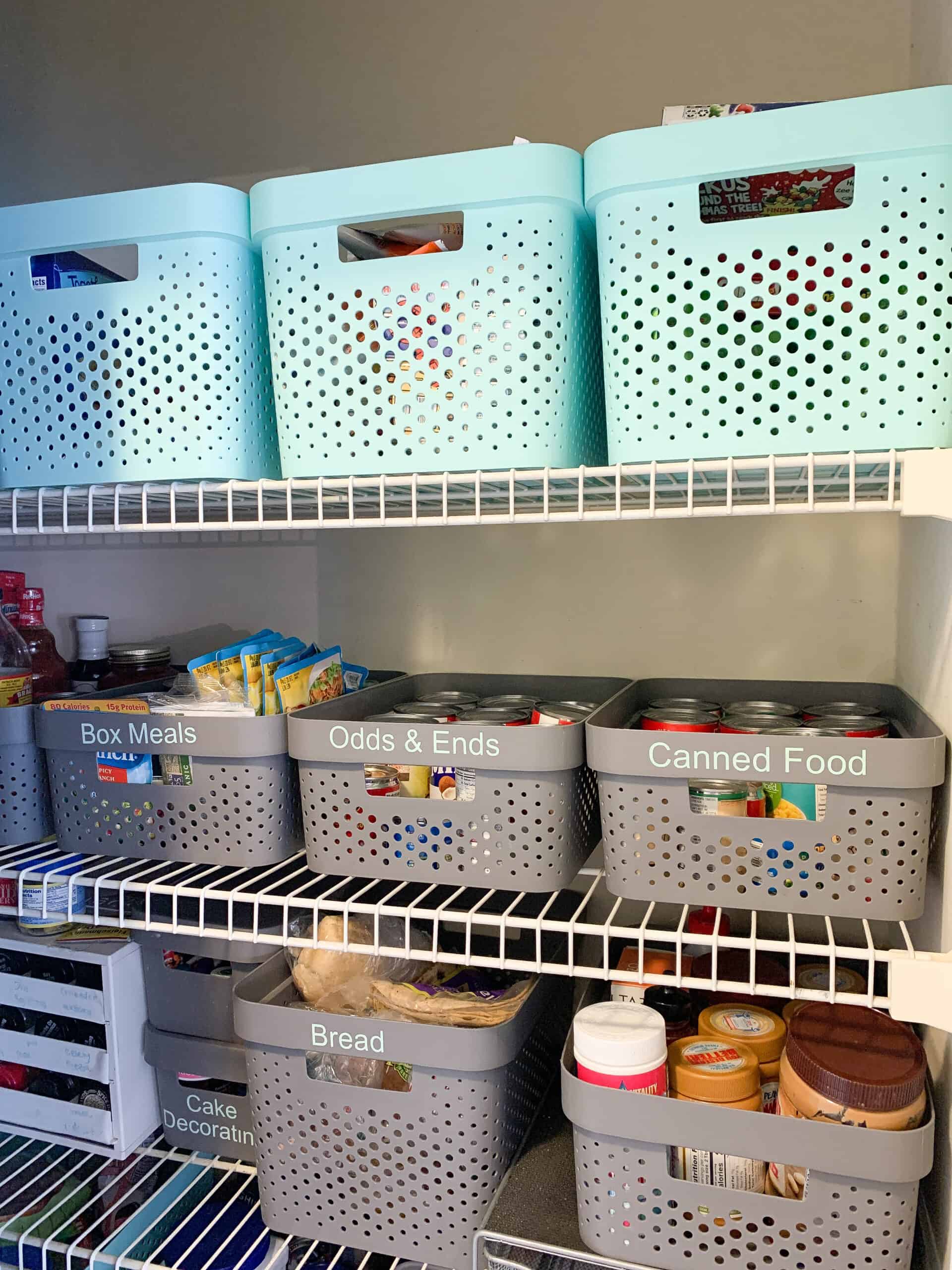 last, but not least on areas that can get complicated with kids is the pantry. We keep things VERY simple, and you can read quite a bit about our pantry here, but to explain best I can –
We keep three large catch all baskets on the top shelf of the pantry. These baskets hold ALL kid snacks. (bars, apple sauce, gold fish etc). We open the boxes when we buy them and pour them in. We keep them up top because we found that out of reach is better for my kids. Thats it.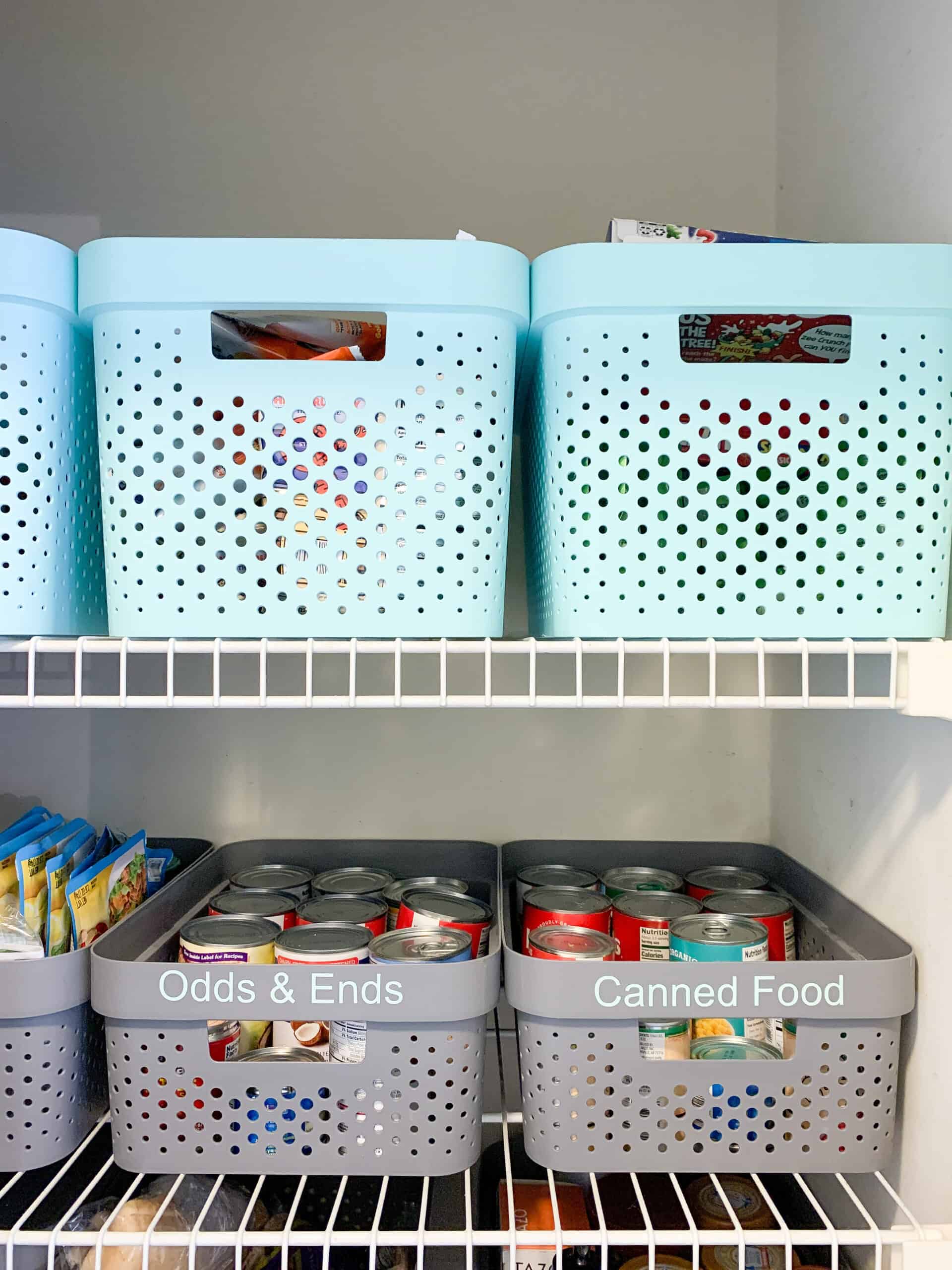 I have found that not being TOO organized, but at the same time giving everything a place works best. (I used to try to keep fruity type snacks in one bin, healthy in one, and cracker type in another, but it was just a pain!). You kind of have to just figure out what works best for you.
For a long time those bins were on the bottom of our pantry because I preferred the kids could get their own snacks, but for now with Walker's age I like them out of reach.
Free Pantry Labels
One thing I talked about on my Instagram stories was offering free labels you could hang from baskets each week. Click below to download your labels. I suggest laminating them ( I have this one and love it!), then hole punching them.
Print your free Pantry Labels Here
Tomorrow in Instagram stories I will show you my progress on 6 bags for 6 weeks as well as walk your through my kitchen and pantry to show you how I organize everything else. I am not fully finished with this week, but will be tomorrow, so can't wait to show you!
If you have any questions on the challenge be sure to leave me a comment or DM me on Instagram.
Pin the Picture Below for tips on How to Organize your Kitchen with Kids Stuff Later