Today is all about MOM Hacks in our summer blog series. Incase you're new to my blog, I have teamed up with my girl Navy on a summer blog series. Each week we have 8 additional ladies joining us and writing on the same topic. It has been so fun to see other perspectives on the same topic, and really hope this helps introduce you to some other awesome ladies in this industry. When the idea of 'mom hacks' came up I was trying to think about which hacks to share..because I think over time every mom has about 1,000 of them that are so engrained in us we don't even think about them. I decided that I would focus on Laundry Hacks for large families. We are about to welcome our 4th baby into the family, so I am working on ways to make Laundry more seamless.
Be sure to see the rest of the mom hacks from the other ladies linked at the end of my post, and I would LOVE to hear your mom hacks in the comments.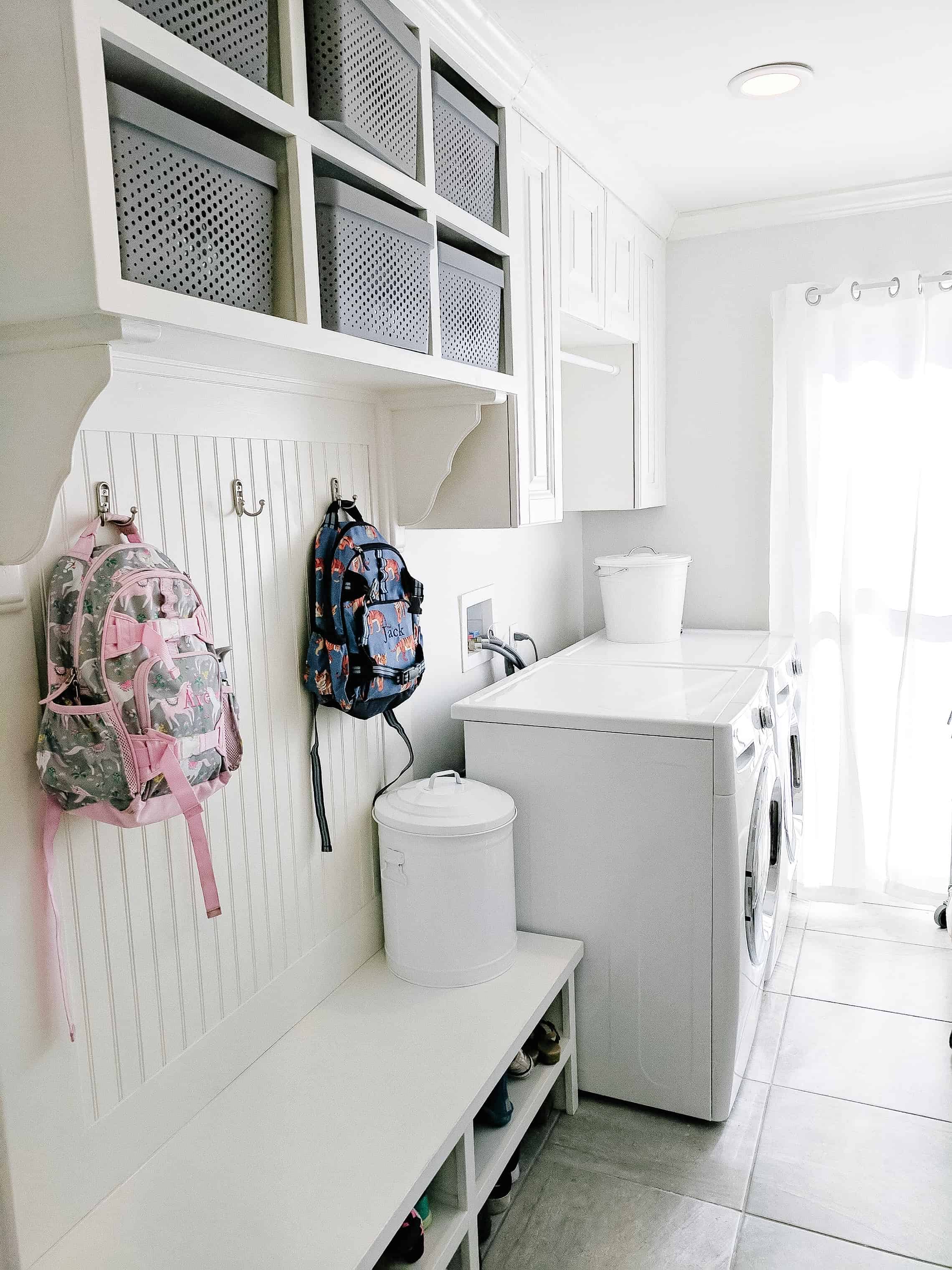 This post contains affiliate links
Laundry Hacks for Large Families
I am not an expert on laundry by any means, BUT I have found in my nearly 7 years as a mama that laundry has a great way of becoming an issue. A couple of years ago, when my third was a baby I did this blog post on a laundry system that worked really well for us for quite a while, and I honestly think could work great for us again in a few yeas, but we are in an in between where it does not. Putting away laundry is hard right now. Our laundry room is on the main floor of our house, and all bedrooms are upstairs. Once walker was no longer able to be contained in a bouncer or jumper it became hard to get daily laundry done because I couldn't be going up and down daily without him. So because of that I have a new system that I will talk about along with my other smaller hacks in the world of laundry!
Hack 1 – 3 Bin Laundry System
Have a 3 bin sorter on each floor of your house. In our house the only items that don't get dried for the boys go to dry cleaning (Sam included). Thus, washing and drying the boys clothes is effortless. About half of mine, and Avé's needs to be hung so less effortless. Then there's stuff like towels that can always be dried and washed on warm.
On each floor of our house (1 in the laundry room, and 1 in our master bathroom) we have a 3 bin laundry sorter. One side for boys clothes, middle for girls, and one for towels and linens. Everyone knows where their laundry goes, and one daily full bin makes for one load of wash. This equates to typically about 6 loads of wash per week. We start a load in the morning while the kids eat breakfast. I switch it at lunch time, then it either is put away at night, OR (more likely) put in a basket on top of the drier to carry up. Most of the time I put away laundry only 1 or 2 times a week on Sundays, which brings me to the next hack.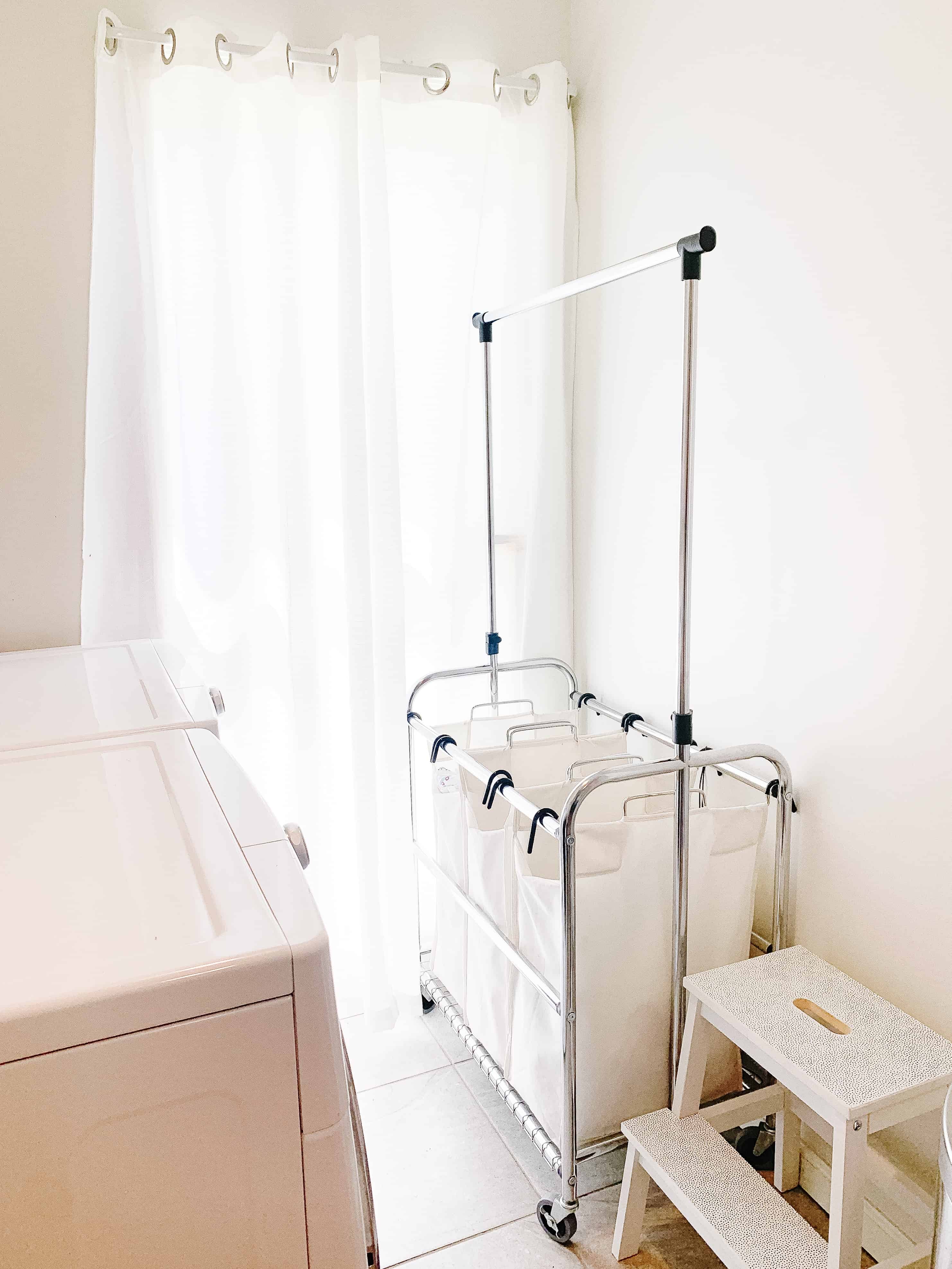 Hack 2 – Weekly Outfit Sorting
On Sunday evening I typically go up stairs and put away all the laundry. During that time I also lay out the kids outfits for the next week. Underwear, socks, everything. I LOVE to do this while I am putting away laundry because a lot of it stays out.
I make a stack of clothes for each day with all the kids clothes in it, and hang it in a hanging closet organizer for the week. We used to keep this in our coat closet, but that has since been a new DIY project ( see our DIY coat closet reading nook here! ), so for the past 6 months we have left it in our master closet.
Every morning the first parent to go down stairs grabs the stack of laundry for that day and takes it downstairs. The kids then get dressed downstairs after breakfast (and thus their pajama laundry is put in the 3 bin sorter that is in the laundry room).
I much prefer taking out their clothes one time a week verses nightly because things come up. We are also able to make sure we have enough uniforms clean for Jack and so on. It's also a great spot to put show and tell and things like that if they have it, because when the clothes are grabbed you won't forget it!
Hack 3 – Marking Socks
This is a simple hack. I have seen the laundry hacks where kids undies and socks are washed in mesh bags which I think is great. Due to Hack #1 being our system I don't do that. But I did find that recently the boys socks were impossible to tell apart. I now mark the socks. Walker has a black sharpie dot on his socks and Jack does not. If this becomes an issue with the girls I will keep the same system – older child no dot, younger child DOT.
Hack 4 – Don't Sort Loads
Color catchers. Enough said. Having to sort loads of laundry is a huge time waster when you have so much laundry to do. Use the color catcher sheets and don't sort your loads of laundry.
Hack 5 – Use Nice Looking Functional Items
This is sort of a side note, but having nice looking containers for anything makes it easier. Not having to get into cupboards and pull down containers saves time and energy long term.
I use a big white bucket of sorts for my powder detergent. I also mix our oxyclean and powder detergent all together so that I can do one scoop per load and there is some oxyclean in all loads.
Our three bin sorter in the laundry room also has a bar for hanging clothes to dry and it is on wheels which makes moving it around so much easier. We had had that bin for 3 years and I LOVE IT.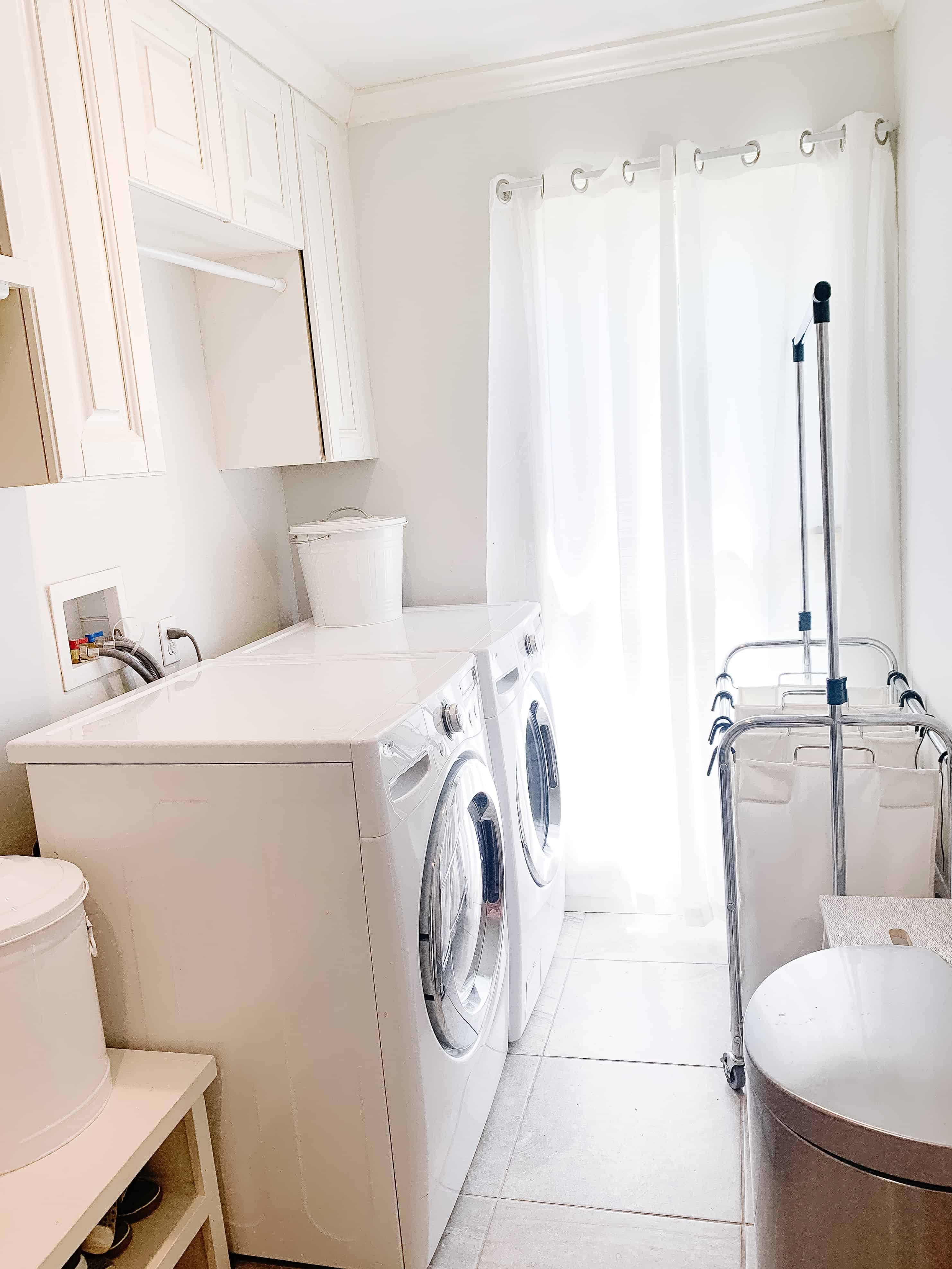 Shop my Favorite Products for Laundry

Laundry sucks. Lets be real. But hopefully these laundry hacks for large families are just the mom hacks you are looking for. In terms of other Mom Hacks – Be sure to check out the other ladies from this weeks round up below!
Val's 10 mom hacks to make like easier!
Chelsee with her On the Go Car Kit
Alex's Mom Hacks for travel with Littles
The Babbling Blondes with their 10 Favorite Mom Hacks
Jen's 10 Mom Hacks to Make Life Easier
Chrissy with Mom Hacks for Big families
Pin Image Below to Find these Laundry Hacks for Large Families Later