The boys have officially been sharing a room for the past month and a half. I had been wanting to do a blog post on how I organized all their "stuff" for this transition for a while, because that was honestly my biggest worry. When we originally thought about moving them in together we thought we would maybe have a closet overhaul done professionally, but we have since realized we will likely have to move in the next year or two, so decided to do things affordably, and honestly it has worked GREAT. So if you're looking for shared sibling closet organization tips look no further. On the plus side – a shared closet has made for much easier laundry putting away.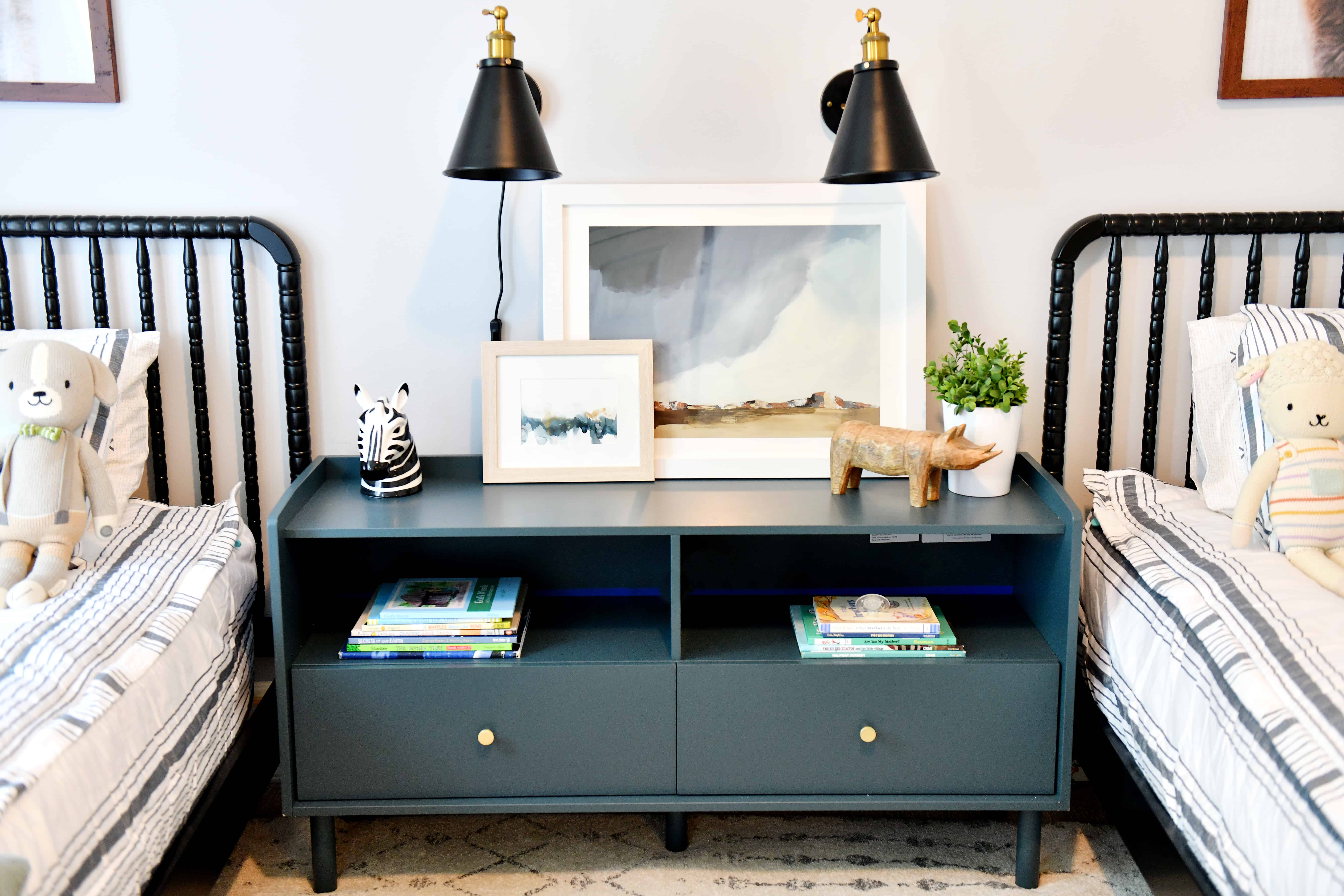 This post contains affiliate links
Shared Sibling Closet Organization Tips
Okay so before I get to the things to buy – because let me be clear, having the right items will help, I will also talk about a few tips and tricks I followed before I combined the boys closets.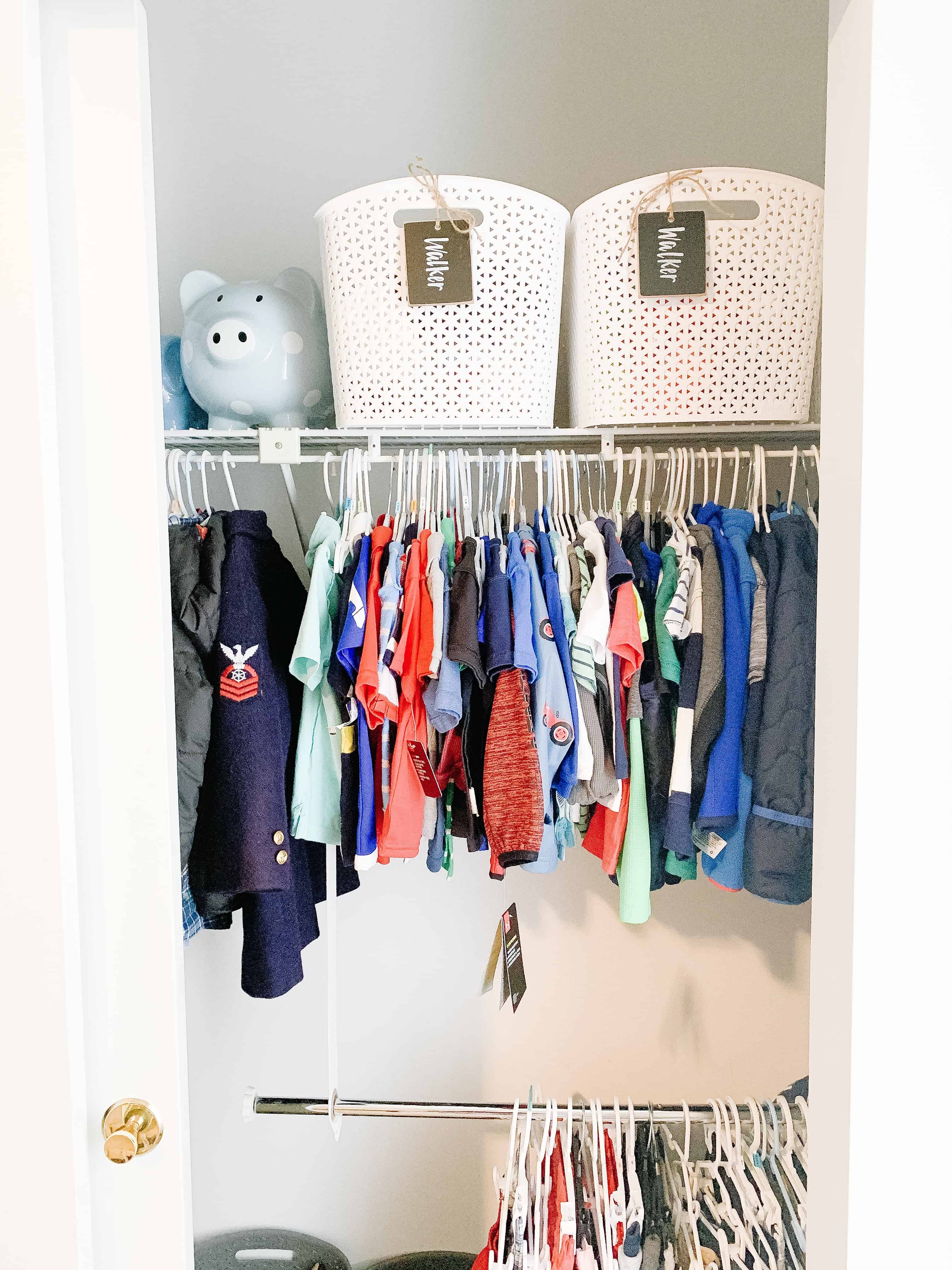 Tips
Less is more – For Jack that was easy, but prior to Walker and Jack sharing a closet I had lots of sizes in Walker's closet at one time. He has so many hand me downs, so I just had it all hanging. I now only have one size at a time in the closet. Items he is too small for are in tubs in the basement.
Think about the child and their age when it comes to how you store clothes. I handled things differently for Jack and Walker. Jack is 6 years old and can get dressed on his own, where as Walker isn't. I decided two tiers of hanging clothes for Walker was best for space, and to hang ALL clothing aside from swimsuits and PJs. With Jack I did one Tier of hanging with a dresser below for folded clothes he could easily access. I wanted him to be able to access his shorts and pants as well as school uniforms.
LABEL, LABEL, LABLE! – I LOVE these labels from Chalk Designs by Me. They have allowed both myself and my husband know who's clothing is who's, but also allow for Jack to know, and sitters or grandma to know if needed.
Utilize baskets – I am a big person on baskets in general, but for this organization system baskets were key. I will explain what baskets we have and drawers below!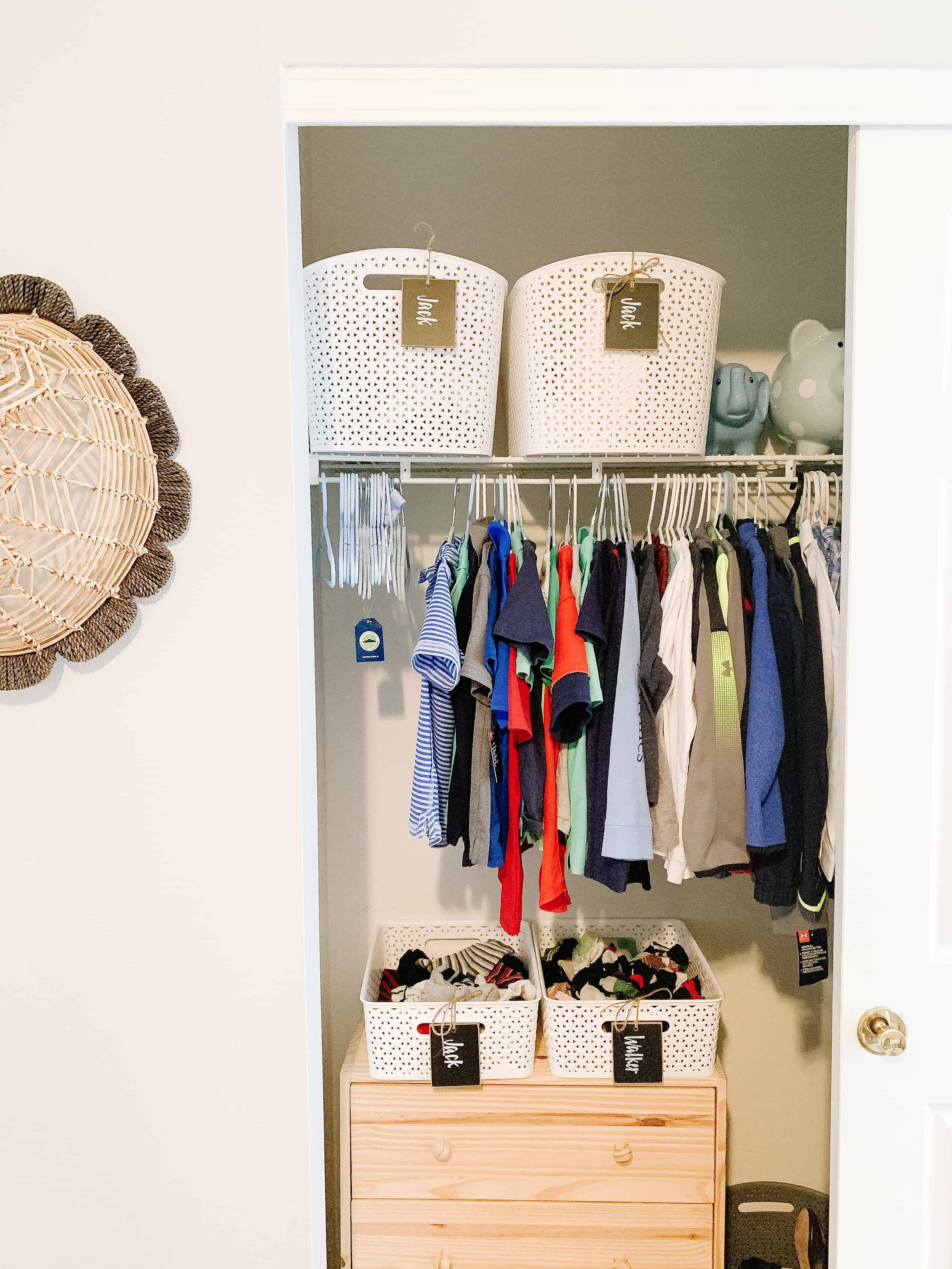 Top Shelf of the Closet
Jack Misc – This has jacks baseball stuff, swim suits, hats and so on. He doesn't have a ton of any of that so it works great.
Jack keepsakes – The older kids get the more they have little stuff that is special to them. I kept a space for him to put them out of reach of Walker.
Walker Pajamas
Walker Swim Suits
Extra Blankets – Roll them and stand them on end for easier storage
Keep Things Within Reach
So like I said we kept certain things in a smaller dresser for Jack, as well as small baskets with both boys socks. There are also small baskets with the boys shoes on the floor of their closet. This keeps things in reach for them, and organized and separated. Underwear for jack are in their little dresser, and Walker's drawer is empty so that we have a spot for underwear when the time comes.

Items to Buy

For more shared sibling tips, I have a blog post with advice from several moms on sibling room sharing that you can check out here! If you have any questions let me know in the comments below.
Pin Post below on Shared Sibling Closet Organization Tips