To round off the last of my Merry and Bright decor blog posts for the season I wanted to show you guys what I did in my Dining room and give you a simple idea for merry and bright dining table decor.  I wanted this room to be slightly more 'mature' looking due to it being the formal dining room, however didn't want to spend a fortune in decorating it.  Over all the room was really simple to put together, and I do try to keep it easy for weekly dining due to hosting a bible study.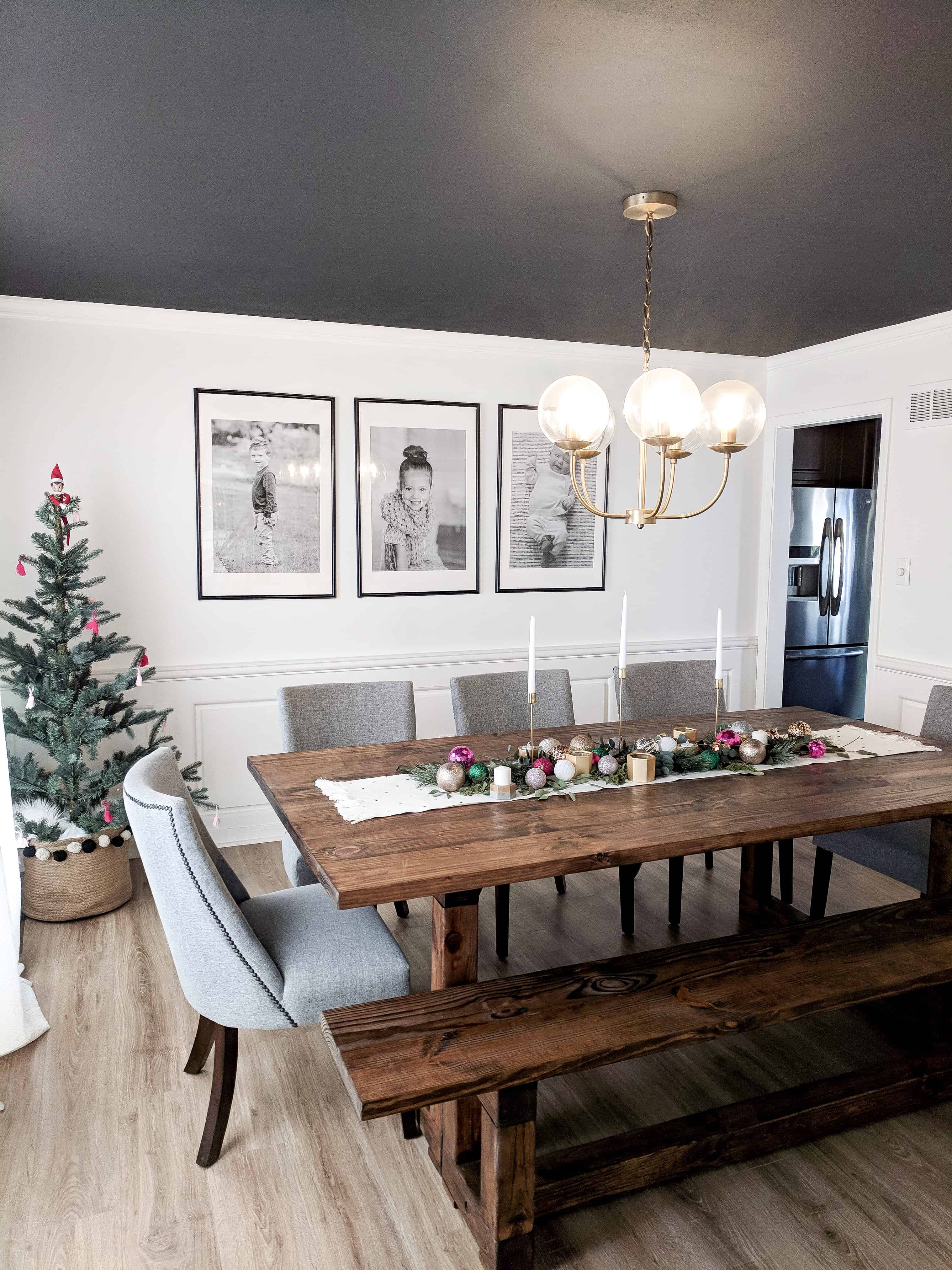 This post contains affiliate links
Merry and Bright Dining Table Decor
For my Table decor this year I actually used the same table runner that is typically in the room.  (To see the full details of the dining room check out this blog post!).  I then tied in the candle sticks and decor with a bed of fresh greenery from Trader Joe's.  Once that was all down I carefully laid several extra ornaments that weren't put on my tree (thanks to a certain 17 month old) on the greenery.  I love how the end result was simple yet elegant.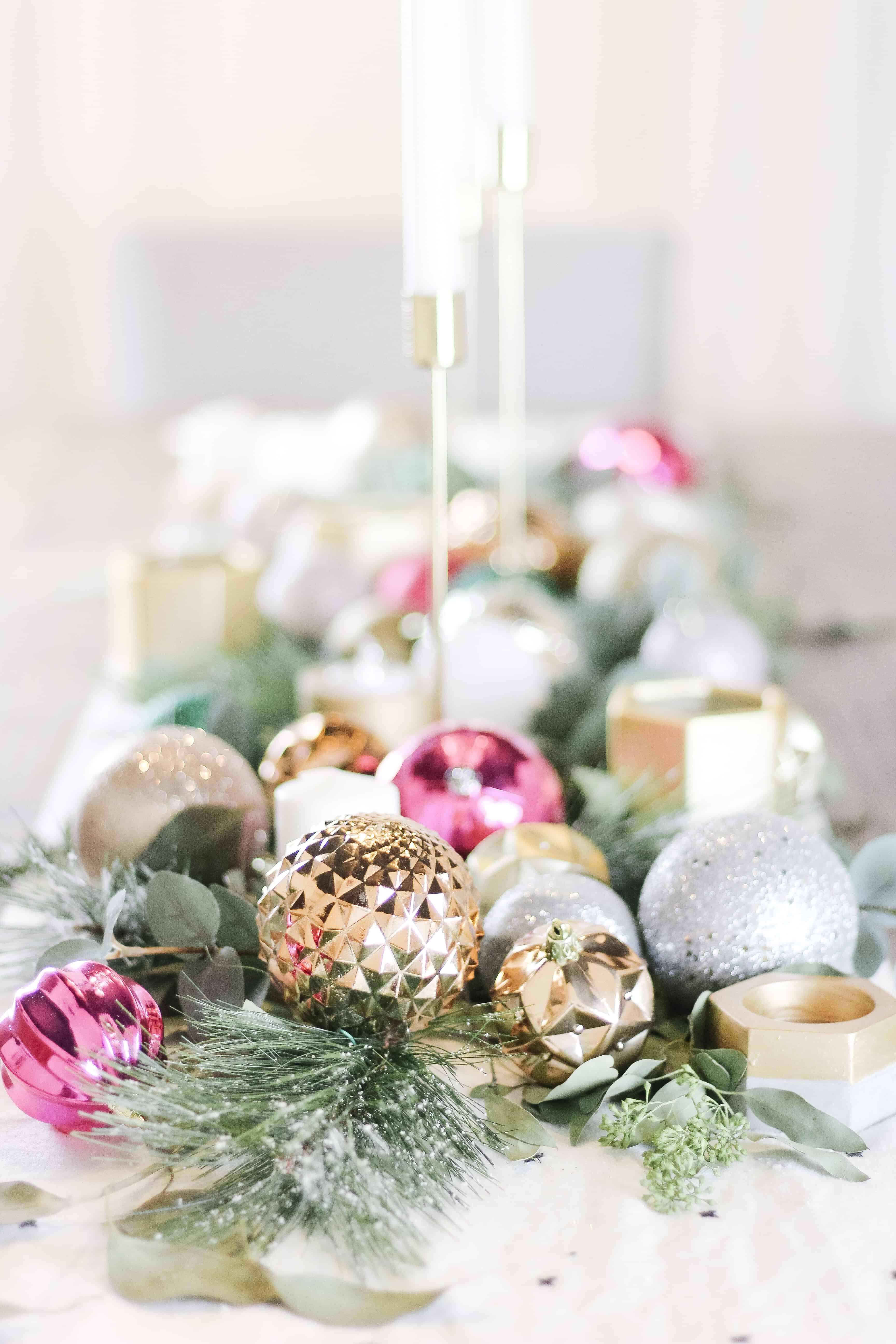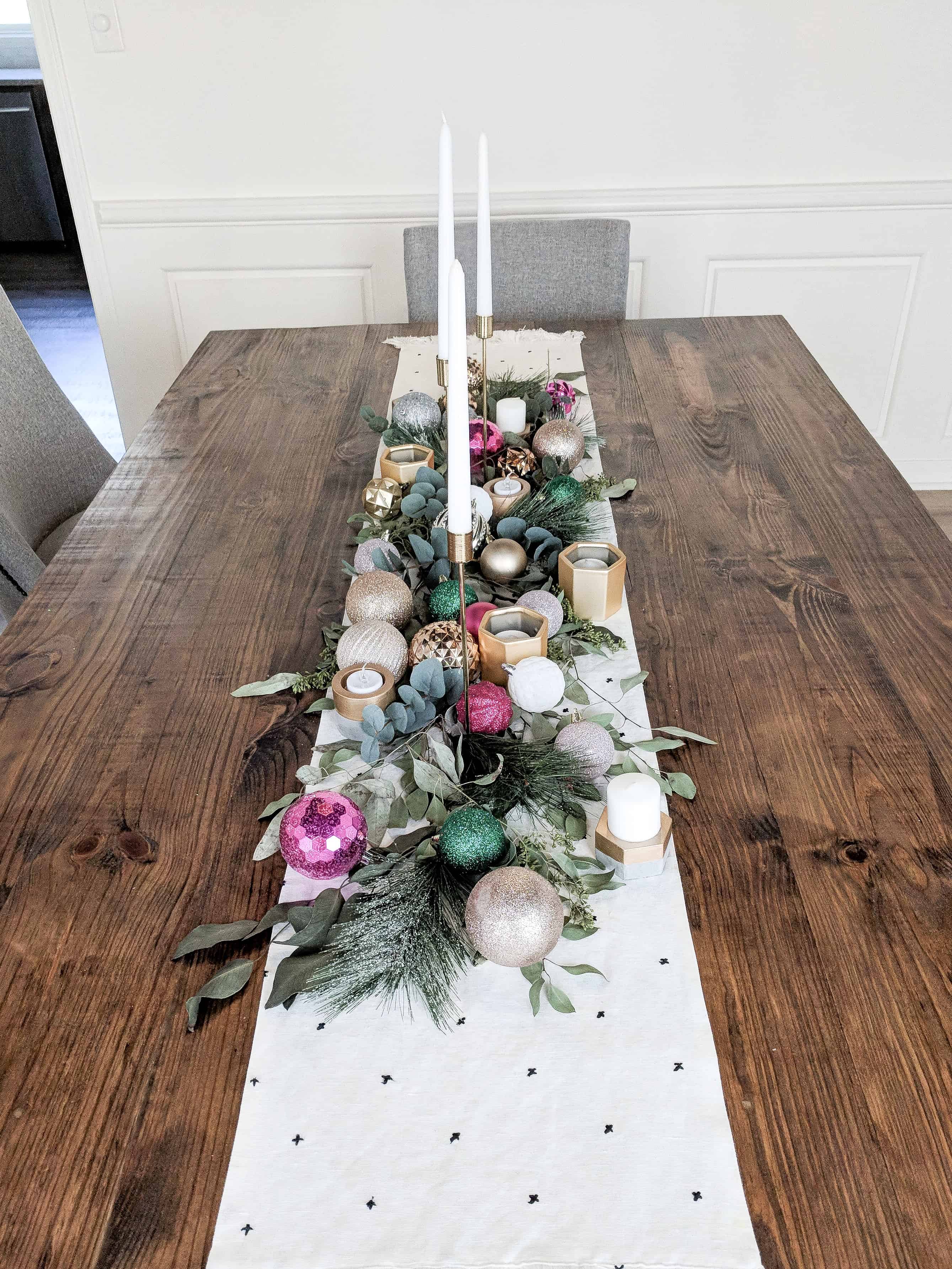 Merry and Bright Dining Room
For the rest of the room I did some very simple touches.  The shelves I never change too much unless needed because they are so small that to me they look best neutral. I added these little reindeer to the cabinet top, and typically they had a more traditional 'sash' that I added last year, but I changed that out to some pink tassels and pom's.  I love the tiny pop of pink they added to that corner.  Otherwise I just added our little dining room tree that I love!!
I had a hard time getting the tree to fit in a basket until a friend of mine, Jamie (who has an amazing blog – check it out!), suggested that I take the tree out of the stand, shove pillows around it and then top with the blanket – or in this case faux fur fabric.  It worked amazing!! I added some simple tassels to the tree instead of ornaments to keep things SUPER simple, and that was that.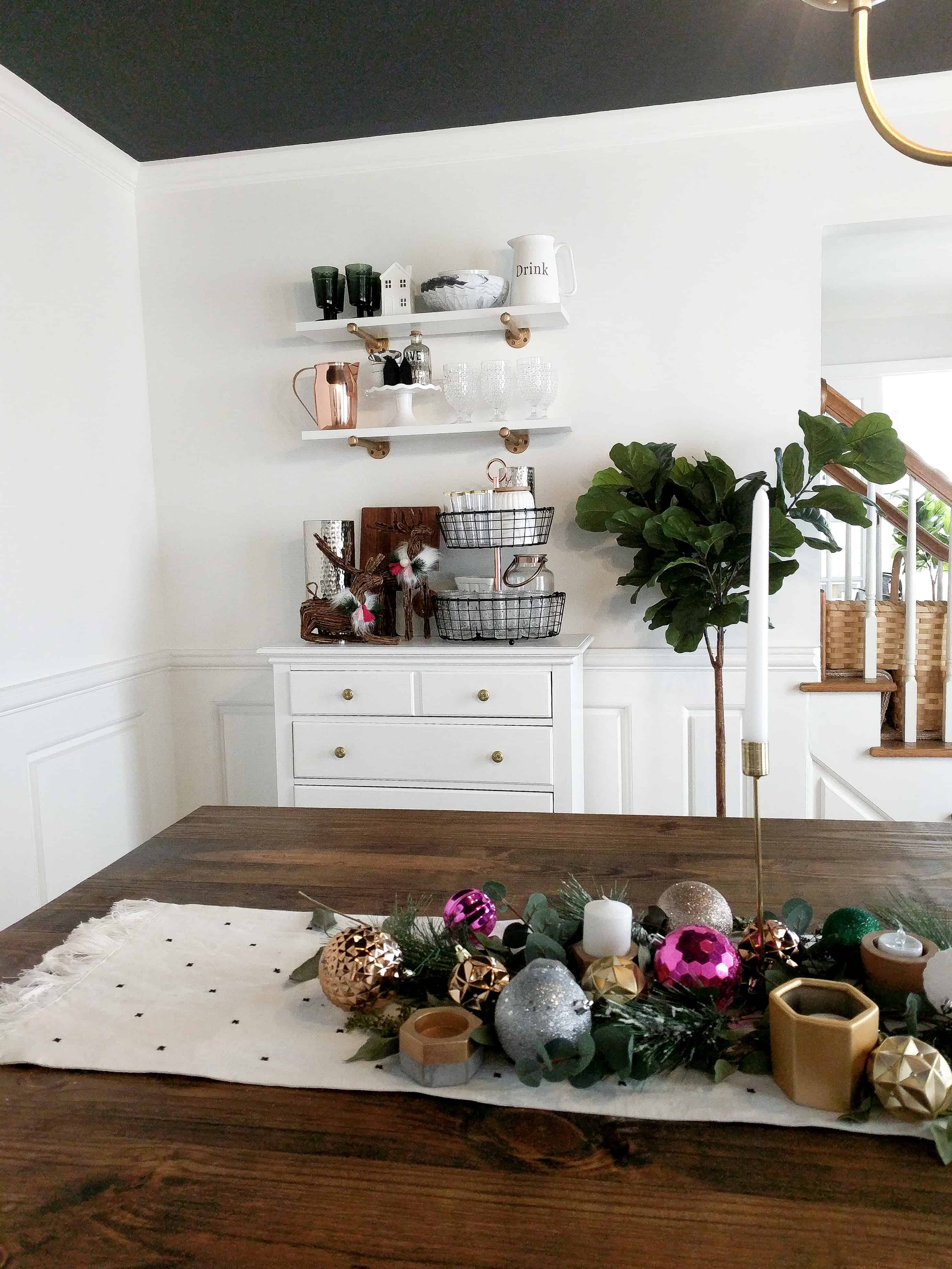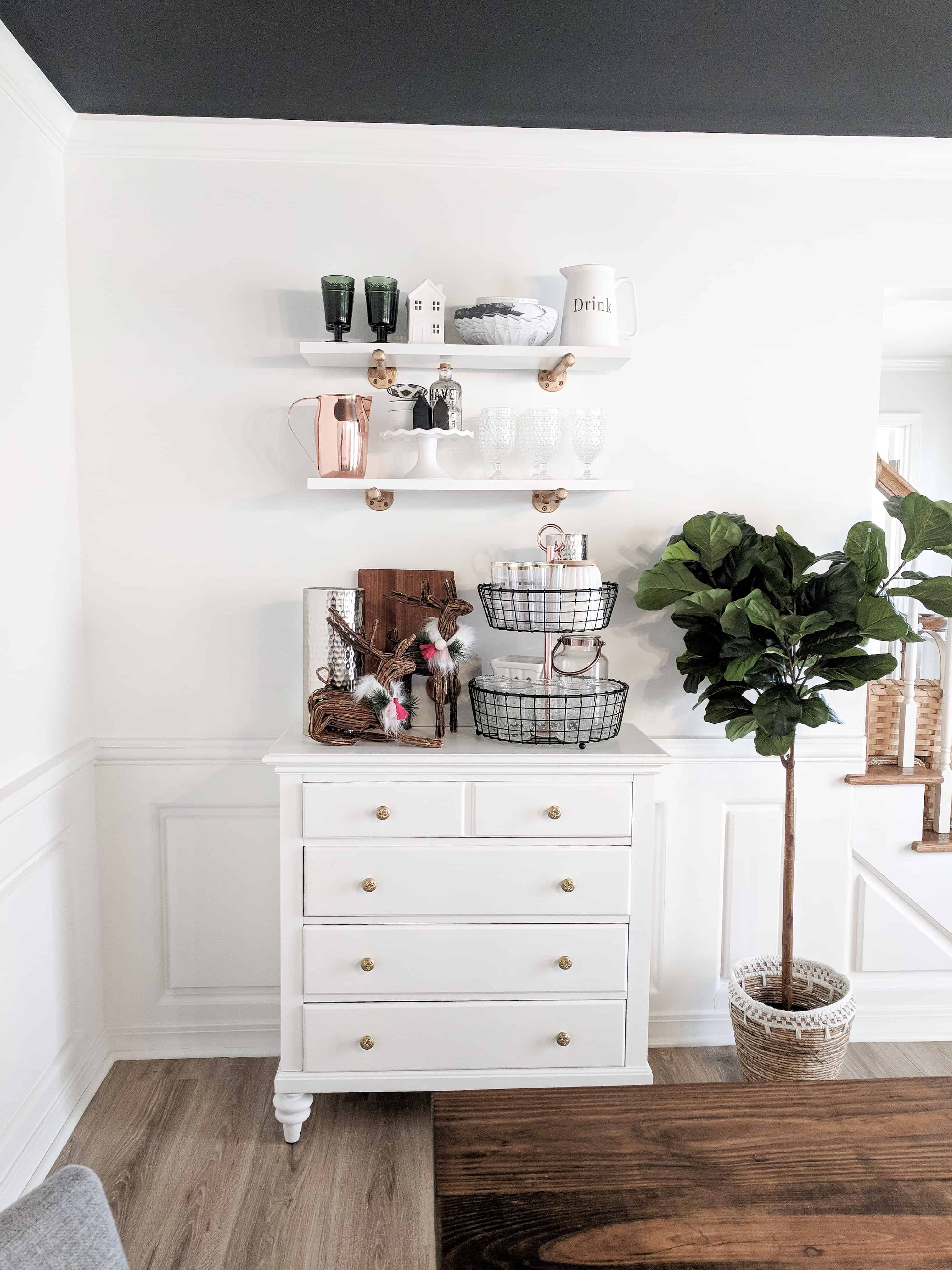 Overall I love the simplicity of this room, and some of the bold over all decor choices make it easy to decorate minimally.  If you're looking for more merry and bright decor make sure you check out my bar area and living room tours here!  If you have any questions let me know!
Pin this for later