Christmas and the holiday season are SO MUCH FUN, but when you have kids, I know I am not the only mom who feels a bit overwhelmed knowing that there will be SO many toys Brought into the house.  I have been prepping for that this year, and have some tips and tricks I personally use to make your house not feel over run by toys and kids items, while not having to get rid of EVERYTHING your kids have ha.
to shop many items in this post go to my shop my home page!
Before I go to far into this post, make sure you check out these two posts on similar topics for inspiration!
Step 1 – Prepping and Purges
Okay so before I go into how I organize my kids toys, and where they all go, my first tip will be to get rid of some of the toys they already have.  I do this in 2 steps. Step 1 – Go through your kids toys AND STUFFED ANIMALS when they are not home and get rid of the toys they are either too old for, or you know they don't play with.  You doing this alone will make the process way more successful. Once you have done that you can move onto Step 2 – which is to have your kids help.  You can do this however you want, but for us this year our 'elf' will be bringing each kid a trash bag with a note.  They will then go through toys, stuffed animals and books, and filling them up to donate.  For me I want my kids to learn that things are just THINGS, and not to covet them so tightly.  This process although sort of hard for kids teaches them a valuable lesson.
As for the items you pull aside I do a mixture of selling them on the Facebook marketplace, and donating them at a local donation center.  As far as the kids know all of the items they choose are only donated…and honestly so far all of them have been.  They don't typically pick 'sale worthy' items.
Step 2 – ORGANIZING Toys in your Living Spaces

Now that you have made some room by getting rid of old toys, its about making spaces for what you have. Below are my 10 tips on making that a bit more do able in any home.
Take Puzzles out of boxes and place in plastic baggies.  The boxes take up way too much room.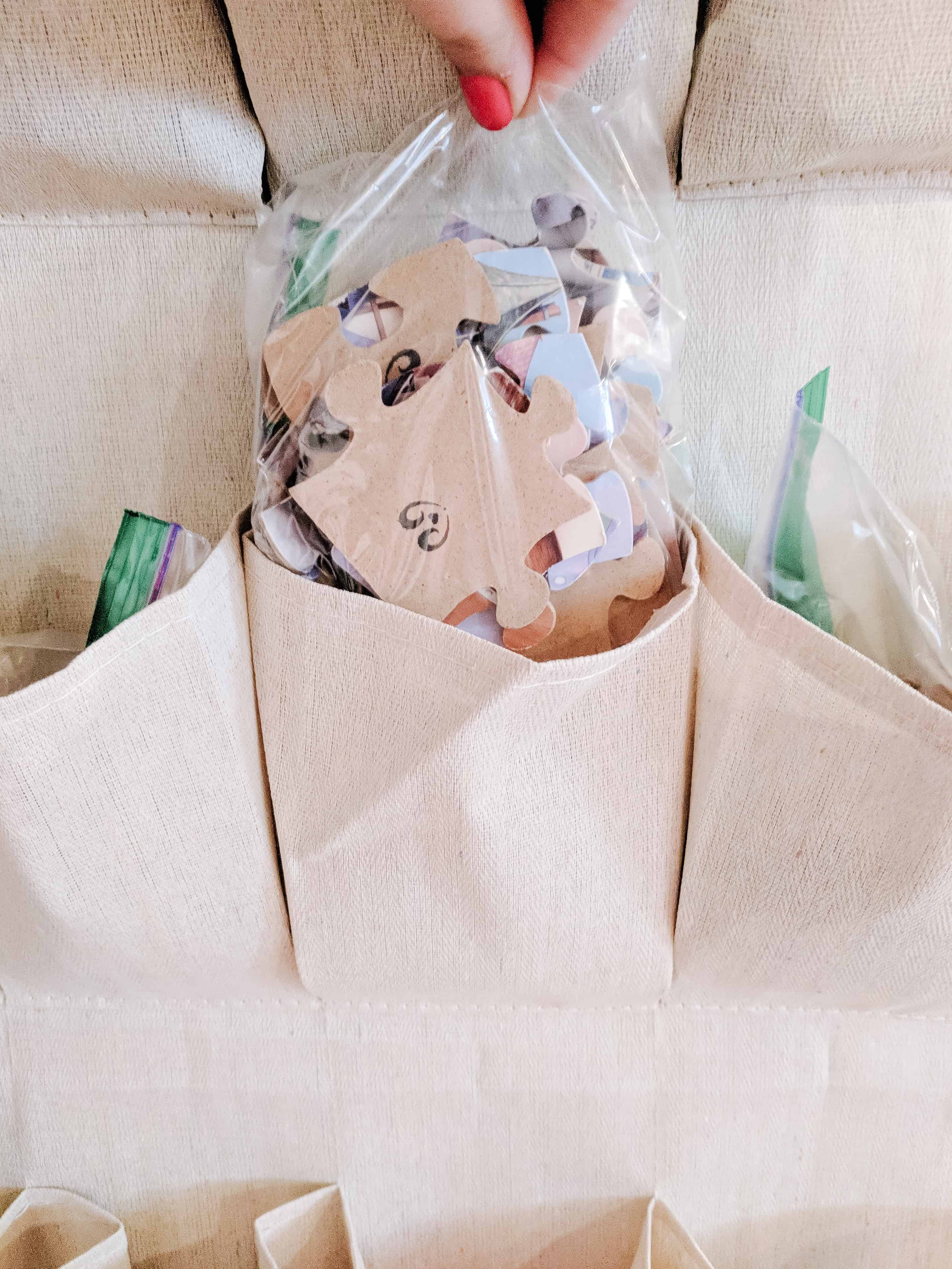 Use decorative Baskets that aren't too big in 'non' kid areas for toys.  For us this is our family room.  We personally have built ins that I have small baskets delegated for specific items.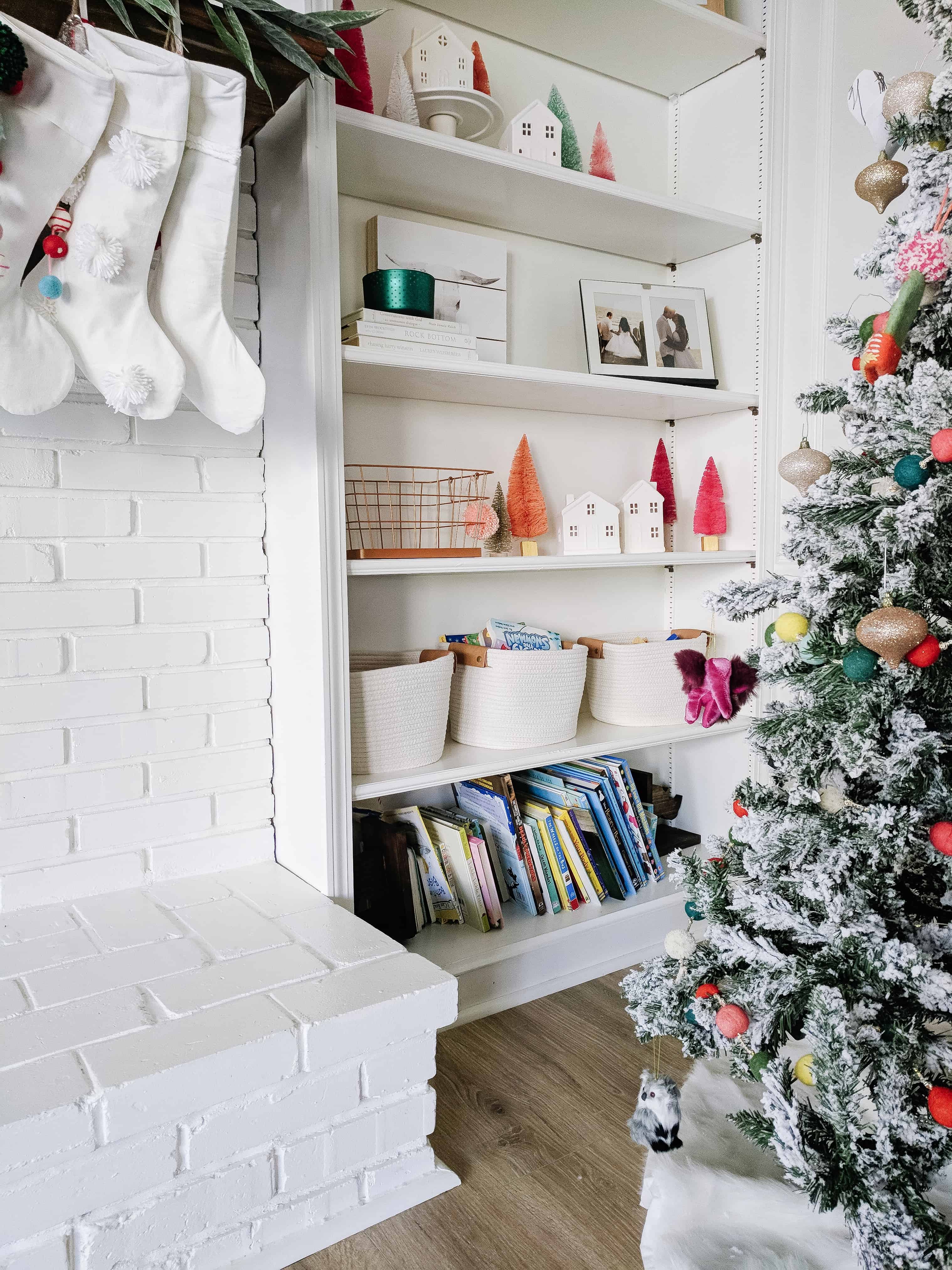 Buy furniture that allows for toy storage.  I can't stress this enough.  Our side table in our living room opens up so stores extra blankets.  And our TV stand is more of a dresser.  I love this because I use the drawers for specific toys.  (One drawer for legos, one for cars, one for puzzles, and so on!) Doing this step alone can nearly clear all kids toys out of your living space, and I always know we are getting too many cars if the drawer is full, and I donate some!
Utilize Closet organizers.  A hanging cube organizer in a coat closet can allow for some space for toys on your main floor without toys taking over the closet.  I also use a door shoe organizer in the playroom closet for puzzles, games, and smaller items that can fit in the pockets.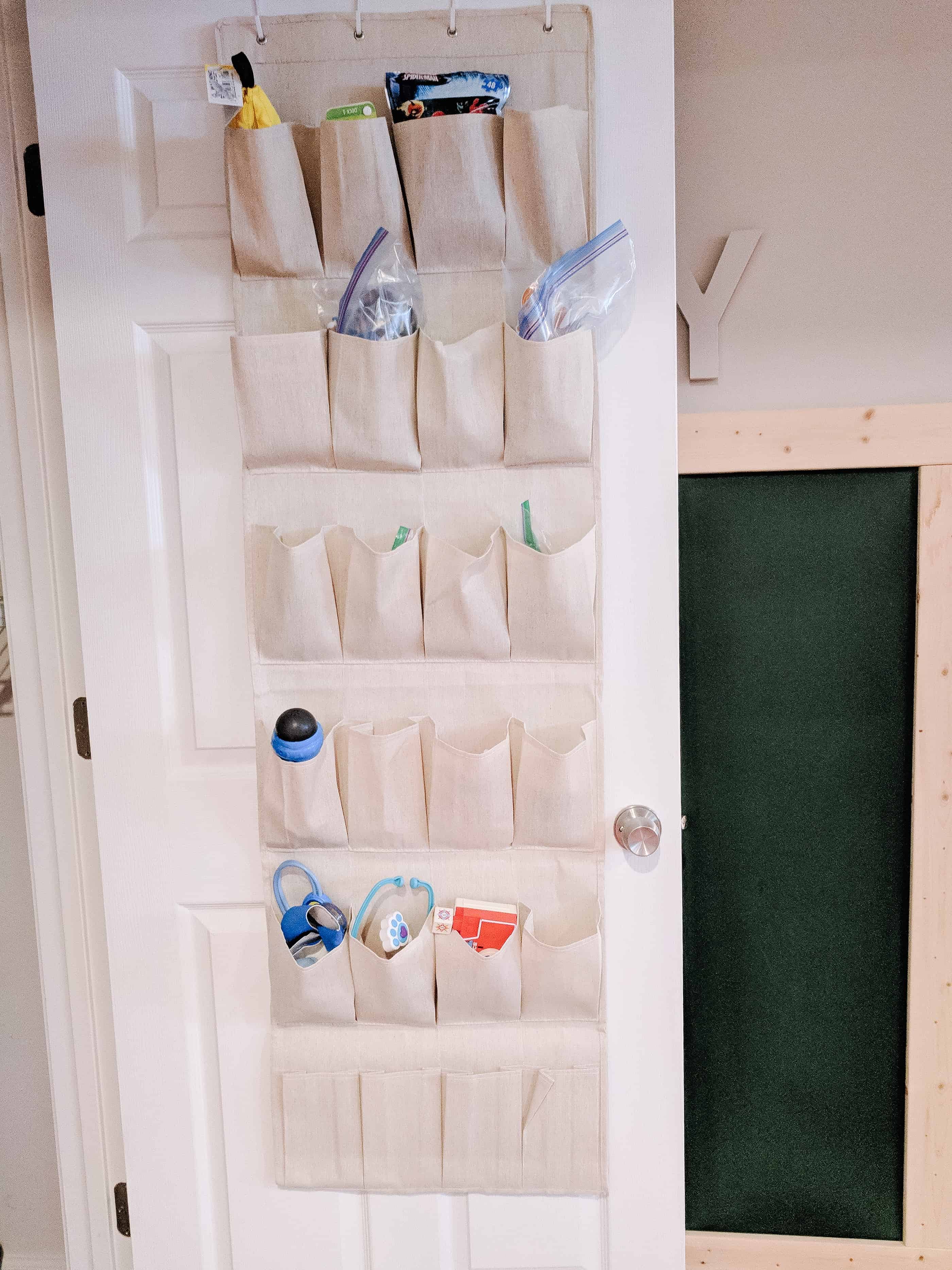 If you're going to store items in baskets inside of closets buy baskets similar to these, or use plastic totes with lids so they can stack.  Utilizing the full height of an area will be super helpful.
Only store toys with like toys.  I know this may seem silly, because maybe your bin of legos is only half full, but you don't want your kids spreading cars and legos all over the living room or playroom when they only wanted the legos.  It will save your sanity.
Store toys that aren't age appropriate anymore but you aren't ready to get rid of in a storage area.
Use decorative storage when you can. I  use a decorative basket on their kids sized table with coloring books and crayons.  They are then out and ready for them, and don't take up space in other spaces.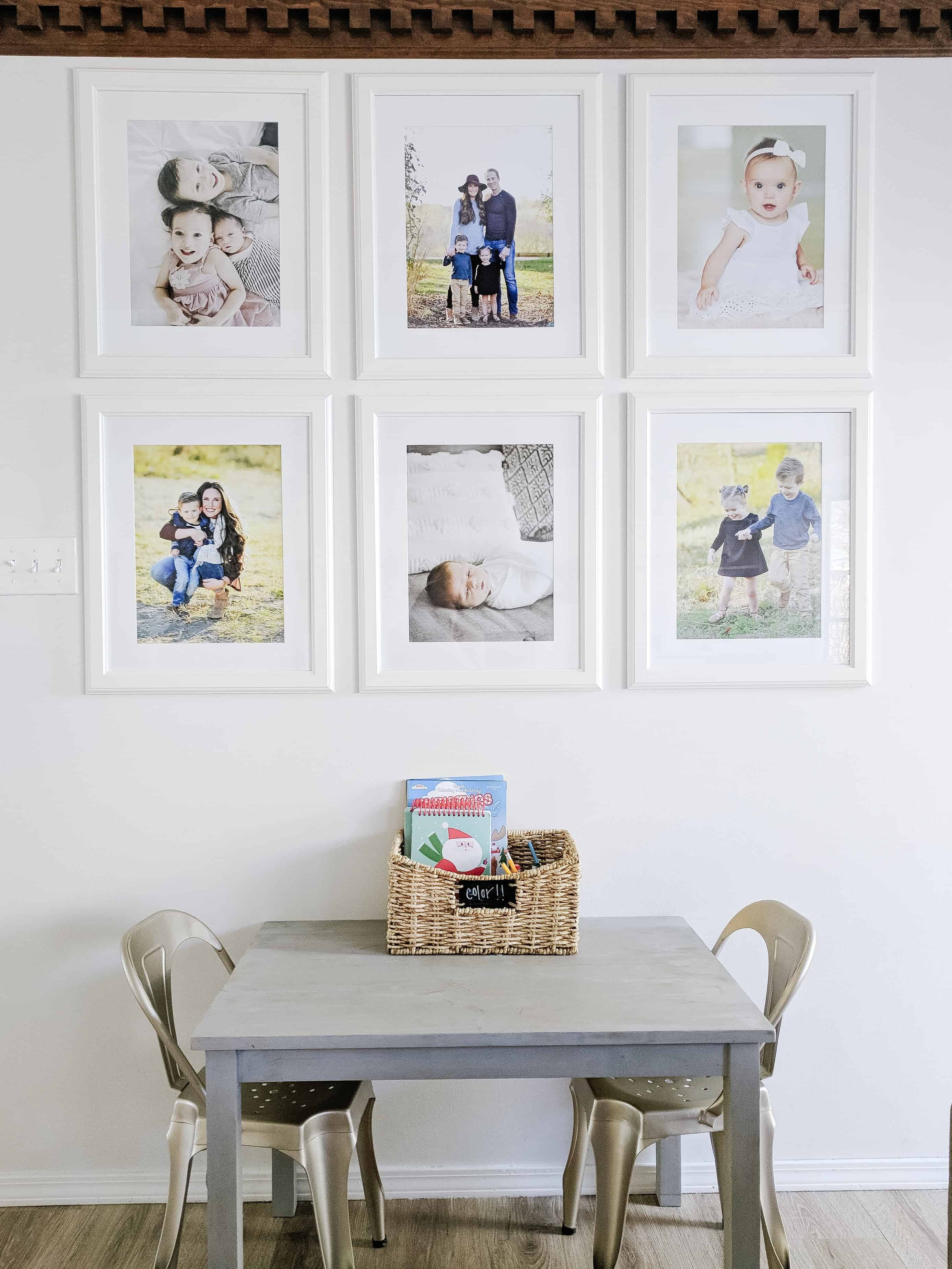 Utilize wall space! hanging decorative storage items is a GREAT way to make more space.  I do that in many ways, but see some of my favorite ways to do that below!

This easel not only worked as the gift, but I have bins below it for storage!
An accordion wall rack for hanging dress up clothes or hats!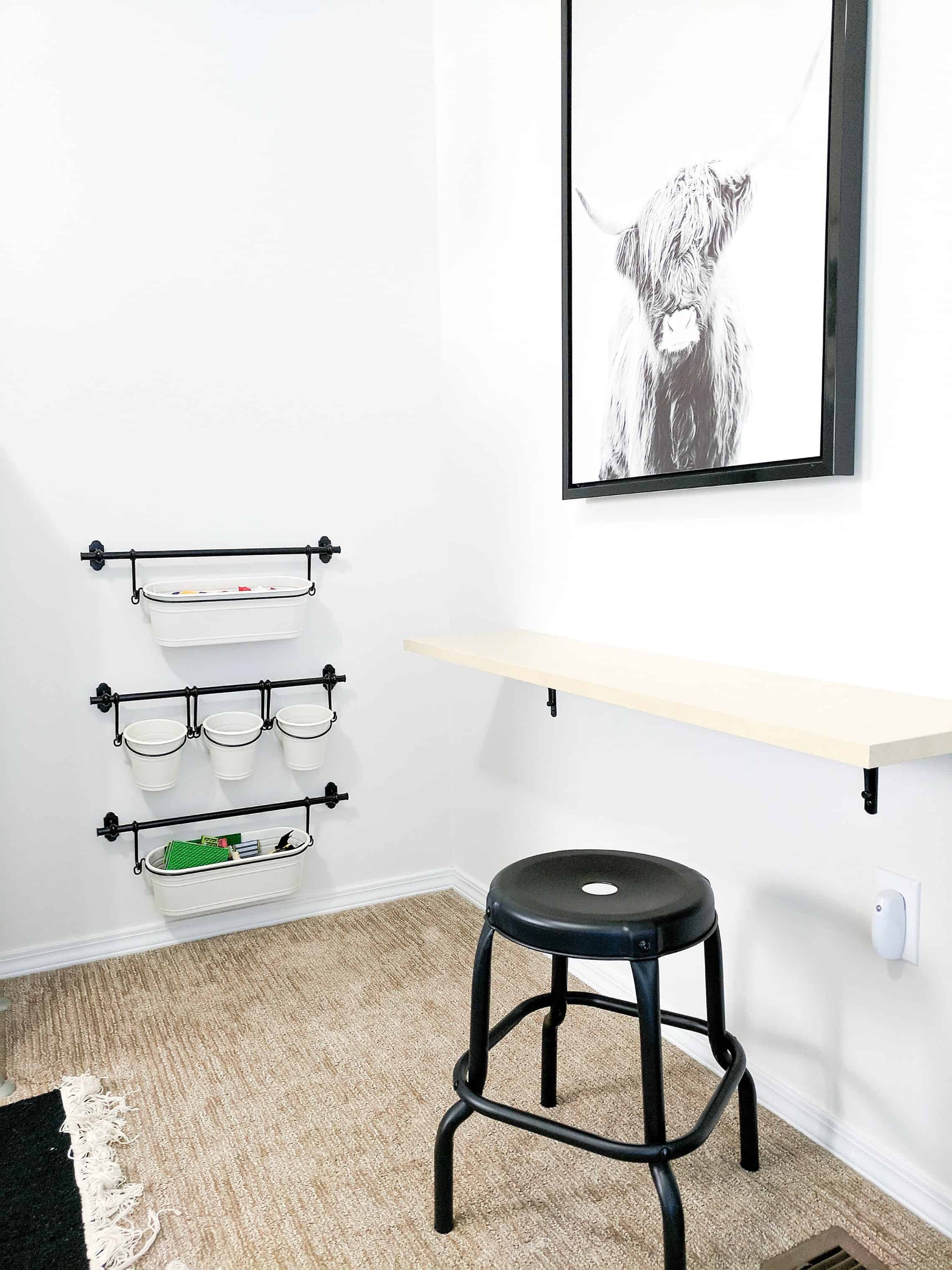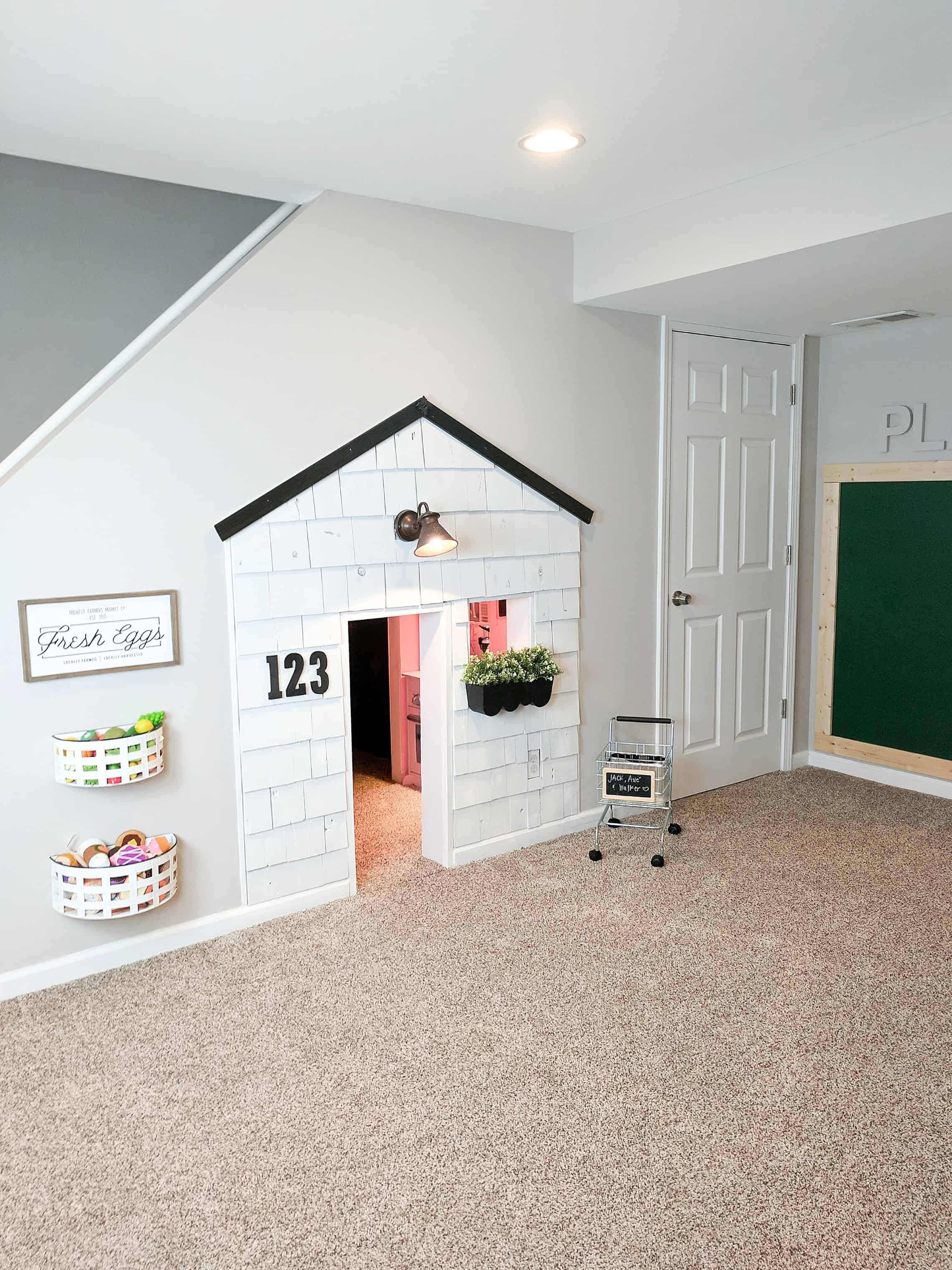 This may be an unpopular opinion but if your child wants something that is just not going to fit in your home then don't buy it! We personally do very few BIG toys.  We don't have the space for those to be out while my kids still have space to be creative, so we just do not buy them!
Do you have any tips or tricks that you have used for organizing toys?  I hope you find these helpful and they help you not to feel like your house will burst at the seams in January!
You may also want to check out this post with some great storage items or this post with more toy storage ideas!