The holiday season is fast approaching and will be here before we know it. If you are making a list and checking it twice, don't forget those beloved furry members of your family. As a dog lover, I couldn't have my shopping complete without including our bernedoodle, Penny. If you are looking for the perfect present for your four-legged friend, I'll go over the best Christmas gifts for dogs of all sizes.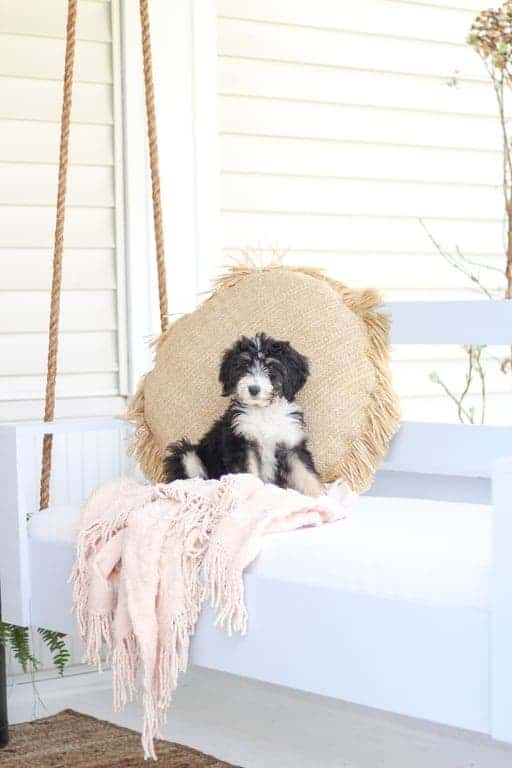 This post may contain affiliate links
Dog Gifts To Spoil Your Pet: The 38 Best Christmas Gifts For Dogs
If you are as obsessed with your own dog as we are with Penny, then you can appreciate that I like to spend time finding the perfect present for our furry best friend. Penny truly is a member of our family and I can't imagine our family without her big goofy dog paws in it.
I understand not everyone has the same level of excitement about their canine companion as we do, but those individuals most likely aren't reading this post about the best Christmas presents for a dog.
Or, maybe you're more of a cat person. Either way, as dog lovers we can find a great Christmas gift that will show our furry friend just how special they are.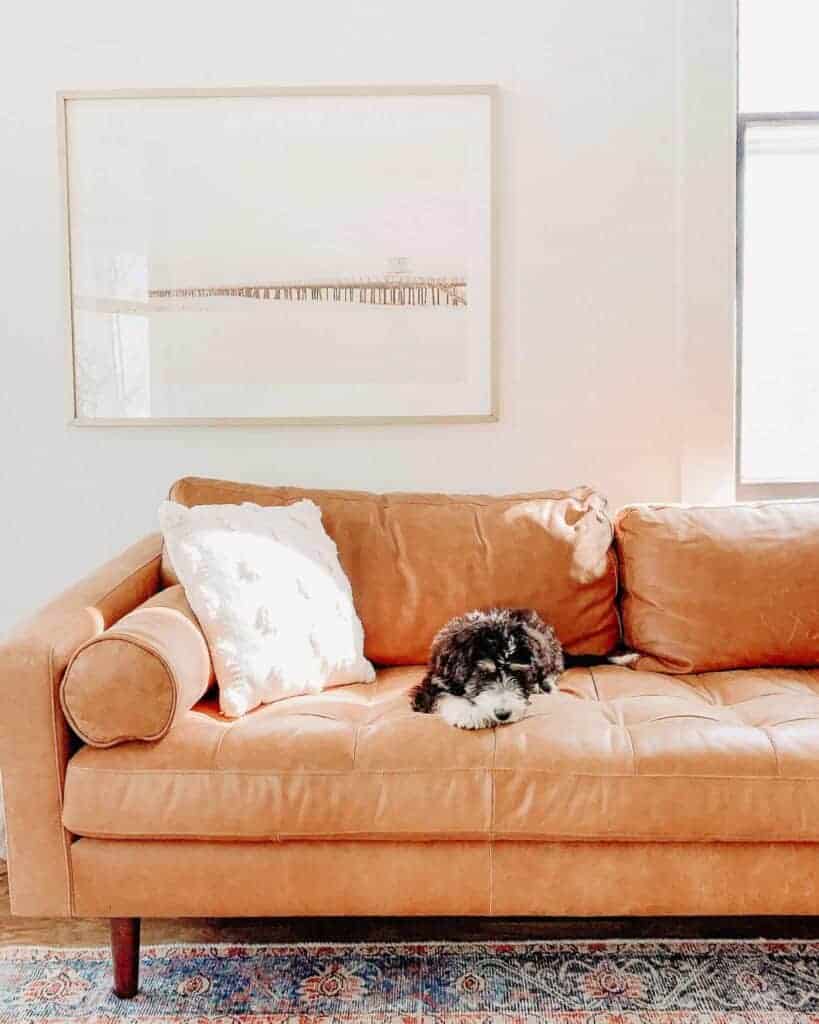 I've tried to focus on gifts of different sizes to help those of you who need ideas for stocking stuffers and Christmas morning present opening. Jolly Old St. Nick wouldn't miss putting a fun toy under the Christmas tree for good girls and boys, even if they have stinky breath. So, whether you need a large present, small gift, or want to find something for dog owners who are crazy about their good boy, I'll have it covered with my list of the best dog Christmas gifts for the holiday season.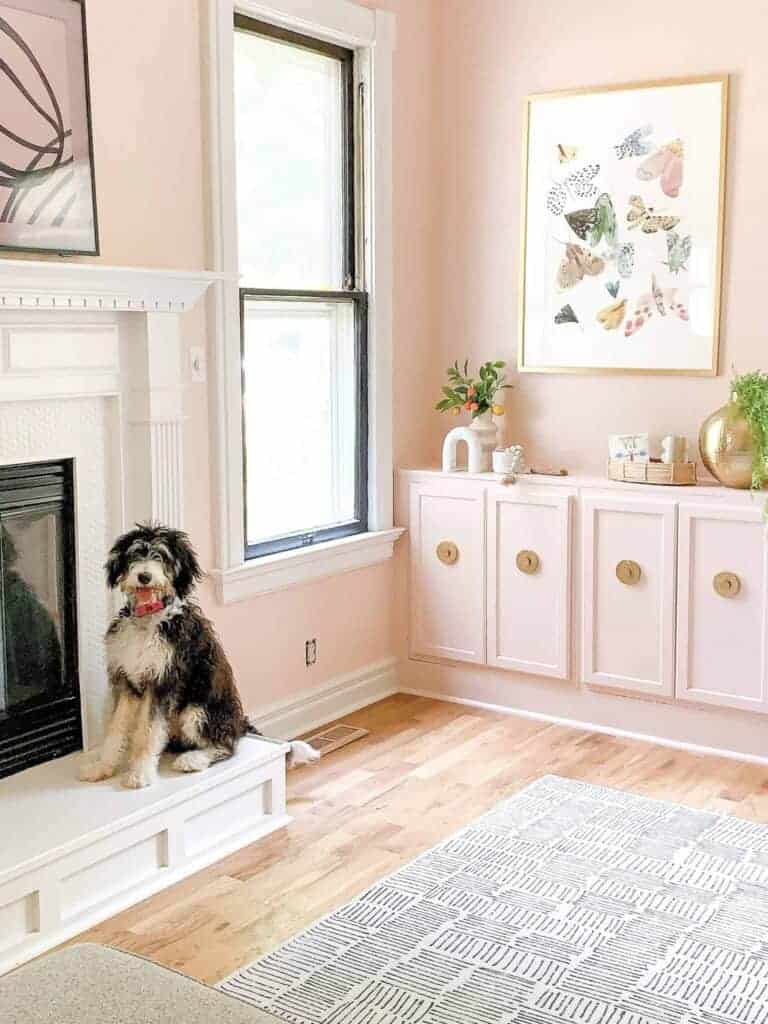 Gift Guide Central
Before I jump into the best Christmas gifts for dogs, I want to let you know that I have gift guides for all of the special people in your life. You can check it out my gift guide hub if you are needing inspiration for anyone else on your list.
I try to keep a mix of practical and fun gifts for your family members, friends, and others in your life. At the same time, you can also find some unique ideas to make your home holiday ready on my Instagram (@arinsolange) and Tik Tok (@arinsolange).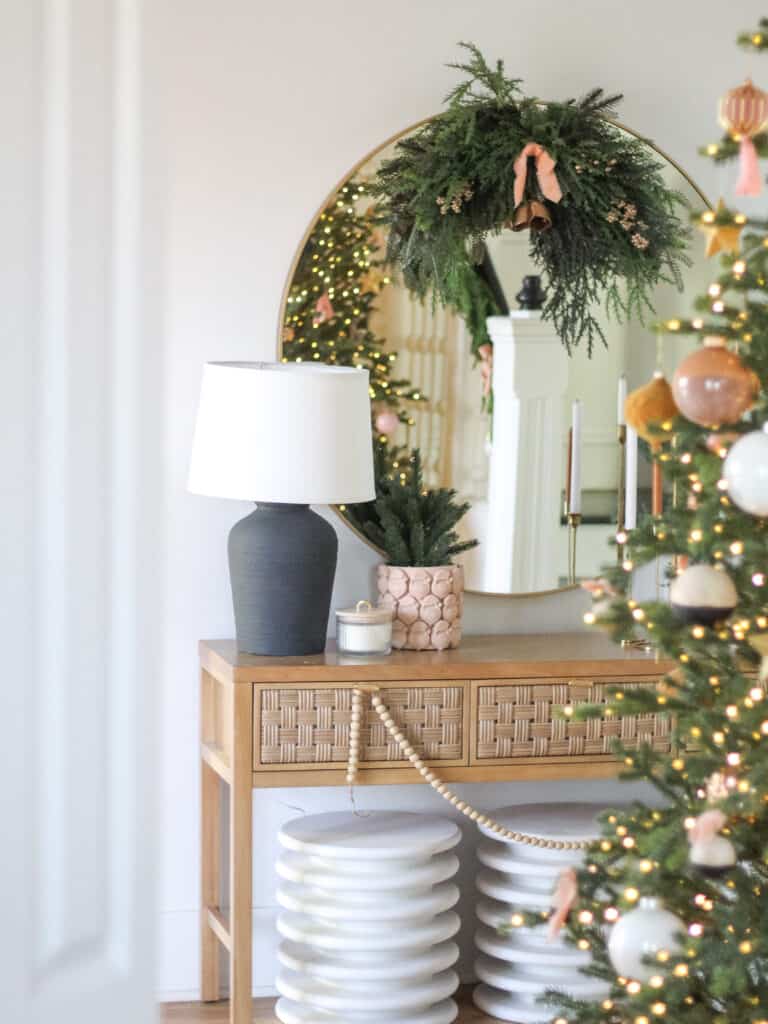 The 38 Best Buys For Your Pets At Christmas Time
I've rounded up the best Christmas gifts for dogs to give you more quality time to spend with your pup and less time searching for the perfect fit. If you have a dog that seemingly has everything, the good news is that my list of the best gifts is quite expansive. You'll be able to find a great present for your dog so that you can make memories together this holiday season.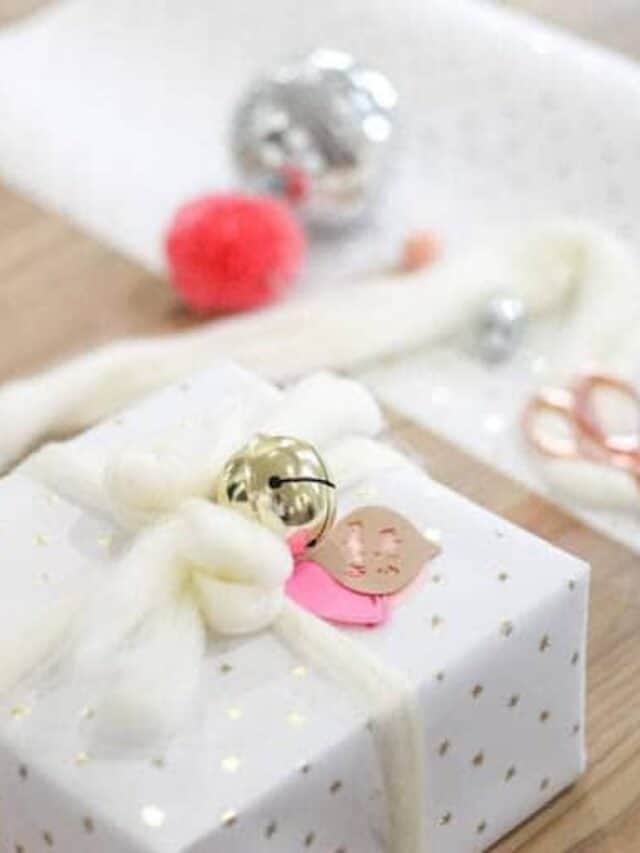 Dog Toys
Your dog can never have too many toys to play with! Toys are one way for your dog to burn energy, comfort themselves when frightened, provide dental hygiene, and keep their brain sharp. You can't go wrong with picking out a few dog toys as Christmas gifts.
Here are some of the best Christmas gifts for dogs via toys:
Stuffed Animals
What I adore about our dog Penny is that while she is most certainly not a lap dog, she shows the unconditional love of a dog by curling right up against you. Our girl loves to snuggle. And I can't blame her, snuggles from my kids and Penny are the best.
The best toy for those dogs who are extra cuddly is a plush toy. Stuffed animals can help comfort dogs when they are frightened or can keep them company while you are away. The best part is that stuffed animals work as kids toys too. So feel free to grab extra stuffed toys for the toddler in your life and I guarantee it will be a hit!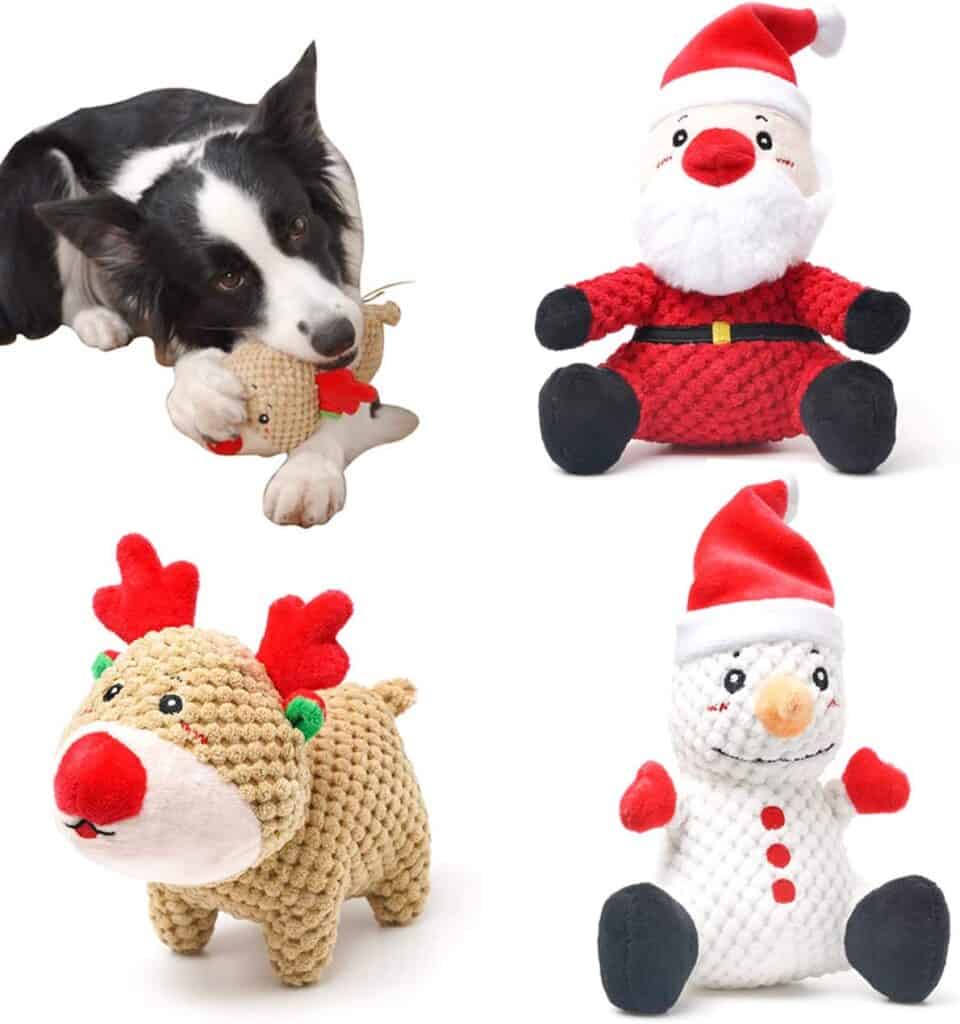 Rudolph the red-nosed reindeer is indestructible and would be a great buy today for the winter season. These fun holiday toys come in a variety of colors and designs. They are beef scented and actually have a tough corduroy non-toxic core for those big dog chewers out there.
They even help clean your dog's teeth which helps their oral hygiene. If you have a dog that loves squeak toys, this will be a hit on Christmas day and will last until New Year's!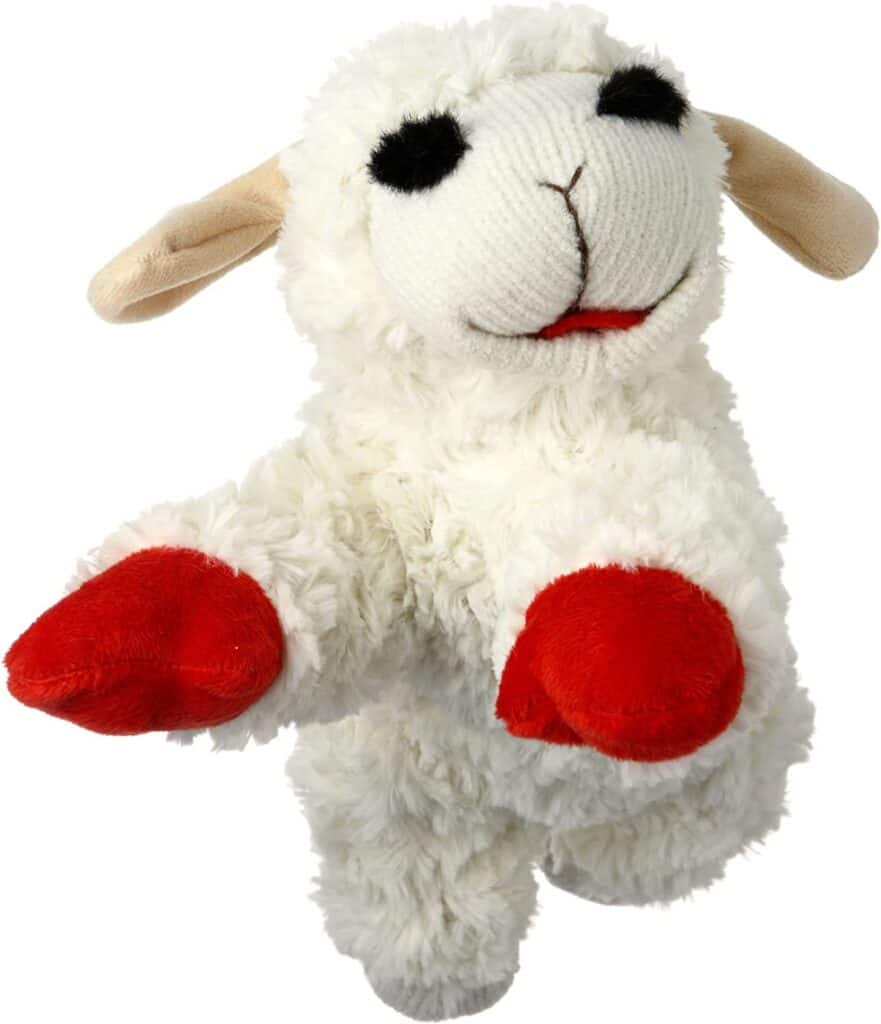 Do you have a dog that needs a baby for snuggling? I'm not sure what it is about this specific lamb chop stuffed animal, but not only does Penny adore this special baby, but I have several other friends who have dogs who have said the exact same thing!
It seems that this stuffie is the perfect size for dogs to carry around as their very own baby. You can get it in a large size if needed, but the medium size has worked well for us. If you have a dog who is lonely or feeling anxious, this is the perfect solution.
Anxiety Relief Stuffed Animals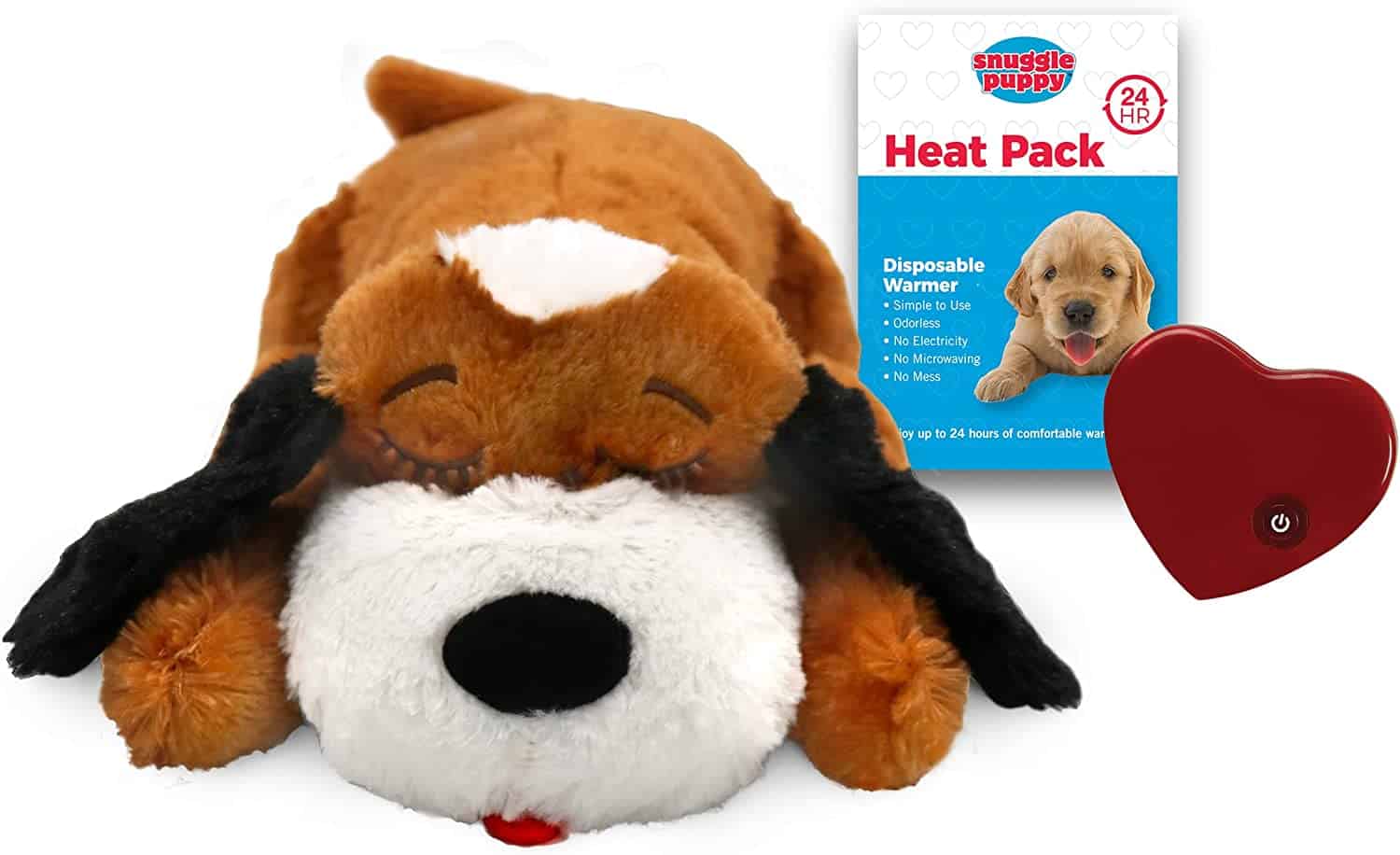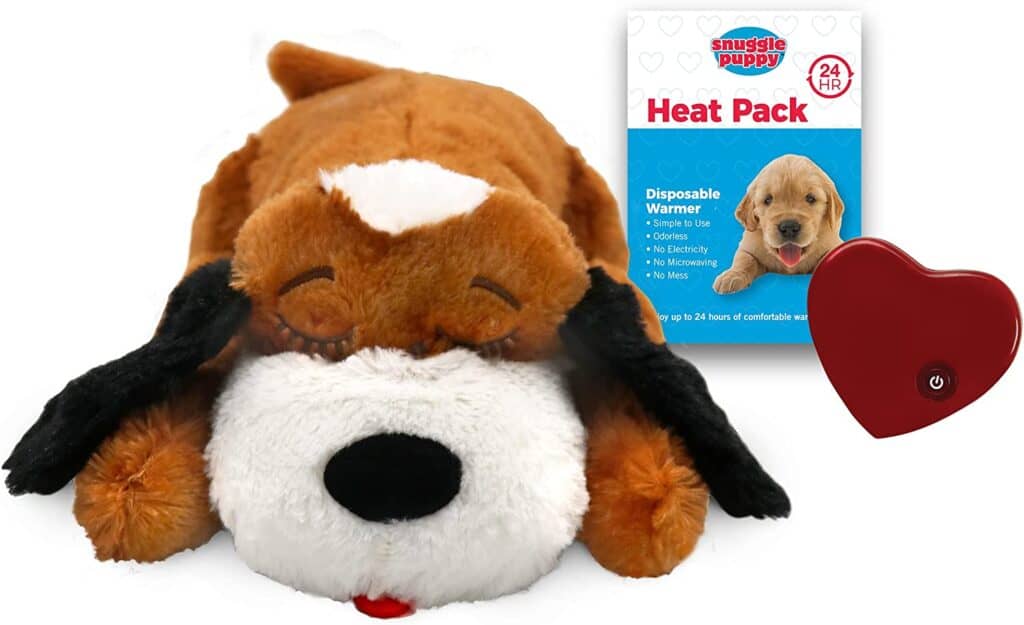 If you plan on surprising your family with a new puppy on Christmas Eve, then this unique toy will be a hit. The SmartPetLove snuggle puppy is a stuffed animal that is made to help anxious dogs calm down.
With a heart beat and heating pad, this is the perfect way to transition for those rescue dogs and puppies to feel comforted and loved. Your family may think the puppy is the best gift, but this snuggle puppy is one of the best Christmas gifts for dogs who are transitioning to their new homes this holiday season. Gifts that are functional, practical, and fun hold a special place in my heart.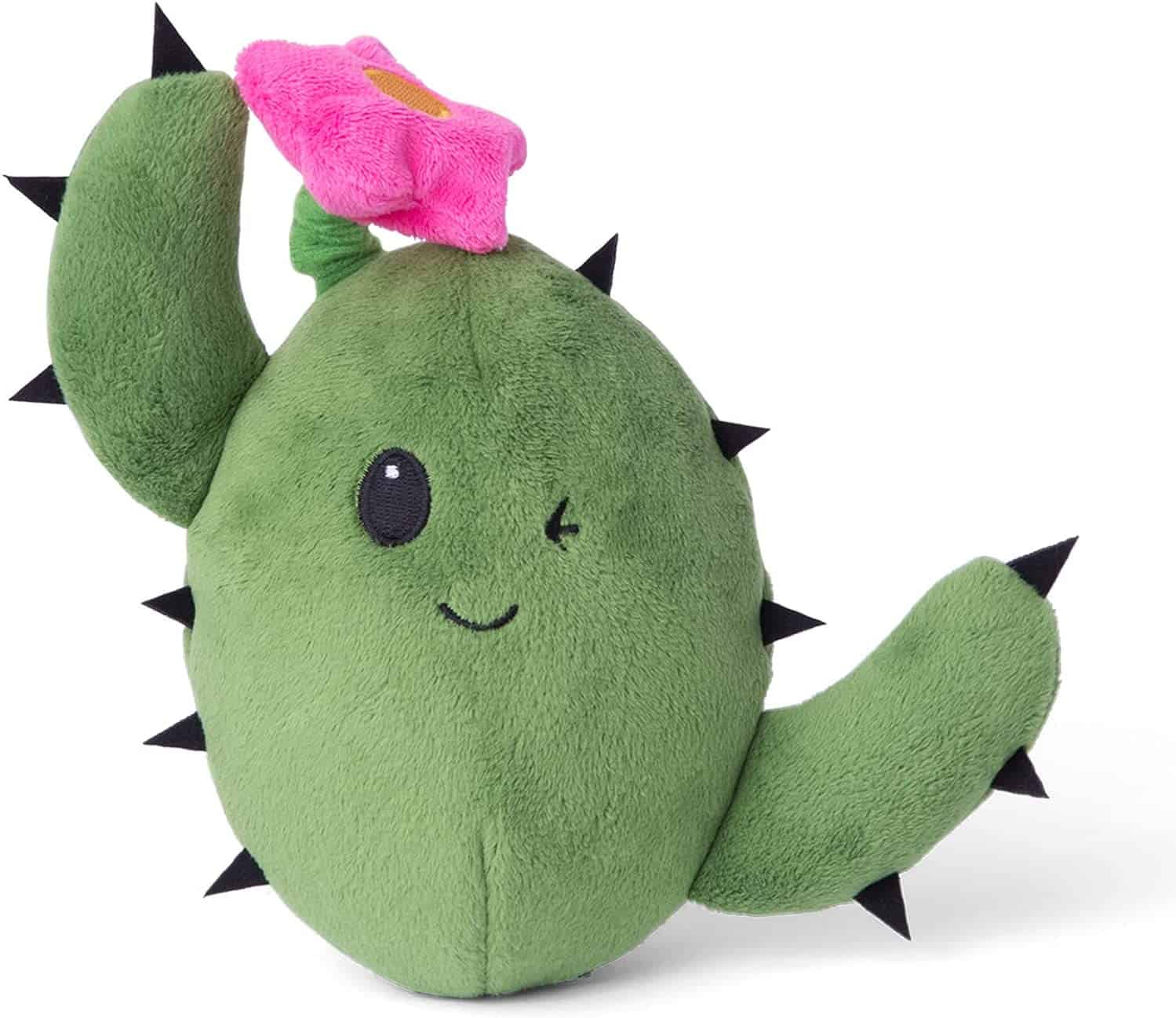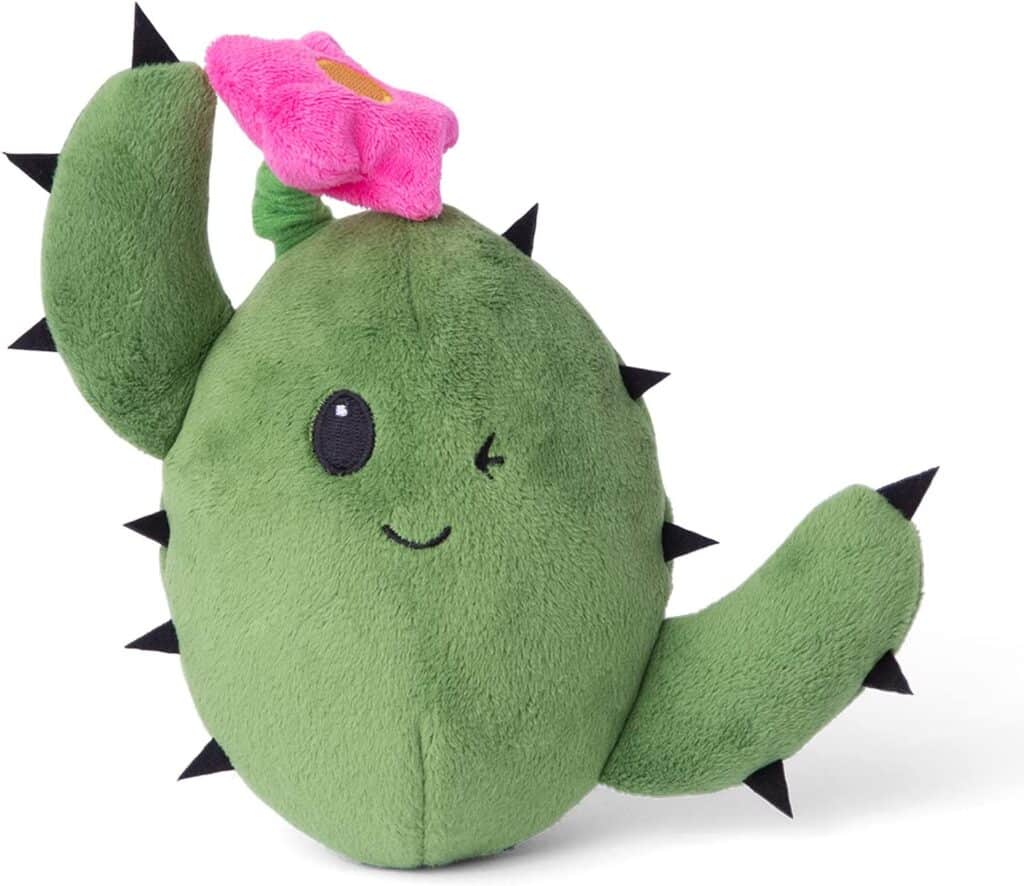 Do you have a serious chewer on your hands? You may not even want to try to find any gifts that are indestructible for your dogs. If that is the case, then this is your answer. Barkbox's interactive dog toys are fantastic and this cactus offers a 2 for 1.
When your dog destroys the outer shell, they'll be greeted with a surprise inside. There is plenty of fluff to shred and balls to squeak for that overzealous chewer that would make any dog ecstatic. You'll get multiple toys with this dog gift.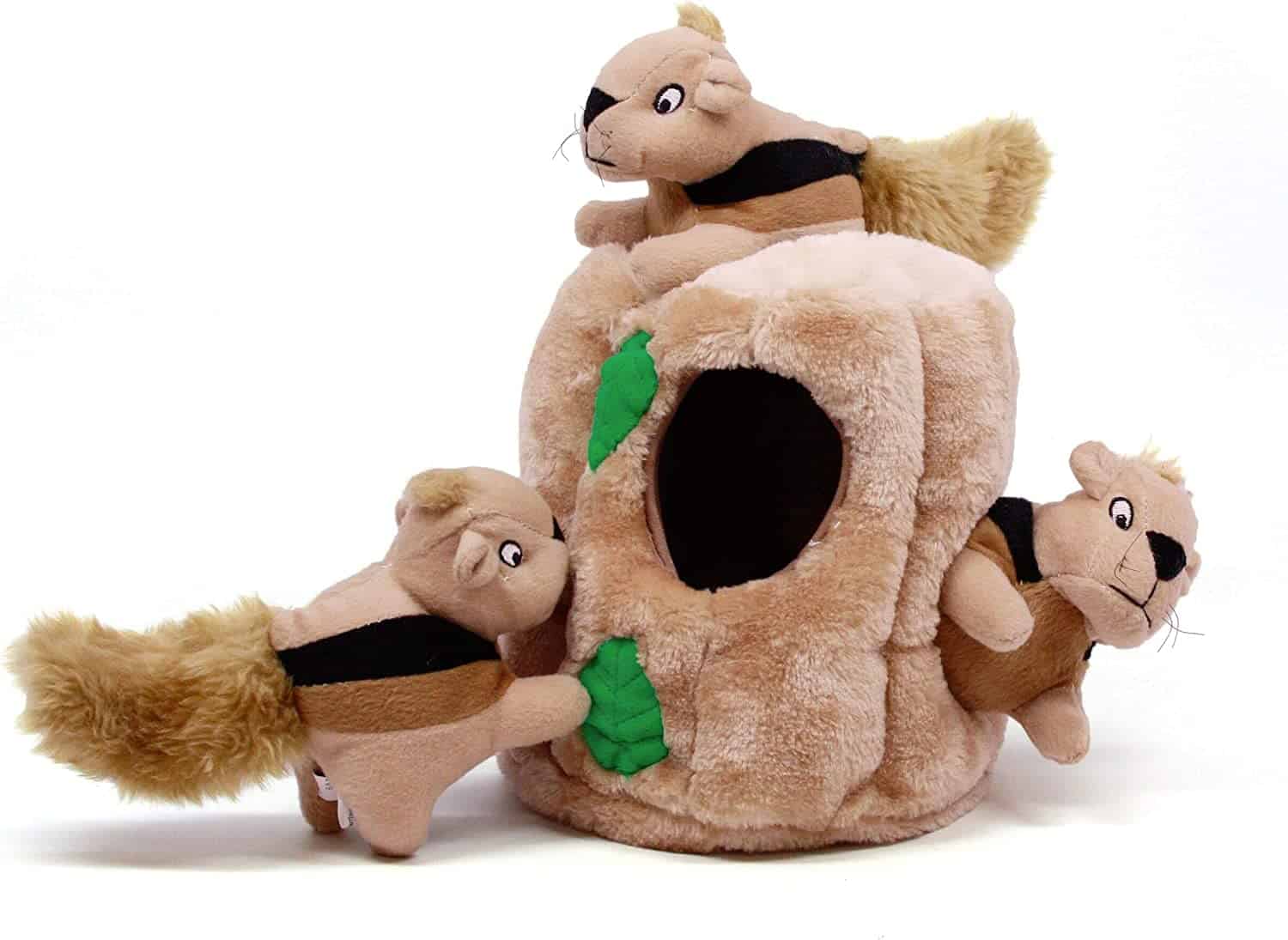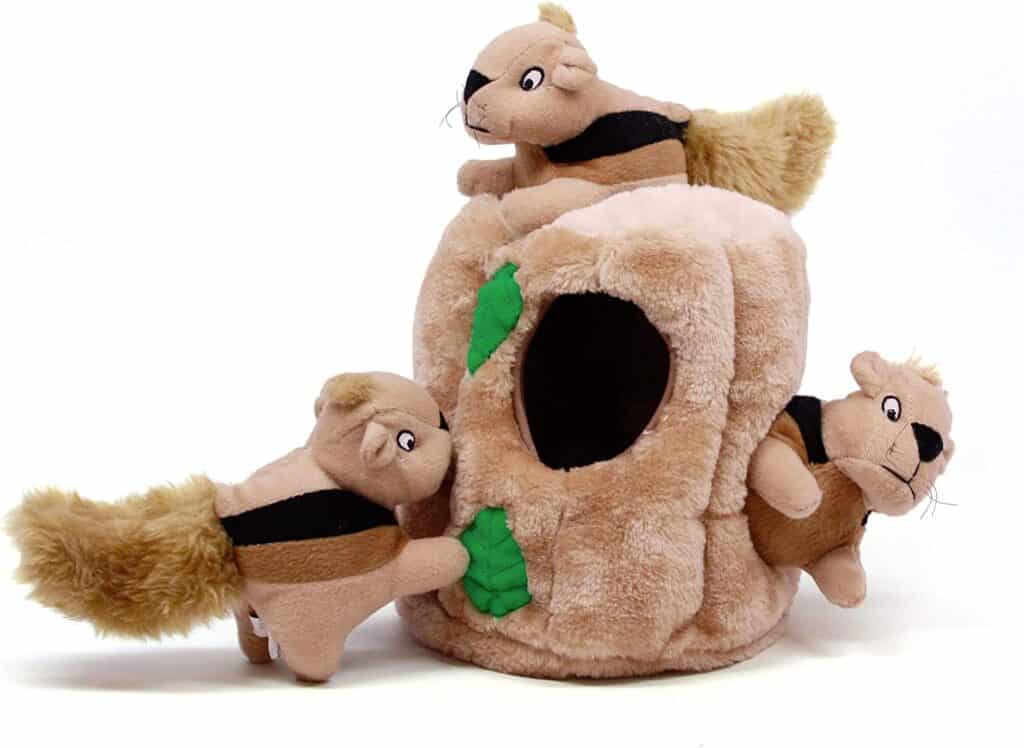 Play the simple game of hide and seek with your pet. This is another interactive dog toy that can help keep your pup busy and burn energy. This comes in various shapes and designs to suit your pet's preference. If you really want to get your dog involved, throw in a few tasty treats and they will be entertained for a long time. Christmas gifts that get your pet burning all their energy is always a plus.
Balls & Other Throwing Objects For Your Dog
What new puppy doesn't need to burn energy? Playing fetch with your dog is the perfect way to tire out your best friend. One of the best Christmas gifts for dogs is as simple as a rubber ball.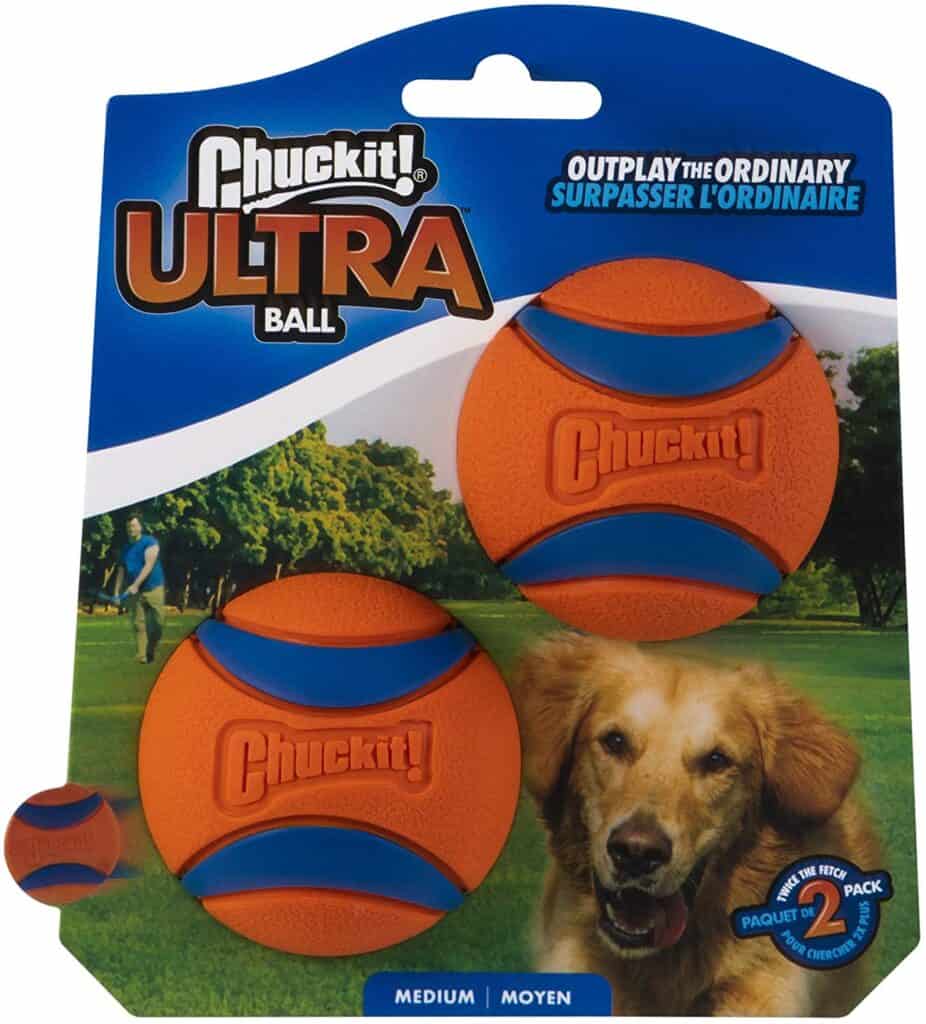 The ChuckIt Ultra Ball is the ultimate tennis ball. This is a great way to keep your dog entertained for hours. The ball bounces with a high impact and can also easily be used as a chew toy due to its rubber base. If you need an extra challenge, check out the ball launcher that will really tire your dog out.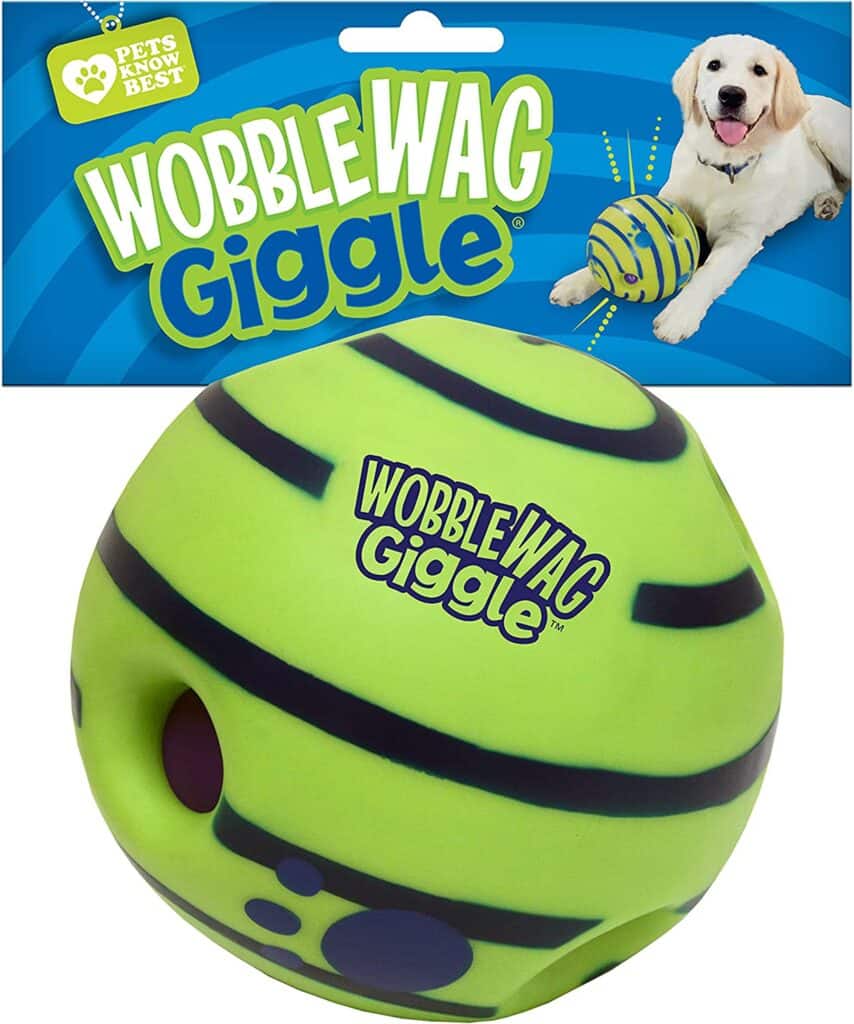 The Wobble Wag Giggle is less of a ball that you throw, and more of one that moves on its own. With the touch of your dog's nose, it begins to wobble and make giggle noses. Your dog will either be delighted or absolutely terrified. Either way, it's worth purchasing it just to see your dog's reaction.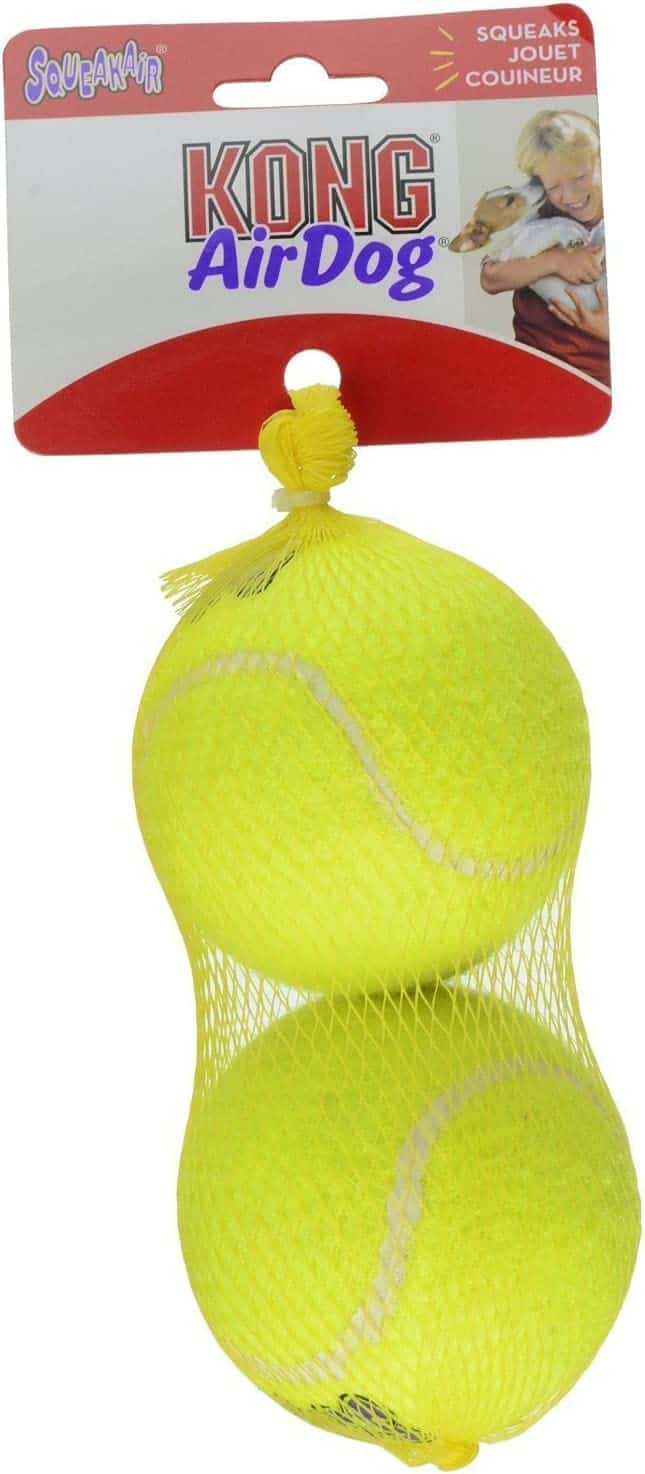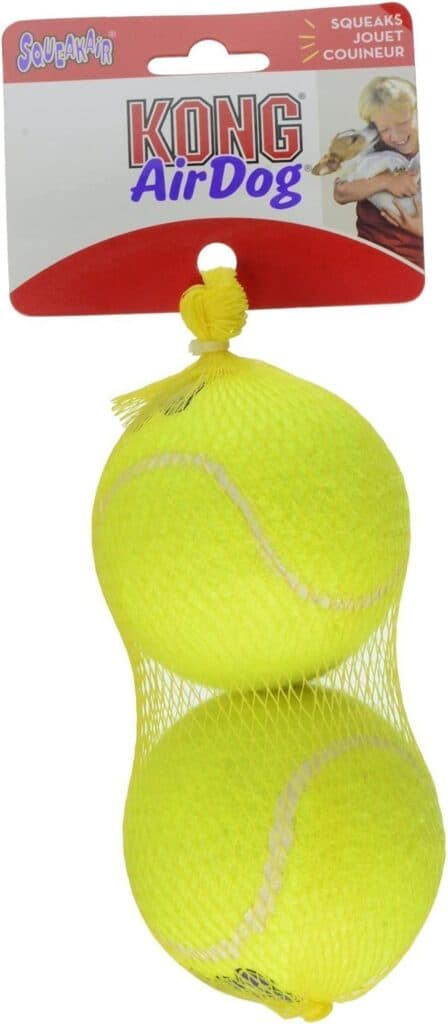 Sometimes the best Christmas gifts for dogs are the simplest items. The Kong Air Dog tennis balls are a classic for a reason. They withstand strong chewers, but what sets them apart is their squeakers. One of my favorite gifts I like to give new pet owners for their dogs are these Kong tennis balls. The squeakers can make any pup want to play and stay playing.
Chew Toys
One of my least favorite stages of owning a dog is when you come to the realization that your precious pup just ruined another new pair of shoes. Obviously, I absolutely hate the chewing phase in puppyhood. If you're lucky, it will be just a phase.
Not all of us are as lucky and we have to find ways to help our dog chew in a productive and healthy way. Yes, chewing can help with oral hygiene for your dog, but it can also destroy your most loved Ugg slippers. Eventually, you have to give in to the destruction or check out these products to help combat chewing.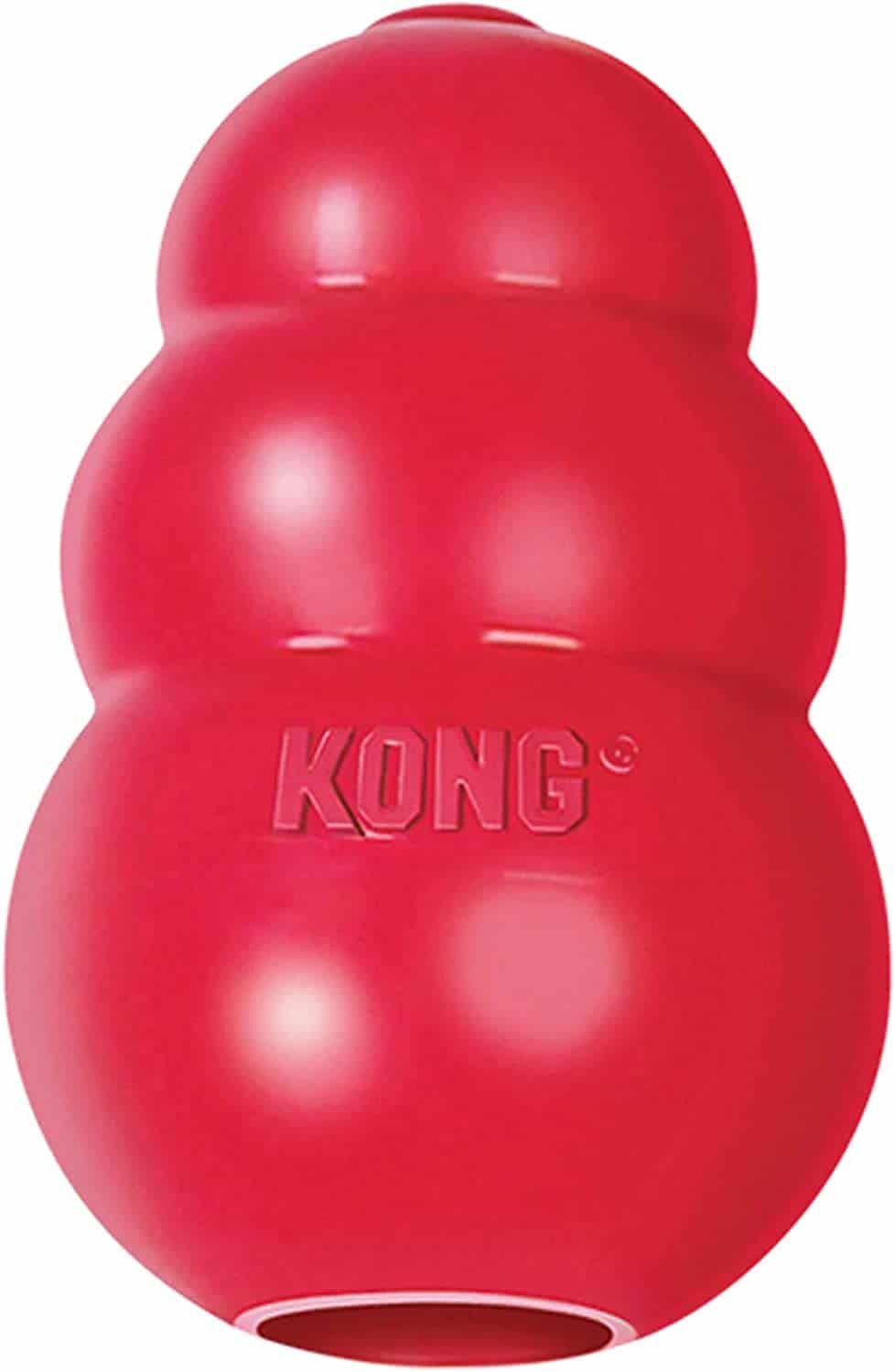 The Kong is a classic for a reason. Simply put, it just works. Dogs go crazy over this toy and for good reason. You can freeze it with peanut butter or try melted cheese to keep your dog busy and distracted while you run holiday errands.
If you ask dog owners some of their favorite gifts, I guarantee you the Kong would be high on that list. It comes in several sizes to accommodate both small dogs and large dogs. The best thing is you can pop it in the dishwasher afterwards and it will be ready to go the next time you leave the house for your dog. Buy your dog Christmas gift that benefits both of you!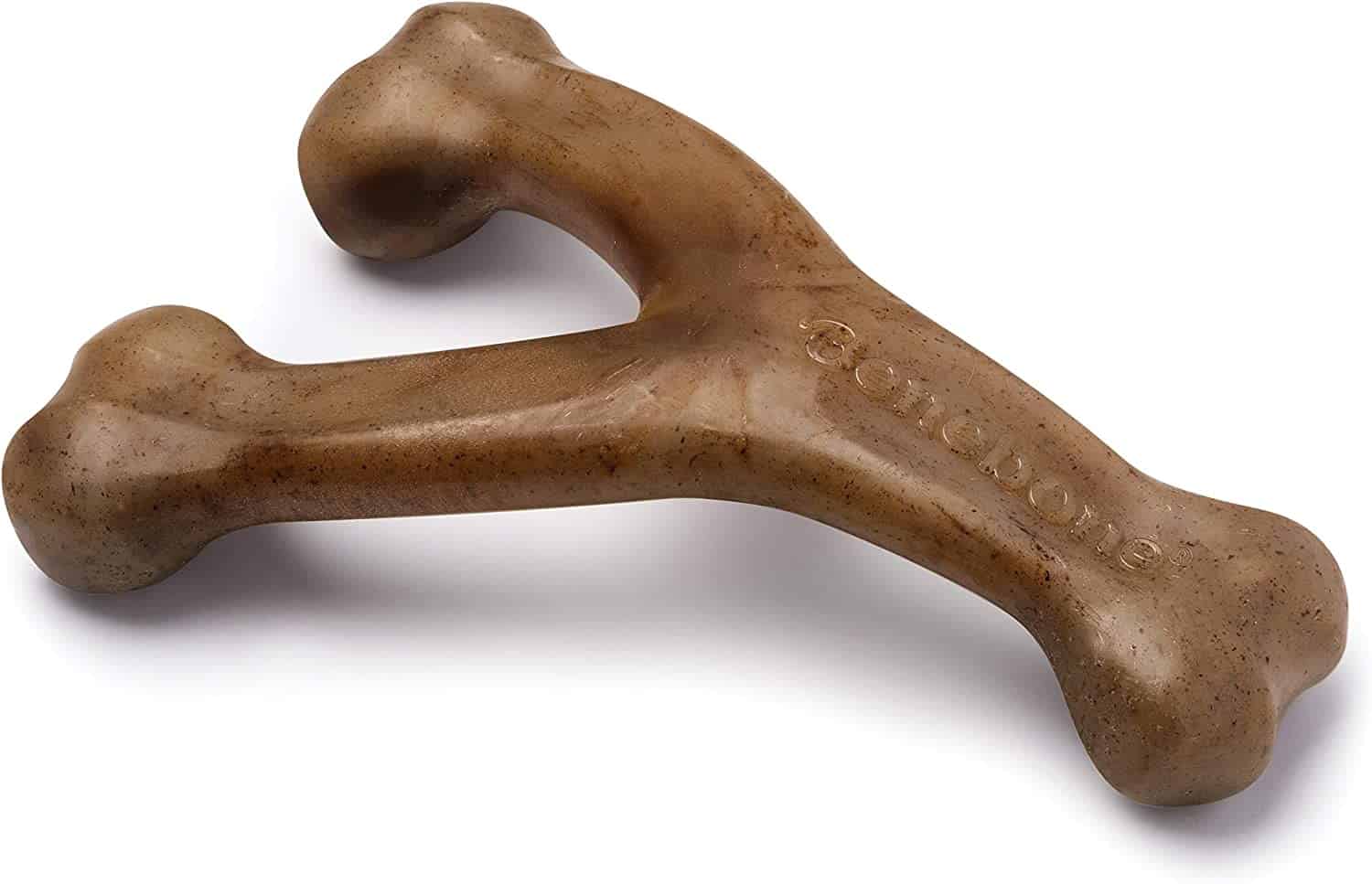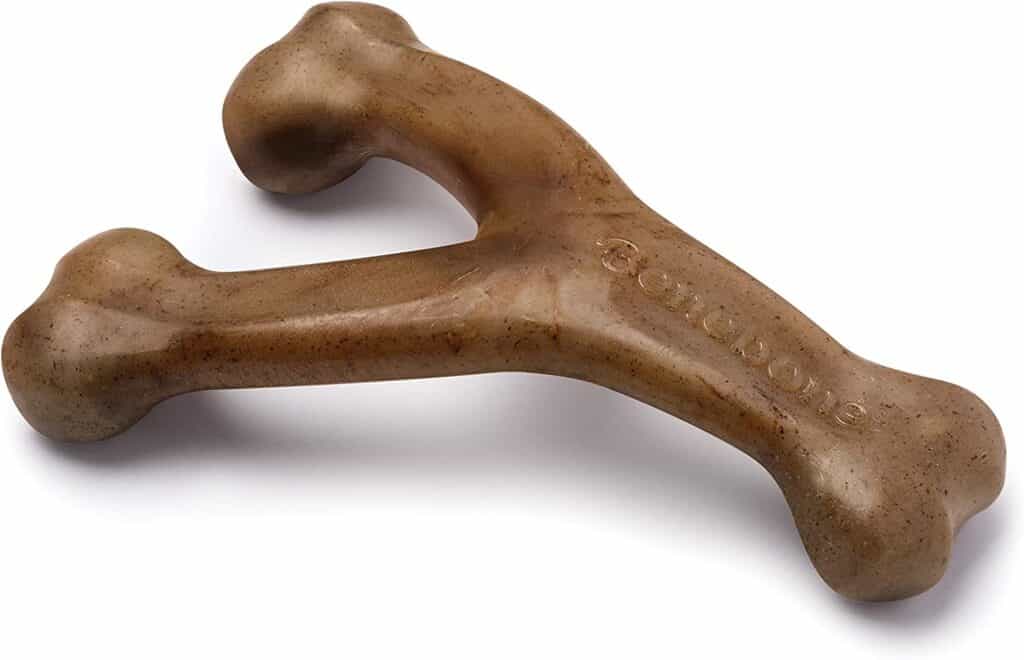 Surprisingly, not all dog chews are safe for your pup. Depending on the type of material of the dog chew toy, you may be taking a big risk giving it to your pup. Rawhides and pig ears may be a favorite chew, but they can cause choking, intestinal blockages, and lead to an unhealthy weight in dogs.
The Benebone wishbone is a durable chew toy that can be safely given without the fear of an intestinal blockage occurring. Flavored with bacon and made with nylon, these bones are a great choice for serious chewers. You will need to replace it monthly or when there is wear and tear as the bones are not meant to be ingested. (Note: I am not a vet, please consult your vet with questions or concerns)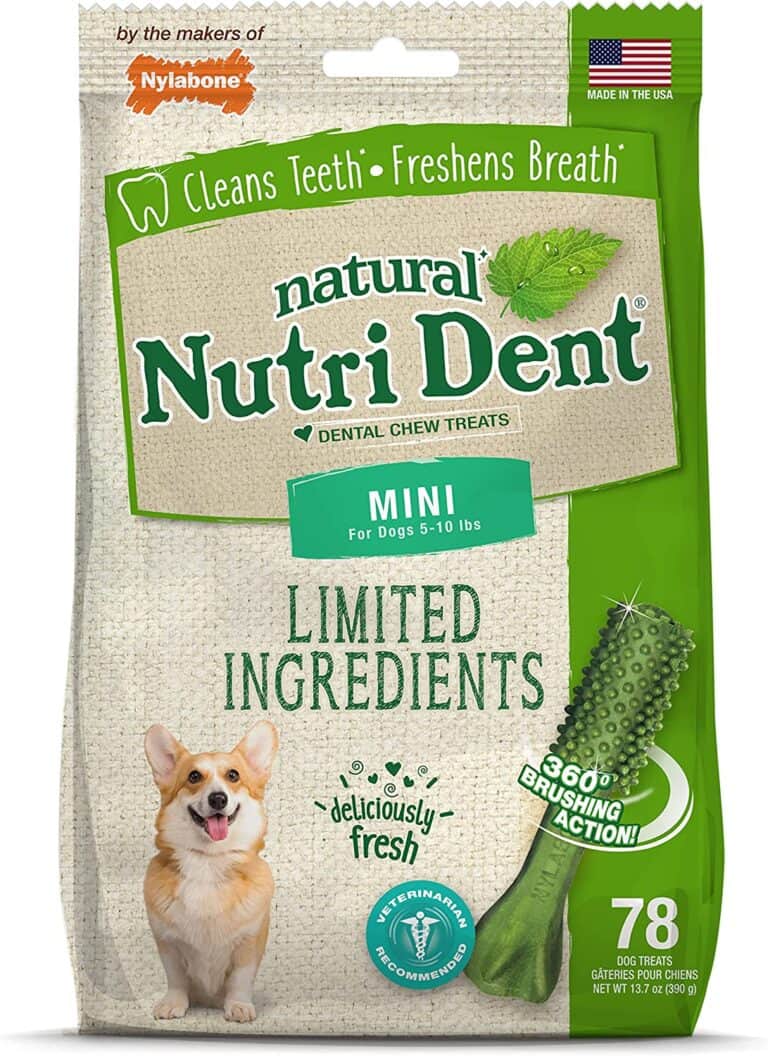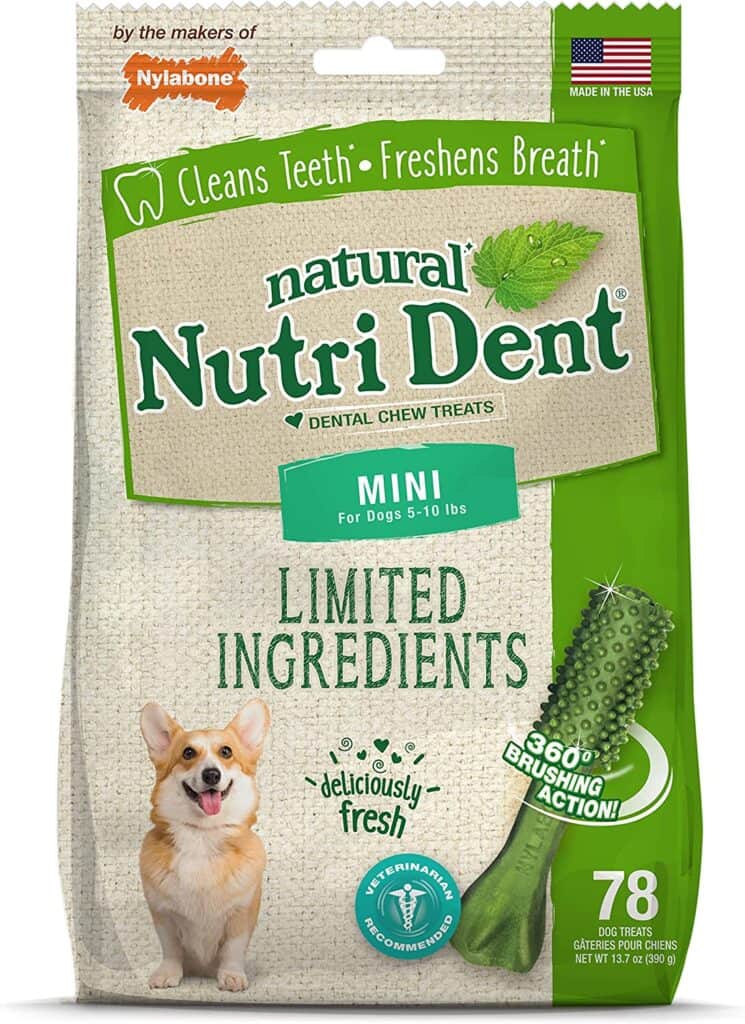 Freshen that stinky breath with these Nutri Dent dental dog chews. These have a brushing action that will help your dog fight plaque build up and freshen their breath. With natural ingredients, these chews are digestible, low calorie, and well loved. Plus, your best dog would never dream of licking you with stinky breath!
Dog Puzzles & Mats
Dogs aren't unlike us and can enjoy the benefits of an interactive puzzle. For younger dogs, puzzles can help alleviate boredom and keep them out of trouble, while older dogs can work on keeping their memory sharp and strengthening their cognitive function.
Most of these puzzles are treat based and can help slow eating down for those dogs who struggle with eating too fast or may struggle with weight too. Overall, puzzles are just fun and make for the best gifts for dogs!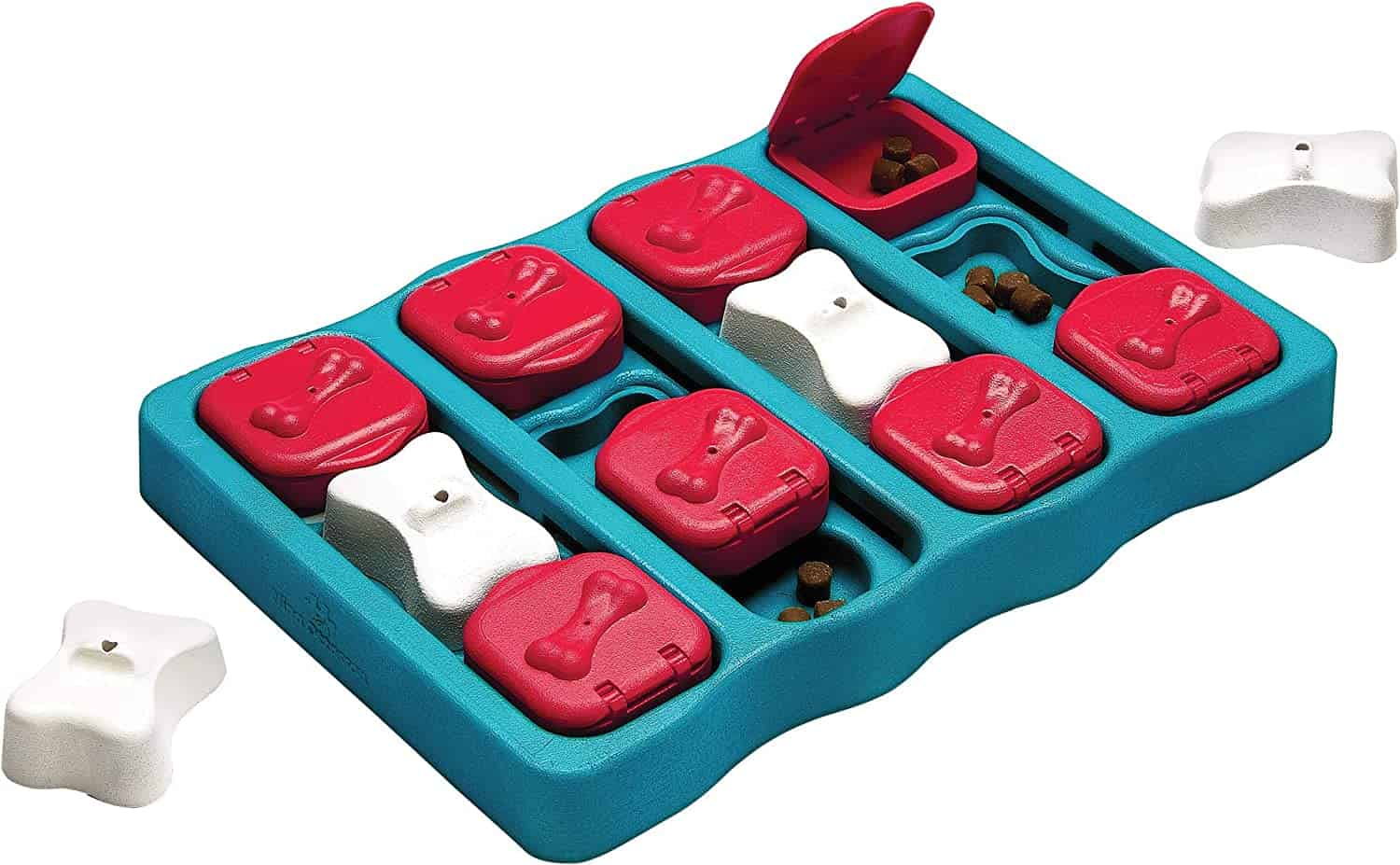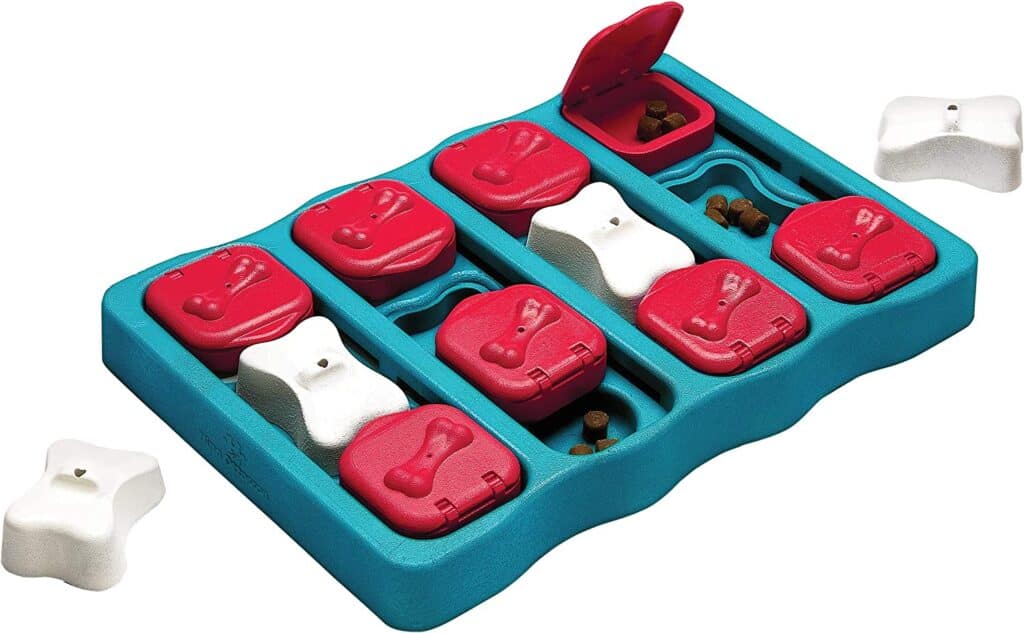 The Outward Hound Nina Ottosson Dog Brick puzzle has 3 treat hiding spots to challenge your dog. There are removal bricks, a slide and reveal spot, and flip the lid to reveal small treats for their efforts. If you need a toy that will help your dog focus, then this is a great option. Use all three methods or start small and teach your dog one at a time to find the hidden surprises.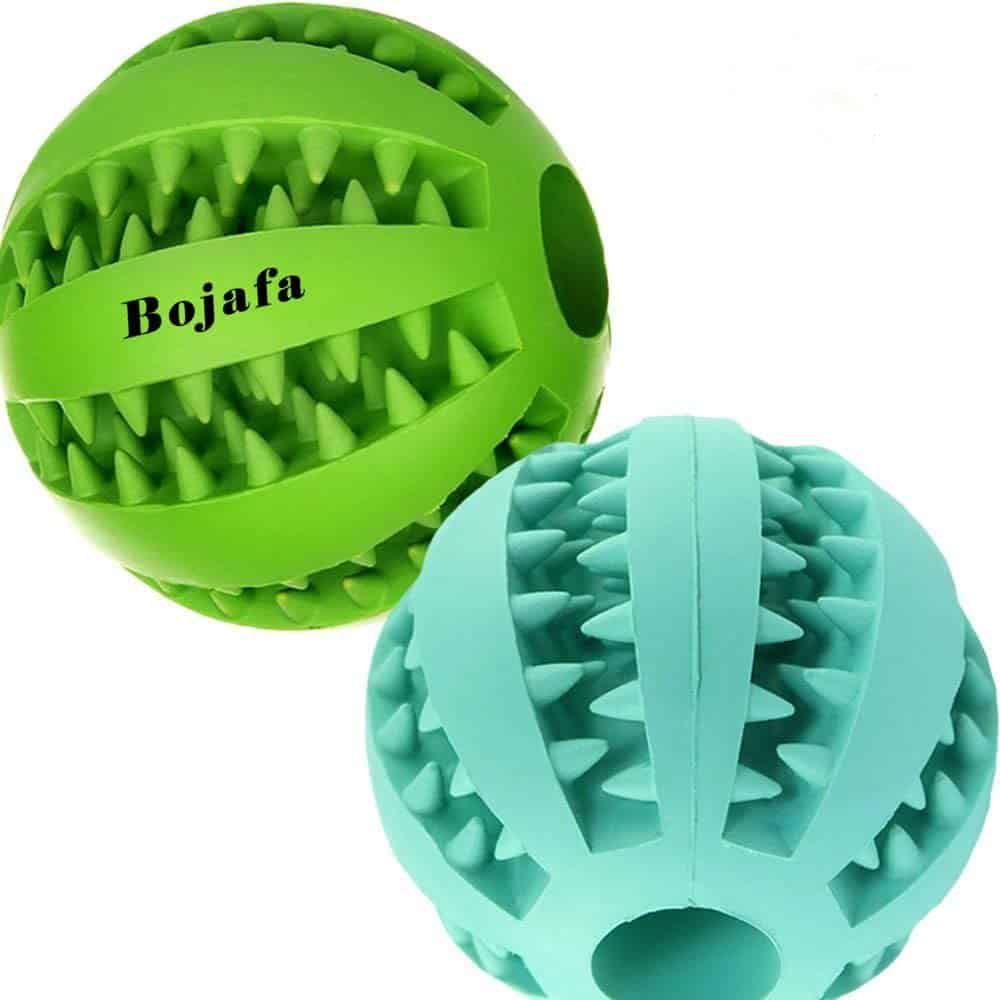 If you need a toy that does it all, this is a great buy for your dogs. It serves as a chew toy, dental bone, ball for fetch, and dispenses treats. The best gifts for dog are toys with multiple purposes. Your dog will have plenty of uses out of this toy. The difficulty level is much easier in comparison to other puzzles and can easily be used with all dogs.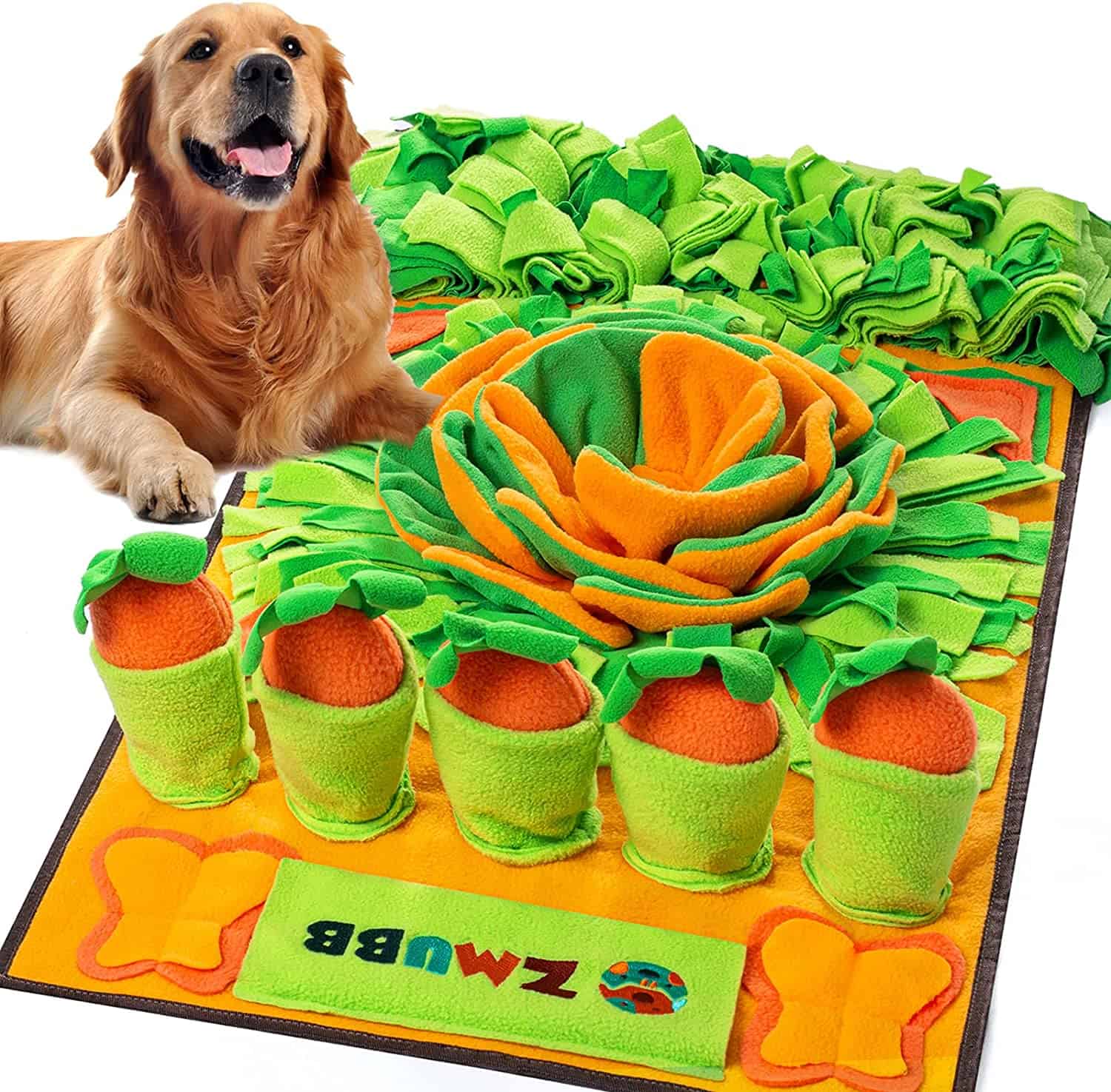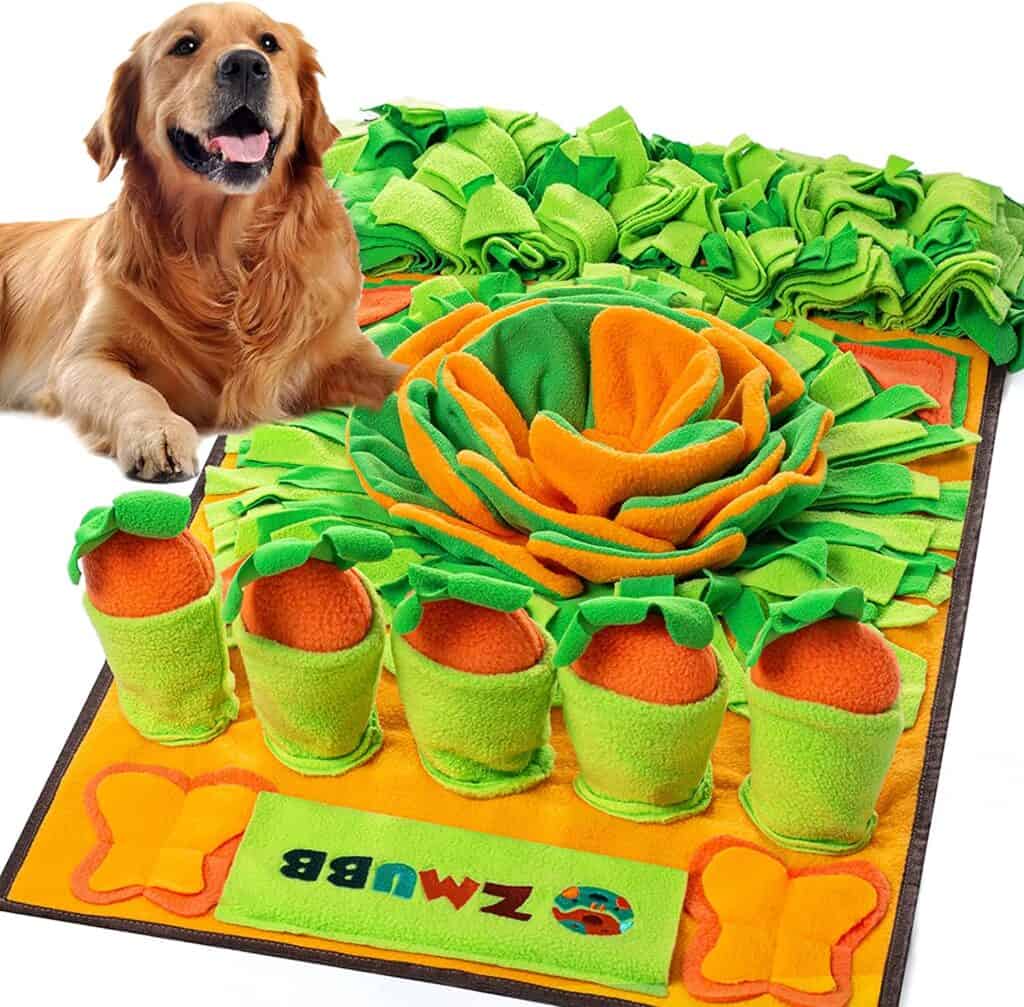 The snuffle mat is a unique way to play hide and seek with your pup. Hide dog treats throughout the mat to help encourage your dog to sniff them out. This in turn, helps encourage foraging and hunting which is in tune with their natural instincts as a dog. It also helps keep their mental clarity and encourages exercise. Gifts that have more than one purpose are always a hit.
Treats For Your Canine Companion
Christmas gifts don't need to be elaborate. One of the best Christmas gifts for dogs is to speak to their appetite. What better way to say "I love you" than with a box of chocolates? You don't want to give chocolate to your dog, but you can certainly give them a box of special treats. I tried to find a good mix of decadent and healthy treats for those pups who struggle with keeping their calorie count down. You'll be sure to find a special treat for your best pup.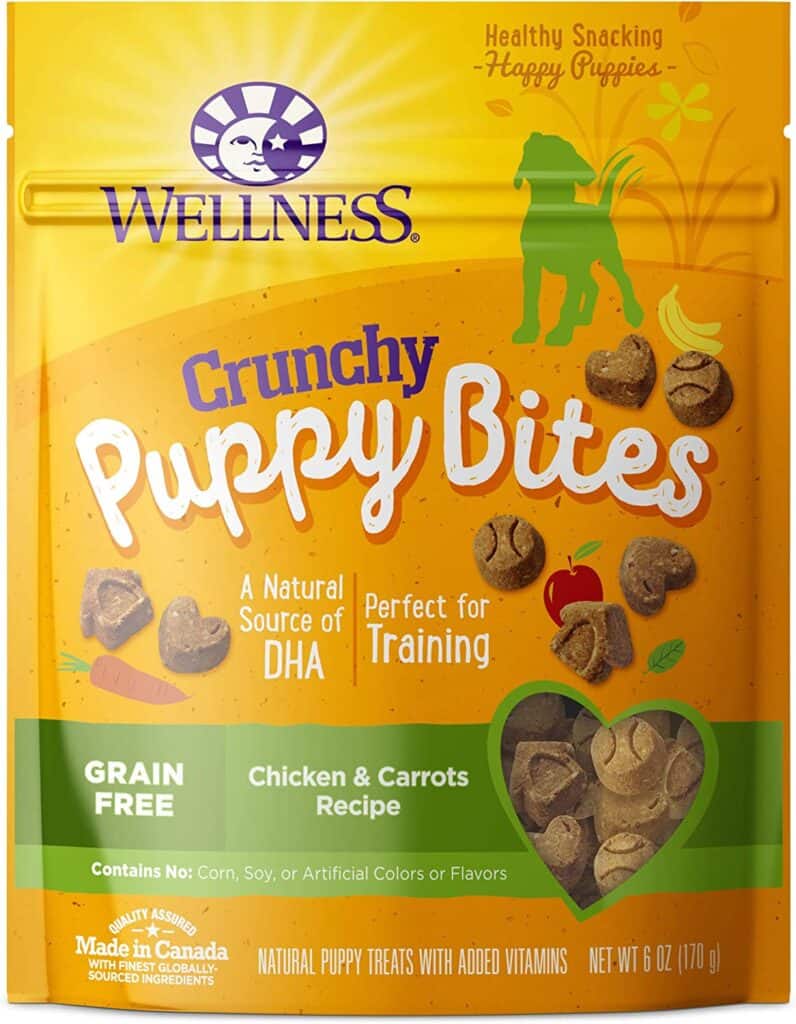 Wellness is a great company that uses the highest quality ingredients in their dog food and treats. These Puppy Bites are grain free and have DHA to support developing cognitive function in puppies. One of the reasons I adore them is that they are small enough that you can reinforce positive behaviors and not worry about giving them a bellyache after too many. These are the best dog gifts for new puppies.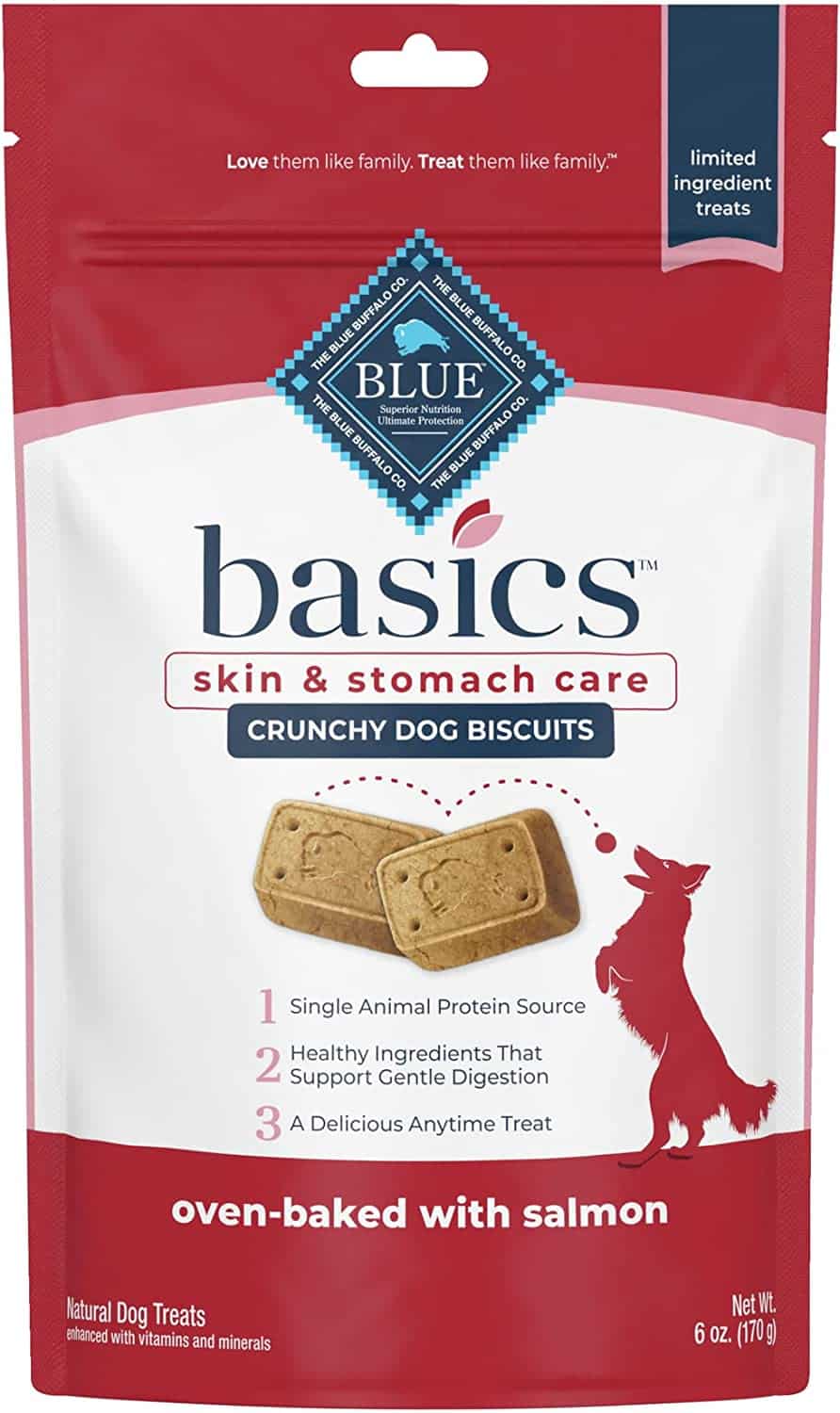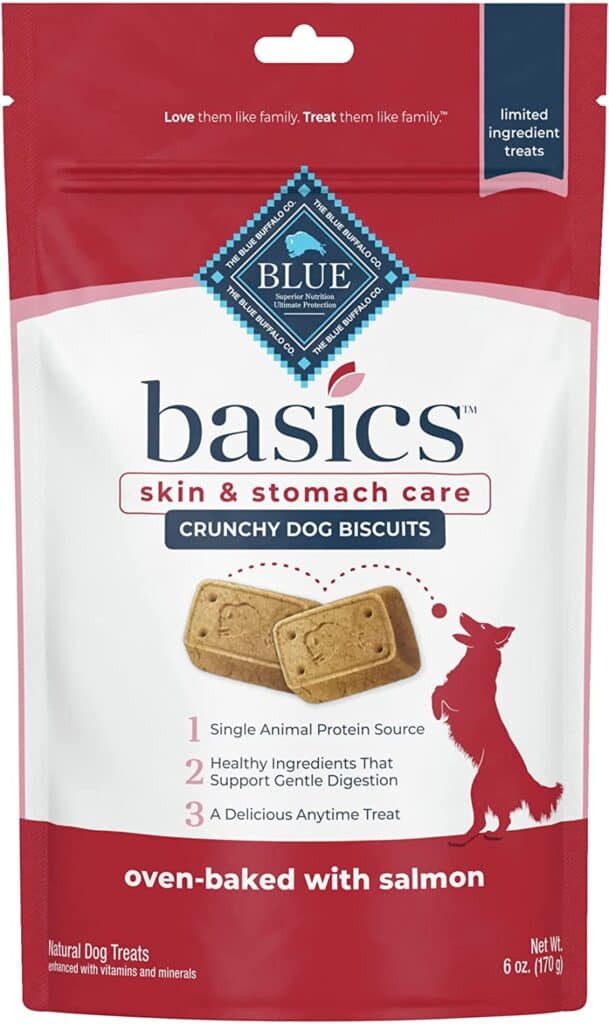 If you have a dog that has skin or stomach sensitivities, they shouldn't have to miss out on treats. Blue Buffalo Skin and Stomach Care treats are great for those dogs with food allergies or health issues. With limited ingredients, free of by-products, corn, wheat, and soy, you'll be sure your dog is eating only the best ingredients.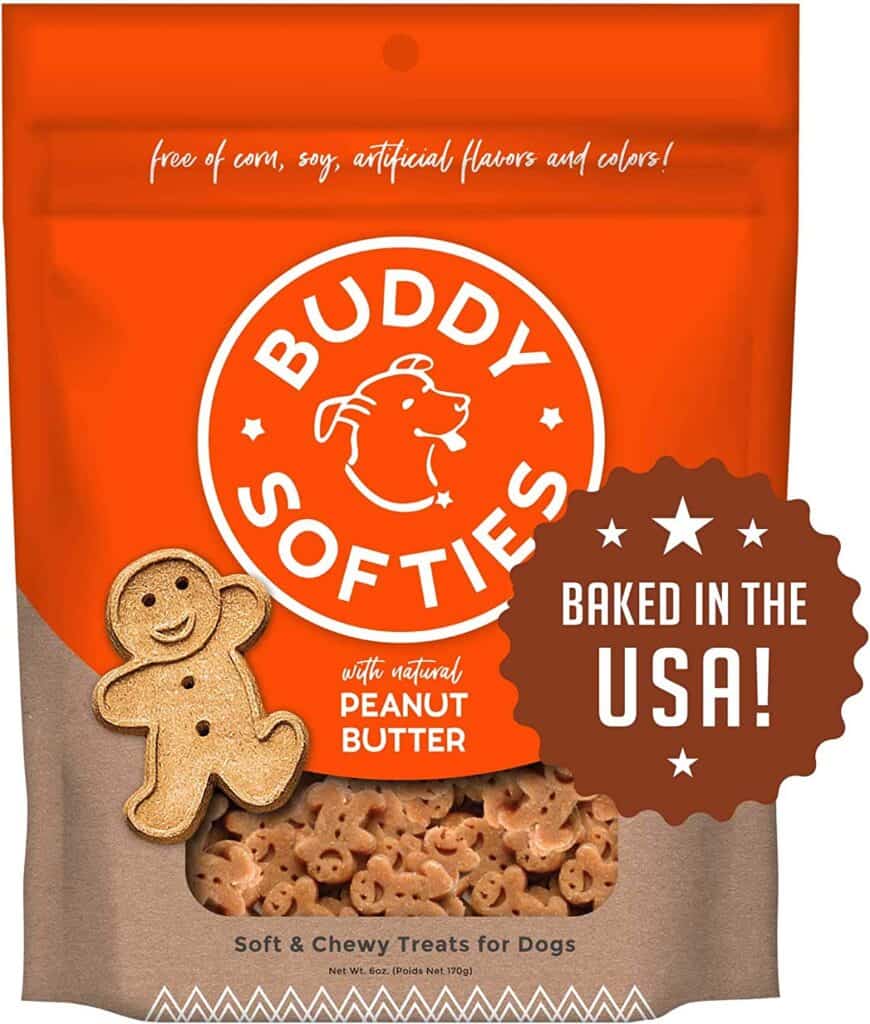 If you are looking for a festive dog biscuit, Buddy Softies has the perfect solution. Gingerbread dog treats are a great addition for your dog's stocking. They won't feel left out when you put that plate of cookies out for Santa Claus with their own Gingerbread treat. Overall, these are small which means double portions, right?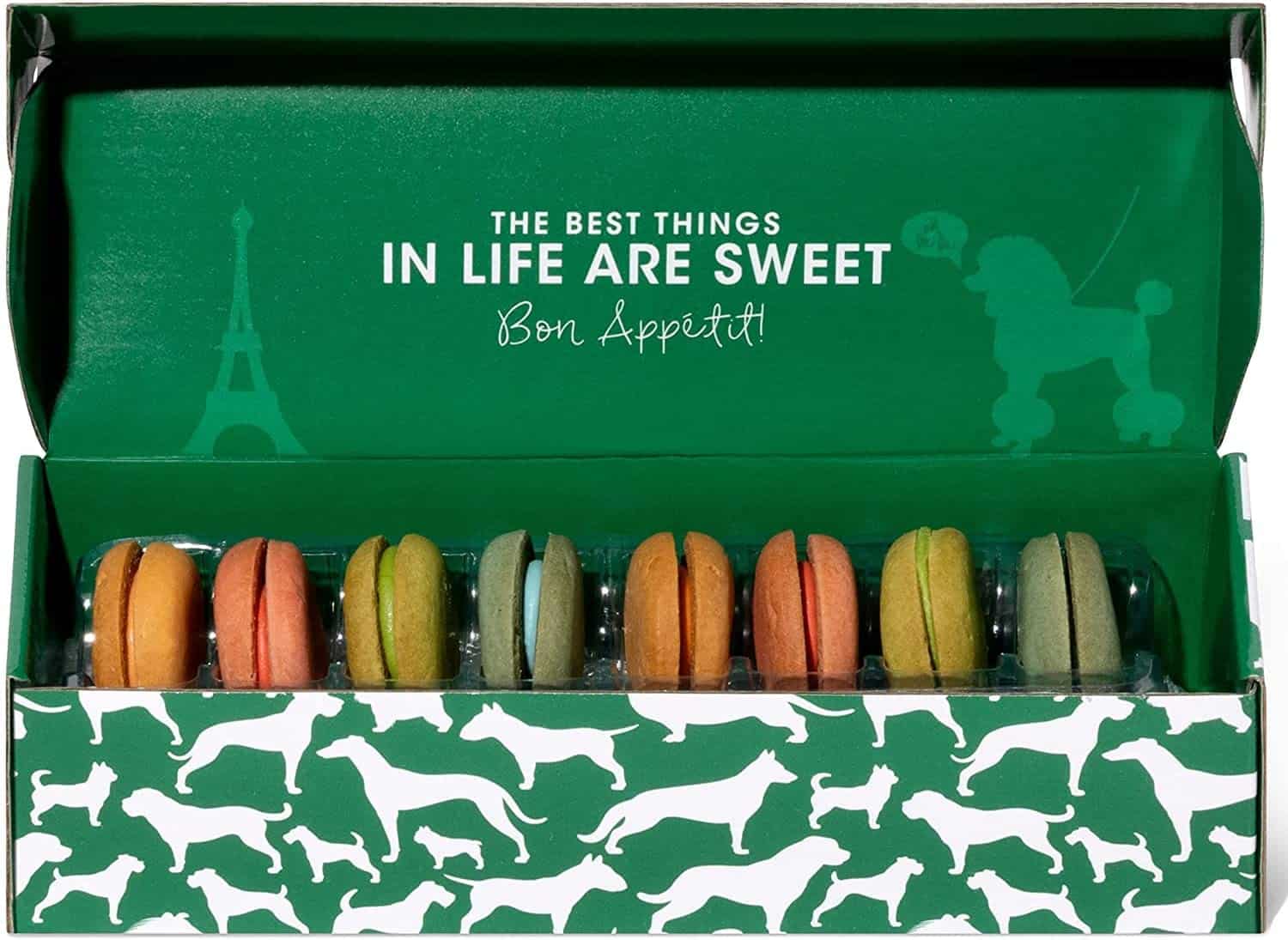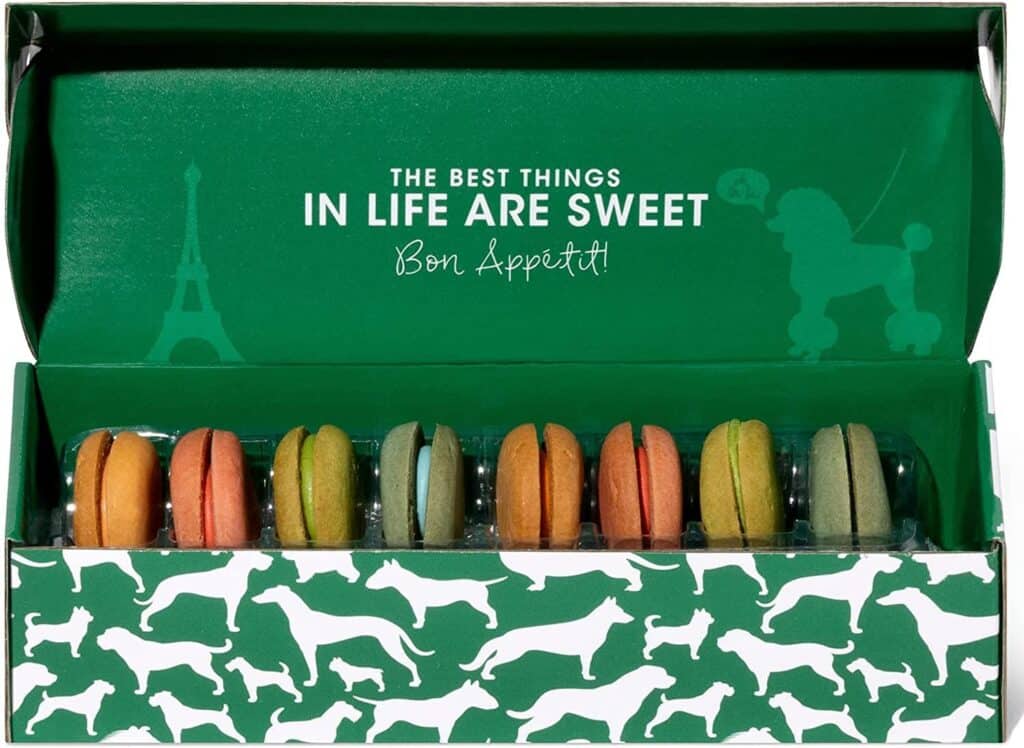 You may be putting this present in danger if you wrap these macaron dog treats up and put it under the Christmas tree. These dog macaron treats will be hard to resist once your pup catches its scent. One of the best parts is that these cookies have festive bright colors and each cookie is made with real ingredients. Your dog will be thinking these are the best Christmas gifts for dogs pawsdown! Just don't mix them up with the real macarons!
Specialized Feeders For Dogs
You may need to get creative to help your dog eat comfortably and safely. I know that not everyone will get excited about a nice food and water bowl, but if you have a fast eater on your hands, it is key that you help them learn how to slow down. Here are a few feeders that will make their life better or your life easier.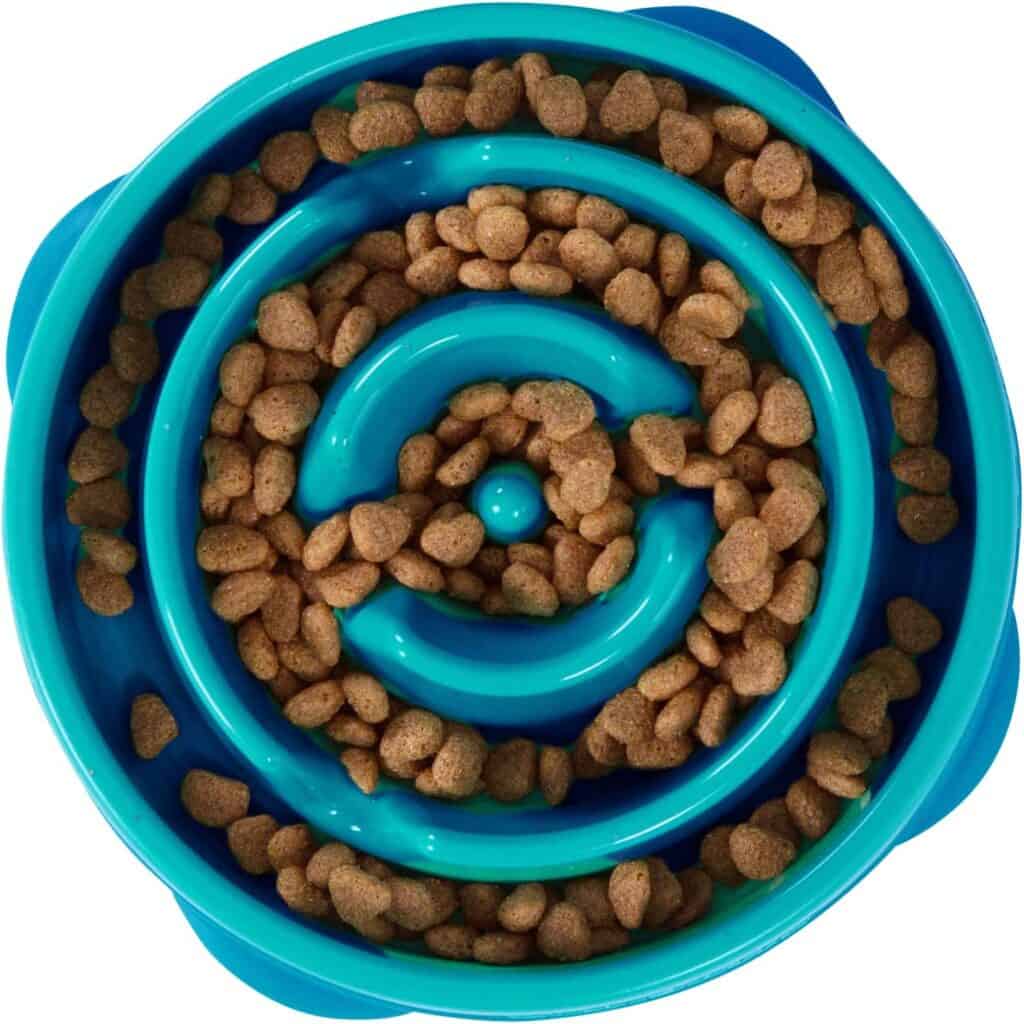 This fun feeder may look like a puzzle, but it really is designed to help those dogs who eat too quickly to slow down. Eating quickly can be extremely dangerous and lead to bloat and intestinal problems in dogs. This feeder can help give you peace of mind if you are trying to help your dog learn how to slow down at mealtimes.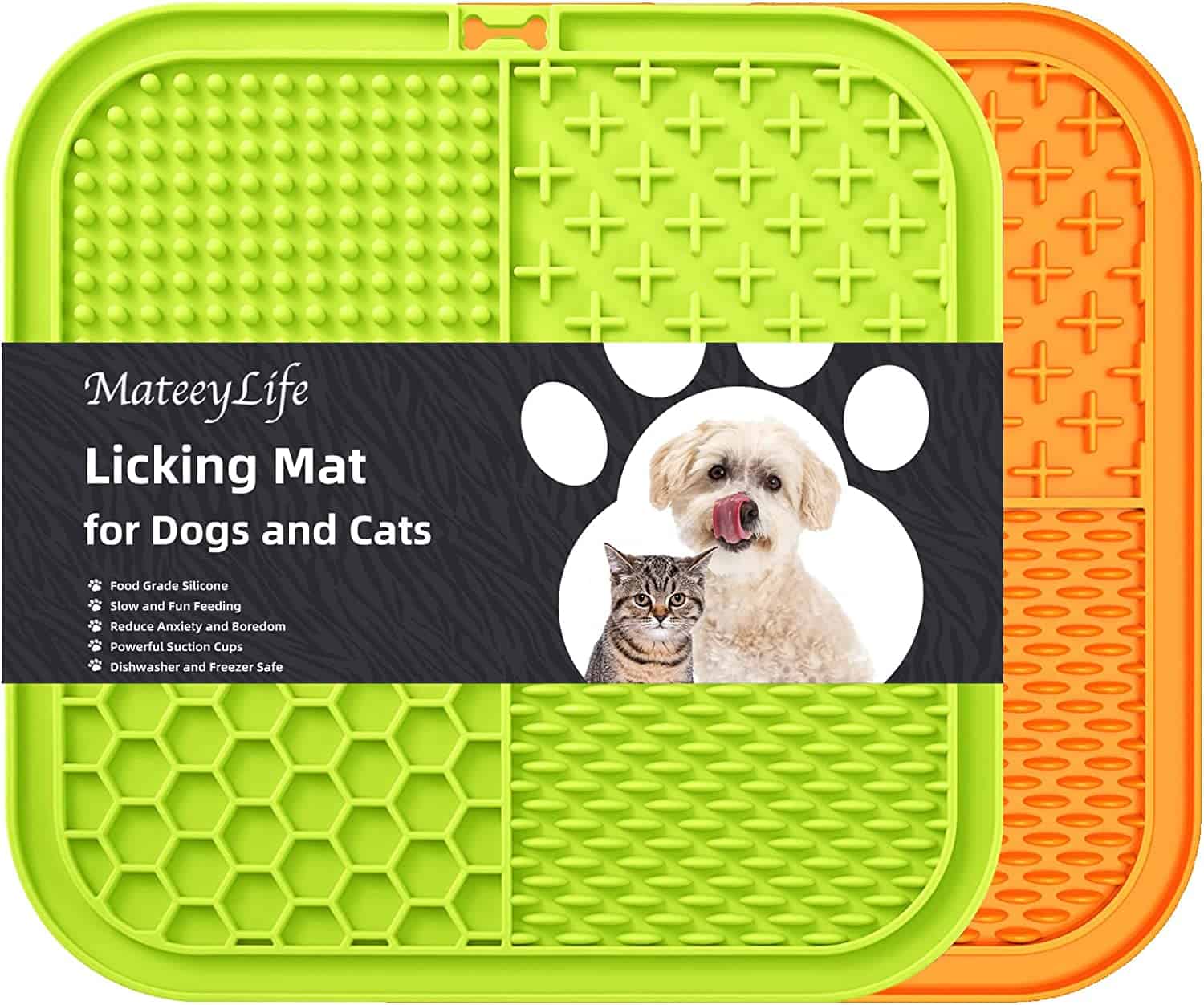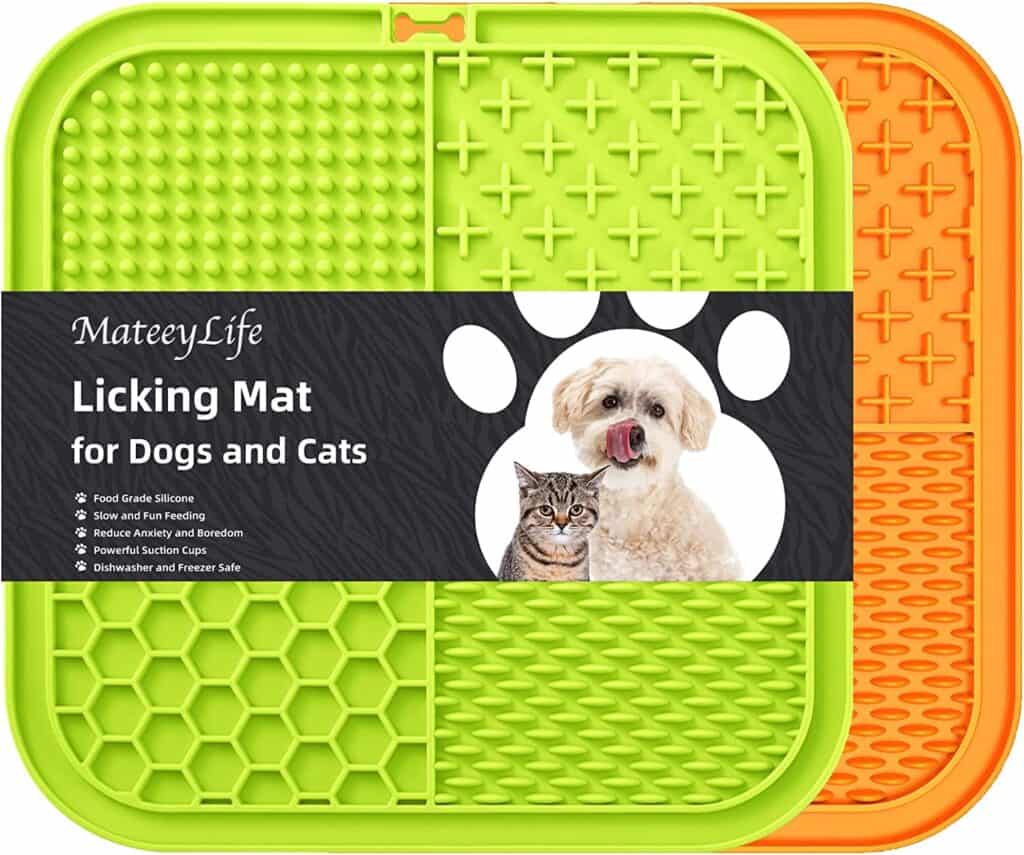 This is one of those dog items that I'm not sure I knew I needed until I actually got it and started using it. Penny has a little problem with licking. She licks her feet constantly. She also is always trying to lick all of us. She is on the anxious side of things. This licking mat is perfect for her. It can also be used to help slow down fast eaters too. What I love is how multi-functional it is. You can stick it up on a glass window with some peanut butter and it not only entertains your dog, but also helps with any anxiety they may have.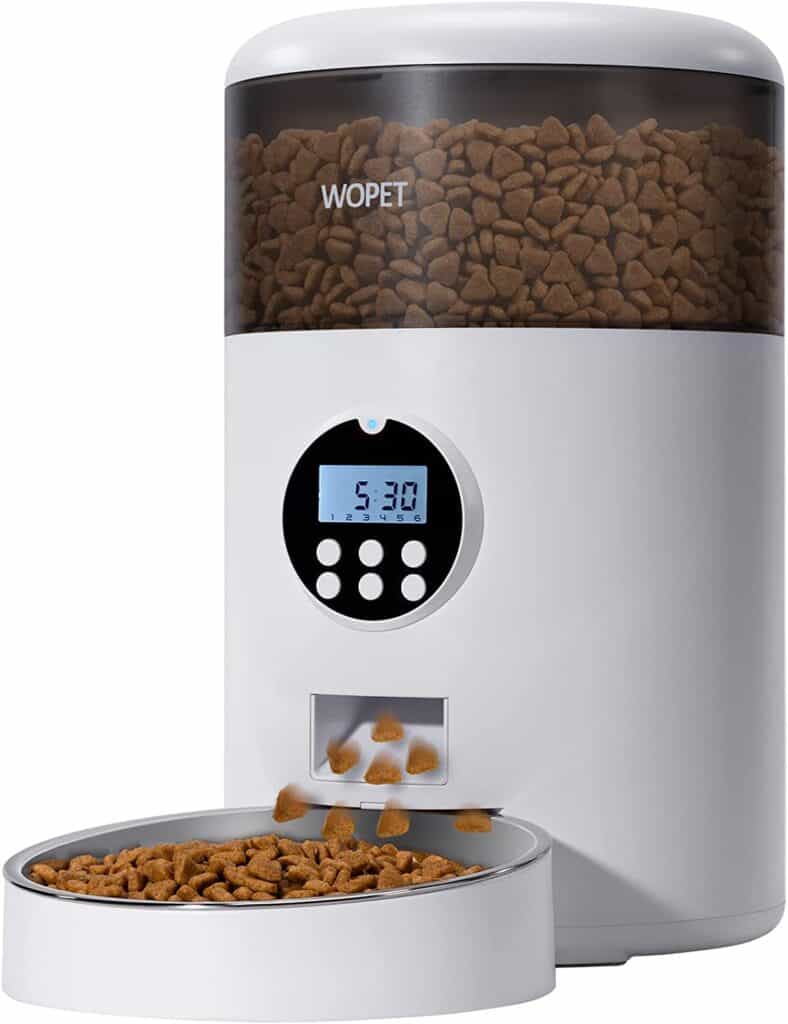 Have you ever missed feeding your dog and felt horrible? Sometimes mornings get so crazy that I forget to do it right away. This automatic programmable dog feeder is the best way to help alleviate early morning chaos. It holds up to 17 cups of food and can be dispensed up to 6 times a day. As a bonus, you can always make this an elevated dog bowl for larger breeds. You can also record a message that will play before it is dispensed to your dog or cat. Bon Appetit!
Clothing & Accessories For Your Pet
Don't lie. You know you love seeing dogs dressed up in adorable bandanas, bows, and little coats. When the weather gets colder, it can be a necessity for some dog breeds to bundle up. St. Louis winters can be unpredictable and with snow and ice, it can be downright painful for dogs to walk outside to do their business.
Dress your dog for comfort and they'll be much more excited to go out and play in the snow. You may be giving them a practical present but it still may be one of the best Christmas gifts for dogs.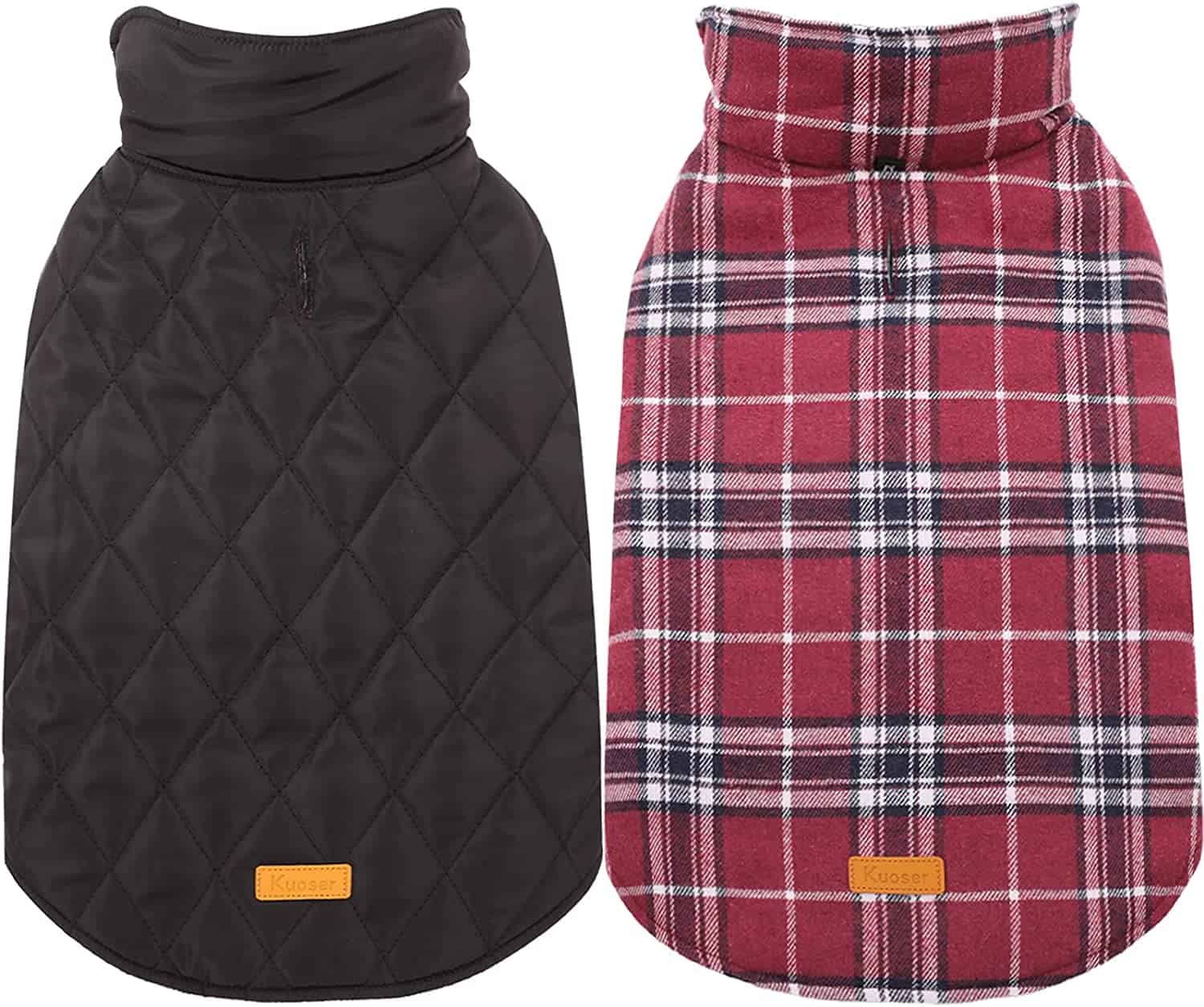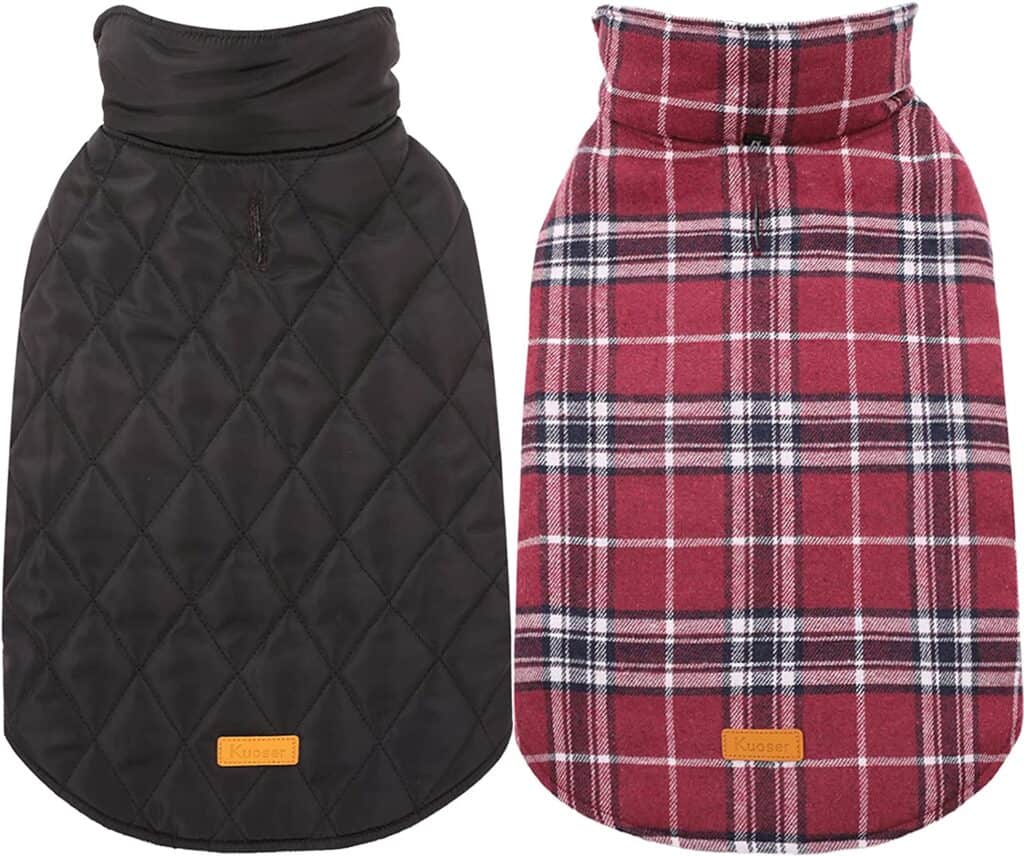 How fashion forward are these jackets? I love that they are waterproof and windproof and can help your dog stay warm in the event of cold weather. These would make great Christmas gifts or St. Nick's gifts for those who live in colder climates. There are several sizes and tons of different colors and designs available. This red plaid would look great in a Christmas portrait with the family.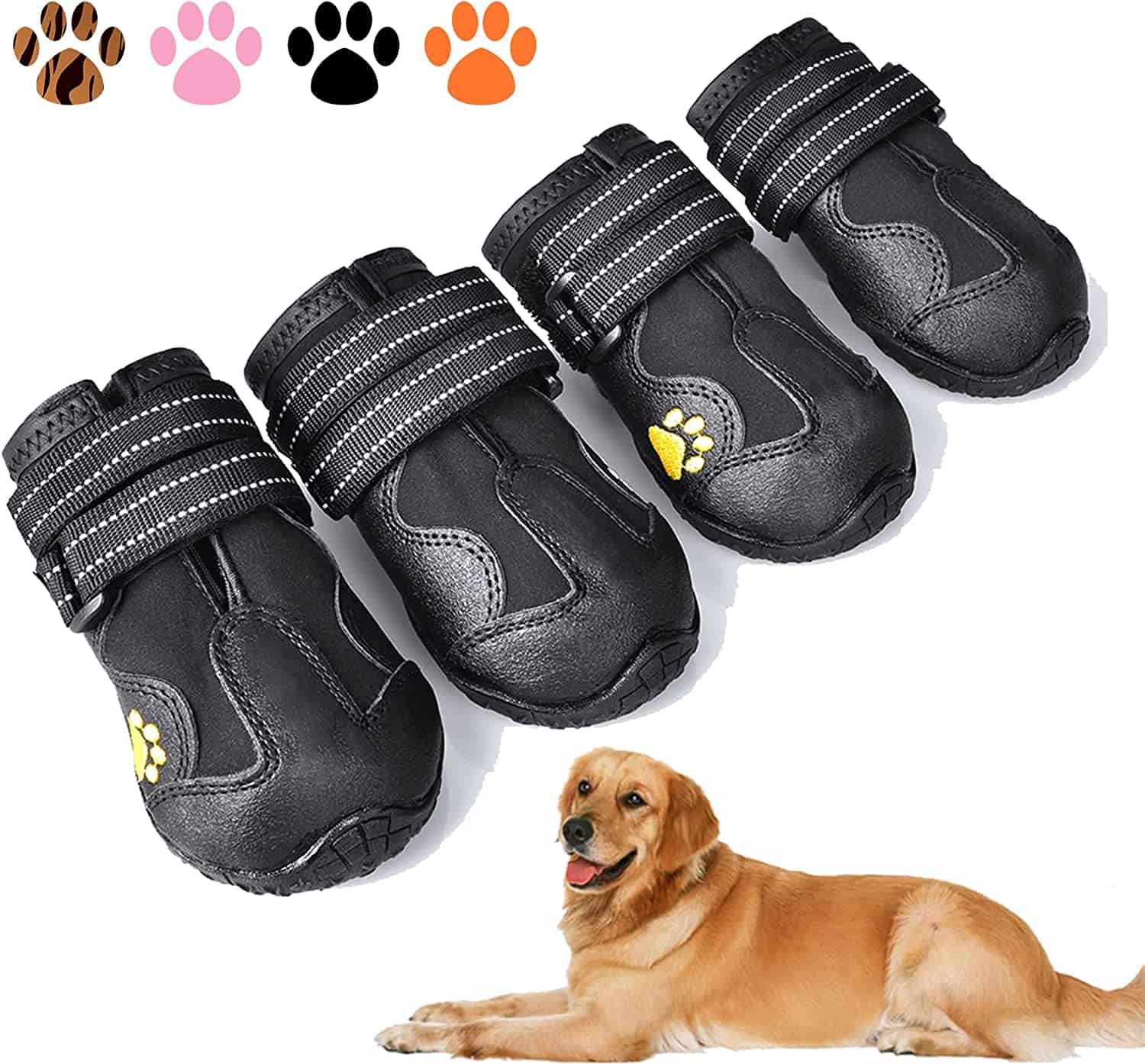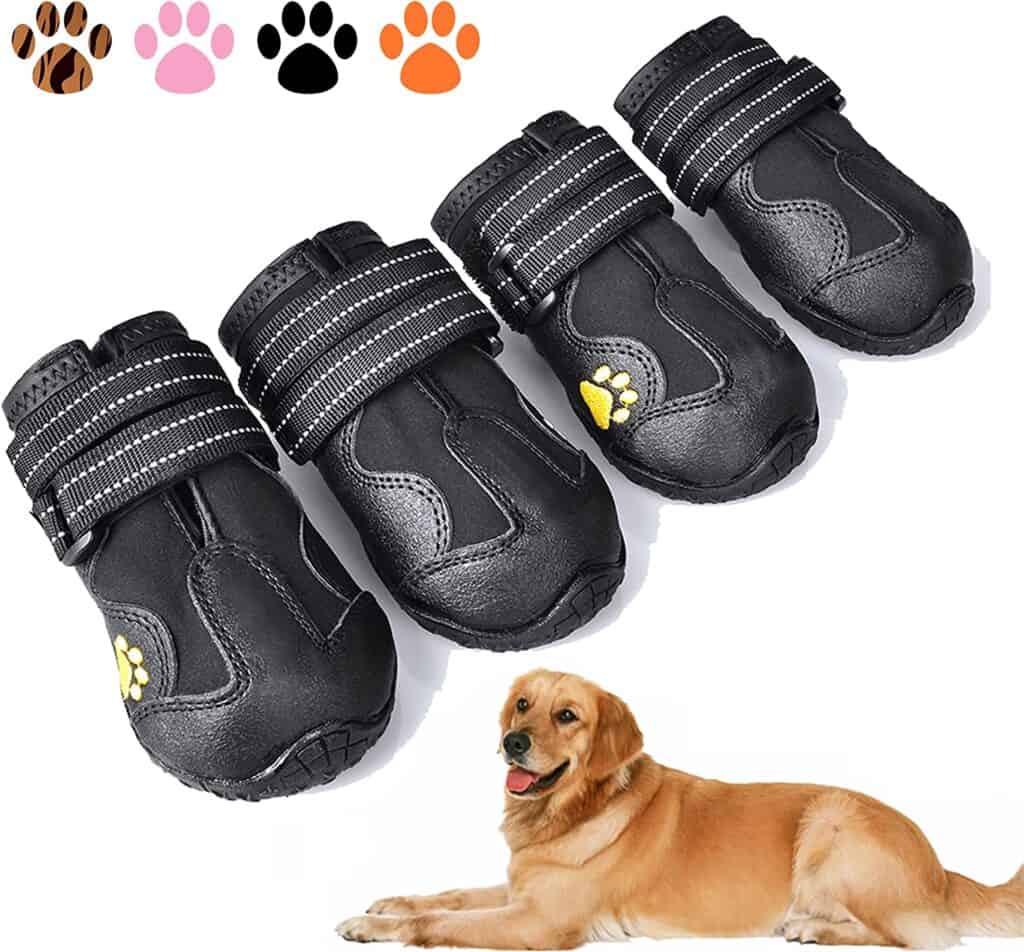 It isn't lost on me how ridiculous this looks as I type this out. Dog booties. You read that correctly. Before you judge too harshly, keep in mind how beneficial this can be for a senior dog. These booties not only protect their paws when it is too cold outside, but they also are protected from de-icers used in the winter. Additionally, senior dogs who struggle with balance issues can benefit from the rubber sole and grips on the bottom. Doesn't your best dog deserve to have his paws protected?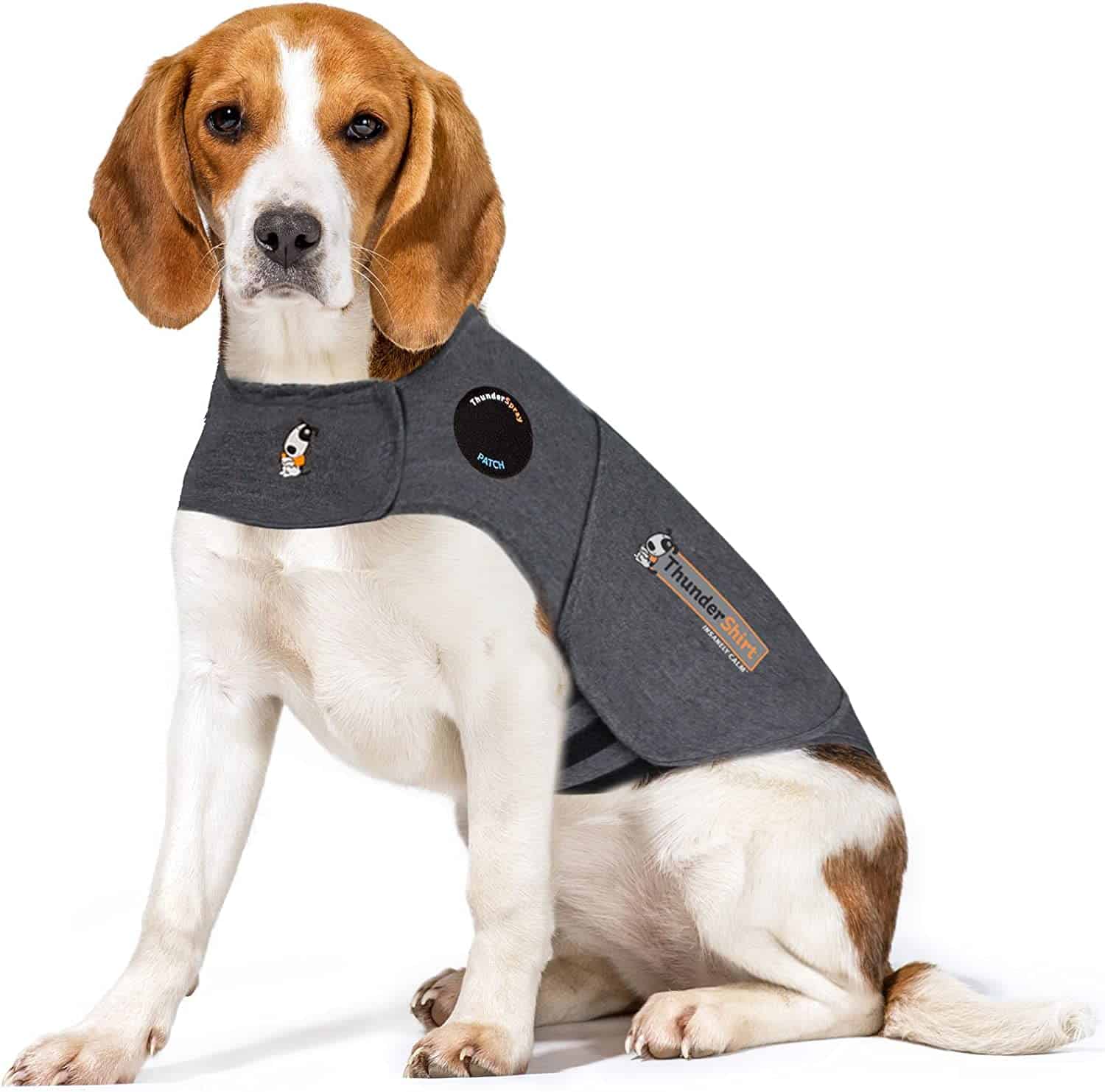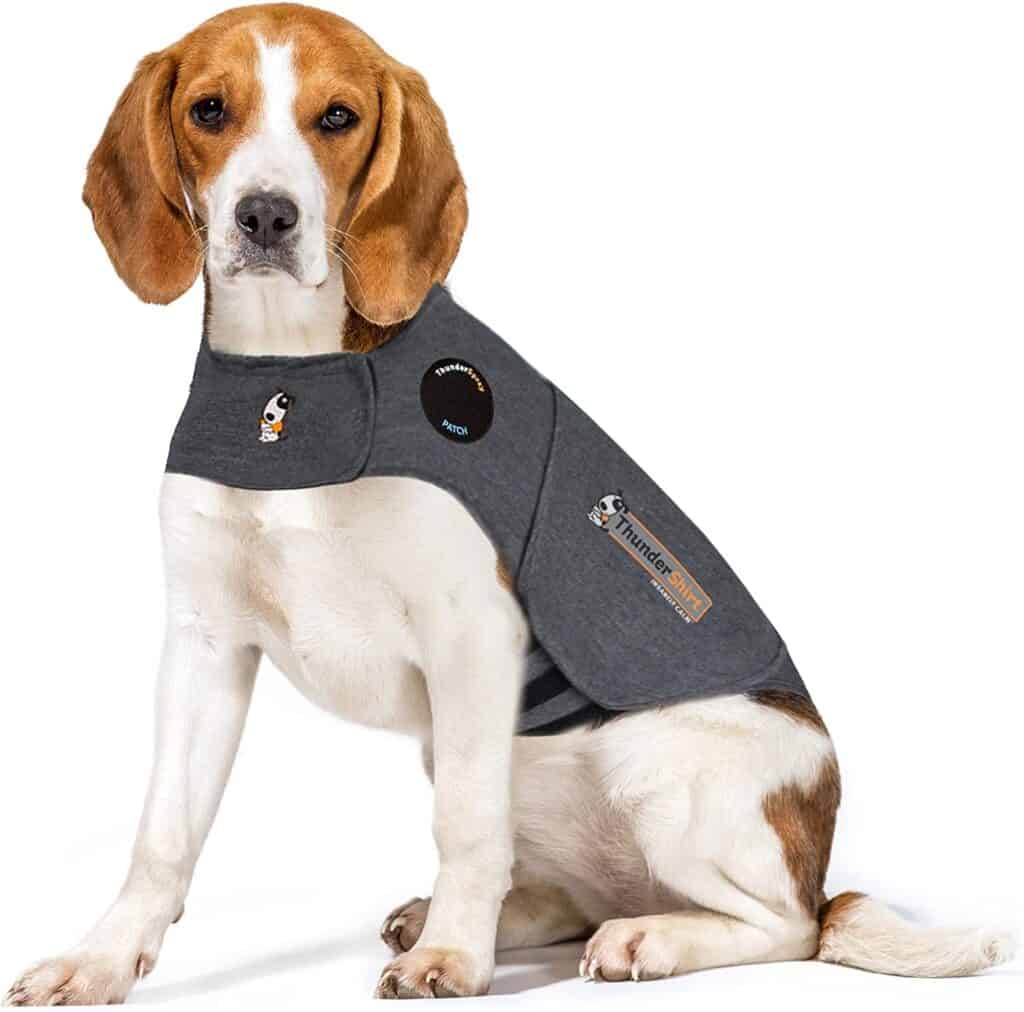 The Thundershirt is a tight shirt that mimics the feeling of a hug. The shirt can help alleviate anxiety associated with fireworks, thunderstorms, vet visits, and separation. If you have a nervous dog, this may help calm their anxieties.
Walking Necessities For Your Pet
Is there anything better than taking your dog for a walk on a beautiful day? We love showing Penny off around our neighborhood and she loves to go out for all the attention. Make sure you get your best dog properly outfitted with all of the best accessories for their walks.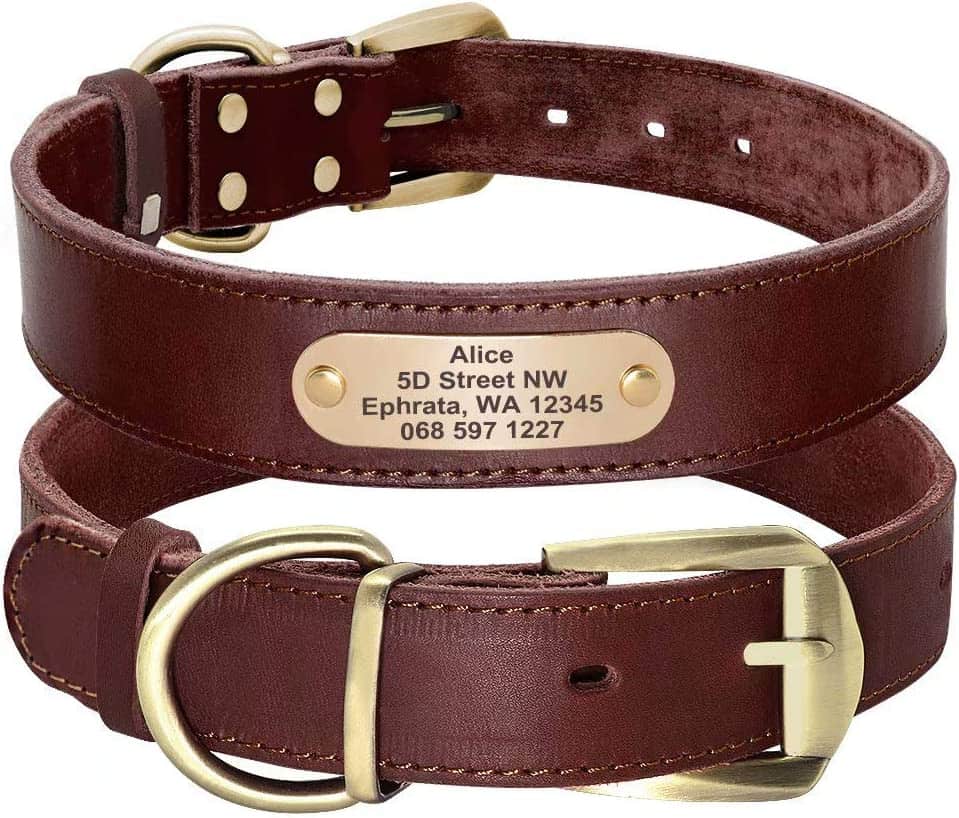 This is a sophisticated leather collar that is complete with a nameplate for your dog's name and contact information. I like that this could work for both boy and girl dogs. It has a classic design that would suit any personality. Dog collars don't need to be over the top. Stick to something classic that will grow with them from puppyhood to beyond.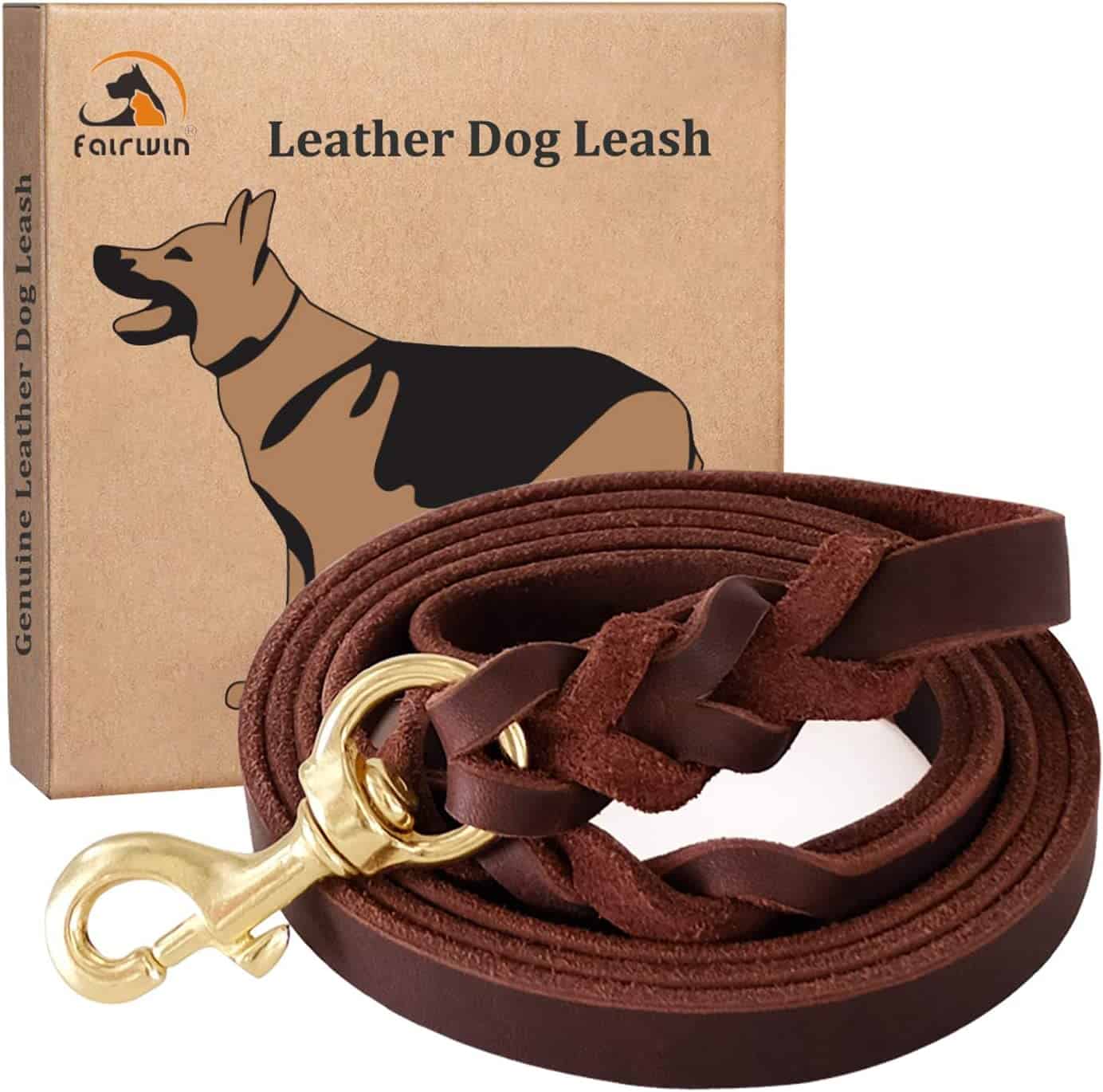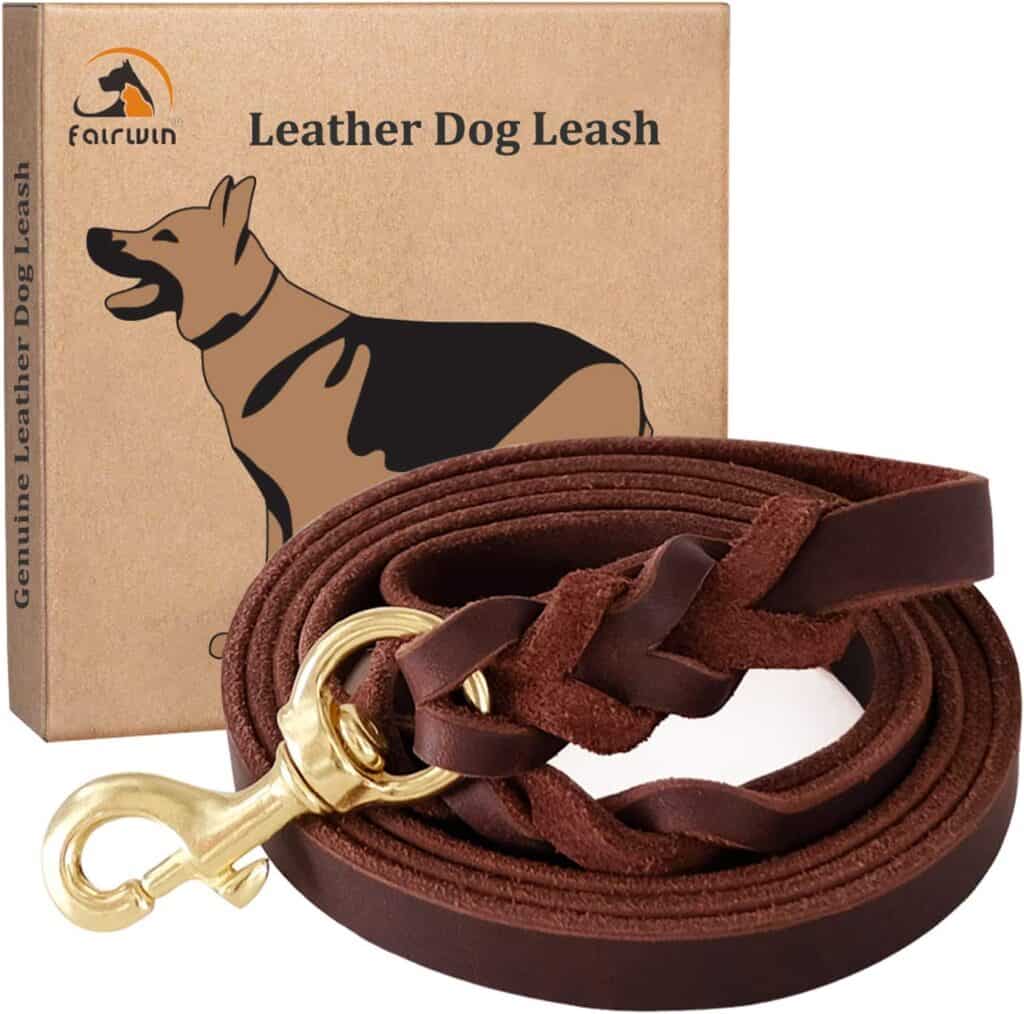 To match the new leather collar, this braided leather leash is the perfect addition. At over 6 feet long, they'll have plenty of room to explore safely at a distance. The classic design suits both men and women. You won't see a dad embarrassed to be walking his small dog with this leash.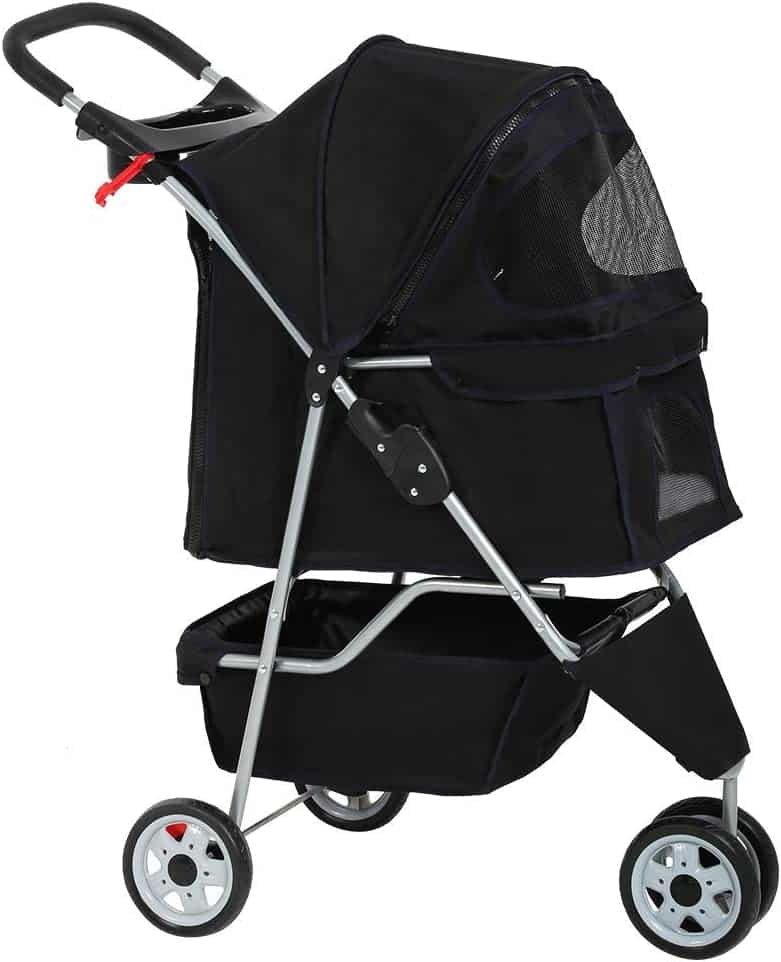 Believe it or not, they now make strollers for dogs. Even more so, people do use these and love them. For dogs who still want to enjoy being outdoors, but for whatever reason, whether due to age, aggression, etc. and are unable to walk, this is a good compromise. It's not too unlike a baby stroller. You even have a cup holder and storage compartment. This also folds up for easy storage and travel. Dog accessories have come a long way.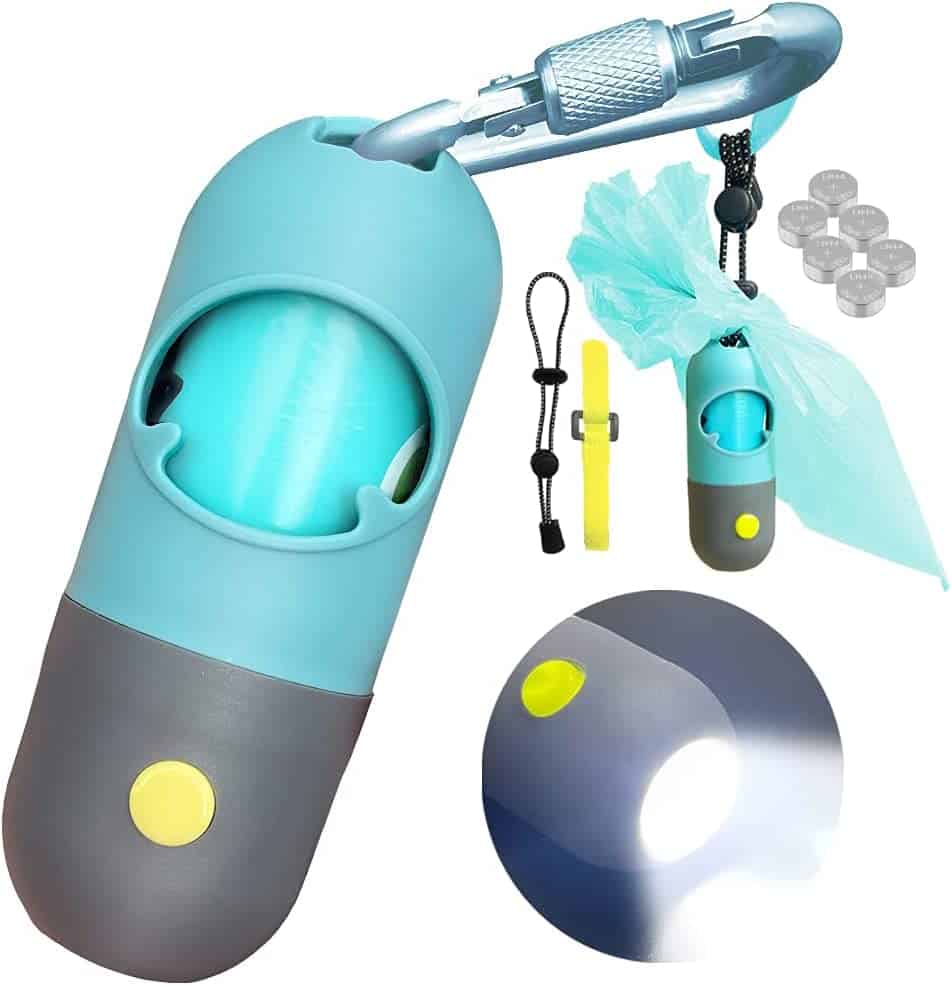 Who says Christmas dog gifts can't be practical? Don't be that person that never picks up their dog's waste. That's just not cool. With this bag dispenser, you have no excuse not to do it. It even comes equipped with a flashlight for late night walks.
Pet Beds
Every dog deserves a great place to sleep. Whether your dog sleeps with you, in their crate, or in their own dog bed, they still need a spot during the day where they can curl up and feel safe. For this year, one of the best Christmas gifts for dogs is their very own bed to feel warm and loved.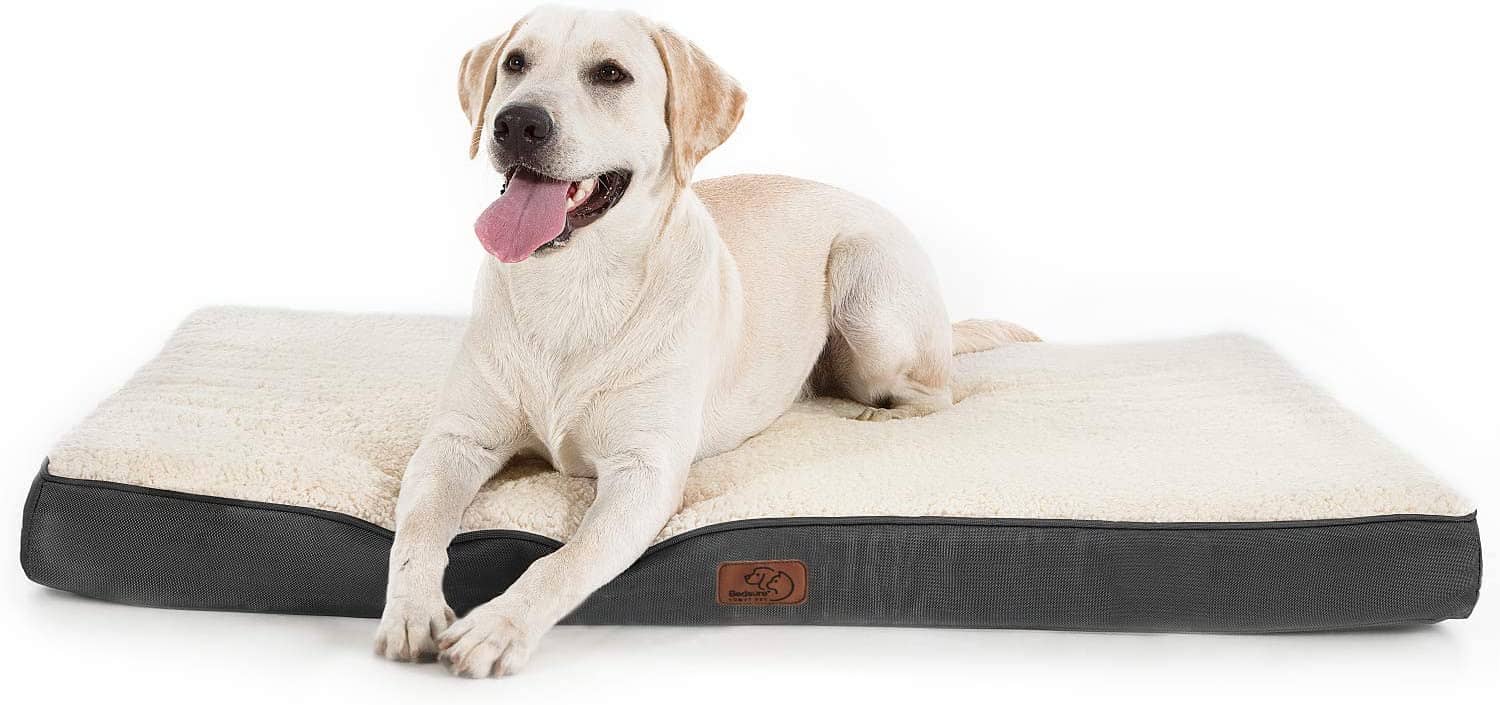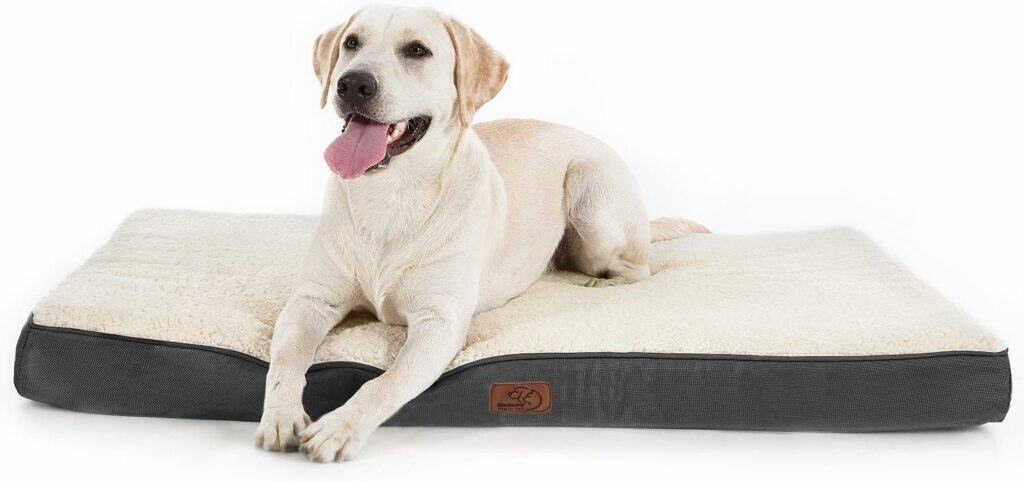 Senior dogs will appreciate this orthopedic dog bed that alleviates pressure from their hips and joints. The cover is reversible and washable. For winter, fleece will keep dogs warm, and a lighter liner is available to keep them cool in the summer.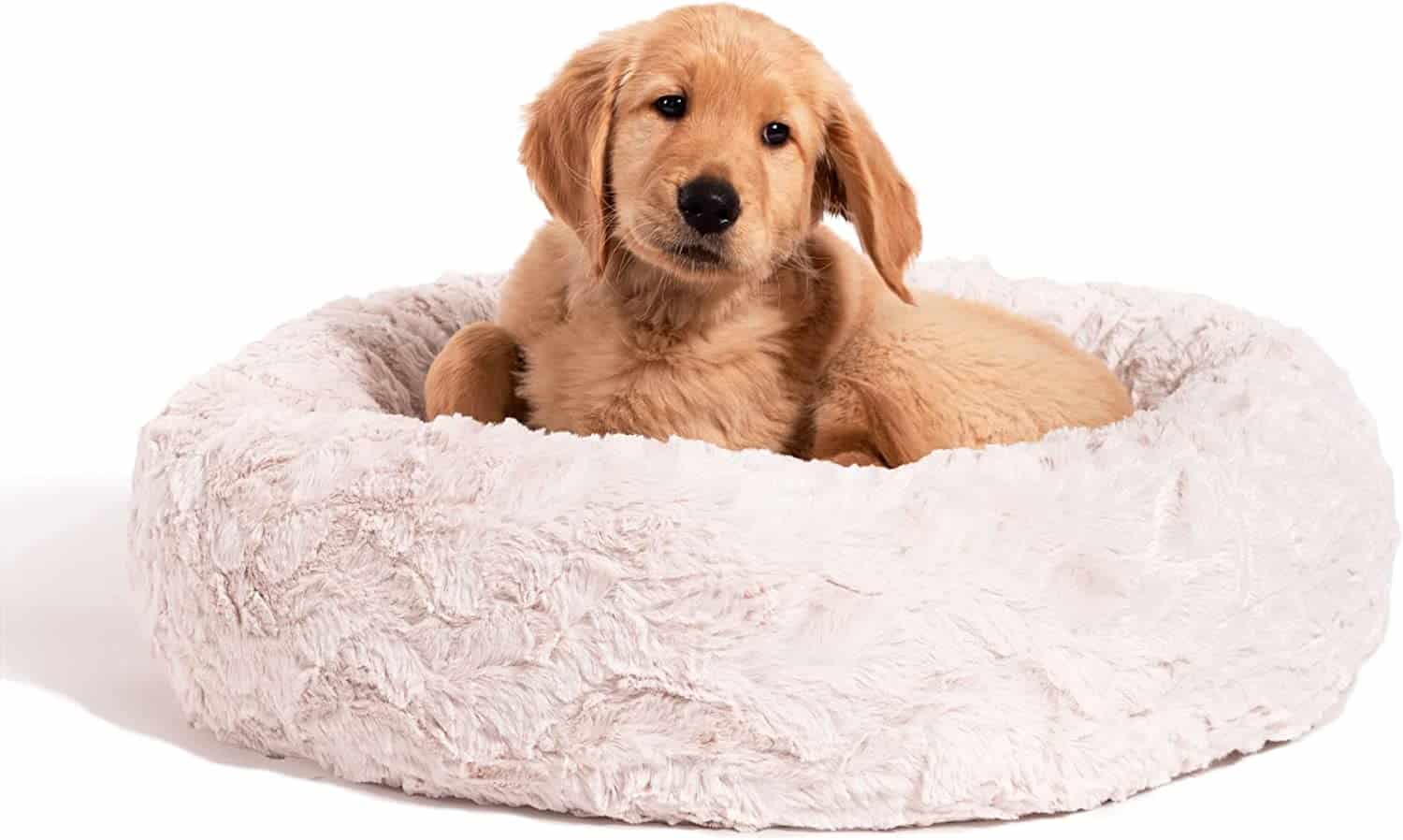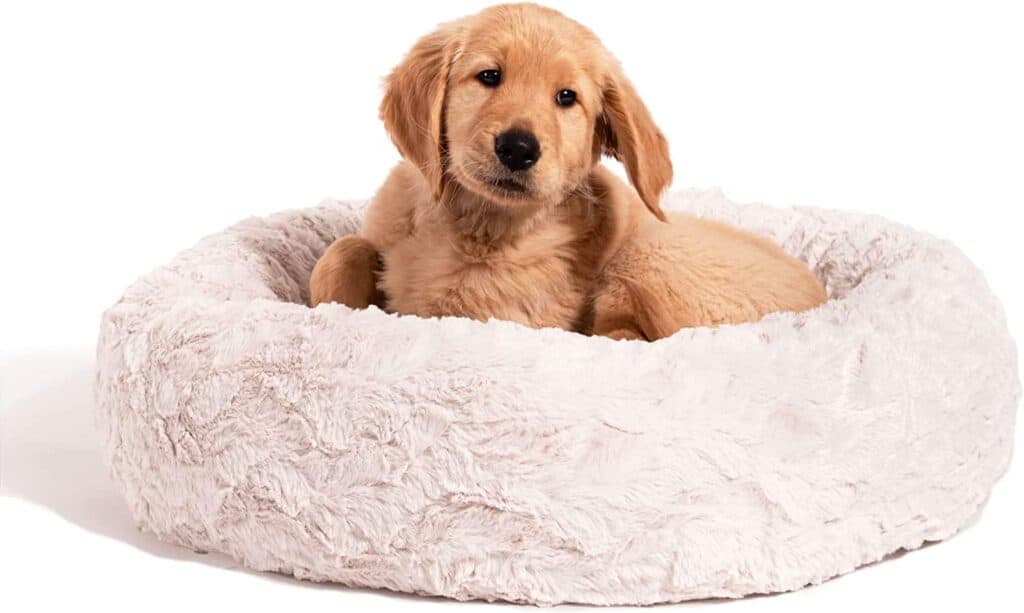 Some pups just love to snuggle up in a great big ball of fluff. For those dogs, this donut dog bed is the right place to be at all times. These are great for pups who need to feel a sense of security while they sleep. The curled edges hug your pooch in all the right places.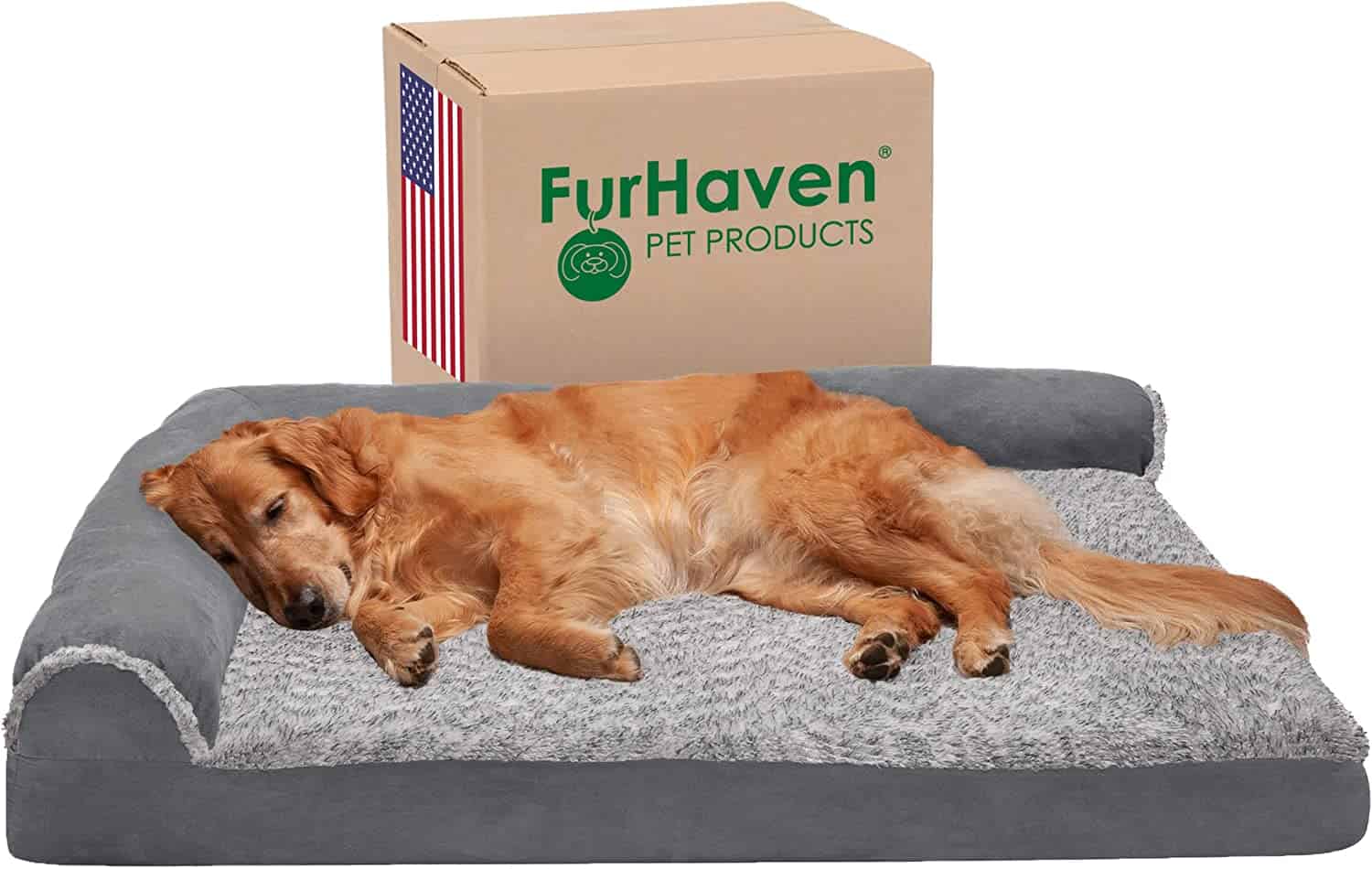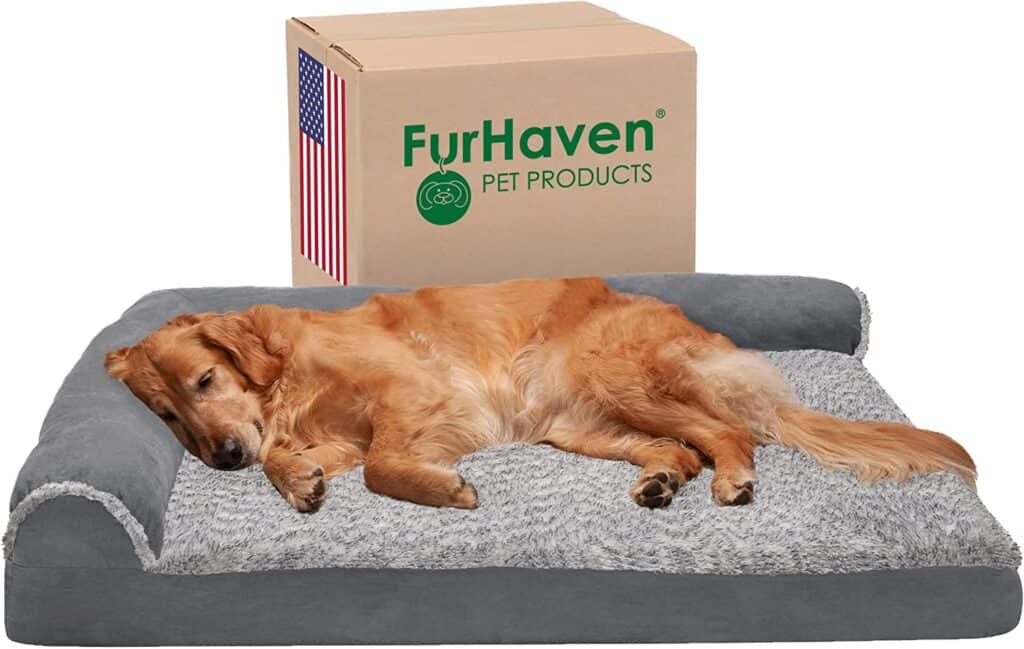 Not only does this dog bed boast orthopedic support, it also provides a supportive bolster for snuggling. This has over 93,000 almost 5 star reviews online! It looks like it has been a hit!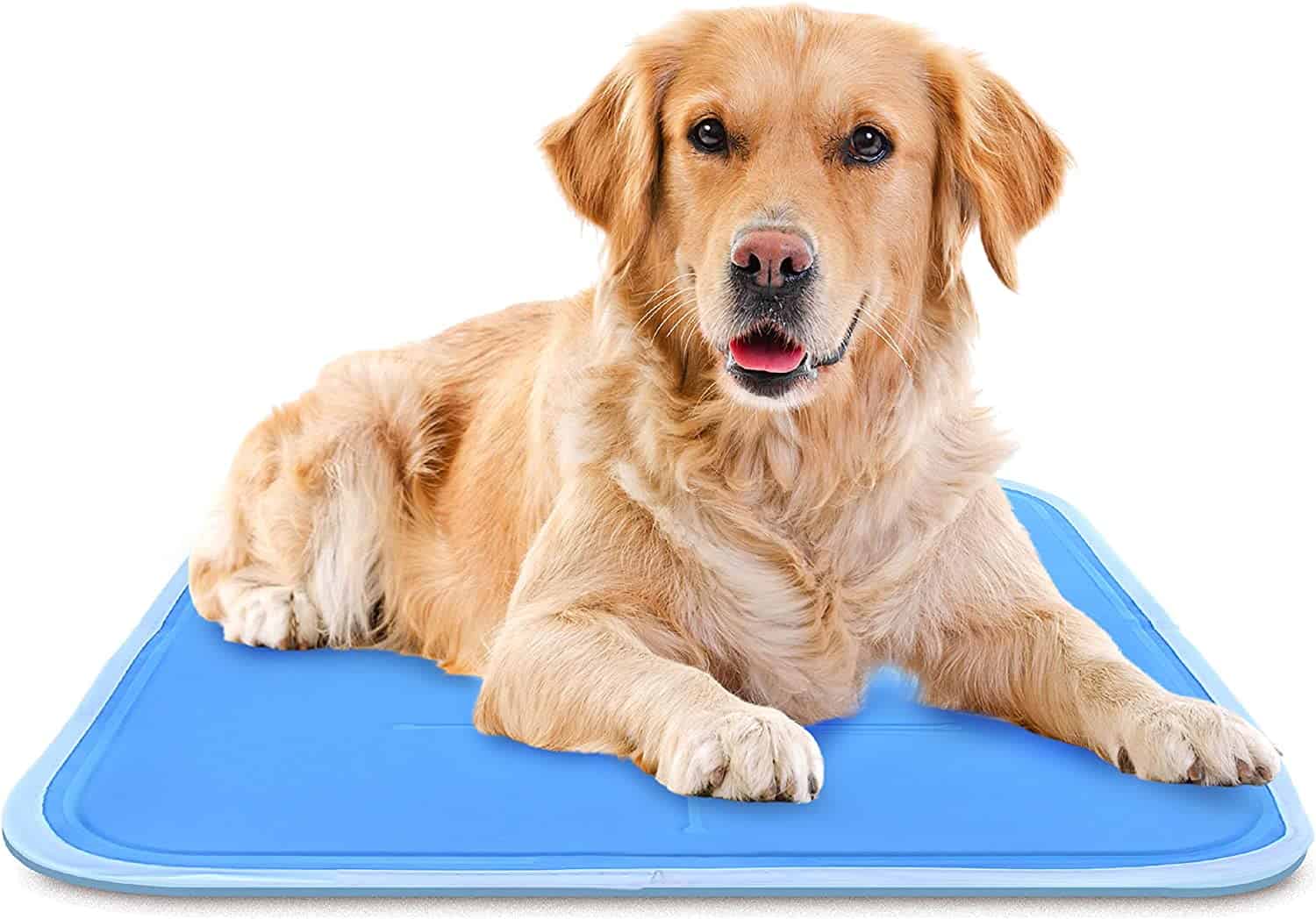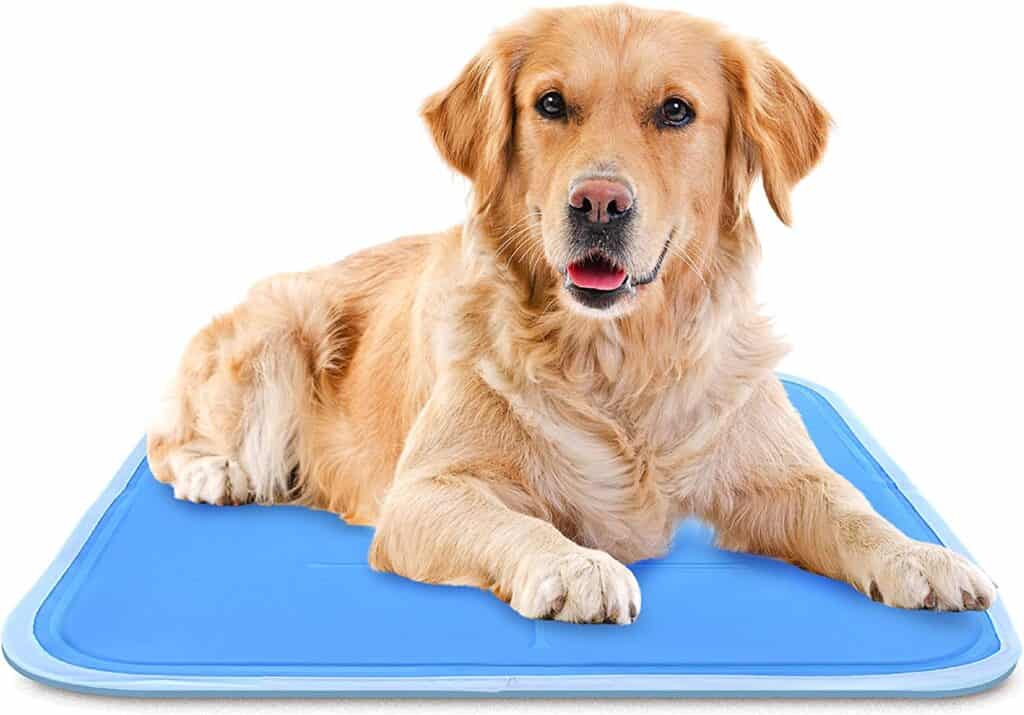 While your dog may be getting this surprise during the winter holidays, they will be extremely glad to have it in the summer. This cooling pad is activated by your dog's weight. No electricity is needed and is perfect for those active outdoorsy families. Help your pup beat the heat this summer.
Outdoor Heated Pad


If you have a dog who loves to be outside, even in the cold, this is the best bed for them. The heated pad was designed to be waterproof for those dogs who like to spend lots of time outdoors. Even still, this can be used indoors and would be a good idea for senior dogs who suffer from arthritis in the colder months.
Pet Subscription Boxes
Why choose your dog's gift when you and your dog can be surprised each month with these subscription boxes. This may be one of the best Christmas gifts for dogs that includes a surprise each month for both your pet and you. Each plan offers different benefits, but they have a vast mix of quality products.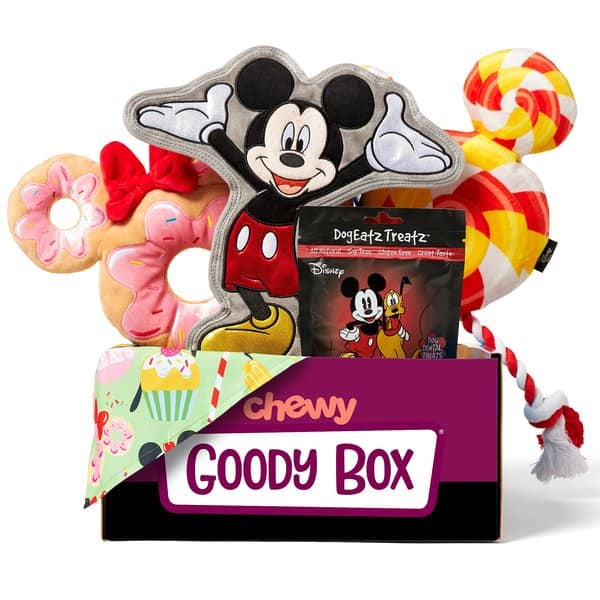 If you are looking for a subscription box without the subscription, Chewy has you covered. Their Goody Box is a wonderful idea for those who need a one time gift. Chewy will have you pick from different themes and can filter by dog size, diet, flavor, lifestage, and material. You'll get up to 25% savings with a variety of toys, treats, and accessories.
Barkbox is one of the first subscription services in the market. You'll get a monthly box delivered to your door filled with 2 toys, 2 treats, and a chew all in an awesome theme. The themes vary each month and cover major holidays.
With Pooch Perks subscription boxes, you get to customize your box each month. You can pick out toys and treats that are made of natural ingredients. If you don't want a box each month, you're able to switch to quarterly too.
Rescue Box is a subscription service that directly helps rescue dogs in need. With every box, you'll get 5 products at a $40 value and help feed over 142 rescue animals.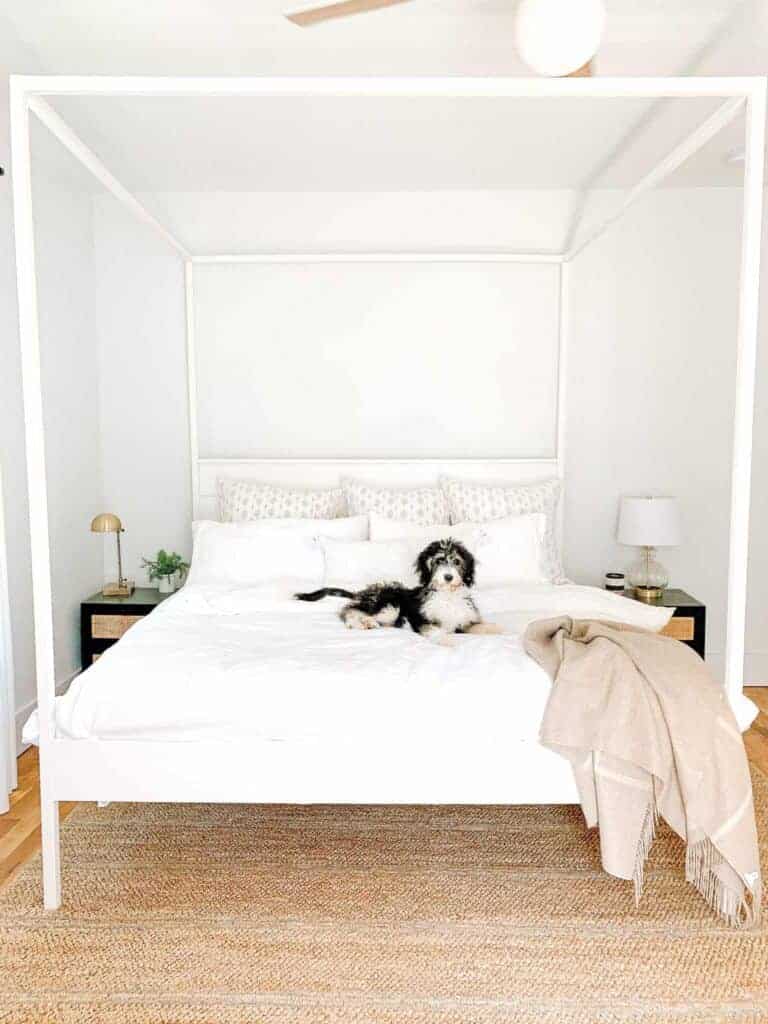 Dog Lovers
Last but certainly not least, we can' forget about getting dog parents a little something extra for the holidays too! If you are looking for a gift for yourself or other pet parents, these next gifts would make an amazing present.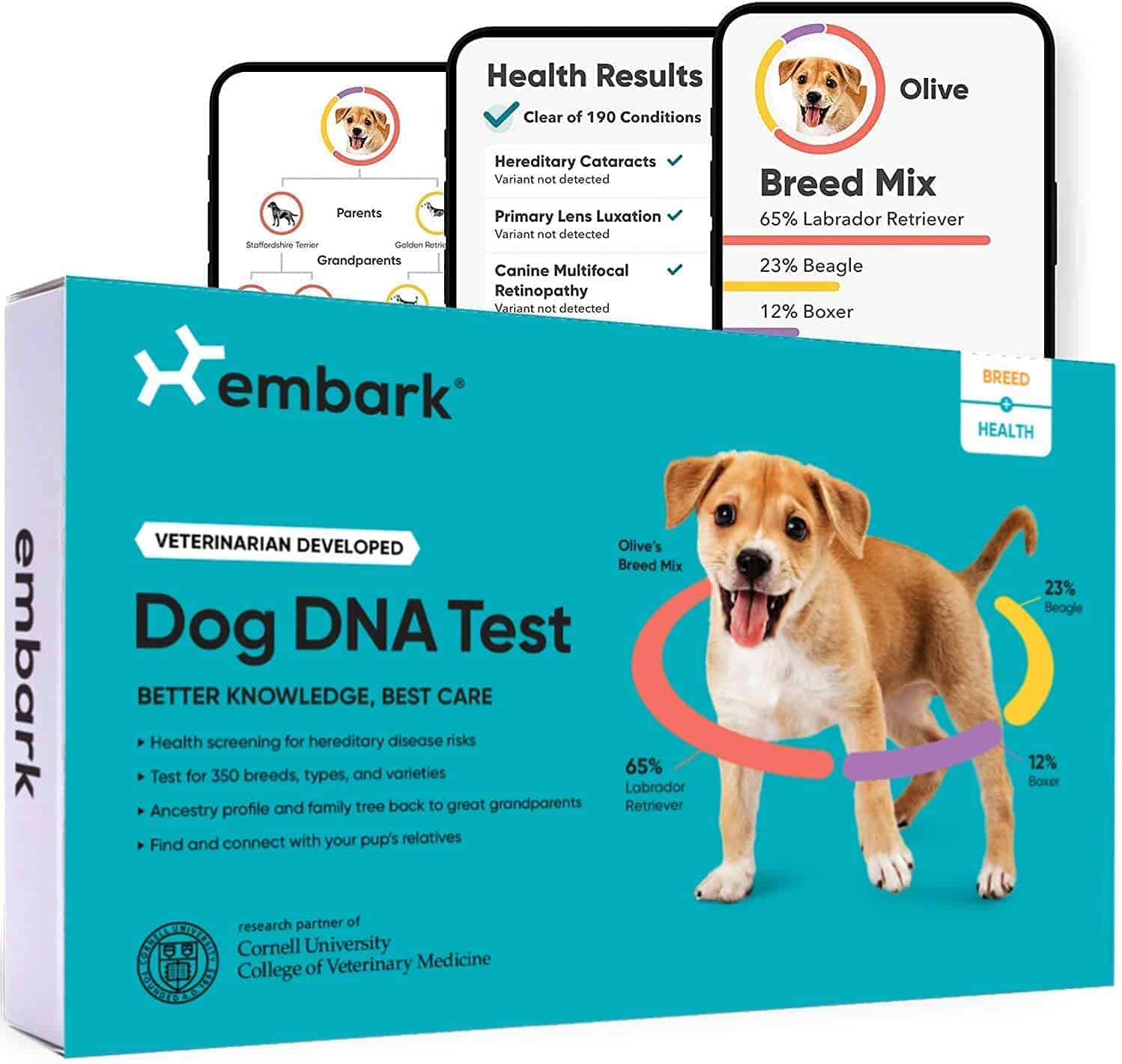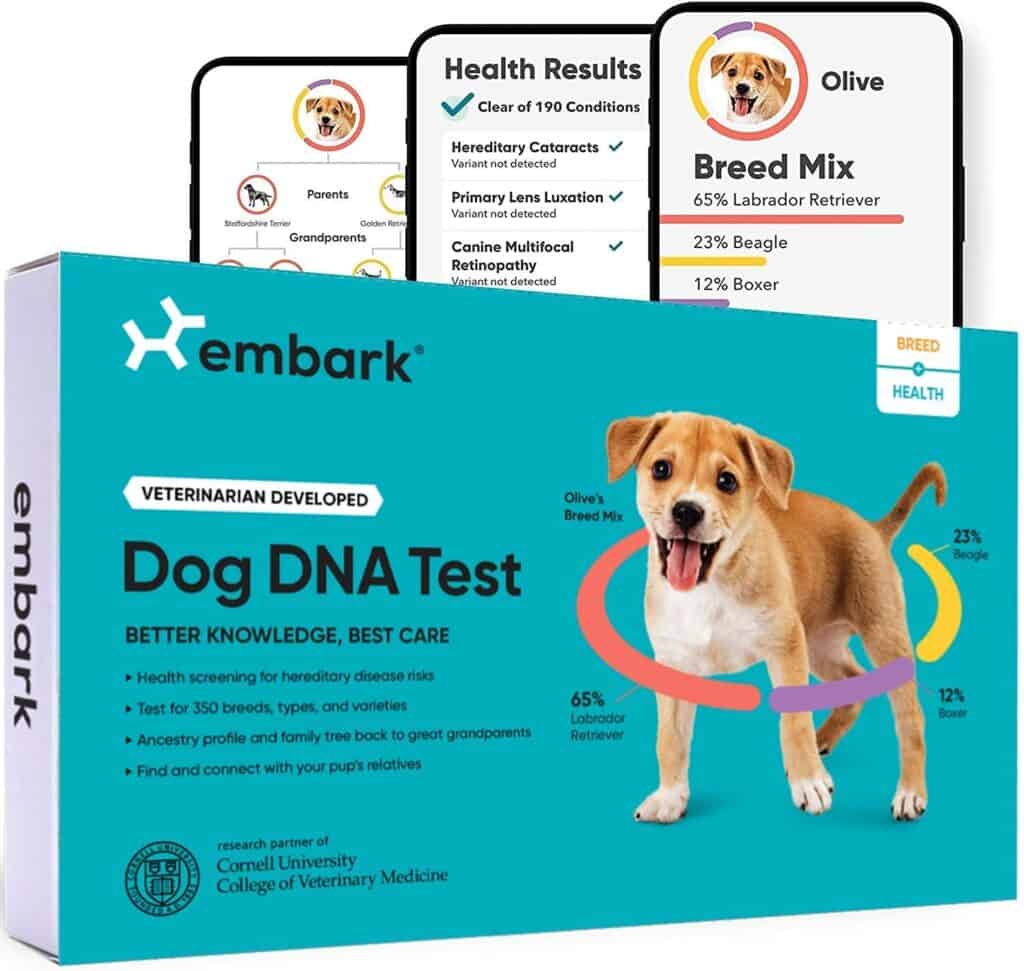 Even though we know Penny's breed, if I owned a rescue dog I think this would be such a fun idea to do a dog DNA test. I like knowing the history of our family, and I think knowing your dog's history is just as cool.
Are they more of a beagle or more of a labrador retriever? You may think that your dog has one breed and it comes out entirely different. More importantly, if you know their breed, you can better be prepared to be on the lookout for susceptible health issues of that breed.
Furbo Dog Camera & Treat Dispenser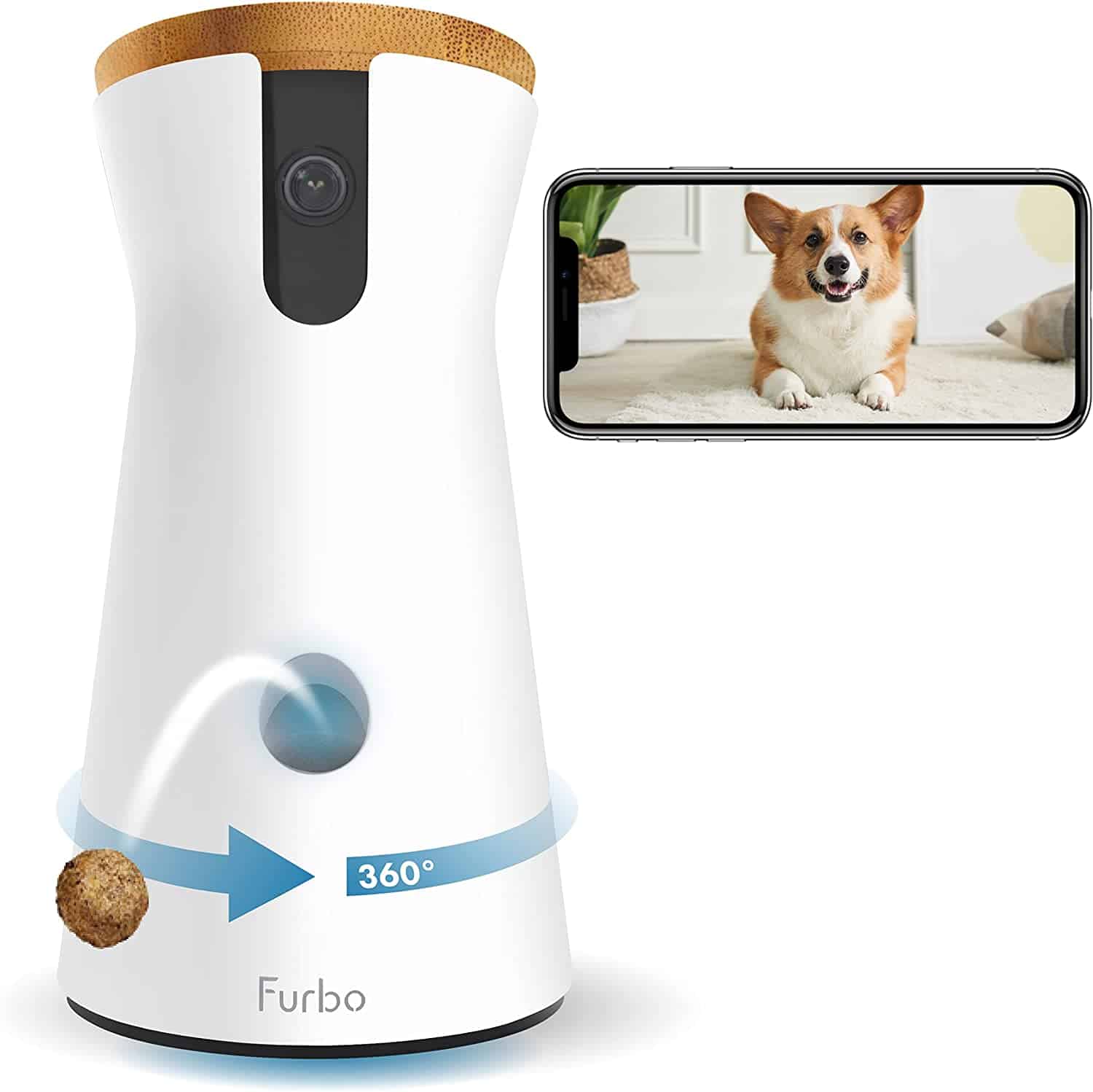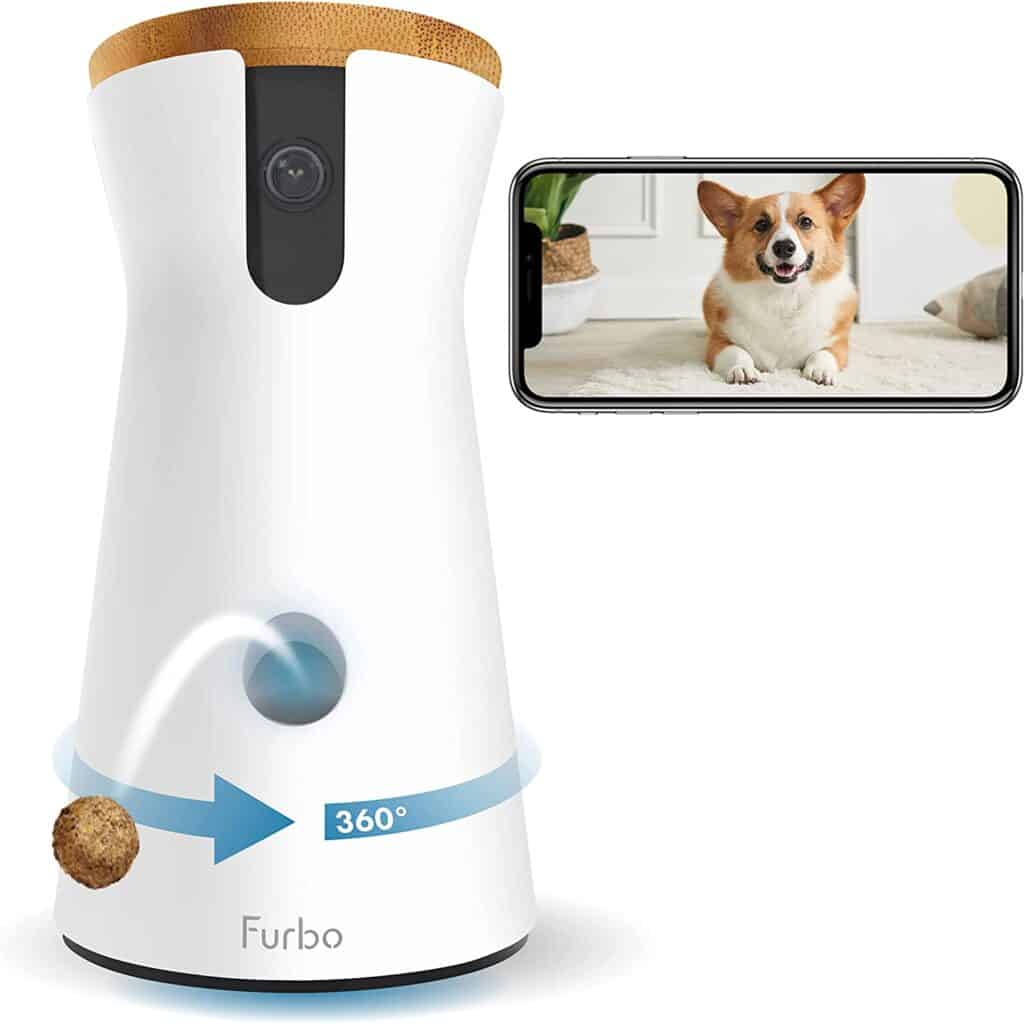 Have you ever wondered what your dog does all day? What made them bark their head off for 15 minutes straight? Or why did they keep going in circles? With the Furbo dog camera and treat dispenser you can not only check up on them, but also give them their favorite treats while you are away. They won't even notice that it isn't your hand giving them the treat. You can still talk to them and you'll get alerts sent to your phone when they bark.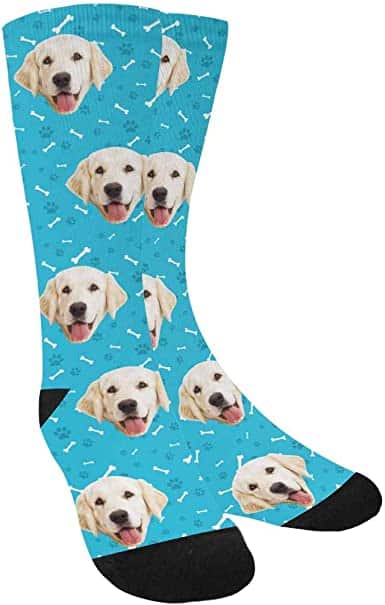 If you love crazy socks and your dog, then combine the two and you'll get crazy dog socks! Christmas gifts you can personalize are the best! You can personalize your socks with a photo of your very own dog. You'll be the hit at the office with these! Now kick off your shoes, take a seat, relax, and show off those socks.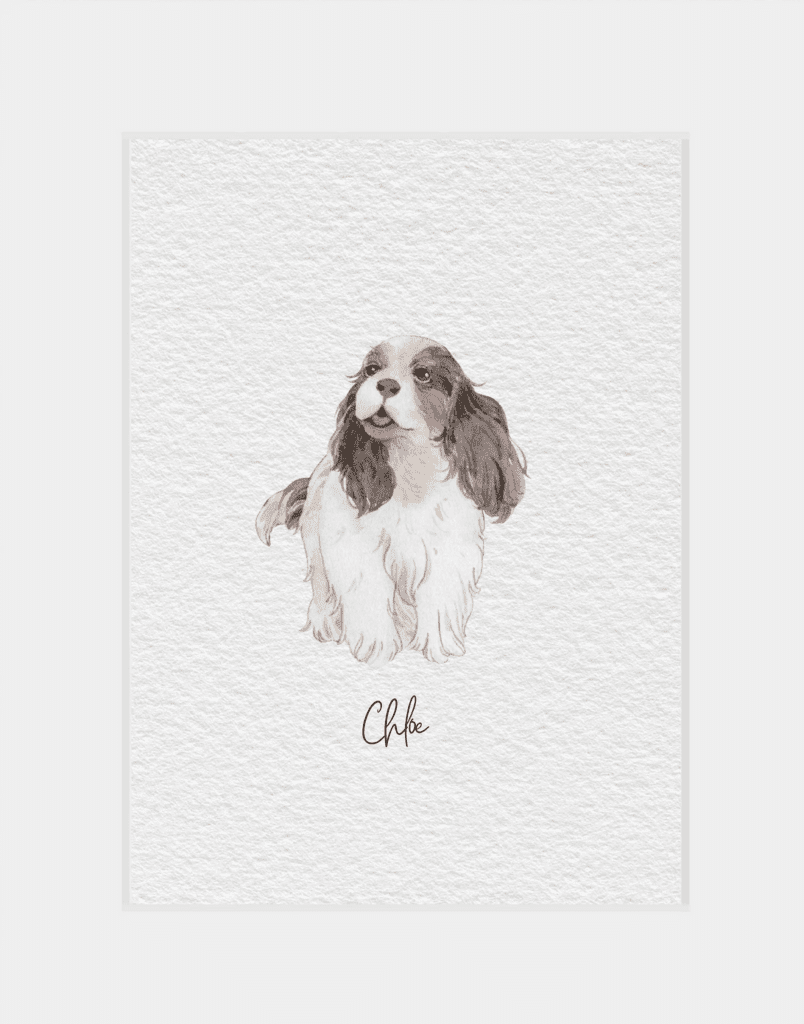 Since your dog is a member of your family, why not add their pet portrait to your gallery wall. This is a sentimental way to remember a dog that has recently passed or a new dog who just joined your family.
Shop all the Best Christmas Gifts for Dogs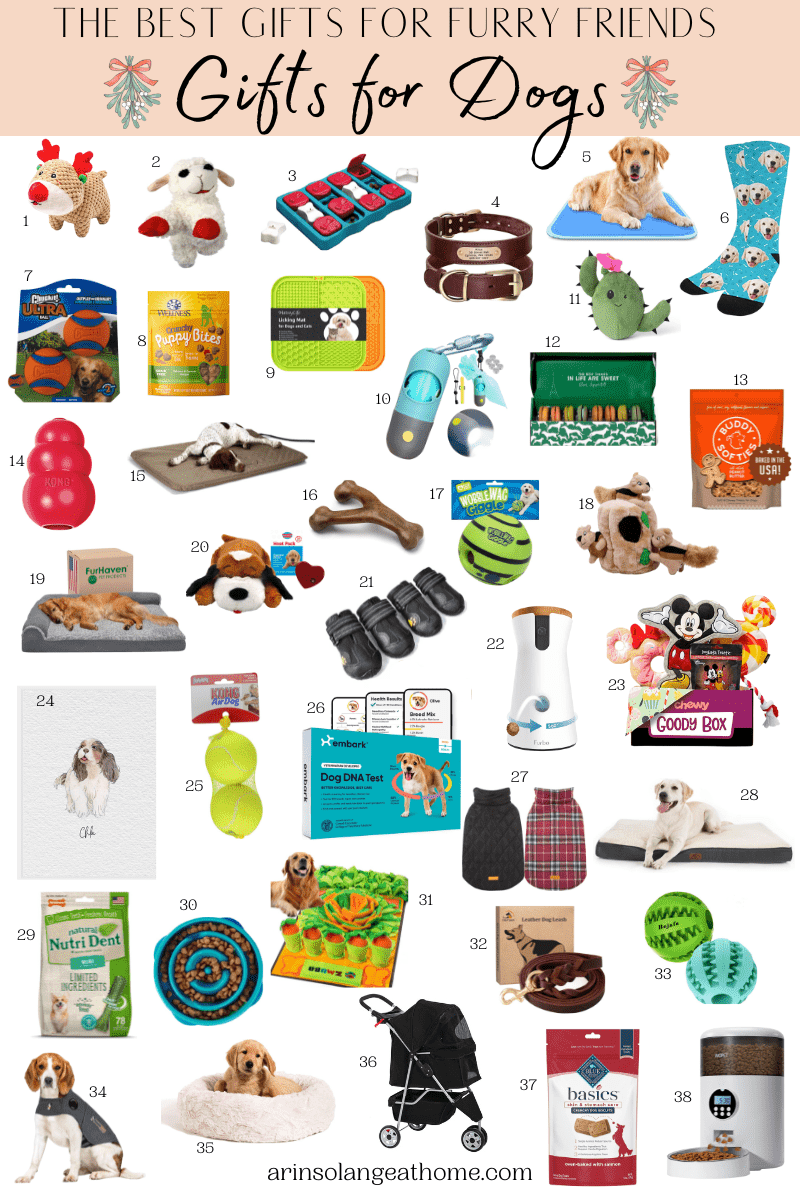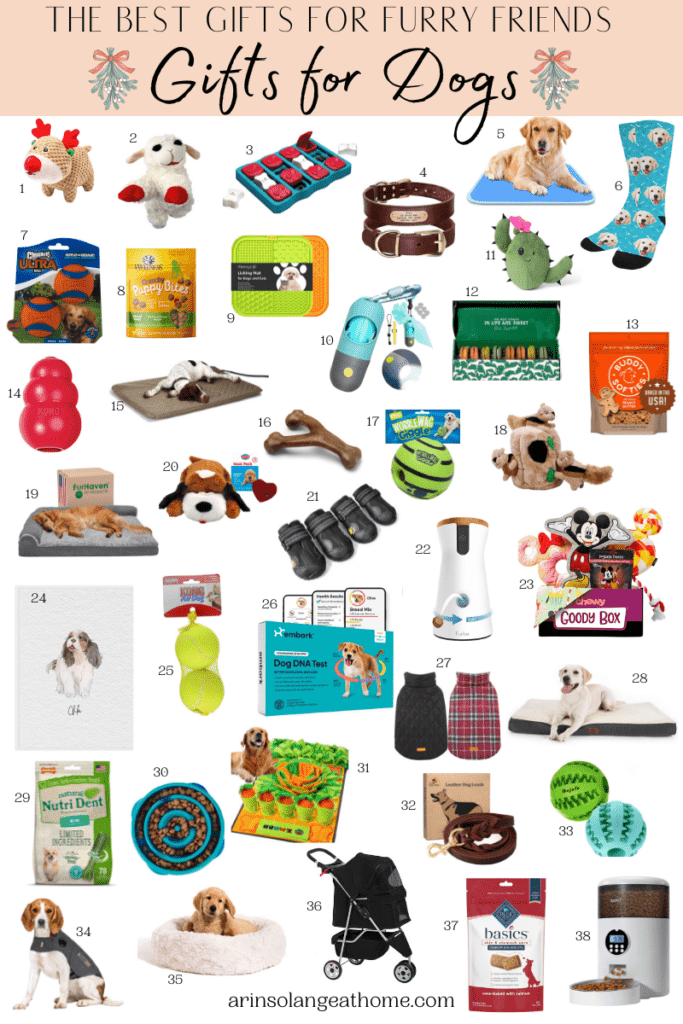 1 | 2 | 3 | 4 | 5 | 6 | 7 | 8 | 9 | 10 | 11 | 12 | 13 | 14 | 15 | 16 | 17 | 18 | 19 | 20 | 21 | 22 | 23 | 24 | 25 | 26 | 27 | 28 | 29 | 30 | 31 | 32 | 33 | 34 | 35 | 36 | 37 | 38
Other Posts You'll Love
The Best Way To Get Rid of Dog Smell | How Much is a Bernedoodle Puppy | How Much to Feed a Bernedoodle Puppy | Best Steam Mop for Tile Floors
Pin This Photo Below For Later
You should have some great ideas for finding the best Christmas gifts for dogs this holiday season. Whether you are shopping for your beloved canine or a dog lover, you'll have plenty of options to pick from to give a unique gift that is meaningful and fun. What dog wouldn't love these gifts? Be sure to pin the photo below for later, and if you don't already – follow me on Instagram (@arinsolange) and Tik Tok (@arinsolange) for more helpful hints. If you have any questions leave them in the comments below, and I will get back to you!