Last year I did a stocking stuffers under $25 from Amazon post and you guys all seemed to LOVE it, so this year I thought it would be fun to do another one! When I do kids stocking stuffers I go really inexpensive, so am rounding up kids stocking stuffers all from Amazon, and all on a super tight budget.
This post contains affiliate links
Kids Stocking Stuffers
Stocking stuffers in our house are normally a good mix of useful and fun. I am not a huge fan of clutter, so I do candy and a few smaller items that I think they will actually play with.
Hopefully the items in this post help you find great things to fill all your stockings this year, and make your Christmas morning magical.
Other Gift Guides
Before you leave make sure you check out the page below with all of my gift guides in an easy to find format.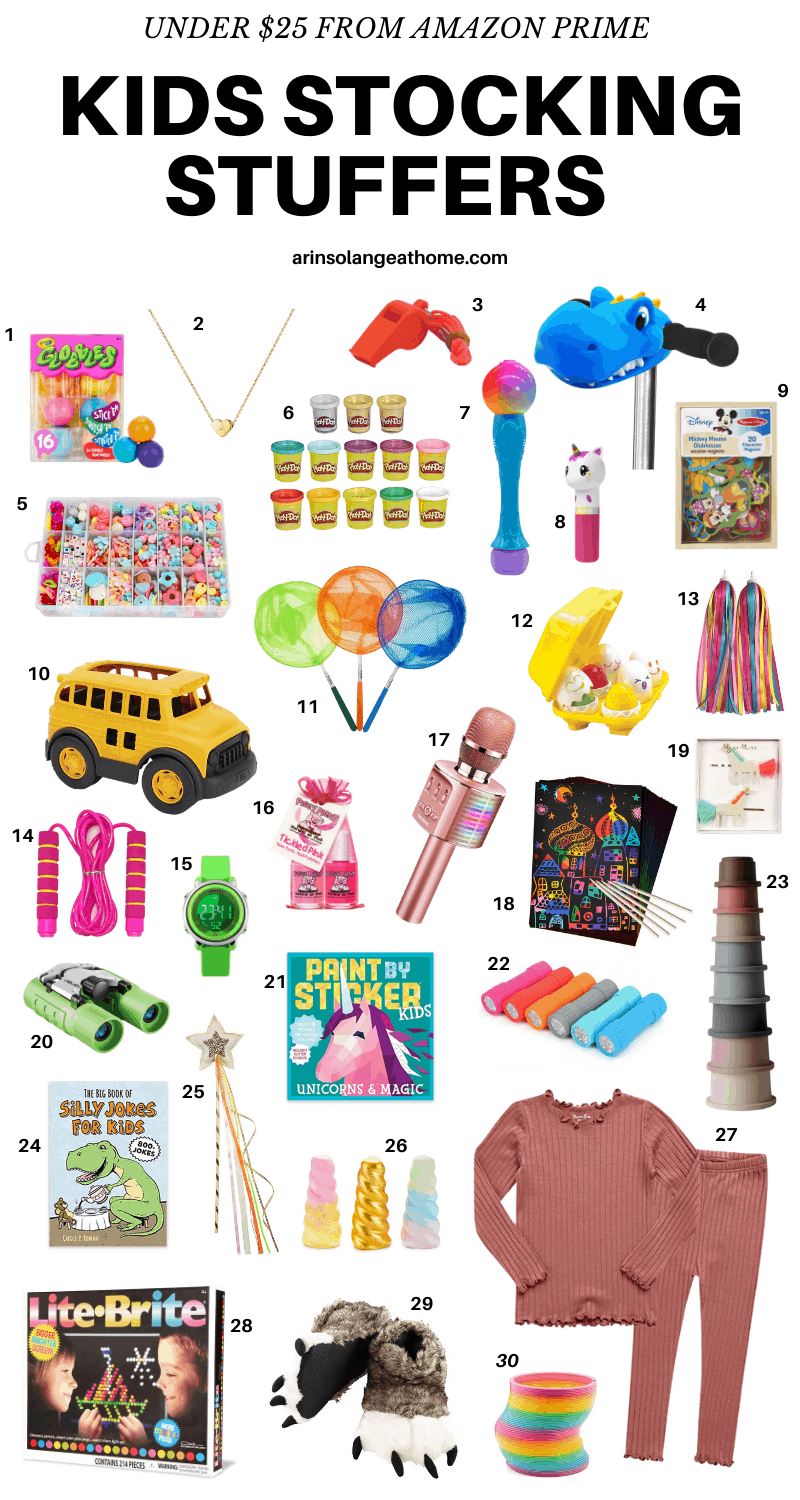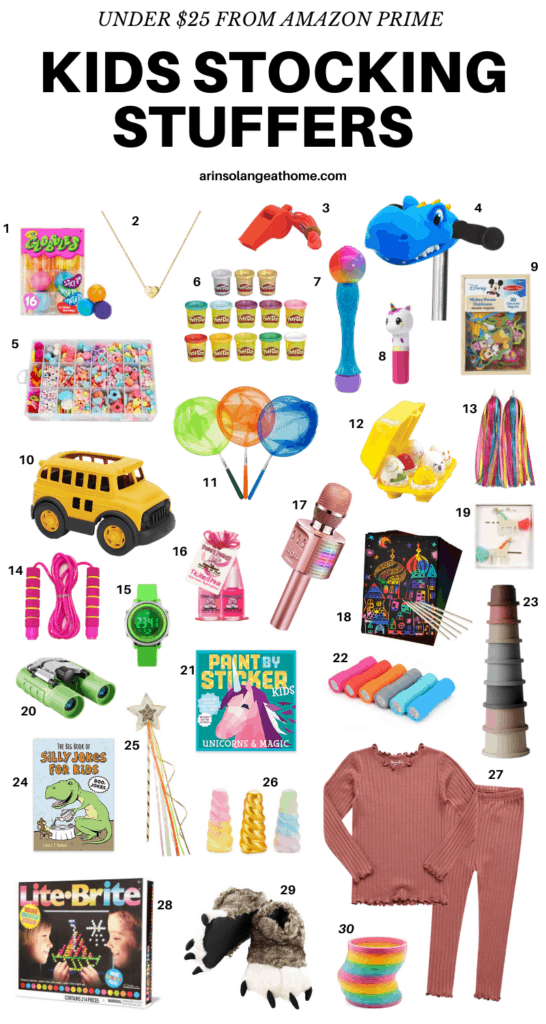 Shop Kids Stocking Stuffers
1 | 2 | 3 | 4 | 5 | 6 | 7 | 8 | 9 | 10 | 11 | 12 | 13 | 14 | 15 | 16 17 | 18 | 19 | 20 | 21 | 22 | 23 | 24 | 25 | 26 | 27 | 28 | 29 | 30
Globbles – These are so fun! They are a sticky toy that the kids love but don't leave behind any type of residue so I love them too
Initial Necklace – 14K gold filled and nickel free
Whistle – You may regret this purchase at some point but your kids will be thrilled
Dino head – This guy is one of my favorites, can fit on a scooter, bike or even a Flybar
Beads – 1,000 beads and string included
Play-doh – We always stock up at Christmas because my kids' favorite hobby is leaving the lid off
Bubble Wand
Lip Smacker – Lots of different animals and flavors availalbe
Wood magnets – Love this Disney magnet set, great for quiet time
School Bus – We love Green Toys! They have everything from ships and tea sets available and these toys are super durable
Insect Nets – A great outdoor toy for all ages
Hide & Squeak Eggs – This toy has been loved by all of my kids
Handlebar Ribbons – Such a cute addition to any scooter or bike
Jump rope – This comes in a 2 pack
Watch – Digital waterproof watch, lots of colors available
Piggy Paint – 2 pack of non-toxic nail polish, perfect winter activity
Microphone – Another gift you might regret but everyone loves
Scratch paper – These are awesome and all of my kiddos enjoy them
Hair clips – How cute are these?!
Binoculars – Also available in lots of colors so great for a boy or girl
Paint by stickers – Can you tell I am thinking we will have a long inside winter ahead?
Flashlights – These will keep my kids occupied for hours
Stacking cups – A great option for baby's stocking
Dress Up Wand
Unicorn chalk – Includes 18 jumbo pieces of sidewalk chalk
Best PJs ever – Our loves for these pajamas runs deep
Lite-Brite – Truly I think I enjoy this as much if not more than my kids do
Slippers – Adorable and practical? Yes please!
Slinky – Jumbo slinky = fun for all
Pin The Photo Below For Later
Hopefully this helped you find the perfect kids stocking stuffers. Be sure to pin the photo to find these later, and make sure you're following me on Instagram (@arinsolange) for more holiday fun!