We have lived in our house for nearly a year with NOTHING happening in the foyer.  Its a small-ish space, and I wanted to be really careful about making it feel cluttered. I think with the right pieces you can really make your entry way a beautiful space no matter the size.  So read below to see how we went about decorating a small entry way.
For starters, when we moved in there was a formal living room to the right of our front door.  We had no use for this space, but since Sam works from home a home office was a must, so we had the entryway reconfigured a bit and french doors added to that space.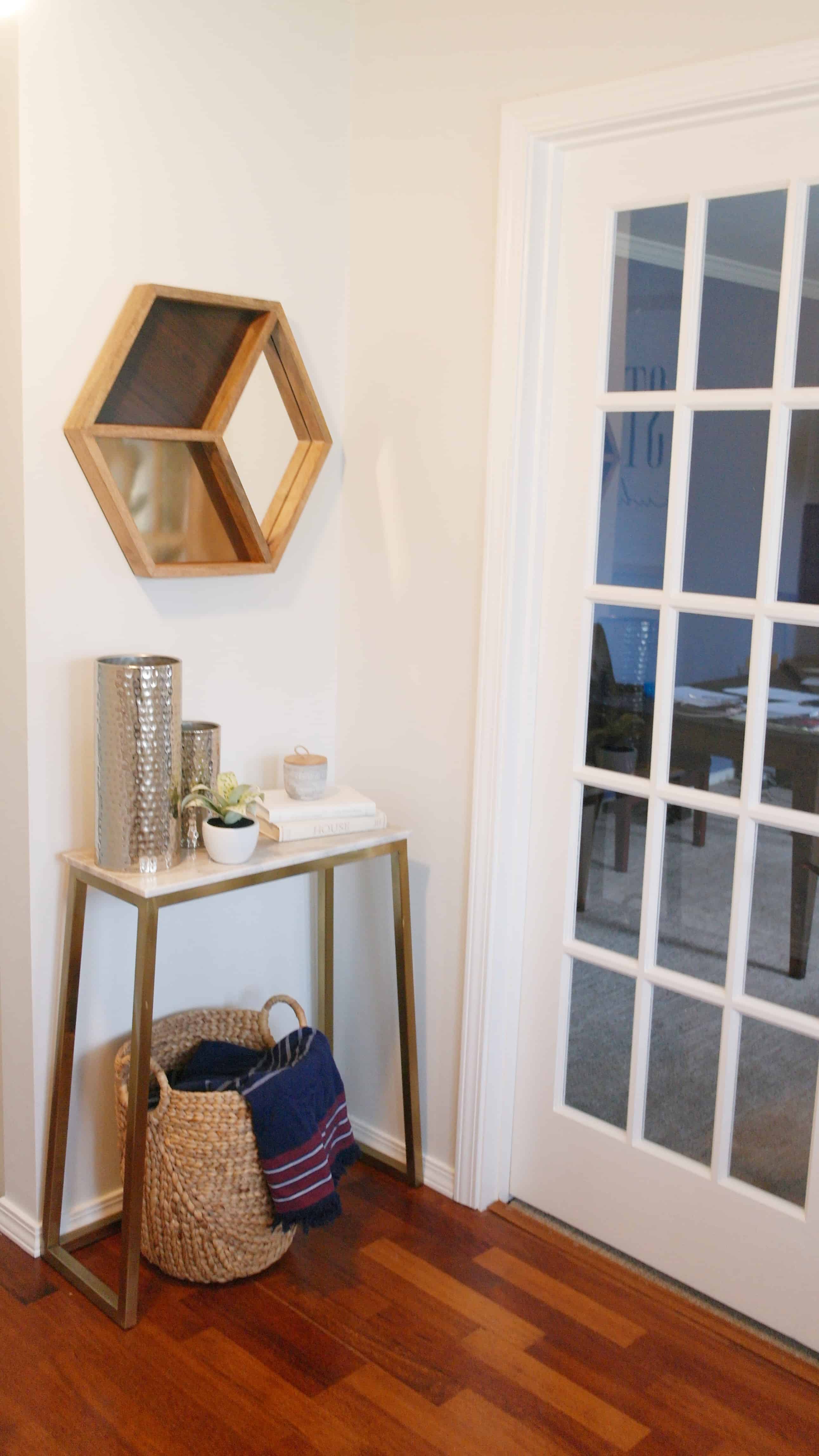 We changed out the current light for something a bit more modern (but something small because the ceilings aren't vaulted).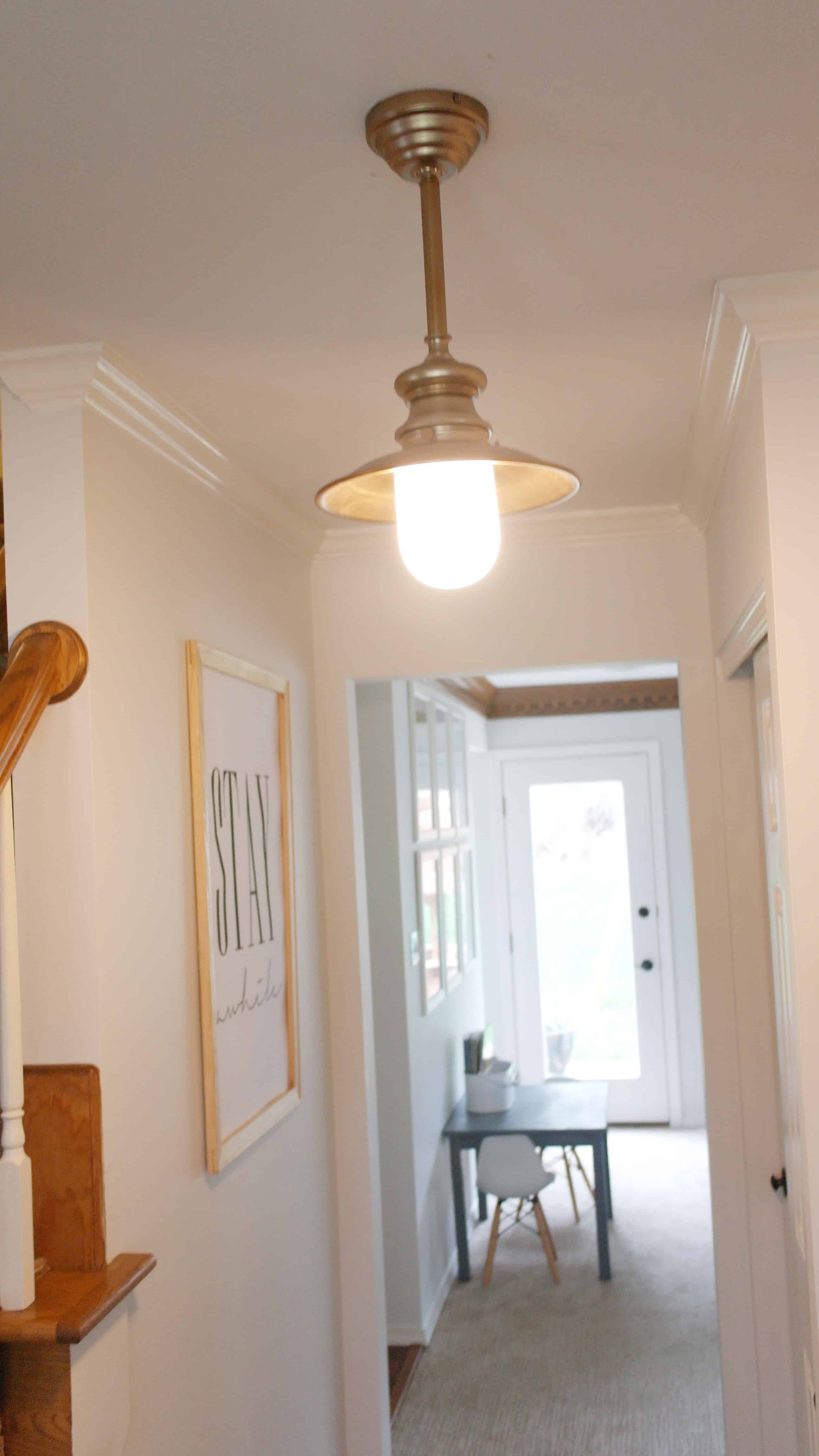 After months of looking I found the perfect little foyer table that fit in our small spot.  I tend to learn towards a homey mid-century decor feel, so I was really drawn to the mirror but we will see if I eventually change it for something larger.  All decor will be linked if possible, or something similar.  We are a young family, so most of my decor I try to find on big sales – so sometimes its hard to link the exact options.
(the table and mirror were both target Threshold but have come and gone)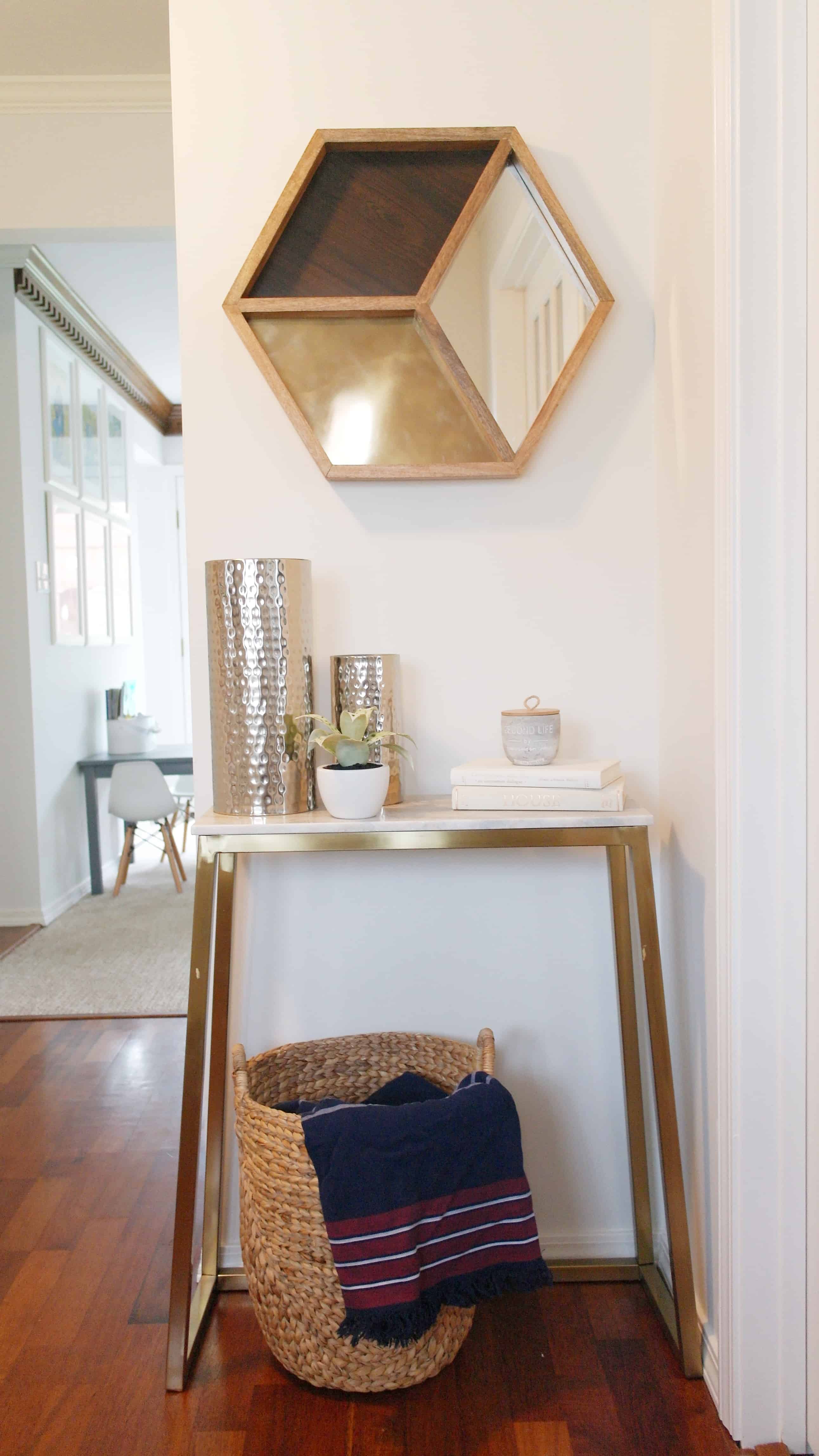 (side note – the books that I have on this table and use several other places in my house are all from thrift stores.  I go to the book section and look for semi neutral books with titles that won't scare my guests, and remove the dust covers)
The "Stay awhile" sign that is hung will be a quick DIY post this week that you will definitely want to check out.  It was easy as can be, and to frame it cost me $15 dollars!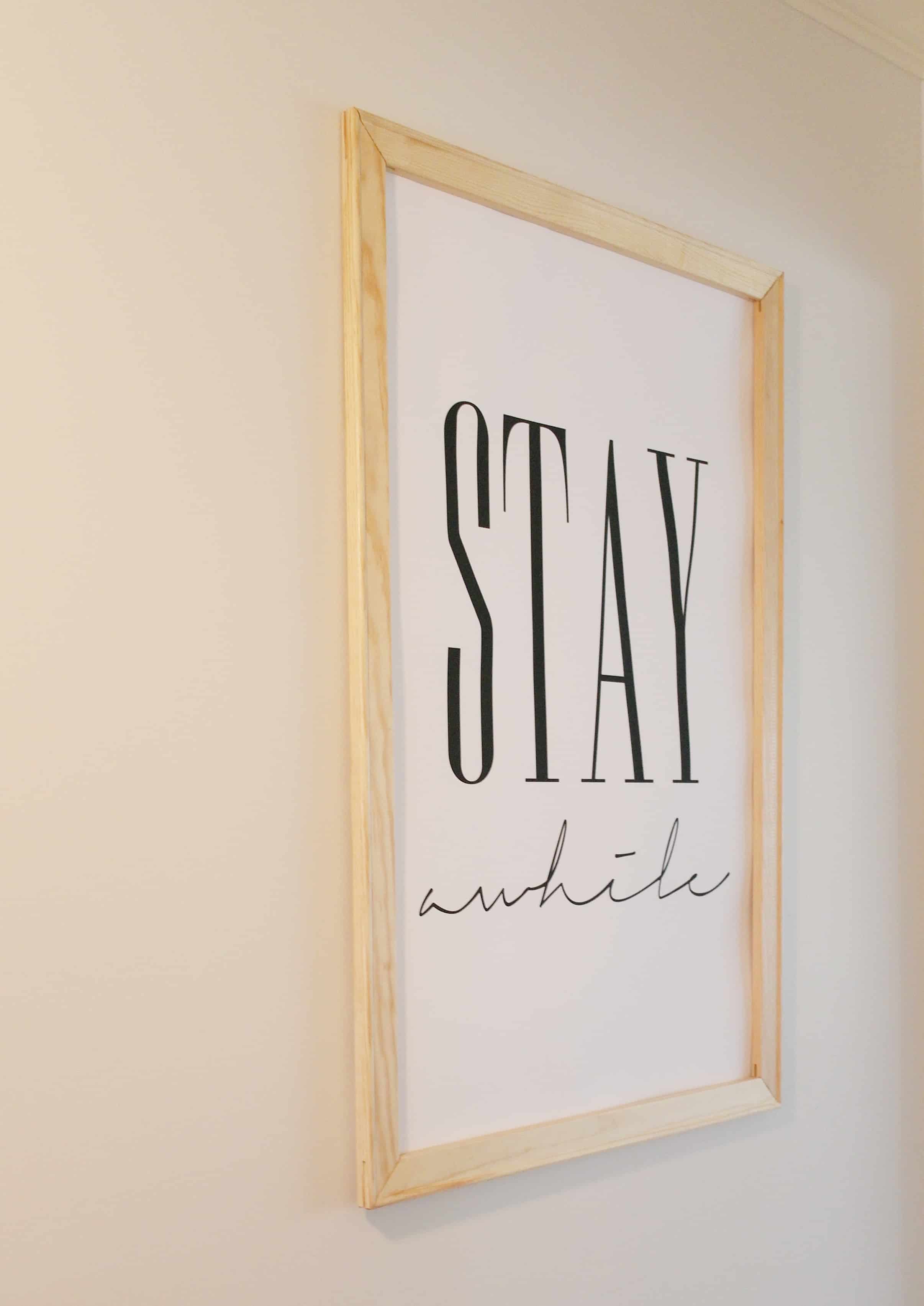 In our past home I built wooden baby gates for our stairways and LOVED them, but the way our spindles are in this house makes that nearly impossible (they are so thin, and the curved hand rail) so instead we went with a traditional metal baby gate.  To help it look a bit better, I sewed a knit cover for it that can be easily slid off to be washed or changed out.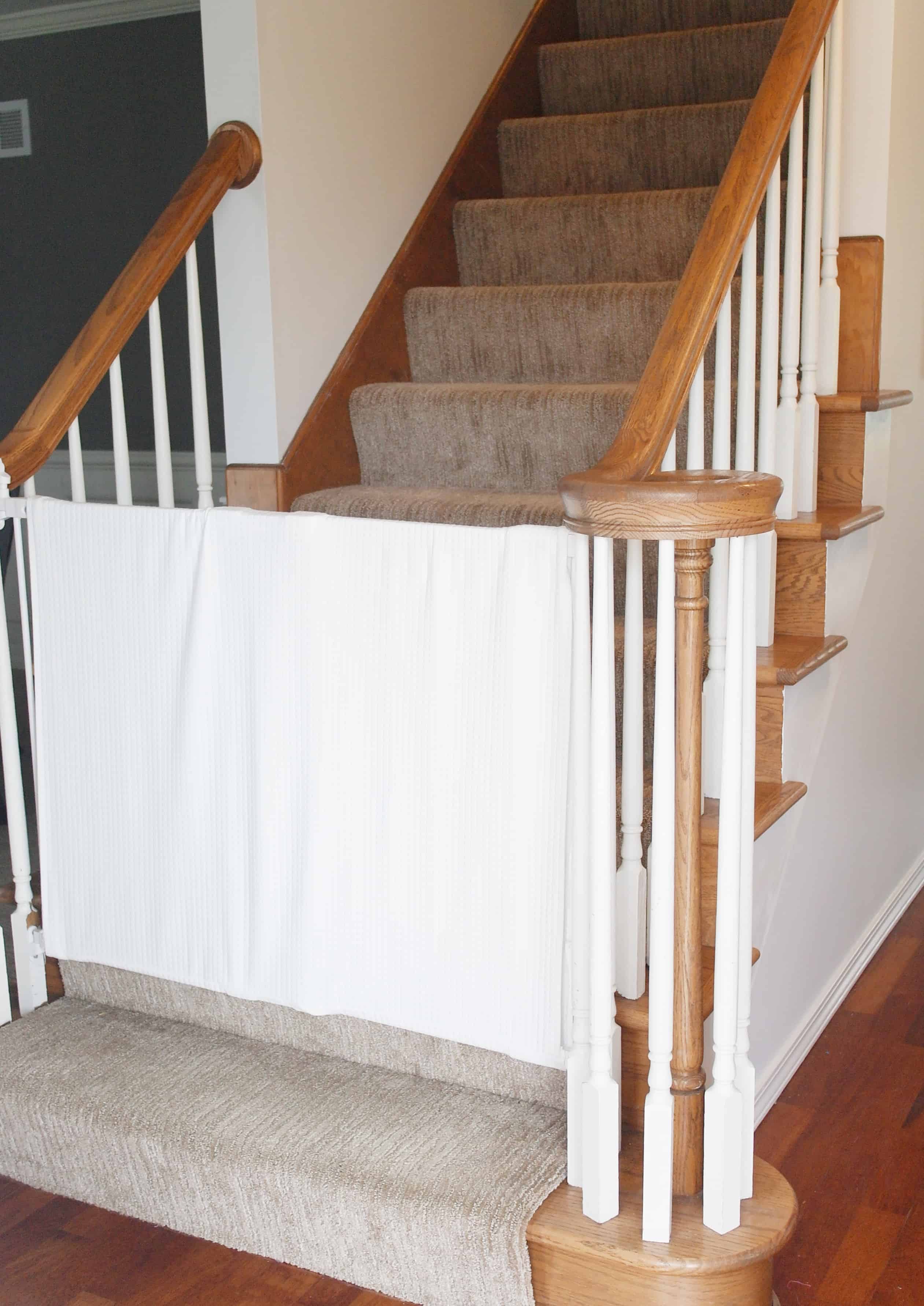 I went back and forth on a rug.  We can't do small doorway rugs in this house because the doors won't pass over them (thus they cause more headache than they are worth), but I have gone back and forth on a runner.  For now I decided against it, as we have so much carpet in the house I wanted to show the wood that we have.  I do store a turkish towel in the basket to lay down or have people wipe their feet if needed.  Let me know if you have any questions on this post and be sure to check out our home tour tab –  a full update for the next year is coming soon.
PAINT COLOR: Behr Irish Mist
SOURCES:  Basket (similar) // Candle // vases (similar) // plant // print