If you missed my free printable Whole 30 Calendar post this blog post is probably a big confusing to you, so I definitely recommend you jump back there.  Sam and I are doing the Whole 30 diet next month, and along with the free printable Calendar I also wanted to give you Weekly Printable Grocery Lists.  This post will contain your Whole 30 week 1 shopping list.
Below you will find links and a shopping list for completing your first 7 recipes!  Let me know in the comments if you have any questions, and as I said on the first post, I haven't tried most of these, so I am along for the ride with you all!!
I have all of these recipes, plus many more, and some great resources all on a Pinterest page, so be sure to follow me on Pinterest for more ideas!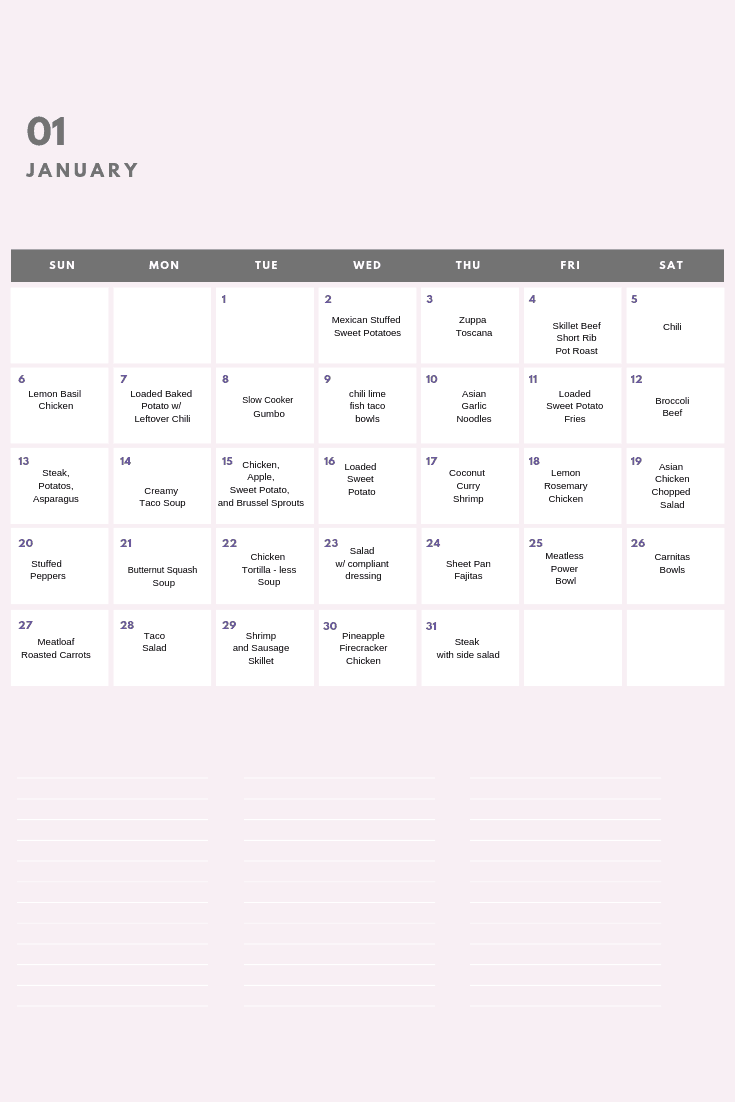 Jan 2 // Mexican Stuffed Sweet Potatoes
Jan 3 // Zuppa Toscana
Jan 4 // Skillet Beef Short Rib Pot Roast
Jan 5 // chili 
Jan 6 // Lemon Basil Chicken  – for the 1.5 lbs of chicken breasts I figured about 3 breasts on shopping list
Jan 7 // Loaded Baked Potato with Leftover Chili – add any other compliant toppings
Jan 8 // Slow Cooker Gumbo 
Whole 30 Week 1 Shopping List
Keep in mind this is a fully comprehensive list – so it looks longer than what you likely need due to spices and such.  Some items that last a while might be wise to buy in larger quantities for multiple weeks such as onions and potatoes!
Hopefully you find this Whole 30 week 1 shopping list helpful, and if you have any questions please let me know!  I would love to have you follow along on Instagram stories with me doing the month, or in the comments below!