Here we are kicking off week 2 of 6 Bags for 6 Weeks. Somehow I am accomplished enough that I am DONE purging, but this week I'm on a mission to organize. I have been thinking how to organize a closet, and the best items to use!
This post how to organize a closet contains affiliate links
How to Organize a Closet
We have small, older closets in our home (aside from the master – that is good sized, so I have to get creative. I know there is no way I am alone in this, right? Not everyone has the dream closet, so hopefully some of these tips, and items will help you out. I will talk more about each item to explain how I use them.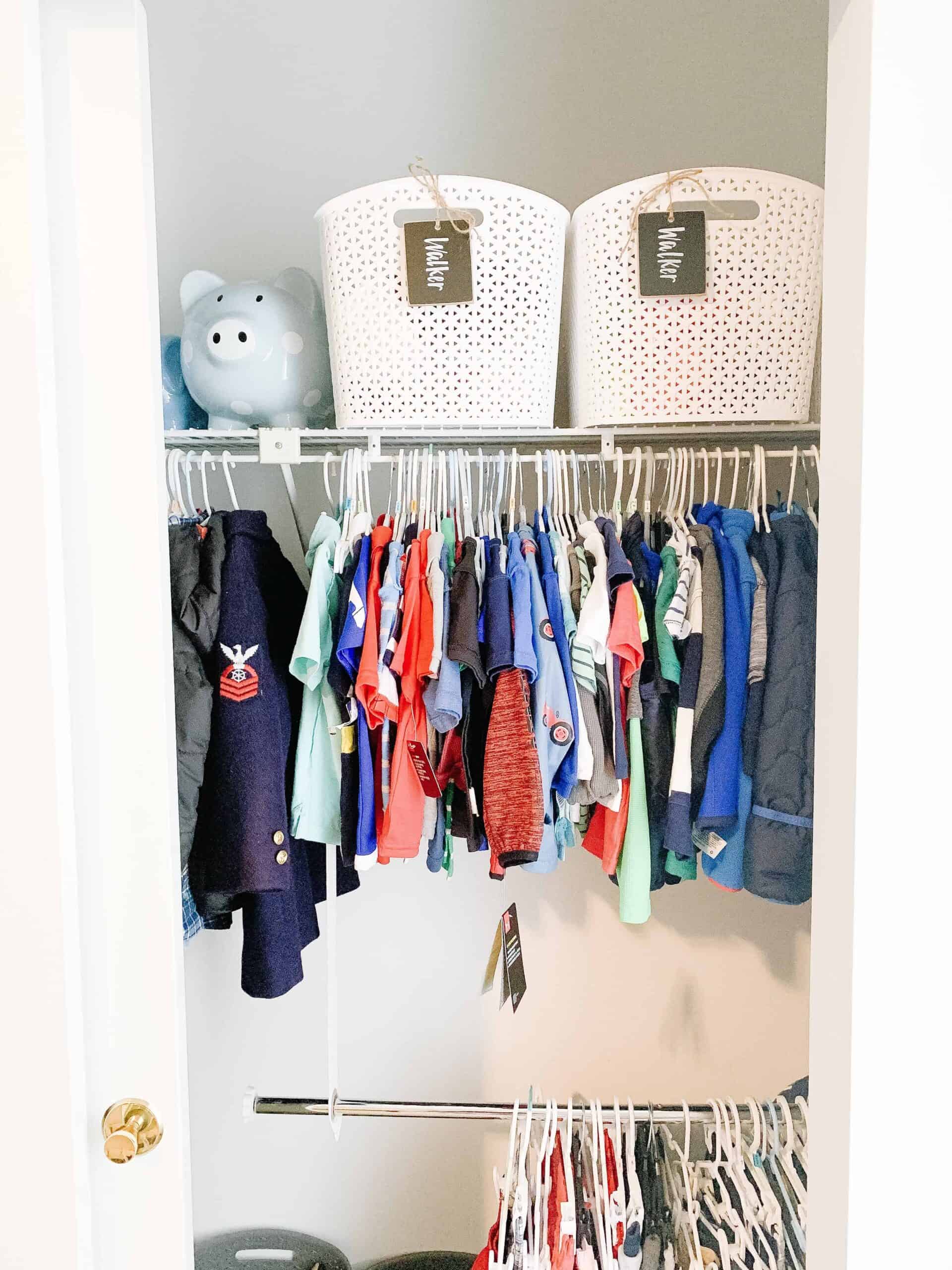 6 Bags for 6 Weeks Recap
If you are new here – this is my week two post on a 6 week declutter challenge that my friend Jen and I are putting on. If you are just finding the post, we both have lots of content and would be happy to talk with you on Instagram.
It is a great program to do WHENEVER, and at your own time. Just download the two free printable's HERE, and get to organizing.
The overall goal is to purge 6 bags of items from your home each week for 6 weeks. I can't wait to see how much better I feel with nearly 40 bags less stuff in my house, and to see all your houses after! As an added bonus – There are weekly giveaways for those of you that are doing it with us.
Also, be sure to grab this free printable decluttering checklist that is helpful to use alongside this program!
This Weeks Details
Once you have finished your week 2 decluttering commend DONE on mine or Jen's Instagram posts that will be up tomorrow (1/13). The winner will get a diffuser from Alora Ambiance, as well as $50 to target to fund some of these great organizational items!
Every time you tag us in a post you will
This week we're so excited to introduce you to Lyndsay Almeida Lyndsay is an amazing photographer in Florida and shares all things lifestyle on her blog and instagram. Her motto is "Life is Messy. Life is Beautiful.". She's a rockstar thrifter, has fantastic style and shares the good, the bad and the wonderful. Be sure to check out her Instagram and her blog!
Jen also has a great post on this weeks closet organization, so be sure you read through all her tips too!
Best Items for Organizing a Closet
For Starters – to shop the image below just click on the item you are loving and it will take you right to it. But also know that I will link each item below and give you a better description of how its used.
How to Organize a Closet
Utilizing the items above isn't expensive at all, but will keep your closet organized, while utilizing the space you have. I am a firm believer in investing in a few items that will make your spaces STAY organized or it is a CONSTANT battle that you will hate.
Remember that if budget is an issue there are a couple of GREAT options –
1. Sell some of the items you are purging. For me I always sell some of the higher end items. Kids stuff is especially easier to sell. I would say on kids clothes I go half donate, half sell. Just purging and selling those items can more than fund the new organization items.
Jen has this great post on where you can sell those items to make some extra money!
2. Buy items to organize on a budget. Just because these are a good overall idea of the best items for organizing a closet, doesn't mean they are the only ones! The dollar store is a great place to look for bins and organizational items. Don't feel like you have to spend a lot to get what you need!
Other Organizational Post
Finding the best items for organizing your closet is likely not the only thing on your radar when it comes to organizing. Check out the posts below for more organizational help, or you can simple head to ALL organization posts here.
Organizing Your Kitchen full of Kid's Stuff
Shared Sibling Closet Organization
Decorative Storage from Amazon
If you have any questions on how to organize a closet be sure to comment or shoot me a DM on Instagram, and good luck with all those clothes!
Pin the post below for later