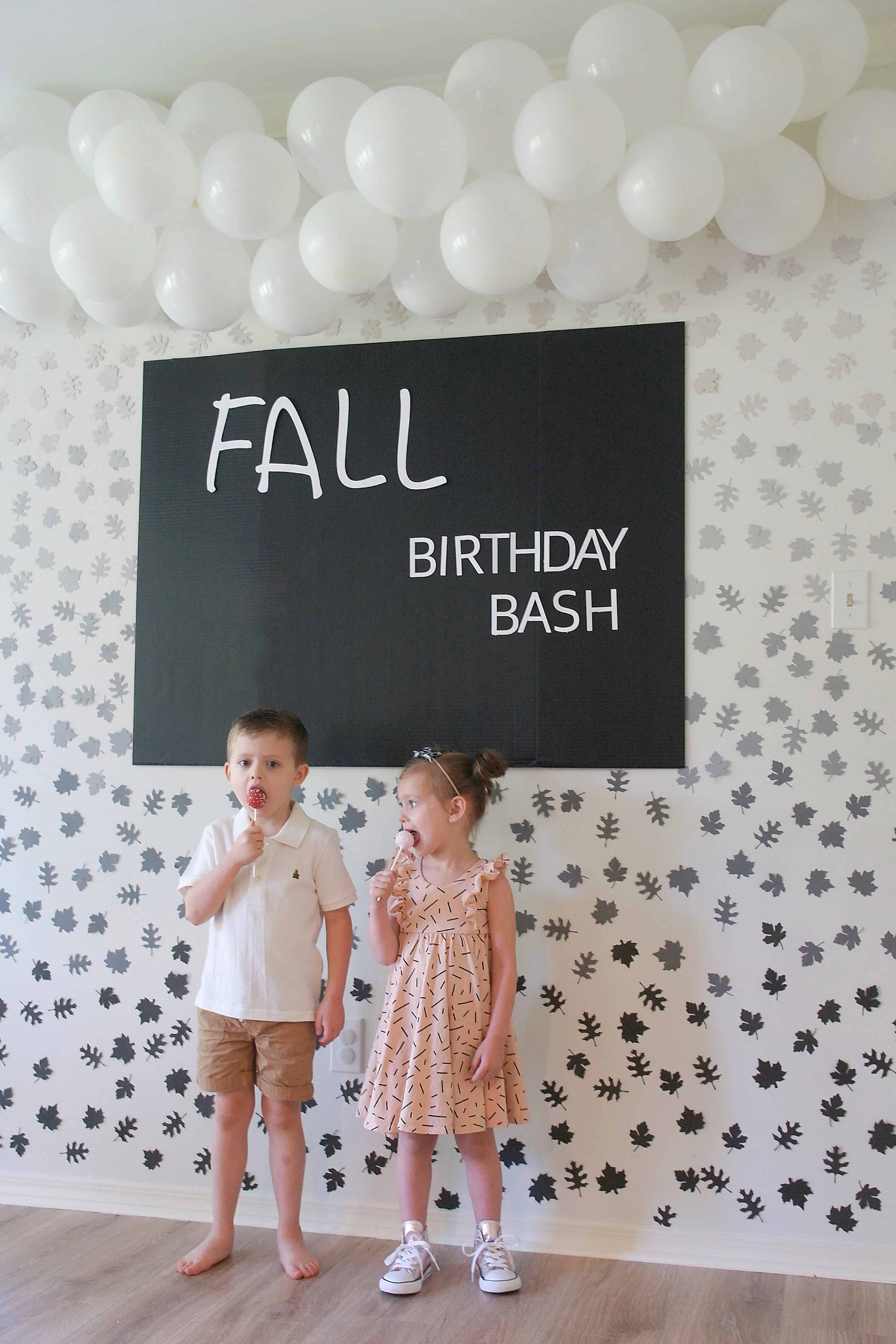 I swear if I say 'birthday' one more time this month I might burst..and Sam's birthday is tomorrow, so I don't stand a chance haha!
A couple of weeks ago we did a joint birthday party for the kids and their friends, as well as some of ours, and I wanted to post how we did it. First of all finding a theme for kids who are different genders is hard. They love different things, and if I had gone with a TV show theme I promise you they would have been mad that I went with that show by the day of the party. So my solution was to do something gender neutral, simple and cute. I went with a fall theme, knowing that the 340 pumpkins I have as decor around the house would work, and I wouldn't need to buy much.
This post contains affiliate links for more information you can read here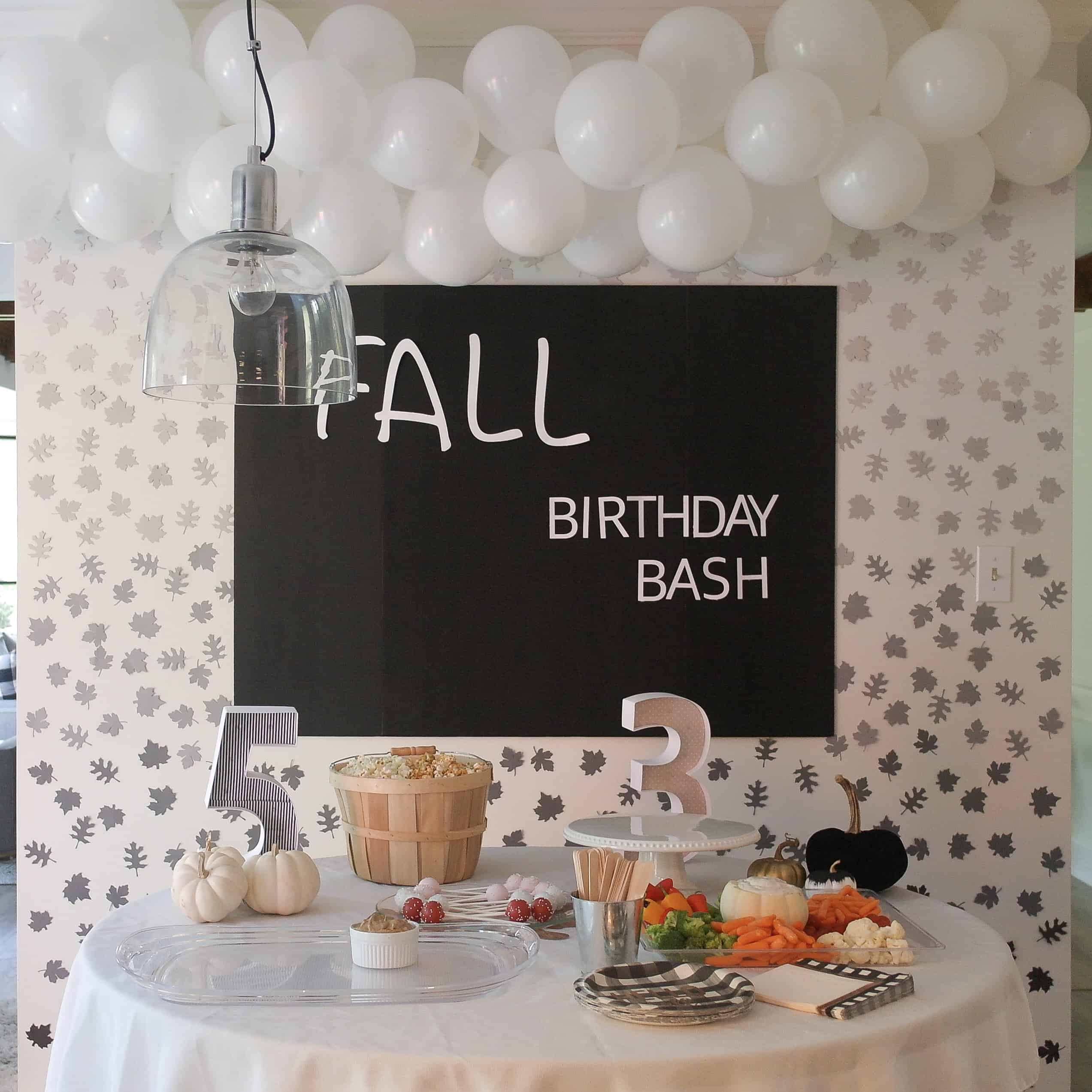 My main focus for decor was a backdrop wall, but knowing that I wouldn't ever do this again, I wanted it to be inexpensive. I will break down how it was done below. Aside from that wall, the only decor I had was a bar cart with a runner of paper on it to tie it all together. I truly kept it super simple. The main expense for the party this year was put into entertainment, and that was a bounce house and pumpkins for each kid to paint. I wanted them to stay busy and have fun, and it was well worth the money. The bounce house was SO MUCH fun, and I loved watching them jump all day.
So off to the wall breakdown – the wall was done for $10 DOLLARS! now I have a Silhouette so it Made it easier, but regardless it was super inexpensive. (and if you're thinking about a Silhouette, get one, they are amazing and I use it all the time !)
Leaves – I bought a pack of scrapbook paper for $5 from Walmart and cut leaves in colors to hang in an ombre pattern.
Poster Board – I used a trifold because I wanted. BIG board, but you could certainly go with a normal size one. This was less than $3 at Walmart
Letters – Cut from the same pack of paper as the leaves
Balloons – I bought one big bag of white balloons for $2.50 from Walmart and tied them around a string to make a balloon arch.
To hang everything I used command hooks, command strips, and painters tape, all of which I had.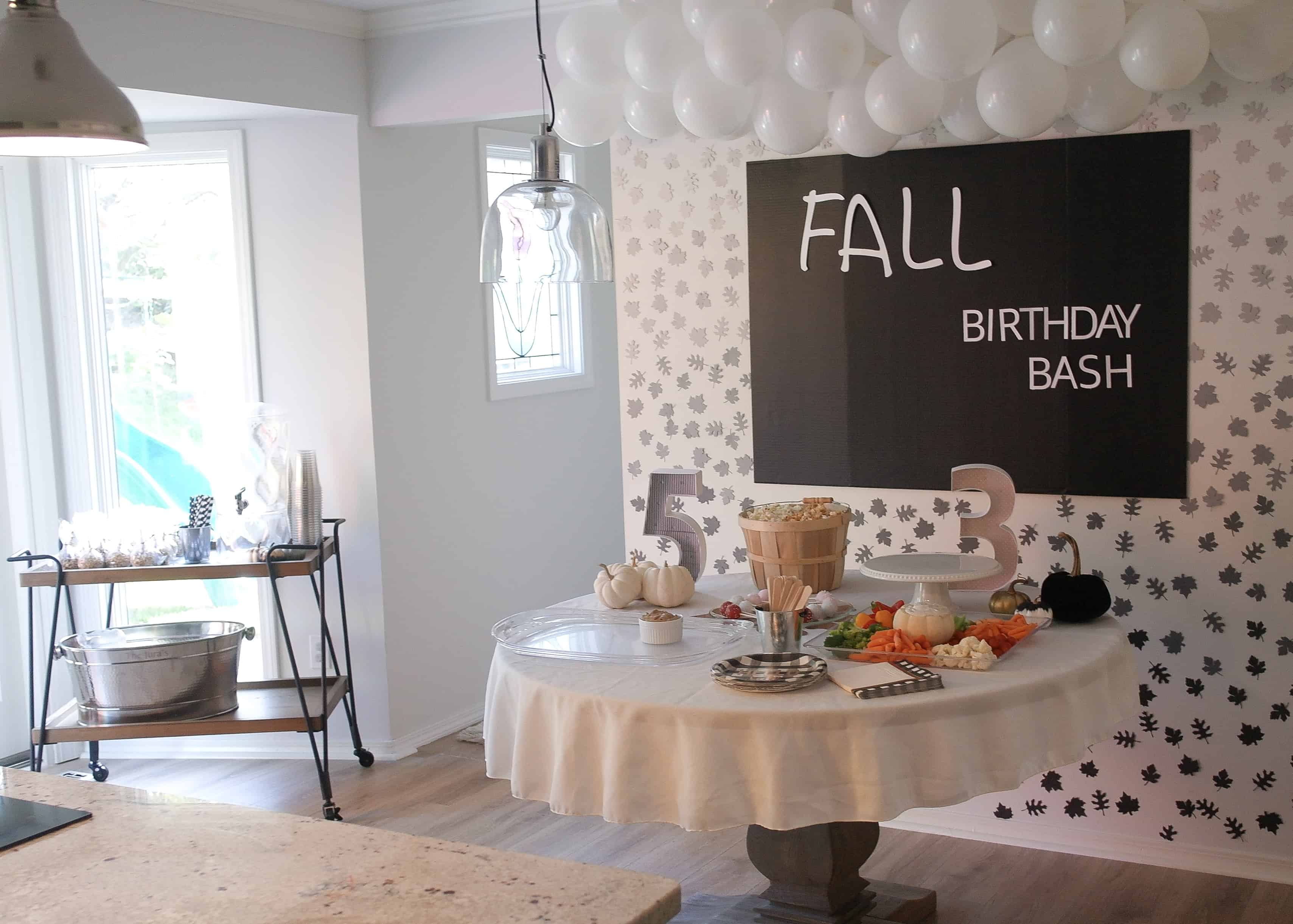 For food I kept things simple with caramel popcorn that was homemade (this is my favorite recipe) and smart pop, which was a huge hit. We did Cake pops for the cake, chicken and waffle bites, because it was morning, Soft pretzels and dip from a local place, and a veggie and dip platter. I did hollow out a pumpkin for the veggie dip to tie things together and I loved that touch.
We had water, soda water, and juice boxes to drink, and caramel apples for everyone to take home.
For the pumpkin painting instead of letting things get super messy I bought paint pens and it was such a great decision. The kids loved it, but they were too messy to send home…so now we have lots of small pumpkins haha.
All in all it was such a great party and the kids had SO much fun! Feel free to comment with any questions you have!!
XOXO ARIN