It's spring break time right around the corner (YAHOO), and as always we will be making a short stop at Disney world. I have a couple of Disney fashion posts coming this year, so if you are searching for yourself or boys, don't worry – that is coming yet this week. But today I am focusing on Disney outfits for girls.
This post may contains affiliate links
This Disney fashion post is a little different than most of them I have done. I am pondering my own outfits, with a fun plan in my head, so thought I would share some character inspired looks for girls.
I tried to give ideas for baby – little girl as best I could, and hopefully if nothing else it will inspire your own looks!
Disney Outfits for Girls
I typically try to make these posts 'clickable' in terms of the image, but I was truly on an mission to find the best items I could, and many of those are not affiliate and also don't work with that platform. So to shop this image just head to the caption below, and if you have any questions, as always just let me know!
You will notice that I love finding items that just give a nod to Disney but can easily be worn so many other times in this image. We tend to dress that way when we head to Disney, and I love getting creative with our outfits!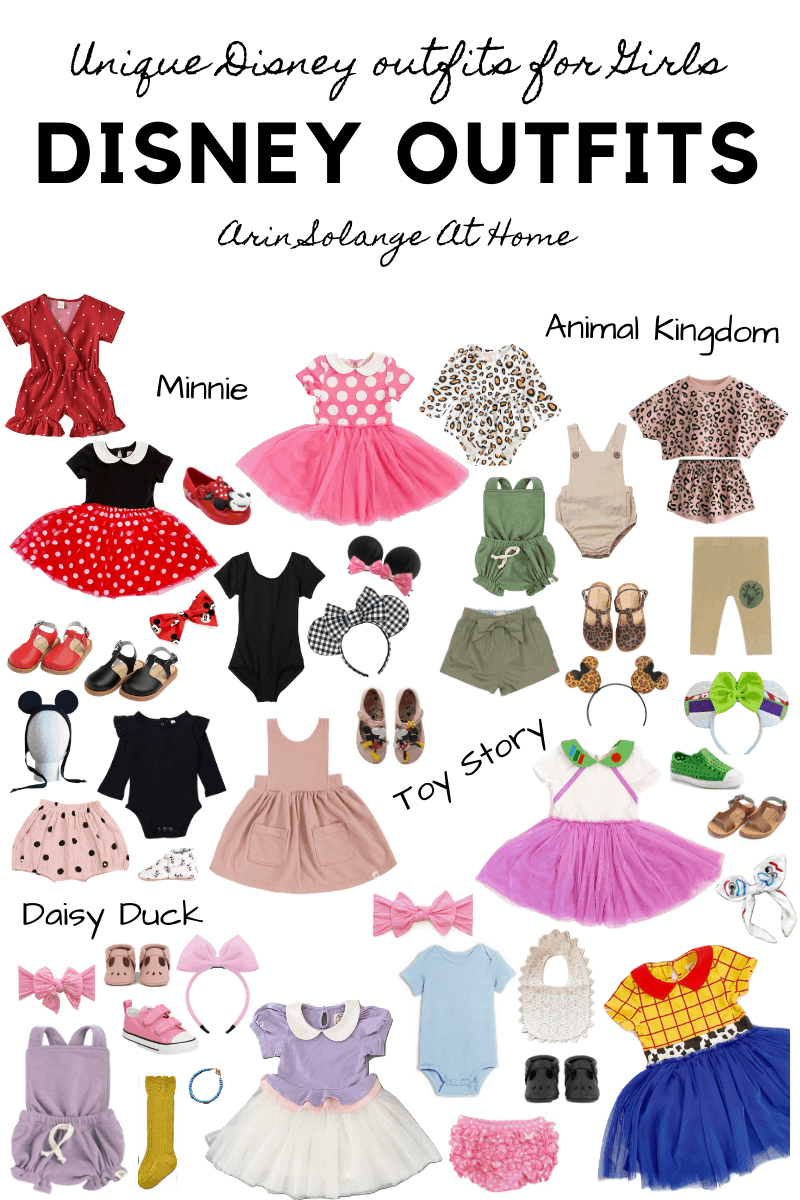 Minnie Mouse
Black, Red, & White Dress – Taylor Joelle Dresses are all over this post. I will share some photos of a couple of the dresses we own. They are so well made, and honestly just amazing choices for Disney!
Red Minnie Mouse Shoes – We do these every time we go and they are REALLY comfortable for my daughter to walk in all day.
Pink Polka Dot Dress – Another Taylor Joelle Dress
Red and Black Mary Janes – We own both of these pairs and they are so cute and comfortable!
Bow (see in the image below)
Black Leotard – pair this with the blush bib dress or any skirt for a cute nod to Minnie
Black Onsie – pair this with the polka dot shorts for baby girl!
Blush Minnie Mouse shoes – again so comfortable!!
Animal Kingdom Looks
Okay I know this isn't a character – but I love a good themed look, and love these ideas for a day at Animal kingdom!
Baby girl skirted Leopard Onsie
Green Romper
Pink Cheetah shorts and top combo
Green shorts – pair these with a cute top tucked in and it would be so cute and 'safari- ish'
Cheetah Mary Janes – same as the ones from Minnie Mouse. These are honestly my favorite shoes for my 5 year old.
Little Animal/Safari themed leggings for baby
Daisy Duck
I am dying to dress my girls as Minnie and Daisy this year, and Goldie's whole outfit is in this mix (stay tuned!).
Pink Stretchy Headband – these are my favorite headbands for Goldie
Yellow Knee High Socks – both of my girls have these in several colors and they are amazing!!
Daisy Duck Taylor Joelle Dress – this dress is so so so good!!
Toy Story
I have a toy story obsessed crew in my house right now, and you guys I am pretty obsessed with these looks!
Green Natives – for Buzz
Brown Freshly Picked Sandals – for Woody
Forky Headband – mildy obsessed with this!
Pink Stretchy Headband – again these are my favorite headbands by far! – for Bopeep
Light blue onsie – for Bopeep
Lace bib – pair this with the blue onsie for baby girl for a Bopeep look
Pink Ruffle Bloomers – for Bopeep
Black Mary Jane Moccasins – for Bopeep
As you can see – Dressing for Disney doesn't have to be just black, red and white Mickey Mouse! I have several other fun posts with great Disney Fashion posts that I have linked below, but also wanted to show you a couple of the Taylor Joelle dresses in action.
She offers dresses in SO MANY Disney options, and my daughter Avé has a couple of the princesses.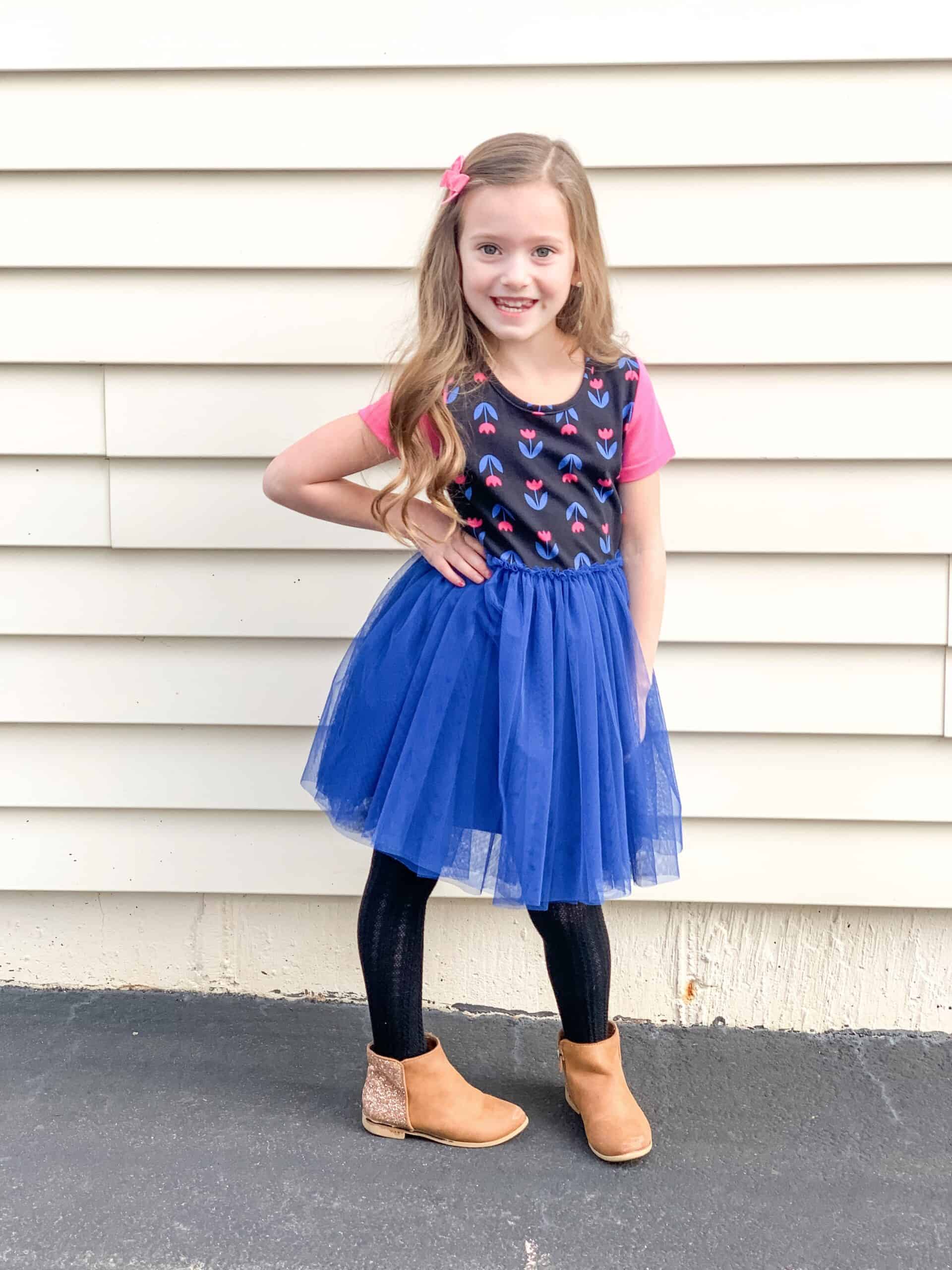 Below shoes not only the Snow white Taylor Joelle dress, but also the red Mary Janes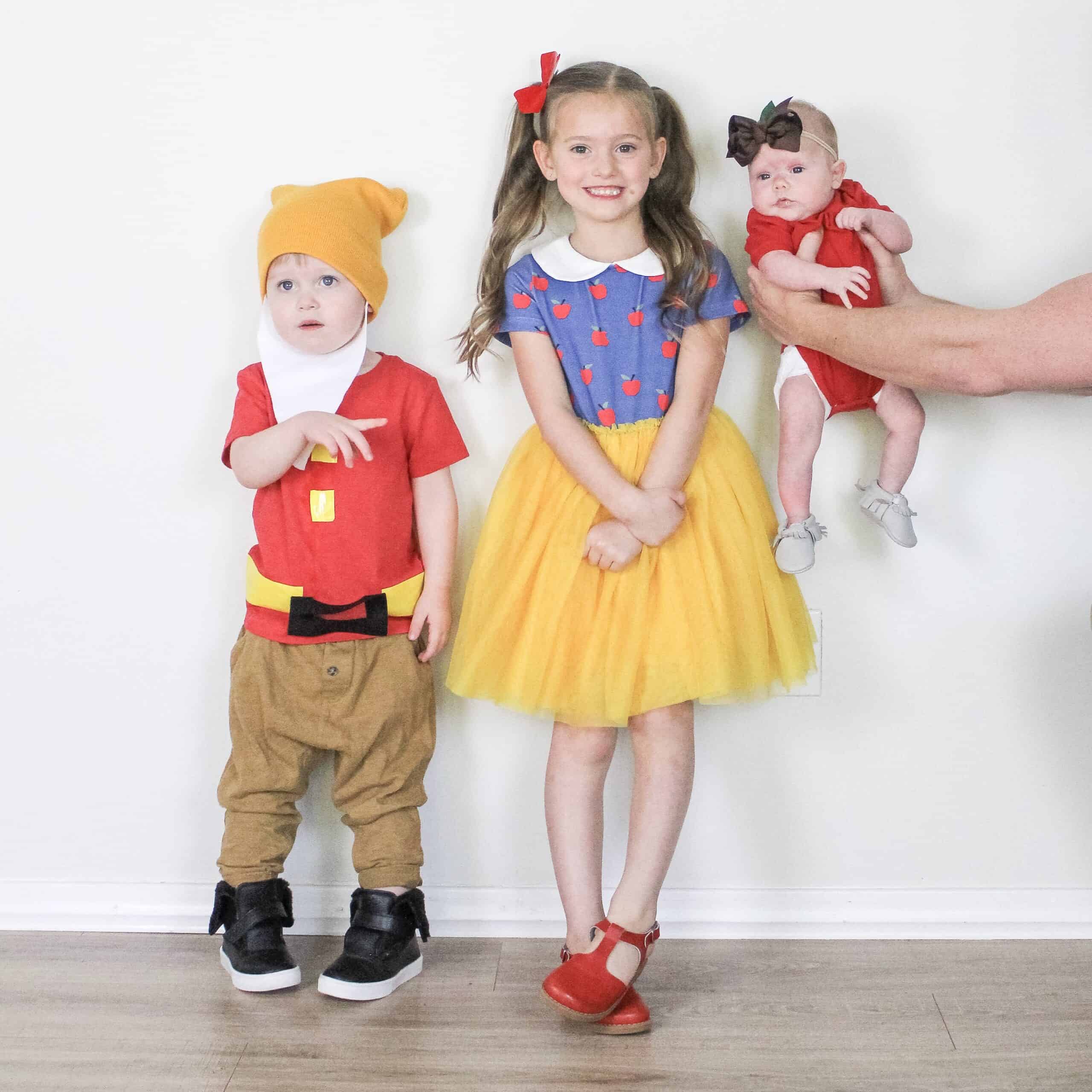 I know this round up was only Disney outfits for girls, but stay tuned for more Disney outfits this week for the whole family, and if you are looking for more ideas, here are some of my other Disney fashion posts!
Unique Disney Outfits | Disney Outfits | Disney Fashion for the family
And for lots of over all Disney tips and tricks, my friends Katie and Jen have a blog HERE that will help you save all the money and time!