What is better than finding affordable home decor? Finding it online with prime shipping! I love to shop for home decor, but sometimes the finishing touches to a room are easier found online. I took to amazon to find you guys the best affordable Amazon home finds.
Most are on the more modern to modern farmhouse, which tends to be my personal style, so take a look at what I found. As a bonus, nothing is over $100 on the first round up!! You can thank me later.
This post has been so popular, so I rounded up a second image of finds. Make sure you check both out and let me know if you have any questions!!
This post was originally posted on 5/21/18, and was updated on 2/18/20
this post contains affiliate links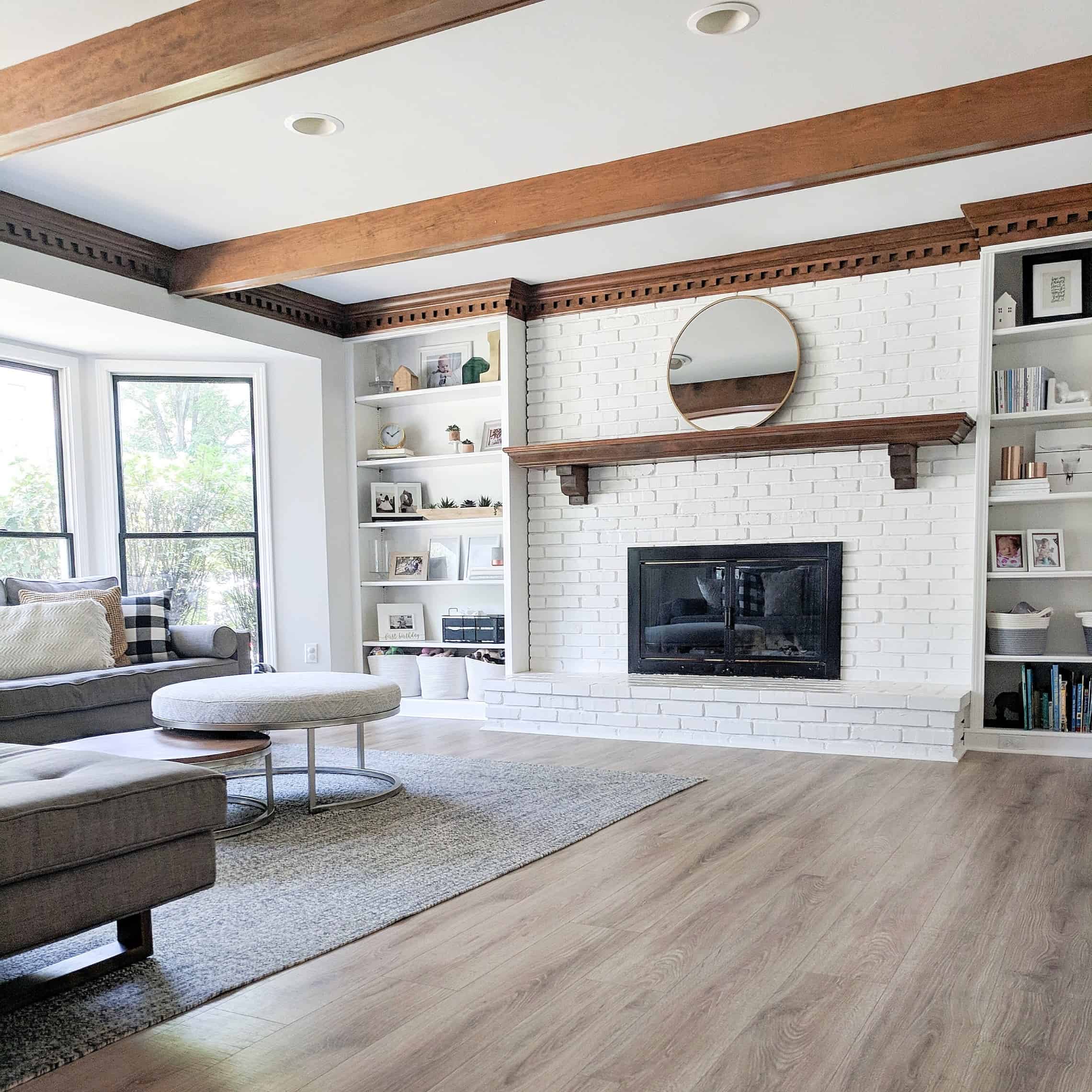 When I am shopping for my house I love finding unique finds from Amazon because although Target is a girls best friend, those items seem to be in every house. Finding hidden gems on Amazon helps to keep things unique but still affordable.
If you stick with neutrals and metallics in your home, this post will be perfect for you, and those color pallets allow you to mix and match really well.
If you check out my house tour tab you will see the I use items like this all over my home and love that I can move them room to room to change things up.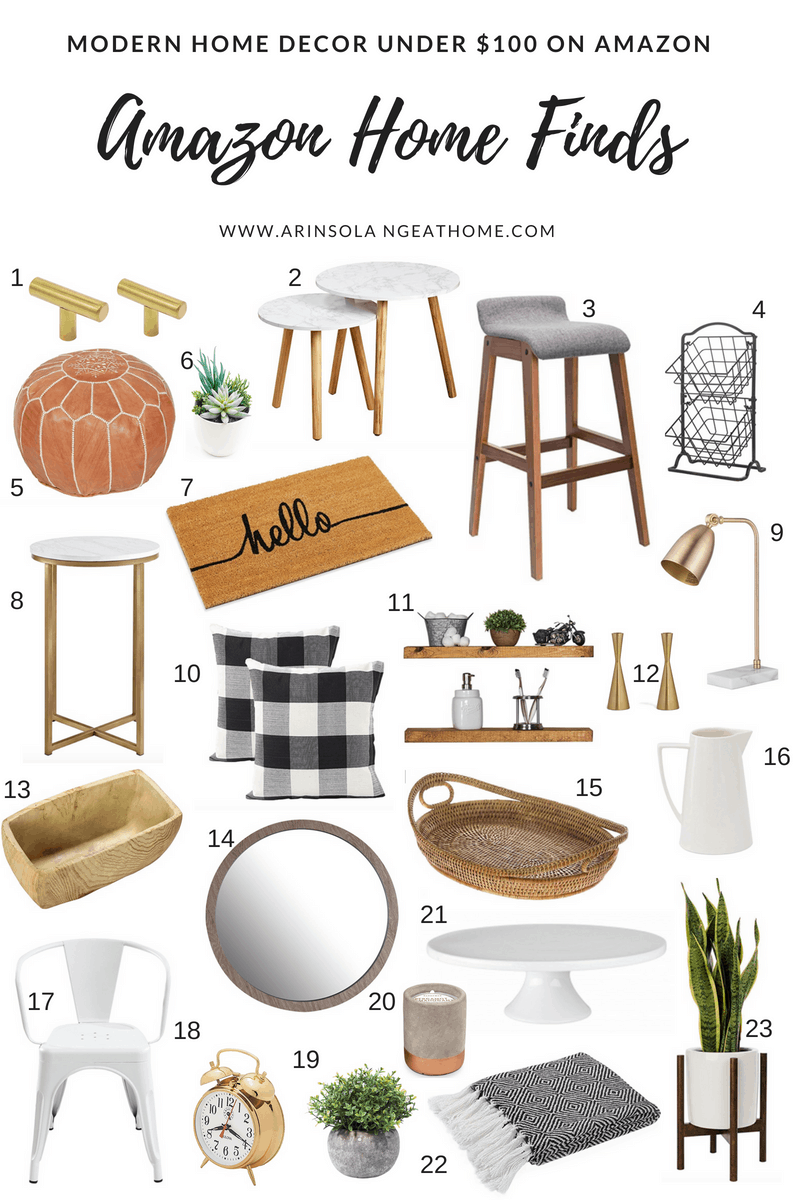 1 | 2 | 3 | 4 | 5 | 6 | 7 | 8 | 9 | 10 | 11 | 12 | 13 | 14 | 15 | 16 | 17 | 18 | 19 | 20 | 21 | 22 | 23
Affordable Amazon Home Finds
An affordable 10 pack of drawer pulls! Gold pulls are hard to find.
I love nesting tables, and as a mom round is best. These are such a cute modern look.
A 2 pack of bar stools at a steal of a price.
I am dying over this fruit basket!! I am definitely going to be getting it for my house.
This faux leather pouf is perfect for any space.
Small end table. I have one similar by a chair in our master. I love small end tables like this.
Buffalo Check pillows. If you follow me on Instagram you know I have some very similar (however I sewed my own). — CHECK OUT MORE BUFFALO CHECK DECOR HERE!
Wood planter bowl – I used one similar to this in this post and LOVE it.
Love a good round mirror
I am obsessed with Rattan and this tray is so cute!
White pitcher – perfect for flowers or for serving
Metal kitchen chairs. We personally have these! Check them out here. I have had them for about 4 years and seriously they are the best!!!
Copper and cement candle ( I have these and love them).
I am cake stand obsessed, and I love low ones like this to put by the sink.
I have been working on rounding up Amazon finds for not only your home, but gift guides and fashion. If Amazon is your place, be sure to head to my Amazon finds section and load up.
More Amazon Home Finds
This post seriously was inspired by realizing how many McGee and Co items had amazing dupes on Amazon for a fraction of the cost. One of my favorite things to get on Amazon is little decorative items. If you are searching for them out and about, you will spend SO MUCH time, so grabbing them on Amazon is ideal.
Let me know if you have any questions on these items!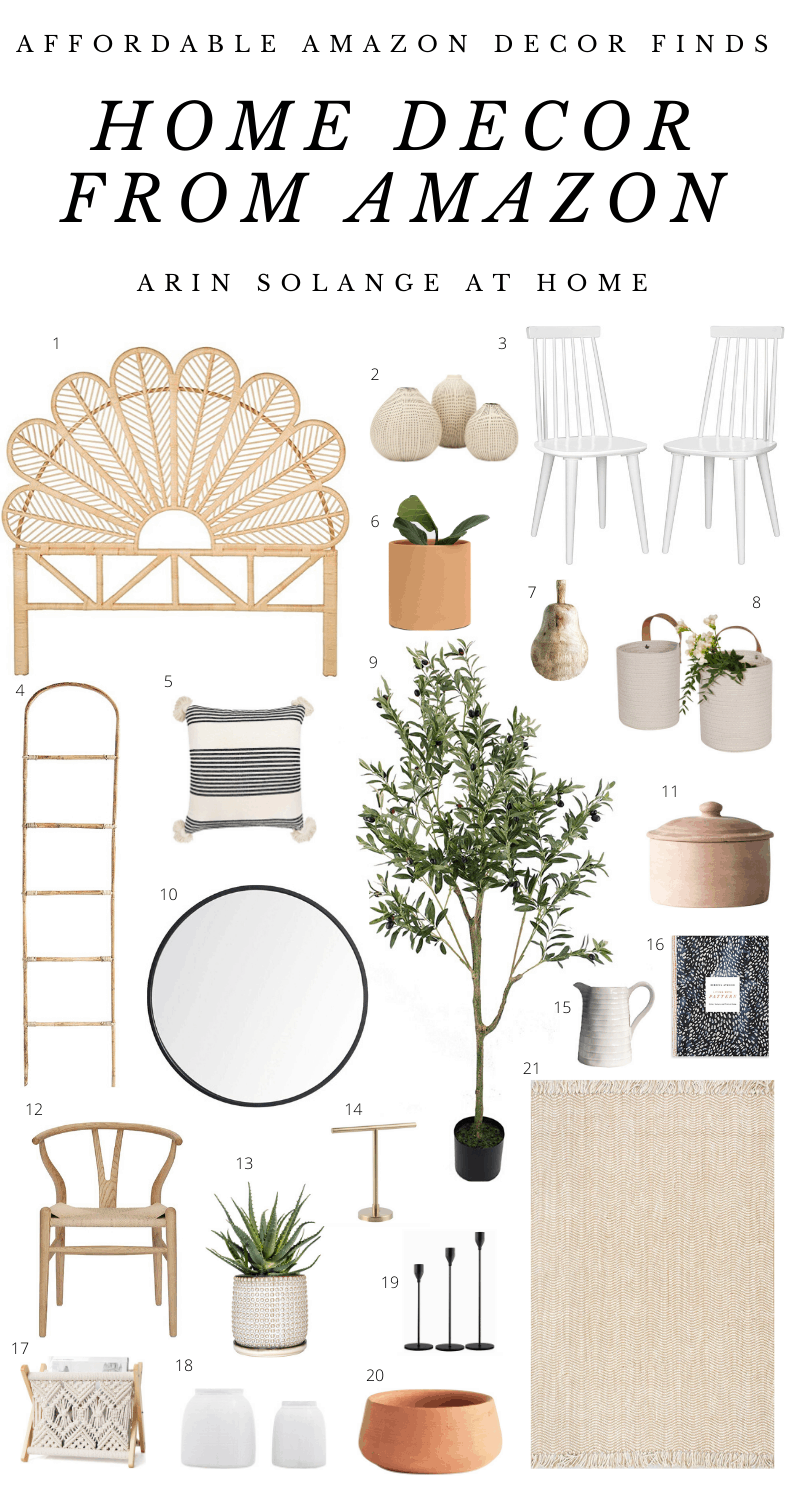 1 | 2 | 3 | 4 | 5 | 6 | 7 | 8 | 9 | 10 | 11 | 12 | 13 | 14 | 15 | 16 | 17 | 18 | 19 | 20 | 21
Rattan Headboard – Rattan is really in right now, and this is SUCH a fun way to add it to a bedroom!
Small decorative vases – these have a good amount of texture to them, which would make them gorgeous on built in shelving!
White Chairs – these are a great Serena and Lily knock off. I love white chairs for kitchens. In fact we have the ones in the first round up.
Ladder – this is the BEST dupe of a Mcgee and Co item I have seen in a while. I actually think I will grab this for our home.
Planter – I think I am going to grab this in black and terracota for some of our larger floor plants.
Wood Decorative Pear – I just grabbed this for my built ins.
Olive Tree – I have my eyes on this one. Olive trees are really 'in' right now – so definitely worth checking out!
Large Round black mirror – I love simple mirrors. This is a great price and its gorgeous.
Terra-cotta lidded pot – highly considering this also.
Chairs – these are gorgeous. They are the highest price on this round up, but they are still a really great deal and absolutely gorgeous.
Plant and planter – I again love the texture to this one.
Coffee Table book – this one is really affordable with a gorgeous cover.
Large Herringbone jute rug – I love this one and its SO AFFORDABLE
All of these finds from both round ups are such great deals for what they are, and the perk of getting items like this, is that you won't have the same thing as everyone else.
Often times I have readers or followers who think that you have to spend a lot of money to get more unique items, but thats really not the case. Especially on smaller decorative items. These items will keep your decor looking unique and on trend without being the same thing that everyone else has from Target. (but don't worry… of course I still love Target!)
for more amazon Finds Check out these posts
Amazon Boys room finds // Amazon Girls Room Finds // Amazon Lighting // Decorative Storage from Amazon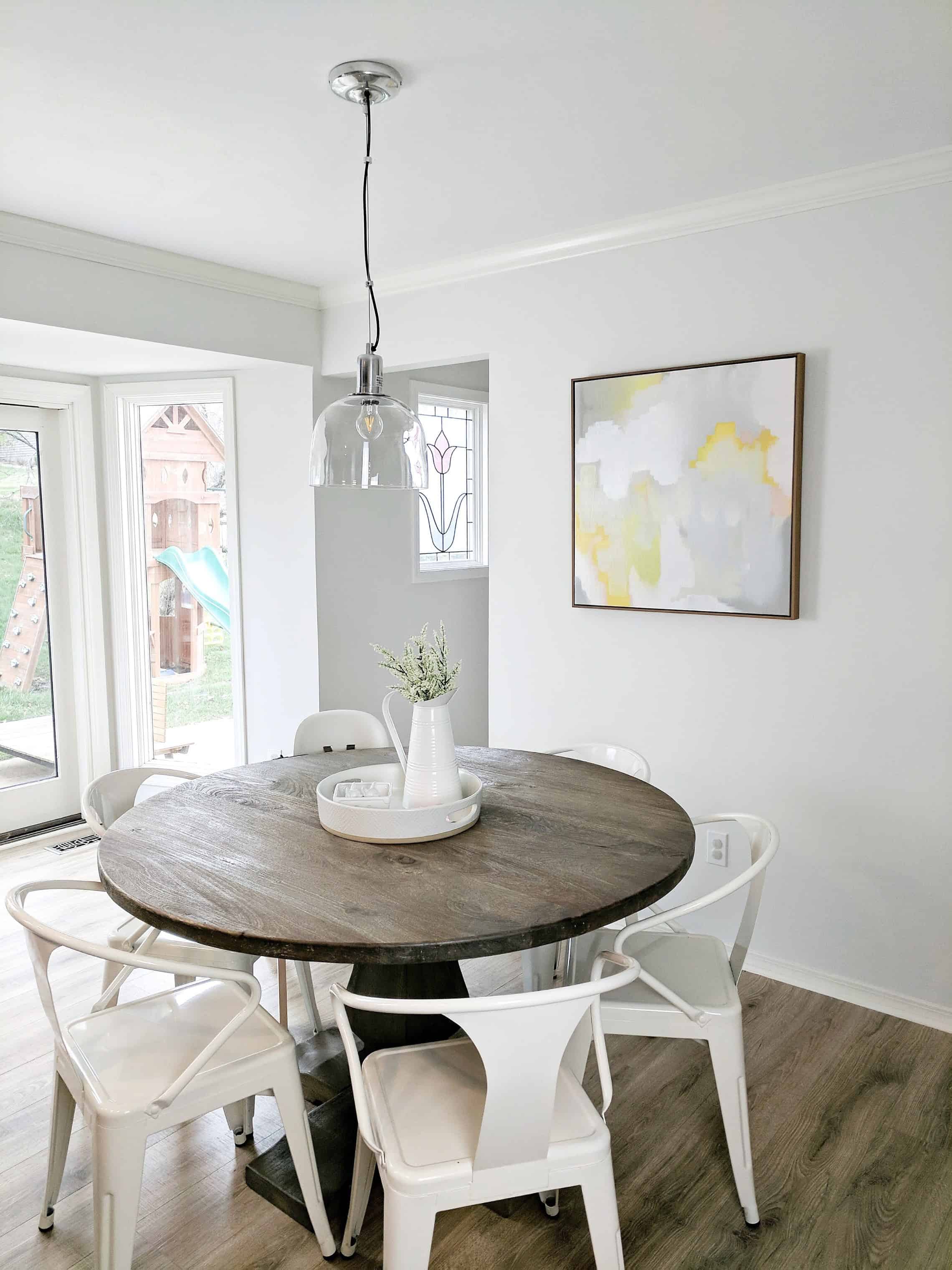 The chairs above are from Amazon!
Do you like to shop for home decor online? Are there any Amazing Amazon finds that I need to check out? I mean we all know that prime means you get to shop guilt free, so if you have found anything amazing on Amazon be sure to leave them in the comments below so I can check them out too!
SaveSave
SaveSave