What is better than finding affordable home decor? Finding it online with prime shipping! I love to shop for home decor, but sometimes the finishing touches to a room are easier found online. I took to amazon to find you guys the best affordable Amazon home finds.
This post was originally posted on 5/21/18, and was updated on 1/21 – this post contains affiliate links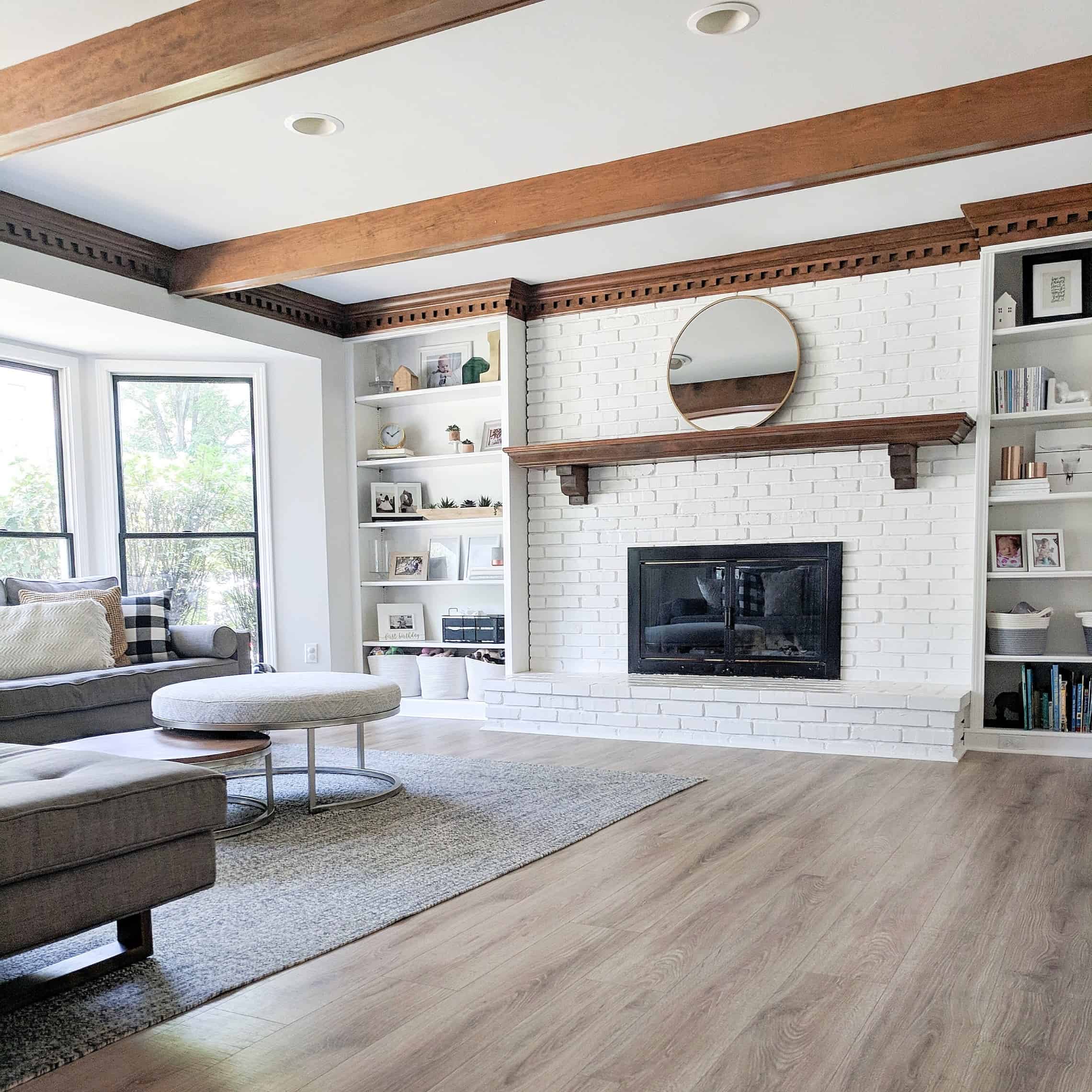 Affordable Amazon Home Finds
I am a mom of 4 little ones – so let's just say that decor needs to be affordable when possible and easily found. I think by my 3rd terror I learned to succumb to online shopping instead of heading to the store. That little man can get out of any cart no matter how tight he strapped in!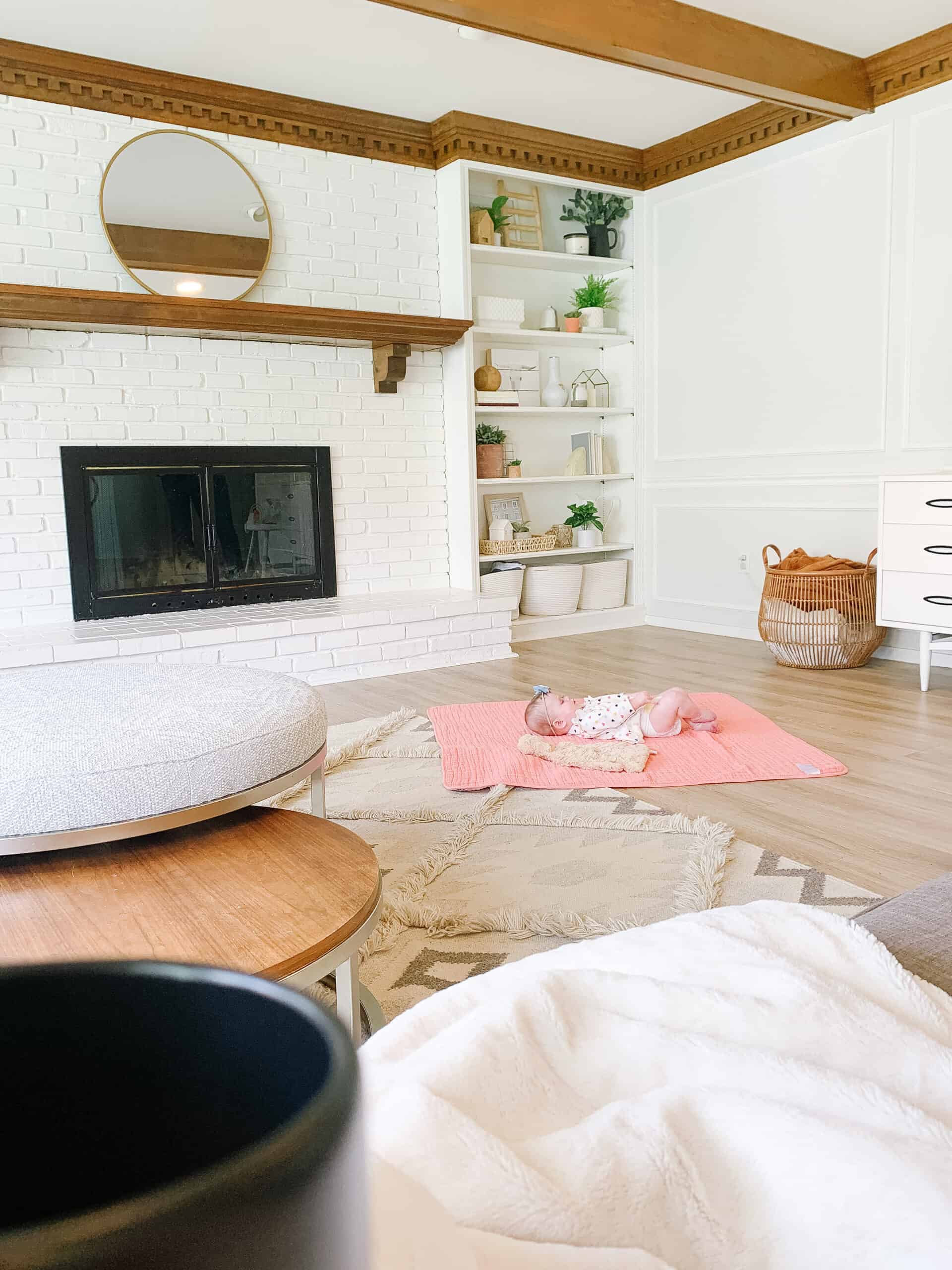 When I am shopping for my house I love finding unique finds from Amazon because although Target is a girls best friend, those items seem to be in every house. Finding hidden gems on Amazon helps to keep things unique but still affordable.
If you stick with neutrals and metallics in your home, this post will be perfect for you, and those color pallets allow you to mix and match really well.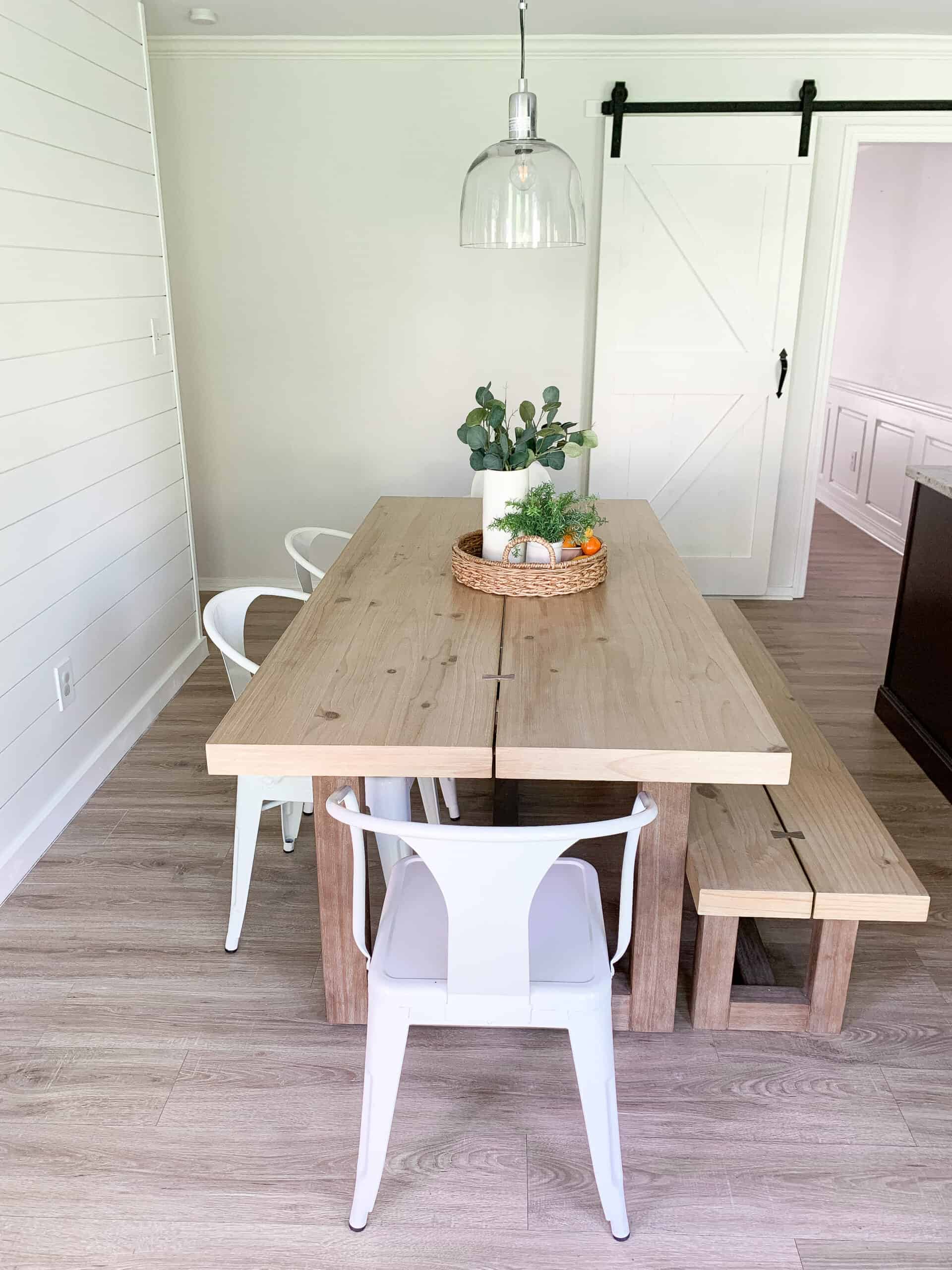 If you check out my house tour tab you will see the I use items like this all over my home and love that I can move them room to room to change things up.
Check Out the Video Below for More
This post has become so popular that I have started to round up weekly Amazon finds – be sure to check out this tab to see them all, but I also have been sharing them to my Amazon store front for easier shopping.
If Amazon is your jam check out that page – and if you are a fan you can bookmark it to check back often for what I am sharing and loving!
My Amazon Storefront | Other Amazon Finds here on My Blog
I have also done another Amazon Home Finds Posts you can check out here!
Natural and Neutral Amazon Home Finds

Studio McGee Inspired Amazon Home Finds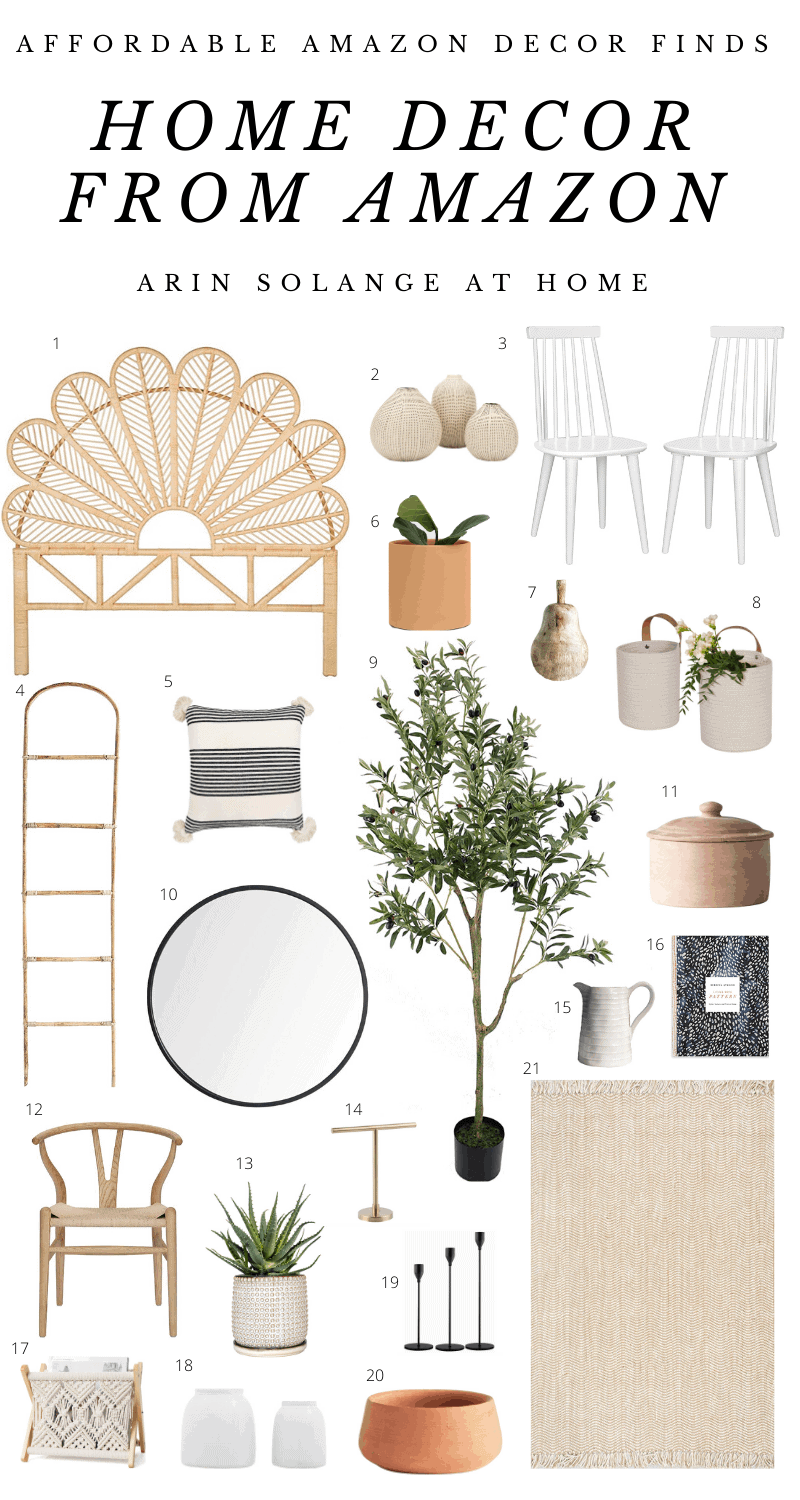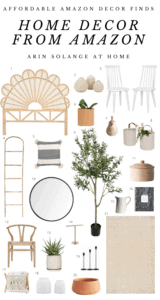 Now onto the round up – This round up has lots of farmhouse vibes with crossovers that can make it modern. I am a firm believer in mixing items from different styles to create a gorgeous home, and the items below will do that.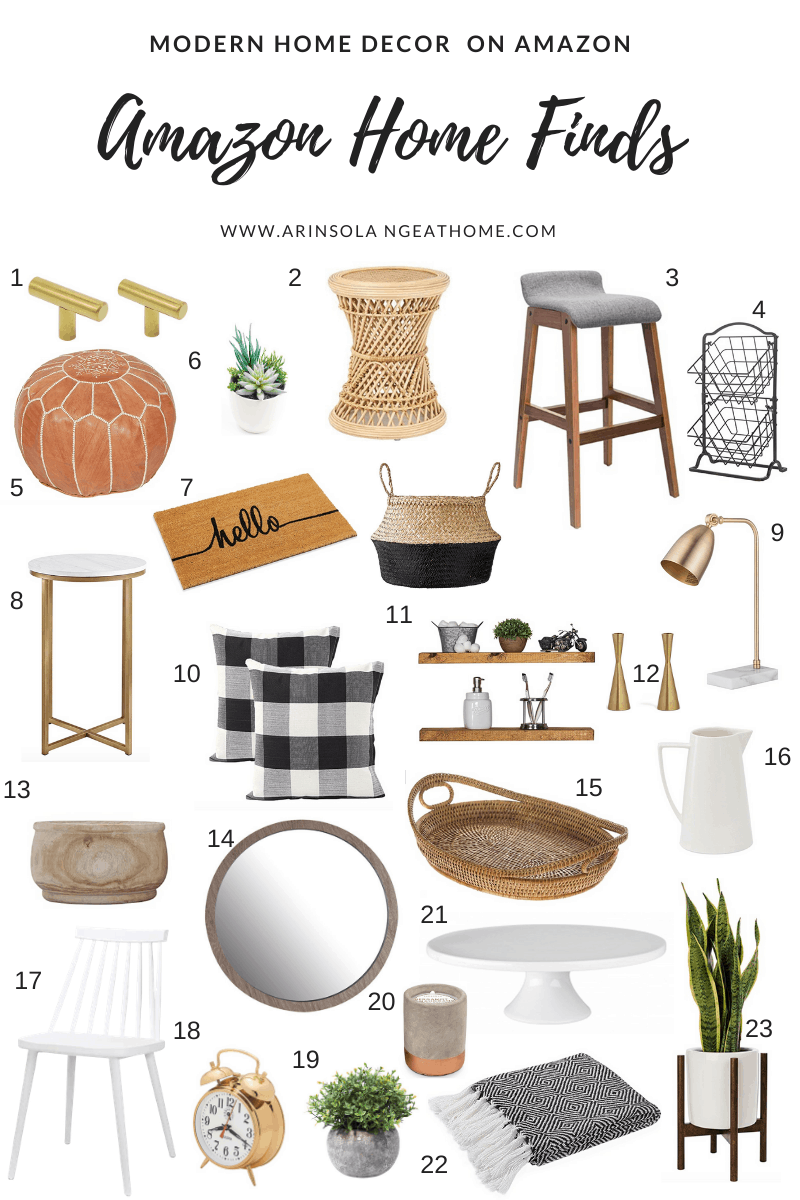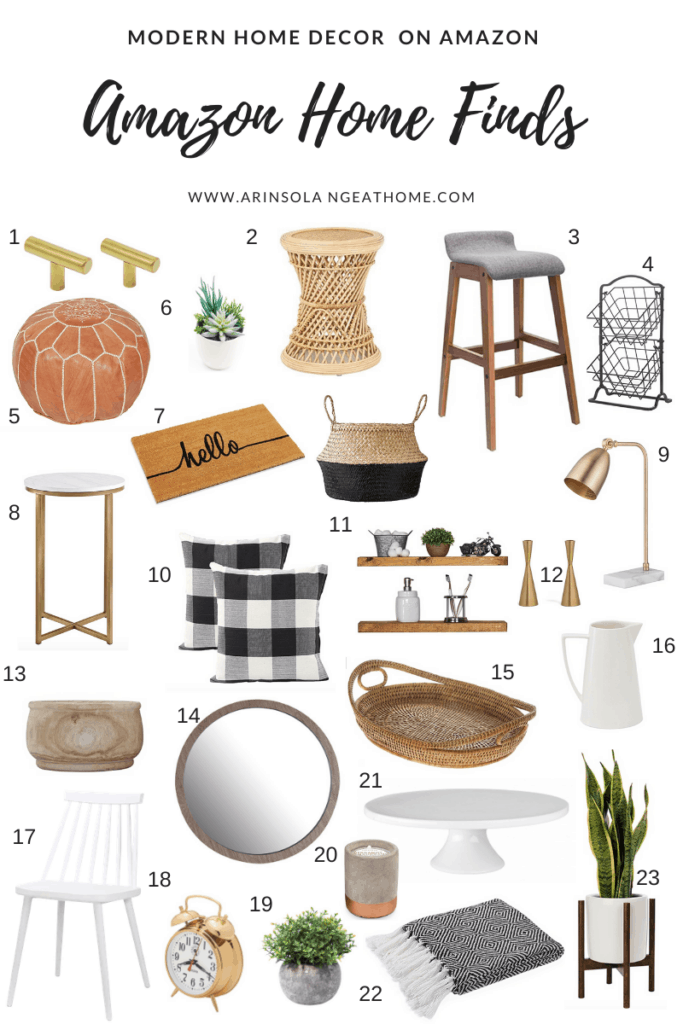 Shop Amazon Home Finds
1  |  2  |  3  |  4  |  5  |  6  |  7  |  8  |  9  |  10  |  11  |  12  |  13  |  14  |  15 |  16  |  17  |  18  |  19  |  20  |  21  | 22  |  23 – as a bonus that black basket that still doesn't have a number!
1. An affordable 10 pack of drawer pulls! Gold pulls are hard to find. – I actually ended up using these here in my powder room and LOVE them.
2. I love the look of rattan and adding some to each room can really warm it up while keeping it modern! This Side table is perfect for that.
3. A 2 pack of bar stools at a steal of a price.
4. I am dying over this fruit basket!! I am definitely going to be getting it for my house.
5. This faux leather pouf is perfect for any space.
6. A small potted succulent (similar)
7. Hello Door mat.
8. Small end table. I have one similar by a chair in our master. I love small end tables like this.
10. Buffalo Check pillows. If you follow me on Instagram you know I have some very similar (however I sewed my own). — CHECK OUT MORE BUFFALO CHECK DECOR HERE!
12. Gold candle stick holders.
13. Wood planter bowl – I used one similar to this in this post and LOVE it.
14. Love a good round mirror
15. I am obsessed with Rattan and this tray is so cute!
16. White pitcher – perfect for flowers or for serving
17. White chairs – white chairs are a great simple way to update your kitchen and make it look cleaner and brighter
18. Clock
19. Small faux plant
20. Copper and cement candle ( I have these and love them).
21. I am cake stand obsessed, and I love low ones like this to put by the sink.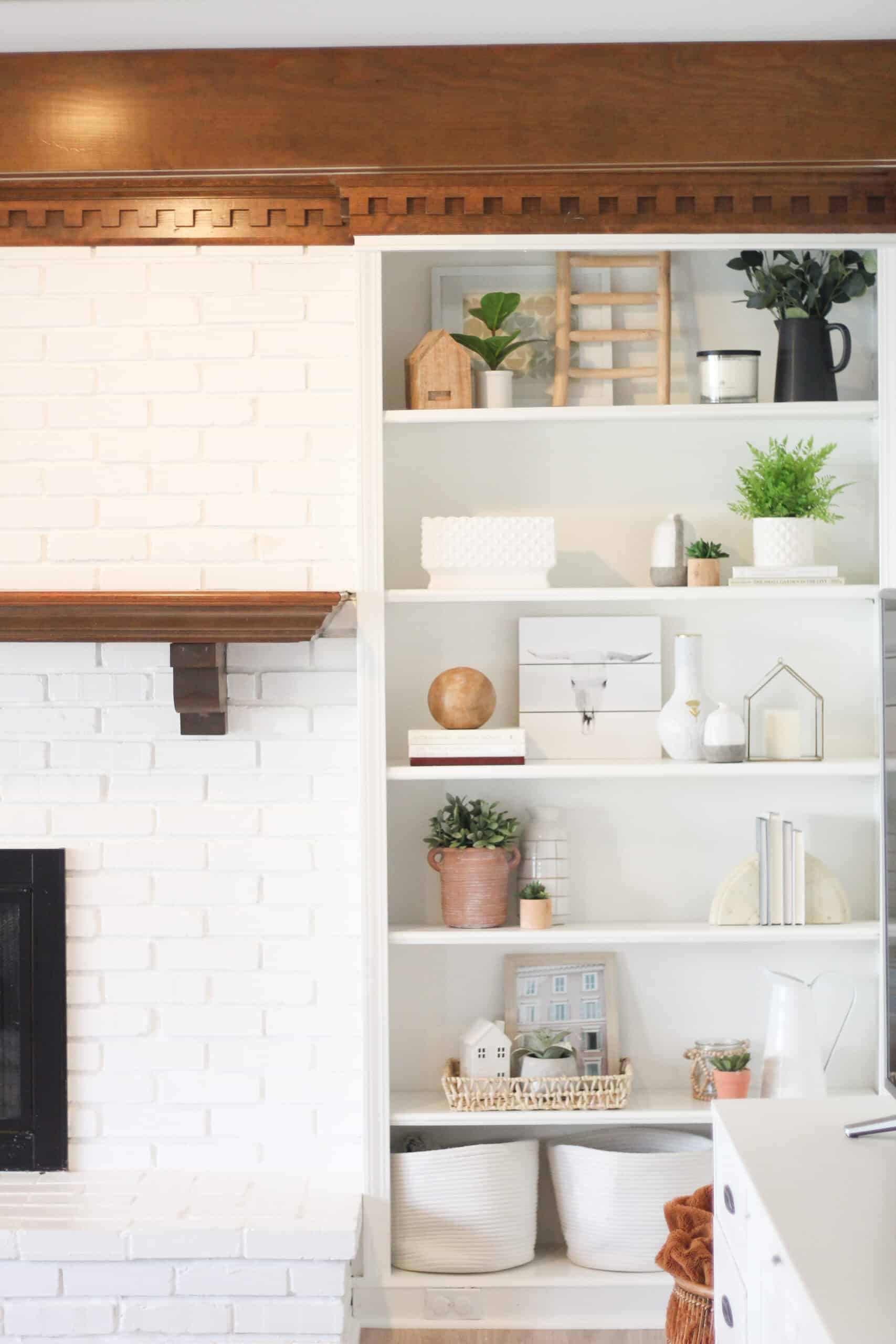 All of these finds are such great deals for what they are, and the perk of getting items like this, is that you won't have the same thing as everyone else.
Often times I have readers or followers who think that you have to spend a lot of money to get more unique items, but thats really not the case. Especially on smaller decorative items.
These items will keep your decor looking unique and on trend without being the same thing that everyone else has from Target. (but don't worry… of course I still love Target!)
for more amazon Finds Check out these posts
Amazon Boys room finds // Amazon Girls Room Finds // Amazon Lighting // Decorative Storage from Amazon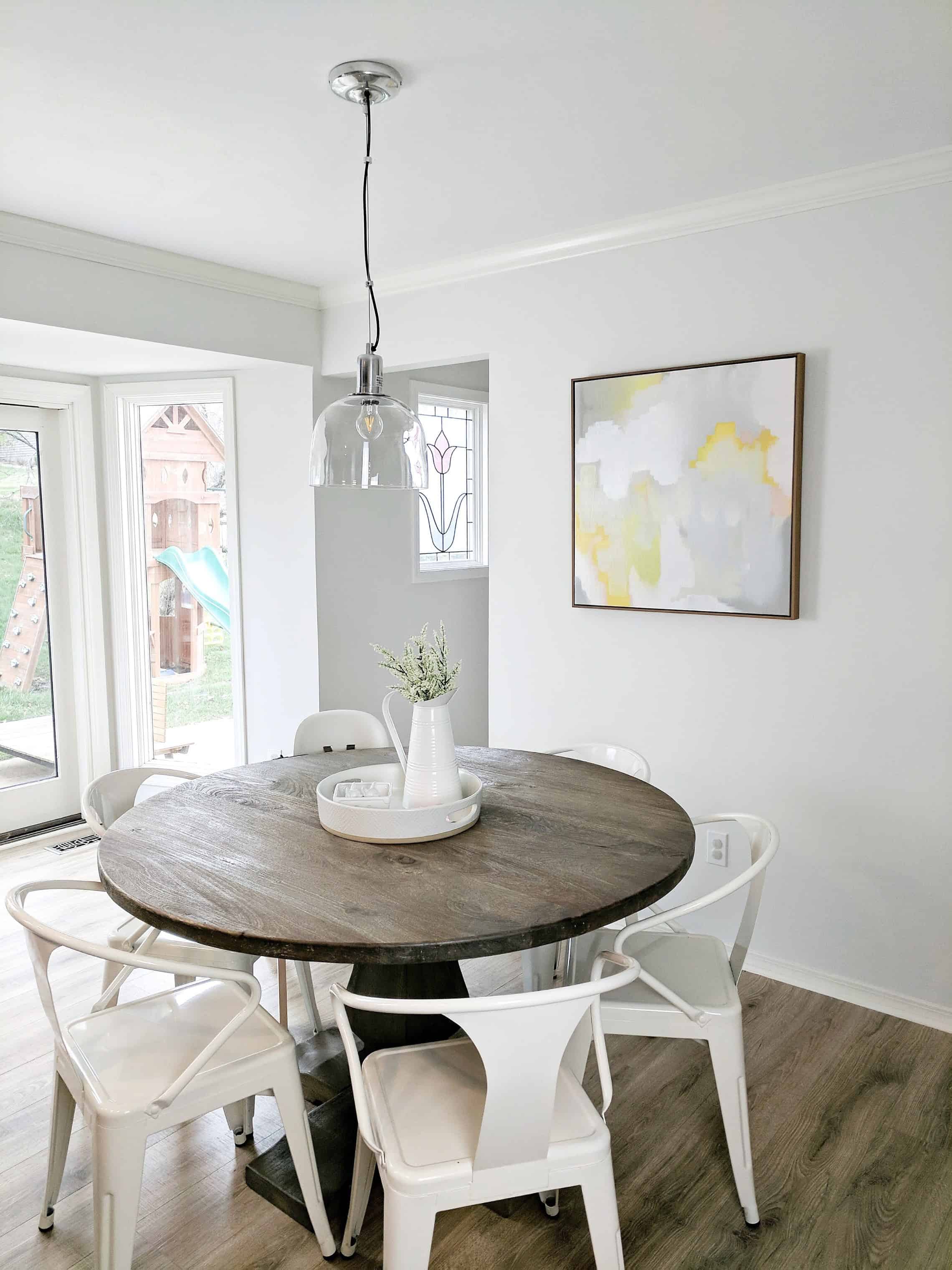 Pin the Picture Below for Later
Hopefully you found some new decor find that you love in this post, and if you have any questions feel free to leave a comment below! Be sure to follow me on Instagram (@arinsolange) for more fun Amazon finds and home decor!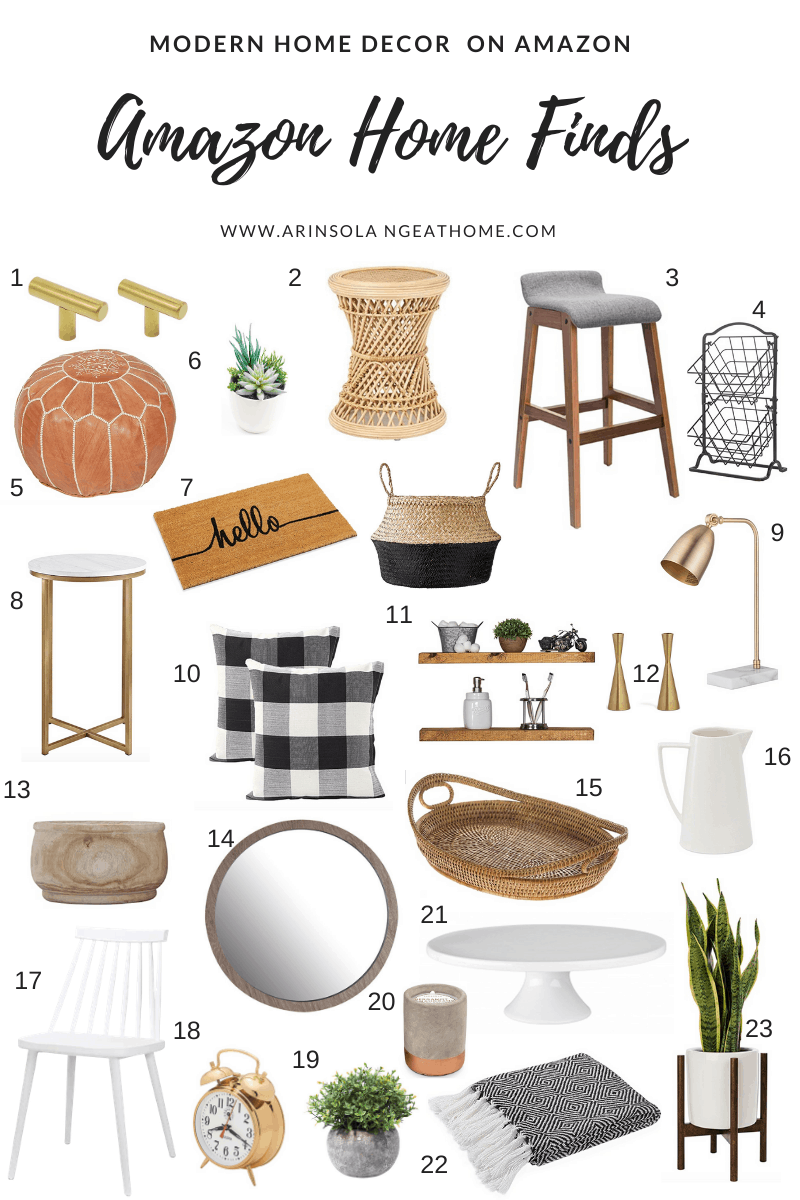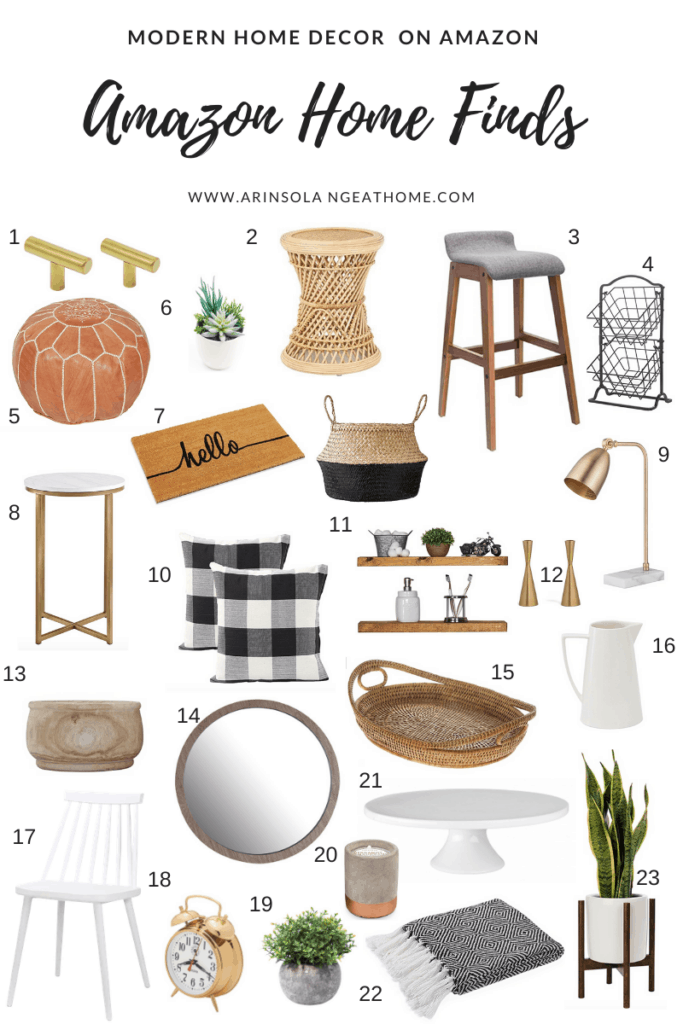 SaveSave
SaveSave