This post was written in 2020 and updated in 2023.
Every January, my friend Jen and I do a declutter and organization challenge, that has helped us clear out EVERY area of our homes. One of the areas we had to tackle this week was kid's paperwork and school work. This post is going to walk you through my kids school papers storage bins, and all things organizing to get there.
This post contains affiliate links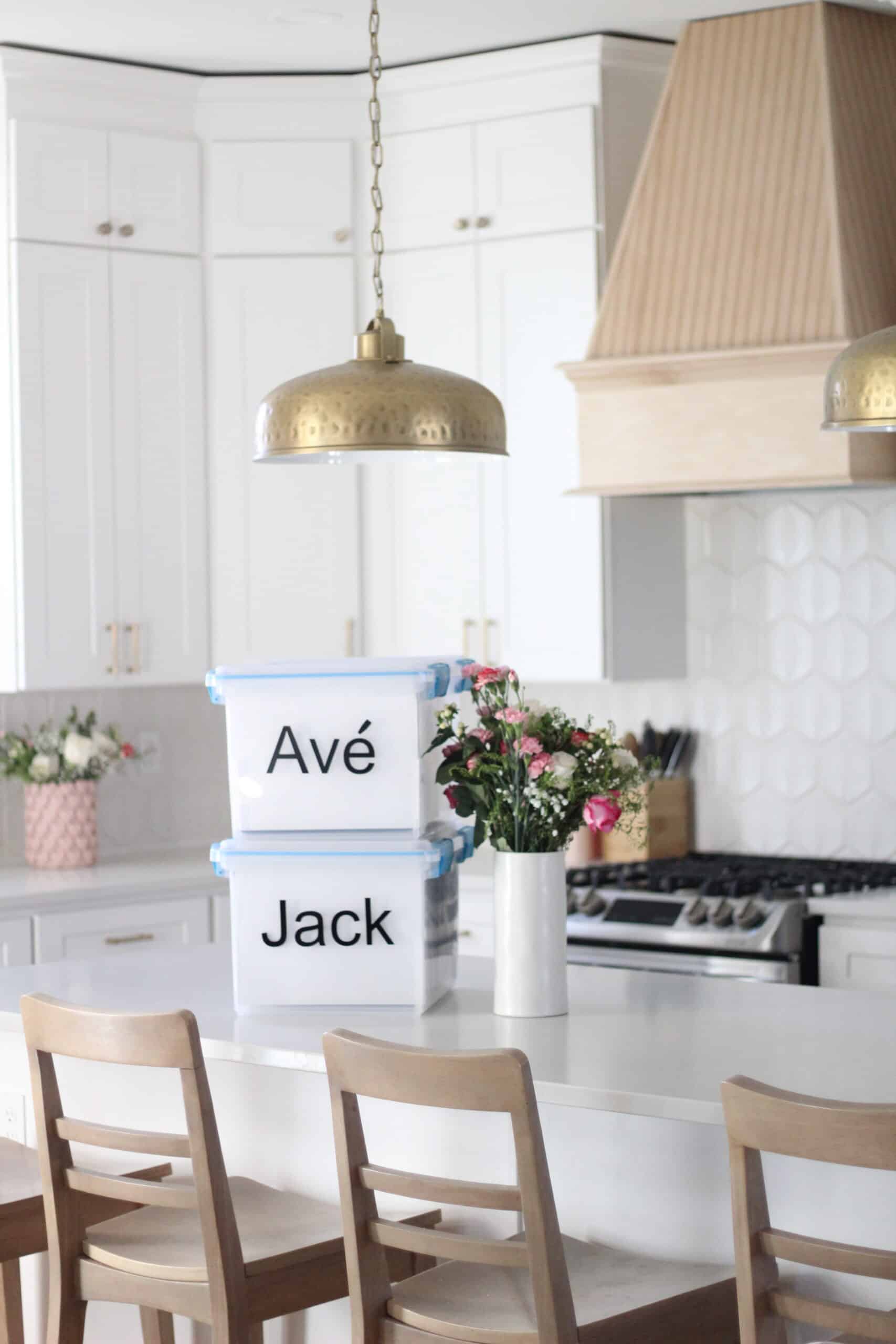 I got on my Instagram stories to show how we go about organizing those spaces with our kids, and my followers seemed to really love it, so I wanted to get it on here to show up close.
I talked about organizing bills and paperwork a few years ago, but I will go more in depth in this post. And if you're more of a visual person, you can check out my Instagram Story that shows my process for organizing paperwork.
Kids School Papers Storage Bins
When my oldest, Jack, started school around 2 years old, I realized we were going to have a TON of school work and papers, and really wanted a good way to store it. If it went in his keepsake bin, full of other special things I knew it would be a disaster all the time.
Basically I came up with the idea (likely from seeing it on Pinterest or something) to do file boxes for my kids for all these papers. It has helped keep things organized and allowed me to store the items I love in a safe place.
Before I get into how I organize the bins, and what goes in them, I want to talk about my process of getting TO the bins.
Daily School Work Storage
When my kids come home from school each day I empty their backpacks into a storage bin on the "command center" wall in our laundry room. This bin holds their library books, and basically all things school.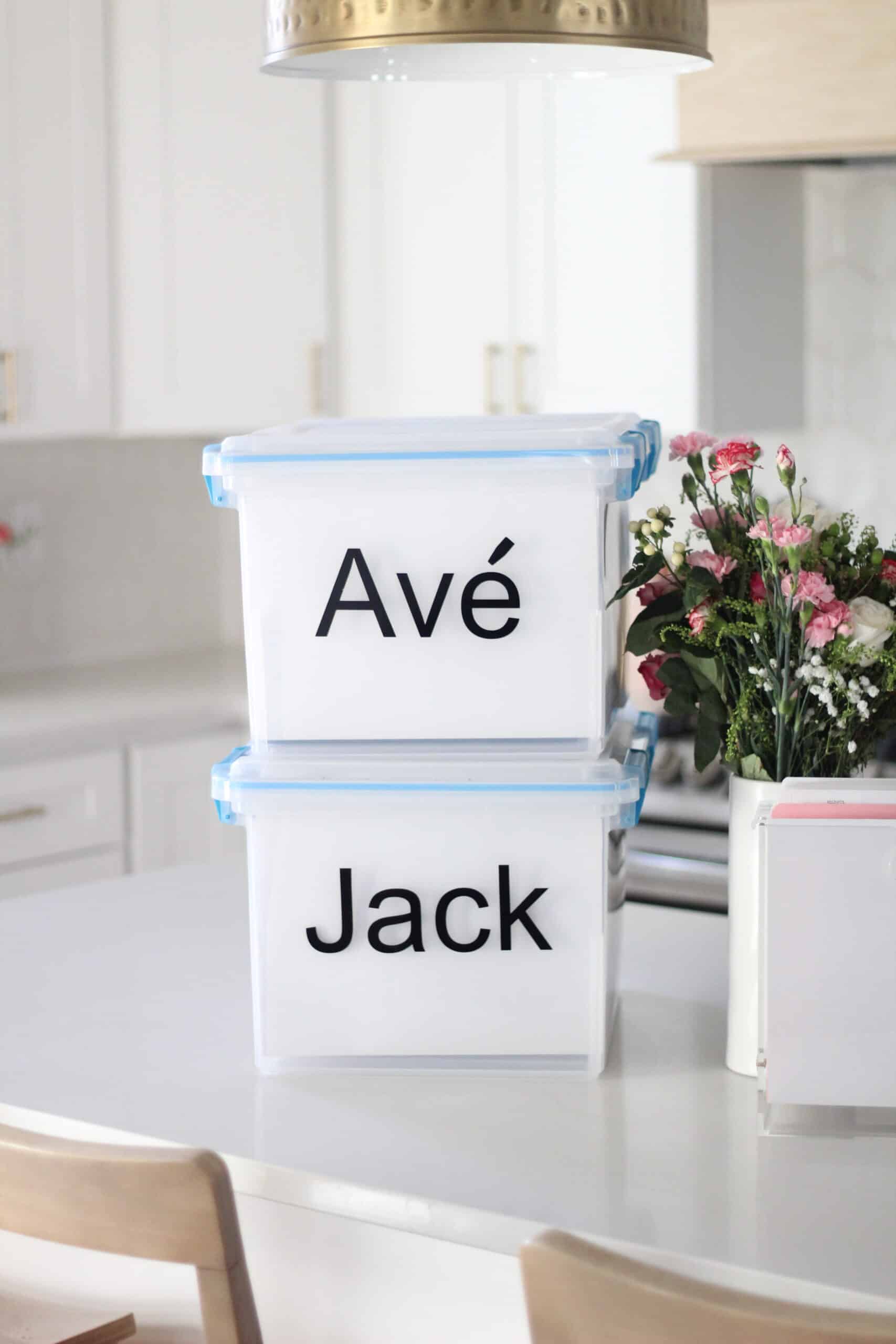 I know that I will never keep all of it, but during the busy week days I don't want to have to think about it. So it all goes in the bin.
As that bin gets full I take everything out and typically 99% of it goes straight in the trash. The items that I want to keep at that time go down to their bins.
How the Bins are organized
One thing that I do a bit differently from a lot of these bins, is how I organize the front couple of slots. Each child's bin has files for Doctor, Immunization records, School Papers, and anything specialty ( Therapy, Allergist, so on).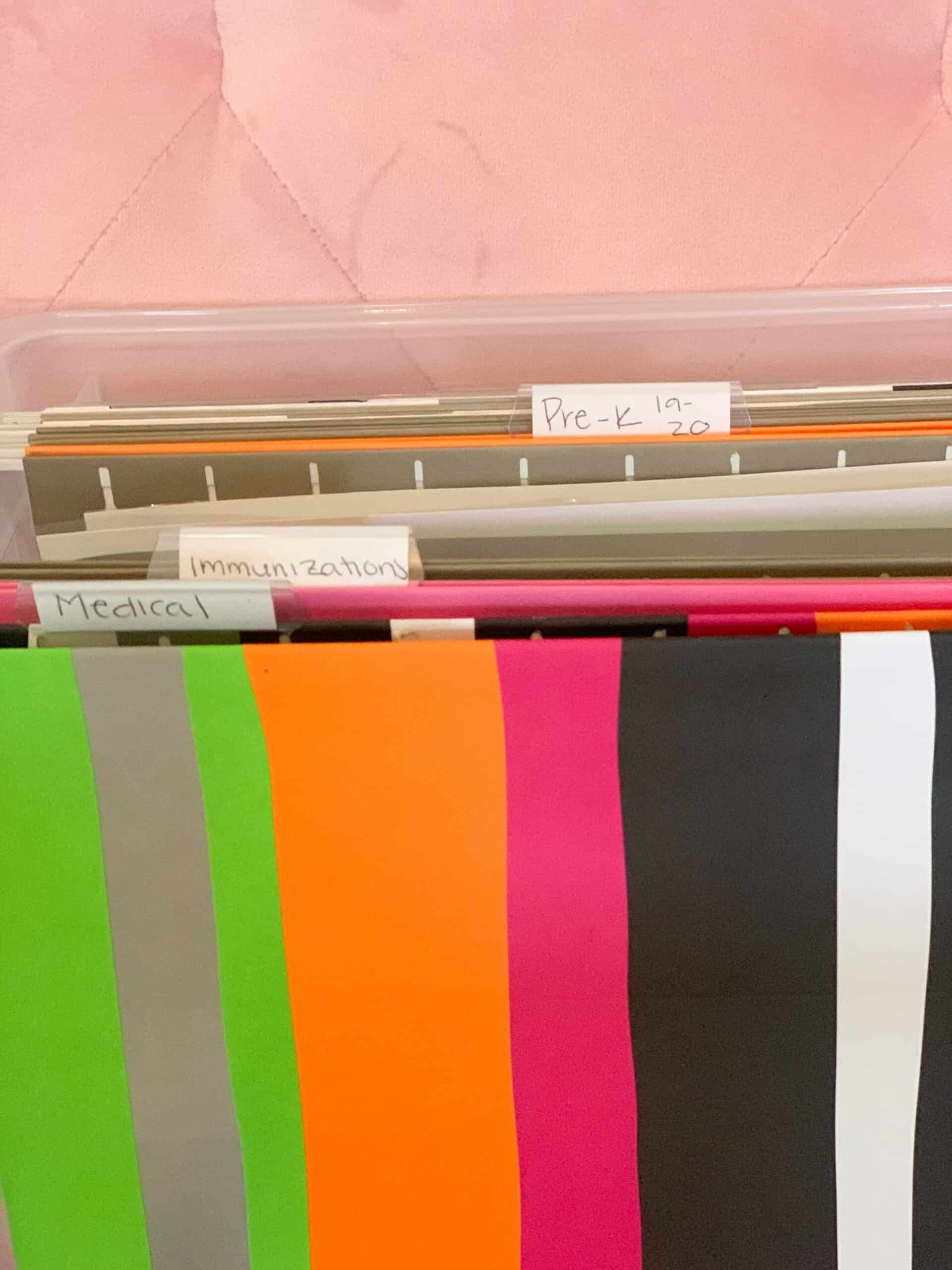 After that I start into the file folders per grade. So essentially pending the grade yours starts on you will have Pre-k and anything up. I write both the grade and the year just to keep things a little easier down the road in case I am looking for something from a particular year vs a school grade.
What goes in each file
The files have anything and everything flat or paper-ish from that school year. It doesn't have to be school related. It could be special birthday cards, a ribbon from a dance recital, school pictures, yearbooks, sports pictures, and then of course special items from school.
I don't keep a ton of "stuff" from my kids, but I do always have a good mix of items from school and outside of school in the bins. Last year Jack made an adorable book at home that I kept.
When putting the last load into a certain grade (say when putting the last load of things into the 1st grade file), I look through the file from a year or two before to see if there are things I kept that might have been unnecessary long term.
Maybe something was mind blowing at the time, but I no longer felt I would love looking back on it. I know that realistically my kids and I won't want to look back on TONS of paperwork type items from school, so I am very picky about it.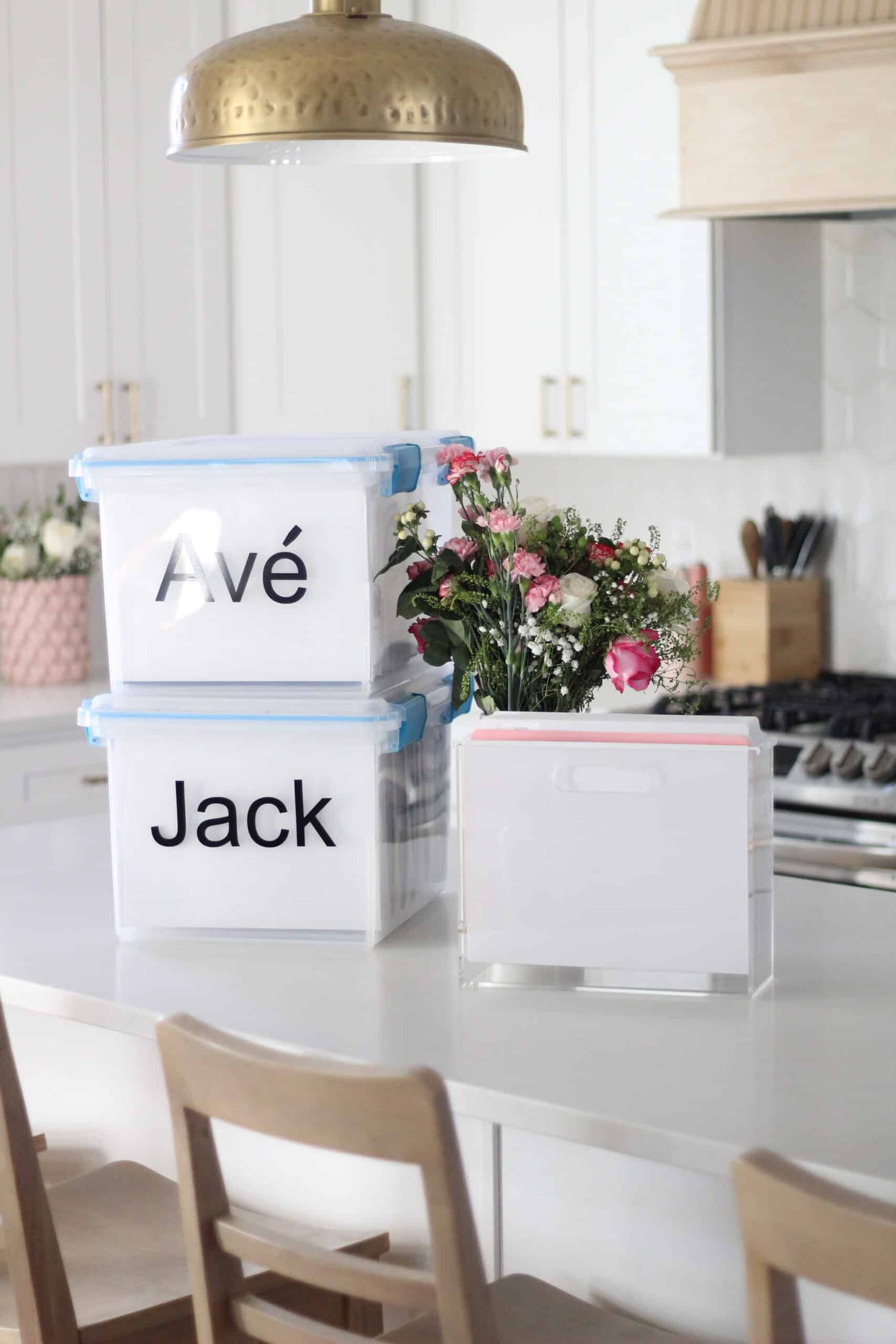 This is just my process. You have to find what works best for you. These bins go in our storage room, and it has been something I can keep up with that works well. But the most important thing is to simply find something that you can maintain for your kids.
Kids come with a lot of STUFF, and keeping it organized is no small feat. I've also written about organizing closets , bedroom organization ideas, and my favorite toy organizer.
In the mean time, I hope you find these kids school papers storage bins helpful and they keep things tidy from the start!
Other Posts You'll Love
Organizing Bills and Paperwork  |  Easy Built In Home Desk  |  How to Declutter Your Home | Living Room Toy Storage
I hope this post gave you some great inspiration to create a system to organize your kids' schoolwork and beyond!  If you're looking for more great organization items, make sure you follow my Amazon Storefront. If you have any questions, feel free to leave them in the comments section, and follow me on Instagram @arinsolange and Tik Tok for more home, decor, and DIY.
Pin the Photo Below for Later