Trucking right along with 6 bags for 6 weeks, and I am sure I am not alone when I say, I am loving the results, and also am a little ready to be done. The end to anything like this can start to be hard to push through, but try your best. These last couple of weeks are HUGE for making it successful. This week I am going to talk easy toy organizer methods and options.
This toy organizer post contains affiliate links
The Best Toy Organizer
I get asked what is the best toy organizer all the time. Which honestly is not an easy question to answer, because my answer IS ALWAYS – that depends on the space you are organizing.
But in this post I am going to talk to you about the best toy organizers I have found, and some great methods for keeping your toys and play spaces tidy. As a reminder, my post for last weeks 6 bags for 6 weeks post was all about keeping toys in your Living area organized, so this post will not talk about that at all!
If you are looking for ways to organize toys in those living spaces head to that post – a little disclaimer – I AM VERY passionate about that topic. I think that its very much a reality to have toys in your living spaces, as well as your play room and both can stay organized with the right methods.
I will definitely dive into other aspects of toy organization in areas like the garage and such as this spring goes on so be on the lookout for that, and make sure you are signed up for my emails!
6 Bags for 6 Weeks
Before I get going on this – I want to recap what 6 bags for 6 weeks is, incase you are scratching your head about this. Basically, my girl Jen and I created a great method for decluttering and organizing your house that helps you to declutter every room in 6 weeks and get rid of 36 bags of stuff.
If you want to read more about that and get the documents head to this post!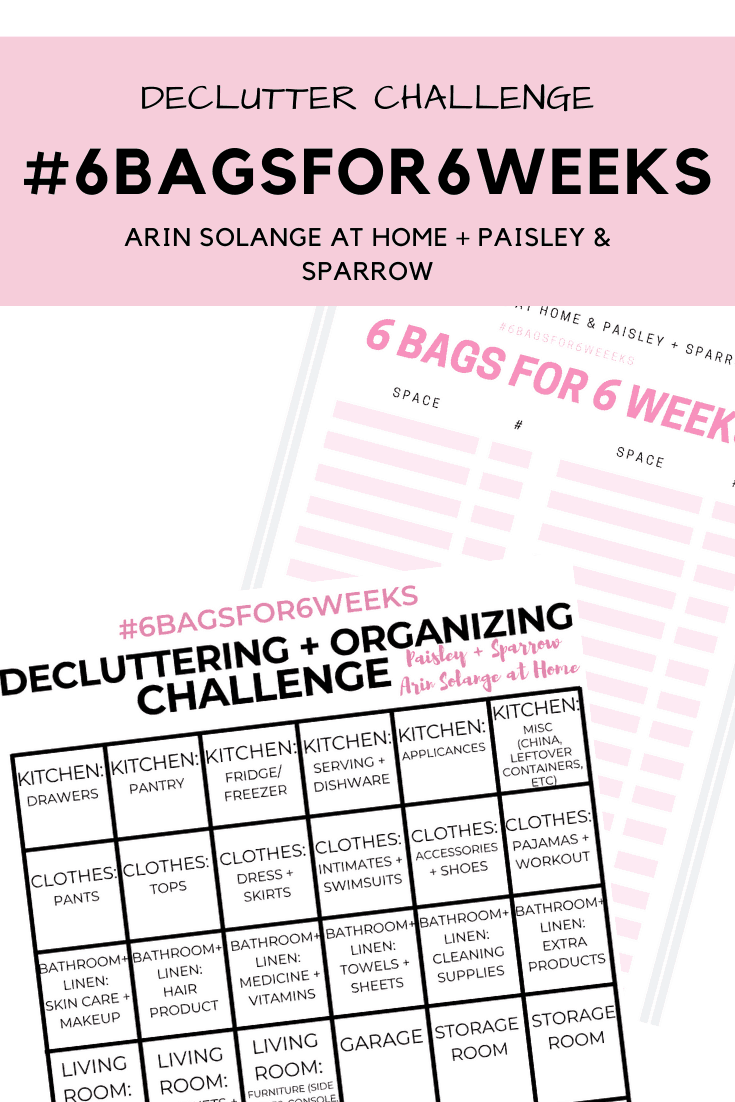 Weekly Giveaway and Partner
This week we're giving away a $50 to Joy Creative Shop – a high end personalized stationery and gift company.
Along with the giveaway, we're so excited to introduce you Stephanie from Honestly Mommy! Stephanie is not only an amazing blogger but she's also a personal friend! She's a mom of 3 with one on the way and shares all sorts of amazing content for mos. Be sure to follow her on Instagram and check out her blog!
As well as that, Jen has a KICK BUTT post on organizing all things kids. Like I am talking she hits on everything, so check out her post here!!
Decluttering Toys
Since this is a decluttering challenge, I want to touch on how I declutter toys! I personally don't do a toy rotation, however that is a great alternative option to getting rid of as many.
When it comes to toys – 1 thing I talk about below is picking a container for a certain type of toy (say cars), and if you have too many to fit in that container you likely have too many. Most of the time you don't need 100 of one certain thing.
Pair down to just a few of like toys as a first order of business. There are items you need more of for kids to play, but most of the time you have too many of almost everything.
If your kids don't play with it – DONATE IT. Sometimes thats painful because it was something you thought they would love. Or its cute, or expensive, or the list goes on. I have gone through that a lot, but the reality of it is, if they don't like it you shouldn't keep it.
You can always sell the nicer items to feel like its not such a loss.
I do get asked how do I actually go about decluttering – I do it in a couple of sweeps. I first declutter one time just to get rid of the obvious. I then get the kids involved and we do a second sweep.
I let them help and talk to them about how we need to give to those who need. I know they are kids, and won't be as apt to give items away so I try to give away some before they get to this, while still incorporating the learning.
The hardest thing for most kids is stuffed animals – when I purge stuffed animals I hide them in a bag in my closet for a few weeks first because I don't want to take something they actually are attached to. We also TRY to have a 1 in 1 or 2 out rule, but it doesn't always work.
When it comes to decluttering toys, just remember – you will likely always have more than you want, and it seems as though they reproduce, so it is a job you will want to do a few times a year!
Small Toy Organizer
One thing I have learned recently when it comes to organizing kids toys is that choosing containers with lids tends to be a better way to go. Kids tend to just dump to find. So although it can make clean up slightly longer, having like toys in container that have lids does help contain the mess.
You have all seen me talk about these bins that I am OBSESSED with, that originally started out as craft bins, and have now turned into everything bins.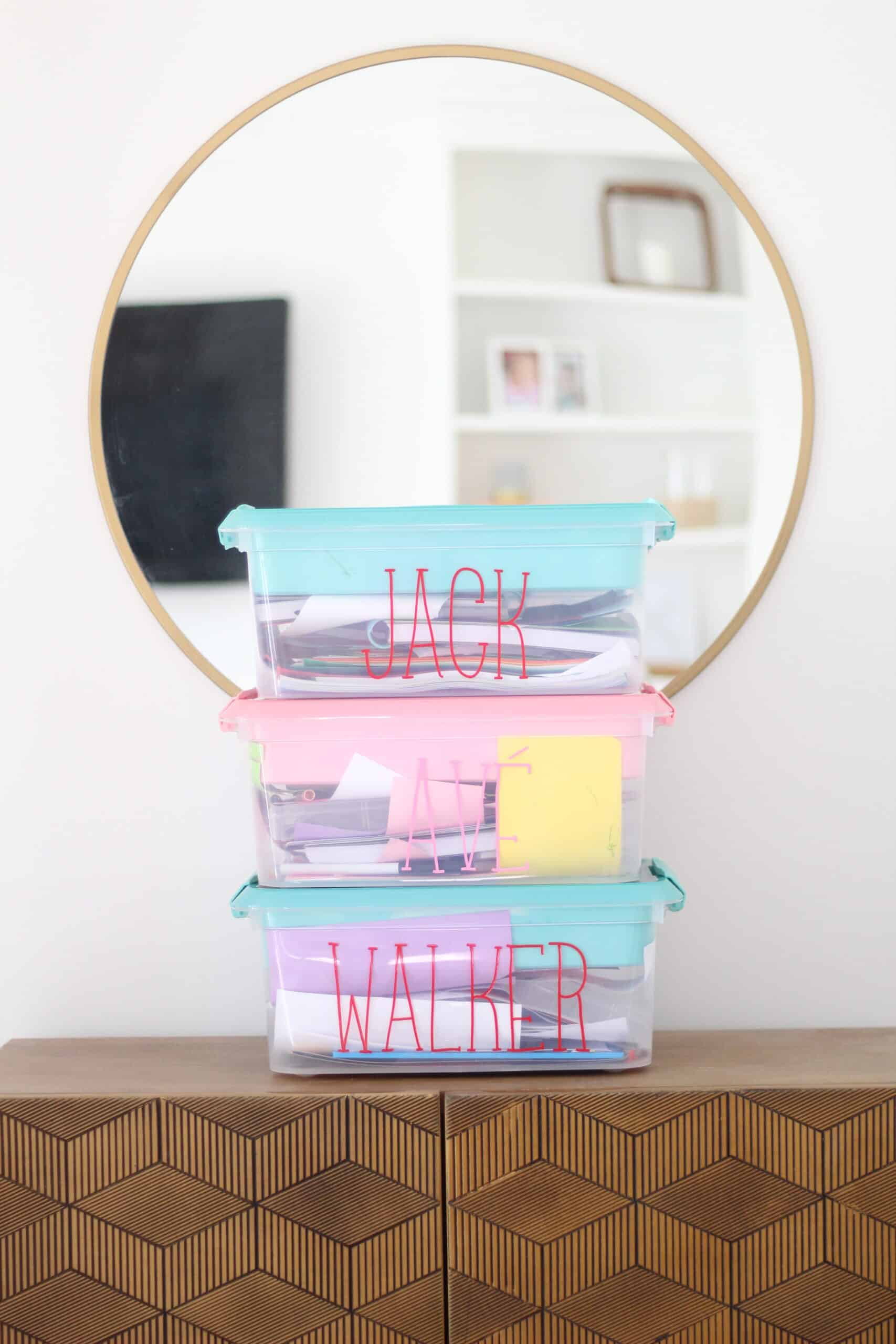 The reason these specific bins are so great is that they have latches to fully close, and you can fill the bottom with larger items then the top with smaller items. So things like LOL dolls, Barbies, coloring supplies, and etc can all be in one bin but not fully mixed up where the small pieces just fall to the bottom.
I am using the bigger size for Barbies because Avé has so many, and the smaller size for several other things in the playroom currently.
For the items that are all one size, or just a mix I chose the same containers without the top organizer shelf and that has been amazing! Again they close tight so there isn't just a dump and mix mentality from my kids. The size has been perfect for a lot of our toys, and we basically decided that if there were too many for one bin it meant we had too many.
Large Toy Organization
Larger toys should still be separated and there are some options.
First off – if you have access to a closet I highly recommend using one for toy storage. We are in the process of reconfiguring ours to give it more shelves and more space for storing toy, games, and so on. We don't let the kids have unlimited access to things with tiny pieces because of their ages which to me is wise haha.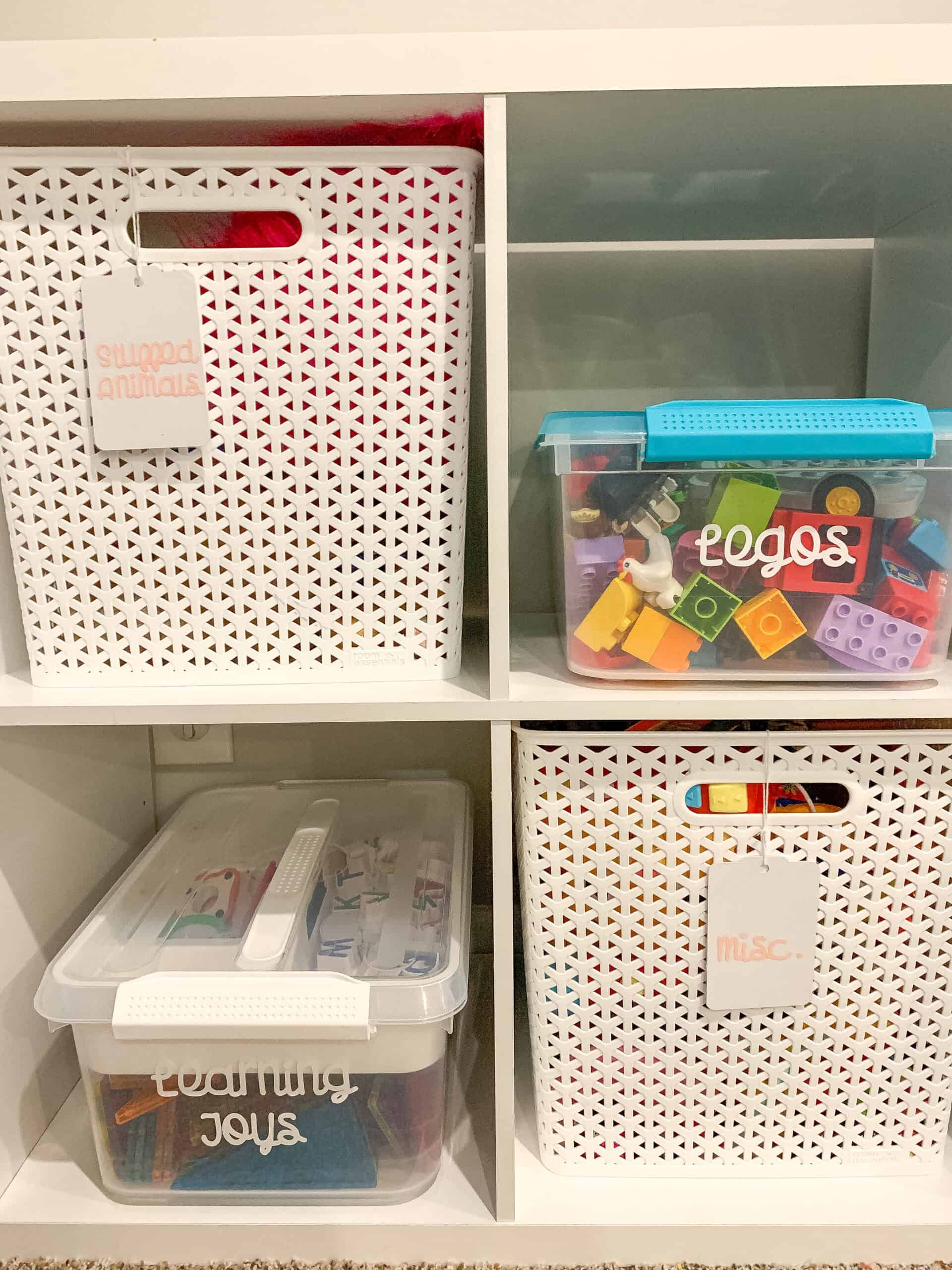 We also have some these cube organizers, which are really popular for good reason – THEY WORK. They are an affordable way to add storage to a playroom, and they have worked great for us.
I can stack two of the containers from above in each cubby, then in some they are left empty for really large items like large cars. I also use THESE containers that I love all over my house in some of the squares for things like stuffed animals and balls. Again my rule is that if they can't all fit in one bin then we have too many.
The reason I like the plastic container over the fabric is that they hold up a lot better. I also love going with white because playrooms tend to be busy enough as it is.
Labels
We recently started labeling our kids bins which has been VERY helpful. Jack is able to read, and although the other two aren't old enough to read, Jack or the babysitter can help direct them to the correct bin, and once one is in there, Walker and Avé can follow in suit.
I personally used labels I made using my silhouette, which if you are a label user might be worth investing in, but they also have amazing options on ETSY!
Placement Matters
One thing that is VERY important to remember is that placement matters.
If you have a table and desk area that kids color at – keep those items in that area. If you have play food keep it near the play kitchen. I think you get the point. It is no different that us. We keep our kitchen towels by the sink right? It just makes sense.
Make things easier for kids to use the items in one area and hopefully you won't have play donuts and cookies strewn all over your playroom!!
We have a really unique basement with this fun Built in playhouse, so all our play food is on the walls by the playhouse because that houses their play kitchen. It doesn't help 100 percent, but I can say that it keeps most of the food on that half of the playroom. (if you like that playhouse be on the lookout for a really fun update this spring!)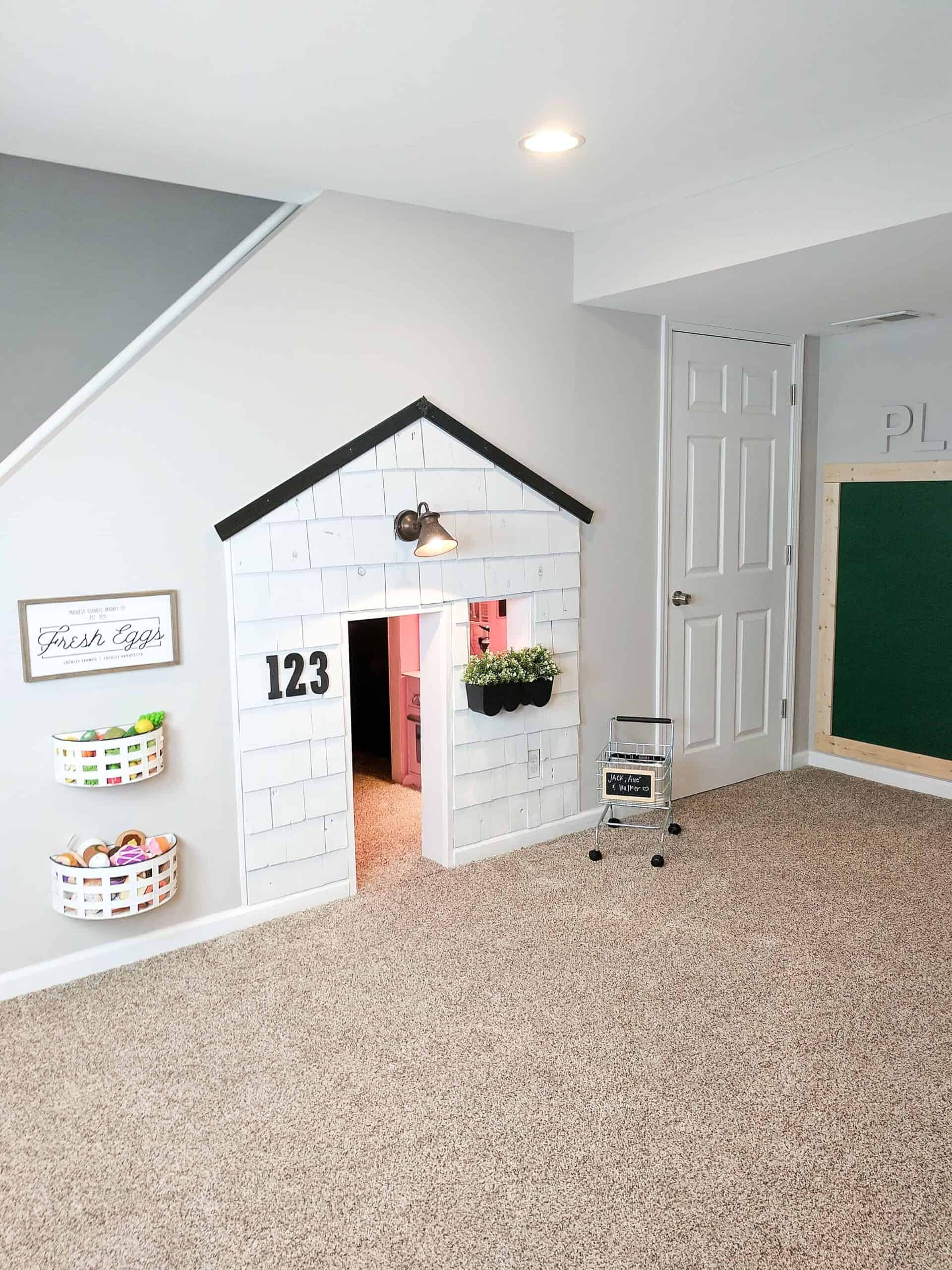 Great Toy Organizer Options
I figured it might be helpful to be able to shop some of my favorite toy organizer options all in one image, so just click on the item you are interested in in the image below.
On top of that I am linking to previous posts that will help you get your toys and other kiddo related items in tip top shape below!
Toy Organization in Living Spaces | Toy Storage Guide | Stylish Toy Storage on a Budget
Best Toy Organizers
Hopefully between utilizing these ideas and buying the right items you will be able to keep your toys and play spaces much more organized. If you have questions feel free to reach out to me via Instagram (@arinsolange) or by leaving me a comment.
Remember that no play space will ever be perfect. But if you have a system in place and stick with it, AND TWEAK it for their ages you will have so much more success. My own toy storage methods have changed a lot over the years as our needs have changed.
I now have 4 kids skipping gender each one so have a need for a lot of toys, and thus have to have systems in place for quite a few items. I also have changed my methods as my kids have gotten older and more able to help clean up!
Good luck organizing!!
Pin The Photo Below to Find The Best Toy Organizers Later