Finally a full review of the Dock a Tot grand. I am sad to admit that we are outgrowing baby gear over here in the Jura house, and starting to prepare for a bigger more mobile baby. One of the items that I was dreading Walker out growing was the DockATot.
We loved the deluxe which I reviewed here, and although he doesn't sleep in it every night, it has made travel and naps so much easier on us. Now that he is outgrowing the deluxe I decided to try out, and give a Dockatot Grand Review.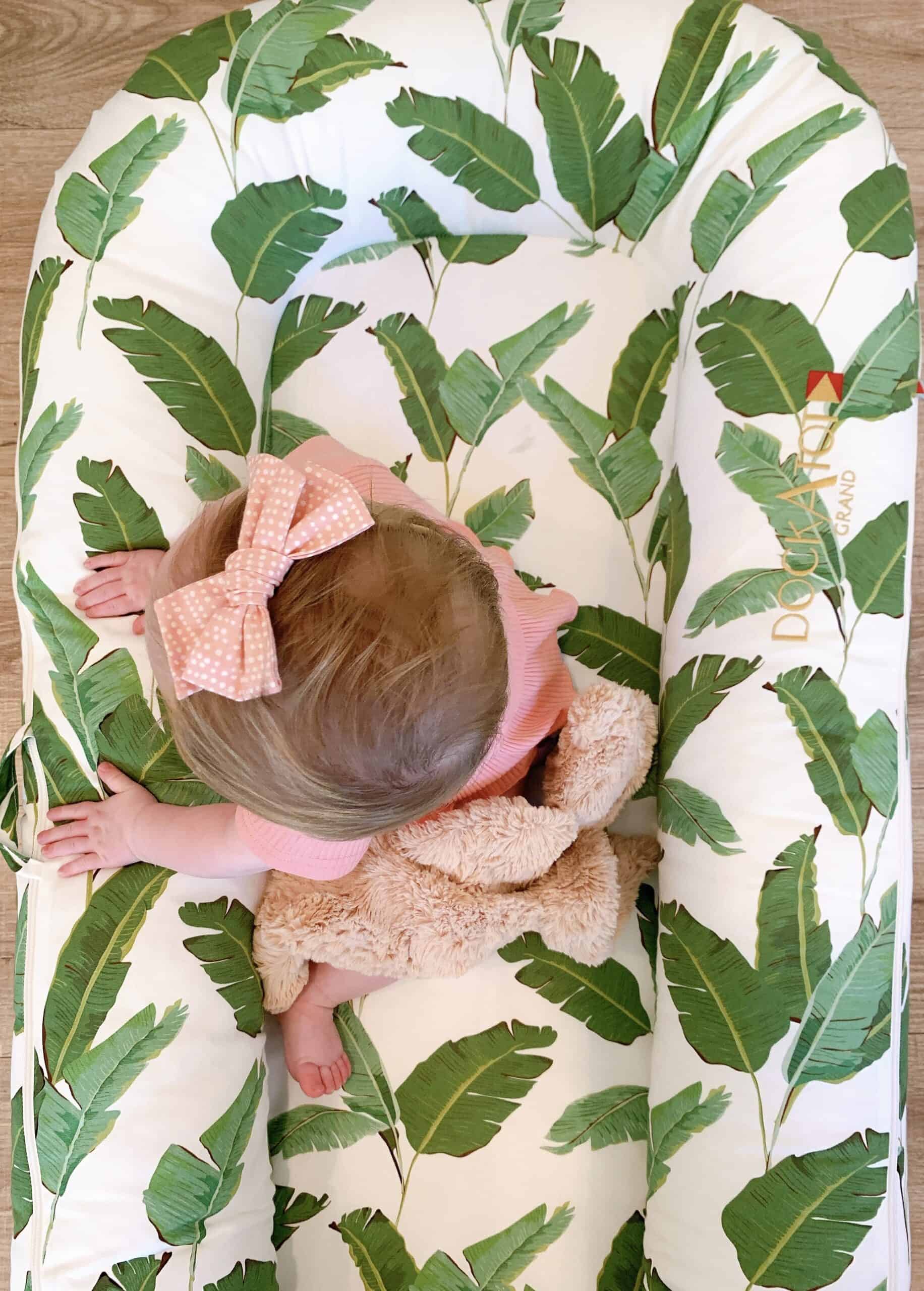 Dock a Tot Grand Review
This post was written originally on 1/18 and was updated on 6/20. The post may contain affiliates.
Walker has somewhat moved past the point of wanting to be totally contained, but he doesn't want to just sleep on our bed either, so I recently tried putting him in the DockATot Grand on our bed to take a nap while we were hanging some new curtains in his room and he was OUT!!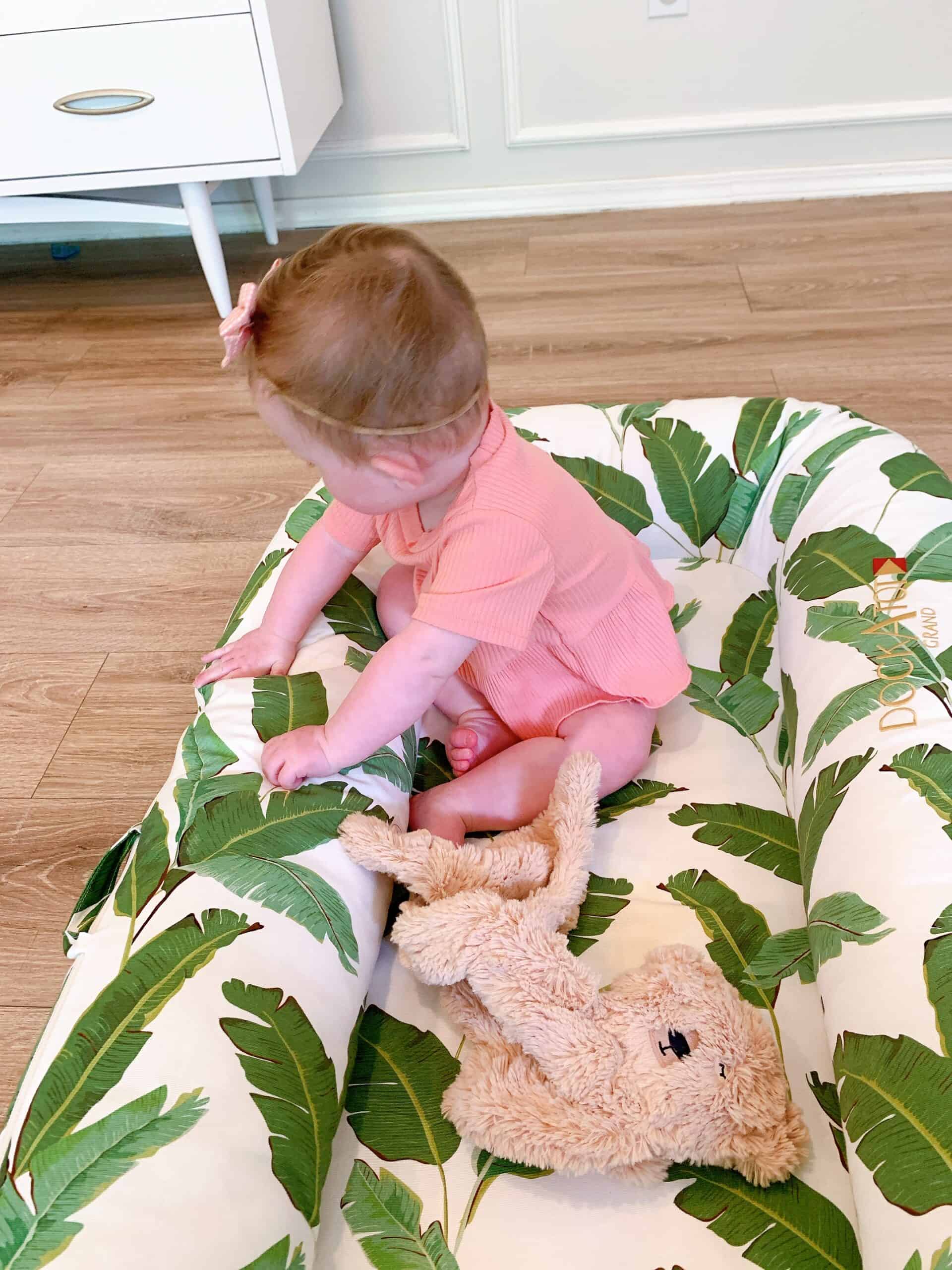 Although those moments and situations will probably not be often, having a place for that is a life saver when needed. I mean let's face it – as moms sleep is our most prized thing in life, so anything that can help is a huge win in my book.
I know that buying the Dock a Tot Grand is a pretty big investment – and so many moms don't know if it is worth the money, or how long their baby will use it, so I wanted to give a little more insight to help you decide if it is right for you.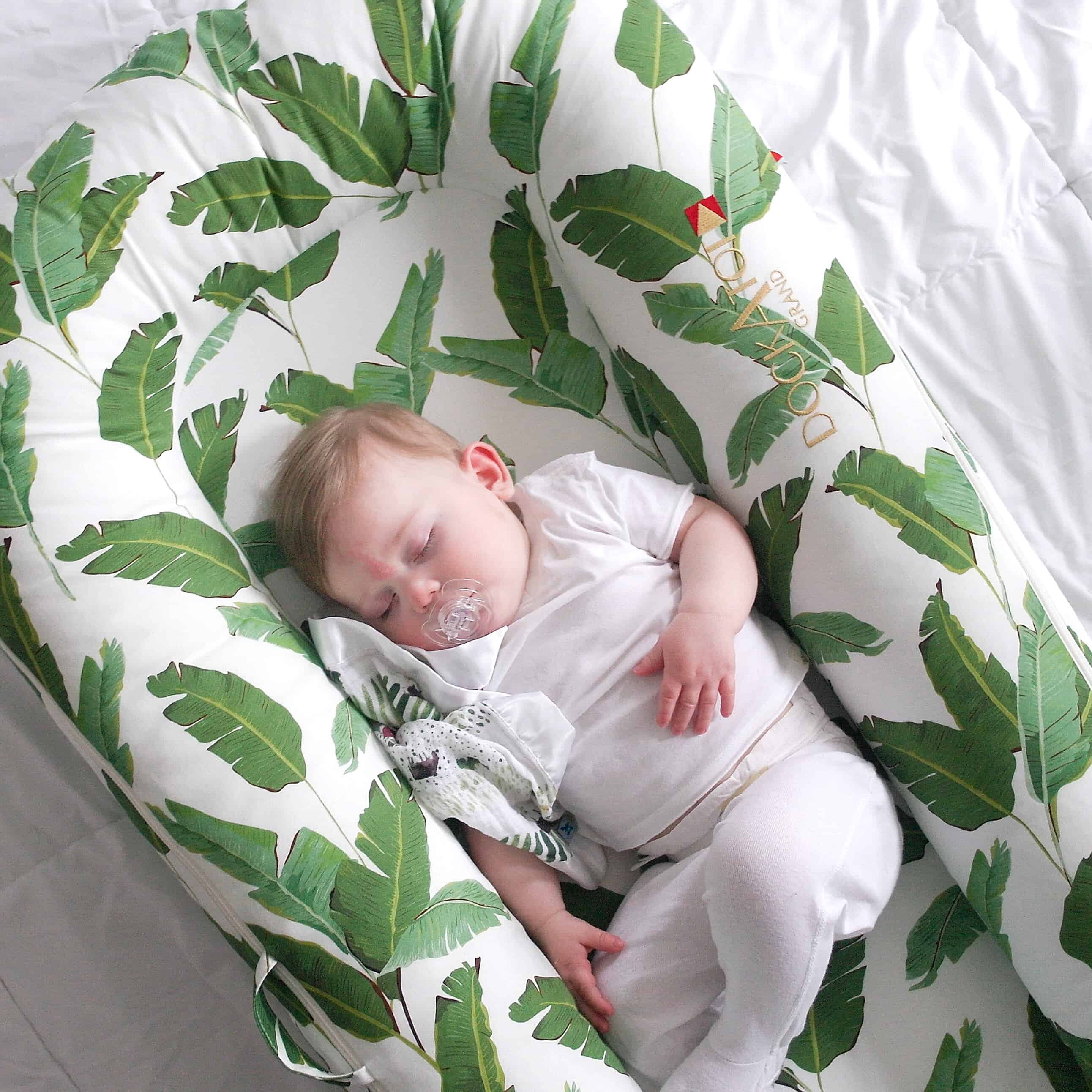 When to Move to the DockaTot Grand
If you are looking at the Dock a Tot Grand you probably are already a big fan of the deluxe (read the review and a bit more about that one here – but it is pretty similar just smaller!) and thus know you love the brand and the product – the biggest question tho is when do I move to it, and how long will baby use it?
Moving to the DockaTot Grand normally happens somewhere around 9/10 months – the Deluxe is meant to seam snug before they move, and honestly moving them too soon can make you think they don't like their new one.
If your baby is sleeping in the Dock a Tot nightly then I would say they will love the Grand just as much and it will be worth the investment – I have friends who's kids used it daily for years making their bed seem more comfortable, so it is definitely worth looking into it.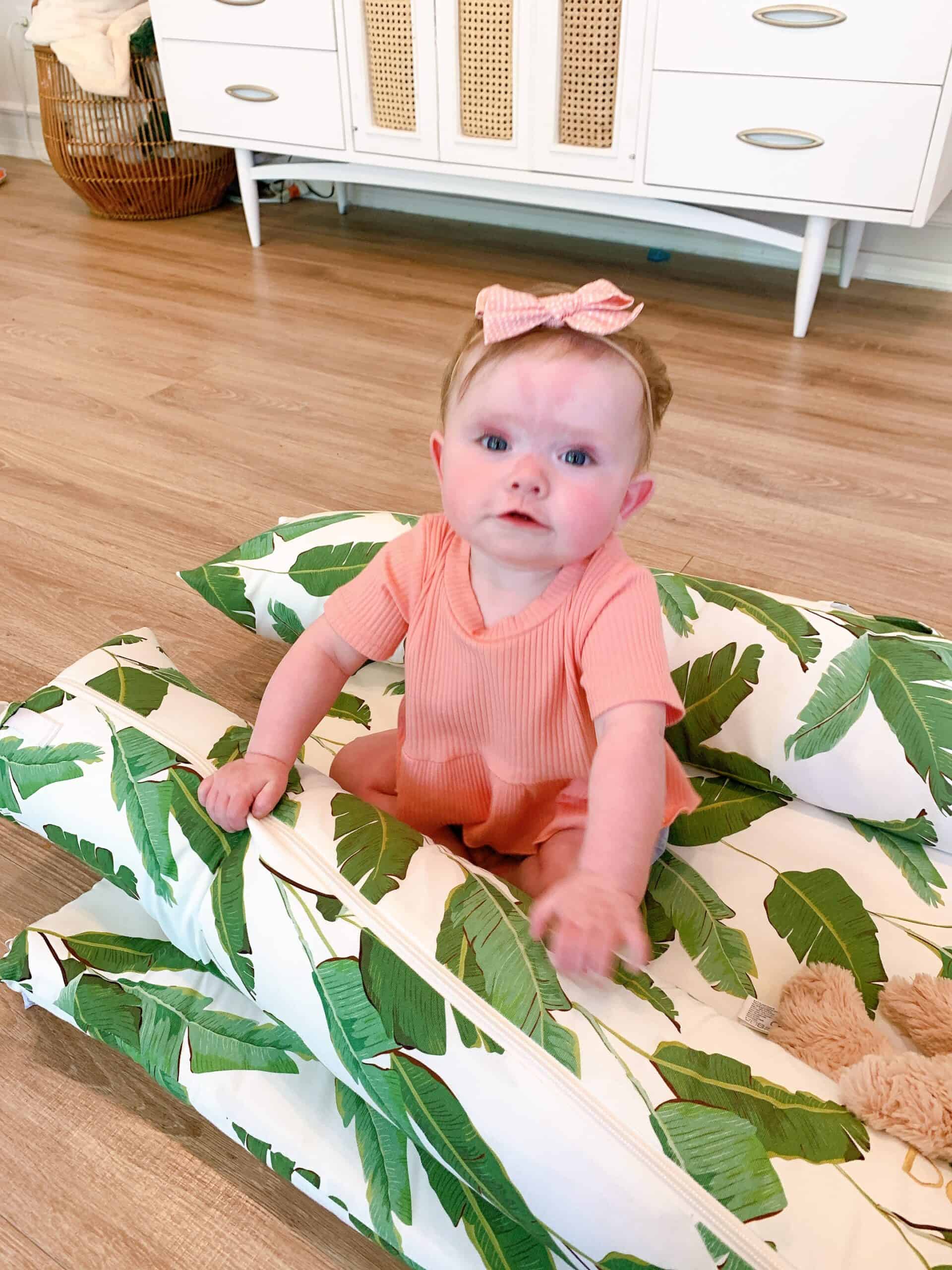 Considerations
Because this is a true and honest review from a mom of 4 (I am updating this post after having yet another sweet baby), I would say one thing to think about with using the Grand is if you fly very often or will have room to take this when you travel.
The Dock a Tot Grand is a pretty big piece of baby gear, and if your baby is dependent on it, it could make travel tricky. I would just put some thought into your lifestyle before you decide if moving them to the next size up is a good idea, or if that is the time to break the habit.
That is a very circumstantial decision, and also one that you will likely want to make based on how you travel, how often you travel, how much room in a vehicle you have, and how good of a sleeper your baby is. For us we have had had relatively good sleepers and we travel a lot by plane, so it would probably bite me in the butt to use it nightly.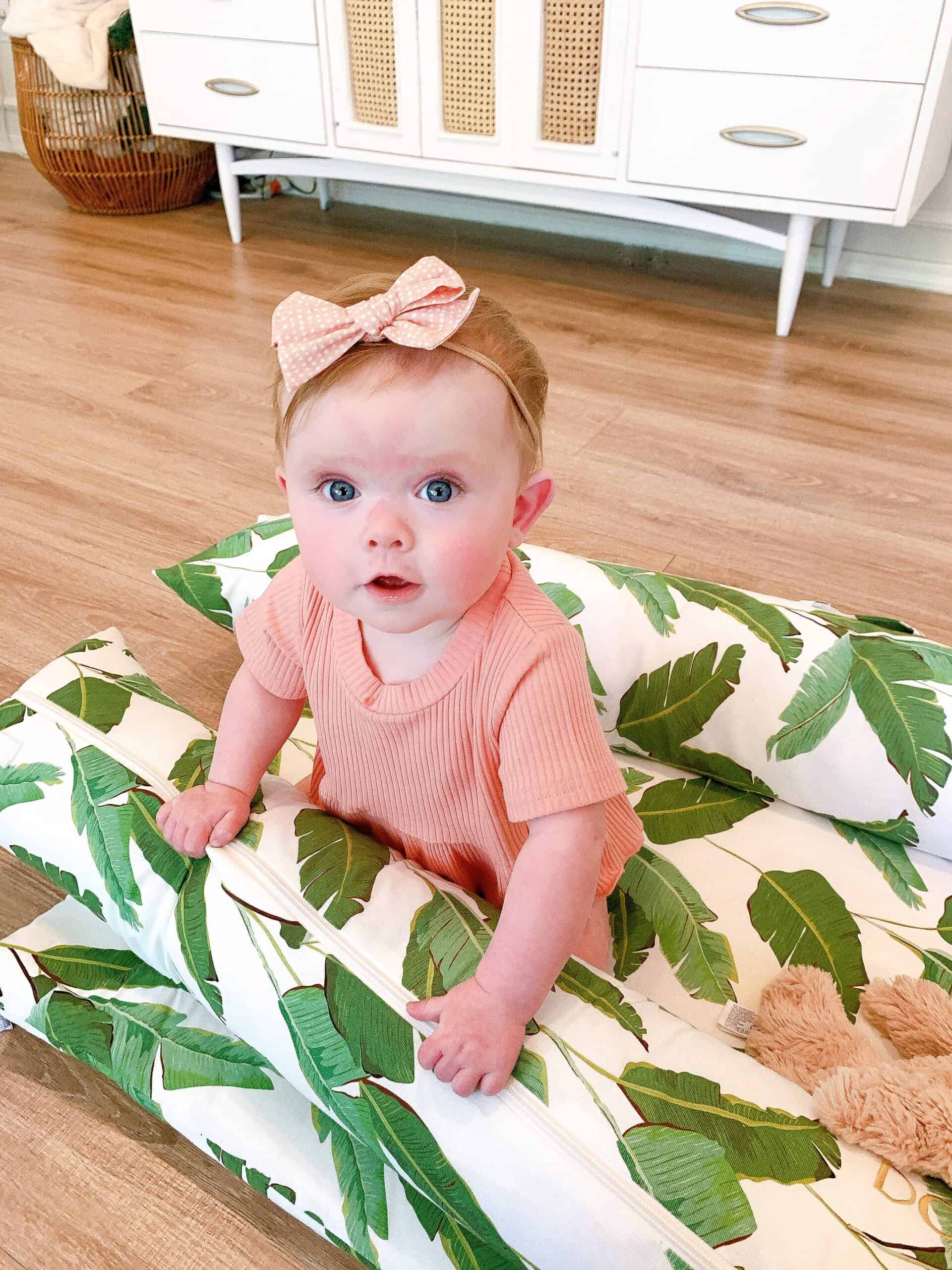 Differences in Grand vs Deluxe
Aside from the size – the DockaTot Grand is nearly identical to the Deluxe – but one thing that is different is when in use you never use the Grand buckled at the bottom. You are to always leave it open just like you would on the Deluxe as your baby starts to get bigger.
This is done for safety and something may people don't know about. The Grand comes in the plastic zip up case just like the Deluxe so it does make it easy for storage and for travel, so keep that in mind if travel is something on the radar.
DockaTot Safety Considerations
I mentioned when reviewing the deluxe, and will say again how amazing this product is. Its safety features and testing makes this nervous mama feel at ease!
It is all natural, 100% cotton, and has been tested for breathability (by them, and my husband HA). We are loving having the DockATot Grand in our home, and can't wait to see it used for years to come!
So How do We Use it?
For us the Dock a Tot grand has been used mostly as a safe place for our babies to lounge on the main floor – and honestly my older kids love to lay in it to watch a show. We use it when we go to grandmas house to nap, and it really helps Goldie in the pack n play because she doesn't seem to impressed with those mattresses.
We didn't get into Dock a Tot's until my 3rd baby so I didn't use them religiously like I might have if they had been around when I had Jack, that said I think the Deluxe is one of the best pieces of baby gear you can buy, and I think that the Grand is also well worth the price.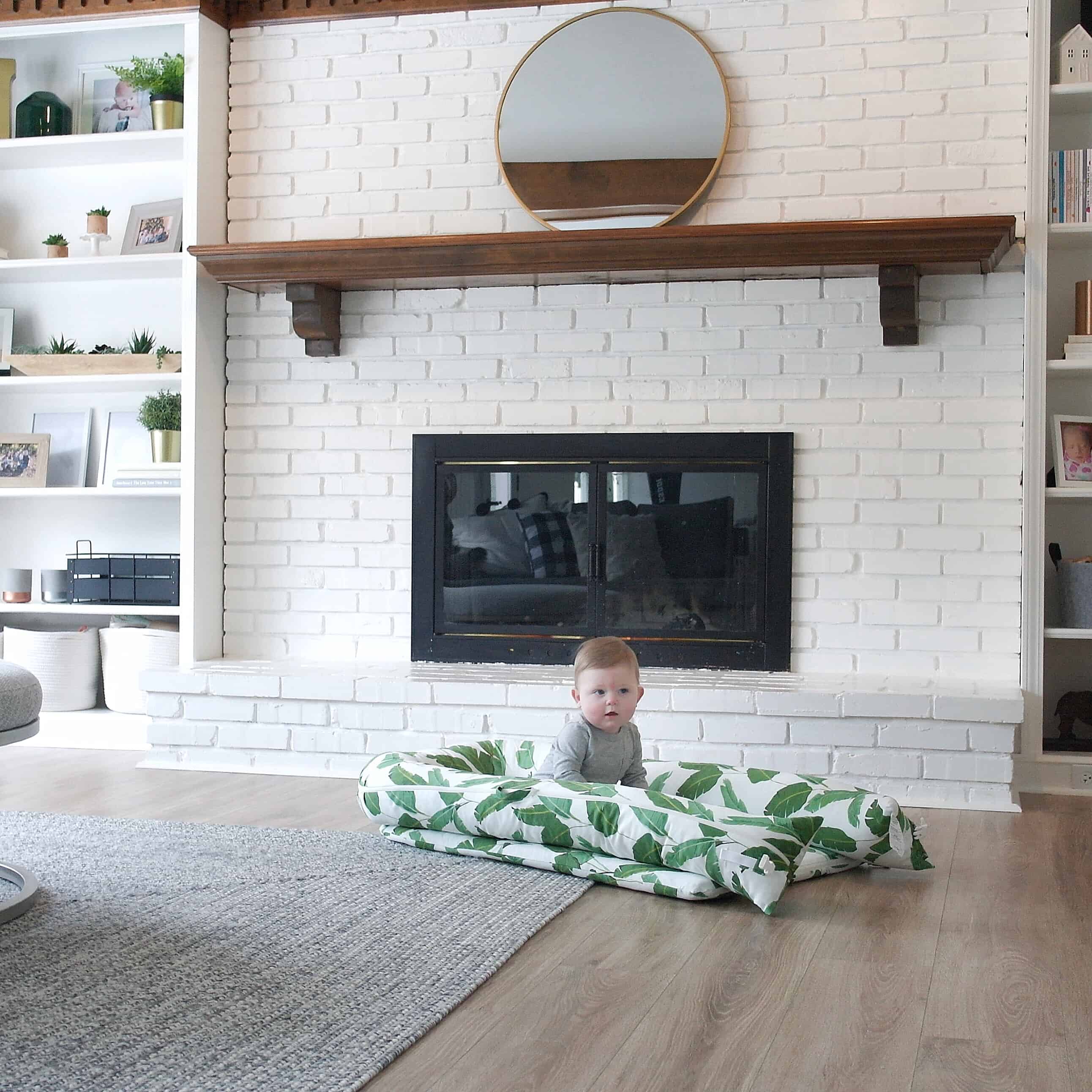 Overall – DockaTot has been a brand that I have loved with my younger two kids. They are cutting edge as far as coming out with fun, on trend prints and colors (which for me does matter – because if you are paying that price you want something you like to look at). They take safety very seriously, and they are a product that in my opinion really helped my youngest two sleep well from night 1!
Other Favorite Baby Products!
With my 4th baby I have been tracking the products I used month by month – be sure to check out this tab with the monthly tracking. This can be helpful to see how long certain items remained heavily used in our home!
The Dock a Tot Grand is more of a fun – NOT NEEDED, but helpful product, and I am sure you have gathered that we love it, but if you get one, or already use one with your baby or toddler I would love to hear more. Leave me a comment below or DM me on Instagram!
Pin the Photo Below for Later