How do I have a 9 month old baby again? Our sweet Goldie Mae is 9 months old – which is probably one of the most bittersweet milestones for me with my babies. Something about knowing the whole world has known her as long as I have, and knowing that she is so close to ending that first year as a baby is breaking my heart this time. I wish I could slow down time. This post has all her 9 month updates and my favorite products for 9 month olds.
this post may contain affiliate links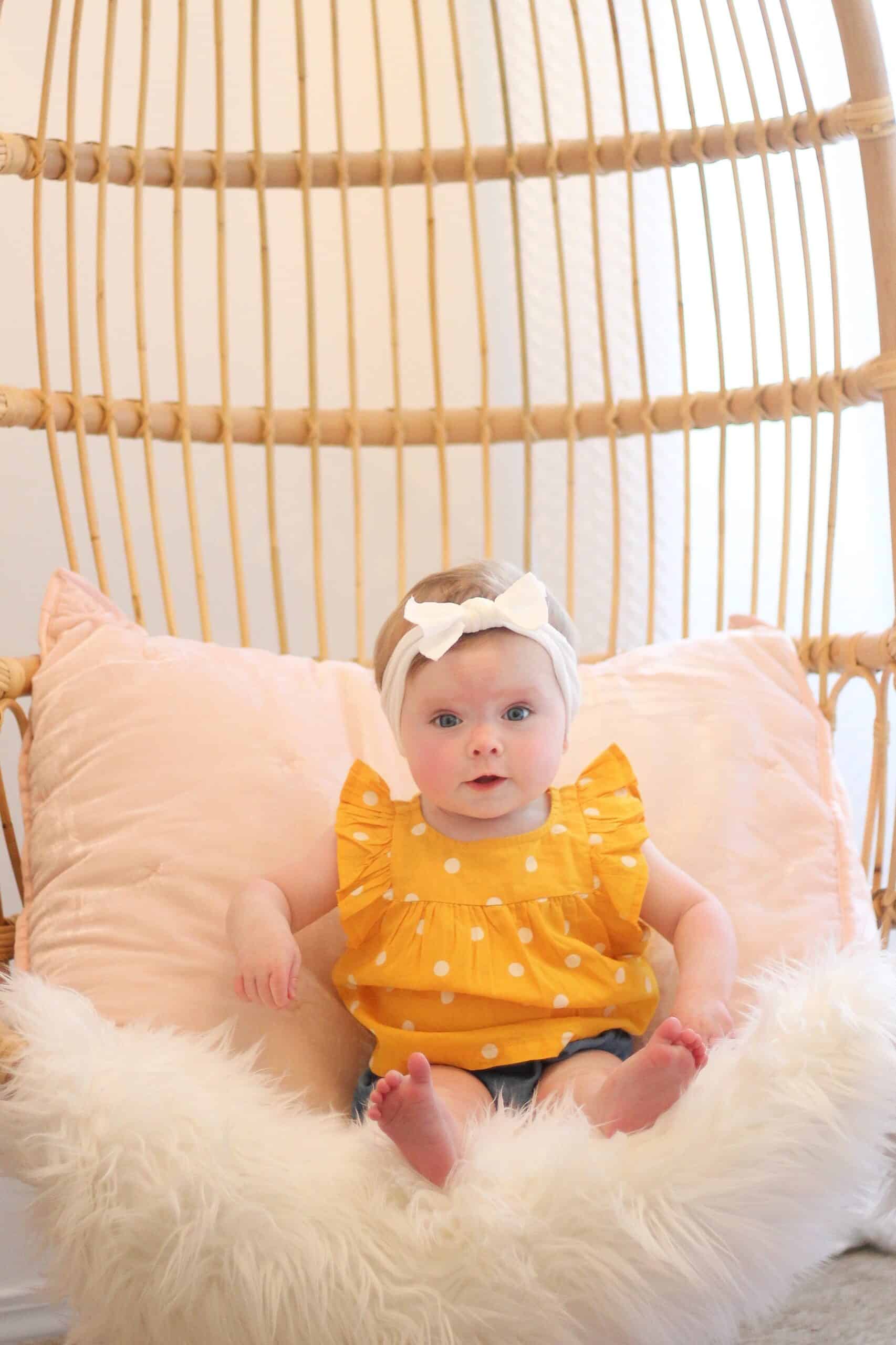 9 Month Old Baby Goldie
9 months. You all have known her for 9 months. I also can't believe that means that I have known about her and loved her for a year and a half. Goldie has been pure sunshine since she was born and something about her holds my heart so strongly.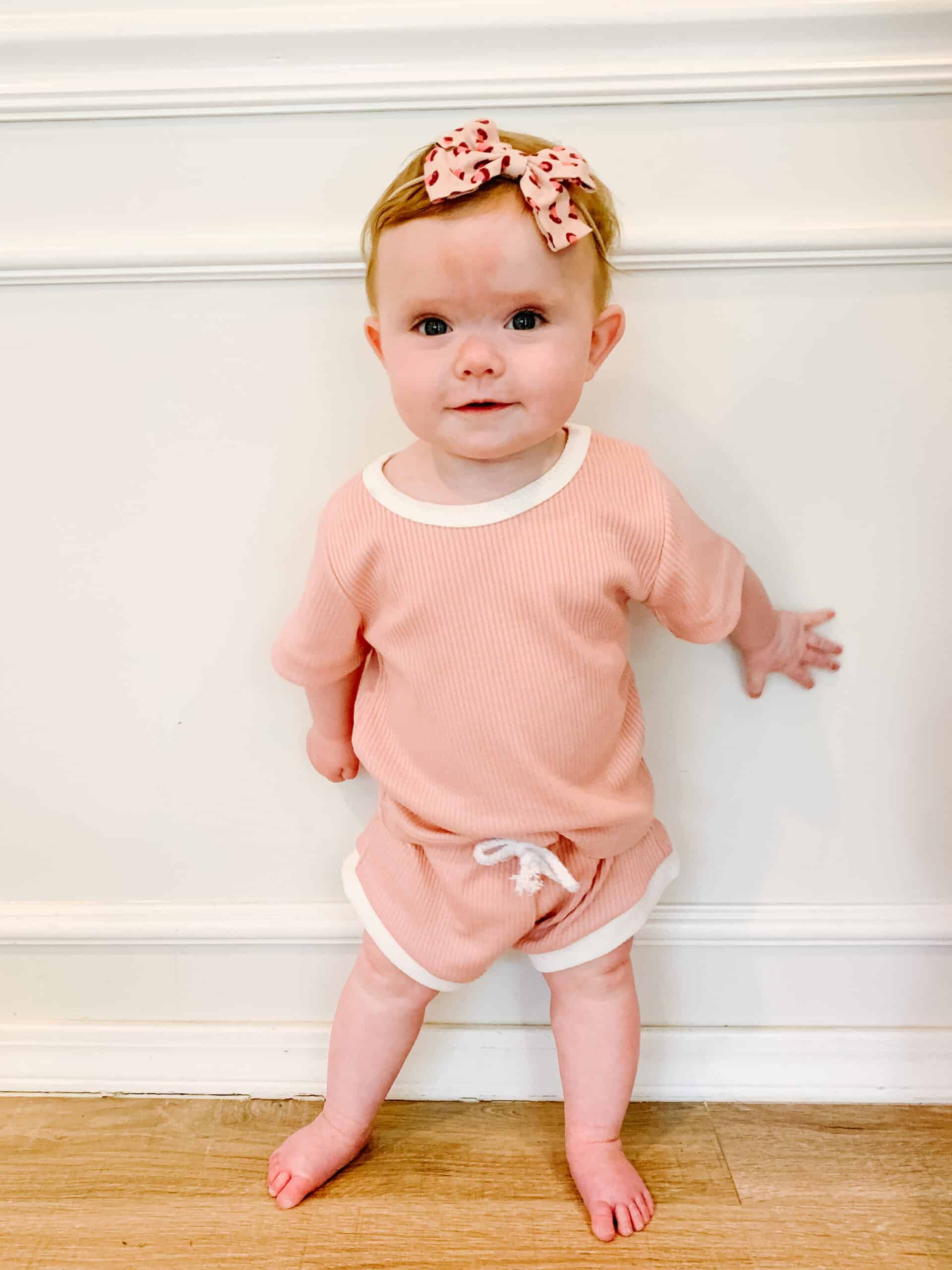 I thought she seemed mild at first (similar to how I thought Avé seemed mild) but she is showing more and more signs that she will be a fire ball. She already makes us laugh so hard and has a spunky little personality that truly cracks us up on the regular.
She is almost crawling, still has 2 teeth, waves bye bye and says dada. She loves going on walks, and is VERY angry if we eat things we don't share. She challenged peanut butter this month and won – so we are able to rest a little more assured on allergies, and are praying it's only an egg allergy.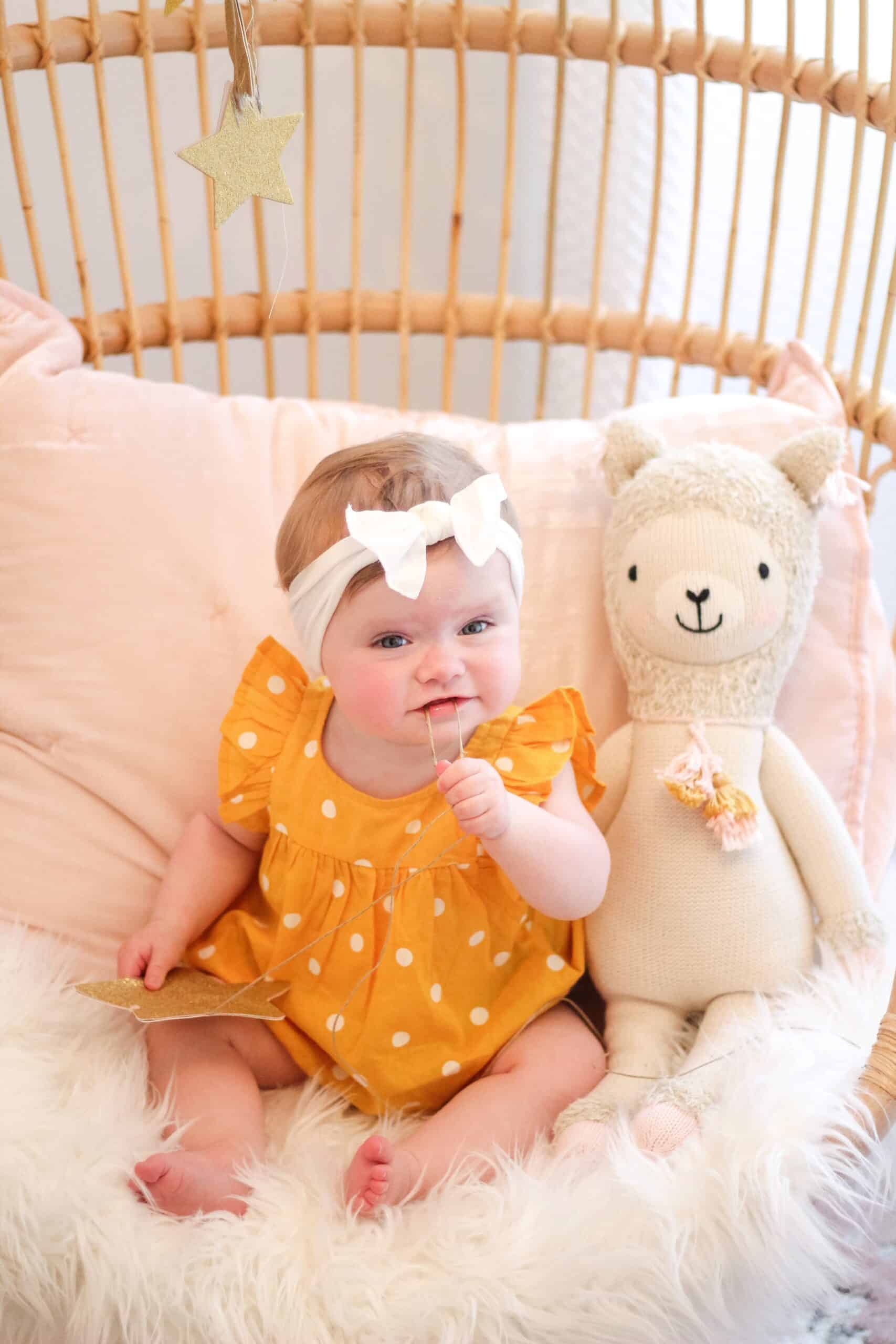 Overall she is everyones favorite person in the house, and although it's been a bit sad to not to be able to share her with the world, I am trying to see this extra time of getting to hog her all to ourselves as a blessing.
9 Month Old Favorite Products
And – as for favorite products if you have been following along with this series then you know that I have been keeping track of everything we love month by month here on blog posts.
My hope with this series is that you are able to figure out what items I loved and found to be favorites for how long – this way you can better decide what to invest in and what you might want to skip.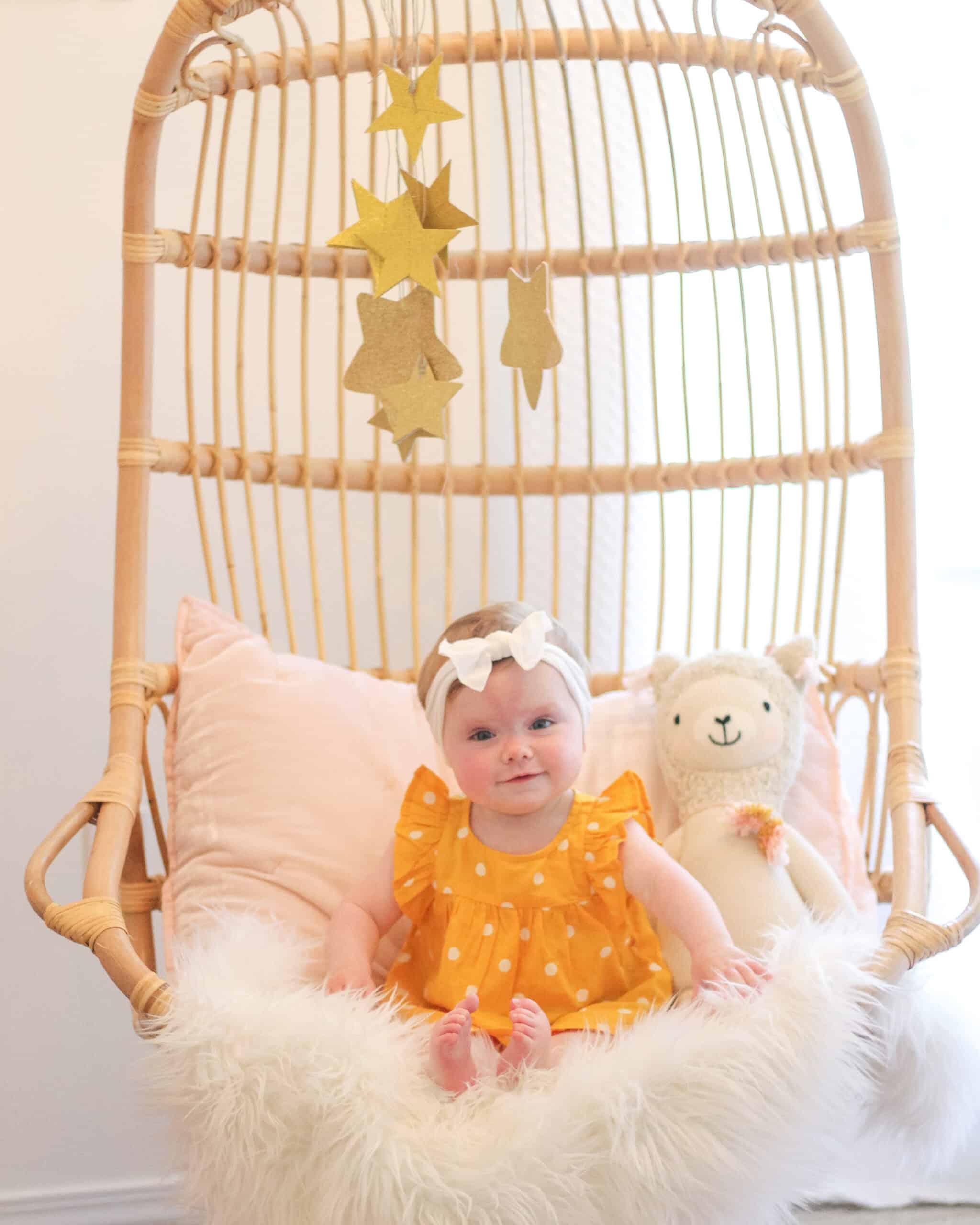 It is worth noting that although these are my favorites everyone uses items for different lengths of time.
In the comments below the round up I will explain further why we love the item and give some disclaimers, and at the end of the year I think I will be sure to sort of break this all down for you all. If you are interested in the rest of the posts, all the monthly baby favorites will be linked below!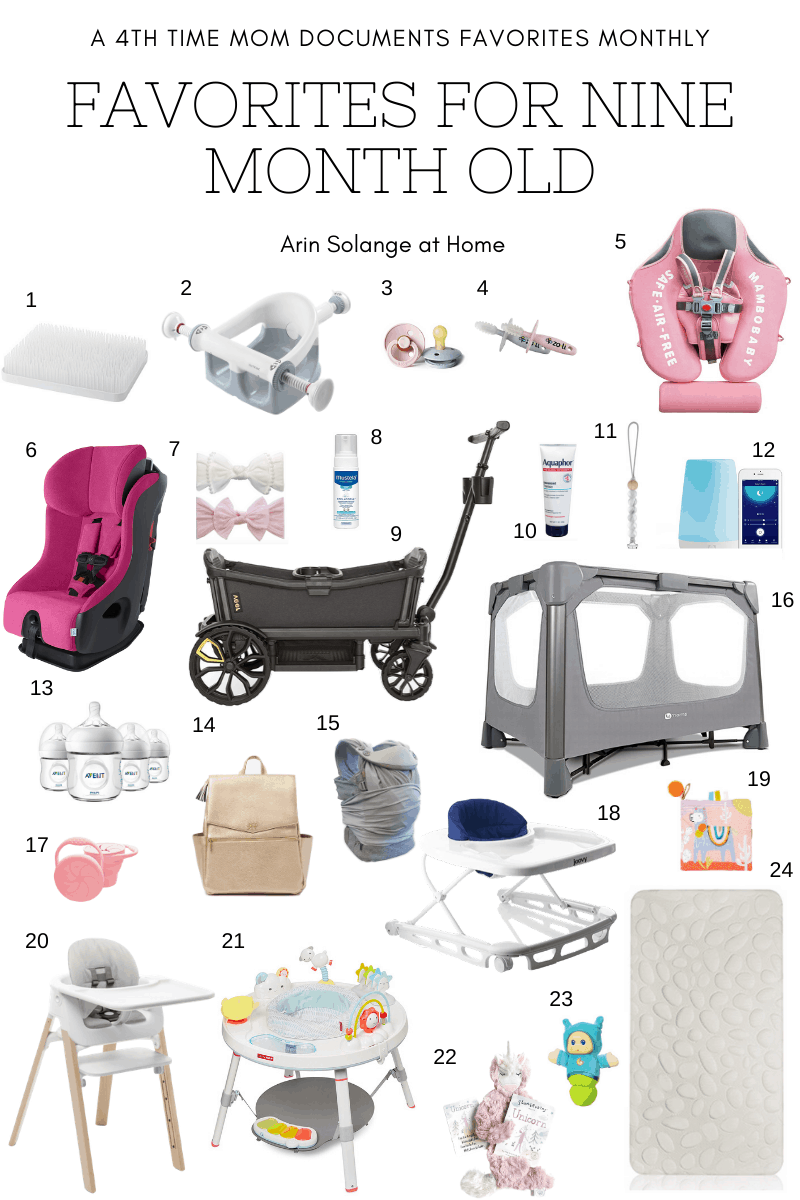 1 | 2 | 3 | 4 | 5 | 6 | 7 | 8 | 9 | 10 | 11 | 12 | 13 | 14 | 15 | 16 | 17 | 18 | 19 | 20 | 21 | 22 | 23 | 24
Shop 9 Month Baby Favorites Below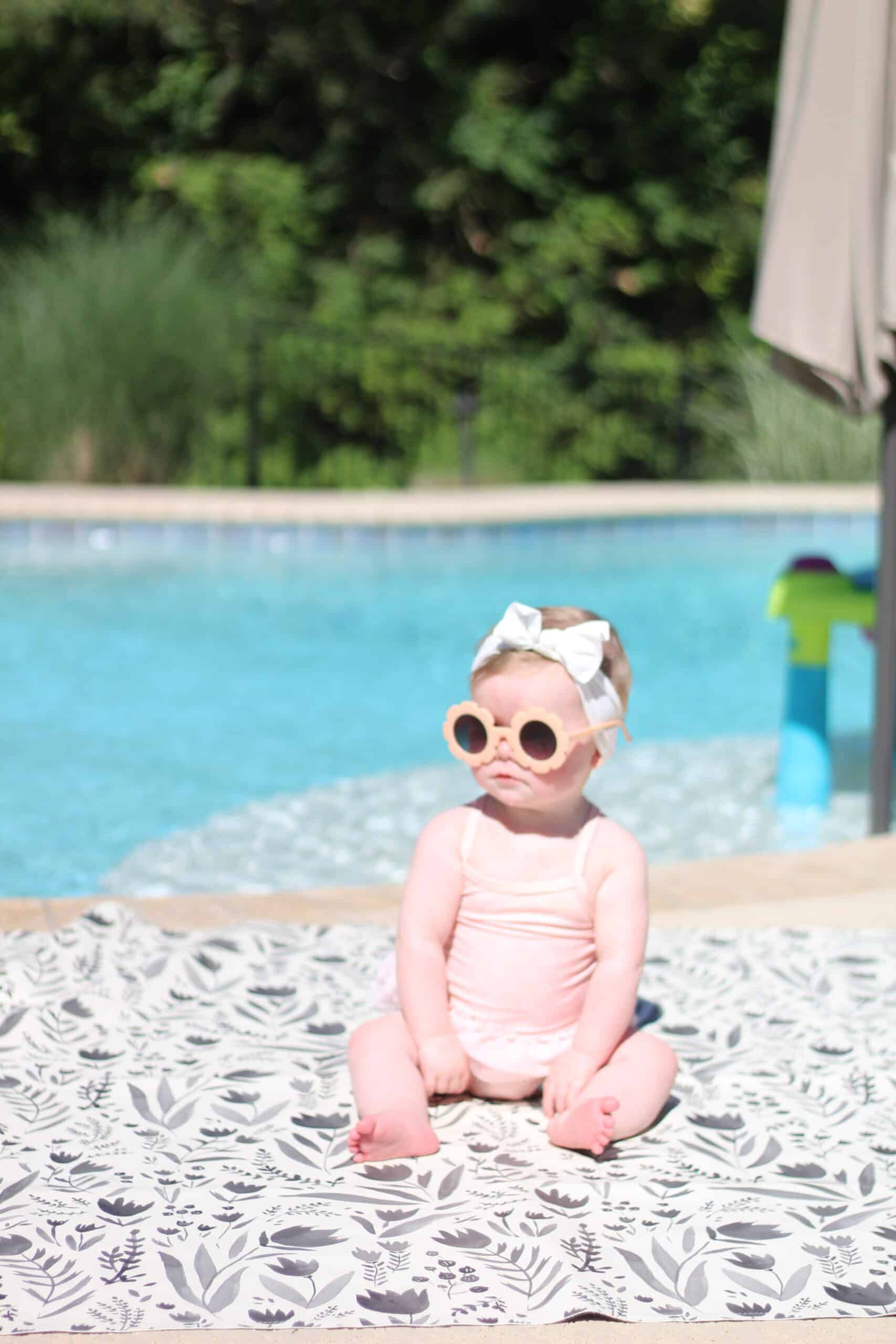 Hopefully you found some items that you love! Be sure to check out all the posts below with more favorite baby items!
If you need more ideas for your baby be sure to send me a message. These favorites for a 9 month old baby are just the top items, but there are so many others I love!
Pin The Photo Below for Later