Veer Wagon Review
Who is ready for a Veer Wagon review? It seems as though if there is anything other moms are researching currently, it is probably great strollers seeing that that is about the only mode of getting out of the house right now. I wanted to share my Veer Wagon review, and give you my honest thoughts on our newest member to our stroller fleet (my poor husband ha!).
This post may contain affiliate links
I want to make sure it is clear that this post is NOT sponsored in anyway, so my opinions and time in this review is simply to help you in your stroller shopping experience!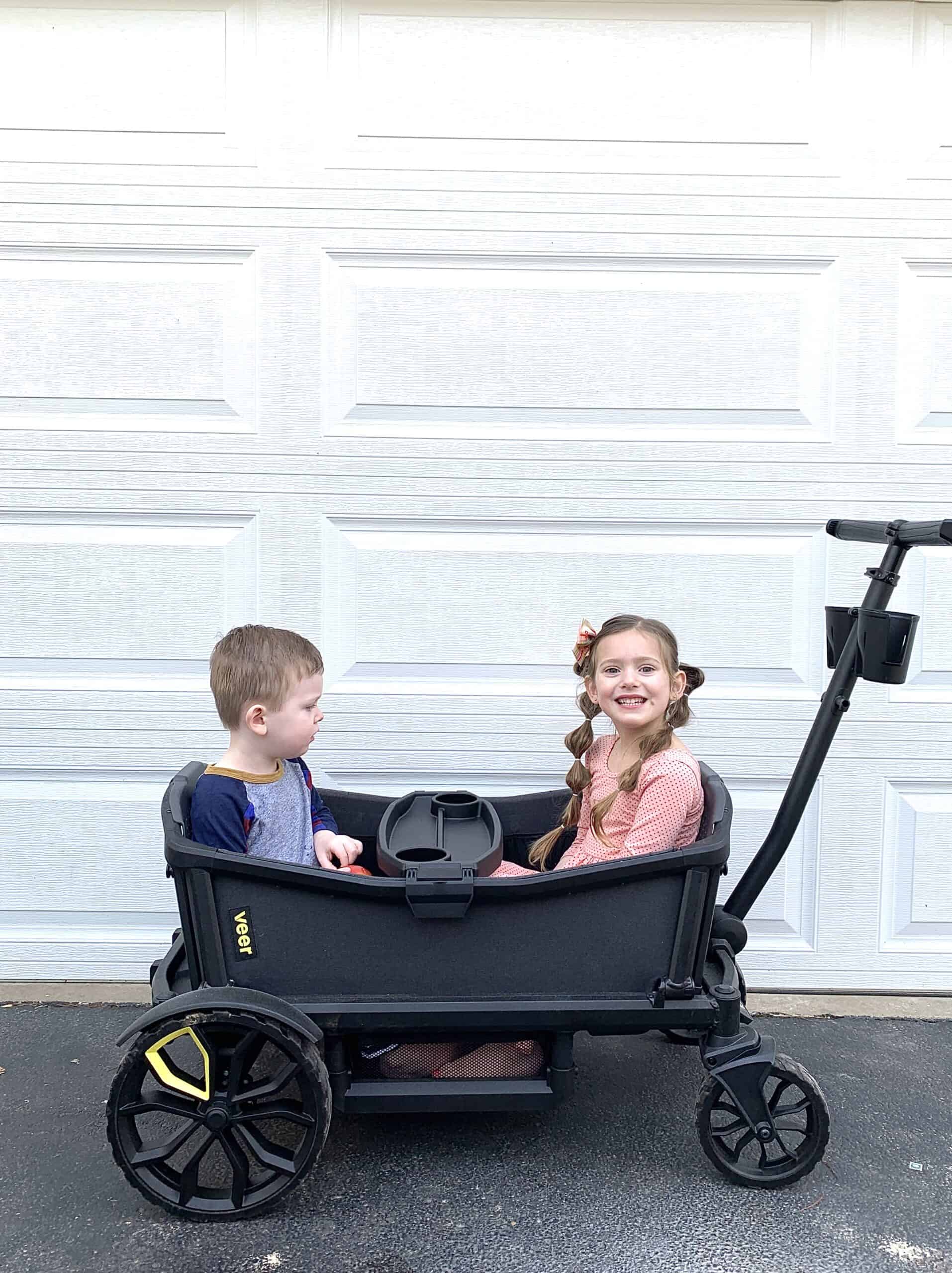 This past fall right after we welcomed our 4th baby I couldn't stop thinking about trying out the Veer cruiser. It was a newer stroller/wagon on the market and I had to know if it was as good as expected.
Before I get into this review – we have owned SO many other strollers, but a couple of favorites are linked with reviews below.
Uppa Baby Vista (double) | Uppa Baby Cruz | Britax B-ready (double) | Joovy jogger | Double Bob Jogger | Orbit Baby Stroller | Keenz Wagon | Thule Jogger | Several umbrella type strollers.
I list those (MOST WE NO LONGER OWN) to give you a good idea of how many I have tried, so I feel I have a great idea of what constitutes a great stroller/wagon at this point.
One thing I will also be doing in the next week or two is sharing a comparison post on the Veer Wagon vs. Keenz; if that is another one you're considering and are torn between the two!
Those are just two of the MANY strollers I have owned over the years – and I also recently sold our Keenz stroller wagon which I VERY much favor the Veer over!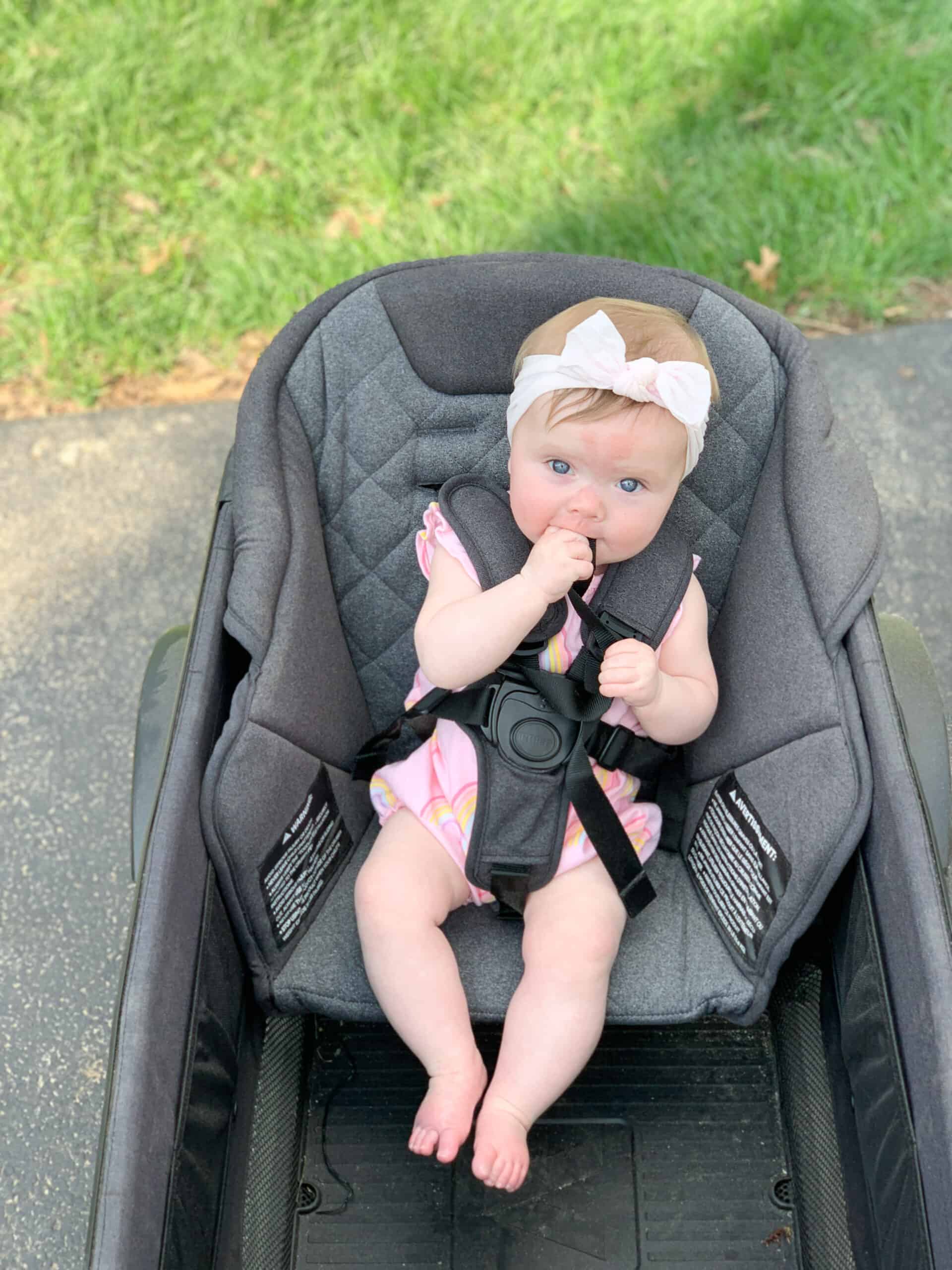 Why The Veer Cruiser?
Like I said – I was dying to try the Veer wagon stroller, but it was for more reasons than just curiosity. We have a 2.5 year old boy who is HUGE. He's very tall for his age, and hates the stroller, but when I venture out with all 4 kids, I HAVE to have a way to strap him in when needed.
We had originally planned to use the Uppa Baby Vista for this, and although I love the stroller, it wasn't great for Walker and his hatred for being in the stroller.
I was hopeful that moving to a wagon style seat would appease him a bit more, and I loved that the Veer (as opposed to our Keenz) would allow for a newborn with carseat attachments. My husband had a lot of pushback, but ultimately he did give in on it, and he has been eating his words ever since.
I knew that we had strollers on hand to work in other capacities like the mall and such ( I will touch on that) but really wanted something to make the longer outings like the zoo and such more pleasant with 4 kids.
At this point we have owned the Veer Cruiser for roughly 6 months. I have used it in several different ways with the baby, as well as with all my other kids. We have taken it via car, and used the Veer Wagon Cruiser on plane trips, so I feel like I can finally give you a good review of the wagon in case it is something you are considering for your kids!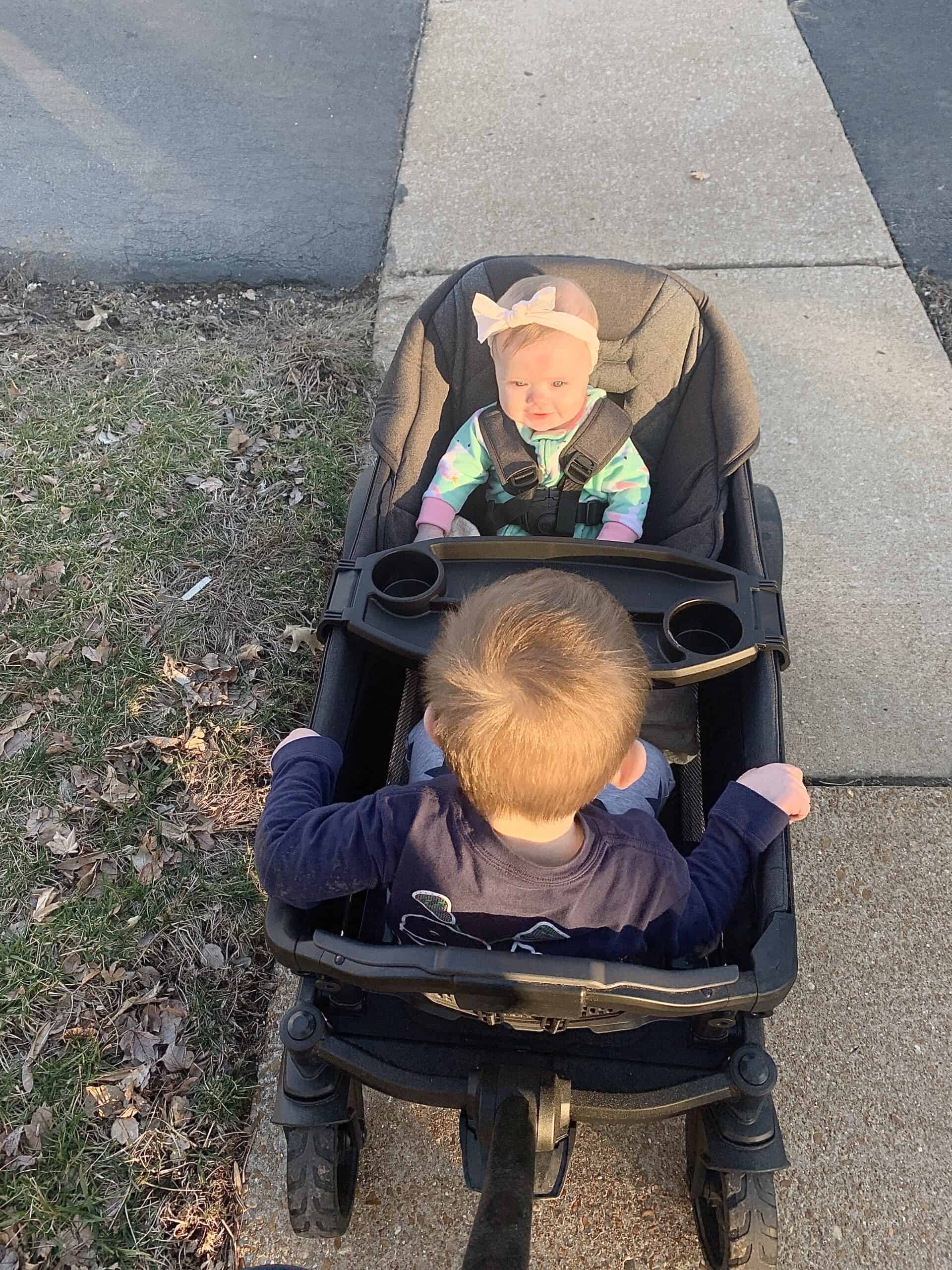 About the Veer Wagon Cruiser
Before I get into my review – what I love and don't love, I want to give you a bit of an overview. You can also read more about it on their website. I will also walk you through buying options and places, and talk to you about where I purchased mine and why.
The Veer Cruiser is an all terrain stroller/wagon. You can push it like a stroller, or pull it like a wagon. Suitable for newborn (with proper Veer wagon accessories) to 55 lbs per each seat. (for reference, my 7.5 year old is very average in size for a 7 year old and 50 lbs even).
What we LOVE about the Veer Wagon Stroller
Okay so as a bit of a spoiler, we LOVE this wagon, but I am going to walk you through why and I will also talk to you about why we maybe wouldn't have loved it as much in different stages of our lives with kids.
Versatility with Age
We are currently on baby number 4, so for the most part if we are doing family outings we are traveling or going somewhere like the zoo or something. I am not frequently doing things like going to the mall and such with multiple kids, so we have not used this wagon in that capacity.
Again the biggest reason we love this is because for toddlers is they don't fight it as much. Toddlers tend to see a wagon as fun, verses a stroller as a way to contain them. I don't know why. I also don't know why toddlers eat their own boogers, but there are things we may never know, haha.
I also love that when we originally got it we had a new 2 year old and almost 5 year old who could share one seat when needed! (I will say that this is not marketed in that way, and they couldn't both be belted in, but it did help on the occasional longer walk when our 5 year old pooped out.
Does the Veer Wagon Fit Easily in Trunk Space?
I own a Chevy Traverse which has very similar trunk space to a mini van. The Veer fits in out trunk very easily, which has not been the case for many of our other double strollers and another wagon. I don't like to have to fully disassemble something and play Tetris on the daily, so that was a huge selling point for me!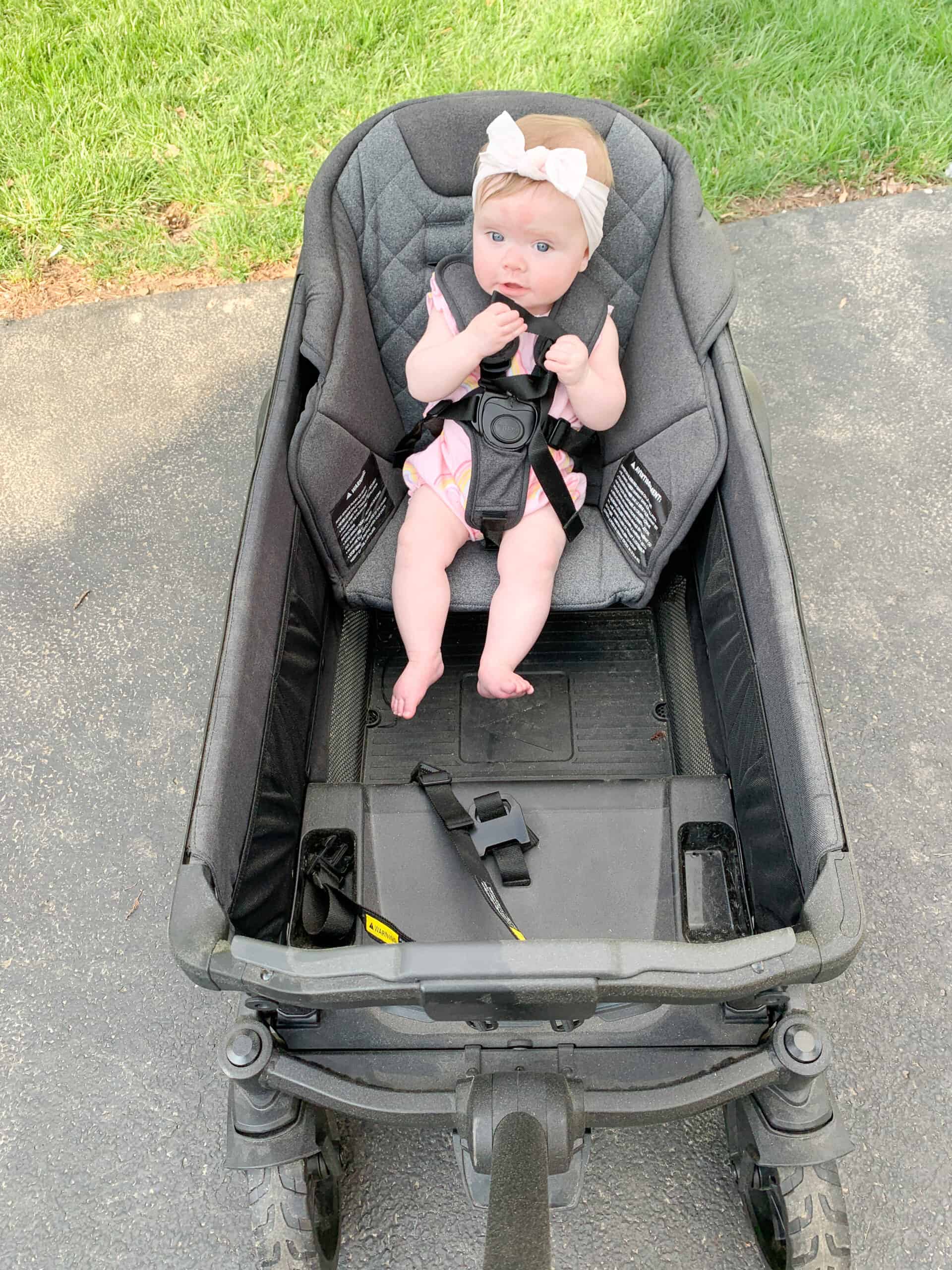 Veer Wagon Age
The biggest selling point on this stroller wagon for me was that I could use carseat adapters with Goldie as a newborn, add a toddler seat for her young toddler years, then use it without that seat as she got older.
I love the versatility of it! (I will say that to make it that versatile there are added accessories and costs, which I will talk about below!).
I love that the seats that are built in do have 3 point harnesses which for my 2 year old doesn't seem to make him angry like a 5 point harness would, but keeps him safe and secure.
Comfort of Use
I love the push of this. We almost exclusively push it like a stroller, and it is really great. I do not find it any more difficult than any other double stroller, other than certain turns you have to do more of a 3 point turn. I love that it comes with a snack tray with cup holders for kids on it, and 2 adult cup holders for my husband and I as well.
Travel
We flew with the Veer Wagon last month and it was amazing for flying!! We purchased the travel bag that is an optional accessory for it, and it was worth every penny. We personally folded it and had it packed in the travel bag when we left the house.
We then left it that way until we got through security. It was able to fit on the belt in the bag so it didn't have to be fumbled with. (many strollers are too wide for the belt so have to be taken to the side which can be a time hold up!)
One we got through security we then put it together and had the little two get in while we got coffee and food and such then waited at the gate.
We then folded it back down before we lined up. With the travel bag the way it folds down you can roll it on two wheels – see here, so it is SO MUCH EASIER for gate checking. Like night and day.
One thing worth noting – we did all of this with the toddler seat, but I wasn't able to figure out how to bring the added attachment for our diaper bag with the travel bag. I need to do more research on that.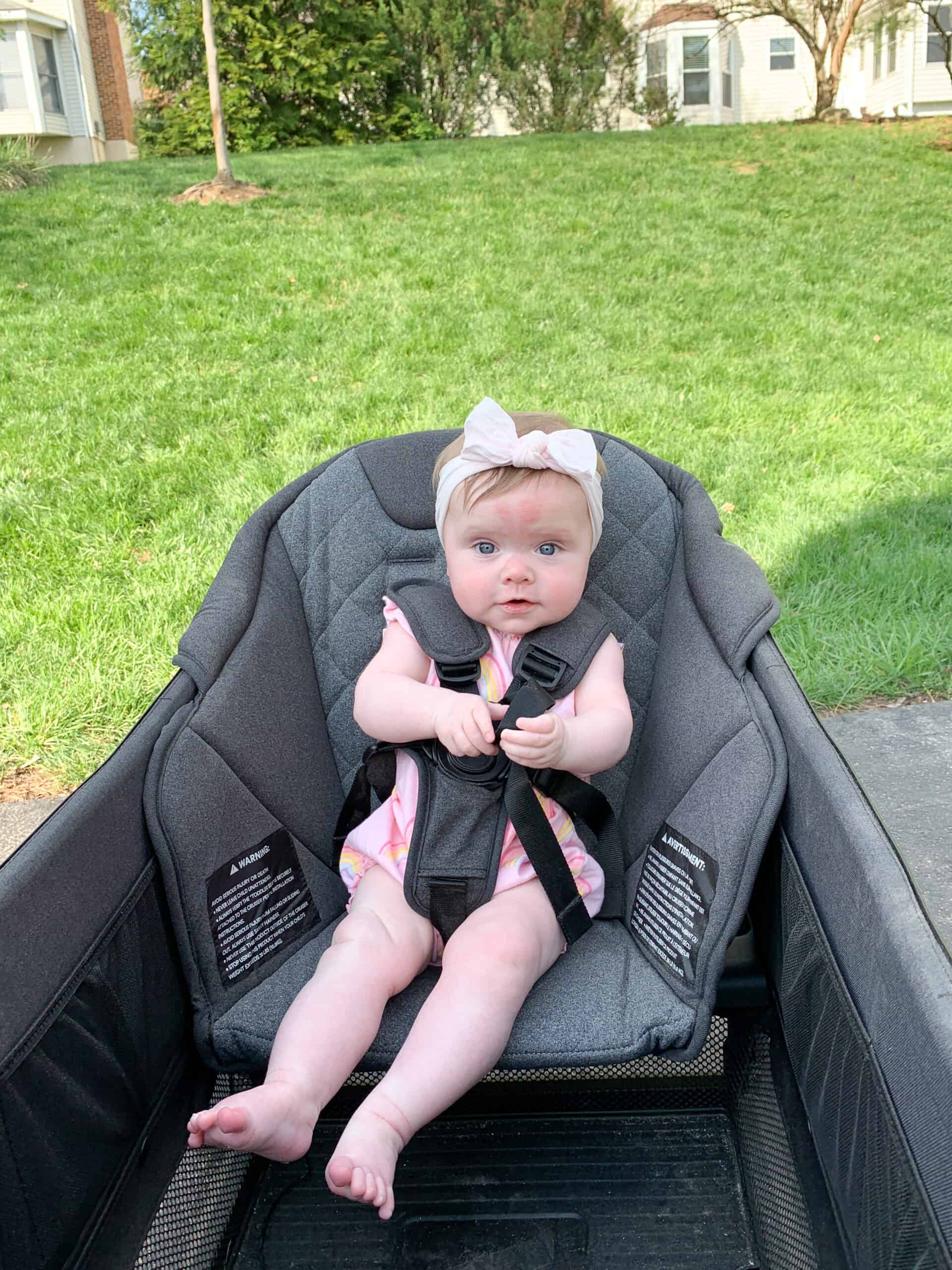 Things I don't Love
Like I said above – we are using this primarily in an outdoor capacity, but I do think this could be tricky if you are a frequent mall shopper needing to turn in tight spaces all day long. Target, and such you would be fine, but places like say GAP might be tricky.
The added Veer wagon accessories – this wagon is an investment. And the investments do sort of keep coming pending your kids ages.
I think it's worth noting that this is often times the case for many nicer stroller brands. We have an Uppa Baby Vista and have also had to buy several accessories to make it suitable for our bigger family. If you are simply buying this for 1 year olds and up you could get by with no accessories, however I do think that the added basket for a diaper bag and such is sort of a 'need' in my book. Essentially this gives you the under side of the stroller space.
Adding the Veer wagon canopies is also an added expense; so that is something to be aware of. When you buy the wagon you are getting the wagon, the snack try for the kids, and 2 cup holders for you.
The other thing I so far don't love, is like I said above, I didn't seem to be able to find a way to add all the accessories in the travel bag. I do think that if you are paying that for the travel bag it should be able to fit the wagon in its entirety, but I am going to check with the company on this and report back if I am wrong.
Buying the Veer Cruiser
I want to talk to you about where I purchased my Veer cruiser, and why, but also give you a couple of links for places to purchase. I will also share what accessories we have, as well as other options for accessories.
If you choose to purchase the wagon after my Veer wagon review, I would be beyond grateful for you if you purchased it through one of these links. I earn a small commission when you do so!
I personally purchased mine at Nordstrom – let me explain why. It is hard to try this in store, so there aren't really any ways to try it out. Nordstrom has an amazing return policy, and you can return in store, so personally I went that route, because I knew if I didn't like it I could swing by the store for an easy, no questions return! Below are links to other places to purchase that may better suite you. You can also purchase directly from their website.
PURCHASE FROM POTTERY BARN KIDS
( there are a few other options available)
Veer Wagon Accessories
Like I said above – we own the travel bag, the toddler seat, carseat adaptor, and foldable storage basket. Below I will talk about those as well as other options, and give links to purchase.
Carseat adaptor – Veer has added many new carseat adaptor options – check their website to see if your infant seat is compatible with any they have. When using the infant car seat adaptor you can still use one other seat. You can only use 1 infant carseat adaptor on the wagon at one time. Buy Uppa Baby, Maxi Cost, Nuna, Cybex on Pottery Barn Kids
Folding Storage Basket – The Folding storage basket adds needed storage in my opinion to the wagon. I love that it can be folded up for storage! Buy on Nordstrom
Toddler Seat – The traditional bench seat has a 3 point harness, but for younger toddlers you can add a more traditional stroller seat with a 5 point harness. We personally have this on one side for Goldie and the traditional on the other side for Walker. The toddler seat can be left on for folding, and still fit in the travel bag! Buy on Pottery Barn Kids
Travel bag – As stated above a perfectly designed travel bag. If you plan to fly very often with the wagon I highly recommend it. Buy on Nordstrom | Buy From Pottery Barn Kids
Nap System – This essentially turns the wagon into a large bassinet. We didn't purchase this due to having too many kids, but I think it would be a great item to have! Buy on Nordstrom | Buy from Pottery Barn Kids
Retractible Canopy – This is something we will likely add this summer. The wagon doesn't come with any traditional sun coverage, so this will likely be a must in the bright sunny days. – buy on Amazon
There are other items such as extra cup holders, blankets, visors, bug shields, rain shields, and sidewall color kits all on their site as well. I chose to only highlight the items that I personally would see myself purchasing.
Overall – like I said the Veer Wagon is Truly OUR FAVORITE stroller/wagon we have owned and I would buy it again over and over. It has made outings as a family of 6 so much more fun, and the kids all seem to love it.
The Veer Wagon is an investment, but I personally have always invested in a great stroller, and this still comes in as less expensive than many of the higher end double strollers. If you have any questions, please feel free to leave them in the comments below, and I will do my best to answer them!
Pin the Photo Below for Info on the Veer Cruiser Wagon Later