The Uppababy Vista stroller is by far one of the most popular strollers on the market right now, so I wanted to give my full review as a mom of 4 – who has tried them all!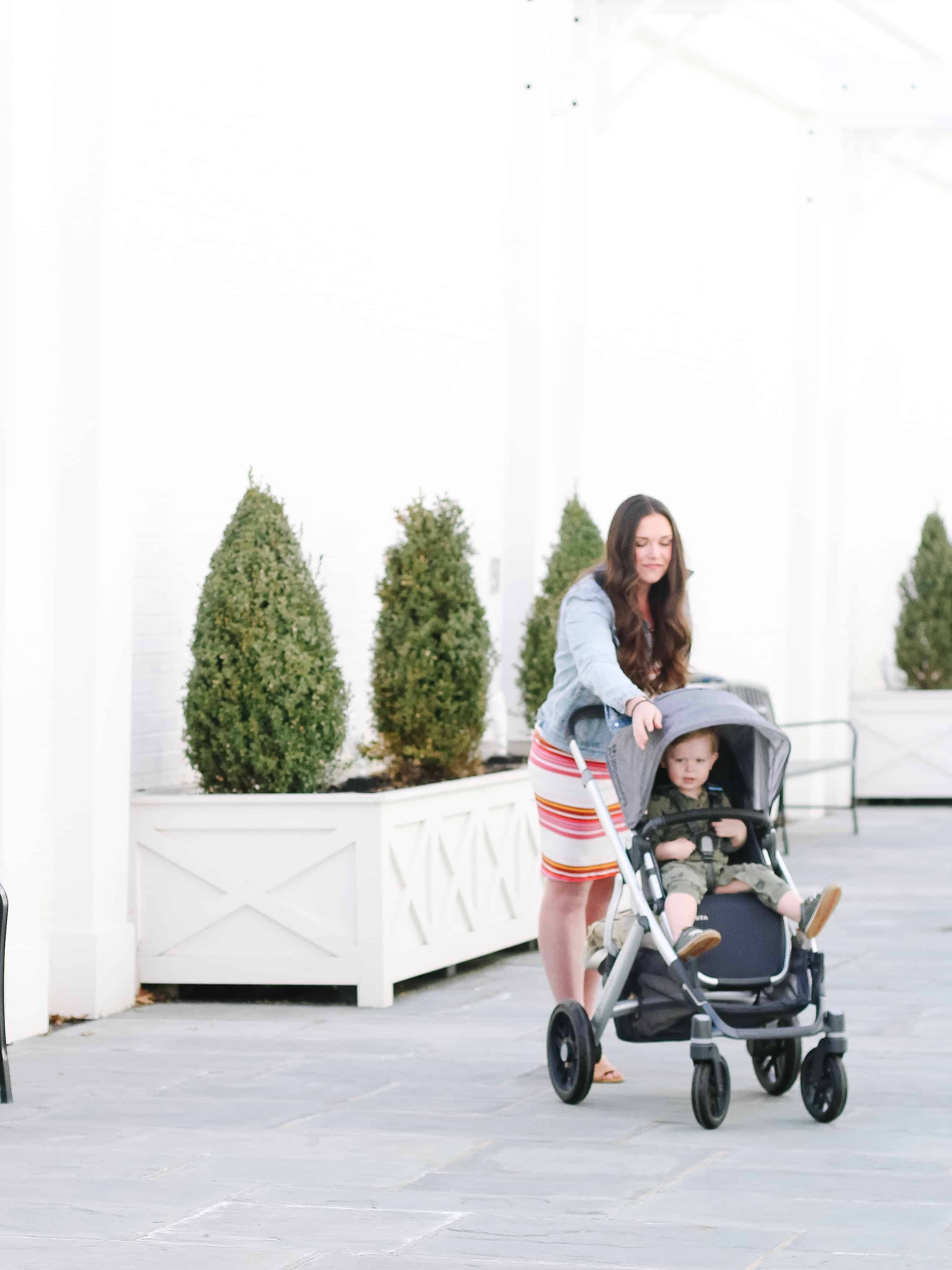 UPPAbaby VISTA
I originally wrote this post when pregnant with my 4th baby and have since updated it after using it with her too!
I knew when I was expecting my 4th baby that I would need a double stroller. My third – Walker – would only be 2 and he is a WILD ONE, so I needed a way to get out with the both of them.
We have owned every stroller under the sun (probably slight exaggeration) in the past 7 years, but haven't had a need for a double stroller for years, so had gotten rid of ours. When it came time to pick, the Uppababy Vista seemed like the logical choice since it was the hot stroller on the market.
In this post I will walk you through what we loved, what we didn't love, and my overall feelings on this gorgeous stroller!
Buy Stroller Below
BUY FROM NORDSTROM: HERE
BUY FROM AMAZON: HERE
BUY FROM POTTERY BARN: HERE
Why We Chose it and What We Love
I am sure you gathered by the opening paragraph that my overall review, is that this stroller is TOP KNOTCH. But I also totally understand when you're stroller shopping you are weighing so many things, so I want to walk you through some of the requirements we have when stroller shopping and WHY this stroller won us over as our favorite.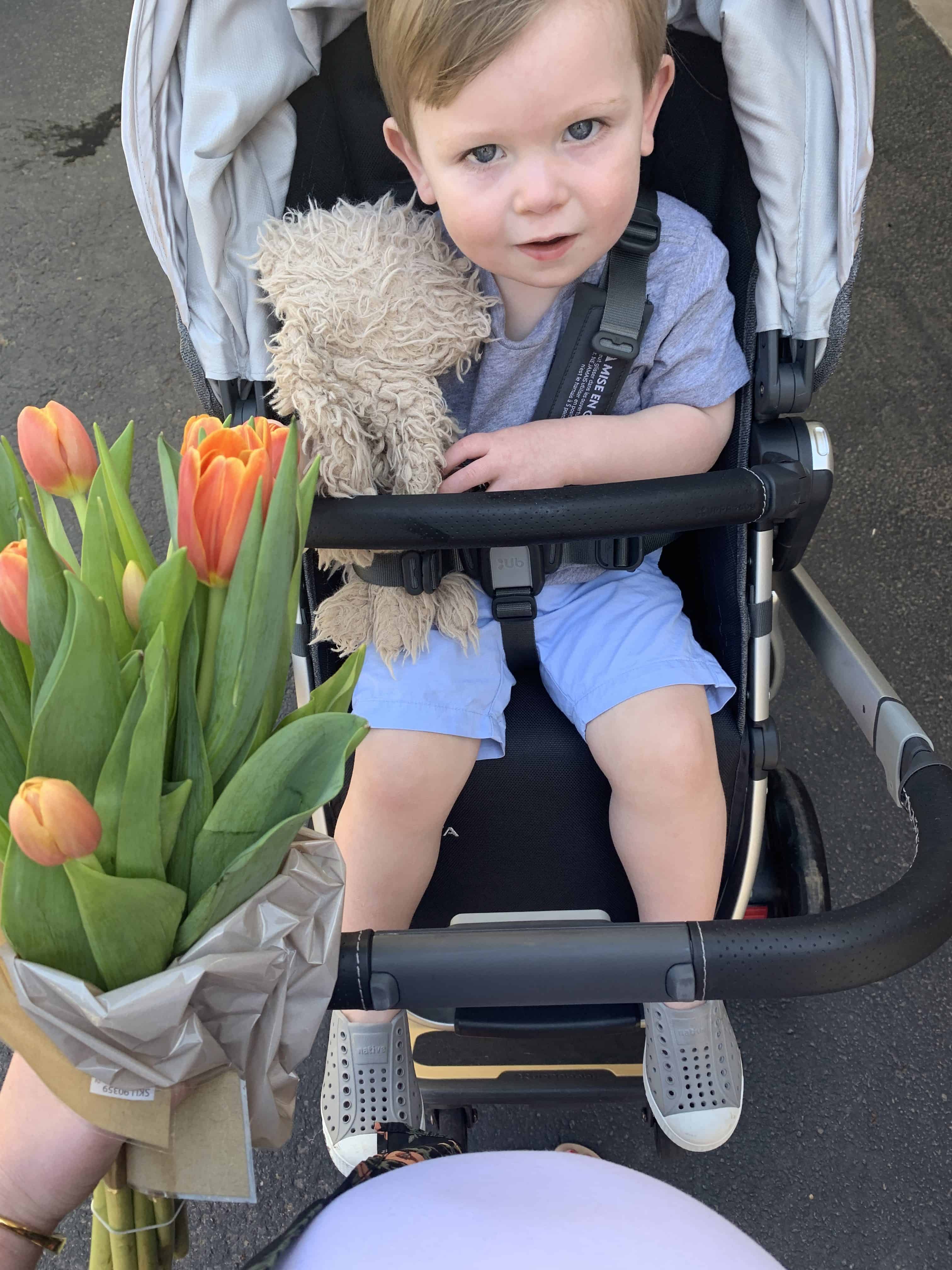 What made us Try it:
I won't lie – I am a baby gear snob. I like high end, and I like pretty. I tend to think that typically baby gear is well thought out so the higher end items are worth the money. I also loved some of the accessories and features that this stroller were able to do.
I knew I wanted an option to use it as a stroller base with carseat only – thats how I use strollers the most when I have a new baby.
I knew I wanted a rider board option, and the UPPAbaby VISTA has a great one.
I wanted the seats to both be able to go either way!
Because of that it checked all the boxes and I was set on trying it!
What We Love:
When you're stroller shopping I have a few thoughts on things that should be somewhat non negotiable, and I will talk to you about those things, but also want to share that I have this blog post talking about the UPPAbaby CRUZ that we also loved.
I personally think if you are expecting your first baby and think there is any chance you will add another baby in the next 2/3 years you would be best to get a stroller that easily converts to a double stroller, but functions normally as a single stroller first. That was our big thing when it came to the UPPAbaby VISTA.
Seat Locations:
Something super important that the UPPAbaby VISTA does that many strollers don't, is that when you add a second seat (or if) the lower seat is in the front. Many strollers that convert to a double stroller add the second seat lower in the back, and it's just not as functional.
Most children don't want to stare at their siblings back, and will get fussy in that lower seat. So the position of the 2 seats is the number one thing we love about the UPPAbaby VISTA.
Seat Positions:
Something else that I think is super important is finding a stroller that allows at least your one child to face you. The seats on the UPPAbaby VISTA are easily turned inwards towards the parent or forward, which allows for them to work well in so many situations. – like I said, this was huge for us, and something we LOVE about this stroller.
Basket Size:
Incase you haven't had your first yet – I am going to let you on to a secret. You will now never leave the house without everything under the sun. Basket size makes or breaks a stroller. I don't like to have to wear my diaper bag all the time, and the UPPAbaby VISTA basket is not only HUGE, but it has cup holders and slots in it to make it functional in so many ways. This is hands down one of the biggest WINS of this stroller.
Accessories:
The last BIG drawing card for me with the UPPAbaby VISTA (and the CRUZ – we had it on that one too and fell in love!) is the PiggyBack Ride – along board. If you have more than one child this board is A GAME CHANGER. I share about it all the time, and I think I have converted more people to this feature on the stroller than anything else on my blog.
The rider board is not necessarily only found on UPPAbaby strollers, but UPPAbaby has perfected it. The ease of folding it and the size/where the child stands allows you to still push the stroller easily, and when its not in use its not in the way, but also doesn't ruin access to the basket.
There are several other amazing accessories you can check out on their page here too.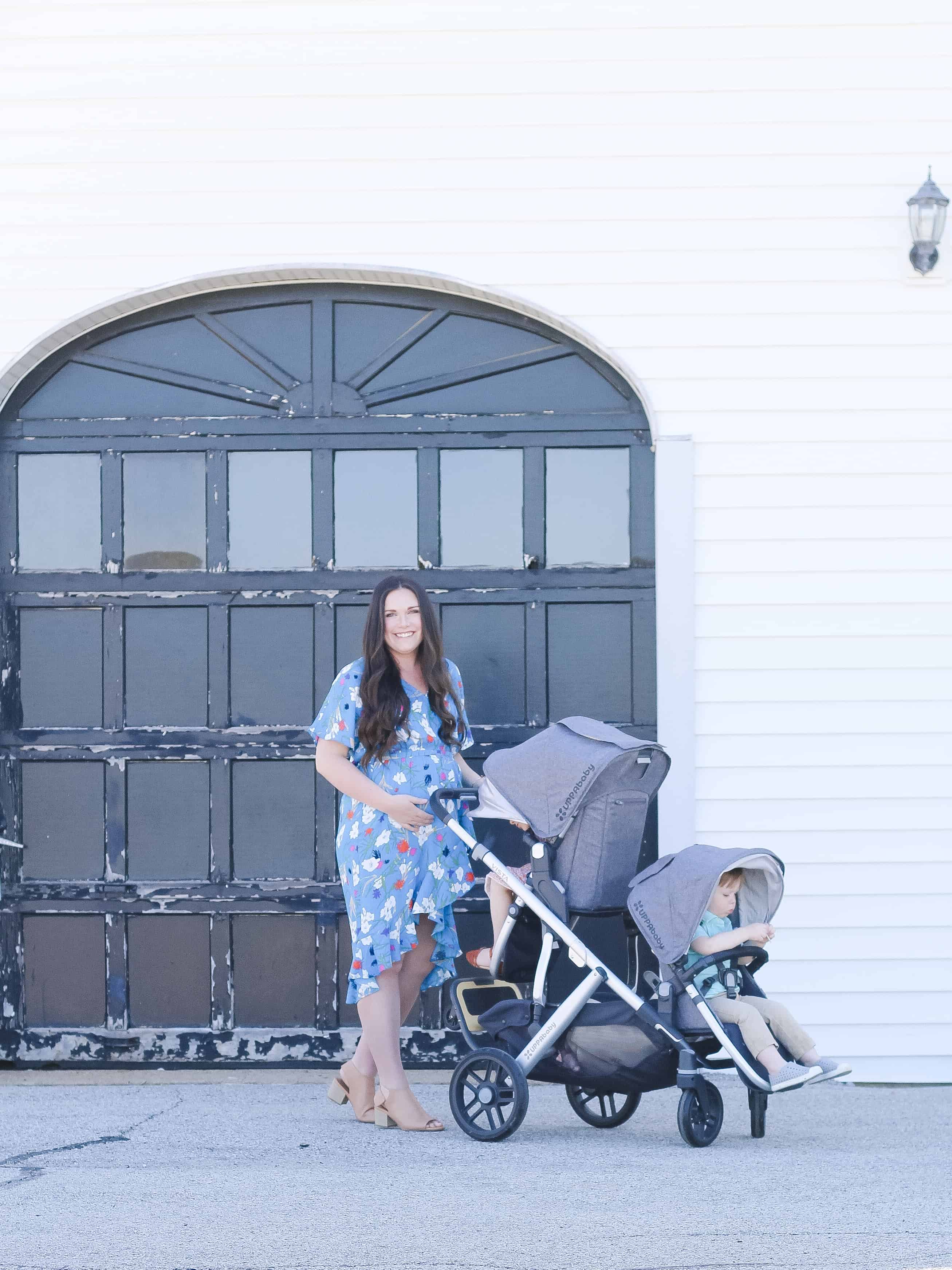 Some Things to Consider as 'Negatives'
Overall this stroller is still a win for me – however I will say we are currently using something different – I will talk about that at the end and link to a review incase you're interested.
My middle two kids are REALLY TALL. Like I am talking off the charts tall. The lower seat wasn't great for either of them, and at 4 my daughter was too tall for both (her head didn't fit under the canopy). That for me found it to be a bit of a negative.
Folding it down as a double is VERY bulky – honestly this is pretty much always the case, but it is still something to remember.
Overall those were my only negatives!
Major Considerations in Any Stroller
Overall when you are buying a stroller, remember that there are few things that you will use most days of your Childs life. A stroller is one of them, and will either make outings easier, or a hassle. UPPAbaby has worked all the kinks out and made a flawless design that is both user friendly for your kids and for you as a parent. I always say if nothing else, go push it around at a store and you will be sold.
It is so easy to push and maneuver, and even with the weight of all three of mine on board at times it still remains an easy push! If you have more questions on the UPPAbaby VISTA stroller be sure to leave me a comment and I will do my best to answer, or direct you to someone who is more equip, or as always, DM me via Instagram!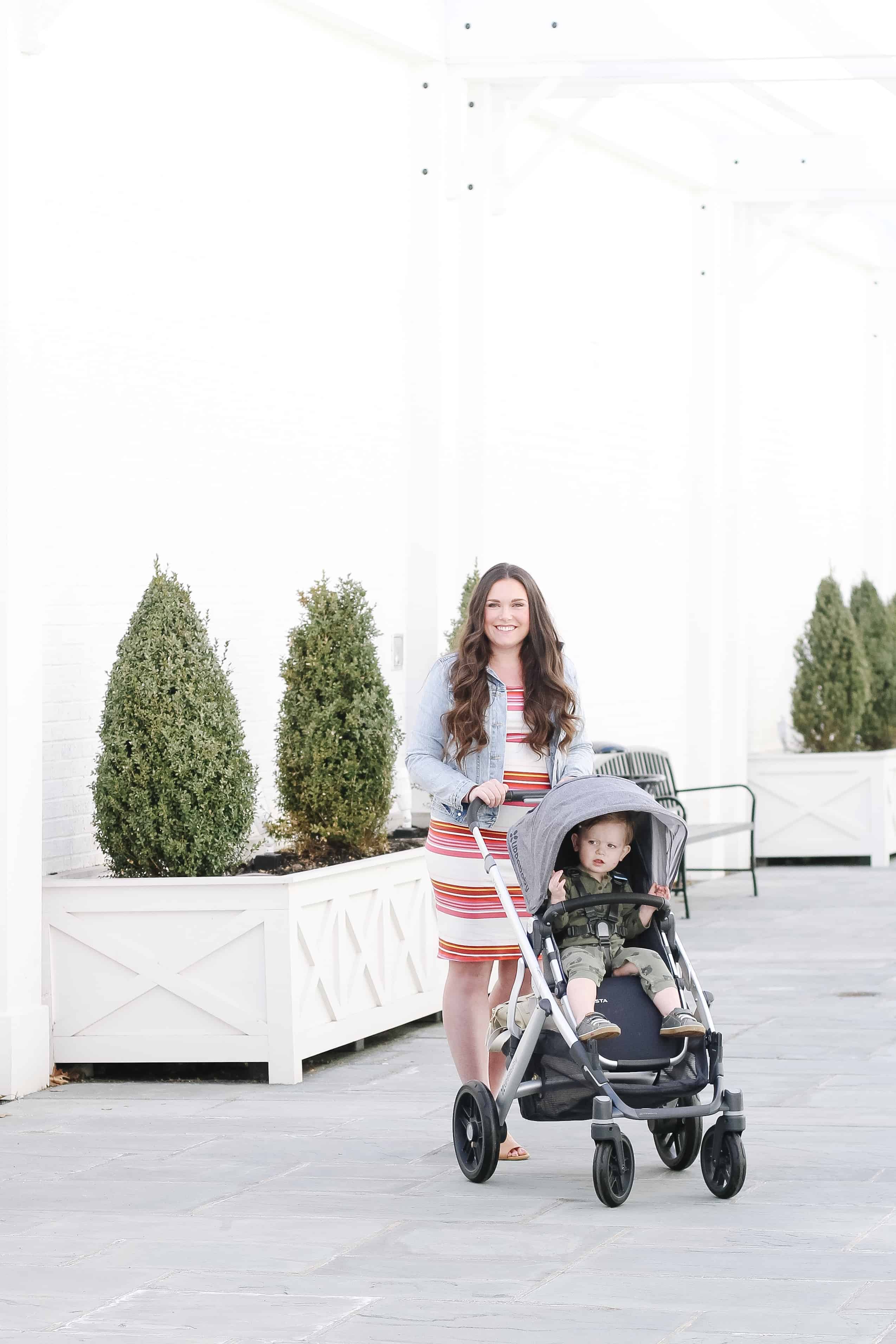 Other Posts You'll Love
Like I said above – we have actually switched strollers now, and one post you may love is this review of the VEER Wagon – We switched for a couple of reasons including the ease of fold and the fact that Walker didn't want to sit in a traditional stroller anymore. That said – it is worth considering as your double stroller.
Another great series is these monthly baby favorites!
Pin Photo Below for Later
Hopefully this helped you decide if the UPPAbaby VISTA is the right choice for you. If you have any questions or comments leave them below, or DM me on Instagram (@arinsolange). Best of luck in your stroller shopping.