What's the saying? Better late than never? I have been using and PLANNING to give you a Freshly Picked diaper bag review for MONTHS, and just haven't gotten around to it. Partially because until now every time I tried to take a picture of the bag with the kids I was so hot I thought I might actually melt…and the photos showed it ha!
This post contains affiliate links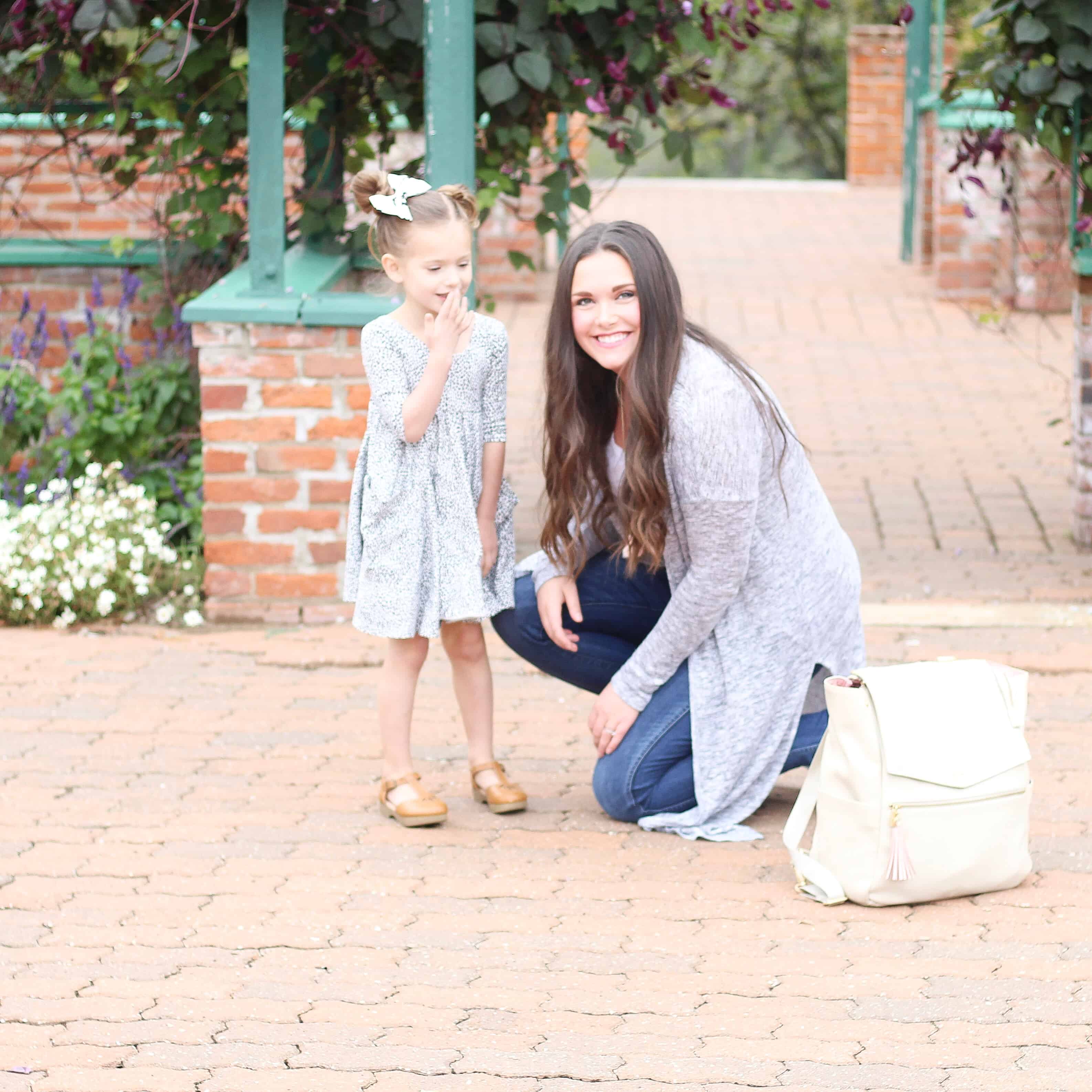 Freshly Picked Diaper Bag Review
I have done a few other diaper bag reviews, and I want to be really clear that I am always honest, and truly have loved all of them in the way I have written it. This particular review is not sponsored at all, I simply wanted to try the bag to give you all a true review.
Be sure to check back in the next week or two for a comparison to this bag and another popular bag that I also LOVE, if you're on the fence.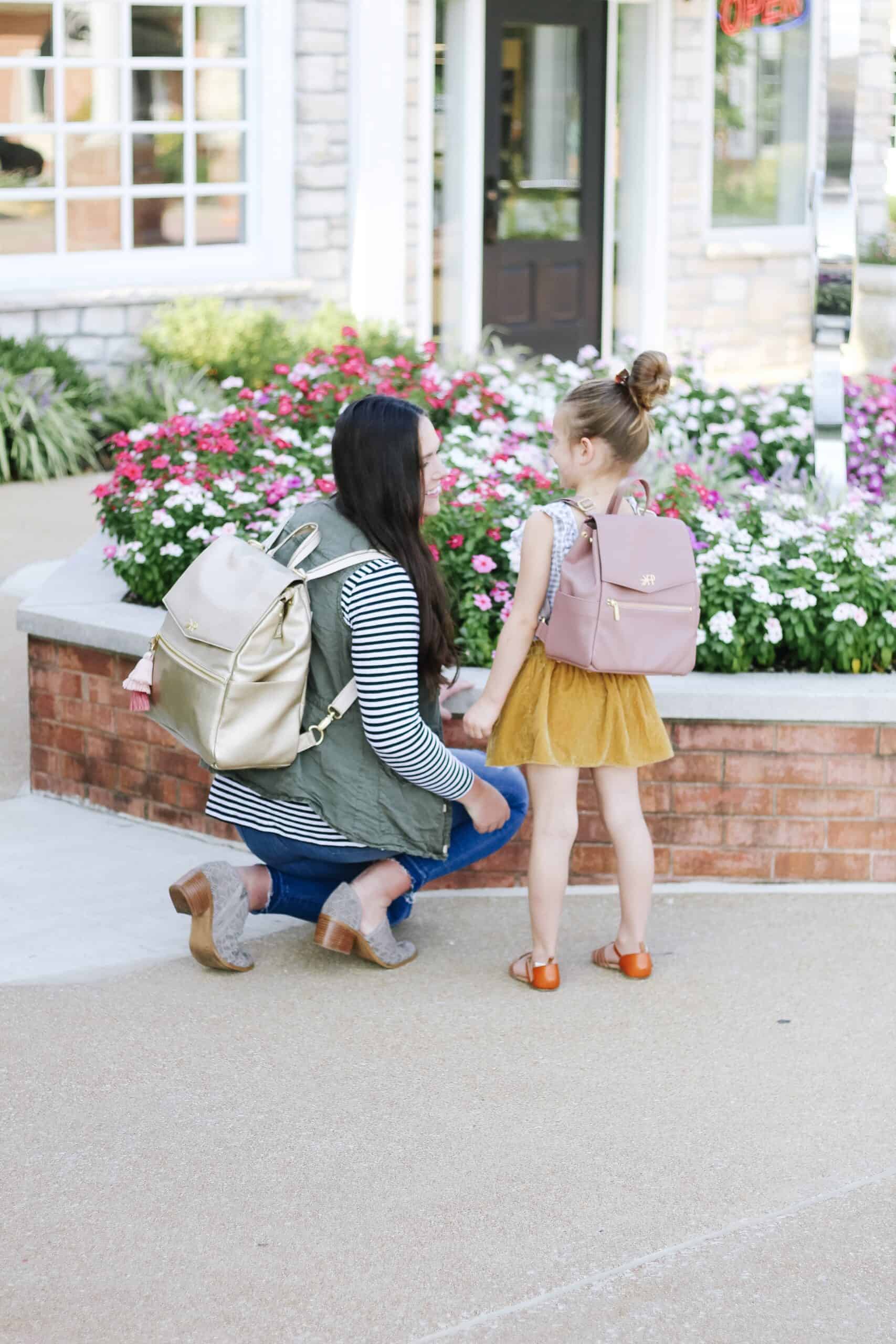 I am not going to give you massive numbers of photos of the bag itself because you can see that on their site, and explore your colors, but I simply want to give you my review of the bag.
First off I will say that I purchased this bag before a trip because I find that with three kids for big outings there were no other cute, functional, and roomy bags that fit everything I needed.
Since that day I have not looked back, however with the bigger two in school part of the day now I probably wouldn't need all the space it offers on a daily basis.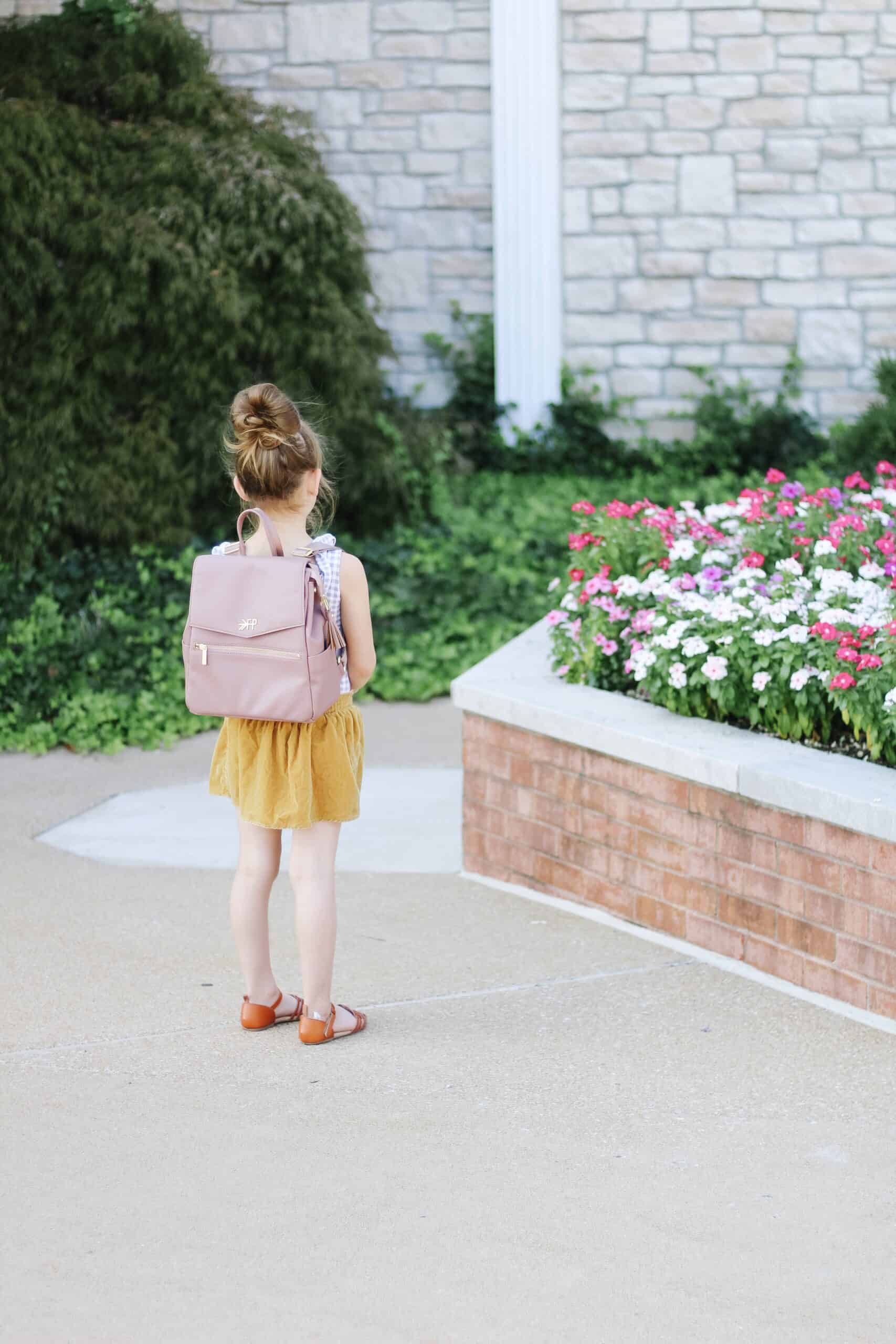 ** Editing this post to say – this review now reflects my use of the bag for a few years and with adding my 4th baby!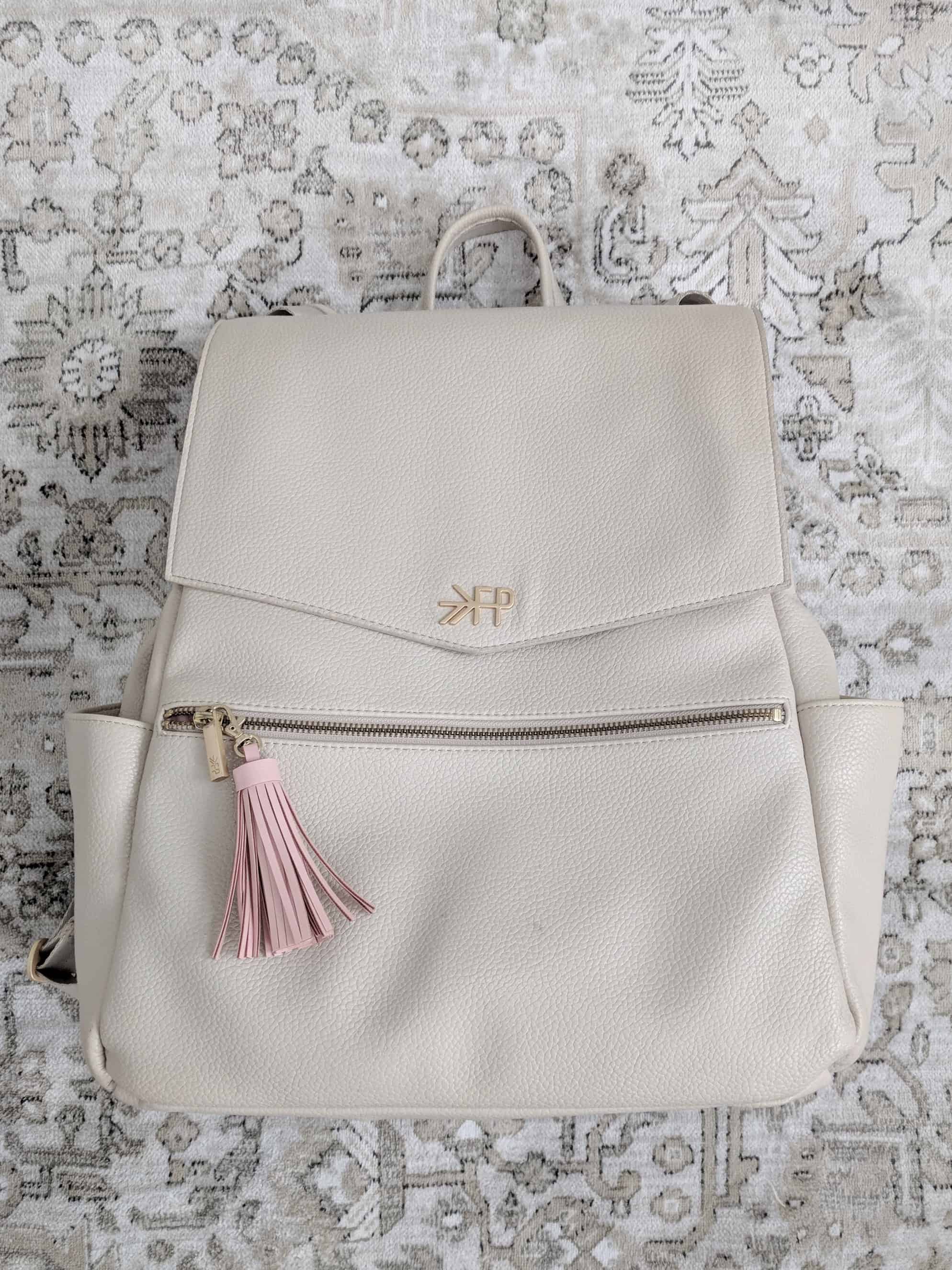 Why I Tried It
I had been using another popular brand of diaper bag with my third (actually had used it with my second and third) and although I loved it and it was beautiful it was truly NOT big enough for longer outings with 3.
At the time I had 3 little ones aged infant, 3 and 5. My 5 year old has a food allergy, so I end up with more snacks than some moms, plus 2 water bottles for the kids and bottles for the baby alone just take up so much room.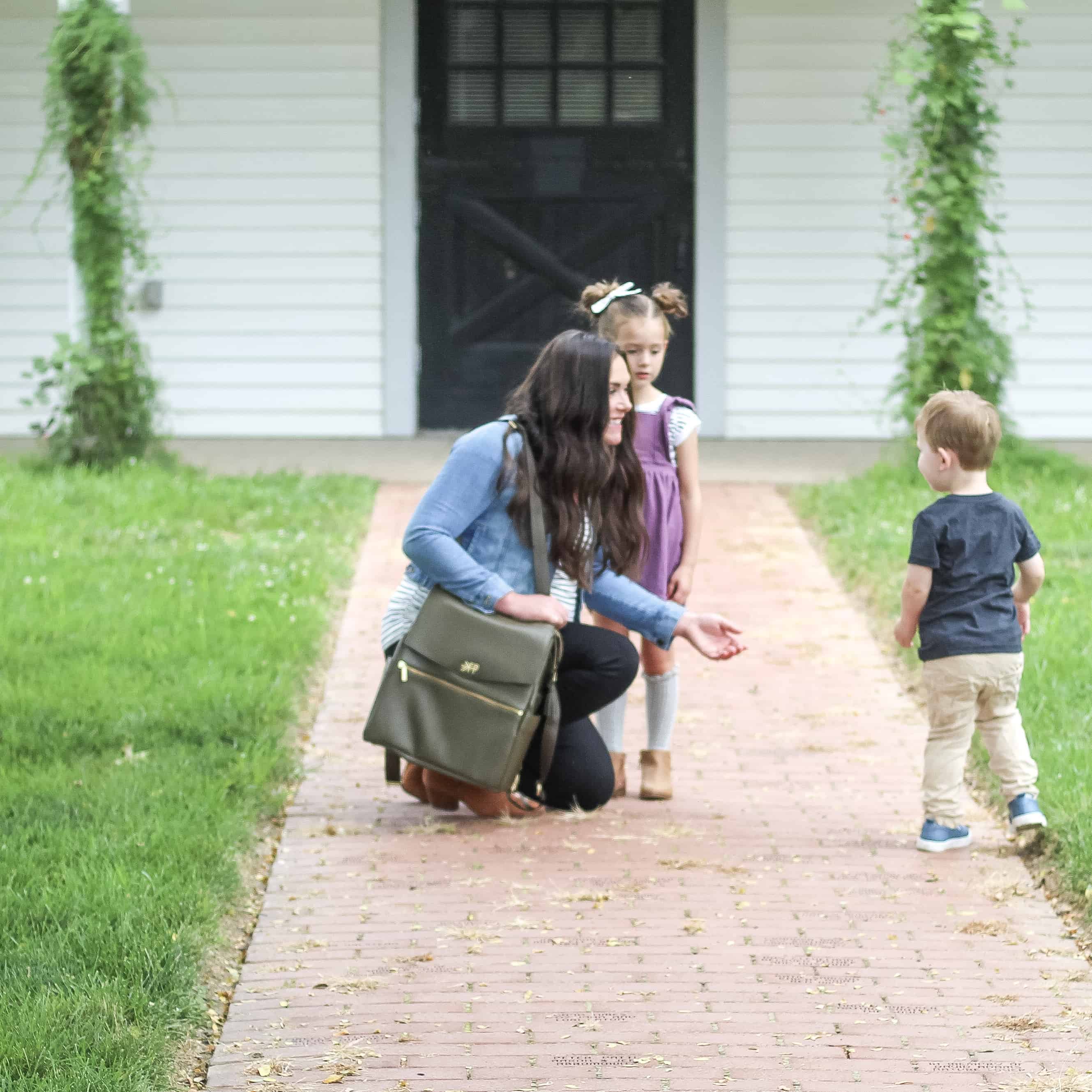 We were headed out on a trip for the weekend (like I said above), and I really wanted something that functioned a bit better for that need. So to shorten that a bit – I wanted something larger, that was still beautiful and was a backpack.
I have owned Freshly Picked shoes since I had my oldest, so I knew the quality was amazing, so I figured it was time to try the bag!
Features I Love
The fact that it's a backpack. If you haven't jumped on the backpack diaper bag trend yet then stop what you're doing and order one. It is a game changer as a mom.
There is a sleeve for my laptop – I work from home and when we travel or when we go to the gym I often times bring my computer to get some work done. The Freshly Picked diaper bag has a perfect sleeve to fit my MacBook that makes it so much easier for me to bring often.
The height of the bag – The bag is a lot taller than many diaper bags – a similar shape to a traditional backpack, so it makes it both comfortable on your back but also allows it to hold a lot more than bags that have more of a square shape.
Inner pockets – this is a huge one for me. I need a little organization in my bag. I still use some organizers of my own, but in general I think a diaper bag should offer some organization of its own. the Freshly Picked diaper bag has so many inner pockets and they all have elastic at the top so things stay in place!
Speaking of inner pockets – an outer pocket is also huge for me. The outside pocket is such a good size so it allows you to keep your phone and wallet in easy access. For me that is maybe my favorite part because there is nothing worse than digging to the bottom of the diaper bag for either haha.
Lastly it has a top handle – I hang my diaper bag in my laundry room so I love that this makes it easy to hang and store.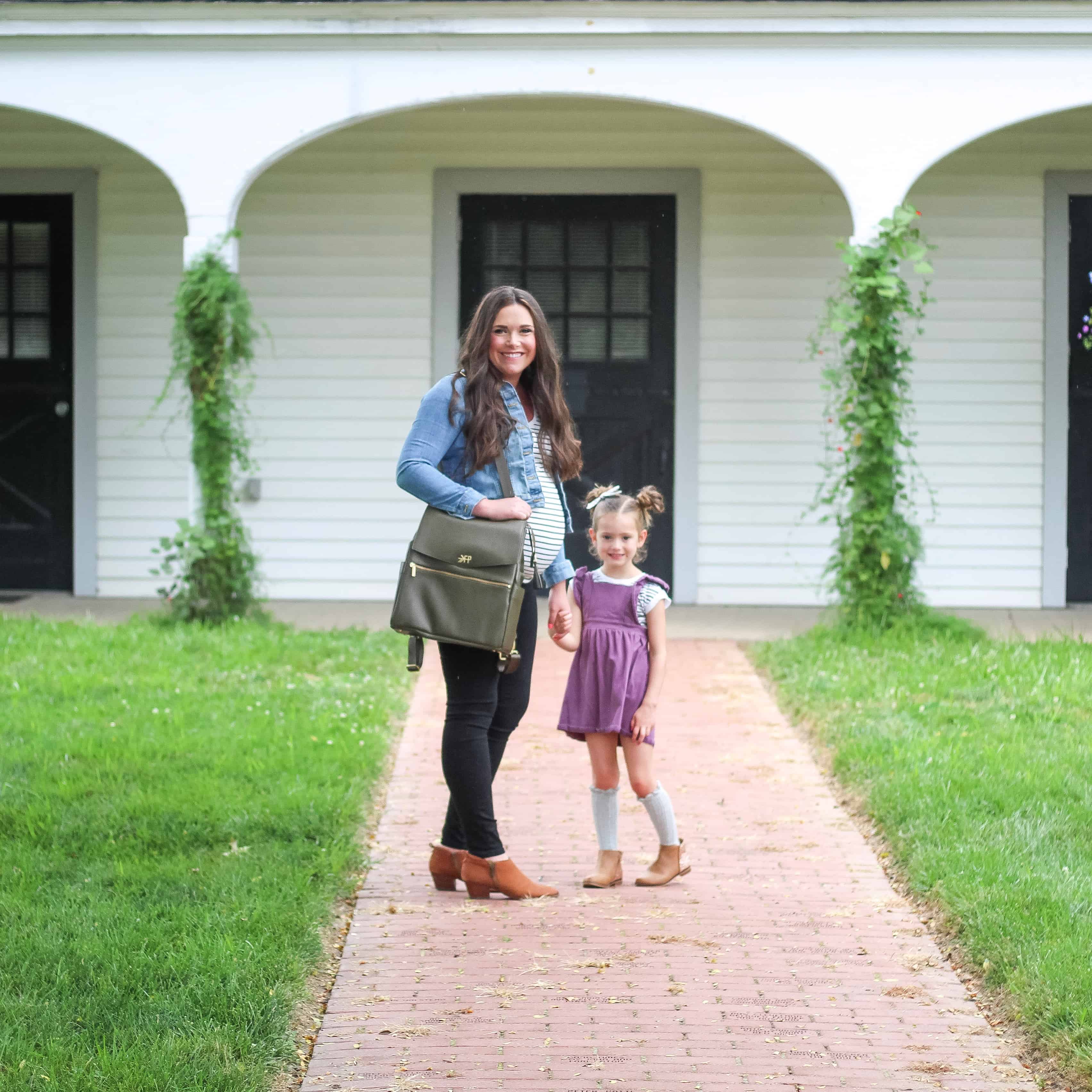 Features I would change
In a spirit of transparency, as with almost anything I have owned there are a few tiny things I would maybe change. Not deal breakers, and still make this bag a LOVE bag and my top recommendation for moms with multiple kids.
Outer pockets – I find that with this bag as well as my other favorite leather diaper bag the outer pockets can be kind of a tight fit. I find myself mostly just using the inside ones. The good news in the case of this bag is that I haven't ever really minded because there is plenty of room. (when I say outer pockets I mean the two on the sides for bottles and such)
Snaps near the top – I think in theory I love these for making the bag larger or smaller, however they don't tend to stay closed for me. This is fine because I keep the bag full a lot of the time, but I could see if you don't need such a large bag you might want those to stay closed more.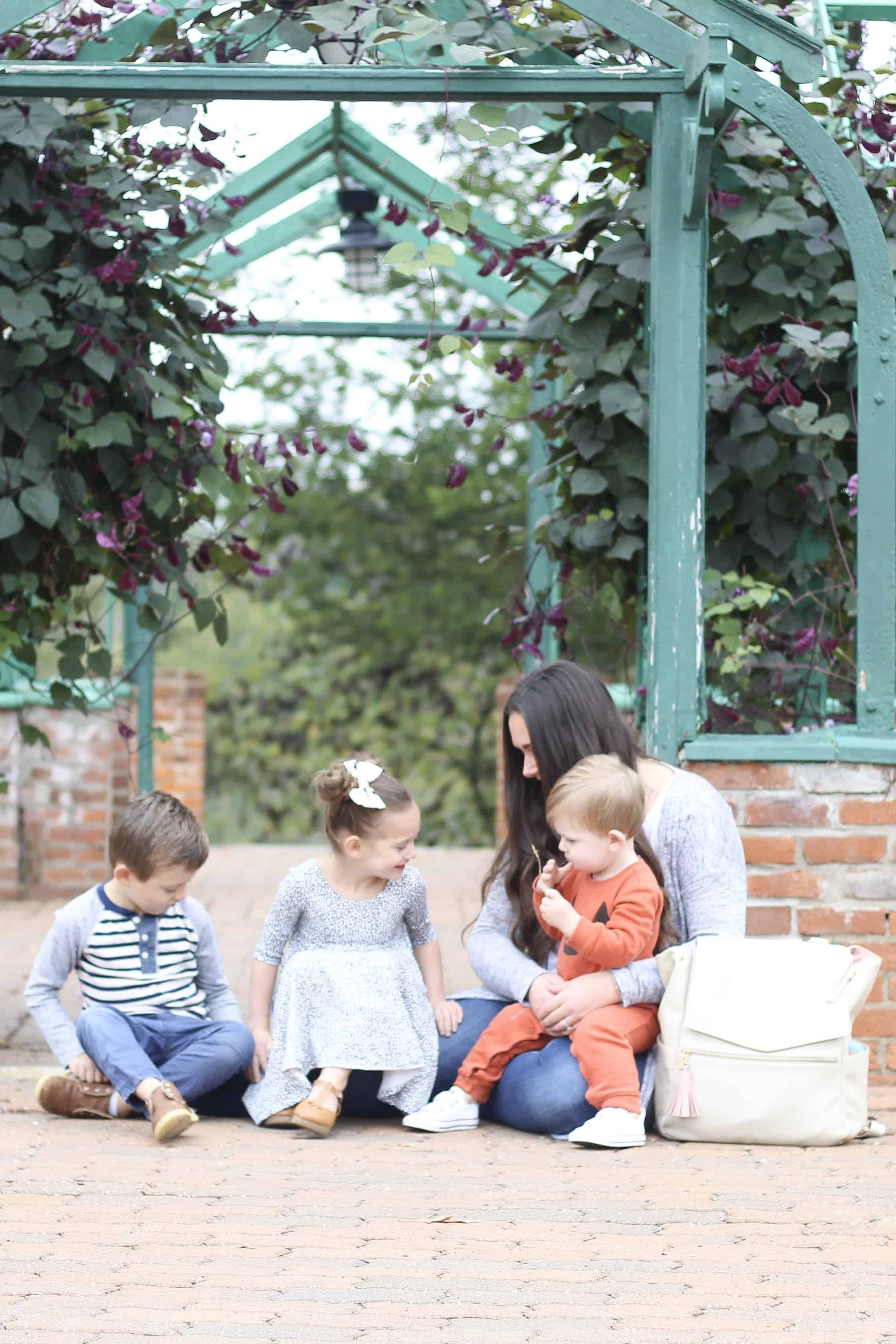 Purchasing the Bag
Overall like I said this bag is AMAZING. I can't recommend it enough and I truly think if you're only going to invest in one diaper bag with multiple kids or want one that will last this is a great way to go.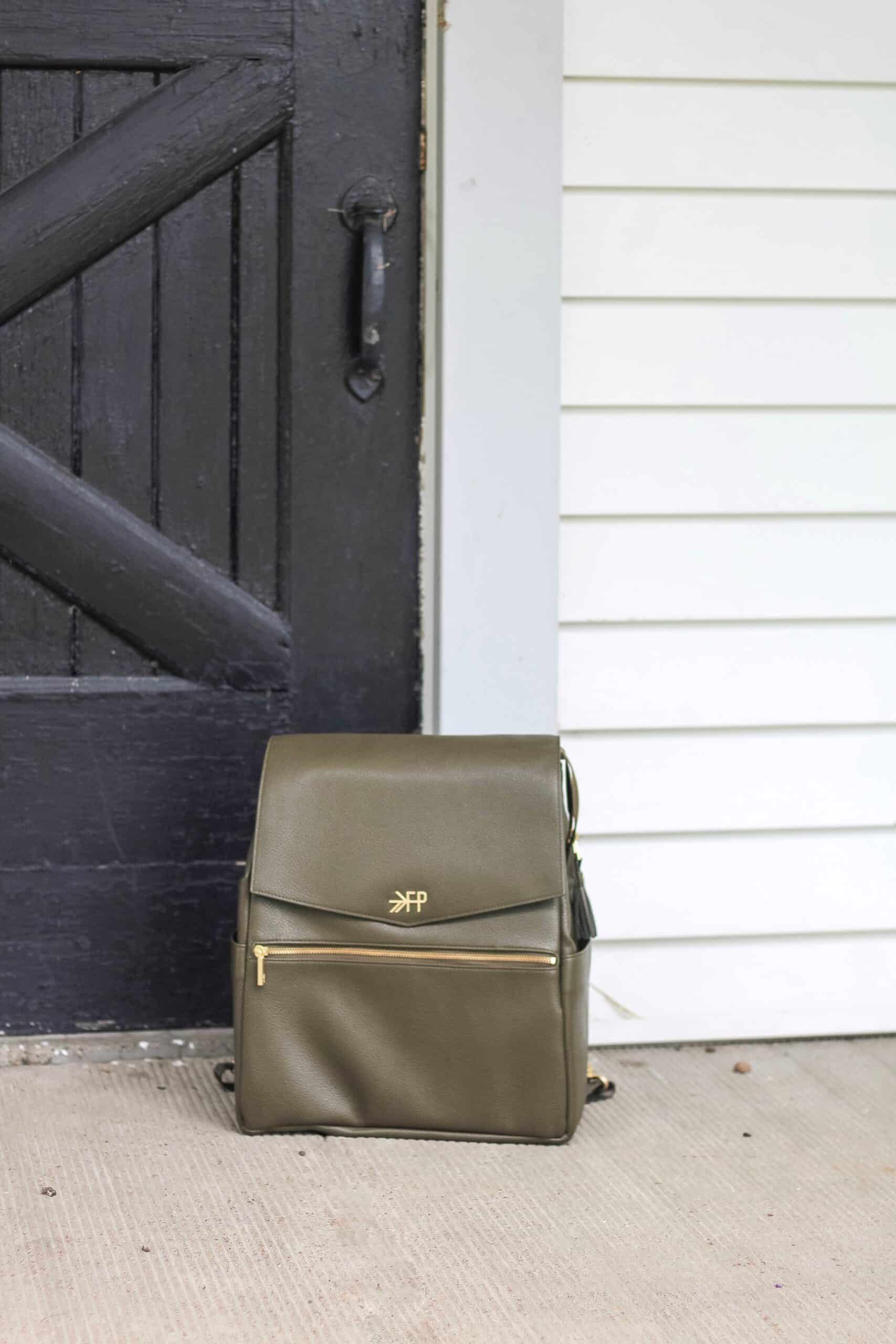 Fringe Membership
If you are already a Freshly Picked fan you should definitely look into doing Freshly Picked's The Fringe membership – This is basically a savings account not a subscription service
-NO cost to you. $10 a month gets you $10 in store credit each month. The credit rolls over and NEVER expires.
–Fringe members get 20% off of EVERY purchase on our site
-No risk can cancel any time. but why would you?!
-Stack discounts with sale items on our site!
-FREE shipping on EVERY order (US and Canada)
IF you want to sign up use the code FPxArin for the first month free!!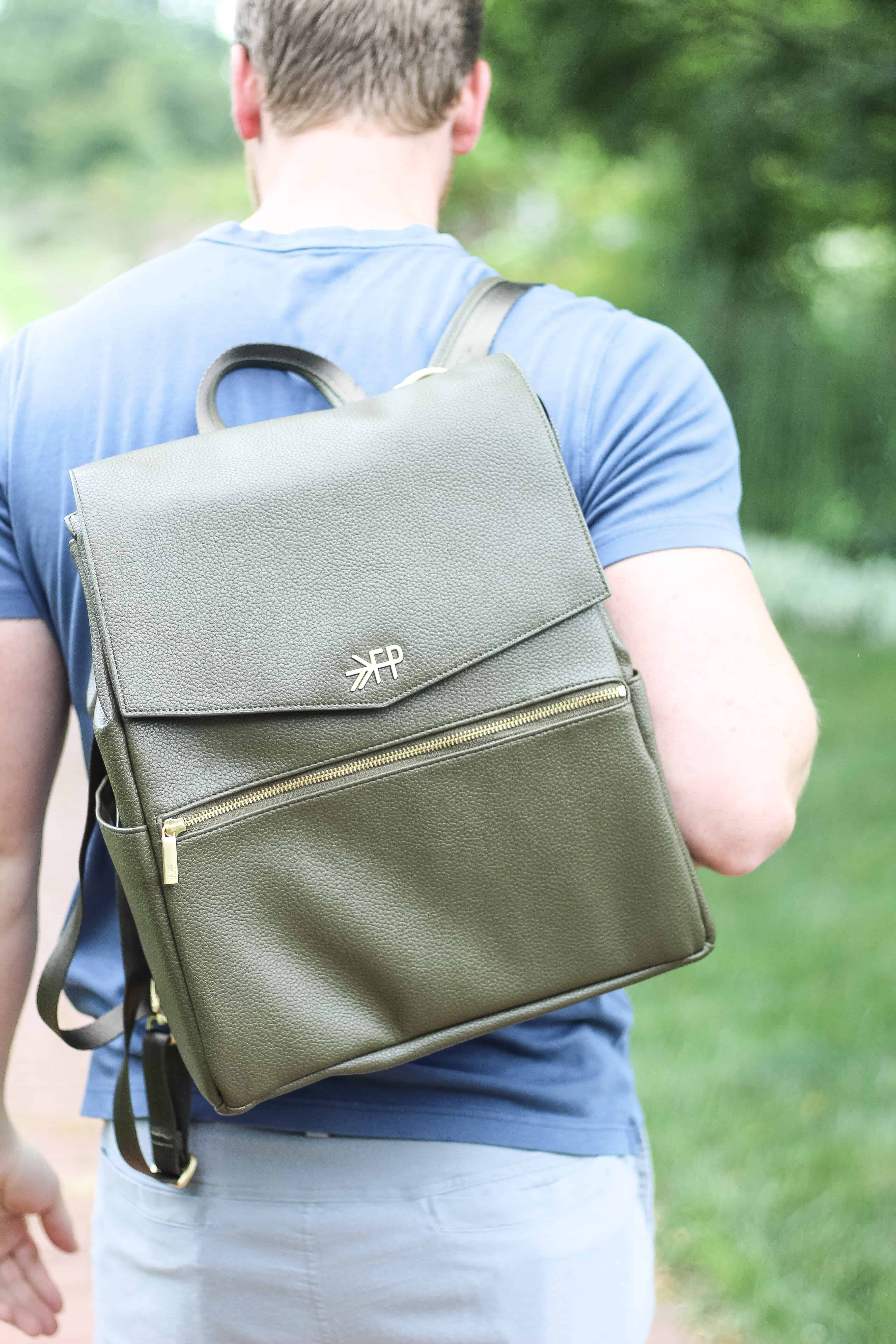 Other Posts you Might Love
Freshly Picked vs Fawn Design Diaper bag | Monthly Baby Favorites | Veer Wagon Review
If you have any questions alway feel free to leave me a comment below or DM me on Instagram. As I said in this post – the Freshly Picked diaper bag is truly so much better than any other bag I have tried, and I can not recommend it enough.
Whether it is for your first baby or your 7th you will appreciate having the Freshly Picked Diaper bag – and if you are like me you will probably be using it for travel and your own personal backpack for years to come!
Pin the Picture Below to Save Freshly Picked Diaper Bag Review