And just like that…onto the next holiday. haha!! I know it is early to start thinking about Valentine's Day, but there are so many fun things about the holiday for me, so I couldn't wait to share some. My first round up is of Girls Valentine's Day outfits.
Valentine's Day fashion is so fun for little girls because 99.9% of it can be worn any time. I mean lets face it…little girls look cute in pink hearts no matter the season. For that reason I always feel like its easier to get more items for Valentines's Day than say Christmas.
This post on Girls Valentine Day outfits contains affiliate links
Check out the 2020 version of this post HERE!
Once you shop this page, be sure to be watching my Instagram page for more Valentine's Day fun finds that I run across. I will be posting what I find until the holiday is over, and will be continuing to round up other Valentine's Day posts for you this month.
If there is something specific you would like to see be sure to leave me a comment so I can work on that post!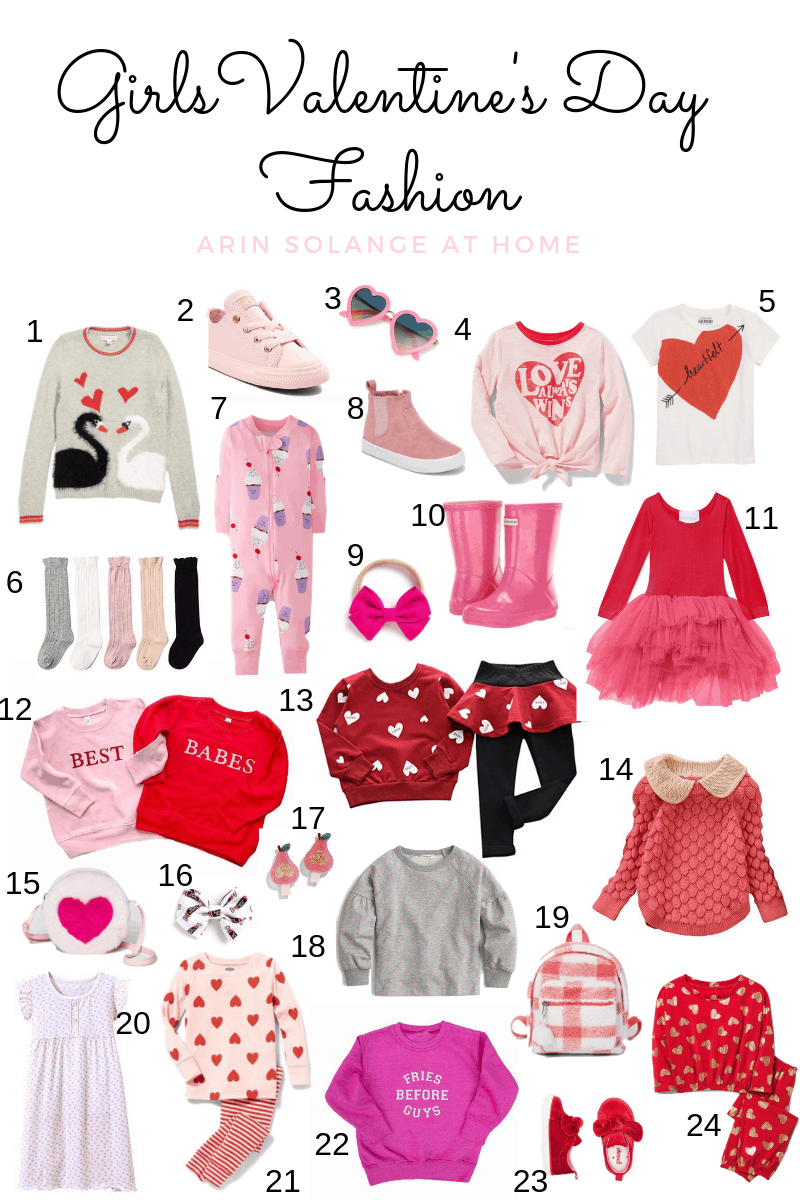 Girls Valentine's Day Outfits
1 // 2 // 3 // 4 // 5 // 6 // 7 // 8 // 9 // 10 // 12 // 13 // 14 // 15 //16 // 17 // 18 // 19 //
Swan Sweater – this is so cute, and screams Valentine's Day!
Pink all over leather Converse – Avé got these for Christmas and they are so so so cute!! They have little gold accents which I love.
Love Always Wins shirt – I got Avé this shirt and its so cute. It would be darling with a tutu!!
Knee High Socks – This color way would be so cute with so many Valentine's Day outfits
I am obsessed with these pajamas!!!
These little sneakers so much. They would be cute year round!
Sparkly Hunter Boots – Avé got the lighter color for Christmas and they are to die for!!
These Plum Tutus are my favorite, and I love that they have new long sleeve ones for winter months.
These cute sweatshirts are adorrrrable!!
I have been eying this sweater for Avé for a long time. I feel like it would be so cute for fall through spring!
I can't even stand how cute this Tootsie Roll bow is!!
Grey and pink heart sweatshirt – I love this and it is so subtle
This nightgown is SO cute. It comes in two shades of pink and I love it.
Fries before Guys Sweatshirt – this is such a need!
Red and gold heart pajamas – these are so cute and scream Valentine's Day.
If you're looking for some more Valentines inspiration, check out this post on a an adorable Toddler Valentine's Day party for some inspiration, or grab these free Valentine's Day printable's for your houses, and hopefully you found some adorable inspiration for girls Valentine's Day outfits for the whole season!