Incase you missed the first 2 Whole 30 blog posts, be sure you check those out before you jump into this one. ( free printable whole 30 calendar // week one shopping list)   My husband and I are starting the new year off with the rest of the planet making healthier choice, and for us that is doing the Whole 30 diet.  I have a free Printable Whole 30 Calendar you can follow, but I also wanted to give you free Weekly Printable Whole 30 Grocery Lists.  This list is for week 2, and contains links to the recipes.
A couple of things to recap
Many of the items especially spices you will have.  (in fact most were on last weeks list!)
This is a dinner only calendar, however I have pinned many great recipes you can make for breakfast or lunch on THIS Pinterest board.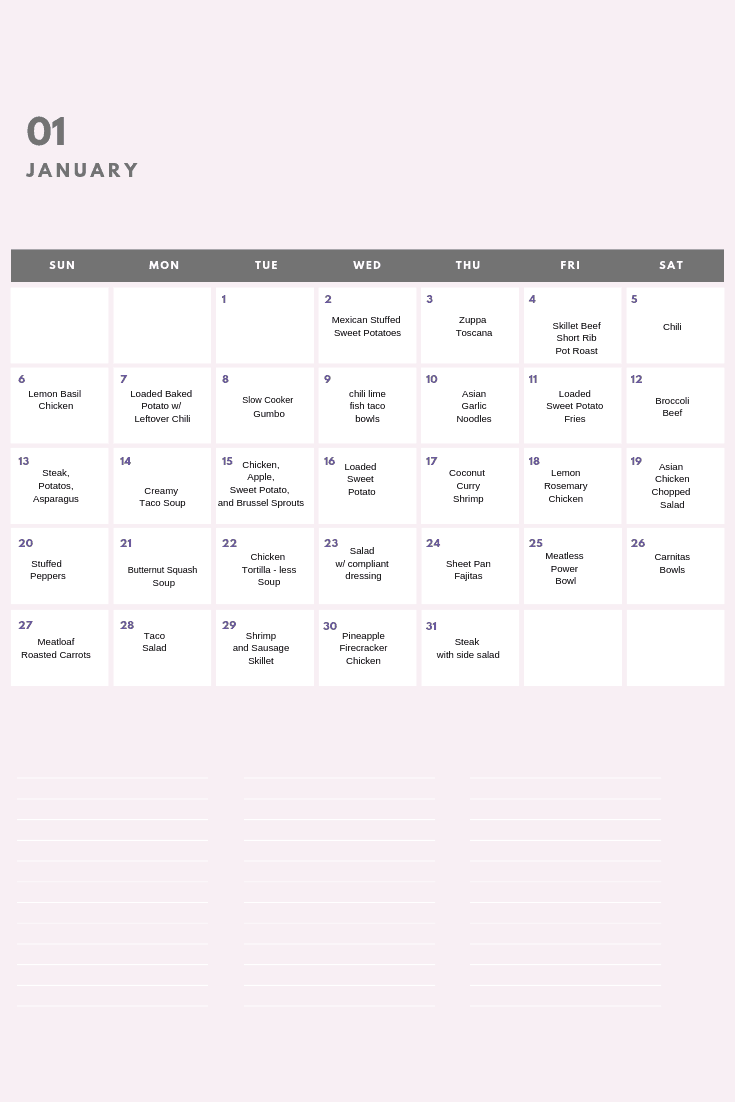 Free Printable Whole 30 Calendar
Jan 9 // Chili Lime Fish Taco Bowls – these also call for a recipe for Whole 30 Mayo found here. 
Jan 10 // Asian Garlic Noodles
Jan 11 // Loaded Sweet Potato Fries ( there are items on your grocery list with a * – this is because the whole 30 ranch is optional so if you don't want to add that to your fries or have on hand you don't need those items!)
Jan 12 // Broccoli Beef 
Jan 13 // Steak, Potatoes, and Asparagus – no recipe, but your grocery list calls for potatoes of choice, and steaks per person.  A simple great meal!
Jan 14 // Creamy Taco Soup
Jan 15 // Chicken, Apple, Sweet Potato, and Brussel Sprouts
PRINT YOUR WEEK 2 SHOPPING LIST HERE
hopefully if you have been following along and sticking through this with me, you are loving this program.  Be sure to check in on Instagram with me.  I have a stories highlight, and would love DM's from you on how you're doing…or if nothing else, misery loves company haha!