If you made it this far, CONGRATULATIONS!! We are on the tail end of the Whole 30, and I hope you have found the free printable Whole 30 calendar helpful so far this month.  This is the last Shopping list for the month, however remember if you decide to continue, or need to modify any of these, I have many more ideas on my Pinterest board, and will be continuing to add to it! The end of this post will have your week 4 whole 30 shopping list, so enjoy and keep up the good work!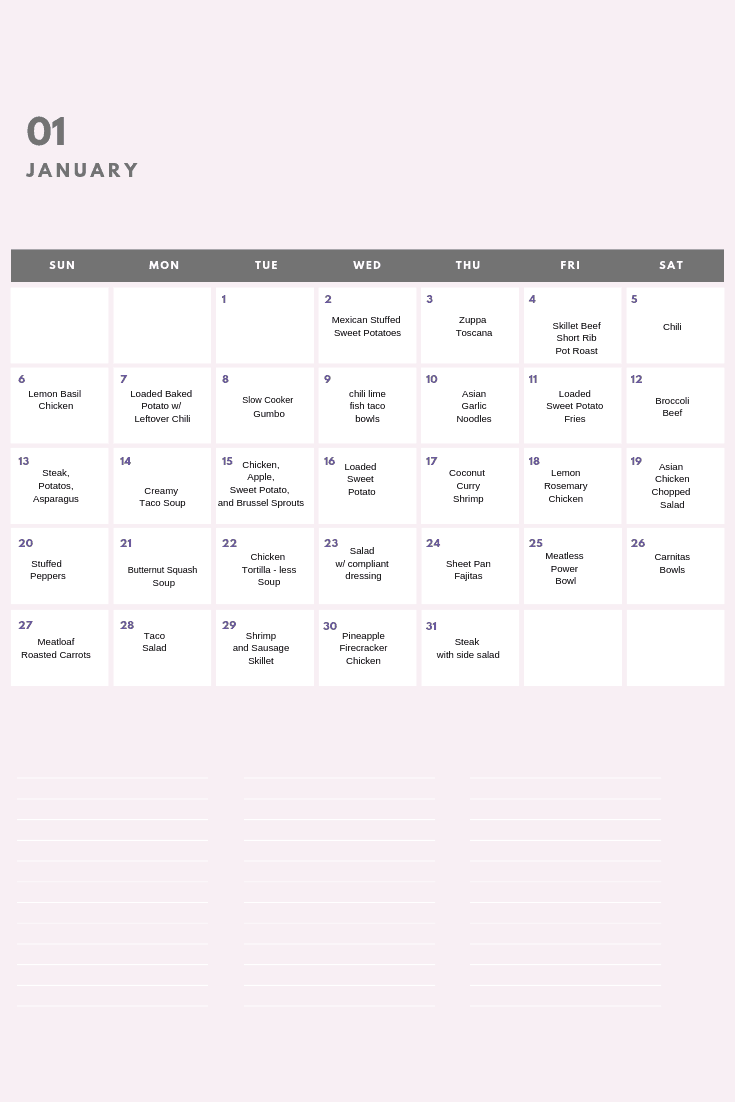 Week 4 Whole 30 Shopping List
Jan 23 // Salad with Compliant Dressing – Your shopping list tells you to get enough salad for a dinner and a side, and this is why.  If you live near Trader Joes there are a few great options in the produce section.
Jan 24 // Sheet Pan Fajitas 
Jan 25 // Meatless Power Bowl
Jan 26 // Carnitas Bowls
Jan 27 // Meatloaf + Roasted Carrots (carrots are on your shopping list and prep how you like)
Jan 28 // Taco Salad
Jan 29 // Shrimp and Sausage Skillet
Jan 30 // Pineapple Firecracker Chicken 
Printable Shopping List
Print your shopping list for this week below.  Be sure to check your pantry because almost all spices have been used previously this month!!
Printable Week 4 Whole 30 Shopping List
Be sure to be following along with me on Instagram and let me know if you have any questions!! I hope you're feeling great at this point in the month, and loving these recipes!!