Trying to finish up these Whole 30 shopping lists for you guys I have the 3rd weekly Whole 30 Shopping list ready to go. If you missed it, make sure you start on this post for your free printable Whole 30 Calendar that these go with.  I will be following that calendar all month, and linking to each of the recipes per week with a free printable shopping list weekly.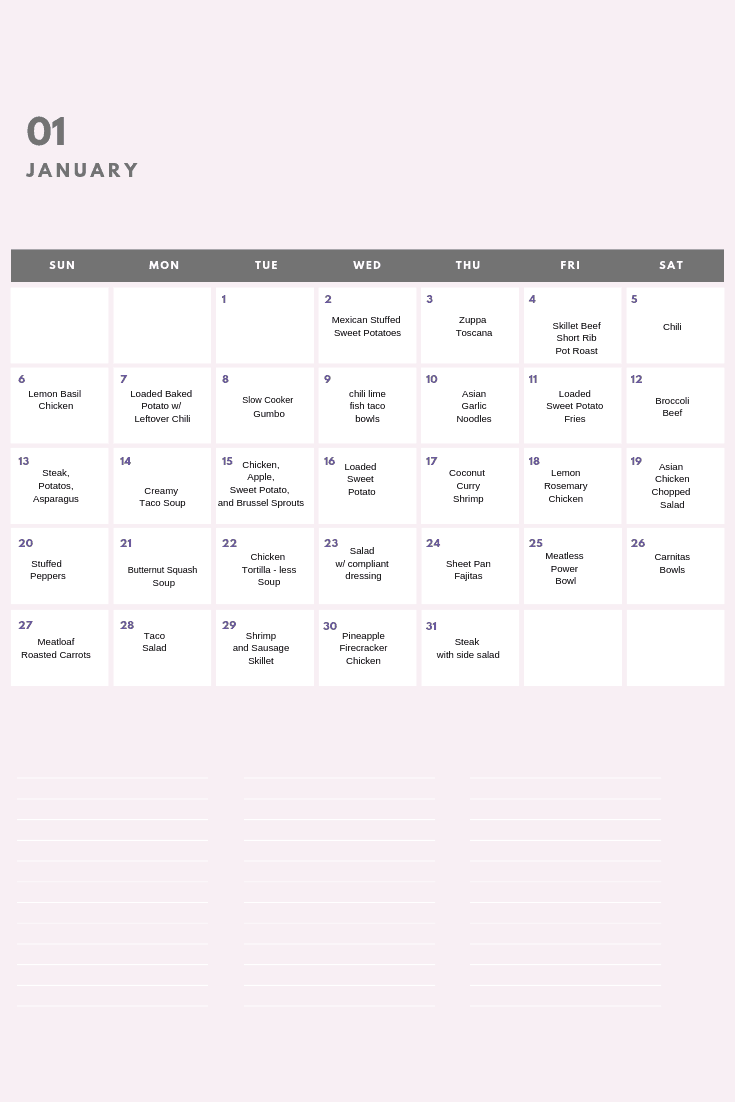 Weekly Whole 30 Shopping List
This weeks list has a few notes, so make sure you check those before you head to the recipes!!
Jan 16 // (this is one of my own posts that I have made several times from a guest blogger!)  Loaded Sweet Potatoes
Jan 17 // Coconut Curry Shrimp – THIS IS NOT A WHOLE 3O RECIPE, however I have made it so many times that I knew it could easily work.  Sub olive oil for the butter in the recipe, and you can not use the honey.  I added a couple of extra dates to the shopping list.  You can blend those and add for sweetness if you need it, but you may be okay without.  Serve over Cauliflower rice.
Jan 18 // Lemon Rosemary Chicken 
Jan 19 // Asian Chicken Chopped Salad 
Jan 20 // Stuffed Peppers
Jan 21 // Butternut Squash soup – I MAKE THIS ALL THE TIME. I personally always use frozen butternut squash because it is so much more simple.  I make mine in my CROCK POT.
Jan 22 // Chicken Tortilla-less Soup
Your Printable List
Print the list below and take it shopping.  It covers all ingredients need for all of the recipes above. There is a section to add items for lunch/breakfast, and be sure to check what you have.  Many of the spices have been used in previous weeks.
Make sure you check out this Pinterest board, and follow along with me on Instagram and ask me if you have any questions…or want to suffer through with me haha!!