Happy Birthday Sunshine Girl!! Our Goldie Mae is ONE! I can barely believe it has been a year since she was born – but more on her one year update later. Until then lets talk birthday party. We had Goldie's 'A Drop of Golden Sun, Goldie Girl is One' Party a few weeks ago and it was sweet, simple, and perfect for our girl.
this post may contain affiliate links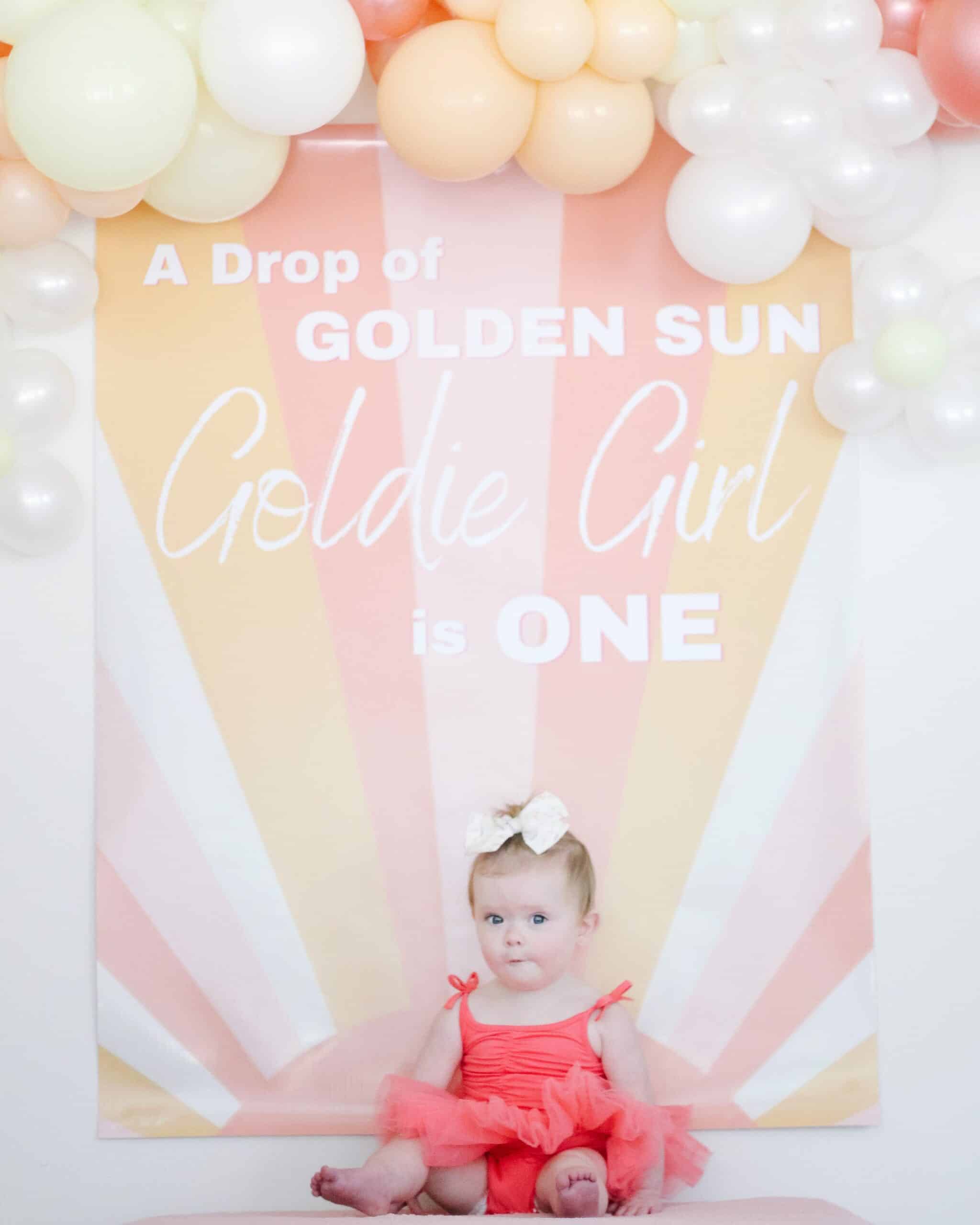 Happy Birthday Sunshine Girl
When I started planning Goldie's First birthday I knew I wanted to somehow incorporate sunshines. Her nursery sign that says 'A drop of Golden Sun' has been one of my favorite things in her nursery and I decided to incorporate that.
Clearly this was a 2020 Birthday with very few people at her party because of stay home orders and such, SO we went simple for just the family and it was perfect. I will share all the details of the party in this post, but if you are looking for more party inspiration be sure to check out the rest of my parties linked below.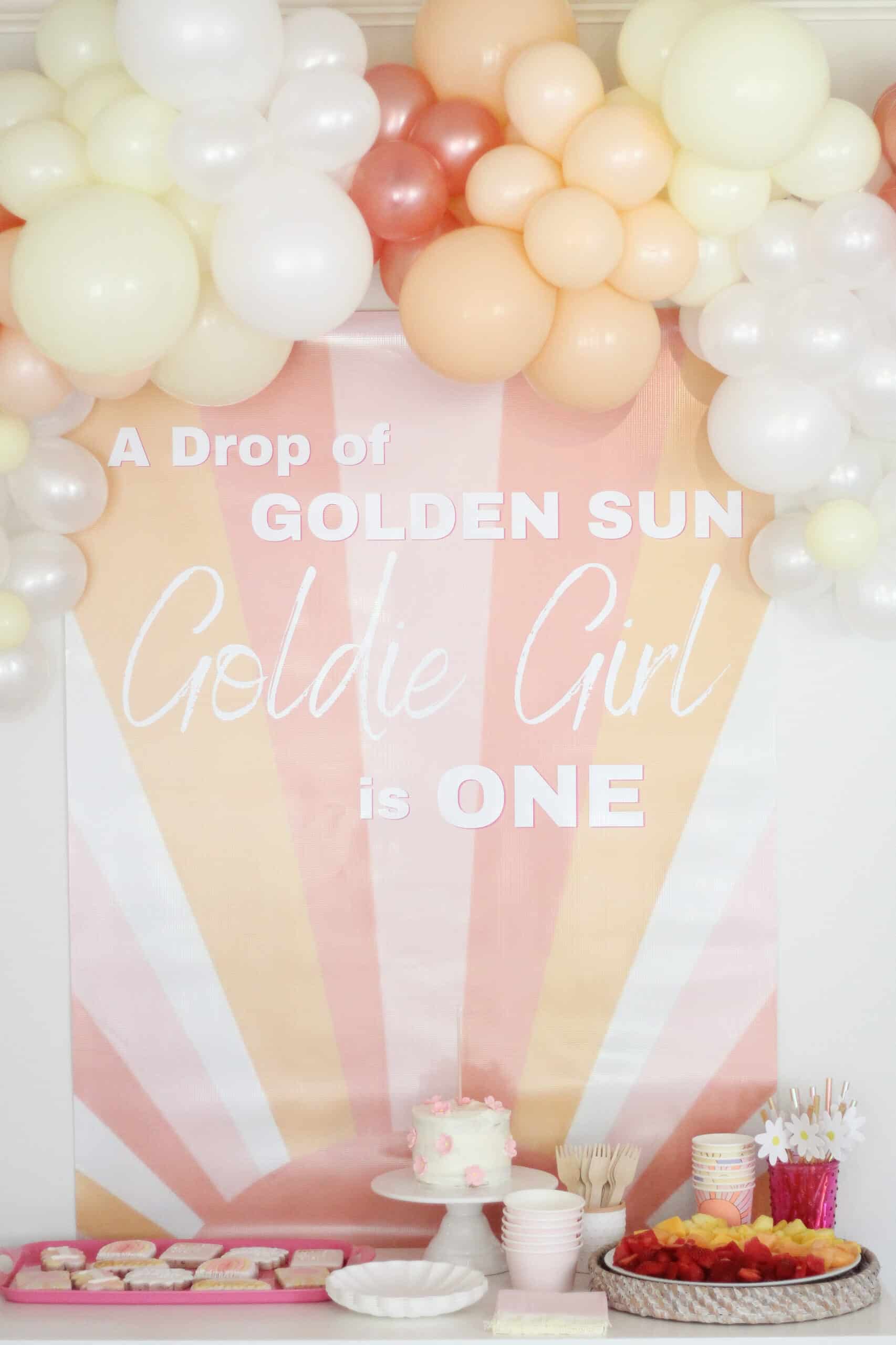 A Drop of Golden Sun – Goldie Girl is One
When I was planning the party I was not only up against this hellish year, but also trying to figure out how to make her party something cute and special while also getting ready to move out of our house about a week later.
We moved out the day before she turned one so we did her party a little early, and I took on very little of the decor in a DIY way – which isn't real like me.
Poster Backdrop
I knew I wanted a really cute backdrop for her – but when it came to coming up with that in a DIY fashion I knew I would lose my mind trying to find time with the move happening.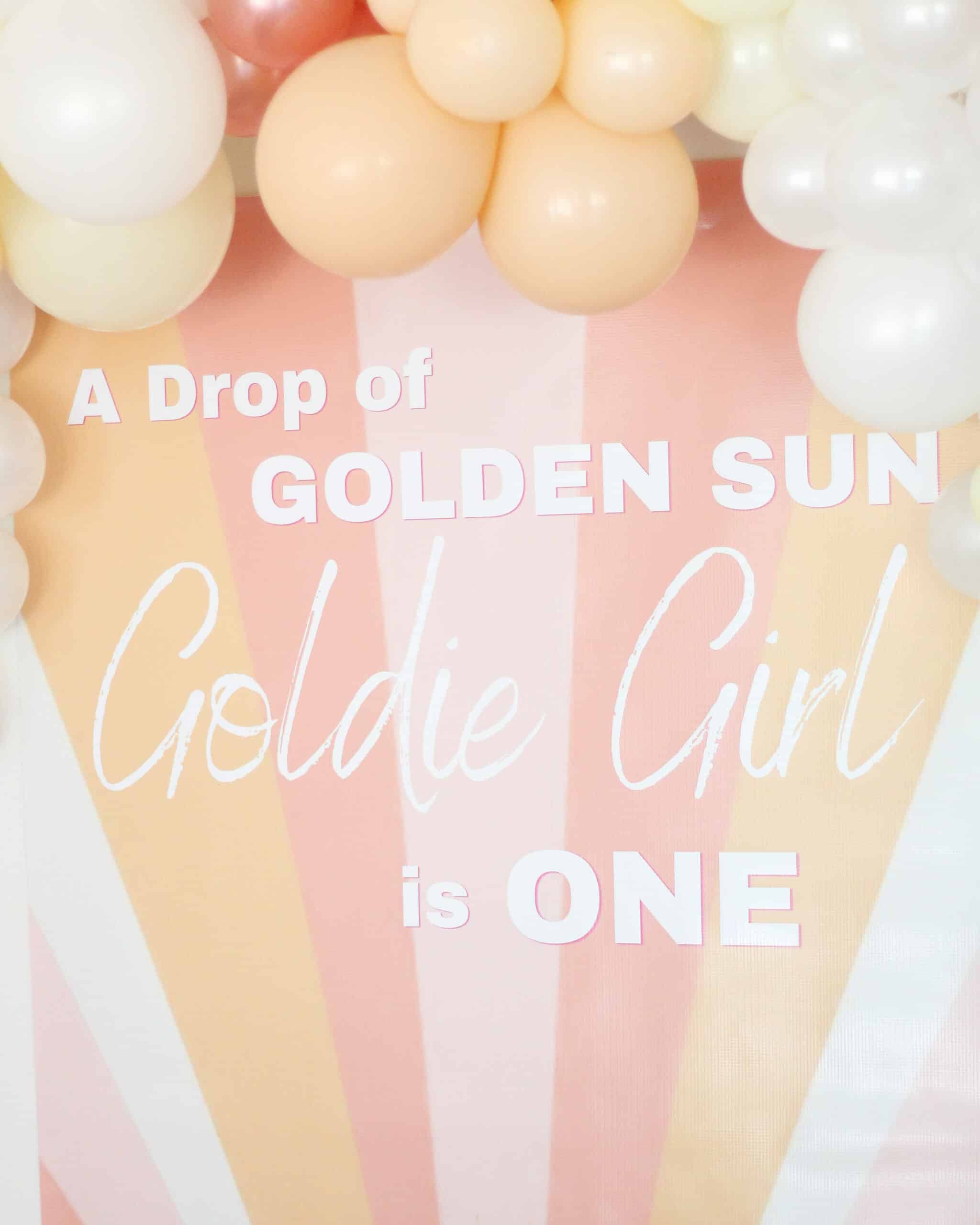 I ended up coming to Instagram and asking for some resources on printing a poster and a sweet friend – Taylor has a business where they print posters, wallpaper, all sorts of things. I had her print out the poster and it was PERFECT! It made for the most simple backdrop and I am sure you will see it done for future parties.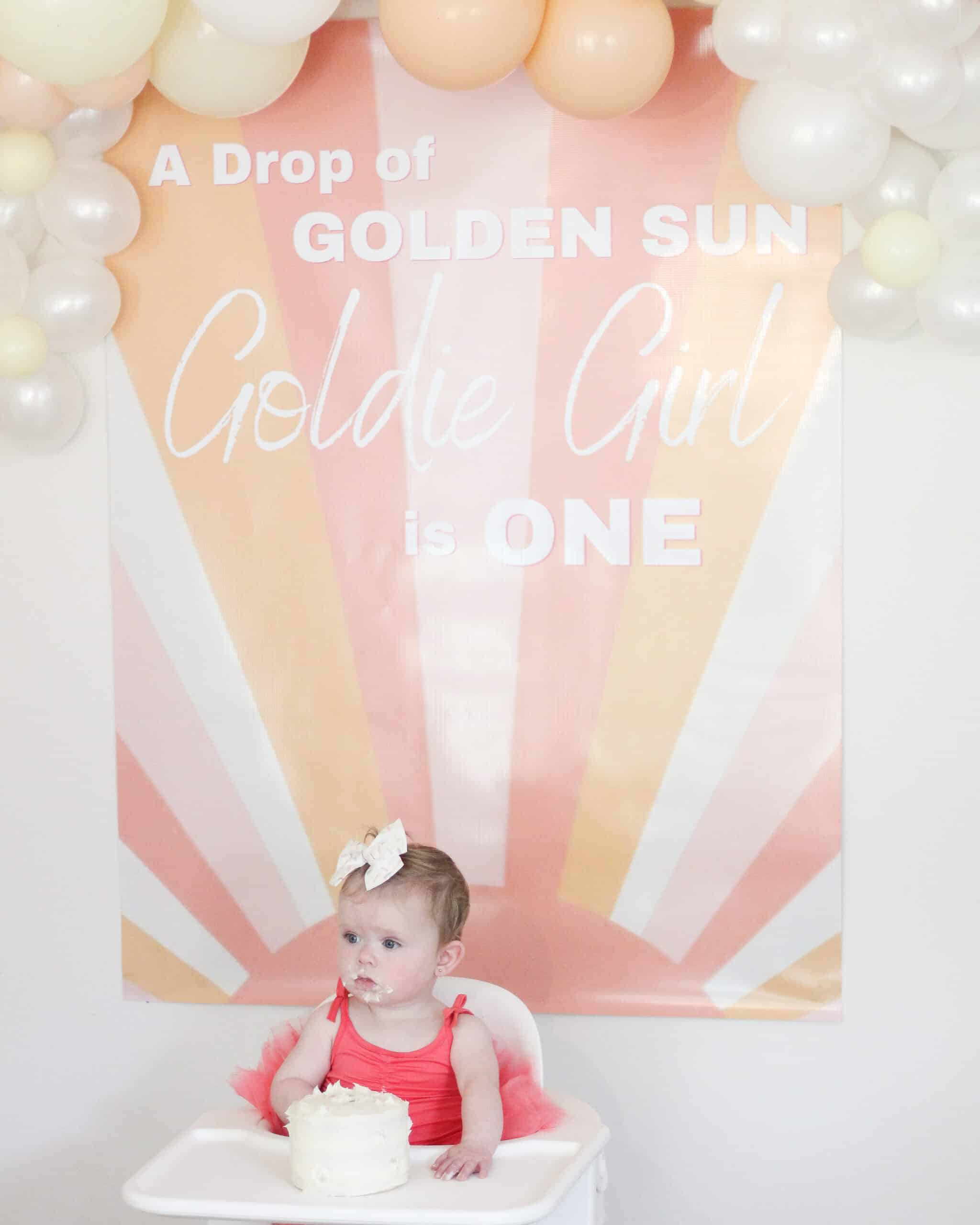 Balloon Garland
Something I started outsourcing for my parties as well is my balloon garlands. Party Hop Shop here in St. Louis is amazing at their garlands and it just cuts down on so much stress. I told them a size and color scheme I was going for and they did the rest.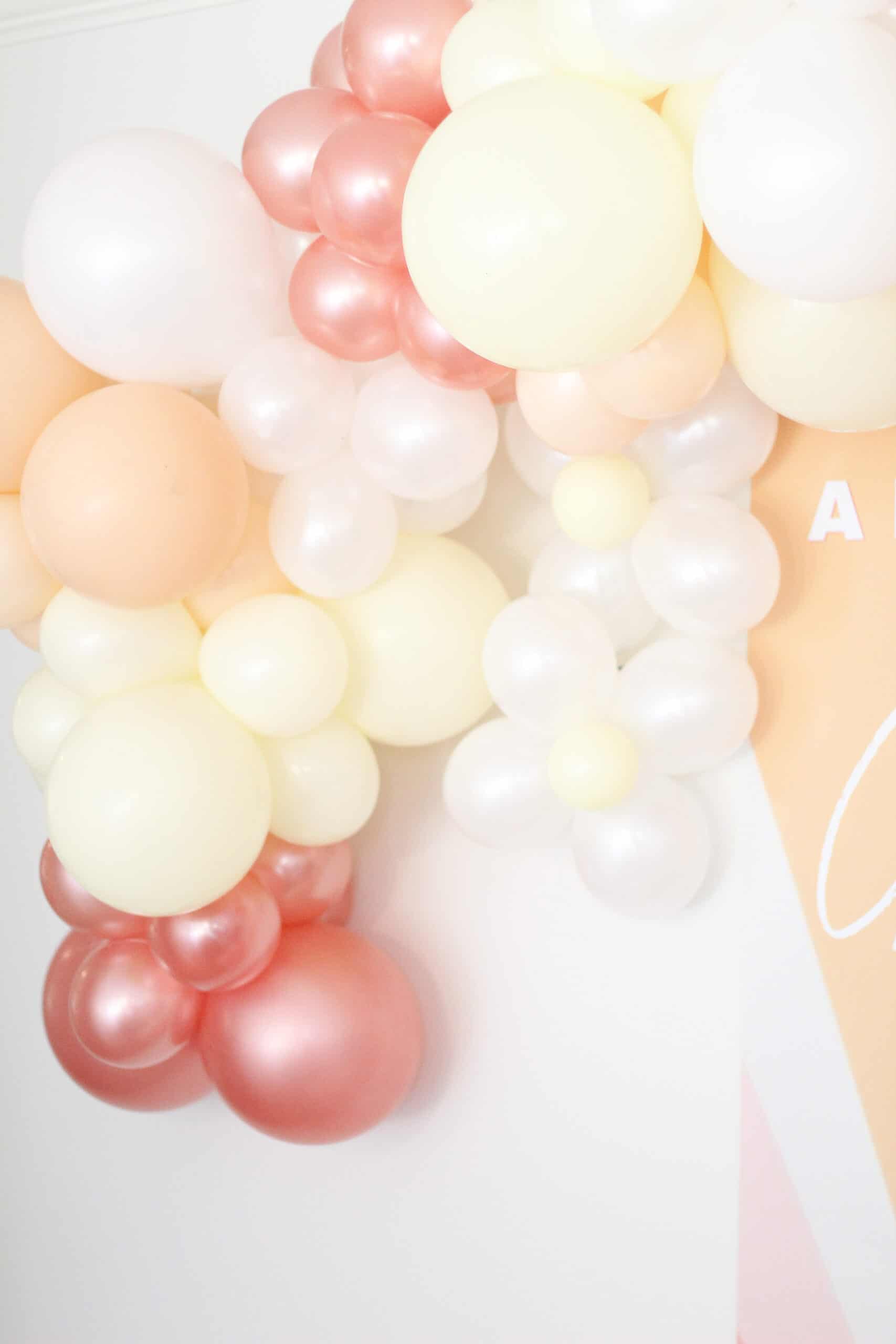 One thing I appreciate about the Party Hop Shop girls is they have such a good eye. They added in the few little balloon flowers and it was perfect. I can not recommend taking the stress of making that off your plate and getting the perfect garland.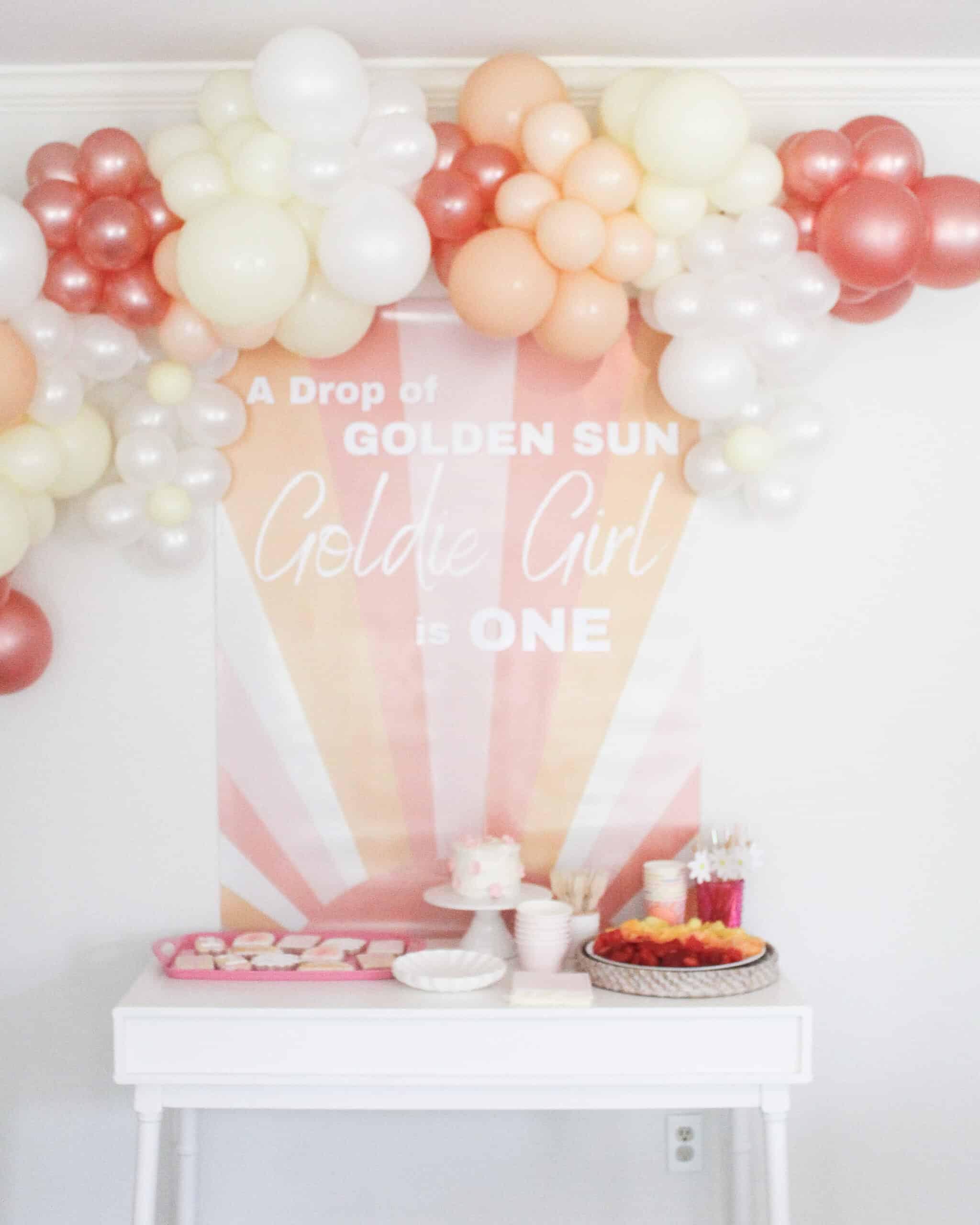 Food
I typically for a small party try to host mid afternoon where it won't be over a meal. For Goldie's party it was no exception – I went with a 3:30 pm party so didn't offer too much in the way of food. I had chips and salsa/chips and dip, cookies, Ice-cream cake, fruit, and of course Goldie's smash cake.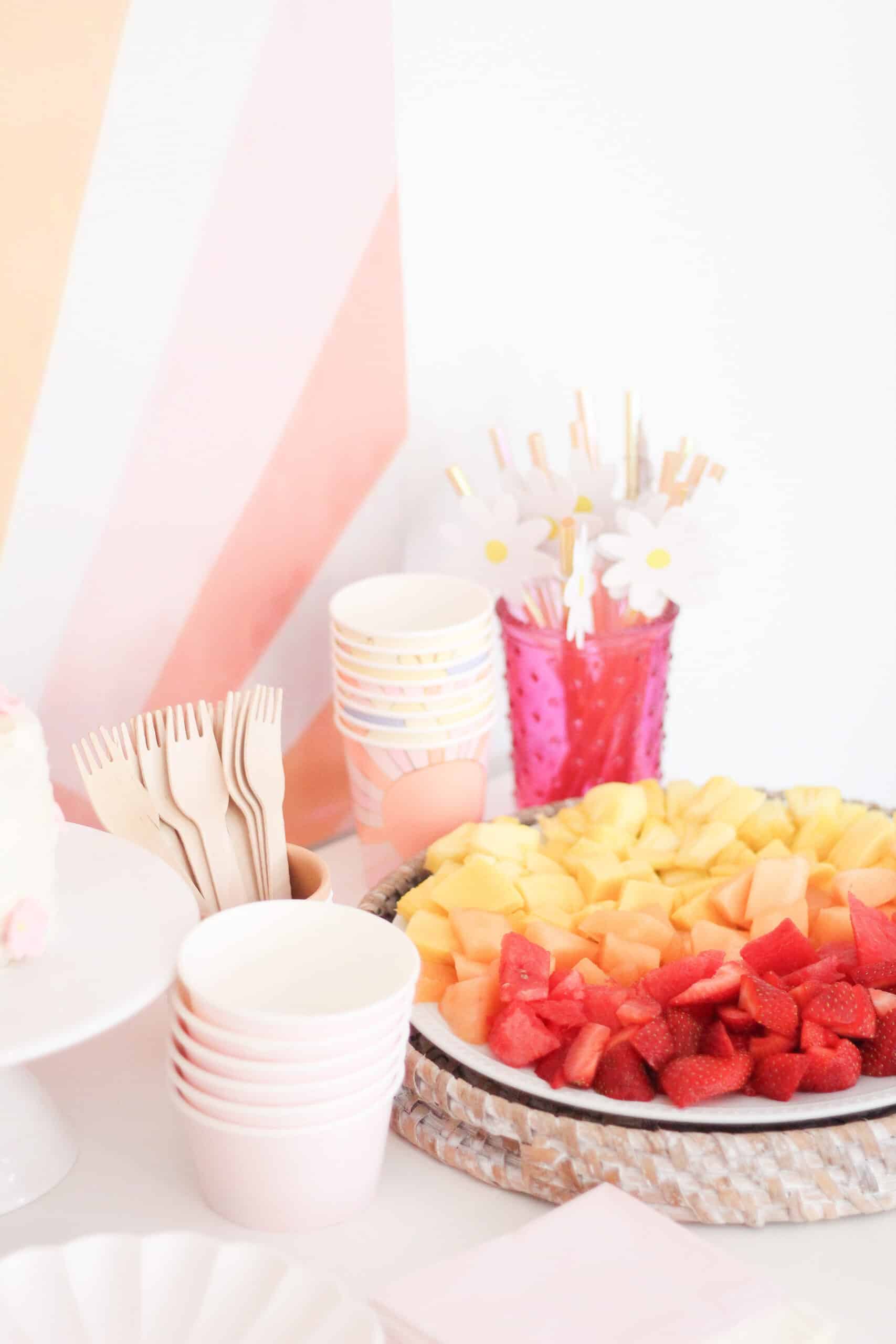 Cookies
I use the same baker here in St. Louis every time for these cookies and she KILLED Goldie's. I gave her a little direction on party theme and colors which matched her nursery and she based them off a mix of her nursery and the photos I sent her.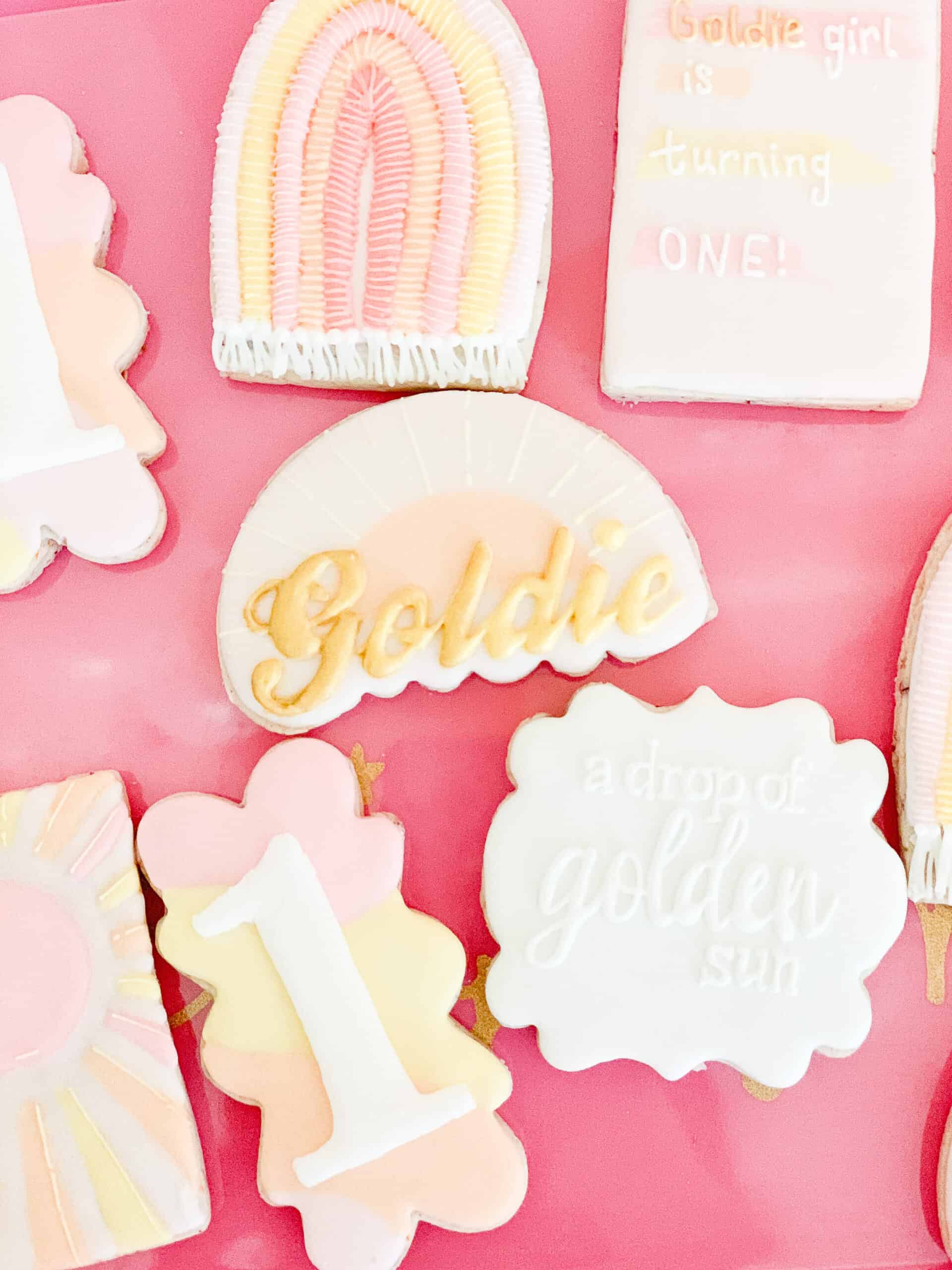 It was actually extra sweet and special for me because I had just dismantled Goldie's room so it was so fun to see all those details at her party.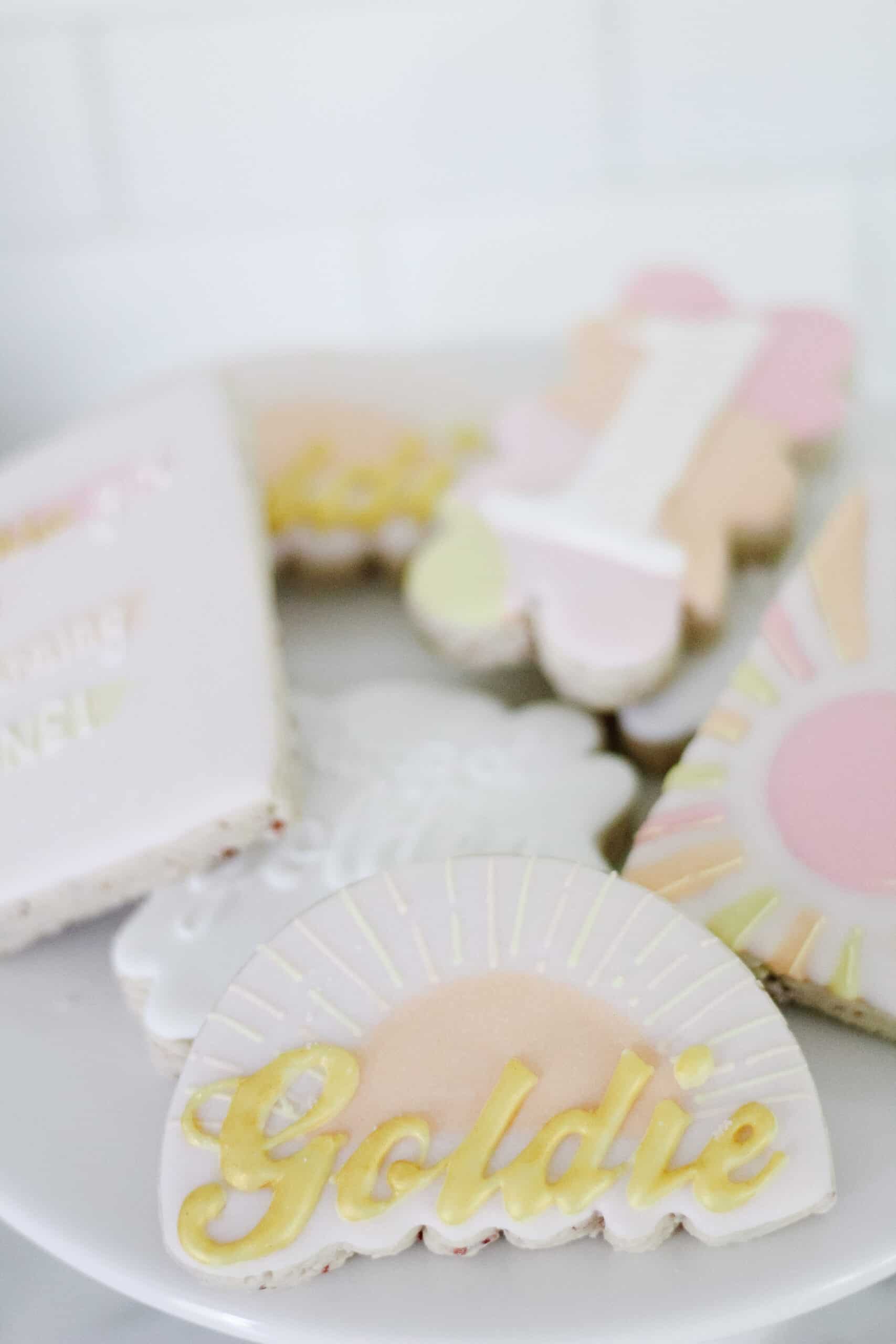 Fruit Tray
For the fruit tray I simply got fruits in the color scheme of the party and laid them out like a rainbow. It ended up being one of my favorite parts of the party because it was so simple and sweet.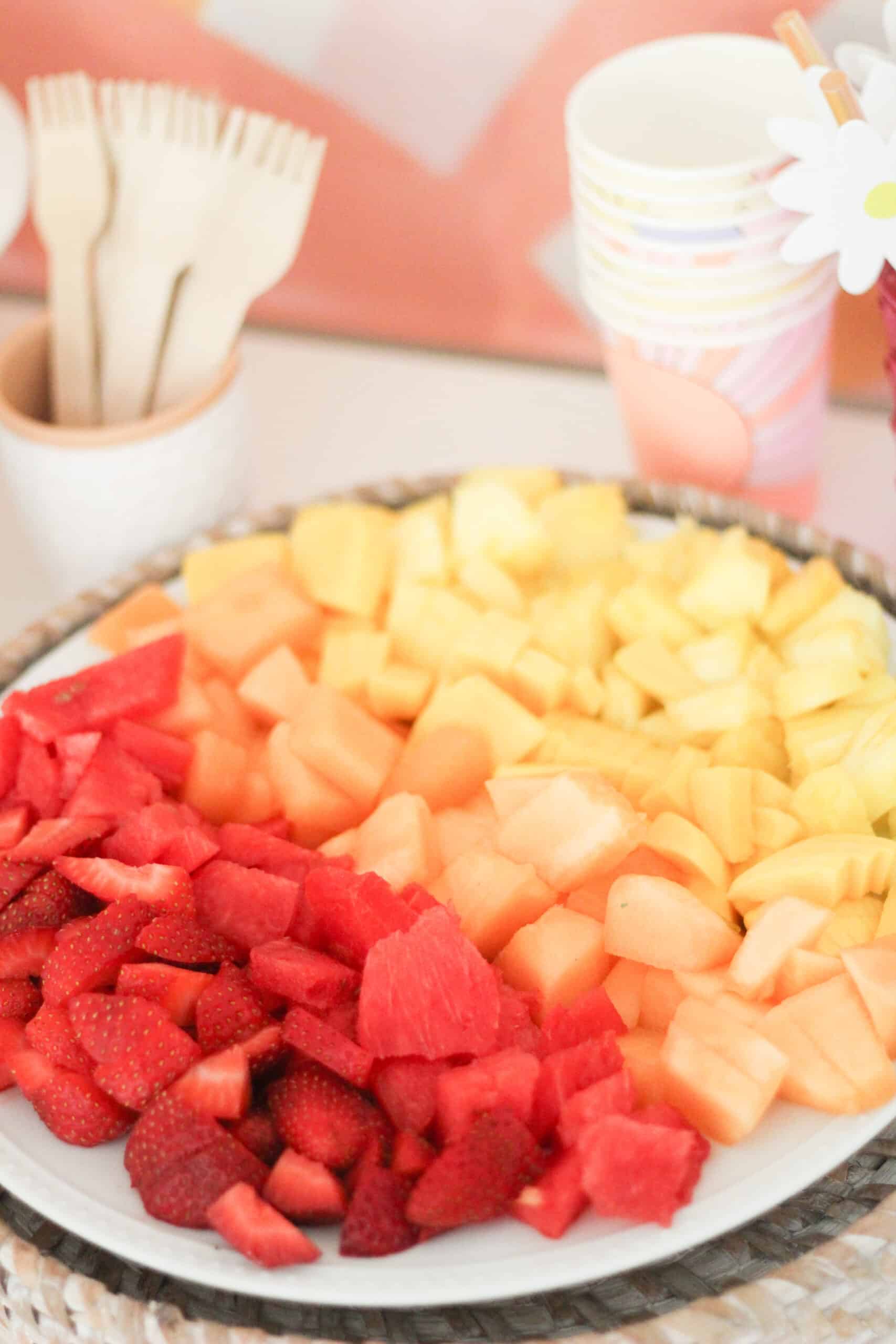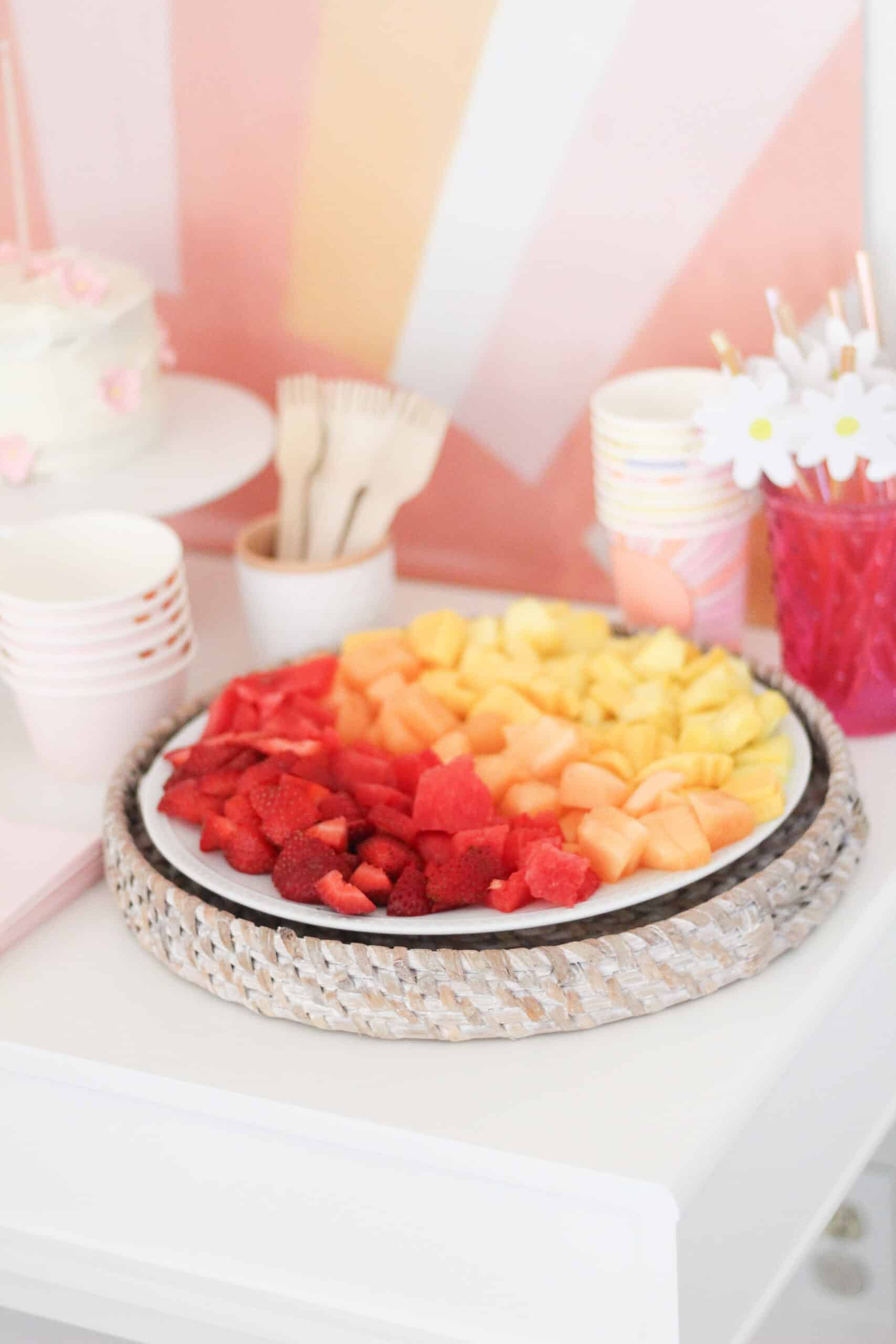 Smash Cake
Her smash cake was less than perfect haha. I am NOT a cake decorator and Goldie has an egg allergy so I baked my own and added pink and yellow edible flowers to the cake to tie it into the party.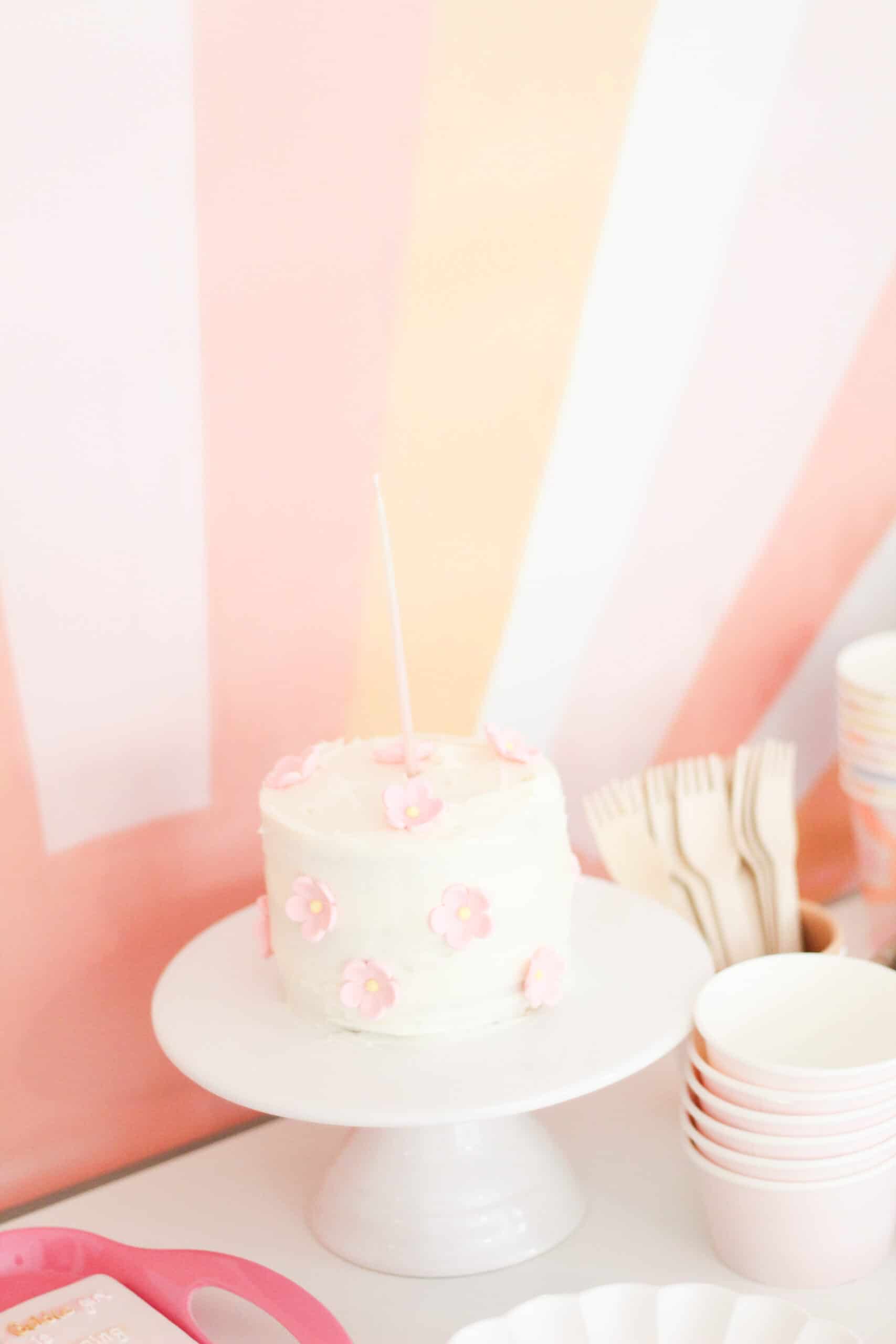 Other Decor and Details
I didn't want to spend a fortune on this party – hello moving was already making me feel BROKE! But I wanted some unique little details. Below are links to all of the items I ordered for decor.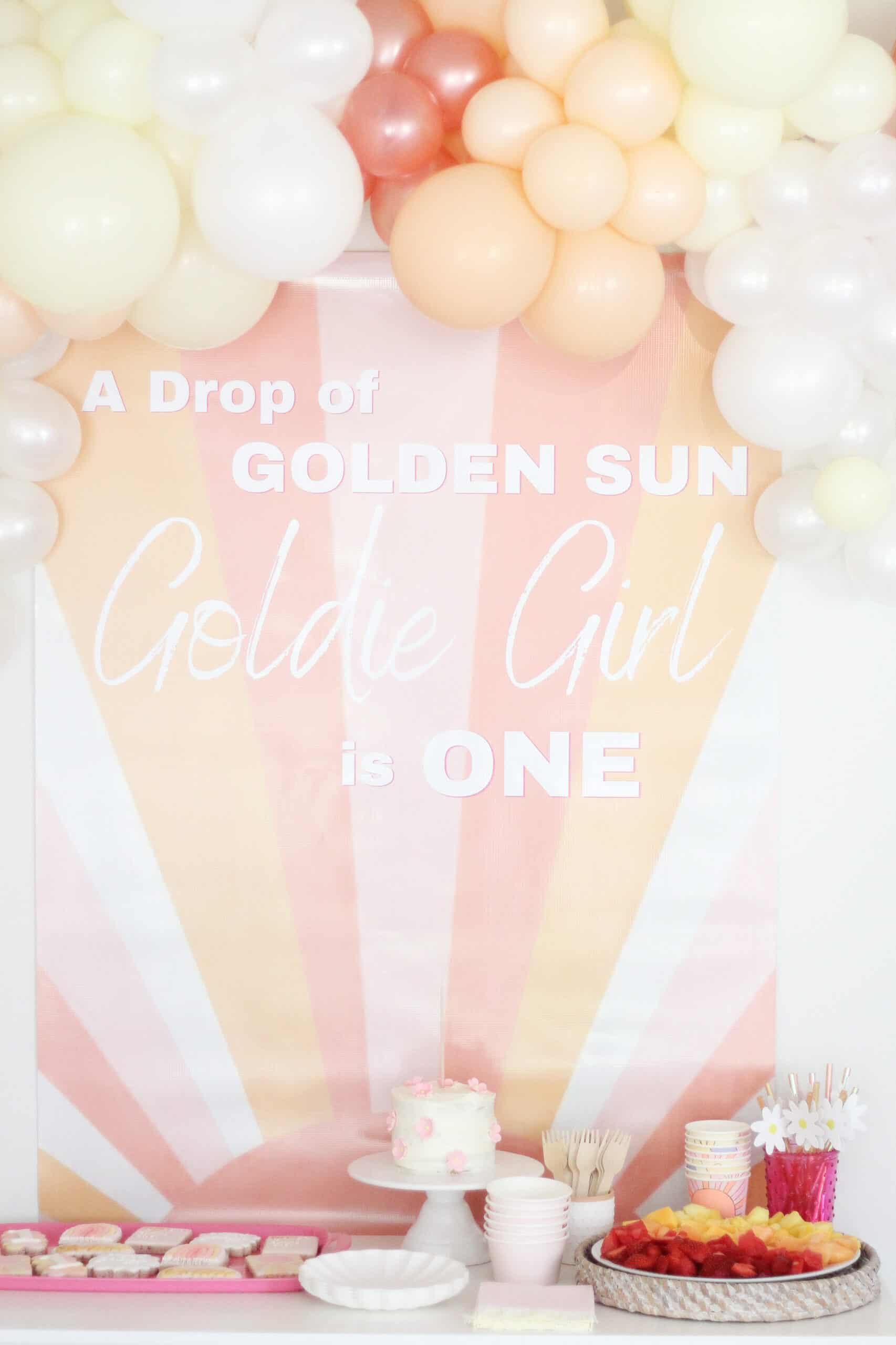 Fun paper cups – These were perfect and cute. I loved that they tied in a little extra color.
Pink tray – I know we will use that a lot around our house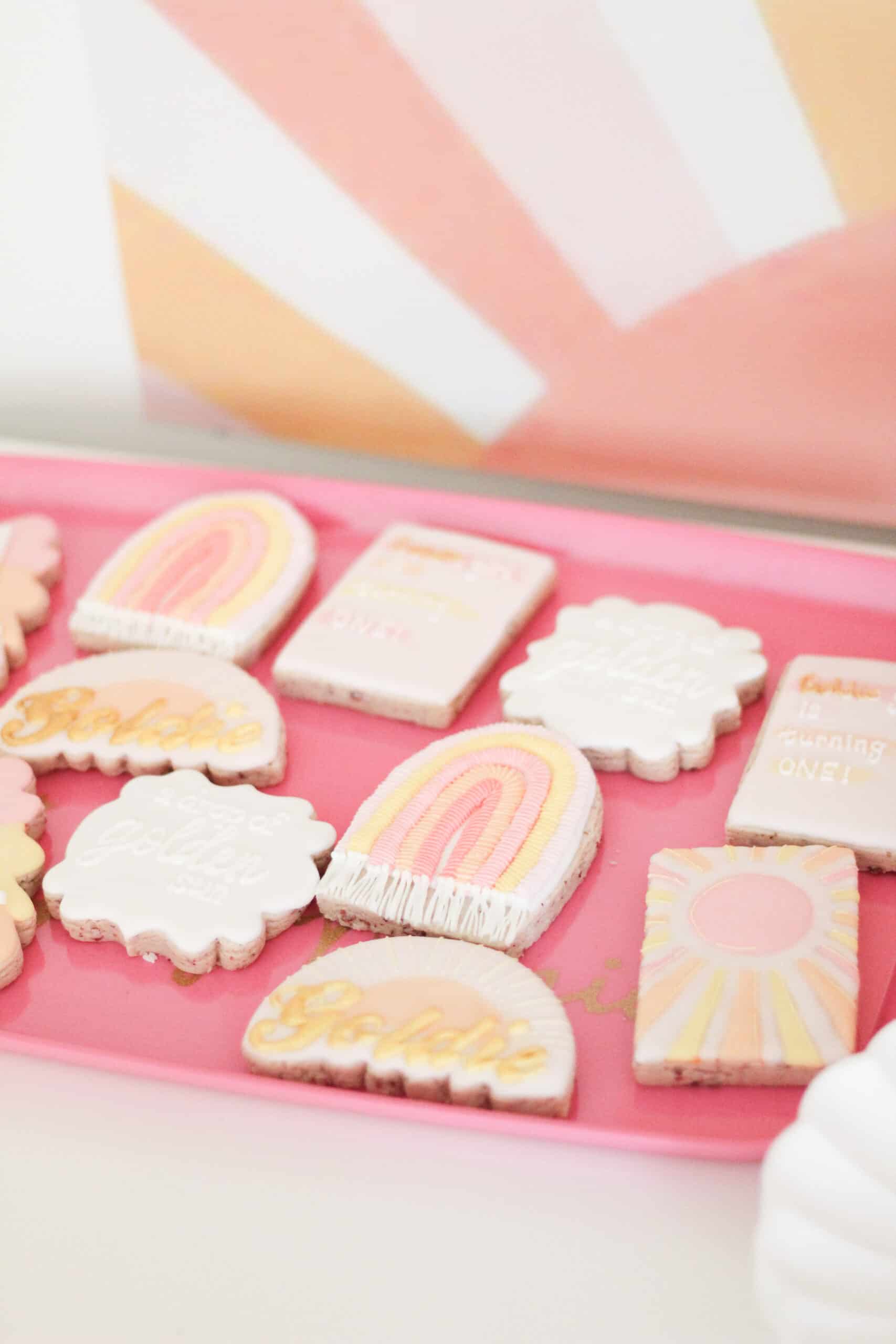 Straws – I bought these straws on sale and already had the little paper daisies to go on them so it ended up being a perfect way to make them look more special.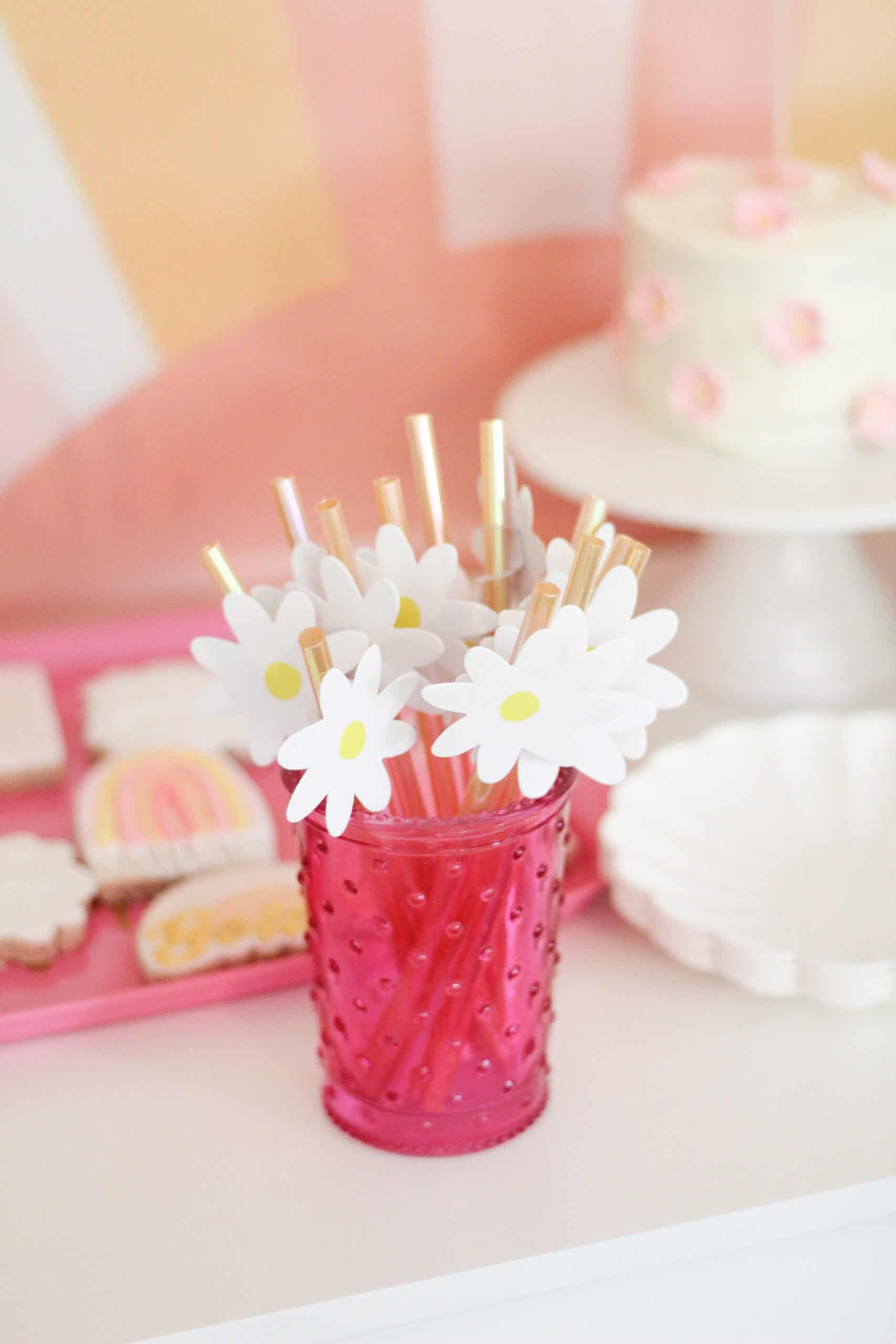 Napkins – I ordered these fringe napkins and LOVED them. Another great option are these super cute ones!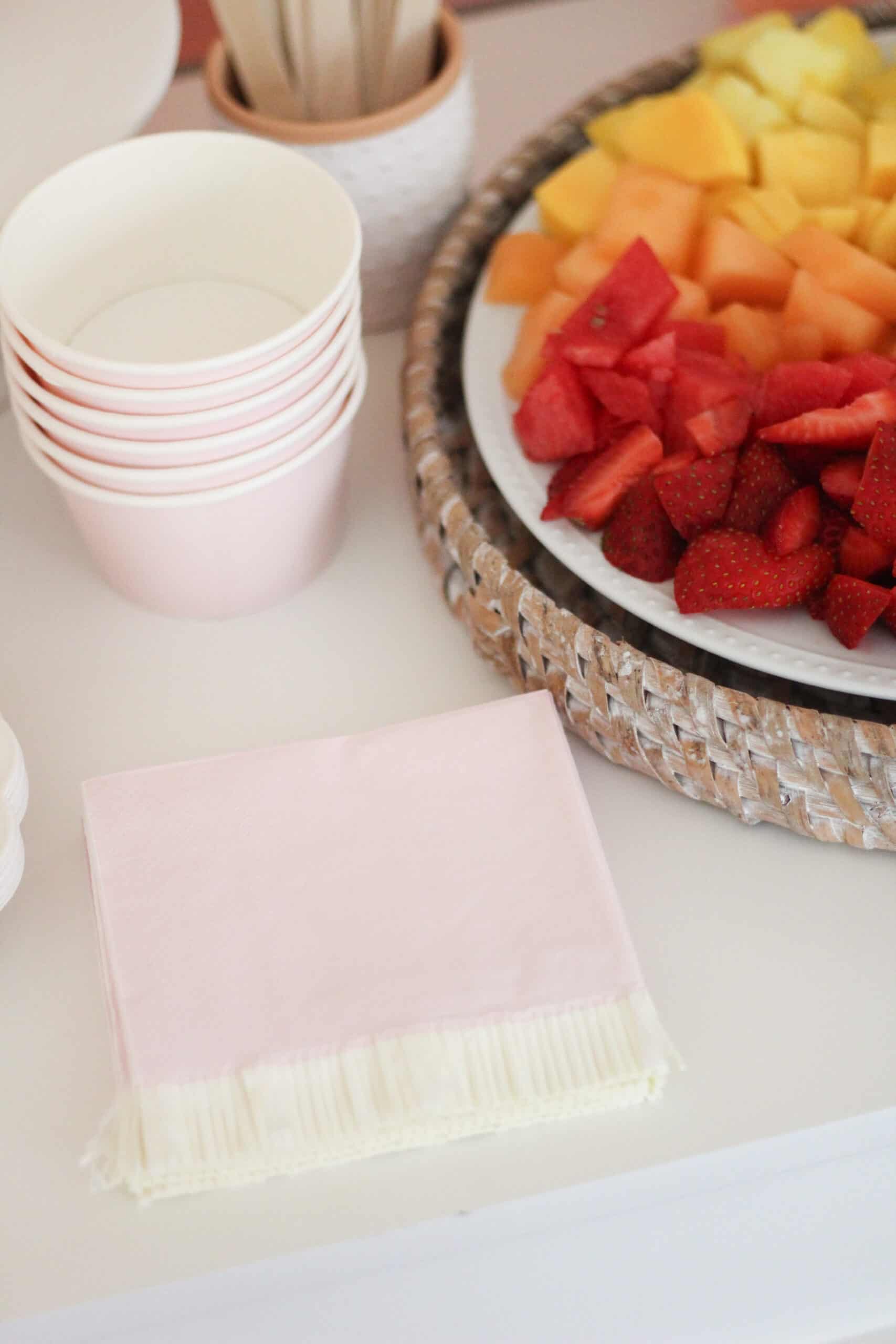 Scalloped Plates – These were also super cute and if you are looking for plates for a party they are SUPER thick and heavy so won't droop.
The Rest – For the plates and trays aside from the one pink one I went with all white. I did add one wicker tray to add in a natural element. I used some other pink and white details and wood forks for the cake and fruit to tie in that natural element.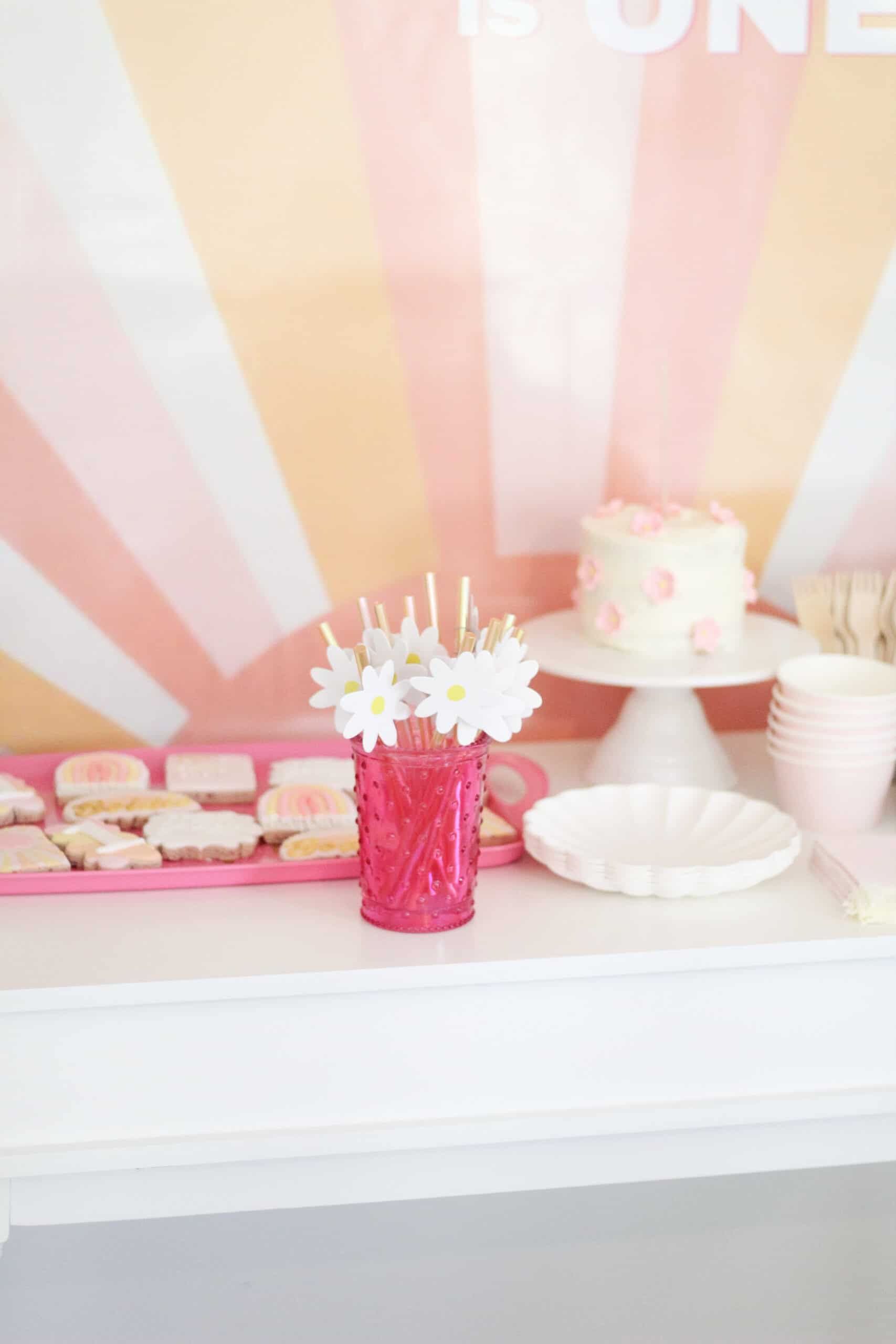 Overall the party was sweet and perfect for our little sunshine girl. She wasn't a huge fan of her smash cake, but the ice-cream cake was a hit. She loved the attention and her siblings though it was the best thing ever celebrating our girl.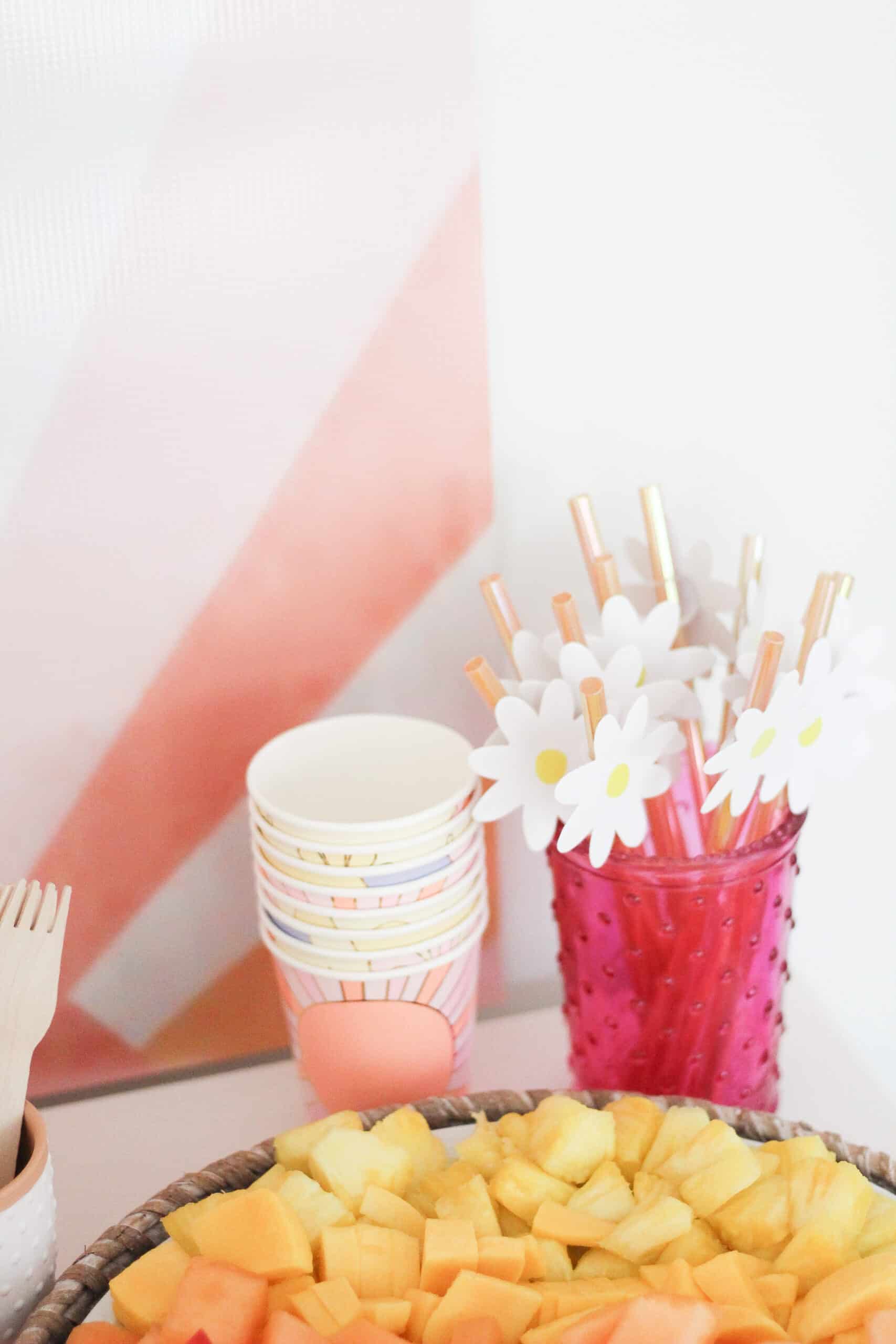 I love that over the nearly 7 years since my oldest turned one until now I have learned to go simple, not try to do it all, and be able to enjoy the day. If you are a first time mom or 10th time mom I hope you are able to do the same for your child and YOURSELF and not stress your next party.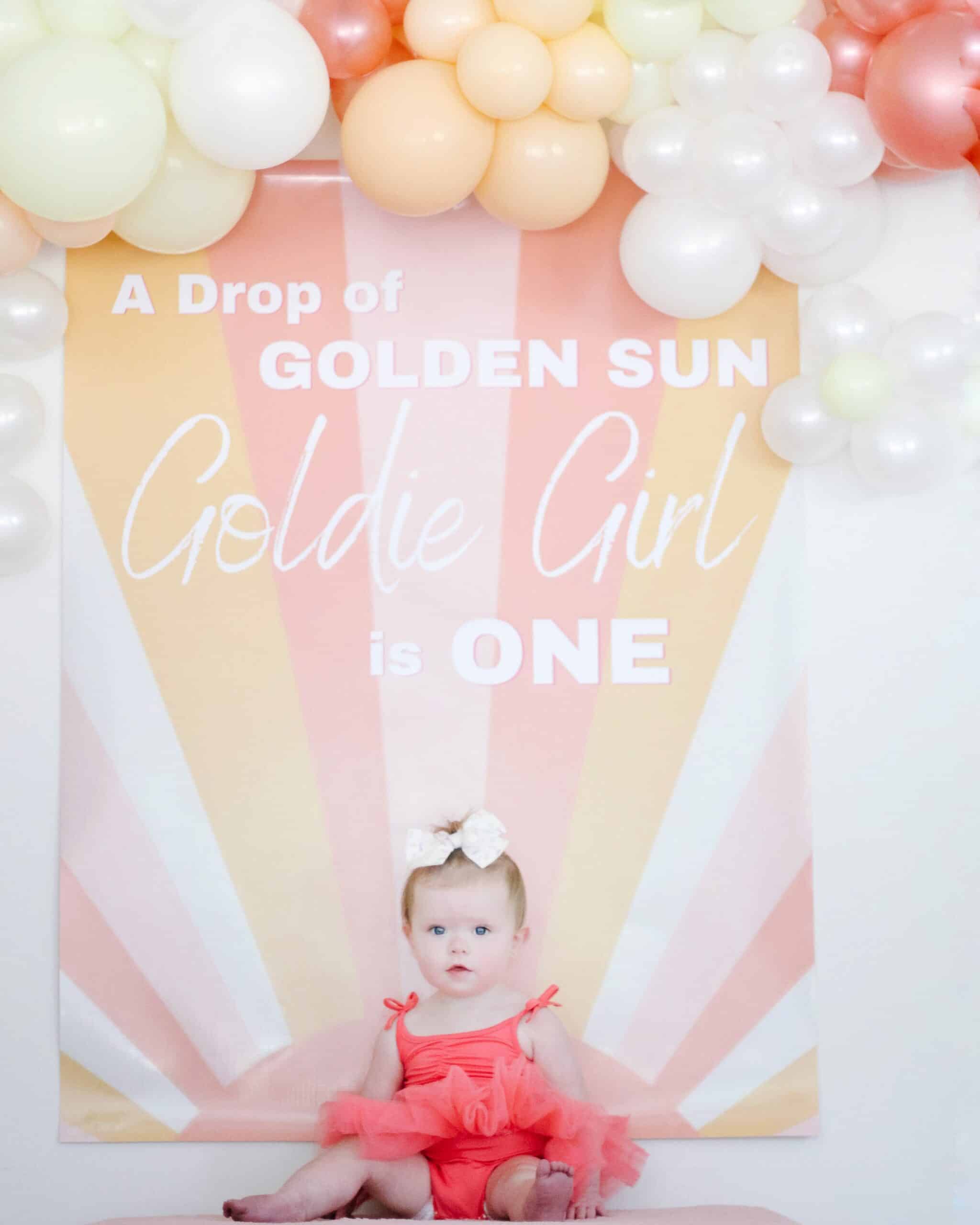 Pin the Photo Below for Later
If you have any questions leave me a comment below or DM me on Instagram (@arinsolange). I will share in the next week more about Goldie being one – HAPPY BIRTHDAY SUNSHINE GIRL!