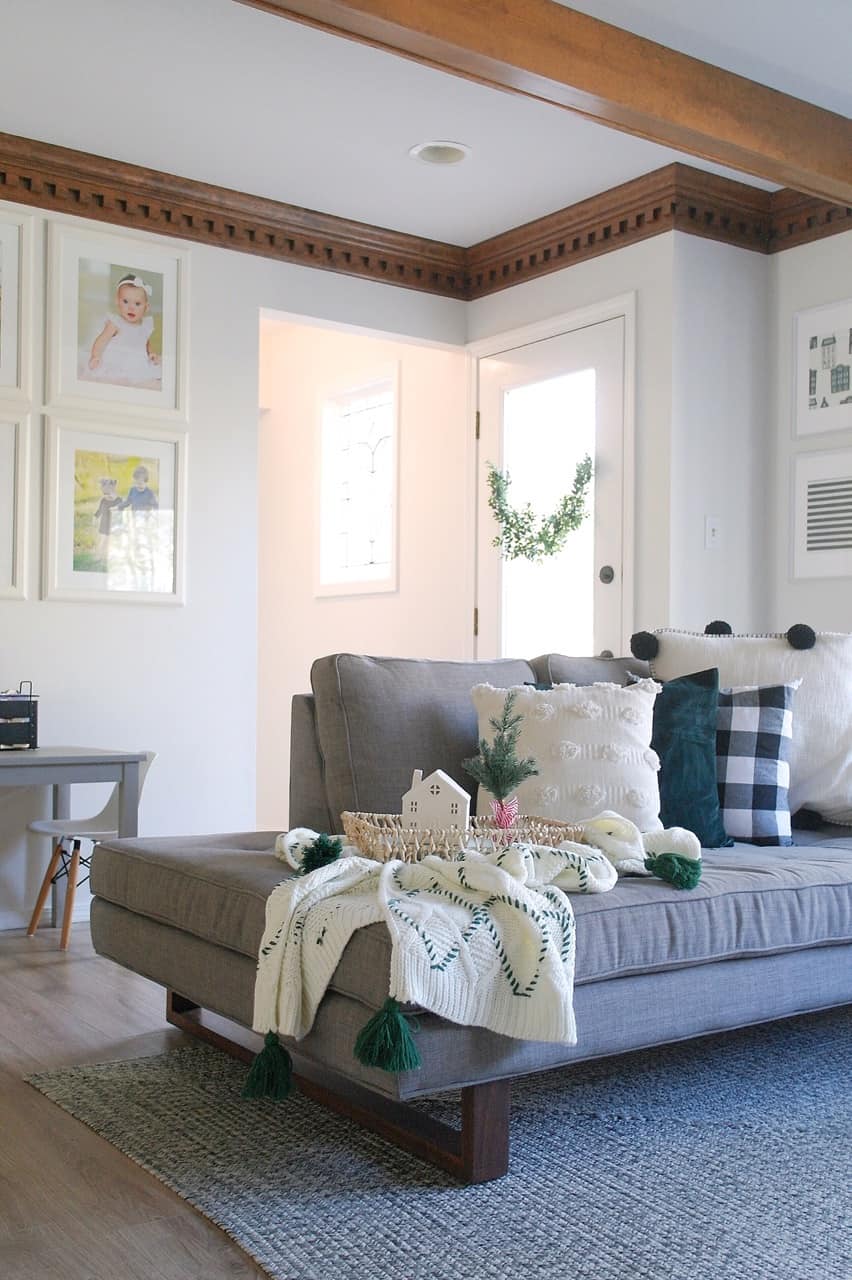 Decorating for Christmas
We have been in our house for 1.5 years now (some updates on where we started) making this the second year in our sweet home.  This year things feel so much more settled, so I have had more time to decorate for Christmas and buy new decor.  One thing I have really tried to focus on with my Christmas decor is accenting with pieces that can last through the winter, or some even year round.  Of course I have stockings, and garlands, and plenty of decor that will get packed away at the end of the season, but I have added some that I think will last.
I have also tried to make an impact with a few pieces that are really inexpensive, so if I decide they are a one year item – no big deal!  So below are my tips for holiday decor.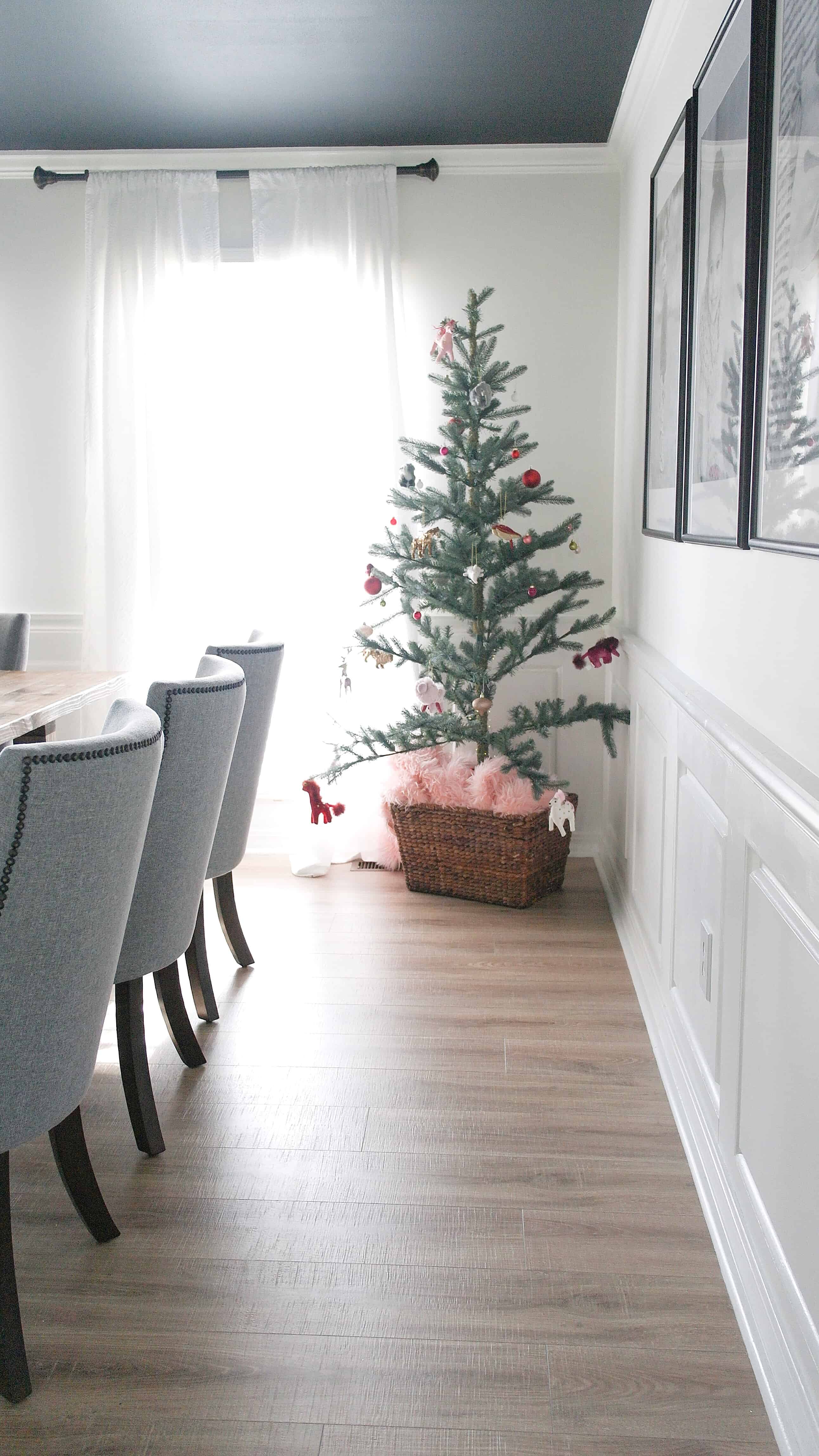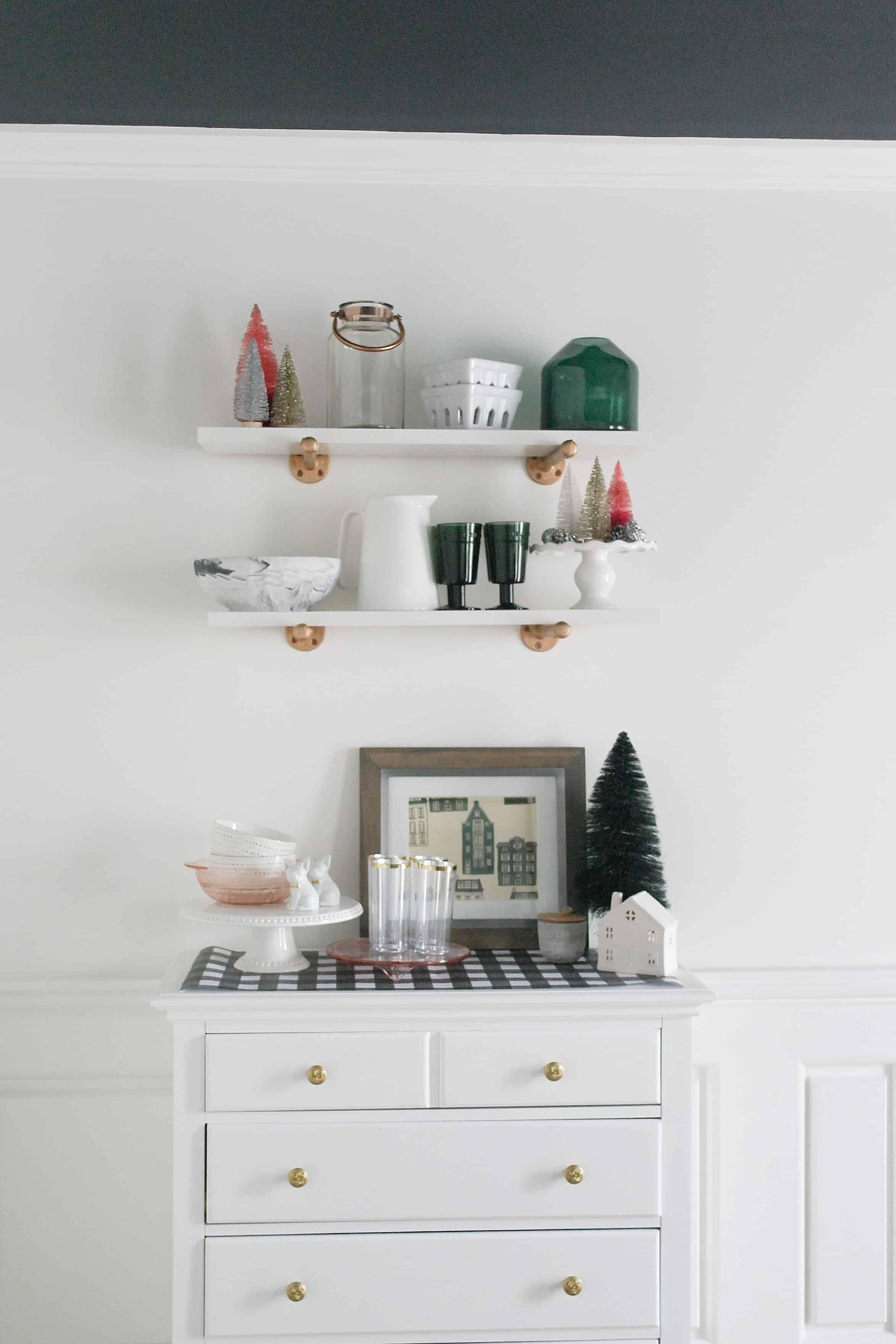 My Tips
Buy pillows and throws with red OR green.  Having a single Christmas color on them allows for them to stay out past the holidays.  I went with these Dark Green pillows from Ikea and a throw with some green on it.  I also did this with some glassware that is on open shelving.
Frame free printables or decorative paper.   This is a super inexpensive way to changes things up season to season.  I personally framed some tissue paper from the Hearth and Hand line in frames that normally have more bright airy prints.
Buy wreaths that are not meant for Christmas and add small accents. A magnolia wreath is very on trend and great to hang year round.  I weaved some berries into mine without using any adhesive – making it festive then able to be left as is after the season!  For our back door I added a simple wreath that again is not a Christmas wreath, but does look Christmas-y due to the rest of the decor.
Use what you have! For our entry way I used two scarves in a basket to look like a blanket.  The scarves are from the Target Dollar spot last year and worked perfect for that space! I also used a basket and rug that were not in use as a "tree skirt" in the dining room instead of buying new.  Repurposing items saves you money and many time ends up being a more unique and fun way to decorate.
Find inexpensive items that you can use to tie together multiple areas of your house.  Your whole home doesn't have to have the exact same theme, but if you tie each room together with some aspect of your decor it will flow.  For example:  Houses were a common theme this year for me.  The little white houses from the Target dollar spot, and the House print paper from Targets Hearth and Hand line (which is also on a kitchen towel and hot pads).  This little aspect really tied all of my rooms together.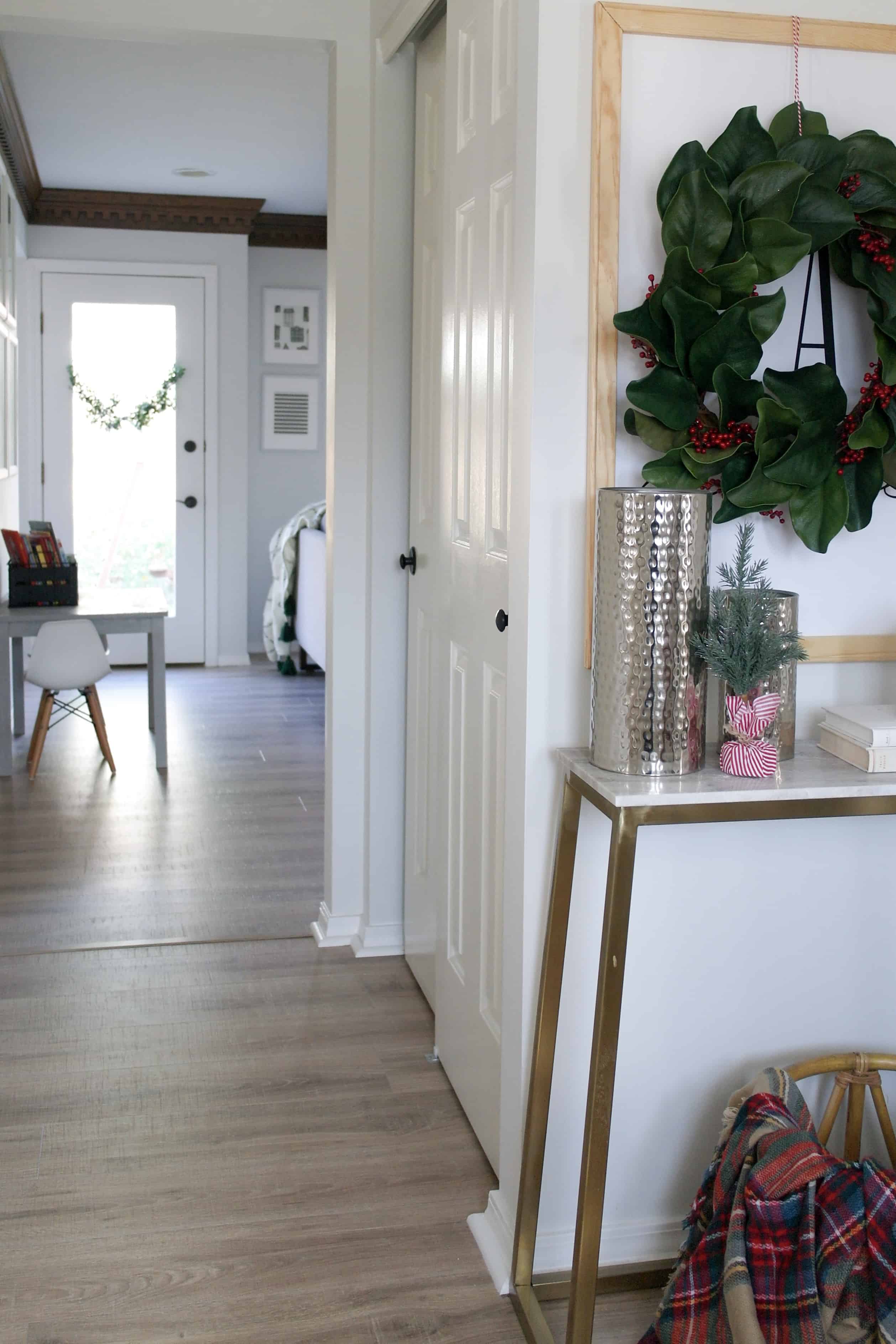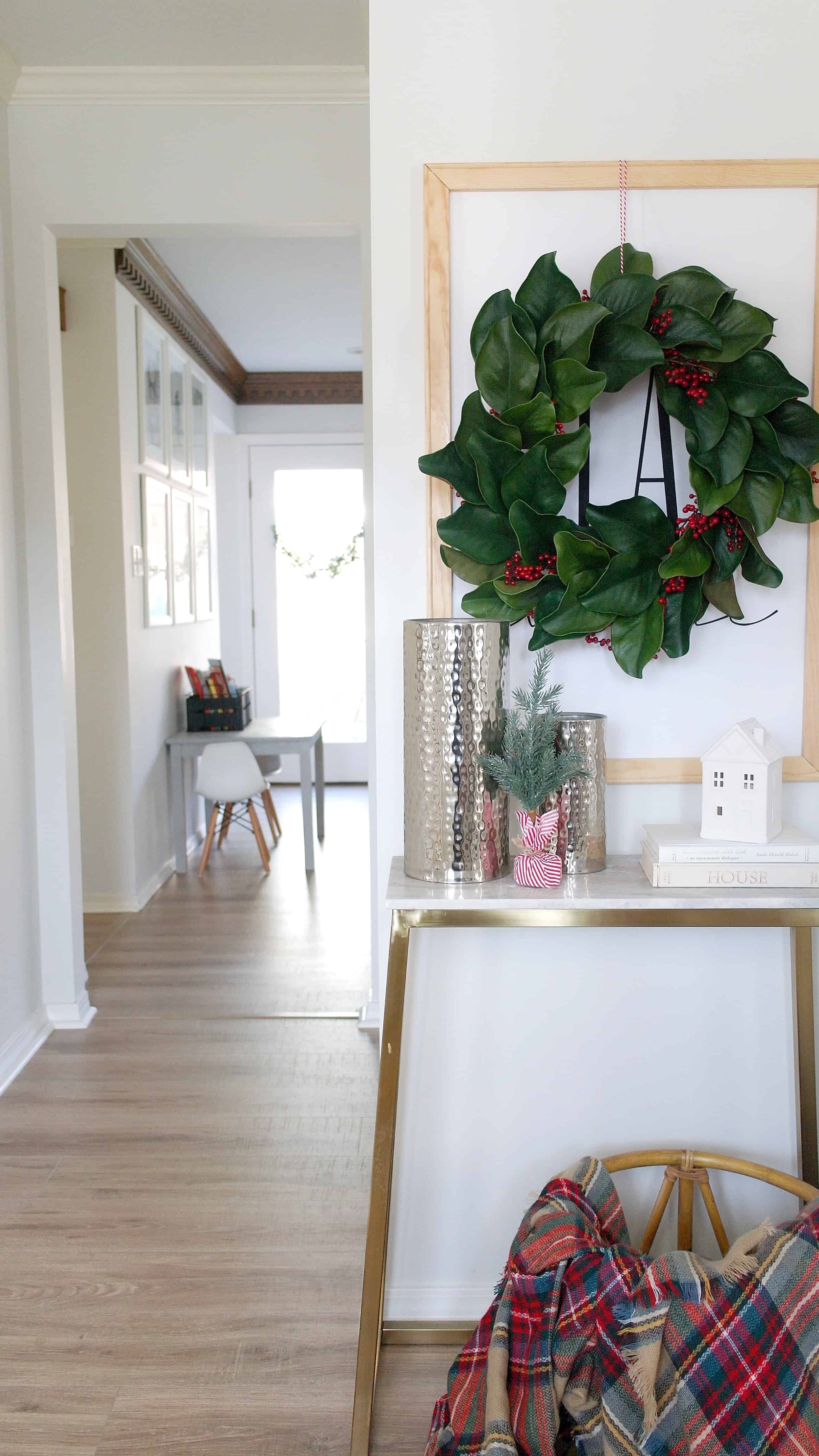 As a side note for moms
Target frequently has festive bins or baskets in their dollar spot, or you can find them online or in other stores.  I think that switching up toy bins for the seasons is a super great, fun way to keep things festive, while still being practical!!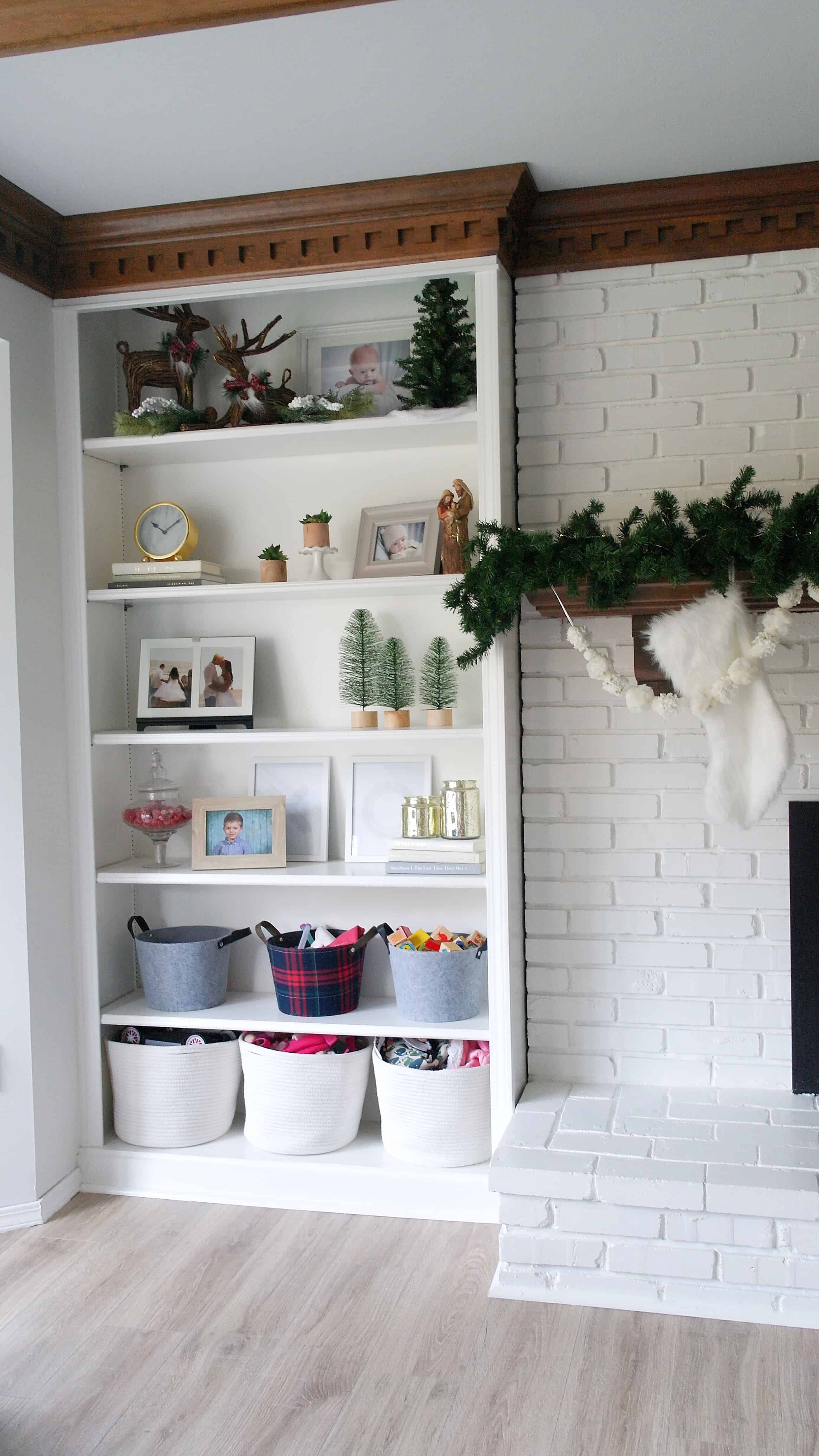 I would love to hear what your tips and tricks are for decorating for Christmas!!
XO ARIN
SaveSave