When you are decorating your kids r0om's, it is obviously not a shock that it is a huge expense.   One thing that we all try to think about as parents is how we can make design and furniture choices that will grow with our child.  I wanted to put together a post on tips I personally follow with my kids rooms when I am decorating them to allow for growth with age, as well as their changing taste.  So read on for tips on how to decorate a kids room to last.
One thing to keep in mind with this post is that as a lifestyle blogger who focuses A LOT on decor, some of my decor choices are a bit bolder than they would be if I didn't do this.  I also change my kids rooms much more than I would if this weren't my job.
This post contains affiliate links
How To Decorate a Kids Room to Last
I am so excited to share with you guys some easy tips you can use for making this a reality in your own homes, and hopefully that will keep you from large expenses when your kiddo or you get tired of their current room.
Use Neutrals in Excess
One thing you might be tempted to do when you're decorating for a child is LOTS of color.  Walls and Bedding being the first places I see that happen most of the time.
When you're picking wall color – Neutral or light walls tend to be the best.  Most people grow tired of really bold walls.  So my advice is go neutral and light.  For my boys they have grey walls (with the exception of Jack's one Green wall), and Avé has a very light pink in her room.  I loved that the pink is so pale that it almost looks white.  It allowed us to make her room feminine but not overwhelming.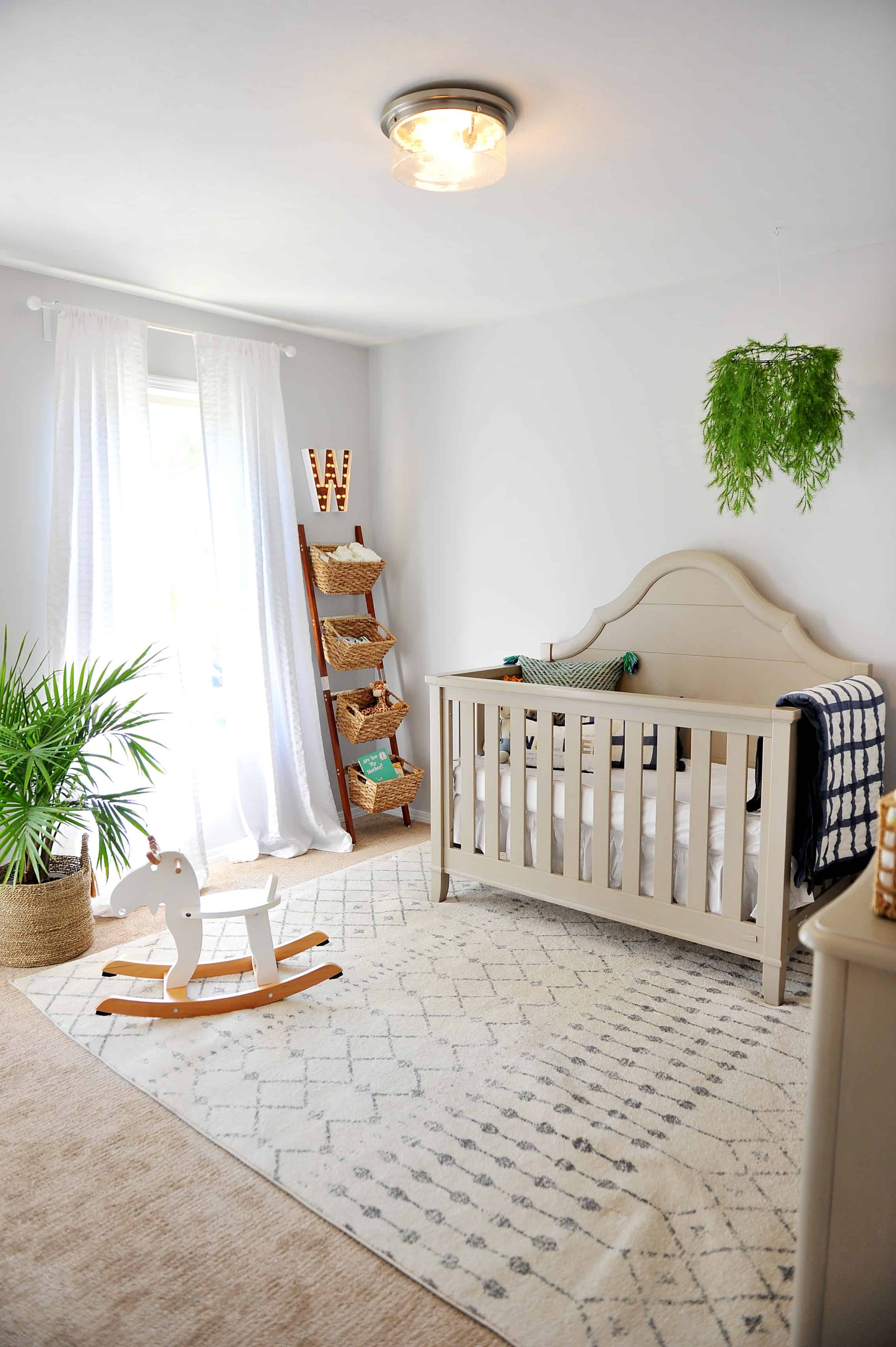 Bedding – Bedding is an easy way to add fun pops while also growing with your child.  One of my biggest pieces of advice is to get your child fun sheets they love, but do white or grey bedding.  You can add so many fun pops with throw pillows, but the big expense of the comforter or quilt will match any theme.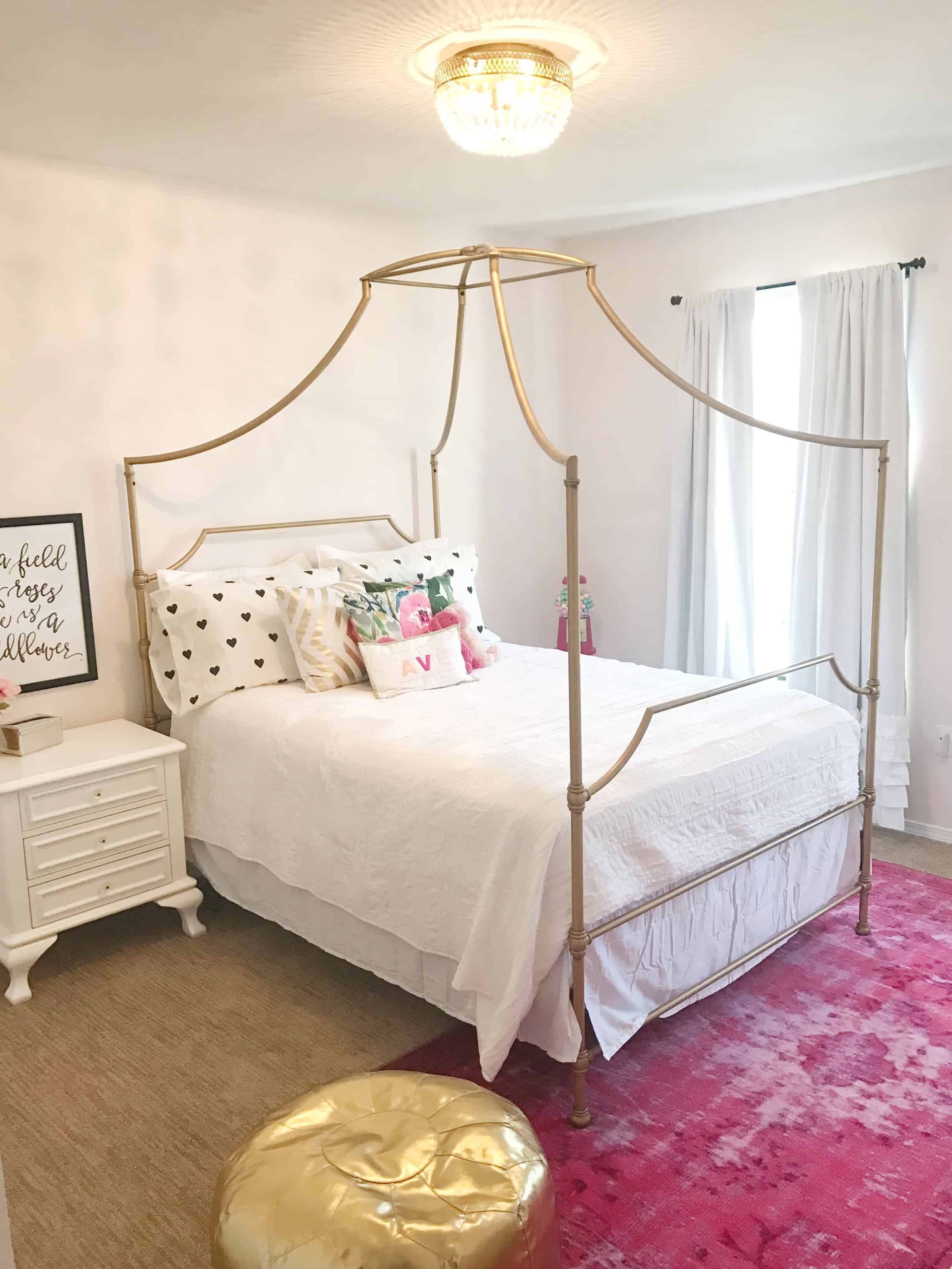 You can see in Jack's room that I used neutrals that were black and white.  In Avé's room she has had the same white quilt for years, but I now fold a comforter over the foot of her bed. That same effect can be made with a throw and will be super inexpensive.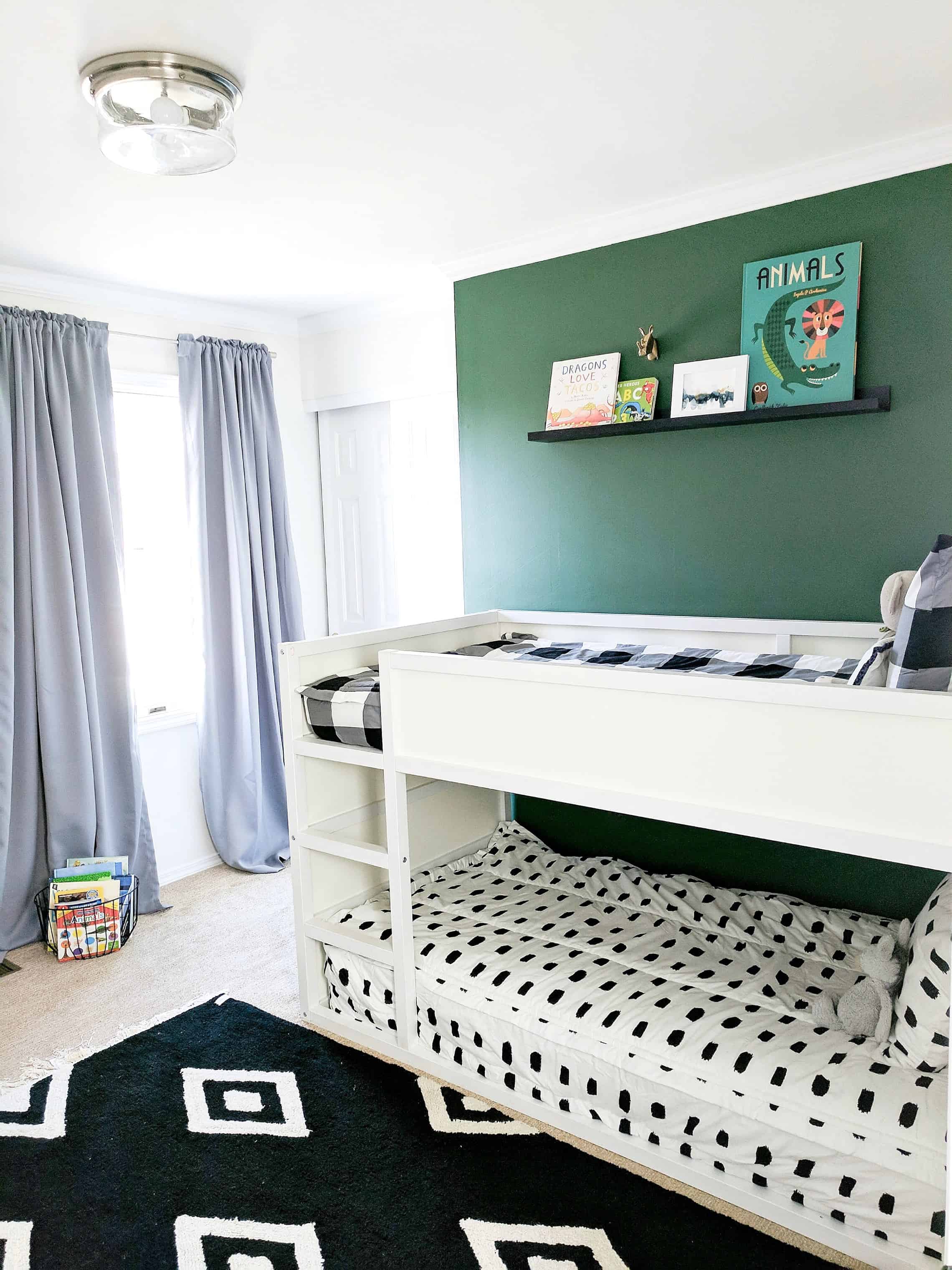 Window Coverings – If you use curtains in bedrooms my suggestion would be to get a good neutral that will last.  Curtains are expensive and not exactly a fun way to spend money.  I love that the curtains in Walker's room are textured so they still add a fun pop but are neutral and white.  Avé's are white with ruffles so again add something fun to the room, but will go with anything!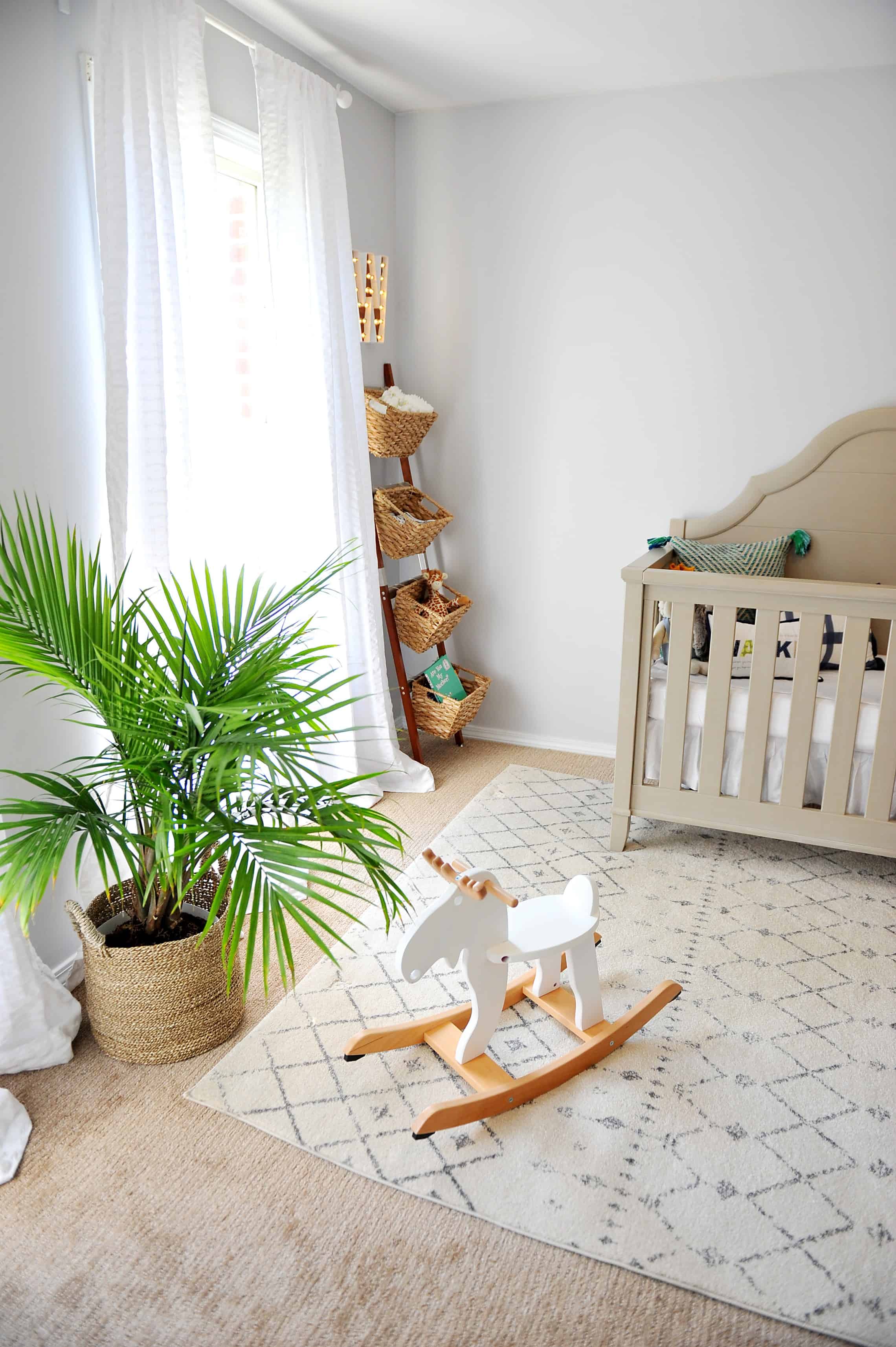 Utilize Frames and Inexpensive Art Work
For all of my kids rooms I have frames that have easily changed out art work.  I have changed the locations and the art in both of the big kids rooms, and plan to do the same in Walker's room soon too!  For Jack's room this felt especially important.  He is hitting the age where he cares about having his 'stuff' shown in his room, so I wanted to be able to quickly change the theme.  For the artwork over his dresser I actually just framed a page from a book.
In Walker and Avé's rooms I have done a lot of art work from Etsy. The downloads are so inexpensive, and allow us to change out artwork often to fit the theme of the room.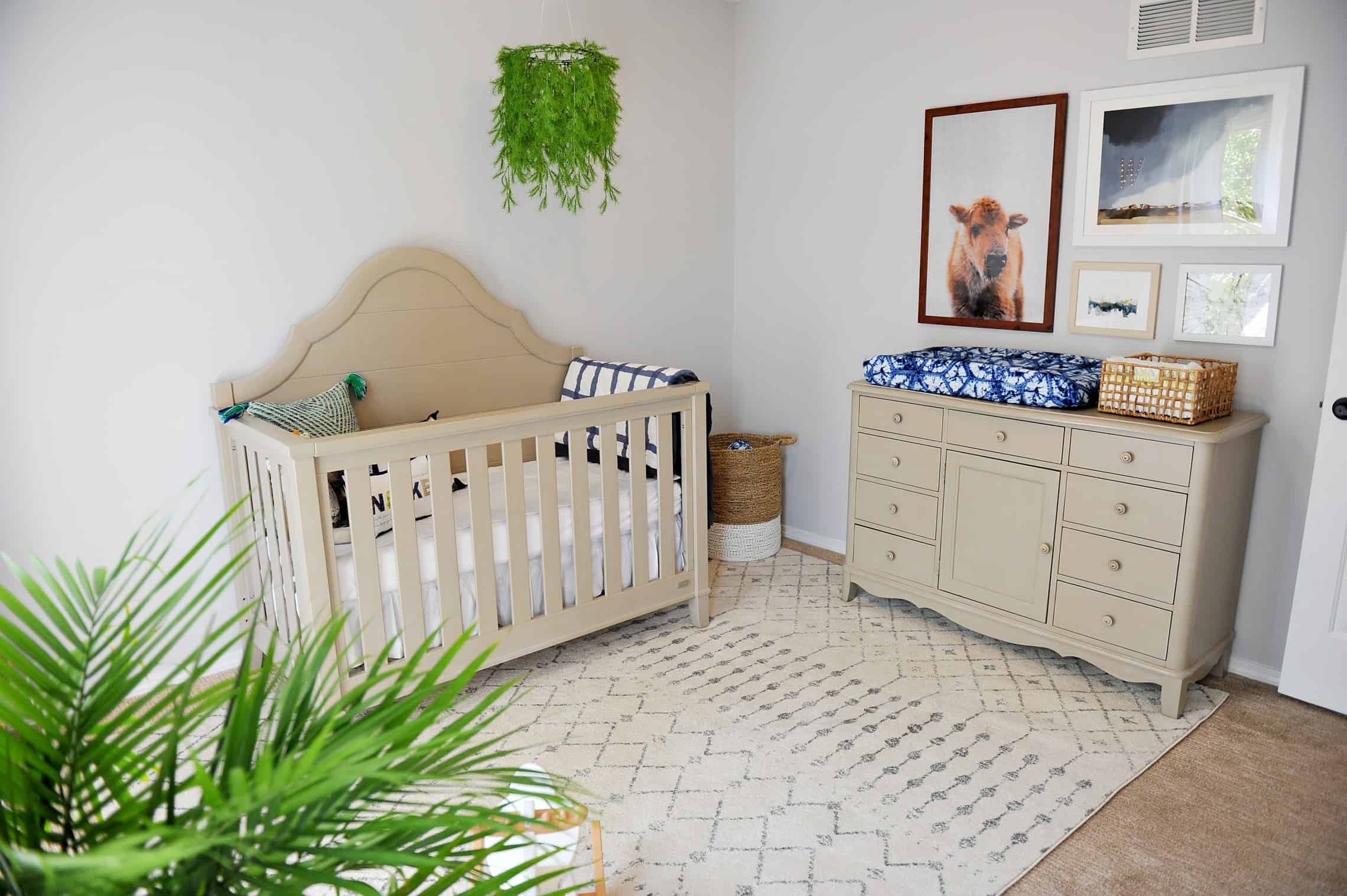 Invest Sparingly
One thing I have learned is if you like to keep up with the times, you might want to be careful with where and how you invest in a kids room.  Styles change often, and on top of that kids are HARD on furniture.  For us we decided that when we had Jack we would invest in a great nursery set that could last.  BUT I will say that both of the boys chewed not the crib, so I wish I hadn't thought of it as a long term bed for one of my kids, because that won't work now.
We invested in a great bed that can grow with Avé.  The bed can possibly be passed down to her kids if she wishes.  I love that its metal, and slightly less destructible than many, but for the boys I won't be investing in expensive furniture anytime in the near future.  I think you can still get great sturdy pieces without spending an arm and a leg!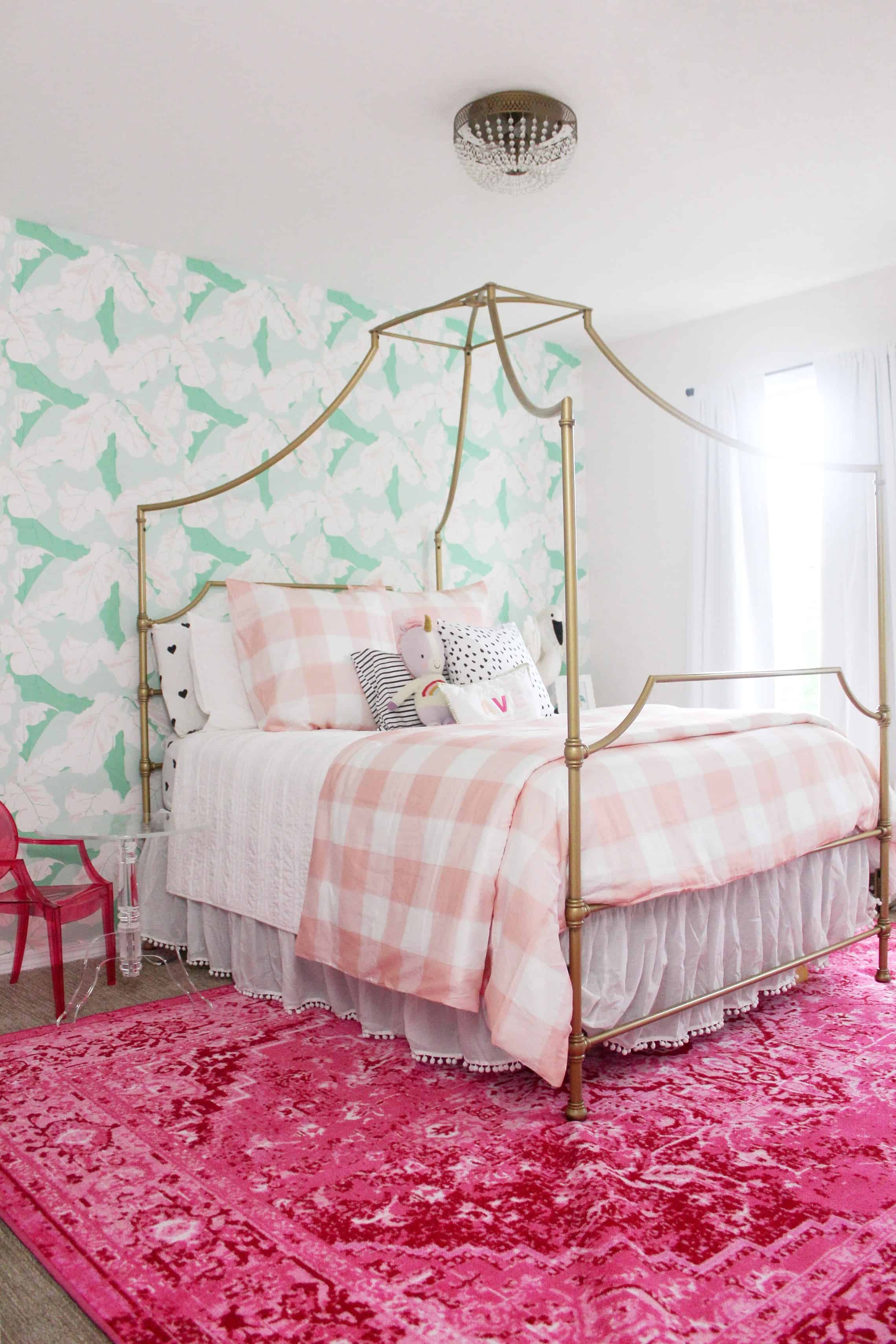 Have Fun With the Small Stuff
There is no reason not to have fun with the small stuff that can make a huge impact in a room.  Some of the biggest changes and pops of fun I have done in my kids rooms have been some of the least expensive parts.  Take my daughters room. – I loved her dresser and night stand but I wanted to jazz them up a bit.  I got these drawer pulls and LOVE how they made the dressers look way more modern.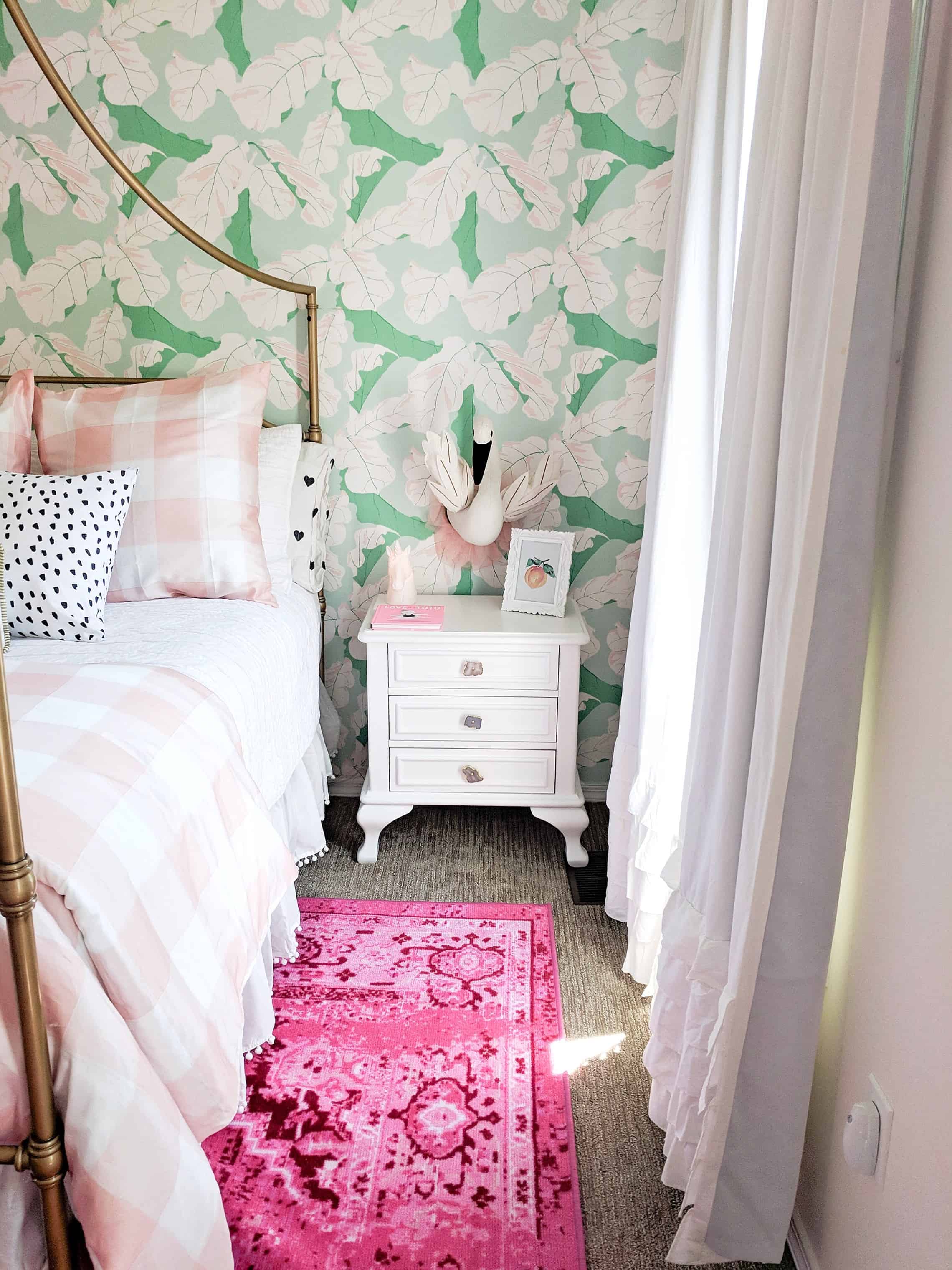 Great Throw pillows, or fun shelving that can be decorated are another great way to add fun touches.  In both Avé and Walker's nursery's the biggest wow factor pieces were DIY's.  Mobiles, Ladders, and a gum ball machine.  (CHECK OUT HER NURSERY, AND HIS HERE!)
Rooms Seen in this Post
Avé original room // Avé room with wallpaper // Bunk Bed room // Nursery
Overall, have fun!! I think if you follow the rules you would follow most places in your home you will be super happy with how the space turns out.  You will find you can adjust it without taking on huge expenses! If you have questions or need options on anything be sure to leave me a comment or shoot me an email.