I have been wanting to do this blog post for a while.  Over the past 6.5 years with kids we have taken so many trips.  Some flying, and many driving, so I wanted to share what my favorite items are.  I definitely think that kids road trip must haves are a bit different than flying, due to space and time, so I will try to explain why I picked these items, and elaborate on a few other tips for you all!
Kids Road Trip Must Haves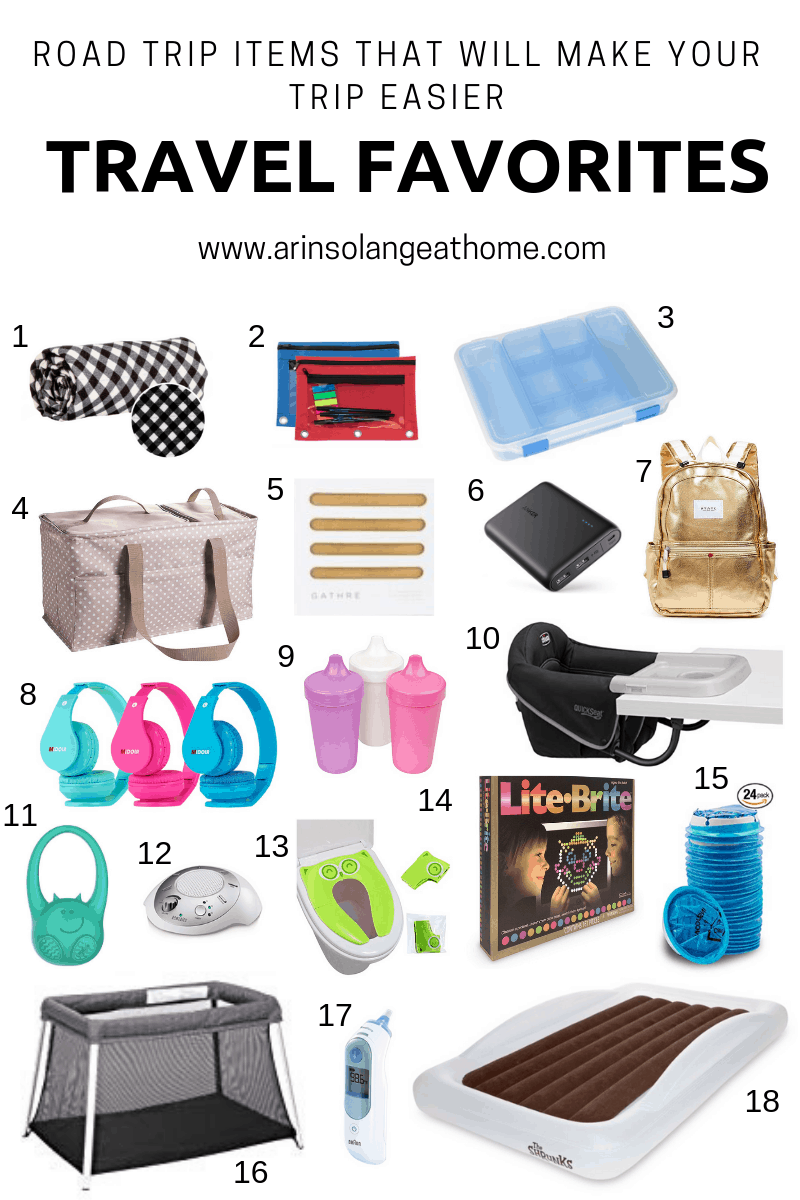 1 // 2 // 3 // 4 // 5 // 6 // 7 // 8 // 9 // 10 // 11 // 12 // 13 // 14 // 15 // 16 // 17 // 18
Added Tips
Before I get to the breakdown of the kids road trip must haves, one thing I will say when it comes to road trips, is there is a fine line between taking advantage of the added space due to your car, verses over packing.  You can definitely enjoy some of the luxuries you don't get to bring via a plane ride, but don't go overboard.
** a few items that aren't on the above graphic
Bring a few trash bags –   If there is an accident in the car or throw up you will want one.  On top of that using one for dirty laundry during the trip is super helpful.  We always just throw the bag in on the way home and it never goes past the laundry room.
A Roll of Paper towels – That sounds simple, but is so easily forgotten.  It can save the day if needed.
Medicine – I will touch on this during the breakdown from the graphic, but when we travel in the car we always bring kids tylonel type medicine.  We have been caught in so many situations where we need it.
Batteries – So many kids items take batteries.  When we travel I bring a few double and triple A batteries.  (believe me I learned the hard way with a 2 am trip to the drug store for batteries in Hilton Head years ago!)
Kids Road Trip Must Haves
Overall, traveling with kids is a bit stressful.  There is a lot to pack, and you will try to guess what you can live without more than you want to.  These items I can honestly say that all of these kids road trip must haves are items I LOVE (aside from the toddler monitor that I don't yet have), and I truly feel will make your time with young kids and travel much easier!  Is there anything you never leave home without?  Drop it in the comments! And for more travel favorites check out this post on my mom travel favs!