This Last Minute Mother's Day Gifts post contains affiliate links
Better late than never…right?  Mother's Day is NEXT weekend, and I finally have my gift guide up and ready…so forward this to your husband and get what you really want.  I kept things simple this year, and if you have been following me for a while you know most of these items are ones I have talked about a lot. So check out this Last Minute Mother's Day Gifts guide, and more importantly enjoy your day next weekend..or spoil your mama, whichever category you fall into!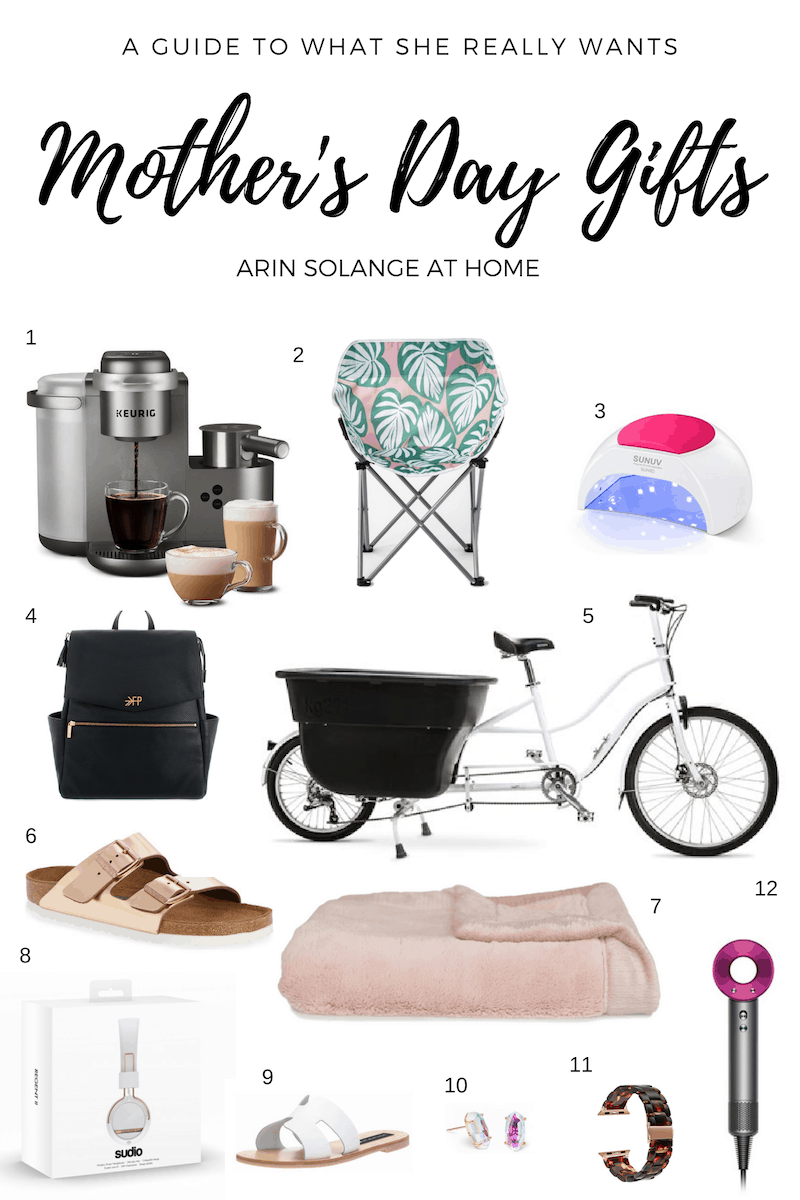 Last Minute Mother's Day Gifts
1  |  2  |  3  |  4  |  5  |  6  |  7  |  8  |  9  |  10  |  11  |  12
Keurig Espresso Machine – we love our Keurig coffee pot and I have had my eye on this guy for when it dies someday!
Cute Camping chair – this is a great last minute option you can grab online and pick up in store from Target! Let mom sit in style while she's at kids soccer games.
Gel Manicure light – I have shared mine on my Instagram Stories a few times, but this is a lifesaver.  Mom can do her own nails but doesn't have to wait for them to dry.
Freshly Picked Diaper bag – read my full review here.  This is literally the best diaper bag ever!
Madsen Cycles – I have had mine for almost a year and LOVE LOVE LOVE it.
Gold Birkenstocks – I'm going on year 3 with mine and they are love.
Saranoni Blanket – seriously the softest blankets you will ever buy.
Sudio Headphones – I got a pair this past winter and I love them! – use code arinsolange for 15% off
White Sandals – I have had these for a couple of years and I Love them!
Tortoise Apple Watch band – I think Apple Watch bands make for such fun, inexpensive gift options.
Dyson hair dryer – my husband got me this last year for Mother's Day and I was a bit mad due to the cost, but honestly it was one of the better investments ever.  It drys my hair in about 5 min, and if you don't normally follow along here, or on Instagram  – I have A LOT of hair!
No matter what, shower your mom, your wife, or whoever with love on Mother's Day.  Being a mom is the most difficult and rewarding job there is, and take if from this mama, there isn't a day that means more to them than this one!
For other gift guides for mom Check out these posts:
Last year Mother's Day  |  Favorites for Women