Luxury backyard pools with slides have become increasingly popular in recent years, as homeowners look to create a relaxing and entertaining outdoor living space for themselves and their families. Not only do they provide a fun and exciting way to cool off during hot summer days, but they can also add a touch of elegance and sophistication to your own backyard.
In this post, we'll explore some backyard pool ideas, including the different types of residential water slides available, pool shape and size considerations, and landscaping options to enhance the overall aesthetic of your outdoor oasis.
This post may contain affiliate links.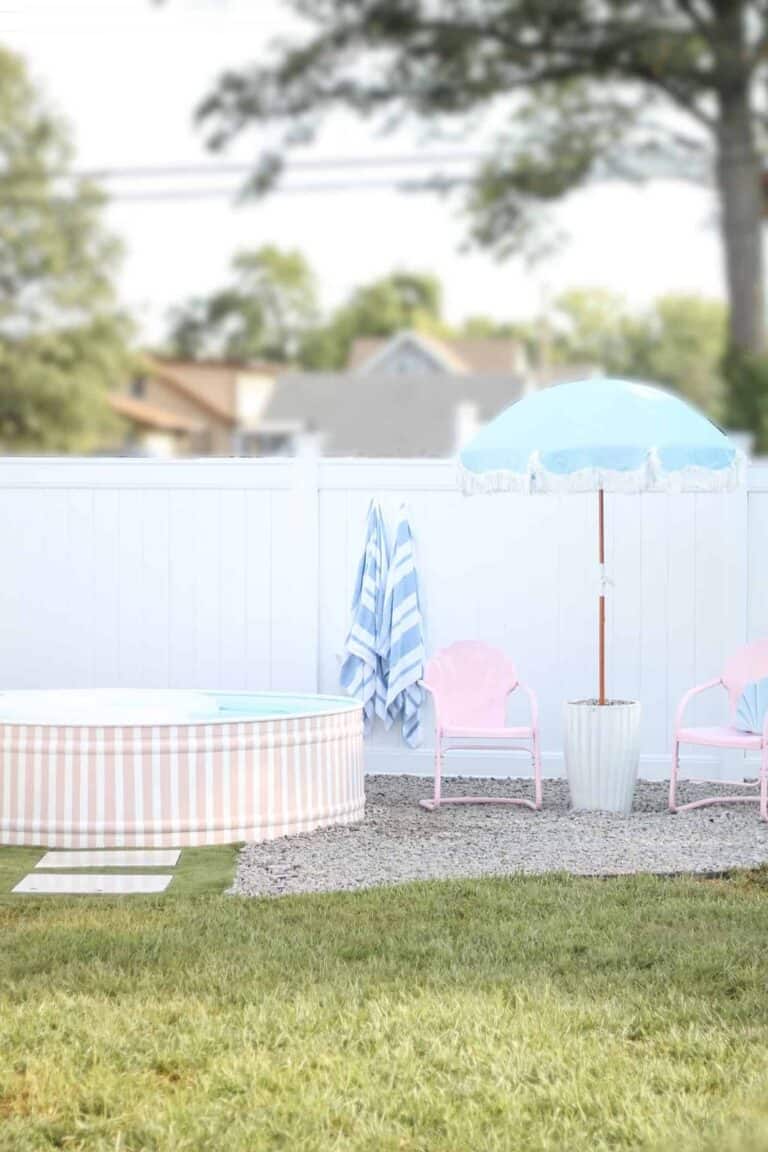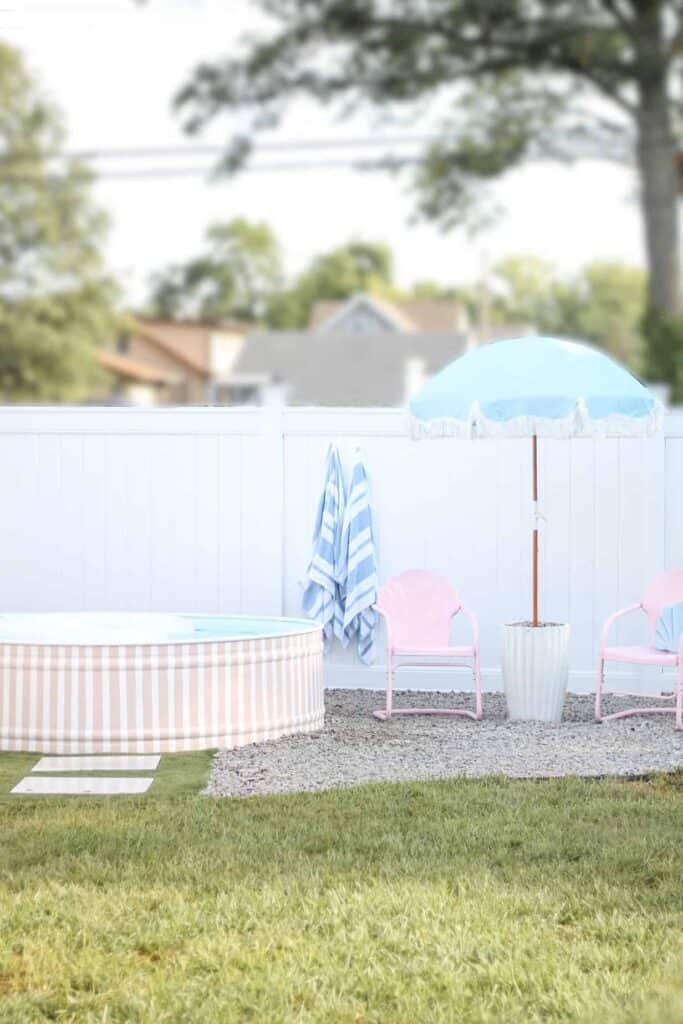 Luxury Backyard Pools With Slides: Design Ideas
This summer, we have some exciting news! We are actually putting in our own in-ground swimming pool in our backyard.
I can't wait for construction of my in-ground pool to start in the coming weeks. A local construction company will be putting in a fiberglass pool for us. While this post is focusing on luxury in-ground pools, our pool won't be considered a custom pool. Because we are opting to install a fiberglass pool, the dimensions and shape are all standard. The benefit of installing a fiberglass pool is that it tends to be a faster process. Less construction time means we can enjoy the pool faster.
Last year, we were longing for a pool in our backyard. With summers reaching high temperatures here in the Midwest, a pool is sometimes the only way you can tolerate being outside during those hot months. Since we didn't have a pool last year, I opted to try my hand at a DIY pool. If you are wanting a fun project and one that your family can enjoy all summer long, make sure you check out my DIY pink stock tank pool post! While it may not be an in-ground pool, it certainly is a custom one of a kind pool!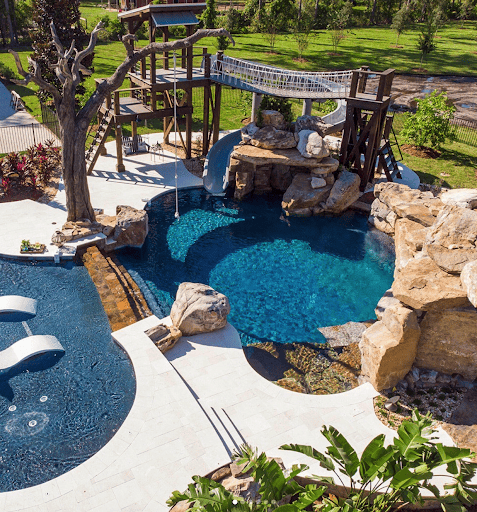 What To Know Before Building Your Luxury Backyard Pool
Before investing in such an expensive and life-changing purchase, you'll want to make sure you know exactly what you're getting into. These are some key concepts of what you should know before building your luxury backyard pools with slides.
Consider Your Yard Space
Building a luxury backyard pool is a great way to add value to your home and enjoy the summer months. But before you start, there are a few things you should consider. One of the most important factors is your yard space. You need to make sure that it's large enough for the pool you want and that it can accommodate all of the features you plan on including. Knowing how much space you have available will help you determine what type of pool is best for your needs.
Know Your City's Ordinances
It's important to do your research and make sure you know what you're getting into. Before starting the project, make sure to familiarize yourself with your city's ordinances, permits, and zoning laws. Knowing these regulations will help ensure that you are in compliance with local laws and don't end up with any costly fines or unexpected delays.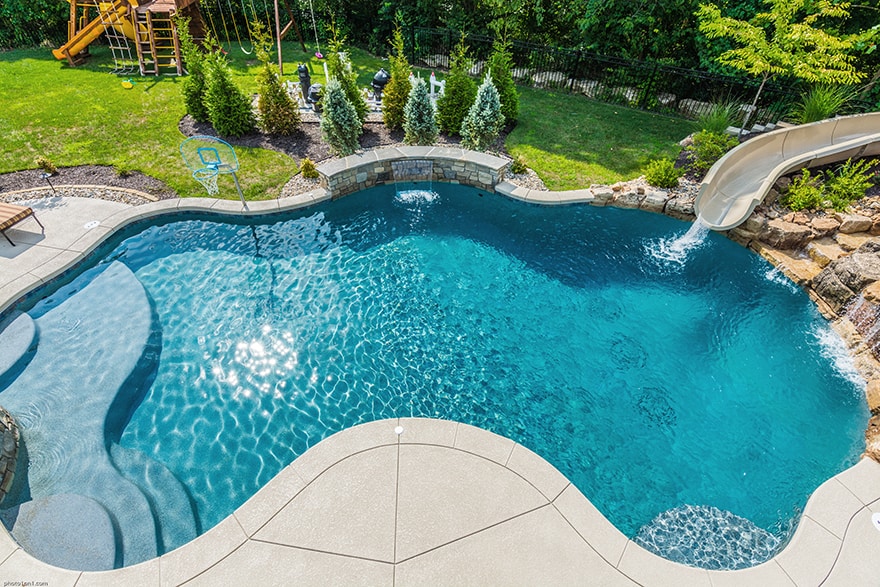 Type of In-Ground Pool Construction
In-ground pools are typically made of three different materials: concrete, vinyl, and fiberglass. Each material has its own pros and cons. In terms of maintenance, all in-ground pools require regular cleaning, water chemistry testing, and balancing of chemicals. Overall, the type of pool you choose will depend on your budget, the amount of maintenance you are willing to do, and your personal preferences in terms of design and durability.
Concrete Pools
Concrete pools are the most popular choice for in-ground pools. They can be customized to any size or shape, and can be finished with a variety of materials, such as tile or plaster. They are also very durable and can last for many years. However, they can be expensive to install, require more maintenance than other types of pools, and may need resurfacing every 10-15 years.
Vinyl Pools
Vinyl pools consist of a vinyl liner over a frame made of steel or polymer. They are generally less expensive than concrete pools, and the vinyl liner can be replaced if it becomes damaged. However, they are not as durable as concrete pools and may need to be replaced every 10-15 years.
Fiberglass Pools
Fiberglass pools are made from a preformed shell that is installed into a hole dug in the ground. They are easy to install, require less maintenance than other types of pools, and are very durable. However, they are not as customizable as concrete pools, and may not be suitable for all types of soil.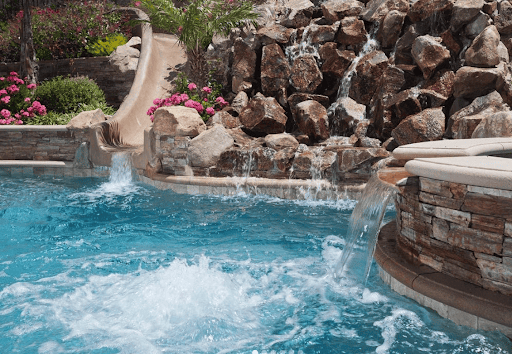 Size & Shape Of Pool
The shape and size of your pool will not only impact the type of slide you can install but will also affect the overall aesthetic of your backyard oasis.
Rectangular Pool
Rectangular pools are a classic pool shape and are perfect for those who want a more traditional pool design. They provide plenty of space for swimming laps and relaxing, and can easily accommodate a straight or curved slide.
Freeform Pool
Freeform pools have a more natural and organic shape, which can create a more relaxing and peaceful backyard atmosphere. They are perfect for those who want a more unique and visually interesting pool design. Freeform pools can accommodate a range of slide designs, including custom pool slides.
Small Pool
If you have a smaller backyard, you can still enjoy the benefits of a luxury pool with a slide. Small pools can be designed to fit any backyard space and can be a great option for those who want a more intimate and cozy outdoor oasis. If you can't quite figure out the best layout for your space, consider hiring a pool designer to help you out.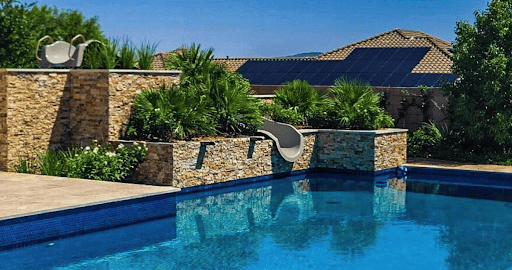 Cost Of Pool
The cost of a pool can vary greatly depending on several factors, such as the type of pool, size, location, materials, and additional features. Overall, the cost of a pool can range from several thousand dollars to tens of thousands of dollars or more, depending on various factors. It's important to consider all of these costs when planning your pool project to ensure that you have a realistic budget and can enjoy your pool for years to come.
Here is a breakdown of some of the costs you may encounter when installing and maintaining a pool:
Installation Costs
The cost of installation will depend on the type of pool you choose, as well as the size and complexity of the installation. In-ground pools tend to be more expensive than above-ground pools, with concrete pools being the most expensive. On average, the cost of installing an in-ground pool can range from $20,000 to $50,000 or more, while an above-ground pool can cost between $1,500 and $15,000.
Insurance Costs
Adding a pool to your property may increase your home insurance rates. You may need to purchase additional liability insurance to protect you in case of accidents or injuries. The cost of insurance will depend on your insurance company and the type of coverage you need.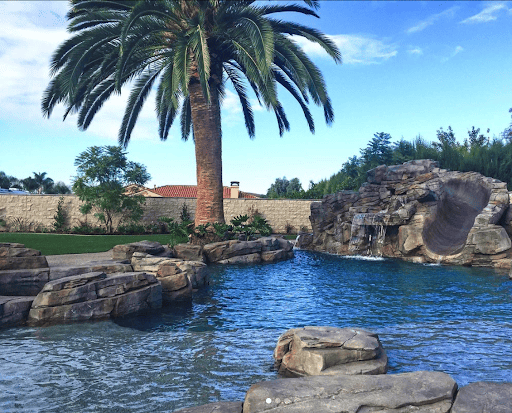 Maintenance Costs
All types of pools require regular maintenance to keep them clean and safe for swimming. This includes chemical treatments, water testing, cleaning and repairs. On average, pool maintenance can cost between $1,200 and $1,800 per year.
Landscaping & Lighting
Adding landscaping and lighting around your pool can enhance the overall look and feel of your backyard oasis. The cost of landscaping and lighting will depend on the size and complexity of your design, as well as the materials and labor involved. On average, you can expect to pay between $5,000 and $20,000 or more for professional landscaping and lighting.
Safety Features
Safety features such as covers and fences are important for keeping your pool safe and secure. The cost of these features will depend on the type and size of your pool, as well as the materials and labor involved. On average, you can expect to pay between $1,500 and $10,000 or more for pool safety features.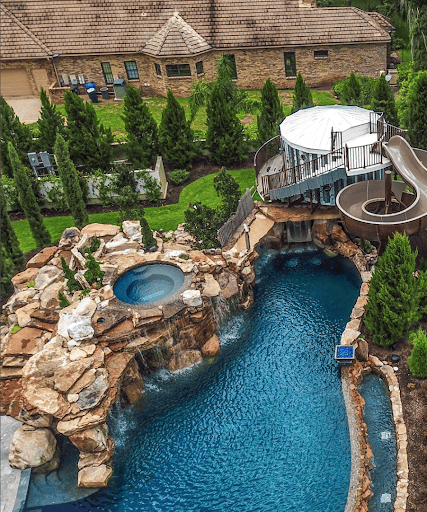 Choose Your Pool Contractors Wisely
It's important to do your research before choosing a pool contractor. Make sure to ask around in local groups for recommendations and read as many reviews as possible, both positive and negative. When you find a few options, be sure to ask them any questions you may have before committing. The right pool builder will have years of experience, be able to answer all of your questions, and install a beautiful pool for you.
Water Safety Around Pools
The most important thing to me with our new pool is that we have plenty of safety features to keep our kids and friends safe. The pool we are installing will have a cover that will automatically go on when no one is in the pool. It requires a key to open it.
Water safety is key regardless if you have a pool or not. Drowning is the leading cause of death in children ages 1 to 4 years old.
It's important for pool owners to remember that these safety measures are not foolproof, and you should always supervise children and pets around the pool. Additionally, it's a good idea to learn CPR and keep a phone nearby in case of emergencies. By taking these precautions, you can help ensure the safety of everyone around your pool.
Swim Classes
One of the best ways to prevent accidents around the pool is to ensure that everyone who uses it knows how to swim. Consider enrolling yourself and your family members in swim classes, especially young children. Infant Swimming Resource, or ISR, is a great resource for finding a local swim instructor.
Fencing With Locked Gate
A fence with a locked gate around your pool is a great way to prevent unauthorized access. Make sure the fence is at least four feet high and has a self-closing, self-latching gate that locks securely.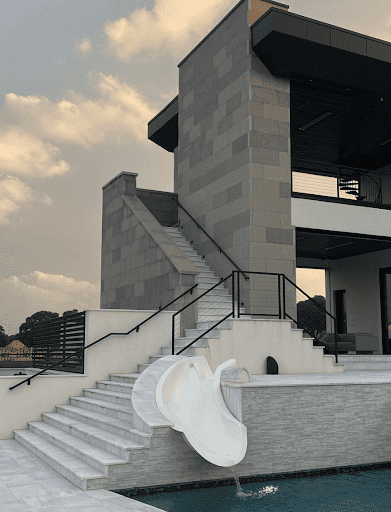 Gate Alarms
Installing an alarm on the gate of your pool fence is another way to ensure that no one enters the pool area without your knowledge. The alarm will sound if the gate is opened without the proper code or key.
Door & Window Alarms
It's also important to secure your home's doors and windows that lead to the pool area. Consider installing alarms on these entrances that will sound if they are opened without your knowledge.
Cover With Key
If you have a pool cover, make sure it is securely fastened and can only be opened with a key. This will prevent anyone from accidentally falling into the pool when the cover is on.
Pool Alarms
Pool alarms can detect when someone enters the water and can sound an alarm to alert you. There are several types of pool alarms available, including surface wave detection, subsurface disturbance, and immersion detectors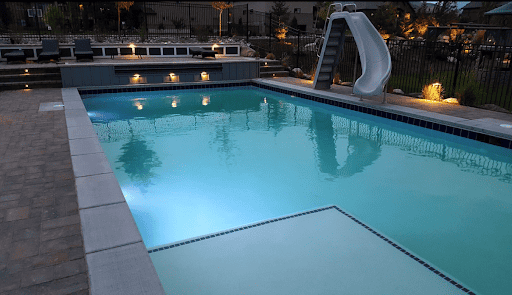 Shop Favorite Pool Accessories
When I think of luxury backyard pools with slides there are a handful of swim accessories that are a must! I've focused on some safety issues to help make your backyard pool secure, but I also added in a few of my favorite splurges. If you're wanting to sit back, relax, and have the ultimate pool oasis, check out some of my favorite accessories to help you achieve relaxation. If you close your eyes, you may even think you're at a resort!
For all of my beach and pool finds, make sure you check out my Amazon storefront.
1 | 2 | 3 | 4 | 5 | 6 | 7 | 8 | 9 | 10 | 11 | 12 | 13 | 14 | 15
Other Posts You'll Love
Pink Stock Tank Pool & DIY | Best Luxury Outdoor Furniture | 4th Of July Pool Party Ideas
Follow Social For The Latest & Greatest
Pin The Photo Below For Later
Designing a luxury family pool with a custom water slide can be a fun and exciting process. With so many different slide options, pool shapes and sizes, and landscaping ideas to choose from, you can create a backyard oasis that perfectly fits your style and needs.
Hopefully these design ideas for luxury backyard pools with slides have inspired you to find your perfect fit. With the right design and planning, a luxury outdoor pool with a slide can provide endless hours of fun and relaxation for you and your family, and can also add value and elegance to your home.