The 4th of July is a special day in American history, as it marks the country's independence from Great Britain in 1776. This day is celebrated across the nation with fireworks, parades, and barbecues. And what better way to celebrate the 4th of July than with a pool party? This outdoor celebration is the perfect way to cool off on a hot day while enjoying the company of family and friends. I can't wait to do that soon in my new pool! In this post, we will discuss some of the best 4th of July pool party ideas that will ensure a fun and festive day.
This post may contain affiliate links.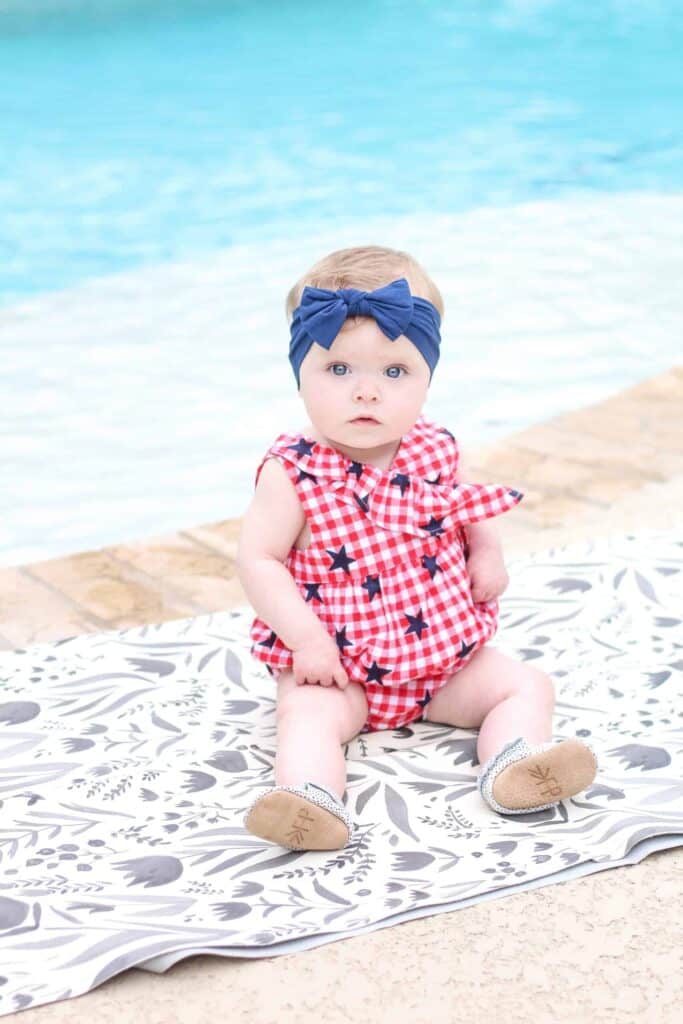 4th of July Pool Party Ideas For A Patriotic Fun Day
I'm hoping the pool that is being built in my backyard will be done by the Fourth of July. I am so excited to host people at our house for Independence Day once it is complete. 4th of July pool parties are always the best way to celebrate when you live in a warmer climate.
If you don't have a pool, but want to have the perfect summer pool party, you can check in with a friend or family member that has a pool. Another option is renting an AirBnB that has a pool, going to a neighborhood pool and having people over afterward, or booking a pool via Swimply, which is a company that allows you to rent out private pools.
To create a patriotic pool party, incorporate red, white, and blue colors into your decorations and food. A great way to add some fun designs is to include American flags, stars, and stripes. You could even make a patriotic theme for your party, encouraging guests to dress in red, white, and blue. The pool water itself can be a great place to add some variety of colors, with red and blue pool toys and floats. I can't wait to share some of my favorite 4th of July pool party ideas to help you create a patriotic and fun-filled day.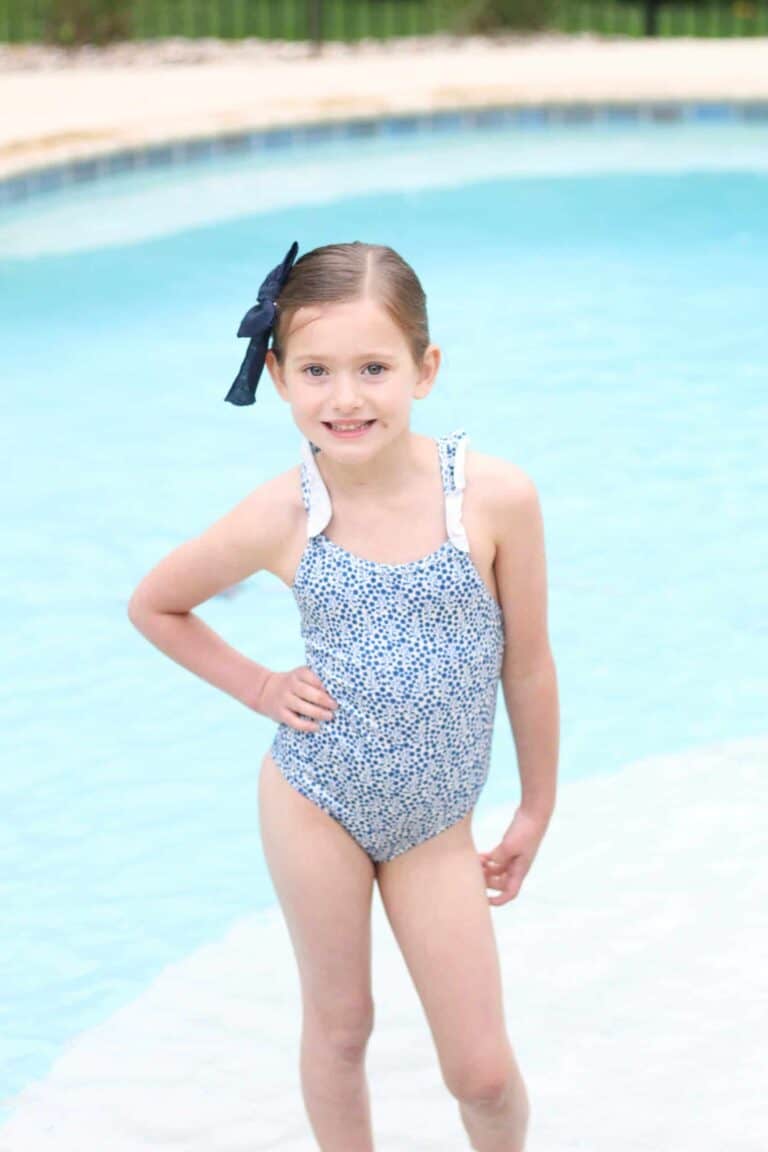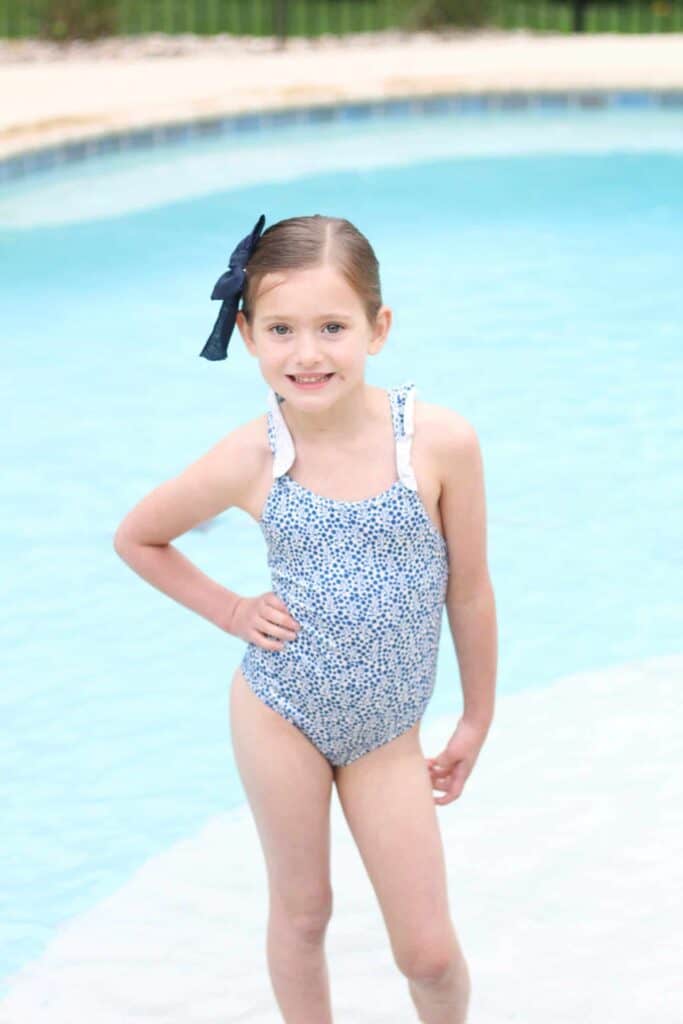 4th Of July Decor
July 4th is a day of celebration in the United States, and it's the perfect opportunity to decorate your home and outdoor spaces with patriotic decor. Here, we will discuss some creative and fun decor ideas that you can use to make your Fourth of July celebration even more memorable. As always these are some of my own personal favorites, DIYs, and Amazon finds. Hopefully you'll be inspired to create your own patriotic pool oasis with these 4th of July finds.
DIY:
If you don't have a pool and are looking for a fun DIY to help beat the heat this summer, look no further. A stock tank pool is a trendy and affordable way to add a swimming pool to your backyard. You can make it even more festive for the 4th of July by adding some decorations to it. Consider adding some red, white, and blue beach balls or some patriotic pool noodles. You can also add some colorful pool lights to create a festive ambiance for your nighttime pool party.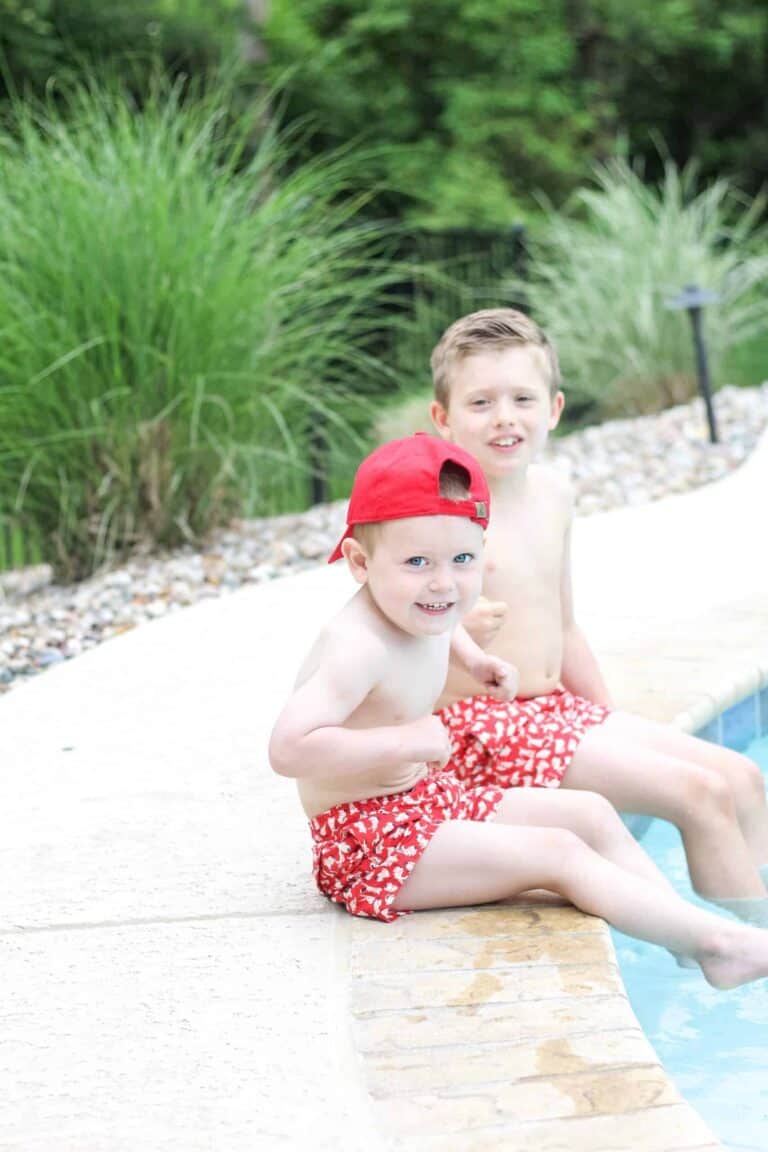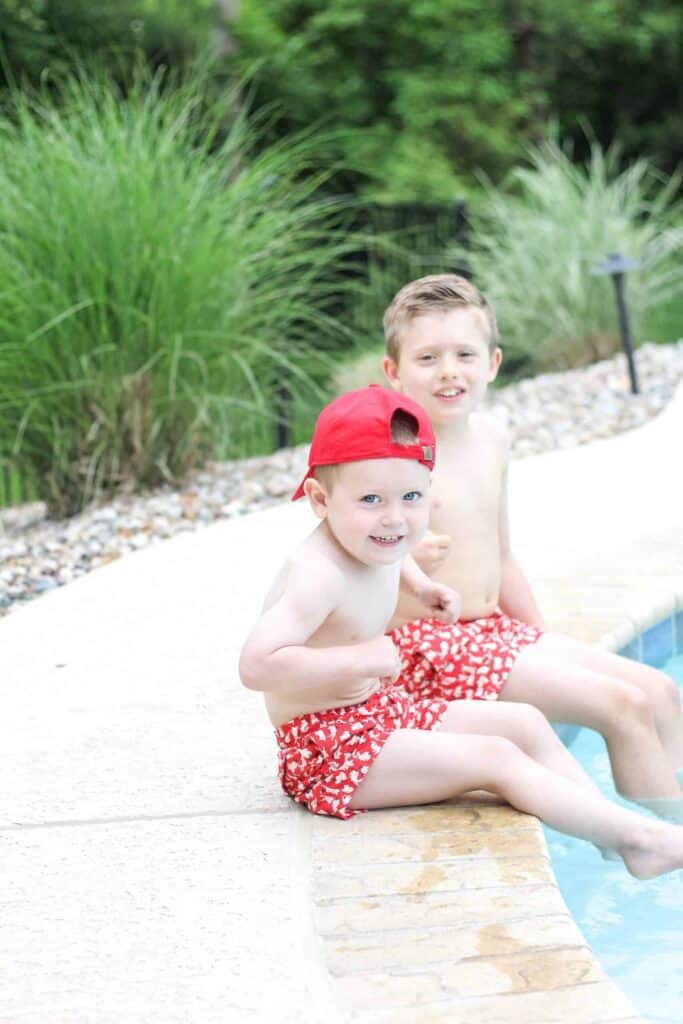 An outdoor table is essential for any 4th of July party, and you can easily make one yourself with just a few materials. Start by purchasing sixteen 2 by 4 boards that are 96 inches in length, outdoor deck screws, outdoor black paint, and outdoor stain. I explain how to build it in the tutorial linked above. You can finish it off with some patriotic decorations to the table, such as American flag centerpieces or red, white, and blue tablecloths.
Ice cream is a classic summer treat, and you can make it last longer for your 4th of July party by making this DIY project. The ice cream cones can either be scattered on a picnic table or strung on a line to create an adorable festive garland. I love that you can re-use this DIY decor for any summer get together.
Resin letters are a fun and creative way to add some personalized decor to your 4th of July party. Start by purchasing some epoxy resin and letter molds. To make these festive for the 4th of July, you can use red and blue glitter. Mix some resin according to the instructions on the package, add the glitter, and pour it into the letter molds. When it is dry, it will make adorable place settings for your guests. Or, you can make these to use as diving toys during your pool party.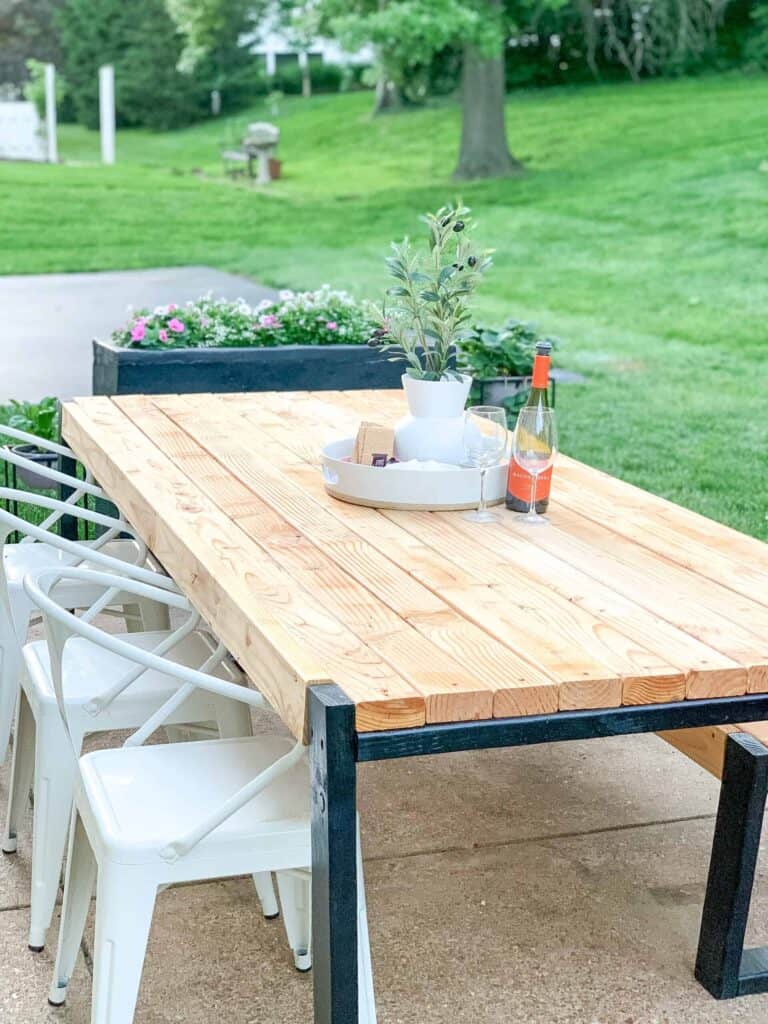 A trash can may not be the first thing that comes to mind when you think of 4th of July decor. However, when your guests arrive, their first impression of your party is going to be your porch. So grab some trash cans and get to DIYing. You can turn it into a unique and festive planter that will make a statement.
Start by purchasing a plastic trash can and drilling some draining holes in the bottom if you are using real flowers. If not, you can skip this step. I put some bricks in the bottom to weigh it down and then added packing peanuts so I wouldn't need to use as much dirt. In this post, I put faux ferns in each planter, but to make it festive for the holiday, I would plant red, white, and blue flowers or you could add American Flags. You can also add some American flag bunting to the top of the trash can to make it even more patriotic.
Mason jars are a versatile decoration that can be used in many different ways for your 4th of July party. To make them more festive, start by painting them with red, white, and blue paint. You can then use them as vases for flowers, or fill them with battery-operated string lights for a festive night time glow.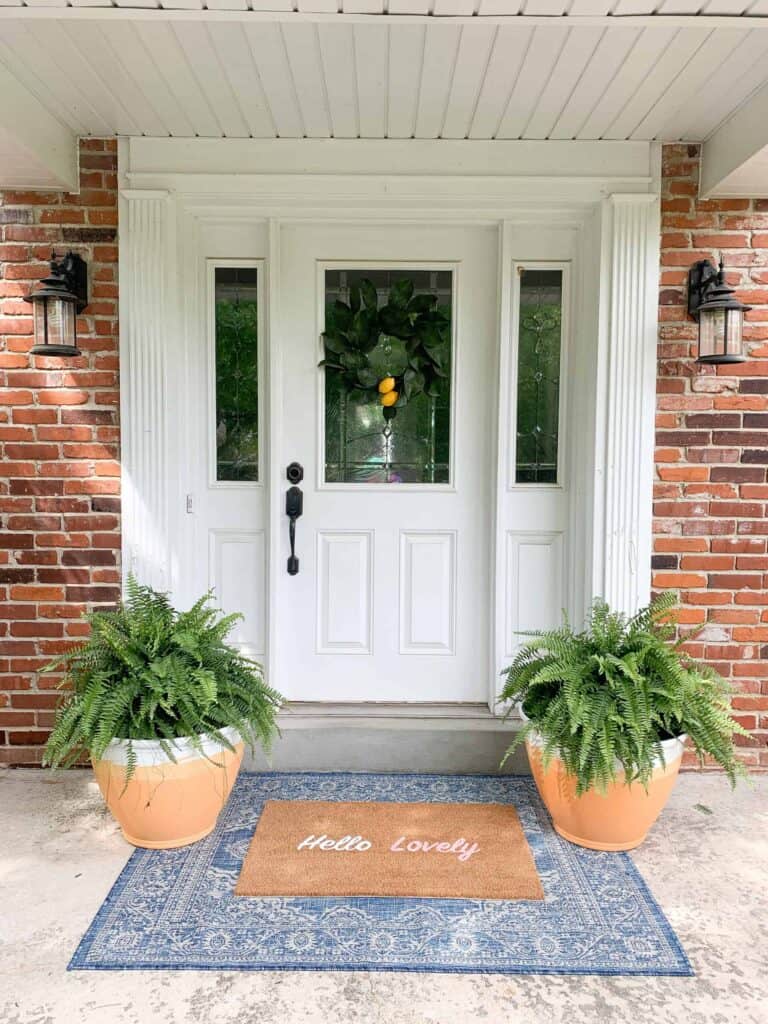 Bunting is a classic decoration for any 4th of July party. You can make your own with just a few materials. If you want to get the same look start by cutting some white watercolor paper into flag shapes. Next, you'll paint a striped pattern using red and blue watercolor paints. Once the paint has dried, string the flags together with some twine to create a festive bunting that can be hung around your outdoor spaces.
DIY Balloon Garland
A balloon garland can be an eye-catching decoration for your pool party. To create a patriotic garland, you'll need red, white, and blue balloons. Inflate the balloons to various sizes for a more dynamic look. I tend to tie multiple balloons together to create my garland. Once the balloons are tied, you can twist clusters together to fill out your garland. If you don't have the time or energy for this process, my favorite local party store, Party Hop Shop, is the best place to go for your balloon needs. If you aren't local to St. Louis, they have kits with everything you need included.
DIY American Flag & Candy Vases
Candy vases can be a sweet and decorative addition to your 4th of July pool party. You'll need glass or clear plastic vases, red, white, and blue candy (such as gum balls, jelly beans, or M&M's), and small American flags or other patriotic decorations. First, fill the vases with layers of red, white, and blue candy, creating a striped pattern. Then, insert small American flags or other patriotic decorations into the candy layers, ensuring they stand upright. Finally, arrange the candy vases on tables around the pool area as centerpieces or on a dessert table.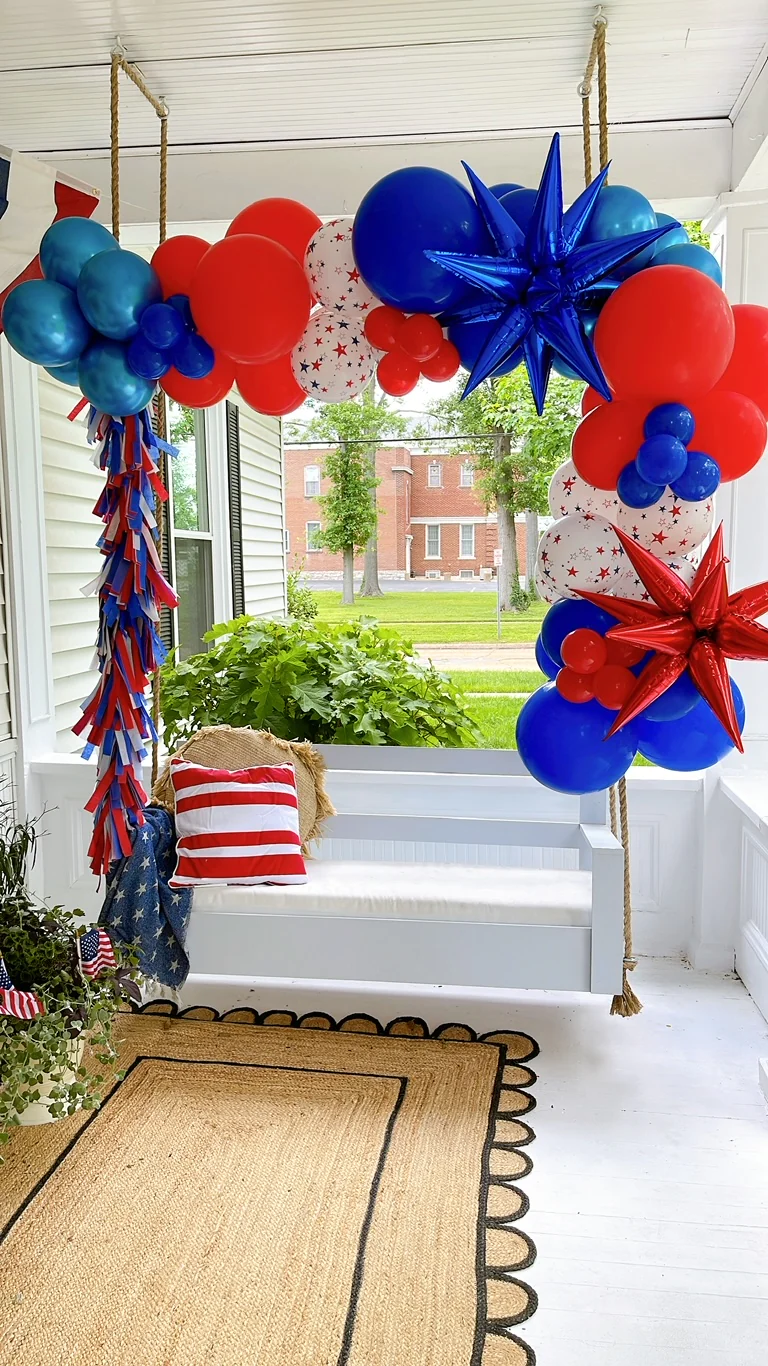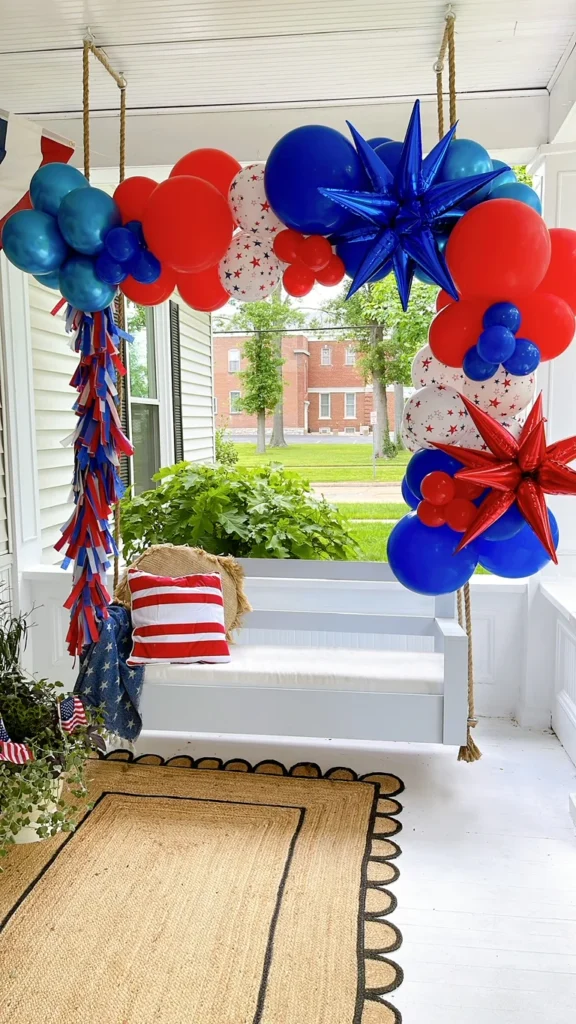 4th of July Finds:
If you don't have the time or energy to create your own 4th of July pool party ideas don't sweat it! Sometimes you just need easy. What is easier than clicking a button and having your package delivered the next day? With these Amazon finds, your pool party will be festive and decked out!
A patriotic wreath is a great way to add some festive flair to your front door or mantel for your Independence Day party. You can find wreaths that are made with red, white, and blue flowers, ribbons, and other decorations. Some wreaths also feature patriotic symbols like stars and stripes.
Next up are 4th of July porch banners. These banners are a fun way to decorate your porch for the holiday. The banners I've linked say "Let Freedom Ring" in patriotic colors. These would look great for any entryway too.
Large patriotic flags are another option for decorating your home for the 4th of July. You can find flags that are made from durable materials and are designed to withstand outdoor use. These would look super cute along the fence of your pool!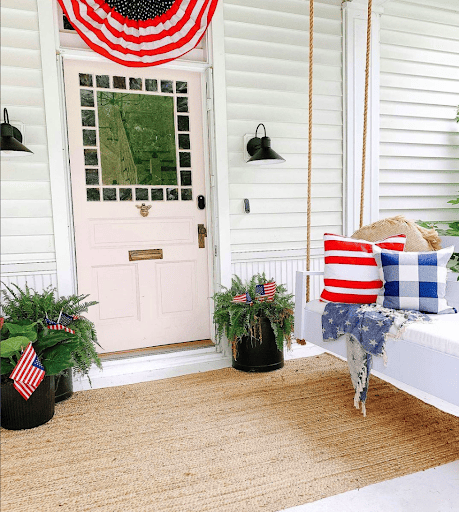 If you're looking for a way to add some patriotic flair to your floral arrangements, consider patriotic berry stems. These stems are made with red, white, and blue berries and can be used to add some color to your tablescapes.
Pool floats are a must-have for any pool party. Fortunately, there are plenty of patriotic options available to choose from. Look for floats that are red, white, and blue in color or ones that have an American flag design. You can also opt for floats that are shaped like bald eagles, stars (linked above), or other patriotic symbols. Having these floats in the pool will add to the overall theme of the party and make for great photo opportunities.
For those who plan on spending time by the pool, solar powered floating pool lights can add some festive illumination to your backyard. These lights charge during the day and then provide a colorful glow at night. Fireworks may light up the night skies, but these solar lights will will provide for the pool.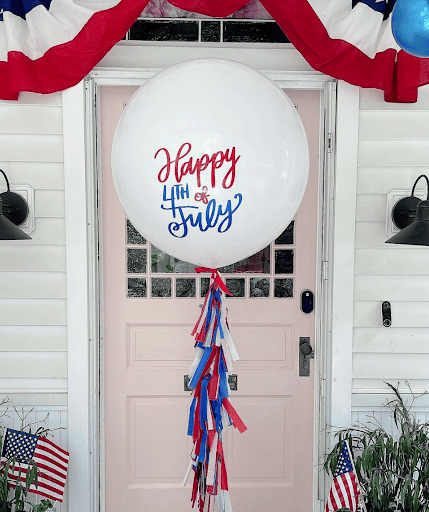 If you want to cozy up on the couch with some patriotic decor, a patriotic throw blanket is a great option. These blankets come in red, blue, and gray and have stars across them as well as decorative tassels.
For some added sparkle, mirror disco balls can add so much fun to your 4th of July decor. These reflective balls can add some shine to your party decorations. I love throwing them on tables or gathering a bunch in a bowl to make any holiday party pop.
No dining table is complete without a fun patriotic runner. Runners add texture, depth, and color to your table. This runner is made with patriotic colors and is called "4th of July stripe".
Buffalo plaid napkins are a stylish addition to your 4th of July table setting. These napkins are made with a red and black buffalo plaid pattern and can be paired with white plates and silverware for a festive look.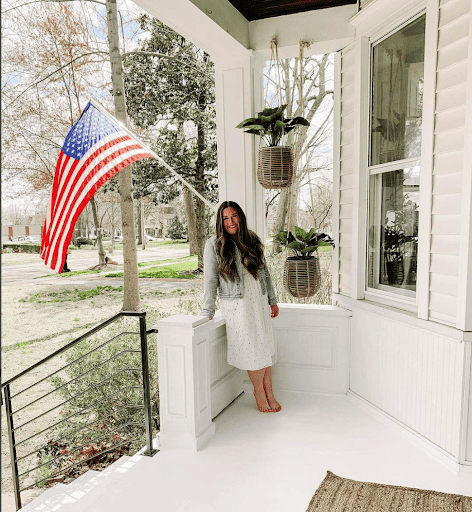 For easy cleanup after your 4th of July party, consider using disposable plates and silverware. You can find plates and silverware that are designed with patriotic colors and designs. I like to use disposable plates and silverware that I can have on hand and can use for other parties. These dark blue plates are modern and festive, but not so much that they scream "4th of July party". If you have extras you can always reuse for any summer BBQ.
Don't forget about 4th of July straws! These straws are a fun way to add some patriotic flair to your drinks. You can find straws that are made with red, white, and blue strips or that feature patriotic designs.
Finally, plastic juice bottles with straws and lids can be a convenient way to serve drinks at your 4th of July party. You can use a Cricut machine to add patriotic colors and designs, like stars and stripes. The rule is no glass by the pool, so these plastic ones with lids are great to prevent accidents and spills.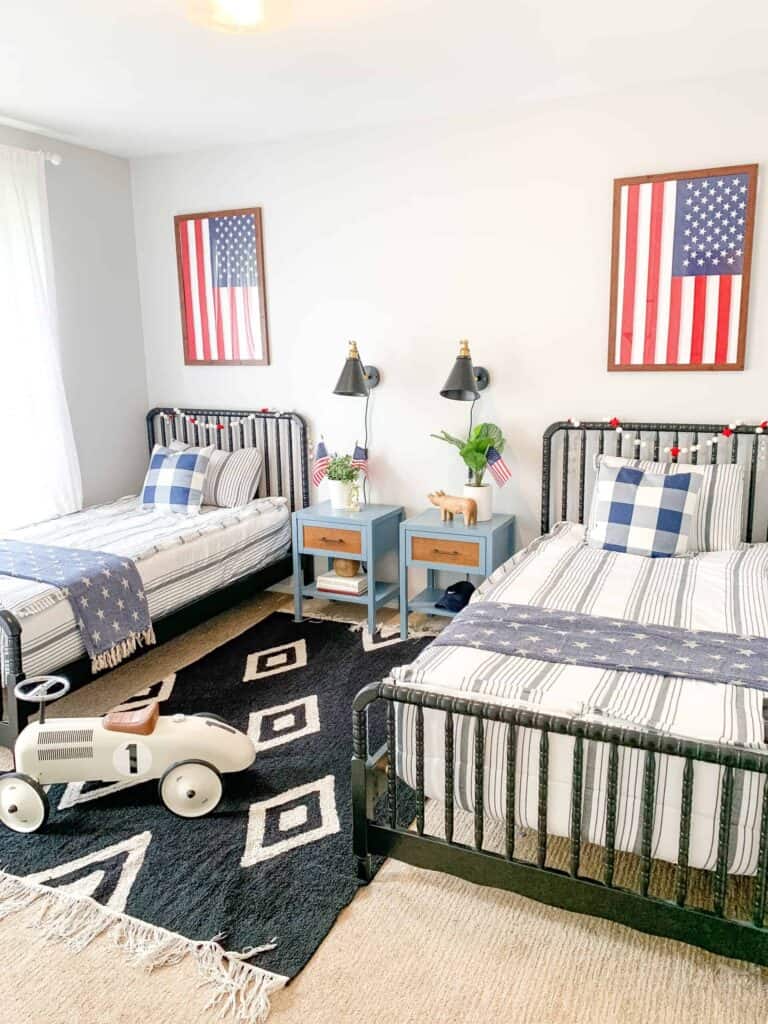 4th Of July Pool Party Games & Entertainment
In addition to swimming, there are plenty of fun activities to keep your guests entertained. Outdoor games with corn hole or horseshoes are always a hit, and a fun game of water volleyball or Marco Polo can be a great way to cool off. Here's a few more ideas below.
Water Games
No great pool party is complete without some fun pool games! There are many patriotic-themed games you can play with your guests, such as a game of pool volleyball, pool basketball, or even pool tag. You can also set up an obstacle course or relay race, where participants have to carry a flag or wear a patriotic-themed costume. These games are not only fun but also a great way to get everyone involved in the party.
Reusable water balloons are a fun and eco-friendly alternative to traditional water balloons. These balloons can be filled up with water and used in games like water balloon toss or water balloon dodgeball. Kids and adults love these balloons! They are a hit everywhere we go!
Old School Pool Games
Old school pool games like sharks and minnows, Marco Polo, and soda or beer dive are classic pool games that are always a hit. Sharks and minnows is a tag-based game where one player is the "shark" and tries to tag the "minnows" as they swim across the pool. Marco Polo is a call-and-response game where one player closes their eyes and tries to tag the other players by listening for their responses. Soda or beer dive is a race where participants dive to the bottom of the pool and retrieve a can of soda or beer.
Inflatable patriotic corn hole is a fun twist on the popular backyard game. These inflatable sets feature red, white, and blue corn hole boards and bags. You'll have an added challenge with the boards floating on water. Try your best to beat your opponent.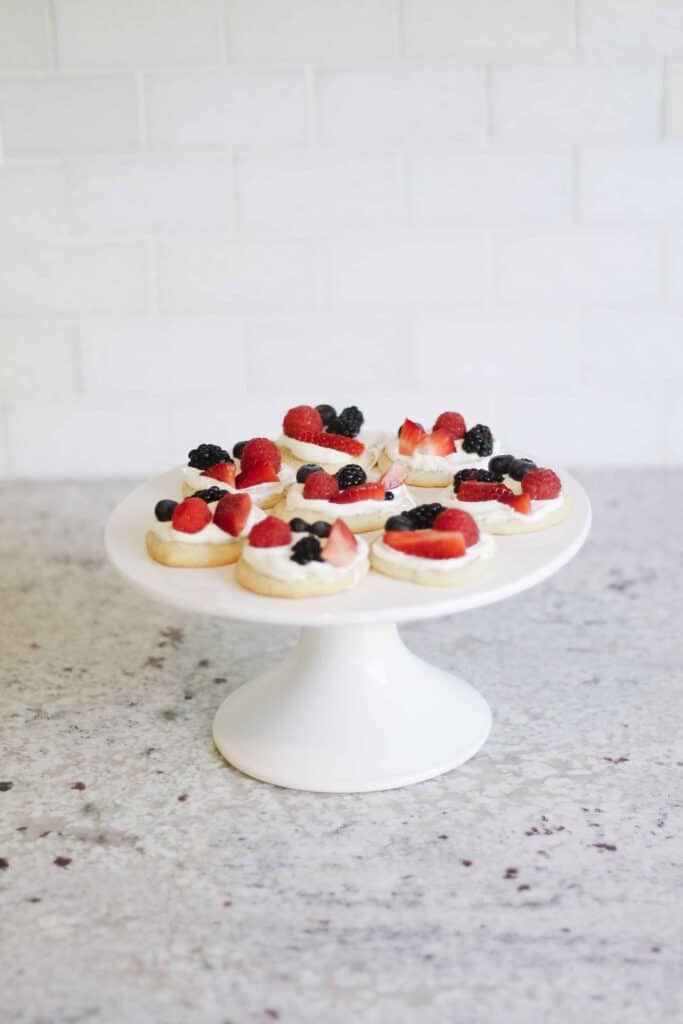 Uno Splash card game is a waterproof version of the classic card game. In other words, this game is perfect for playing in or nearby a pool. The cards are designed to float on water and resist fading in the sun.
Splash hoop is a game where players try to toss a ball through a floating hoop. This game can be played in the pool and is a fun way to keep your guests entertained. If you prefer to dock your hoop poolside, you'll have a standard game of basketball.
Land Entertainment
Patriotic party games are another option for entertaining your guests. With multiple games, you can play a "photo scavenger hunt" and "This Or That… game. All of the games have a 4th of July theme making them perfect for any patriotic party.
Pindaloo is a ball-catching game that challenges players to keep a small ball moving through a loop. This game can be played individually or in teams and is a great way to get your guests up and moving. If you get too hot playing, just jump right in the pool to keep the fun going.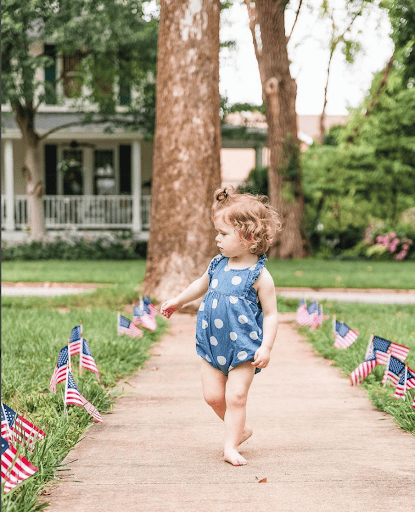 If you want to take your outdoor TV to the next level, an outdoor projector and screen can be a great addition to your party. Start a movie after the fireworks to keep the party going.
Finally, outdoor Jenga is a fun and challenging game that can be played on the grass or a table. These oversized Jenga sets are perfect for a 4th of July party and can provide hours of entertainment for your guests.
4th Of July Pool Party Eats
When it comes to party planning, don't forget about the food! You don't have to think too hard when it comes to finding good food to serve for 4th of July pool party ideas. Grilling is a great way to serve up some delicious hot dogs, hamburgers, and kebabs. And for dessert, a flag cake or red, white, and blue fruit salad make for a patriotic and delicious treat.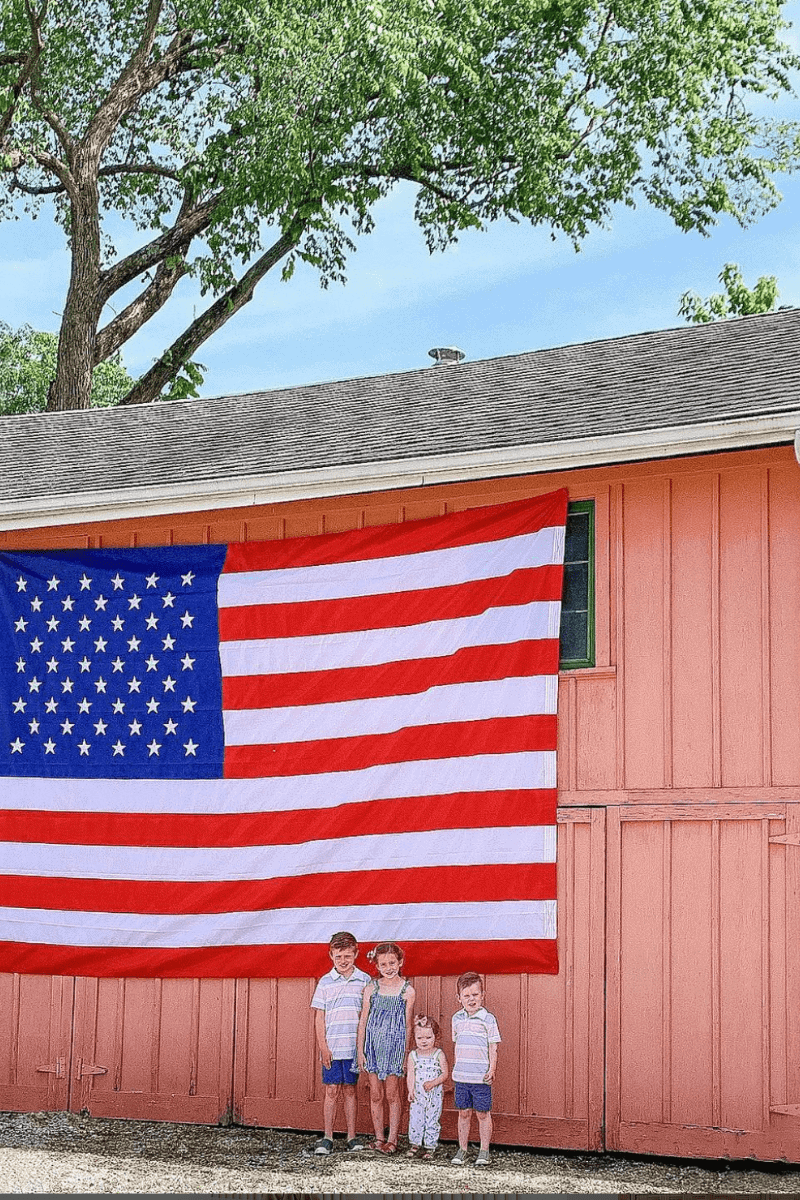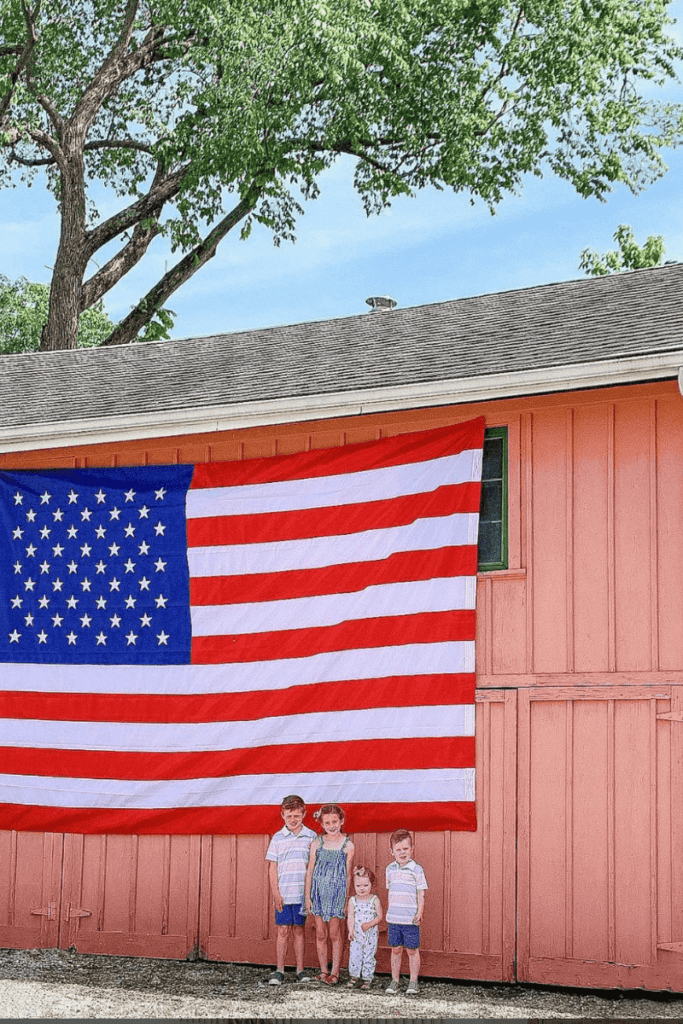 A hot dog bar is a classic 4th of July food option. You can set up a station with hot dogs, buns, and a variety of toppings like ketchup, mustard, relish, onions, and sauerkraut. To make it even more fun, you can offer gourmet toppings like chili, cheese sauce, coleslaw, and bacon bits.
I'd just avoid having your own hotdog eating contest.
A nacho bar is another great option that can be customized to your guests' preferences. You can offer tortilla chips, cheese sauce, salsa, guacamole, sour cream, and a variety of toppings like jalapeños, black olives, and ground beef.
Pulled pork sandwiches are a tasty and filling option for a 4th of July party. You can roast a pork shoulder in the oven or use your Crockpot or Instapot. Serve it on a bun with coleslaw or pickles. You could even offer pulled pork Nachos! The possibilities are endless!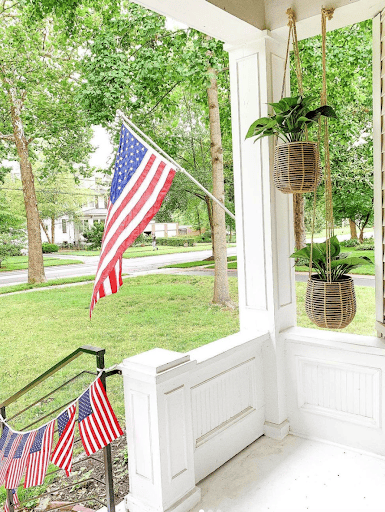 Old Fashion Brats, Hotdogs, & Hamburgers
Old-fashioned brats, hotdogs, and hamburgers are also classic options for a 4th of July pool party. You can grill them up and serve them with buns and a variety of toppings. It's a classic for a reason!
We are big board lovers in our house! Whether I'm making a brunch board or charcuterie board, we love to graze. For a festive appetizer, create a red, white, and blue burrata board. This can include burrata cheese, cherry tomatoes, blueberries, and sliced baguette.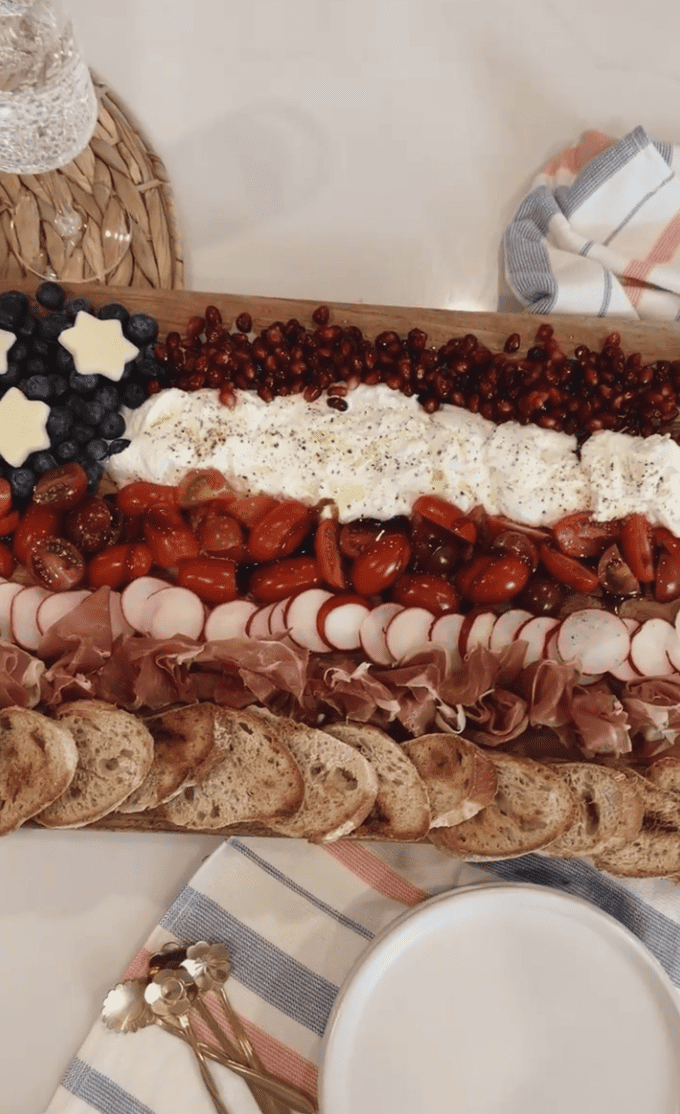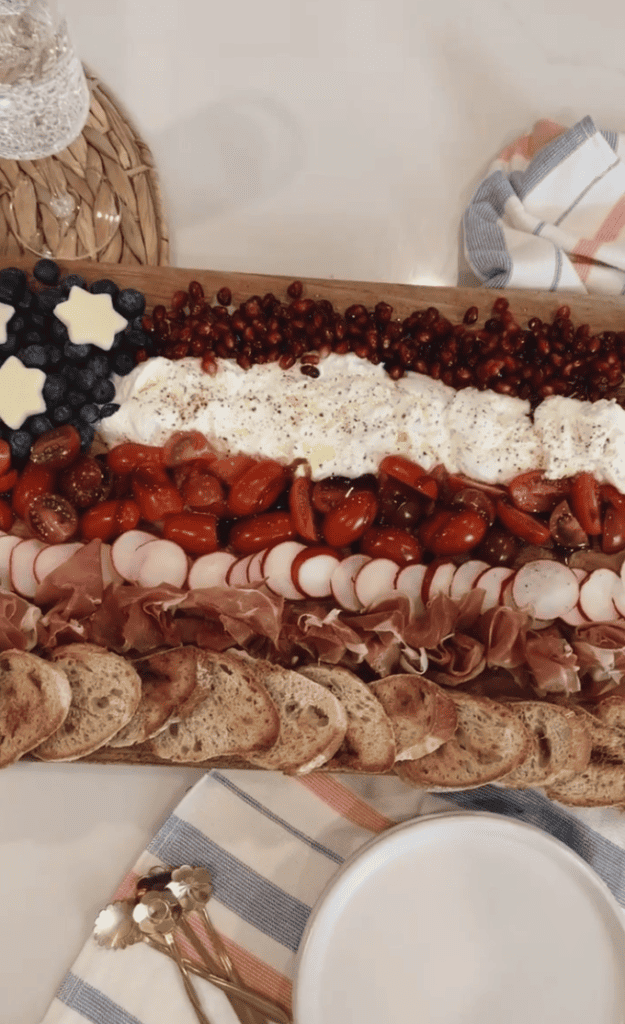 4th Of July Pool Party Drinks
To quench your guests' thirst, adult beverages like crisp white wine or frozen margaritas can be a refreshing and festive option. You can make a big batch in advance and serve them in a pitcher with salt-rimmed glasses. You can also create a cocktail station with different mixers for guests to customize their own drinks.
As for non-alcoholic drinks, you can offer a variety of options like lemonade, iced tea, fruit-infused water, or soda. You can make a patriotic punch by mixing blue Gatorade with lemon-lime soda and adding a scoop of raspberry sorbet. The sorbet will slowly melt and create a red swirl in the blue drink.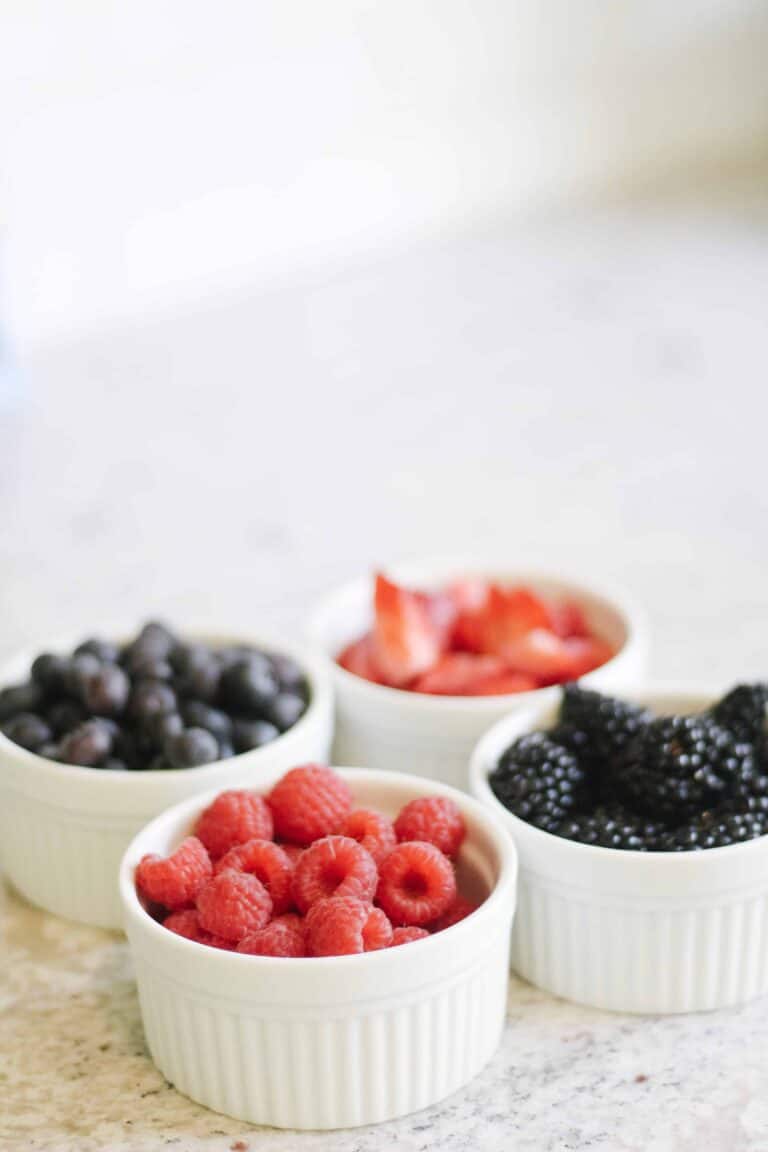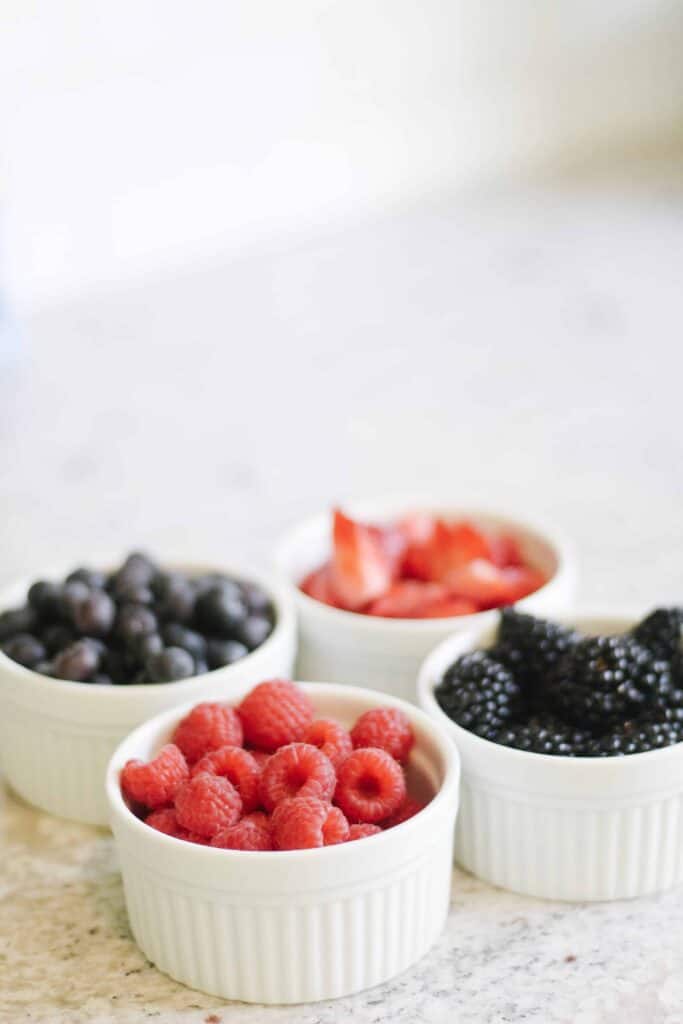 4th Of July Pool Party Treats
A 4th of July pool party is a fun and festive occasion to celebrate with family and friends. Here are some delicious treats and recipes that you can prepare for your party.
For a sweet treat, ice cream cone cake pops are a fun and easy option. You can decorate them with red, white, and blue sprinkles to make them extra festive.
Red, white, and blue fruit cookies are another sweet option that can be made with sugar cookie dough and topped with a whipped cream and cream cheese mixture and fresh berries on top. These are always a hit and one of my go-to recipes.
Red, White, & Blue Fruit Skewers
Similar to a fruit salad, this is a simple and healthy treat that is perfect for a hot summer day. Cut strawberries, blueberries, and bananas into bite-size pieces and thread them onto skewers in a red-white-blue pattern.
Flag Cake
This is a classic 4th of July dessert that is sure to impress your guests. Bake a vanilla or chocolate cake into a rectangular pan and frost it with white icing. Use blueberries and strawberries to create a flag design on top of the cake. It is easy, quick, and sure to impress any guest!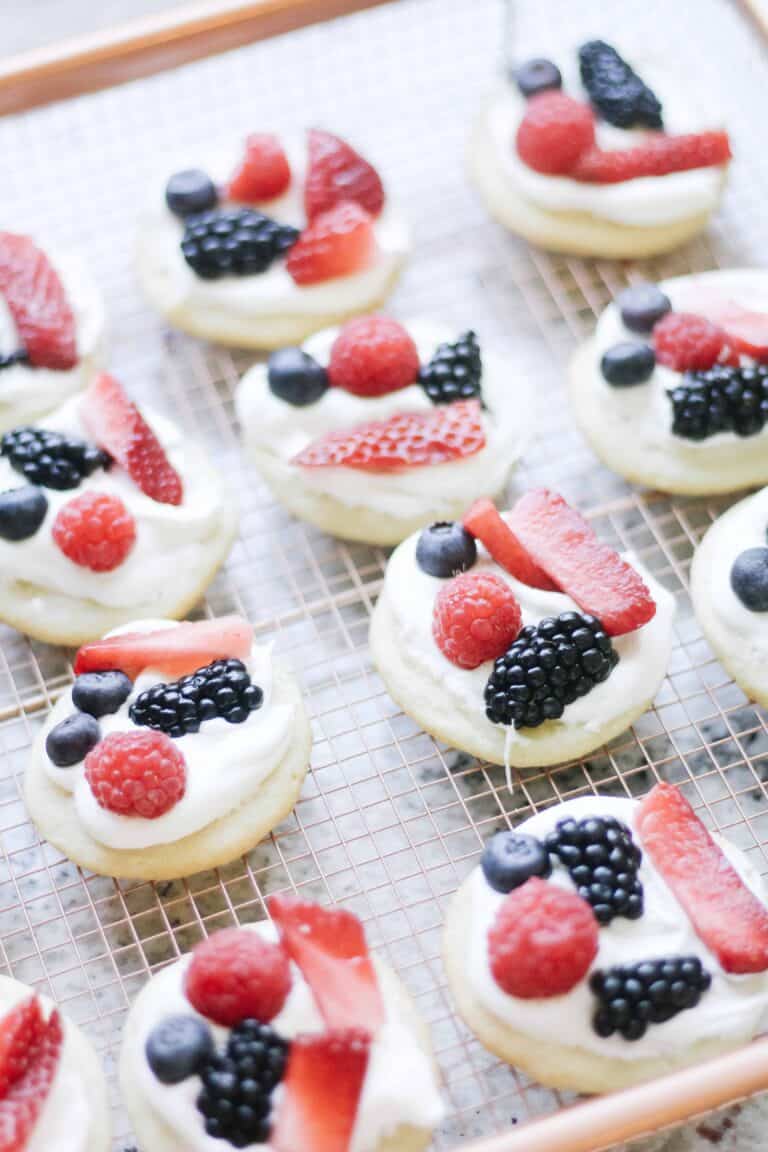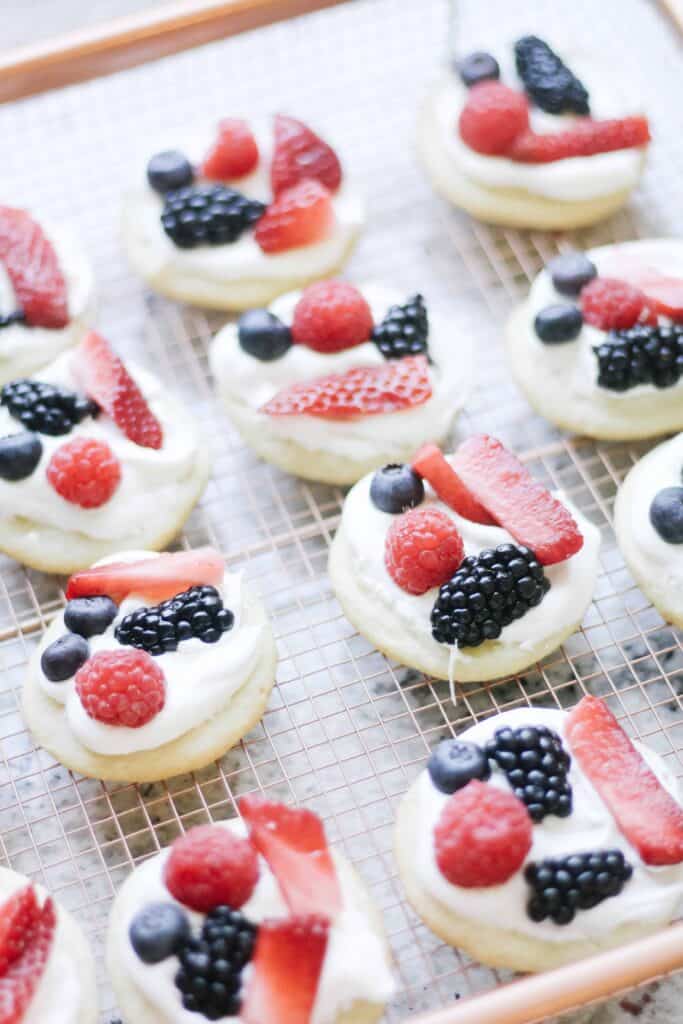 4th Of July Pool Party Ideas: Shop All The Fun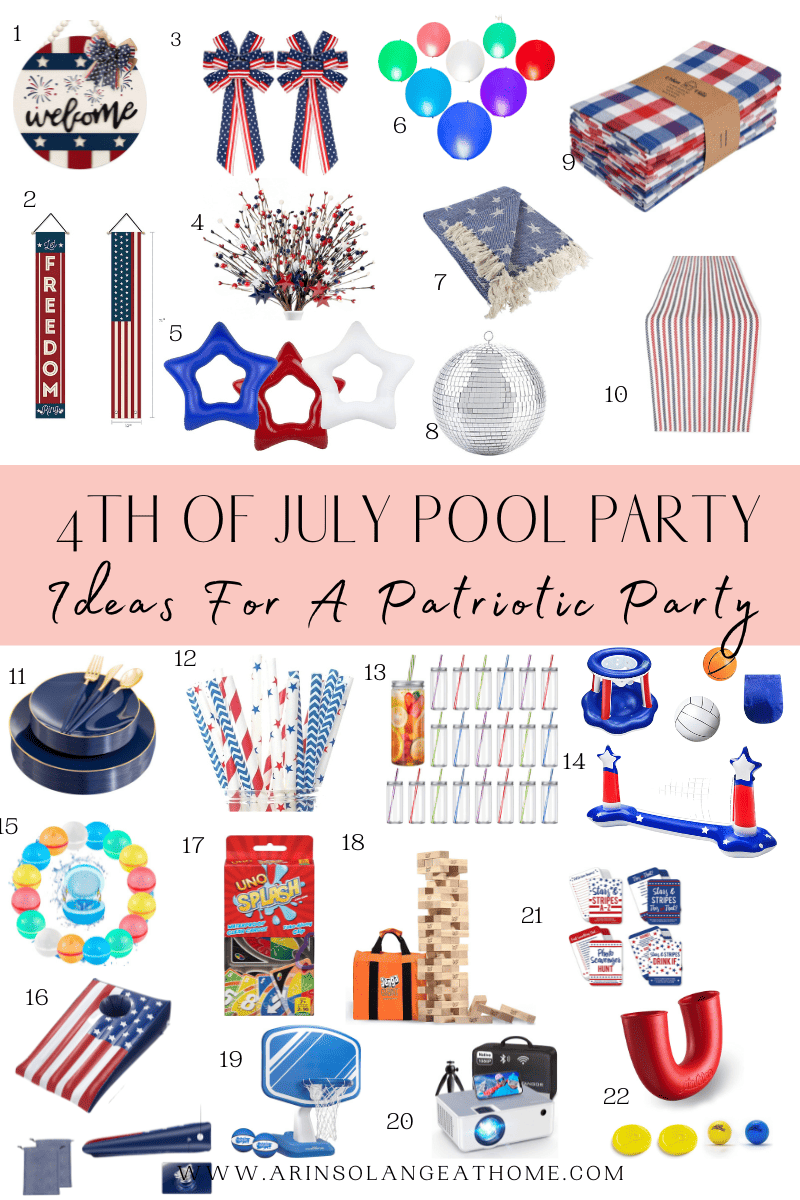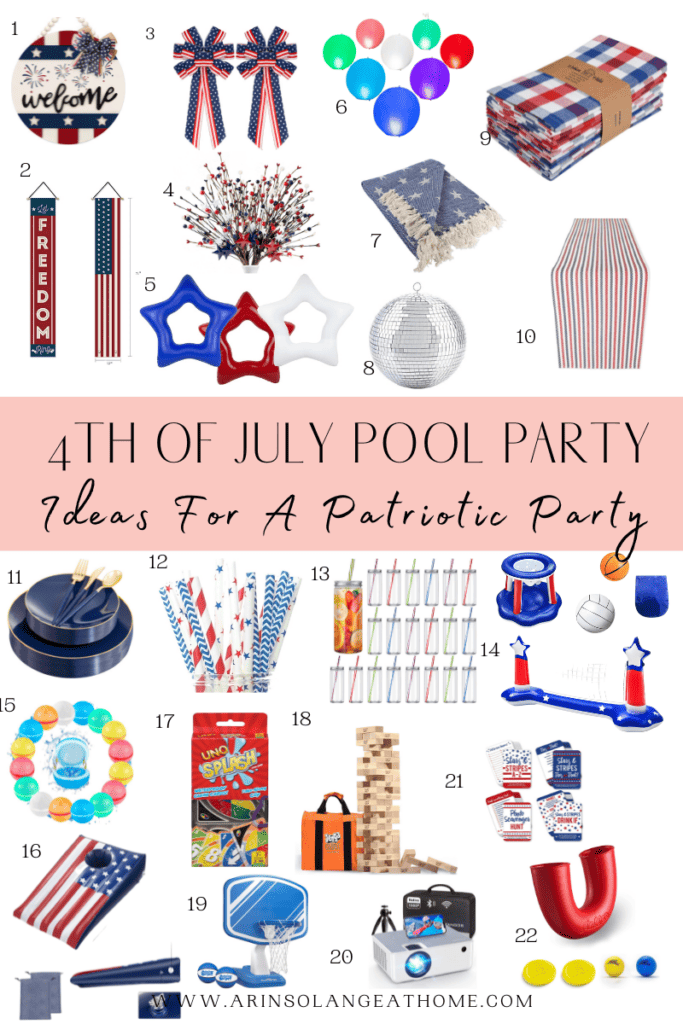 1 | 2 | 3 | 4 | 5 | 6 | 7 | 8 | 9 | 10 | 11 | 12 | 13 | 14 | 15 | 16 | 17 | 18 | 19 | 20 | 21 | 22
Other Posts You May Love
Patriotic Boys Room | Easy Fruit Pizza Cookies | Pink Stock Tank Pool | Front Porch Railing Ideas
Follow Social For The Latest & Greatest
Pin This Photo Below For Later
The Fourth of July is the perfect time to throw a patriotic pool party for your friends and family. It's a great time to enjoy good food, have some fun in the sun, and celebrate with loved ones. If you're a pool owner, your pool deck and the side of the pool make for a great place to host a party. But even if you don't have a pool, setting up an inflatable pool or kiddie pool is a fun idea to keep the kids entertained. In the end I hope these 4th of July pool party ideas give you the inspiration to host your very own party with loved ones.