Finally getting back in the swing of things and getting some decor posts up! I know so many of you are already jumping into fall decorating, so I wanted that to be my first decor post to get up for you all this month. I find that modern fall decor can sometimes be hard to find. Decorating for fall months tends to lean heavily towards the farmhouse look (which I also love, but it is just not how I decorate). I rounded up some great decor options that will help you warm up your space for fall and make it perfectly cozy and ready for the season, while still keeping a more neutral, simple, modern look.
THIS POST CONTAINS AFFILIATE LINKS
Most of this can be used year round if you would like, which is typically how I like to shop. I don't like to have to store too much, and want items that can be used and incorporated throughout my house for multiple seasons. If you have any questions let me know, and be sure to check out this other fall decor post from last year. Nearly all of it is still available and links have been updated for lots of fall decor options!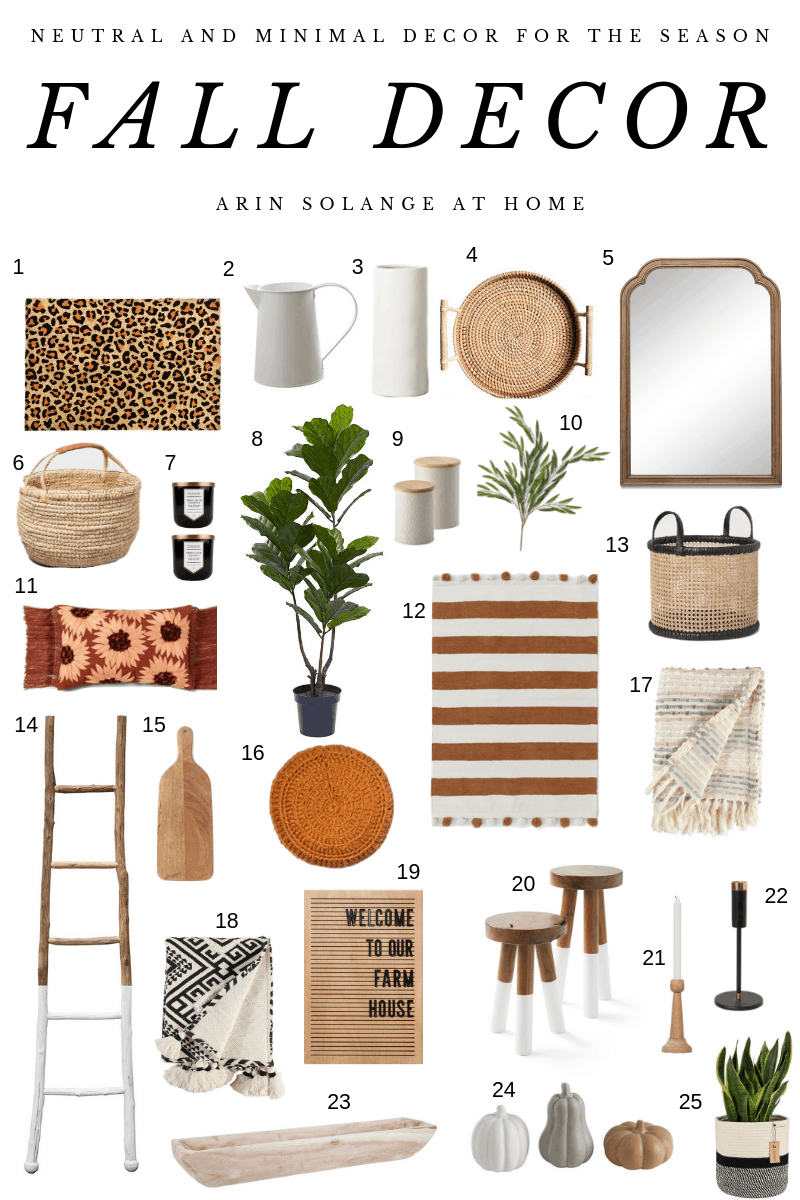 Modern Fall Decor
1 | 2 | 3 | 4 | 5 | 6 | 7 | 8 | 9 | 10 | 11 | 12 | 13 | 14 | 15 | 16 | 17 | 18 | 19 | 20 | 21 | 22 | 23 | 24 | 25
Fall decor is all about layering textures. Adding in simple elements like candles, warm throws and unfinished wood can be a great way to make your house feel warm for the holidays. I also love that if you go with a lot of these items they will transition year round! Be sure to follow me on Instagram to see how I transform my modern, natural space for fall. I don't think that decorating for fall has to mean clutter and lots of oranges and browns, and I will show you how I accomplish keeping things neutral in my own home!
Items Above
Metal Pitcher – I have one similar to this and love that I can fill it with faux greenery for the season
White Vase – I have this exact vase and LOVE it.
Big Mirror – I have had my eye on this mirror. It is gorgeous and at such a great price point.
Basket – this basket is super unique and fun! I definitely think I might need t0 bring it home this fall.
Faux Fiddle (similar pictured below)
Canisters for your counter – keep all those baking supplies handy this season!
Faux greenery that would look great in item #2
This pillow is a bit less neutral than most of the items but is such a fun pop for fall and not expensive! – I think it would be great in a bedroom.
Super fun Rug
Blanket ladder – I have had my eye on this exact one
Wood paddle board – I love using these on my hutch or kitchen counters standing up!
Round Pillow – I am a big fan of incorporating these colors into my decor during fall. Its a great way to add warmth in a somewhat neural way.
Another gorgeous throw – this one is a bit more bold
Letter sign – I love this new and improved design on the letterboard
Nesting Stools – I have had my eye on these for a while. I have something similar in my master bedroom and LOVE IT.
If you have any questions please feel free to leave me a comment or DM via Instagram, and if you incorporate any of this into your modern fall decor make sure you tag me so I can see how you styled it!!
Pin Photo Below