I am 4 babies in at this point – and every time I think to myself " I need a hospital bag checklist" when it comes time to pack that bag. I think every mom, no matter how many babies we have had, sort of worries about what to pack in their hospital bag.
It's totally normal.  So now that I have had 4 babies I am updating this post – talking about what to pack, and what not to pack. C-section or vaginal.  I have done it all, and hopefully can guide you through the next steps.
This post may Contain Affiliate Links – originally written 7/19 updated 9/20
A Hospital Bag Checklist
Those few days in the hospital having a baby and recovering are filled with lots of aches and pains and the last thing you want is to 'not have' something you wanted.  I am a list person so a hospital bag checklist was a must for me!
That said – one of my biggest pieces of advice for moms is DON'T STRESS.  The hospital has everything you NEED, and in most cases if there is something you wanted someone could likely bring it to you in exchange for baby snuggles!
I am updating this post after having my 4th baby.  I have had 4 babies in different seasons, and the last one ended in a pretty bad emergency c-section.  Because of that I felt like this post needed to be updated with info that would help moms NO MATTER how the delivery of their baby goes.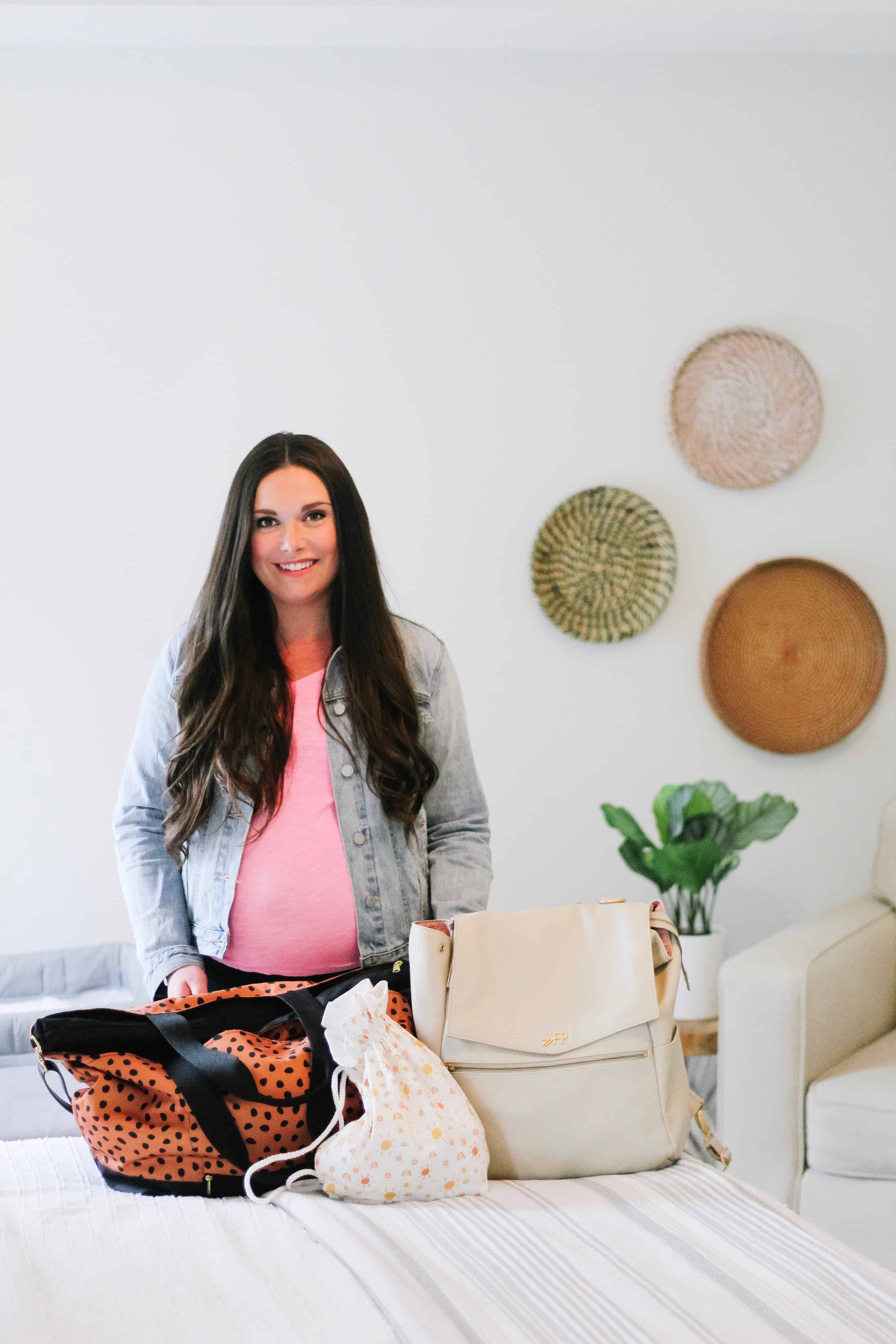 What Should You Pack in Your Hospital Bag – Breaking Down the Hospital Bag Checklist
Okay so there are needs and wants.  Some people want to look picture perfect and get great photos in their time in the hospital.   Other people just want to bring only what they need for their time there.  There is no RIGHT way to do it.
 I will tell you that I am a bit of an in between.  Comfort and function come first, but I also blog and take pictures as my job, so bring a little of that stuff too.  I will make sure to break that down in this post!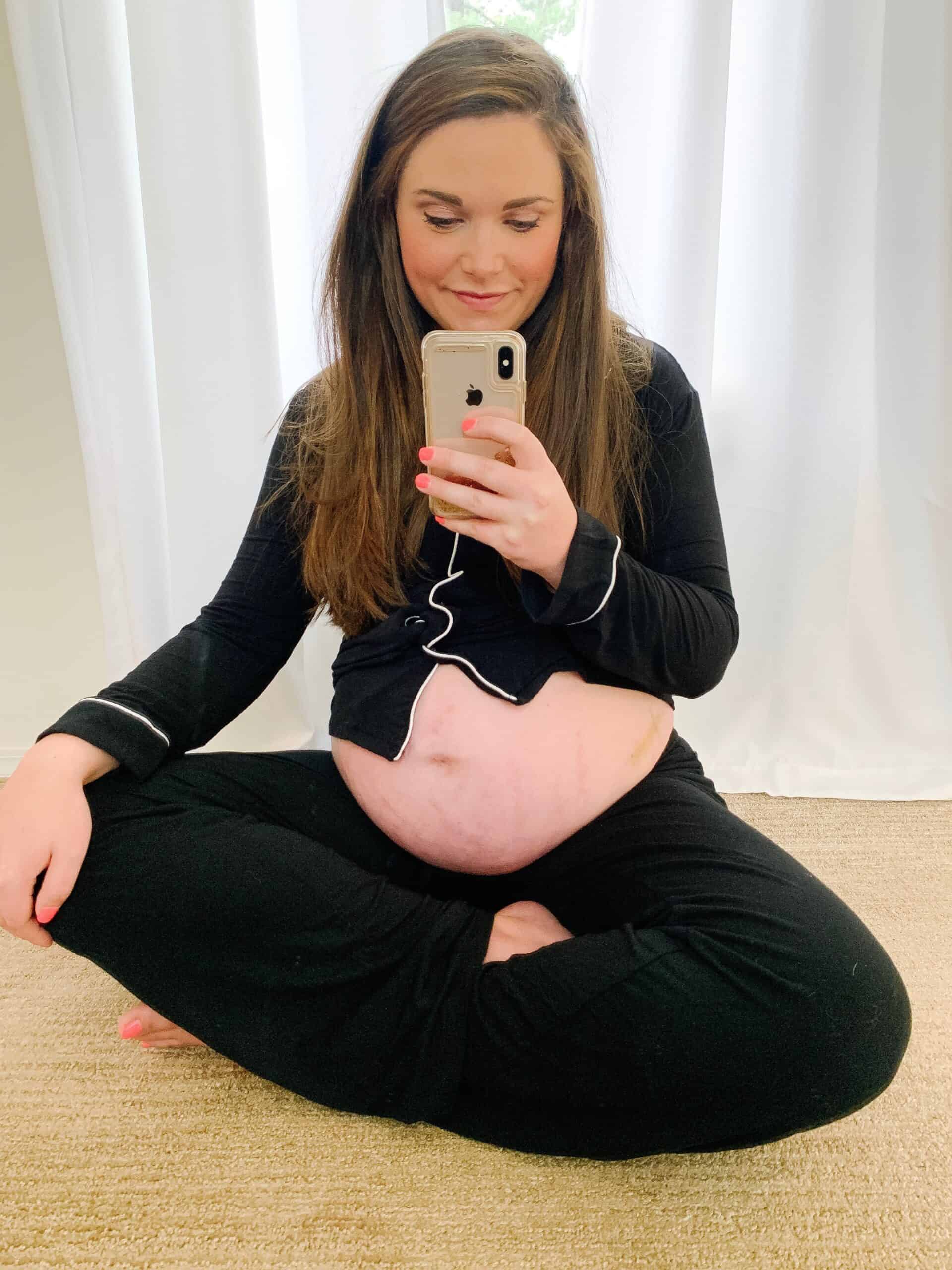 Most Important Thing – Paperwork!
You need insurance cards, drivers license, and pending the hospital sometimes forms pre filled out.  Be sure you have also registered if you need to online – sometimes that makes it easier and quicker when you arrive.
Another thing on the printable list is to have cash – this can be helpful for yourself or your partner to grab snacks in the vending machines.
What to Wear:
For yourself clothing is the biggest thing!   Remember – the hospital has almost everything you NEED.  I am going to break down EXACTLY what I take in the clothing department on your packing list, but my suggestions are to keep things easy, comfortable, and stick with black bottoms.
Pajamas
I have felt really different after each baby, so I always bring a pair or shorts or PJ pants and then leggings.  I never know if I will prefer the feeling of one over the other, so I just like to have both.  Either way I suggest black just incase there are any bleeding issues.
 One thing I would suggest is a nightgown as well.  This one from Target is great.  After my 4th I had a c-section and had to wear compressors on my legs (I have had a blood clot after 2 of my other kids, so it was extra important.)  Having on a night gown made that a bit easier.  All in all – options are great, so you may as well throw one in.
Nursing Options
A great nursing tank is wonderful at the hospital.  I personally never did a nursing bra while there just stuck with the tank tops that kind of had the built in bra feature and forgot the bra.  You are topless and nursing so much of the time there really is no point.
I linked these pajamas below – but they are great for nursing a baby without buying nursing specific pajamas.
Other:
You also want to bring slippers or sandals for walking around the hospital halls.  If you want bring some comfortable warm socks (but the hospital also provides those!).
I also always bring underwear for the way home.  I rock the mesh panties from the hospital during my stay, but I prefer to leave in my own.  That is optional, but in the images below are the postpartum panties that I have purchased for this time around.
One thing I will note – Buy panties that come in several different rises.  When I had Goldie via c section for a while I only wanted really high waisted underwear because anything else really bothered my incision. 
A light weight robe can be nice – again optional but I did really like that when I showered after having my babies.  I ALWAYS suggest that moms take a shower, wash and dry and fix their hair and do all of that before they go home.
Take a bit of time while tests are being run and the baby is being checked out to just take care of you, but keep in mind that it might be painful and you might be slow moving so having a robe for ease after is sometimes better.
Another item I brought after each baby was a belly binder of sorts.  I never used a technical one for postpartum but just basically Spanx!  Now keep in mind if you are having a scheduled c-section that will be given to you, so don't worry about buying one.
Last, is to bring something to wear home.  I normally wear leggings, a tank and either an open sweater (BUT NOT IN THE SUMMER) or a kimono.  I like to have something covering my lumpy pad-butt in leggings, but by no means think its a fashion show.
Go comfortable, and understand you will likely have barely lost any weight when you leave.  Just have something you feel comfortable wearing home.  (Sometimes due to the IV fluids I leave the hospital feeling puffier and bigger than when I arrived….which never feels great, but its a reality!)
Shop a Few Ideas

Electronics:
You want to have your phone chargers of course.  Other than that, I think bringing a laptop or iPad for watching tv shows is nice, and I always bring my nice camera and charger!  Another fun optional item that we may bring this time is our daughters Polaroid camera and film to take some fun pictures.
Shop a Few Ideas

Toiletries:
Bring anything toiletry wise that you would bring on a 2 day trip.  I bring all my hair stuff because honestly you will have some down time with the baby getting tested and checked in the nursery. It is really nice to get fully showered and ready one time with help from the nurses watching the baby before you're home and on your own.
The packing list will have this broken down better incase you want a full breakdown!
As a side piece of advice, one thing I always do when I am prepping my hospital bag is buy extra of almost all makeup.  I know that sounds excessive, but I love that when I get back from having the baby I have a backup of all my favorites for those newborn days.
One thing to make sure you have is CHAPSTICK – your lips can get really dry in the hospital.
To see all my makeup and beauty product favorites check out this page.
Shop a Few Ideas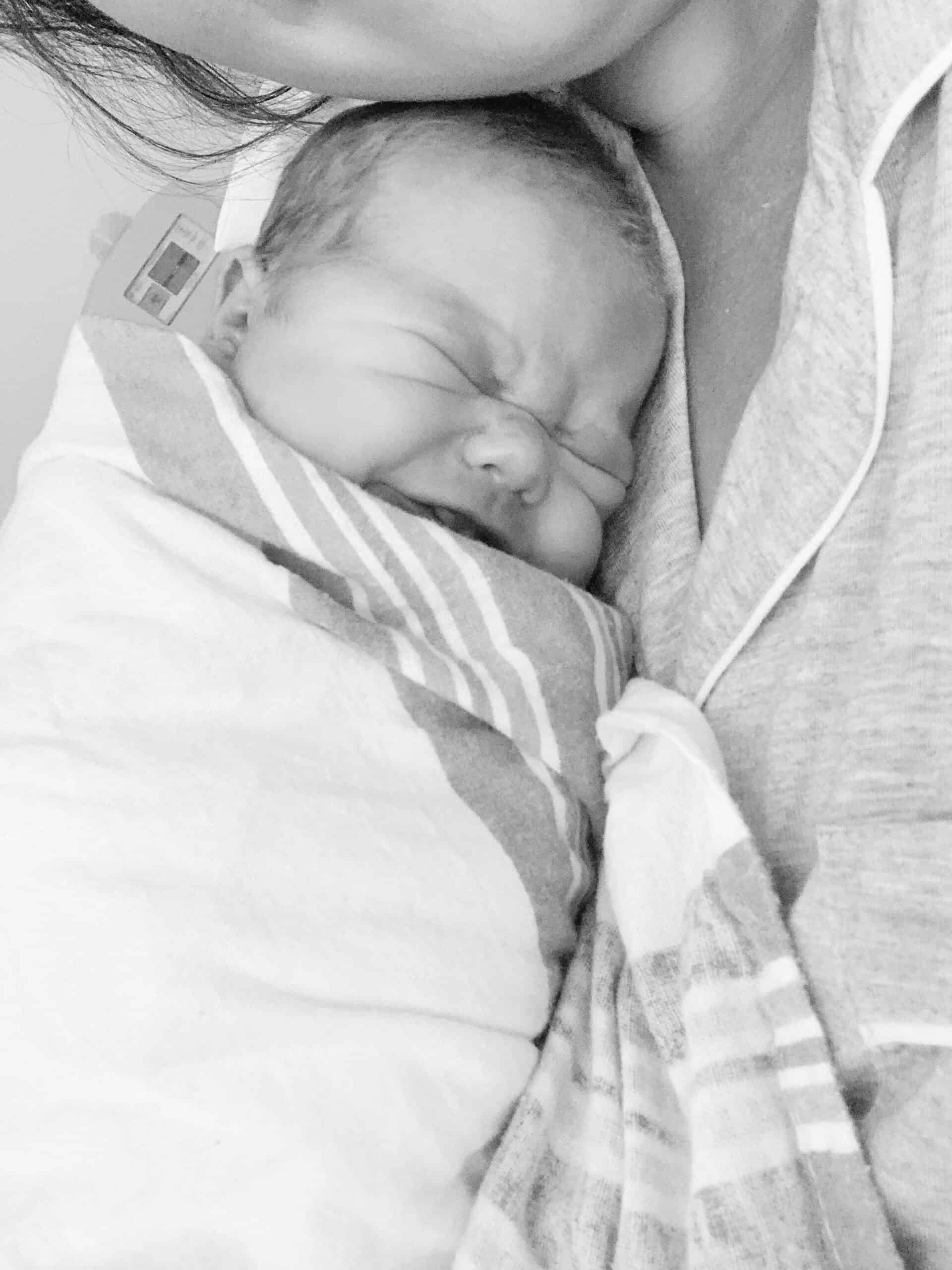 Other Somewhat Necessary Items:
A blanket from home can be really nice while you're there, and I personally think you should bring your boppy (or other similar) pillow.  I also always bring my babies baby book to get a second set of footprints done right in the book.
For my favorite blankets I always buy Saranoni.  Seriously, I feel like I am a blanket hoarder, and they are the BEST.
Shop a Few Ideas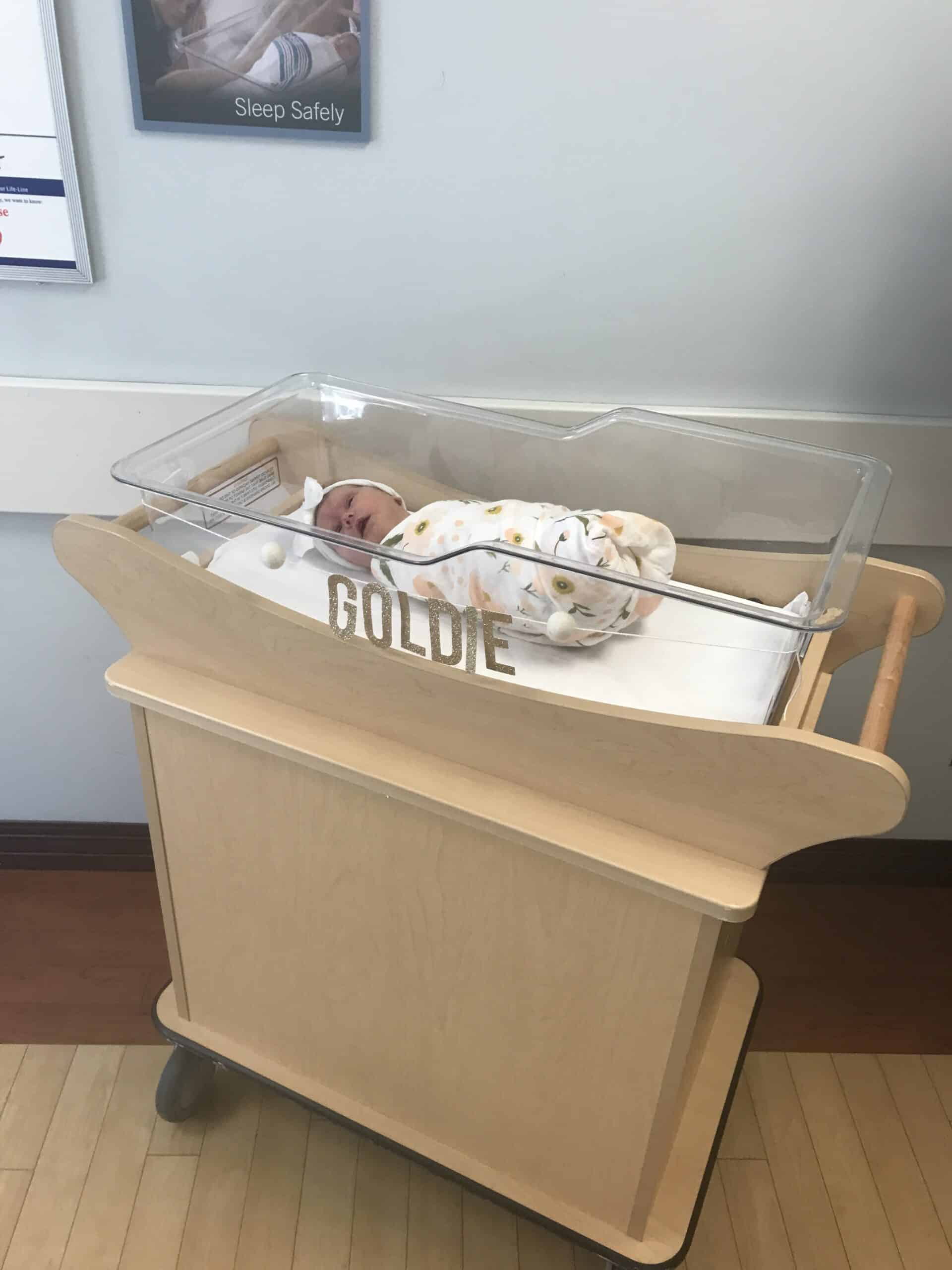 For the Baby:
I pack my bag, then a separate diaper bag for the baby when I come to the hospital.  Typically I do some kind of bag for me then load the diaper bag up for the baby.
 Understand that 99% of this is ALL OPTIONAL.  They will have everything you NEED for the baby.  That said, I always bring at least 1 swaddle blanket, 2 outfits, and a hat or headband.
Depending on the going home outfit sometimes that includes shoes and such, but I suggest 2 outfits for heading home is because with Jack we did just 1 and he pooped all over it before we even left haha!  So start the backup packing life.
(as a side note – no its not in your bag, but I will also remind you that you need baby's carseat to leave the hospital)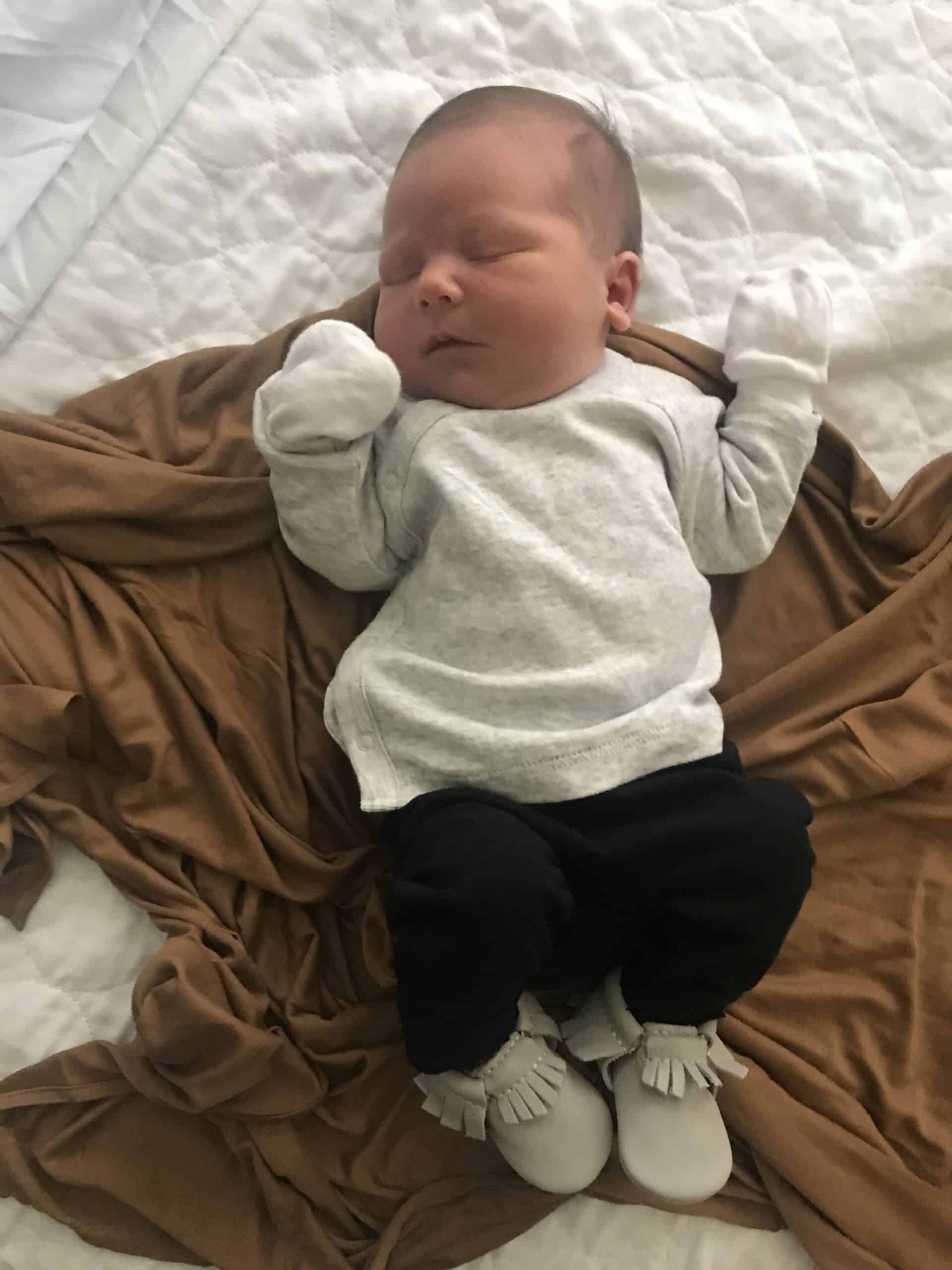 Shop a Few Ideas

Optional:
Some other fun optional items include:  Anything for announcing the name, and doing fun photos.  I am doing this adorable banner from Glitter party co and SO EXCITED ABOUT IT. (don't forget a roll of tape if you go this route).   I also am doing the name bow below.
 Like I said above, the baby book is optional, but I personally think such a great way to track those first days.  This time around I went with this one and it is my favorite baby book of the 4 I have so far!
Shop a Few Ideas

PRINTABLE HOSPITAL BAG CHECKLIST
The hospital bag checklist below can be printed and set aside for you to use when it comes time to pack!
PRINT HOSPITAL BAG CHECKLIST HERE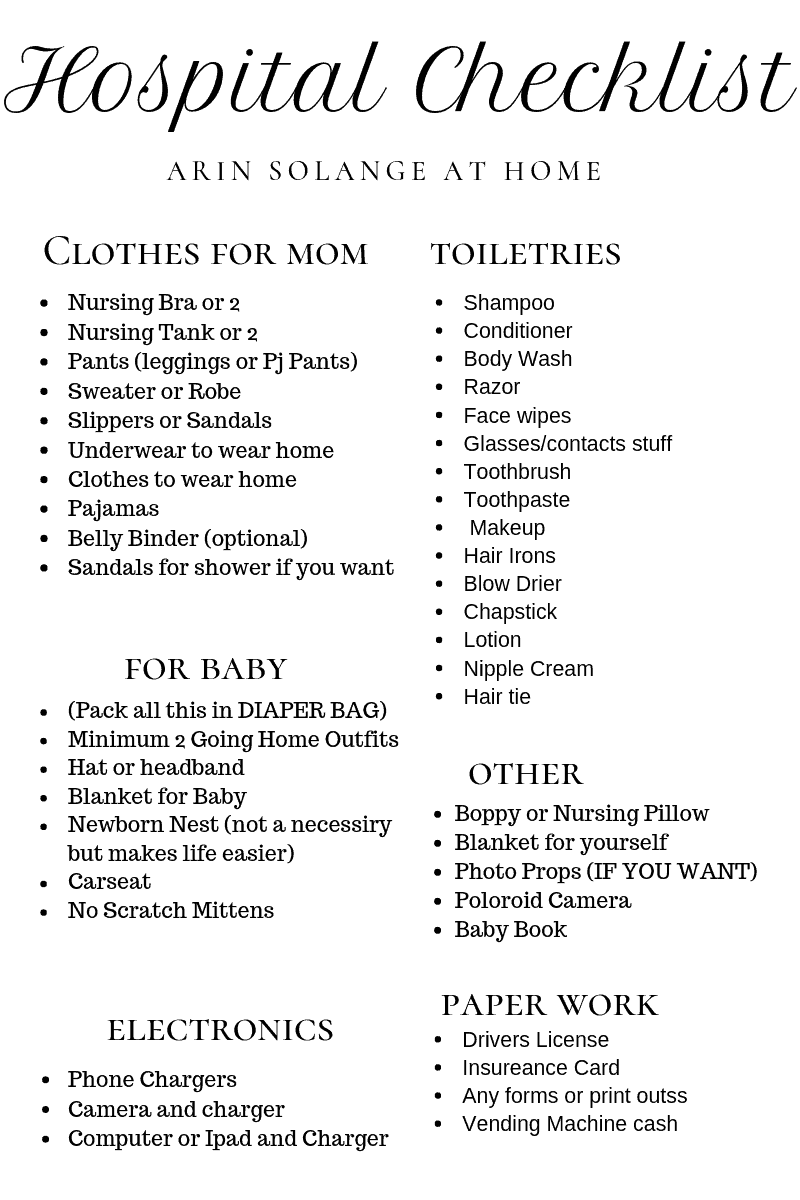 And because I know that sometimes what we really want is just to click and pack – so below is what went in my bag, as well as the bag itself for baby number 4.  This is my true round up of what moms really need in their diaper bag.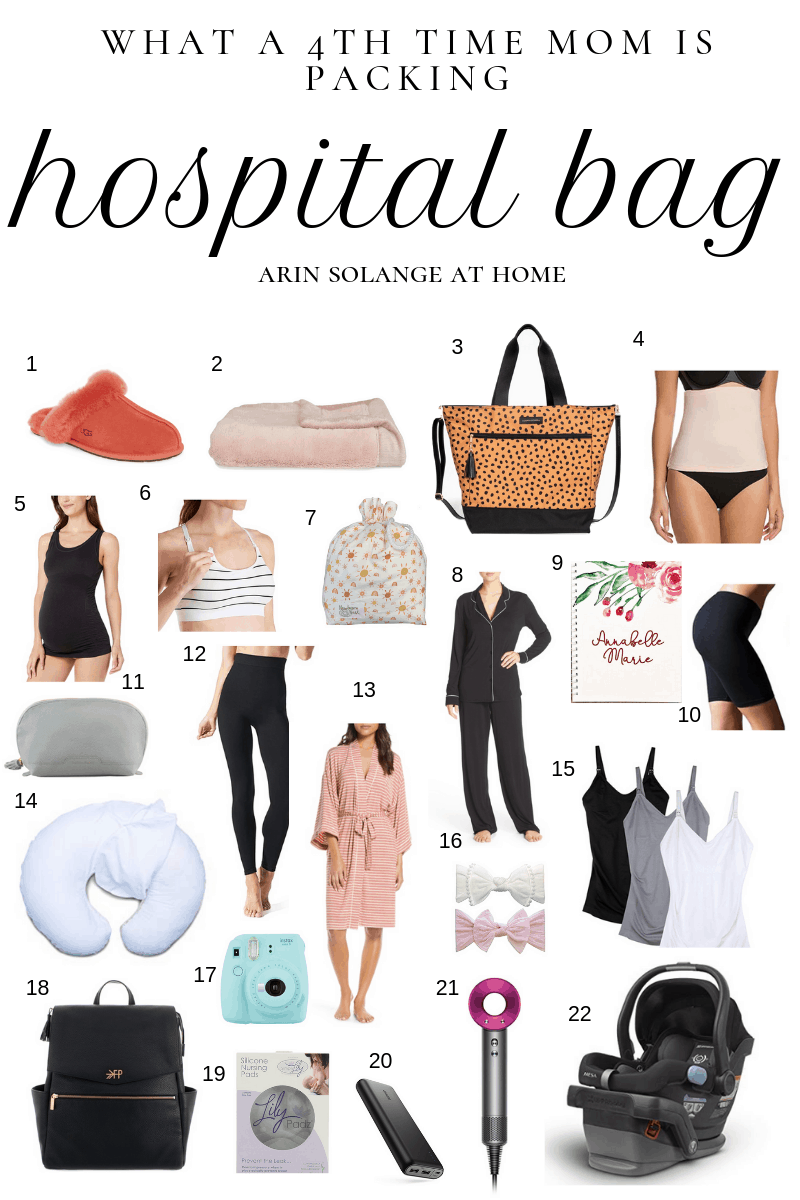 What Was in My Hospital Bag
1  |  2  |  3  |  4  |  5  |  6  |  7  |  8  |  9  |  10  |  11  |  12  |  13  |  14  | 15  |  16  |  17  |  18  |
Hopefully this helps you with what moms really need in their hospital bag, and gives you fun ideas of what to pack.  Like I said in the first paragraph, never stress this because the hospital will provide you with anything you forget!!
Once baby is here be sure to check out this tab to see everything I loved month by month with baby #4!
Pin The Image Below for Later
This was truly a round up of what moms really need in their hospital bag, and hopefully having a printable hospital bag checklist will be helpful in your packing and last weeks of pregnancy.  If you have any questions leave me a comment below or feel free to DM me on Instagram (@arinsolange).