It is birthday season around here! Between Walker turning one in 6 weeks, and so many of my friends kiddos turning one at the same time, I have been birthday shopping like crazy. I already put together a gift guide for all those one year old boys, but wanted to compile a one year old girl gift guide too, so girl mamas could get in on the fun!
This post contains affiliate links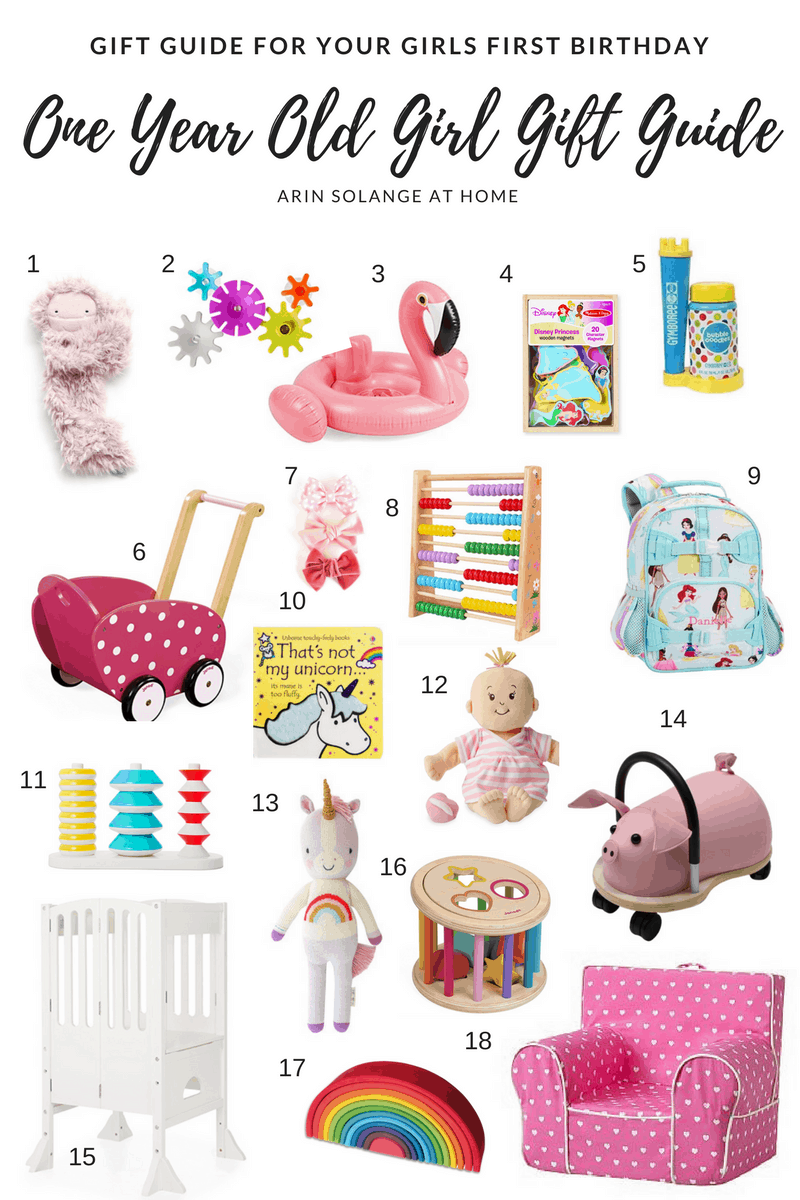 One Year Old Girl Gift Guide
1 // 2 // 3 // 4 // 5 // 6 // 7 // 8 // 9 // 10 // 11 // 12 // 13 // 14 // 15 // 16 // 17 // 18
Slumberkins – A personal favorite for my nearly one year old
Boon Bath toys – We love new bath toys, and these are so cute!
Flamingo Pool float – I love this one for a baby girl, and check out these others if you want other options!
Magnets – Princess magnets are SO fun for kids.
Bubbles – by far the best bubbles!!
Wooden Stroller – Such a fun toy for early walkers, then she can use it for years to come as a dolly stroller.
Abacus – My kids love playing with this!
Pre-k Backpack – how cute is this print? PB backpacks are my favorite and I love the tiny ones for toddlers.
Board Books – These 'Thats not my' books are some of our favorites!
Baby Stella – My daughter has two of these. I love that they are soft but they are so fun for years. The Paci is magnetic to the mouth of the doll.
Cuddle and Kind Doll – definitely our favorite!
Wheely Pig – we have the cow and love it
Kitchen Helper – I love that this one folds to store!
Large Rainbow Stacker – This is darling and big enough for your little to climb on!
Anywhere Chair – All of our kids get this for their first birthday and love them! Avé has the one pictured and its so cute!
Thanks for stopping by to check out the gift guide, and be sure to subscribe if you don't want to miss out on lots more birthday fun the next month or 2!
If you need a 2 year old girl gift guide check out this one here!
SaveSaveSaveSave
SaveSaveSaveSaveSaveSave