Fall and Spring temperatures in St. Louis are the best months to enjoy outdoor activities. My outdoorsy kids love having a ton of options in their arsenal of fun outdoor toys. With the holidays approaching, it is the perfect time of year to buy practical gifts. I'll go over the best outdoor gifts for kids of all ages to help make your holiday shopping a little easier.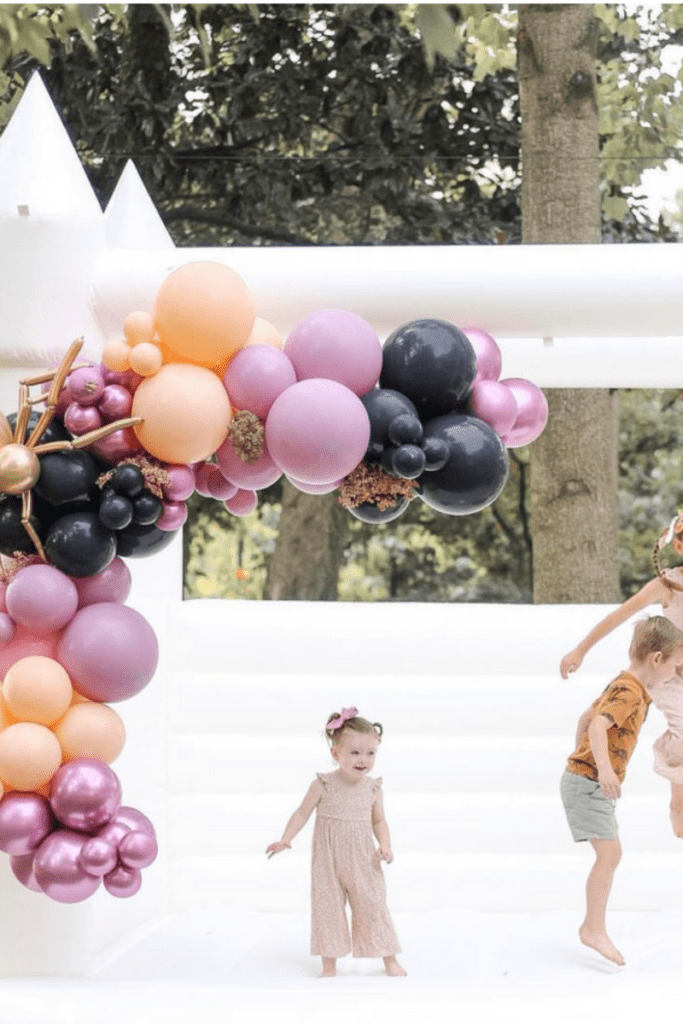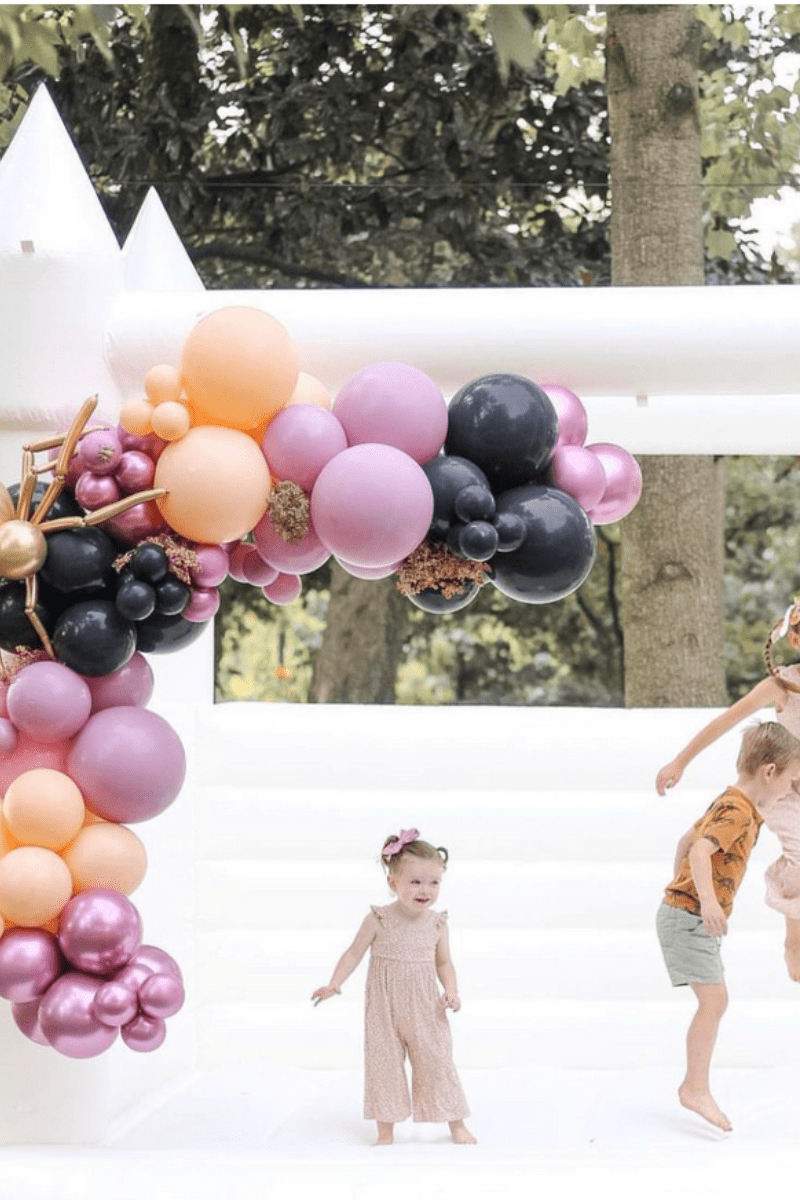 This post contains affiliate links.This post has been updated in 2023.
Toys To Keep Them Playing: The 42 Best Outdoor Gifts For Kids
Once the weather cools down, I can hardly get my crew to come back inside. We live in a neighborhood where they can have outdoor adventures and fresh air. From riding bicycles and scooters to playing on a swing set and fighting pirates, they have such active play that it makes me happy to see them having outdoor fun. If you have active kids who love to explore the natural world, a perfect gift for the holidays is their favorite outdoor toys.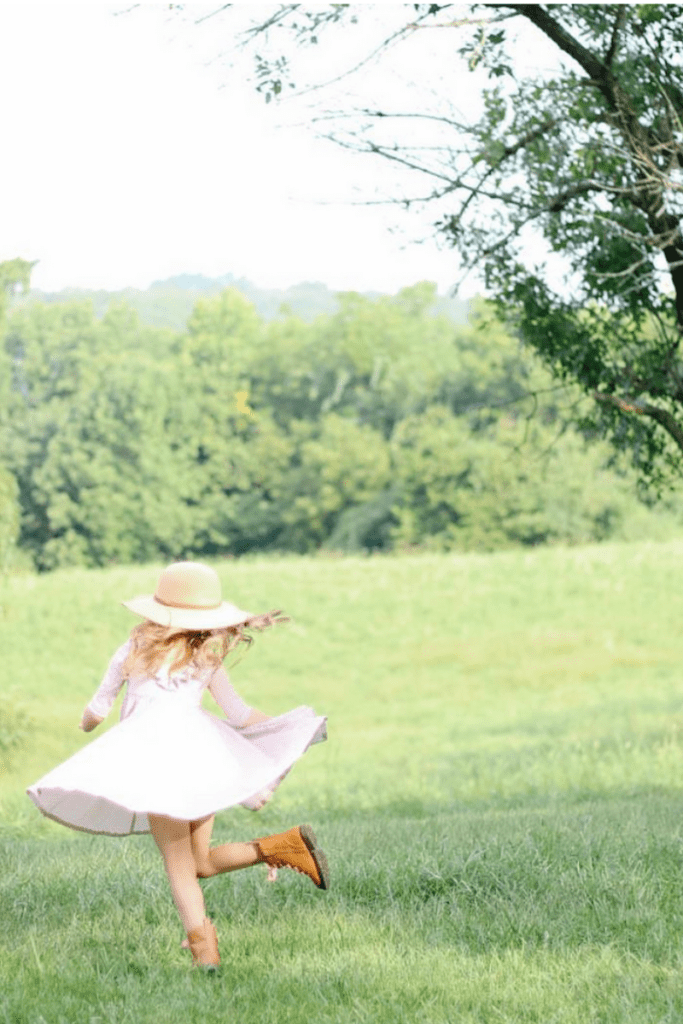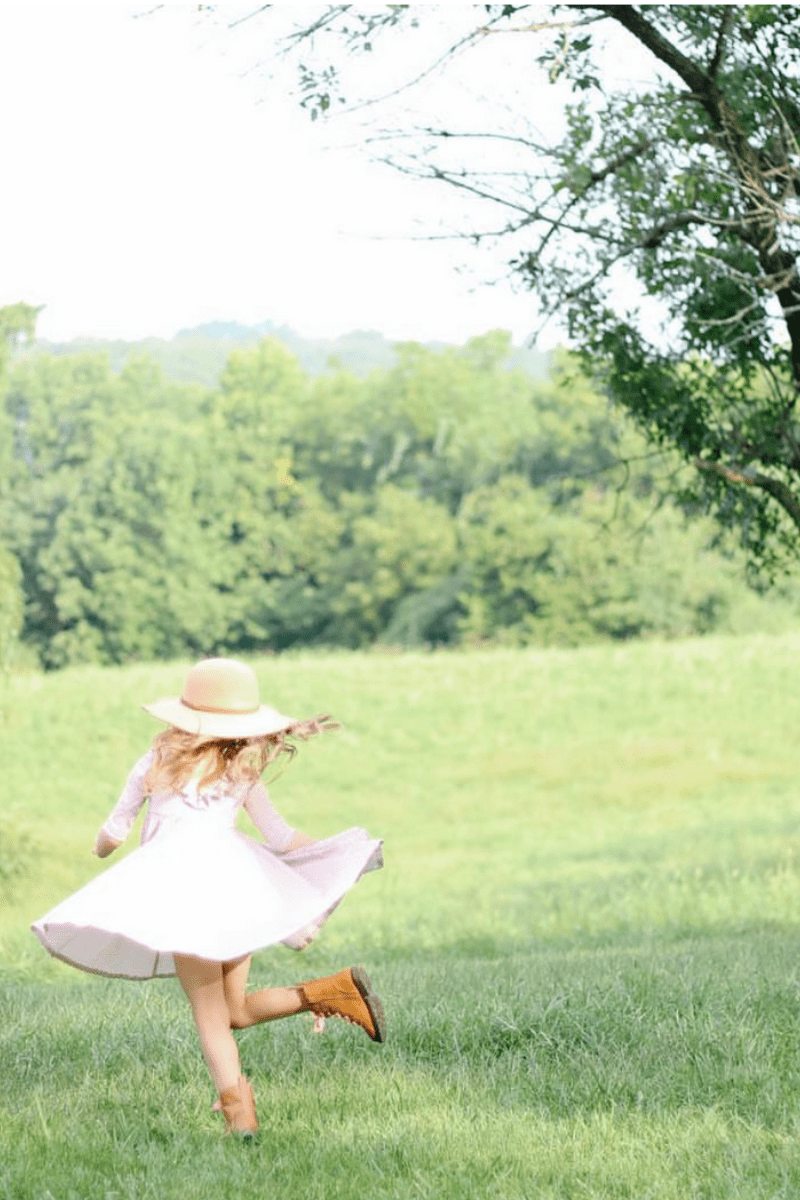 Benefits Of Play Time Outdoors
When I was younger, it was common practice to have all of the kids in the neighborhood outside on any given day. We would spend time playing games, riding scooters, camping, and taking turns on different swing sets.
In today's environment, older kids spend way too much time tied to their screens. We certainly aren't anti-screens in our household. However, I do try to keep everything in moderation. So, if one of my big kids has been on their Ipad for the morning, then I'll make sure they take the afternoon for outdoor time.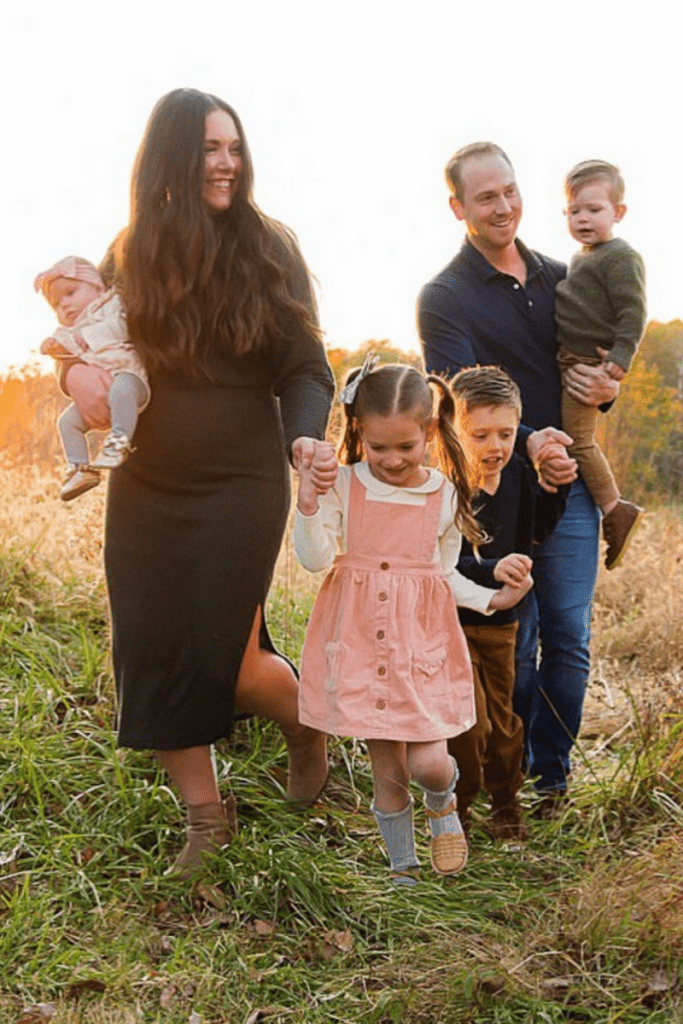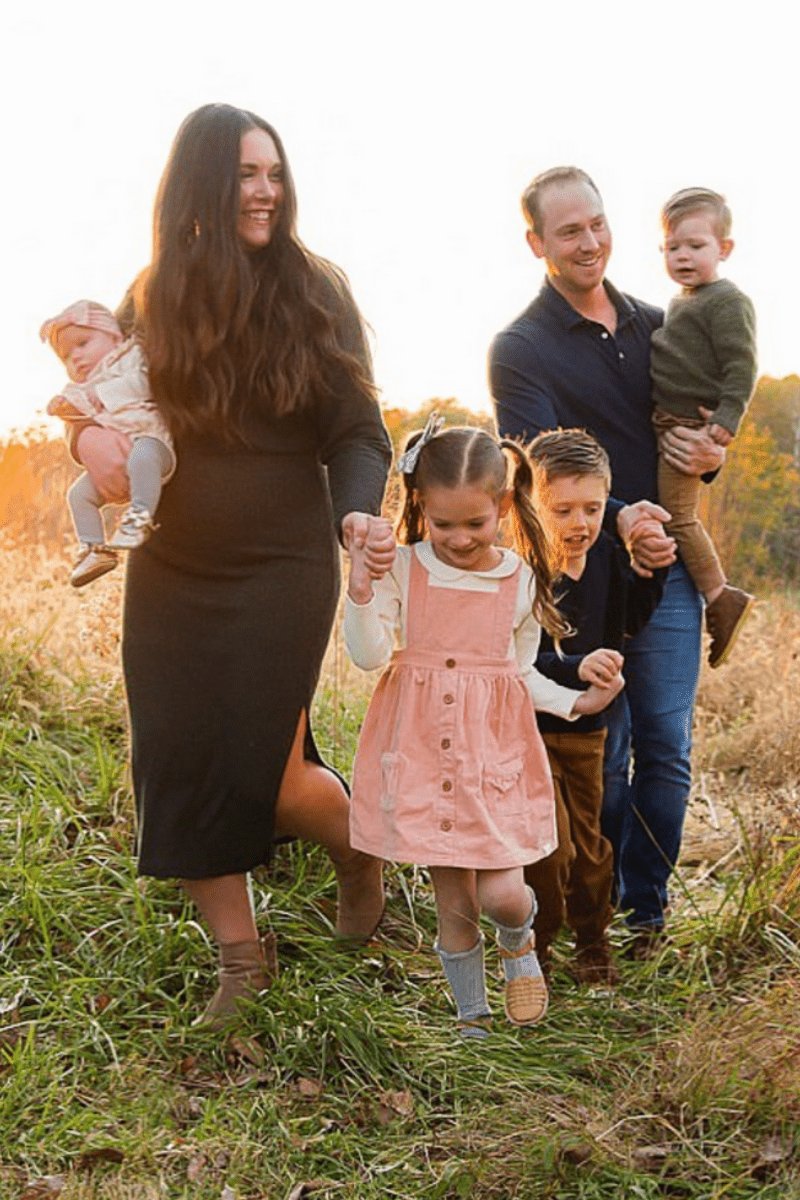 If you want your kids to get more time outside, a great way to get them there is to spend time together as an entire family. The amount of time your child spends outdoors ends up benefiting them in many different ways.
Health Benefits
Kids who spend time outdoors are generally happier and healthier individuals. Specifically, those children who spend time outdoors are more active and less likely to suffer from childhood obesity. Hand-eye coordination and gross motor and fine motor skills are also benefited from outdoor play. Lastly, immune systems tend to be stronger which allow them to fight off common childhood illnesses more easily.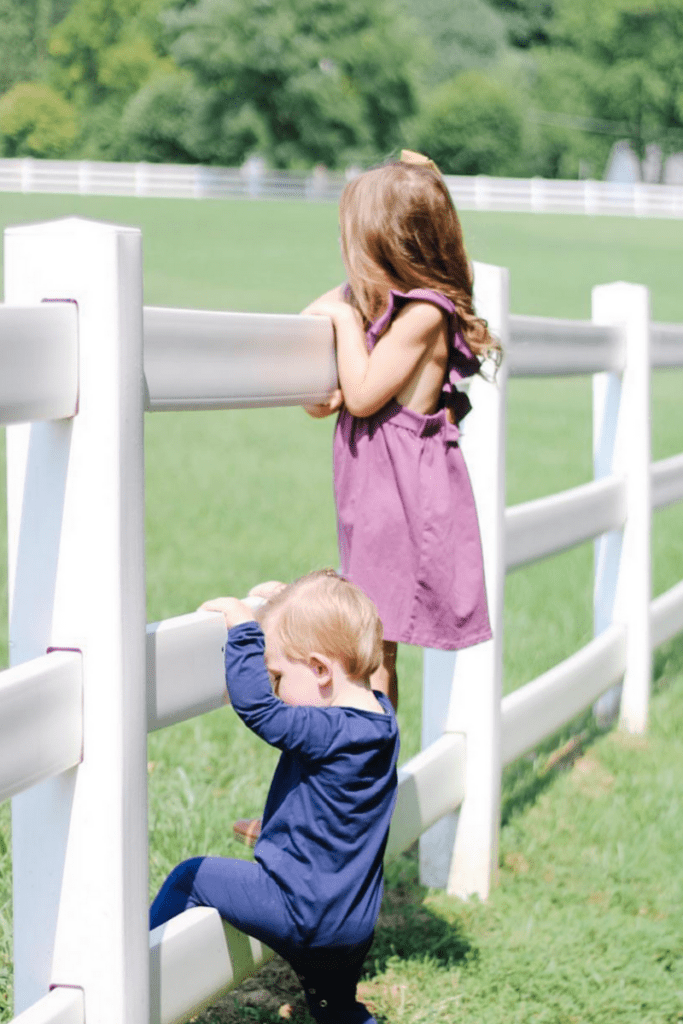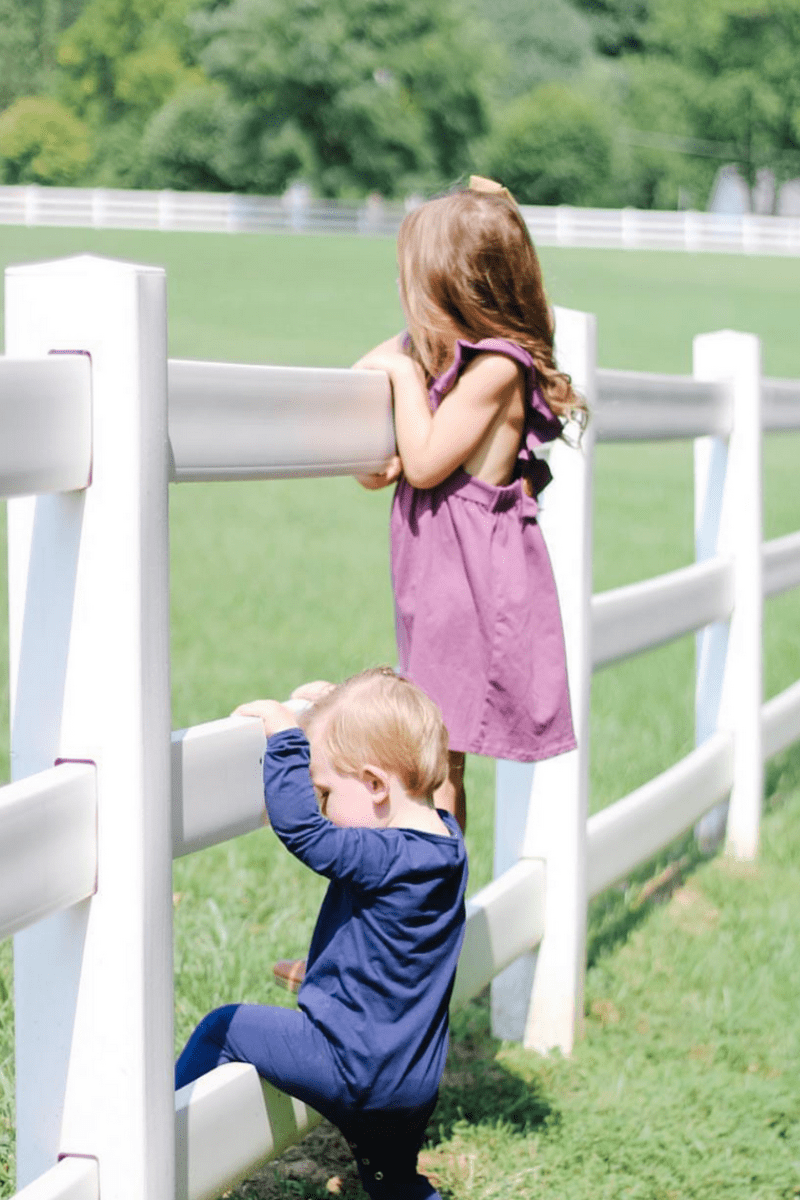 Developmental Benefits
Not only are there health benefits, but also those children who play outside also have much more active imaginations. Imaginative play is key for language, social and emotional development in children. Additionally, a child's imagination can help with problem solving skills later on in life.
With all of these benefits (and more), there is no better time to encourage outdoor exploration. There are so many great outdoor toys that can help keep their attention span and interest in continuing to play.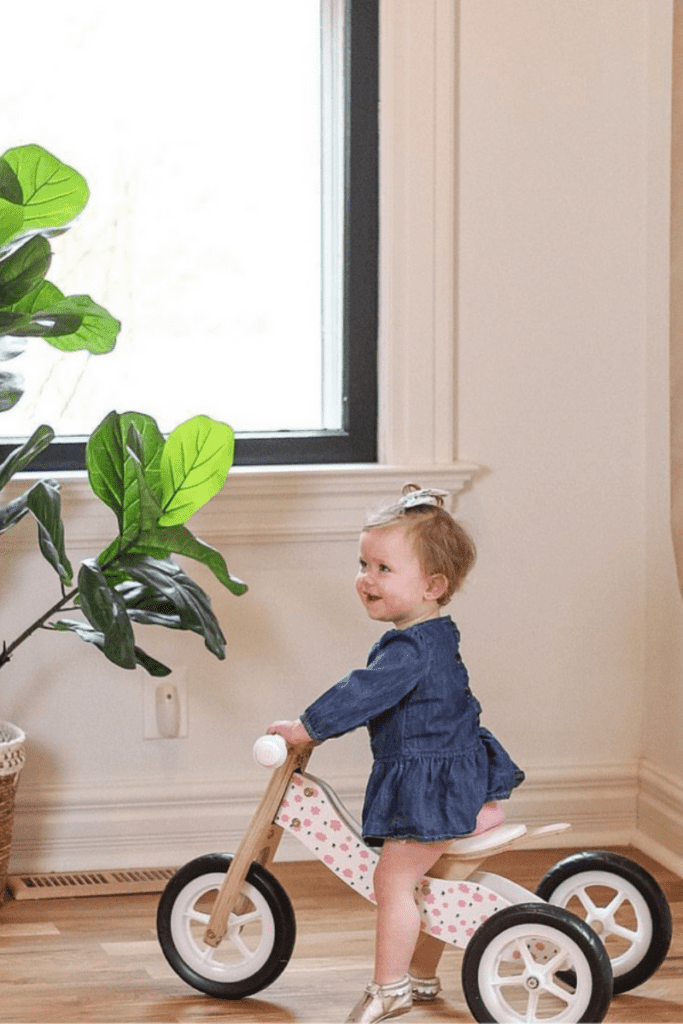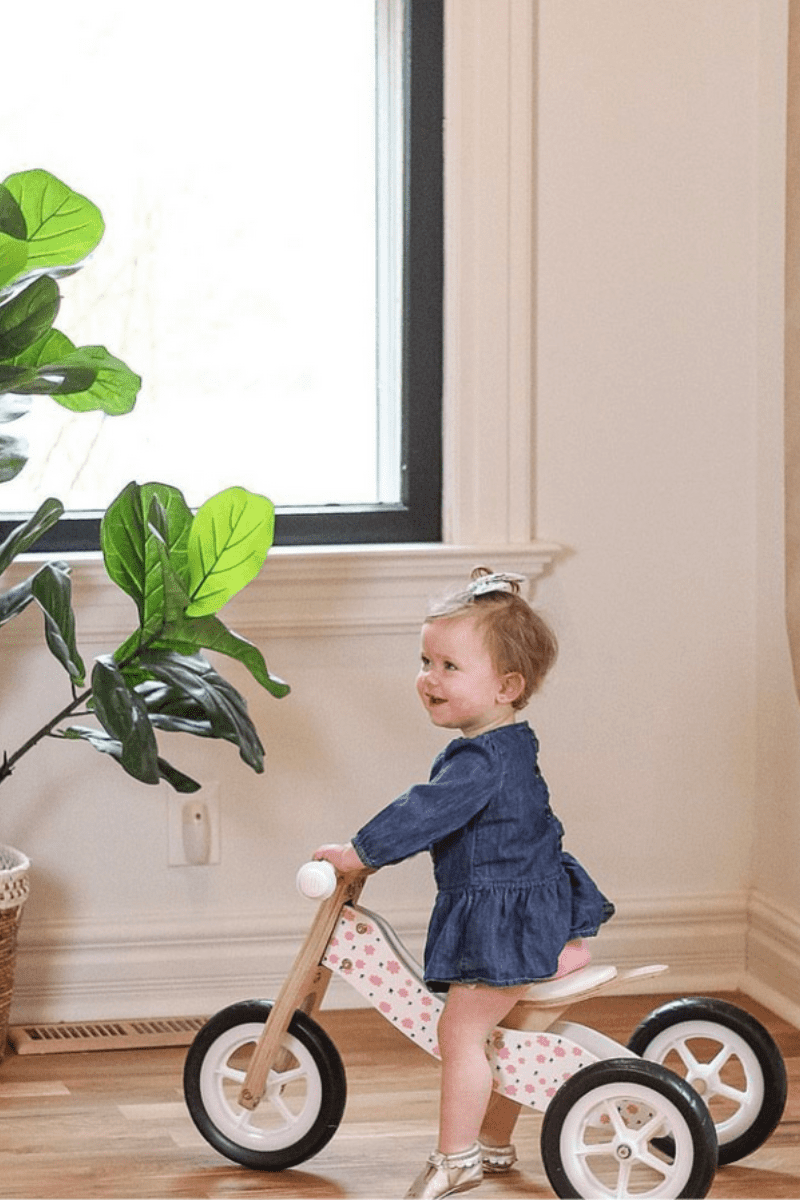 Toy Guides For The Whole Family
I hope these gift guides are helpful in planning your holiday gift or birthday shopping list. This is the perfect time to stock up on fun outdoor gifts and add to your arsenal of toys before they sell out around the holidays.
Keep in mind that it doesn't need to be summer to enjoy them. With some smart dressing, your kids can enjoy their outdoor toys all year long.
*This post has been updated in 2023 for the latest links and products. Only current products will be linked. Please refer to the 2023 Gift Guide below.*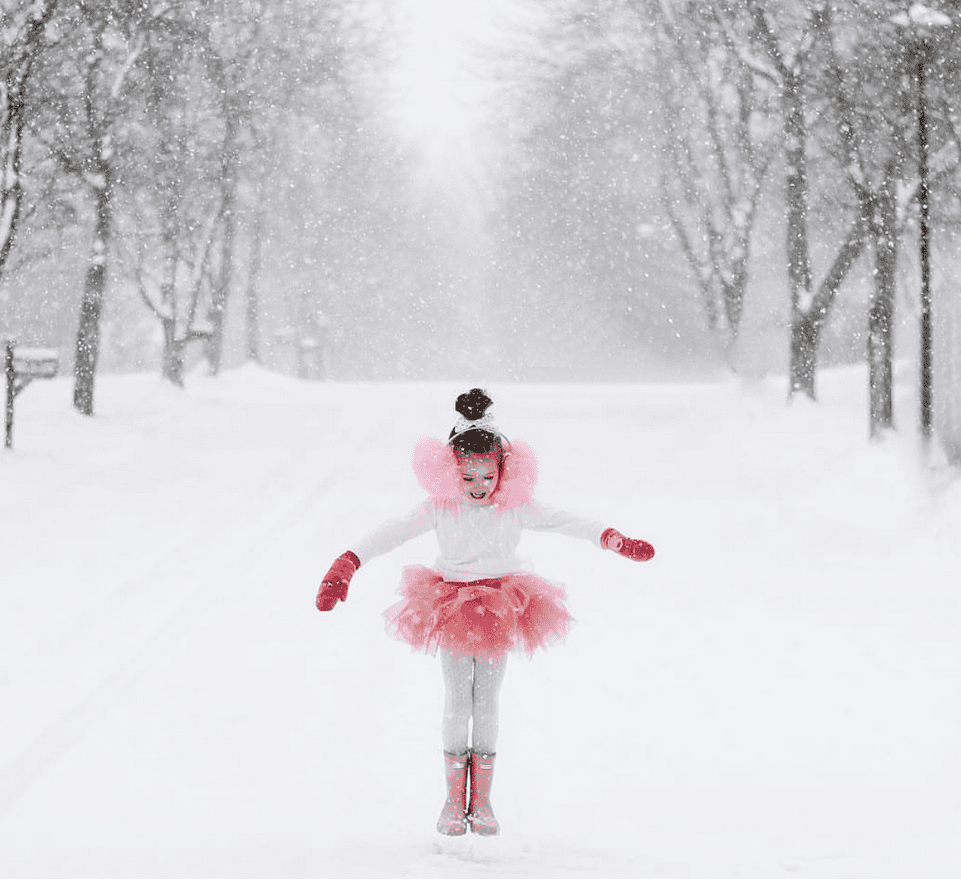 Shop The Best Outdoor Toys For Kids Under 5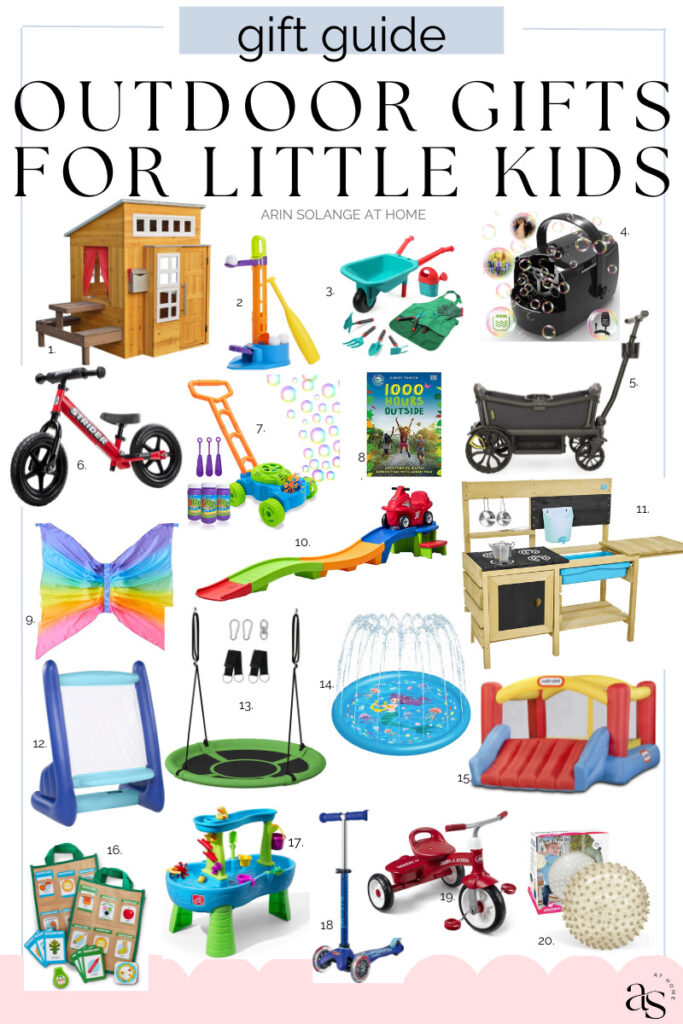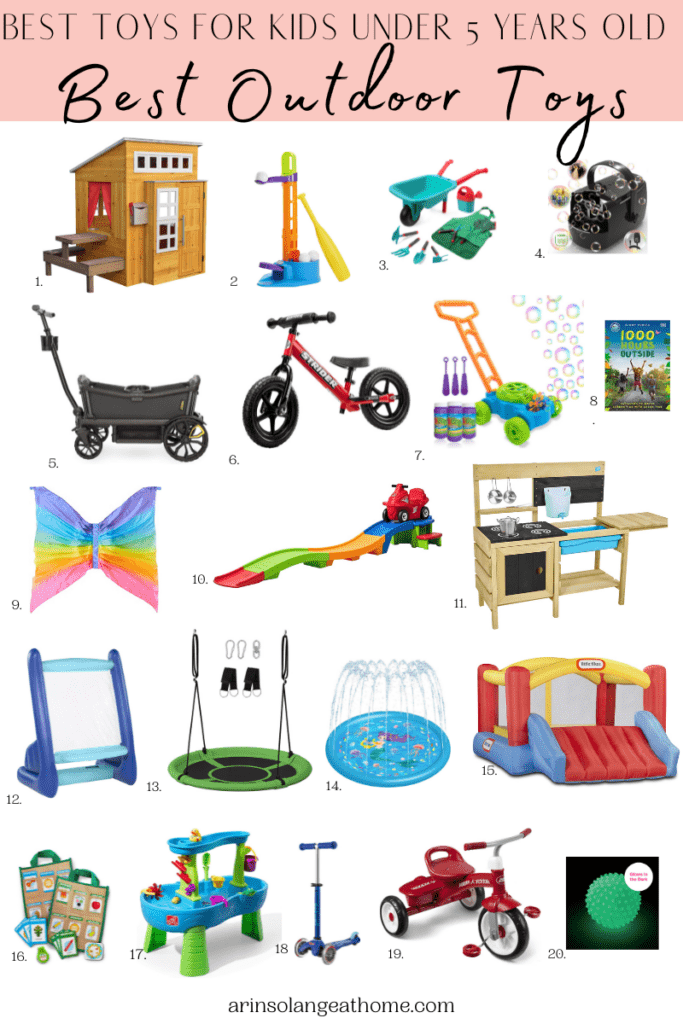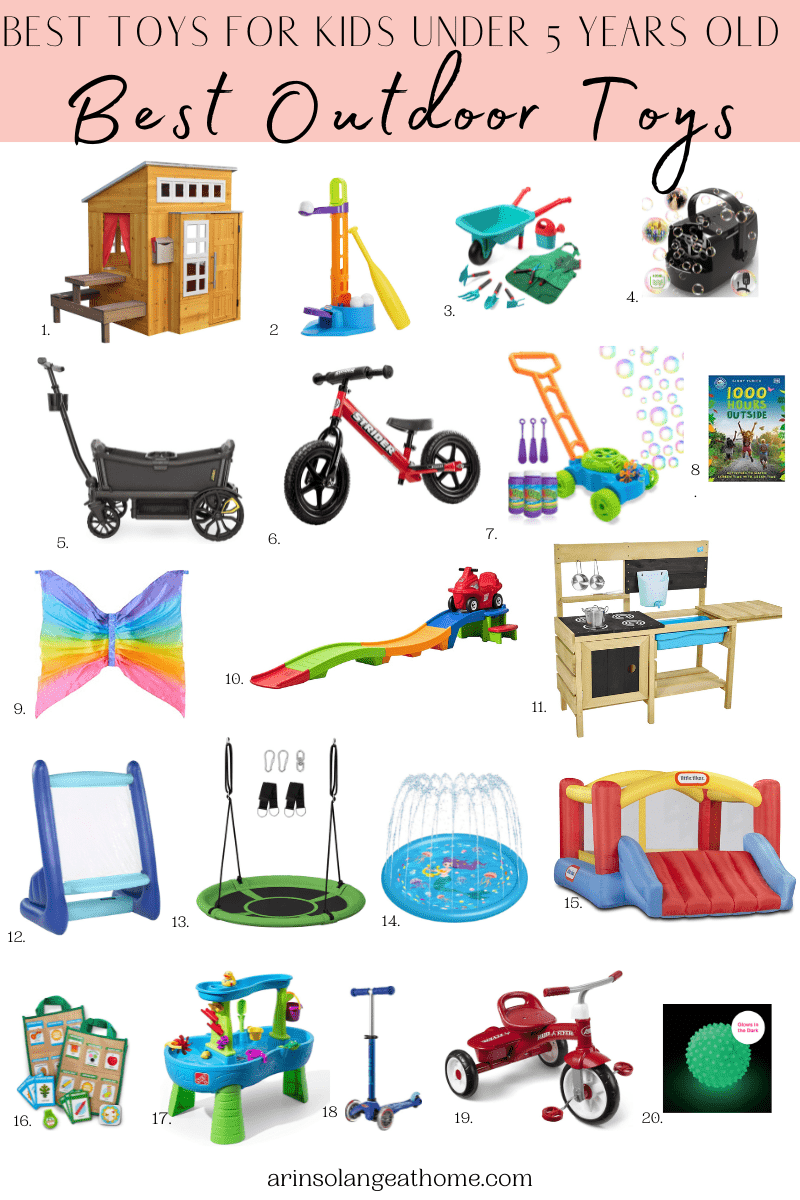 1 | 2 | 3 | 4 | 5 | 6 | 7 | 8 | 9 | 10 | 11 | 12 | 13 | 14 | 15 | 16 | 17 | 18 | 19 | 20
Shop The Best Outdoor Gifts For Older Kids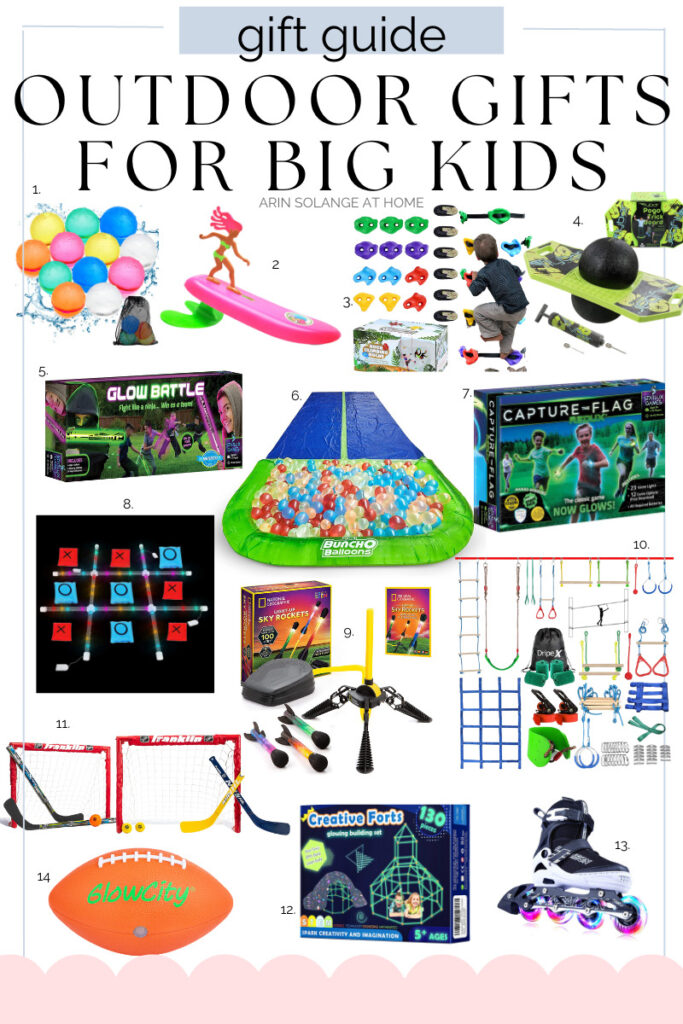 1 | 2 | 3 | 4 | 5 | 6 | 7 | 8 | 9 | 10 | 11 | 12 | 13 | 14
Shop Great Outdoor Gifts For Families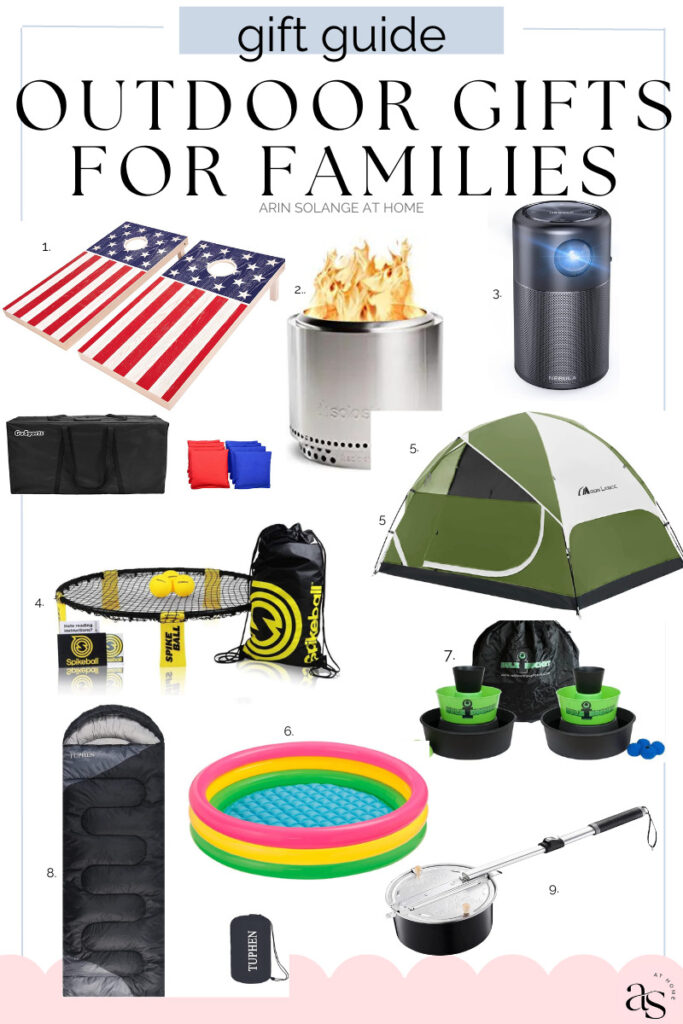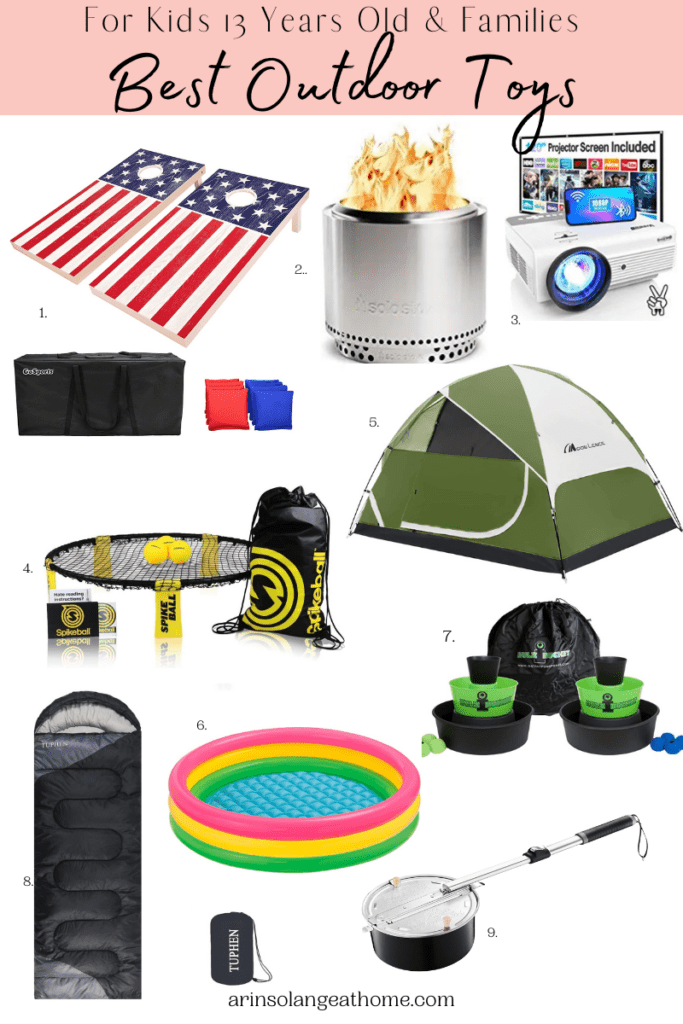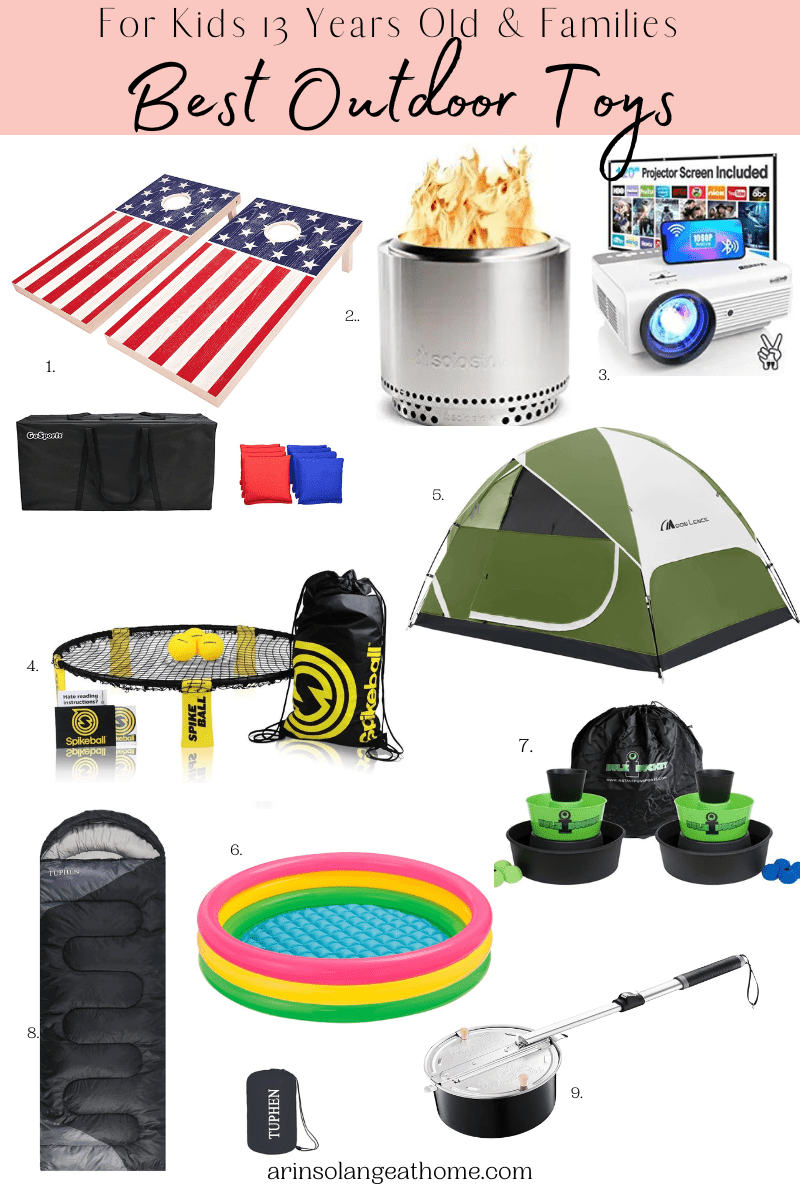 1 | 2 | 3 | 4 | 5 | 6 | 7 | 8 | 9
Other Posts You'll Love
How to Organize Garage   |  Easy Outdoor DIY Table  |   Pink Stock Tank Pool DIY
Pin This Photo Below For Later
Hopefully, this post gave you some great insight into the best outdoor gifts for kids.  Spending time outdoors can change your entire day around.
With these outdoor gift ideas you and your family can start spending more time disconnecting from devices and enjoying your natural surroundings.  Whatever your budget or age, there are tons of options to fit your interest and lifestyle.
If you need helpful tips on how to organize all your new outdoor gear, check out how I organize my garage on a budget.  Be sure to pin the photo below for later, and if you don't already – follow me on Instagram (@arinsolange) and Tik Tok (@arinsolange) for more helpful hints. If you have any questions leave them in the comments below and I will get back to you!