If you know me, or have been following me for long, you know that I am a diaper bag fanatic. I have tried so many styles and brands, and although I think that some service a specific purpose, I always come back to my Fawn Design diaper bags.
I have owned one since Avé was an infant, and now switch between two and love them. I thought I would do a Fawn Design review for all of you, when you're searching for a bag of you own.
*product was received in exchange for review. Read more here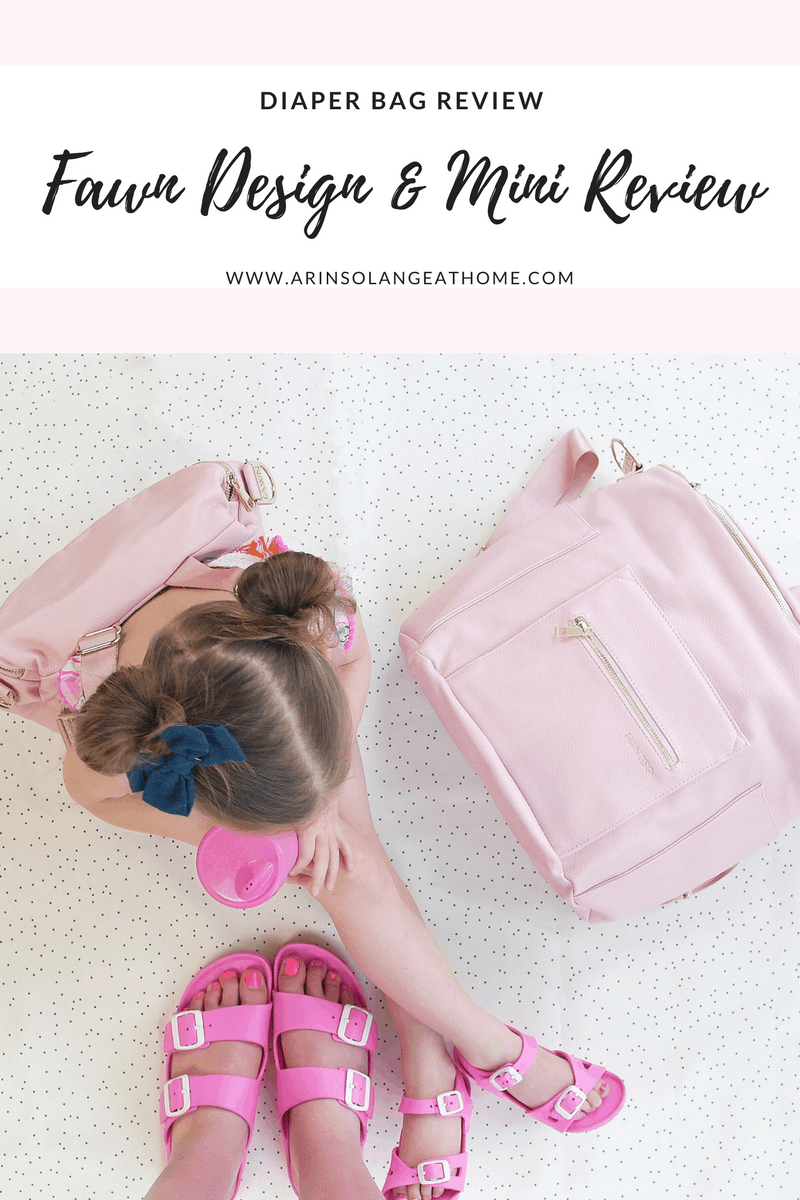 Fawn Design Diaper Bag Review
I can not be alone in the fact that fashion and function are equal for me when it comes to a diaper bag. I do not carry a purse with my diaper bag, so for the past 5 years 90% when I am leaving my house my diaper bag is my purse….so what it looks like MATTERS!
The Fawn Design Diaper bag is faux leather with gold hardware and accents that are gorgeous. I was actually stopped at the airport the first time I traveled with the bag by 3 NON MOMS asking where I got my backpack because they wanted one. That is a total diaper bag win.
Fawn Design Diaper Bag Functionality
On top of being fashionable it has 10 pockets and you can pull the inside out to wipe out, which comes in super handy when you have 10 bags of goldfish crumbs in there. There is a key hook for your keys, and you can use the backpack straps or attach the messenger strap.
I personally typically leave both straps on. If I'm only running in the store I'll throw it on with the messenger strap, but if I'm walking far, a backpack style diaper bag is the only way to go!
I am able to take enough in my Fawn Design bag for all three kids for a full day. We traveled across the country last month and I had enough for all three kids for the full day the full-time we were there in my bag.
One thing I will note about the bag is that the inner pockets don't keep a ton in them so I do like to use my own small bags to organize my bag.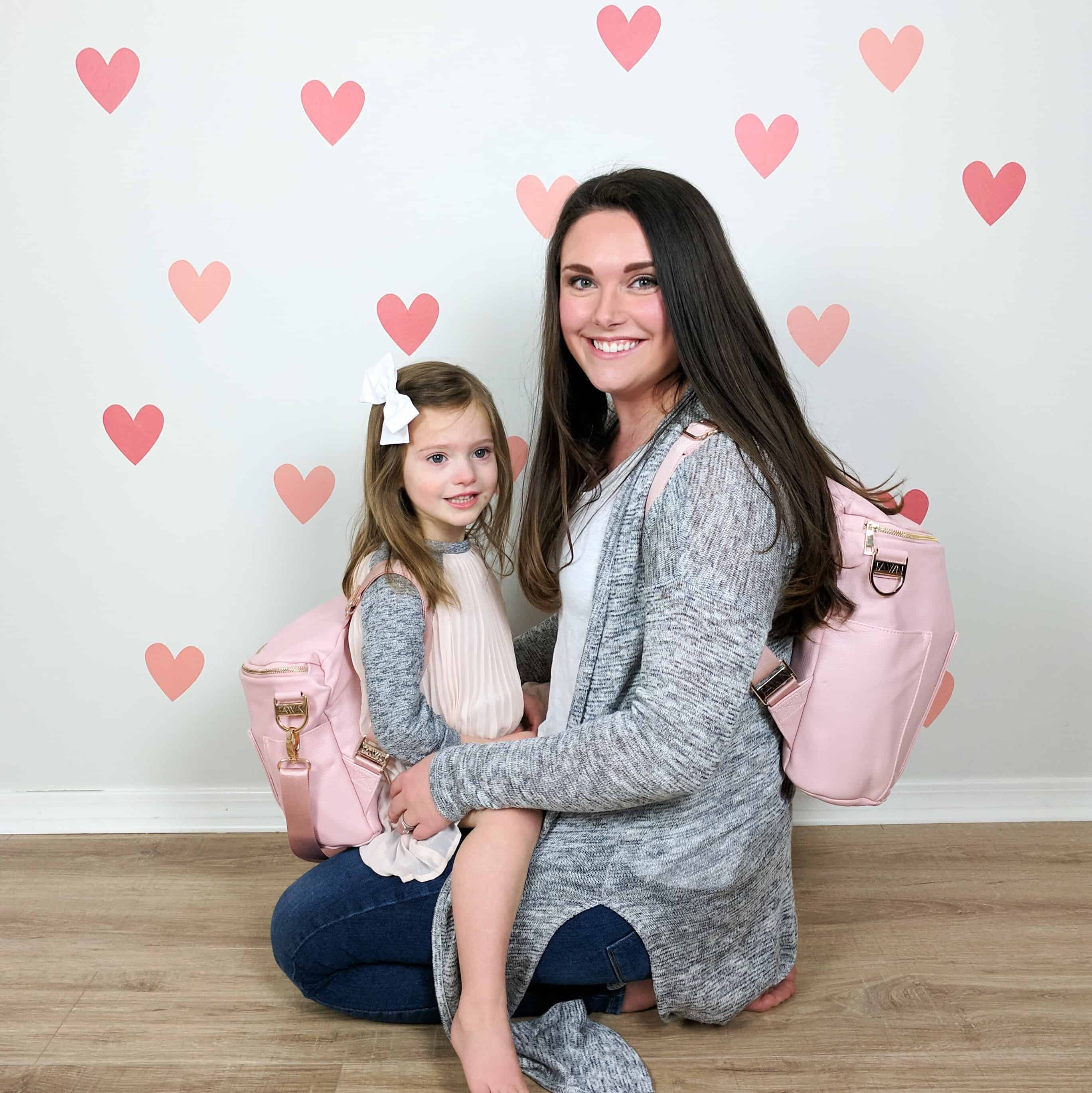 Fawn Design Mini
I recently got Avé the mini (because I won't stop twinning with her until she makes me) and it is LOVE. She loves to carry it, so many times she takes her own little stuff and a snack for Jack in her bag.
I love that I could easily carry it as a small purse for a ball game – which will happen, so it was well worth the investment for me. I will say if you are looking to buy this for your kiddo, it would be great for preschool but once they hit the age where they need a folder a full-sized folder won't fit.
Update… Avé now uses it as her dance bag too and it is perfect for that, and I loved it so much that I bought the black one for myself to use when we go on dates where a backpack would be best!!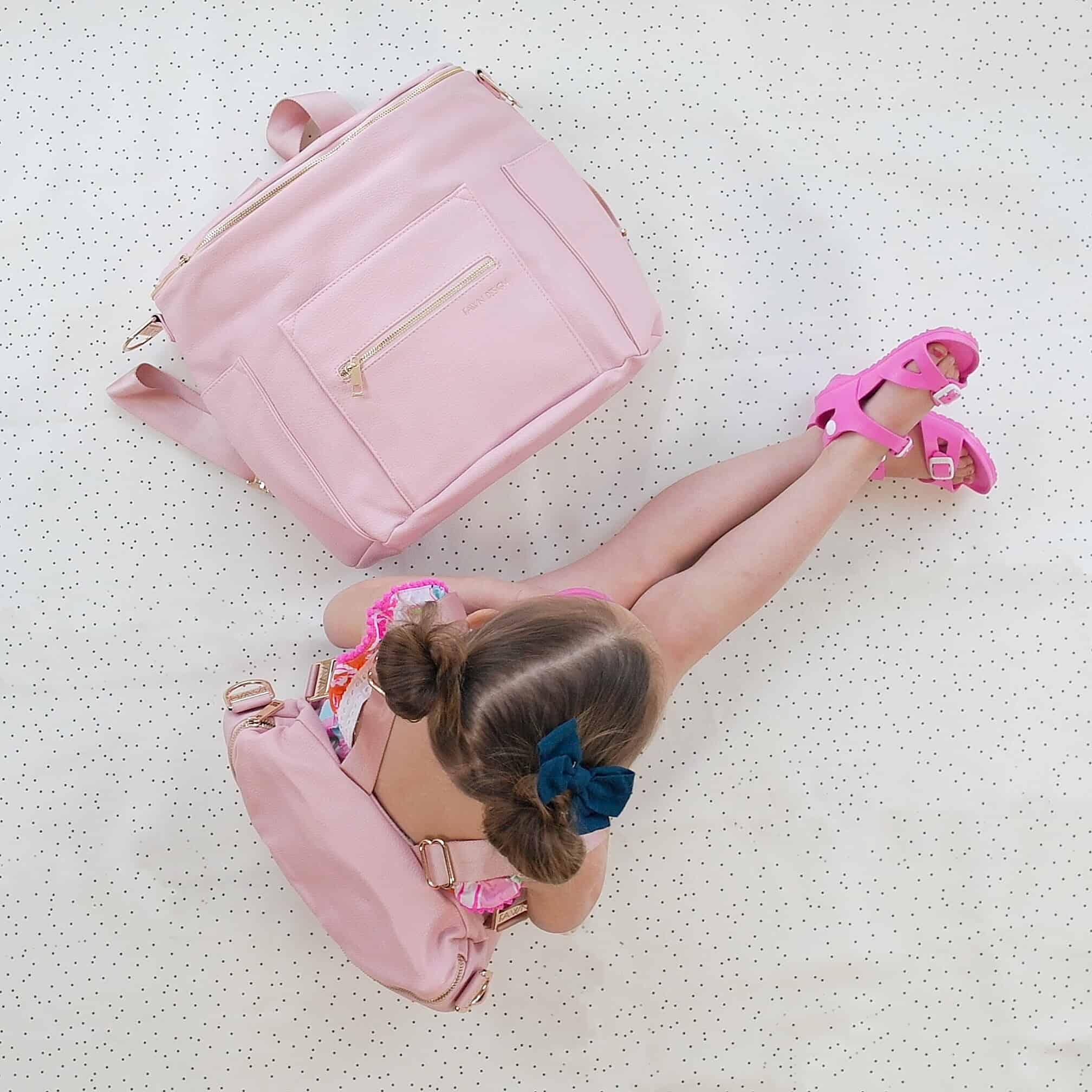 Let me know what you think of the Fawn Design Diaper bag if you give it a try, and let me know if you have any questions.
Also I am sure that if you're looking for a review on the Fawn Design Diaper bag, you have considered the Freshly Picked bag. I did a comparison of the two here to help you decide which works best for you!
SaveSave
SaveSave