As most of you know, I have been on a mission for sharing free printables as well as online resources for kids to continue their learning from home during this crazy time. My printables have really been geared more towards the toddler years, because I AM NO TEACHER, ha! I honestly struggle with teaching Jack, our first grader, so I know I can not be alone on this. I have been asked about math websites for kids a few times, so wanted to share about Revolution Math.
As a bonus because I don't want you to miss this later in the blog post – they are giving me a code for you all to try Revolution Math for $1 if you use the code ARIN1. This is actually how we first tried it out, because I wanted t be sure Jack loved it before we tried it.
this post may contain affiliate links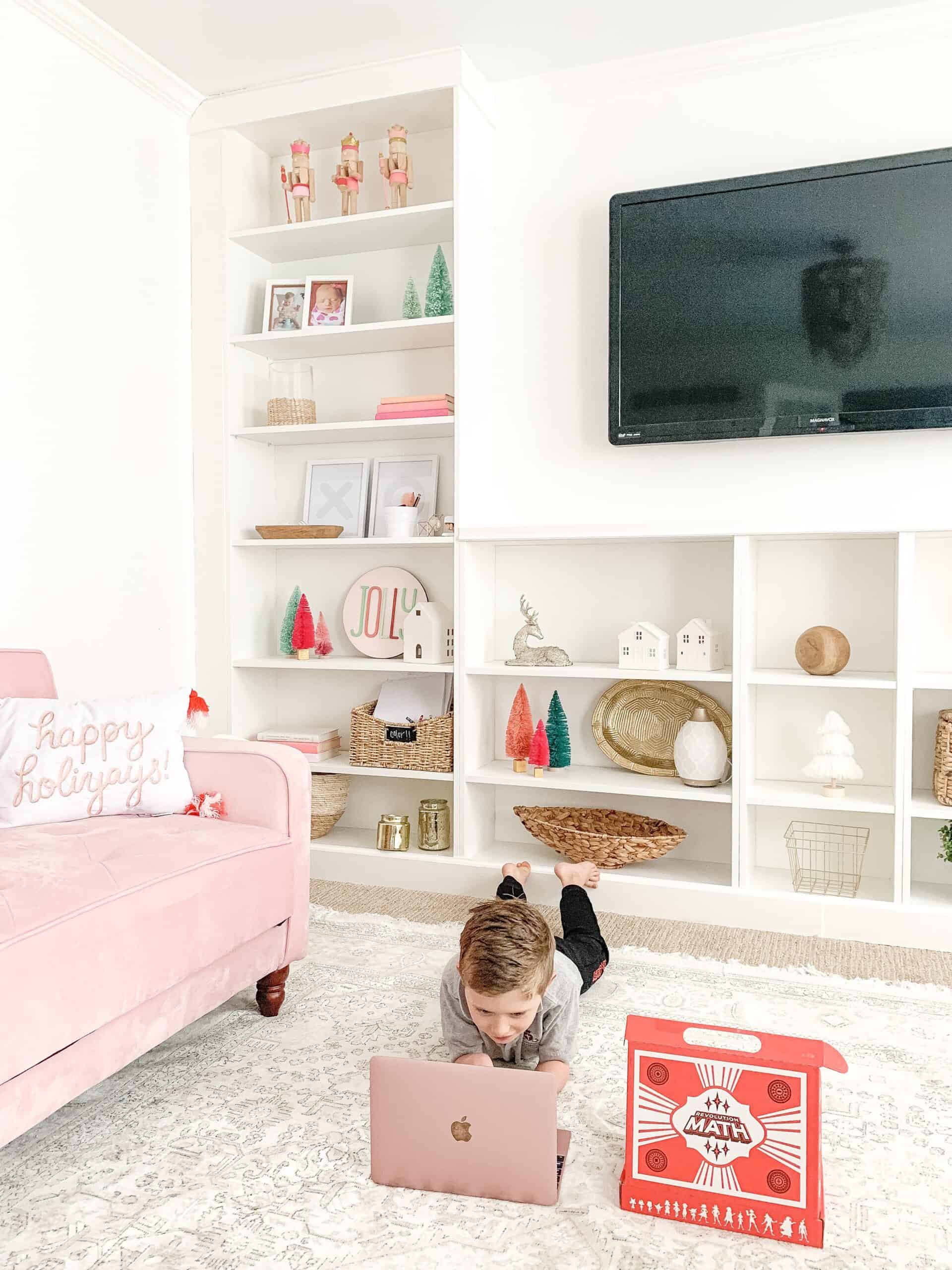 Math Websites for Kids
Math websites for kids have been kind of hard for me to come by for older aged kids. We use ABC mouse and such with my kids and have been amping that up while they are out of school, but the math is not at a high enough level for Jack at this point, so we knew we needed something more.
Teaching school aged kids at home is kind of stressful for a couple of reasons in our house. For one – I barely remember some of the rules of lower aged math (IE things like order of operations), and 2 I haven't been trained on how to teach it. When my oldest son, Jack, gets frustrated it honestly just causes arguments, which for me has been such a difficult time of being stuck at home. I don't like having yet another reason to get mad at him!
For my husband and I, math and reading are the two things we aren't willing to see go by the way side while the kids miss school, so this has been a great way to get Jack learning, as well as interacting with other kids.
Revolution Math
So what is Revolution Math? Per their website:
"Revolution Math is an innovative program designed to help 2nd-5th graders develop their math skills and an overall love of learning. The live, online interface integrates an interactive learning experience with a story-based curriculum and Common Core aligned math games. Students enjoy a small class size of only 4 students, allowing them to build confidence under the instruction of a dedicated teacher."
When we first started it with Jack he loved it. So much so he didn't really understand that it was a class time and was asking to do it daily. He is only in first grade, so the math was maybe a tiny bit above his head at times, but he worked through it and I love that it is helping him get ahead. In no way did I feel like he was crazy amounts behind.
Interaction with Peers
Your kids will be in a class for this – so although it isn't in person the way the classes work there is turn taking, the feeling of being in a game, and a team like commrodery. So although the math is really important, I personally loved it for Jack in that way as well.
How do the classes work?
You will sign up for a class time just like you would for say, dance. At your class time you log in and there are a few students and a teacher. The kids work though the game scenario where they need to solve math problems. For the classes jack was in him and the other kids all loved it and loved getting to be a character, read, and solve problems.
One thing I will note is that when we did this we put it on my computer, which was fine, but I wish I had used my sons iPad because he is more comfortable with it. There is some 'writing' on the screen and he couldn't figure out the mousepad for writing very well so I wish I had gone the route of iPad, and will be doing this next set of classes on his iPad for better user friendliness for him!
The classes utilize Zoom, which I know many of our kids are currently using in so many other learning situations right now, so hopefully they are all growing more comfortable with it! (we are raising a generation who will be kick butt at conference calls and video calls!).
Pricing (and a promo code for your first month free!)
Right now as I noted at the start of this post they are offering my readers a nearly free first month. You simply pay $1 and they ship you all your materials and you get to do 1 month (4 classes) for that 1 dollar. It is honestly a great way to get your feet wet and see if it's a good fit for your child before committing.
To get that first month for $1 use code: ARIN1
Once that first month is over you have the option to continue your classes – You can either sign up for an annual membership at $99 a month or monthly for $149 monthly.
Overall we have been so impressed by these classes, and Jack truly looks forward to them every week. They have opened up times during the day for kids now that school is out, so that allows for more kids and something to keep them busy during the day. If you have any questions I on Revolution math let me know in the comments below, or DM me on Instagram. I truly think this is one of the best math websites for kids and will keep your kids learning and thriving in their time outside the classroom.
If you are looking for other great resources I have free printable learning activities for younger kids here that have been really helpful for keeping my kids busy!
Pin This Post for Later Here