If you have been following me for very long you likely know that Saranoni blankets are one of my all time favorite products. I have been itching to put the finishing touches on a room at Grandmas house for my kids (and future grandkids), and when they came out with bedding I knew it was the perfect time!
This post may contain affiliate links – bedding was gifted to me by Saranoni however all opinions are my own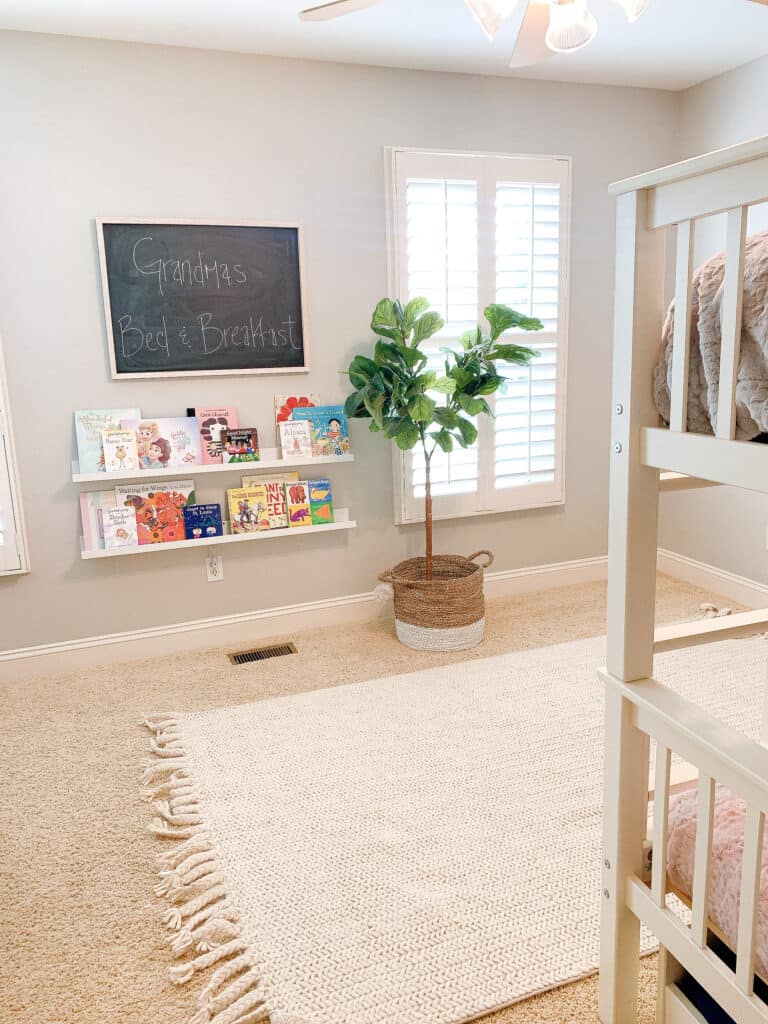 A Room at Grandmas
My kids are spoiled rotten, and my mother in law has created a space for them at their home that is just perfect.
A couple of years ago she grabbed the perfect bunk beds with a trundle in order to fit all 3 kids (this was pre Goldie!) and it is the perfect space for them to come stay or at least rest for nap time.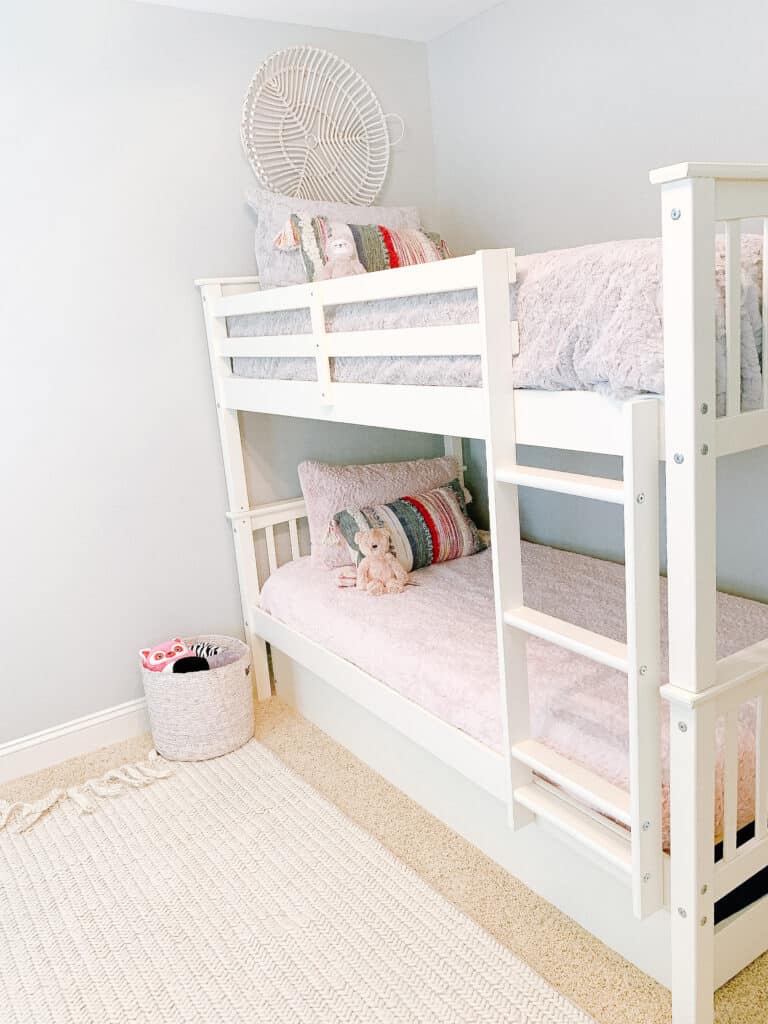 I have been working on making the space more functional and comfortable for my kids, because they aren't used to staying away from us, so for me comfort is key in that room.
They do also have a playroom in their house, so I didn't have to make the room check every box for kids, but overall do want it to be a room that they can be in to get out of everyones hair if needed as well.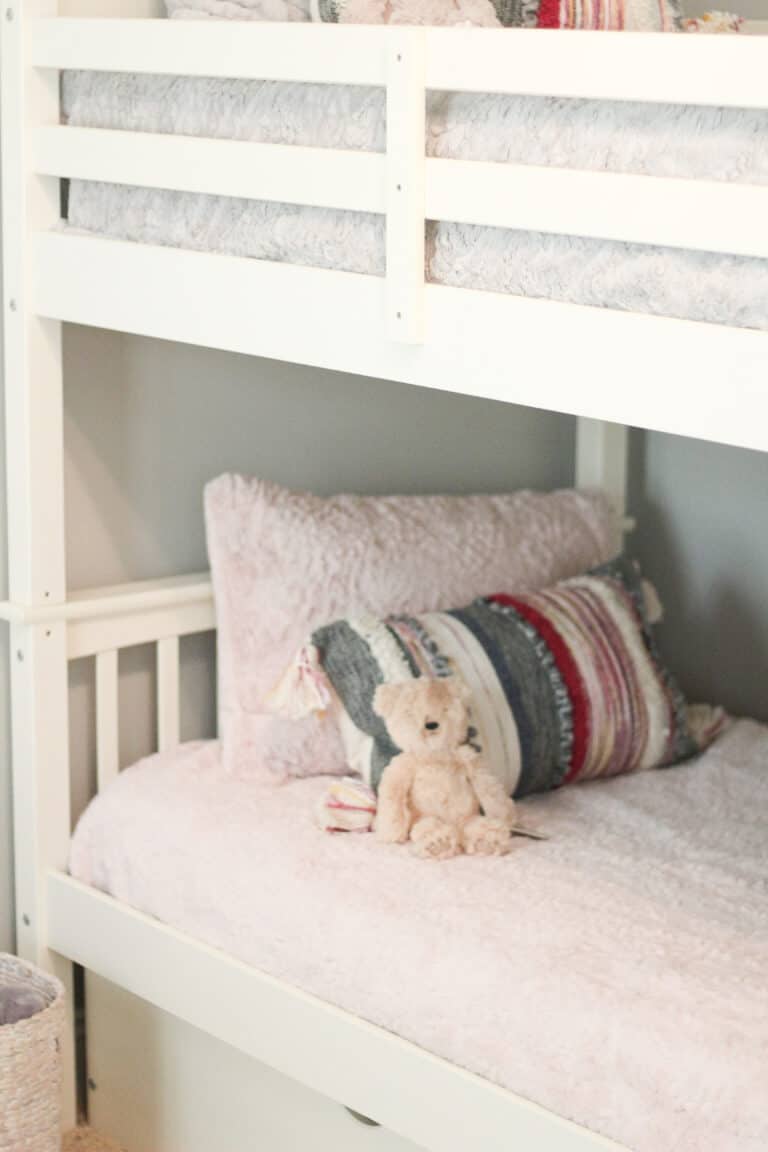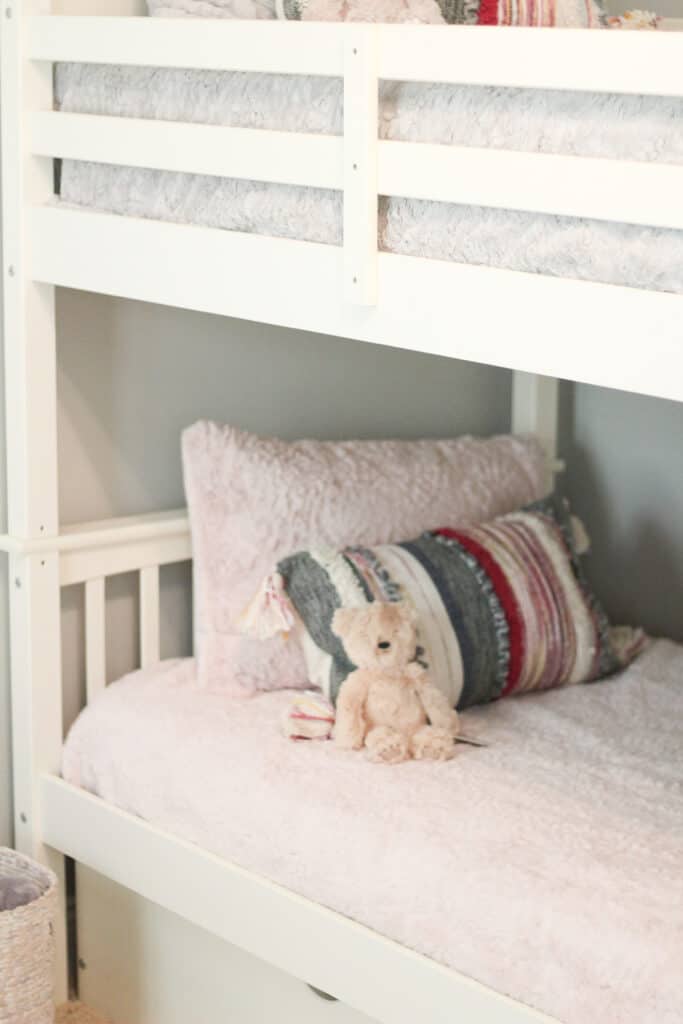 I have one more DIY surprise coming in the room that you will have to look for, but for now the room is great, and is the perfect space for the kids.
Saranoni Blankets Bedding
When Saranoni came out with their new bedding it was the perfect time to finish this room. Our whole family (us included) use Saranoni blankets at home exclusively, so I knew this would make it feel like home.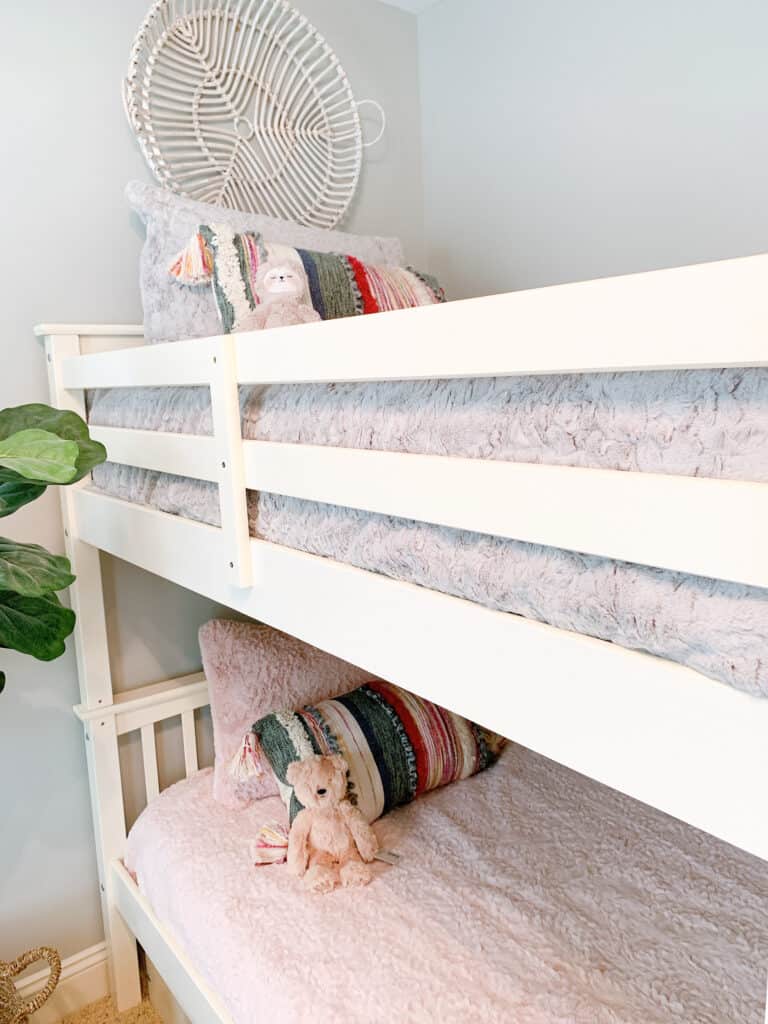 The new bedding comes in several colors and you can get shams, covers, and pillow cases, and they are honestly SO COMFORTABLE. I have friends who I have convinced to switch to Saranoni from other popular blanket brands because you guys – THEY ARE THAT GOOD.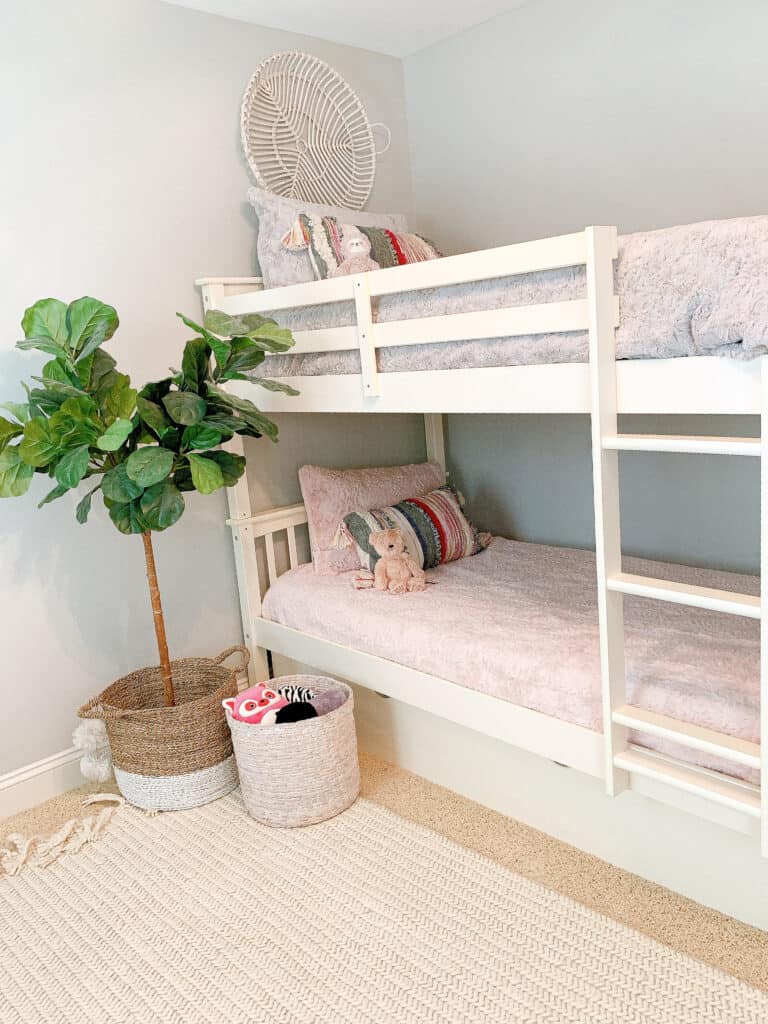 When it comes to kids bedding comfort and ease of use in my opinion are the most important things, so this totally covers that – and as a bonus they will work as great blankets if the kids do a movie night or anything else at Grandmas house!
Purposeful Storage
Something else I think is really smart is to have some purposeful storage in any room. This goes for Grandmas house or home.
In the case of this room I went with these books ledges that you have seen in many of my other rooms here on my blog. I also added a basket for stuffed animals and other blankets and such.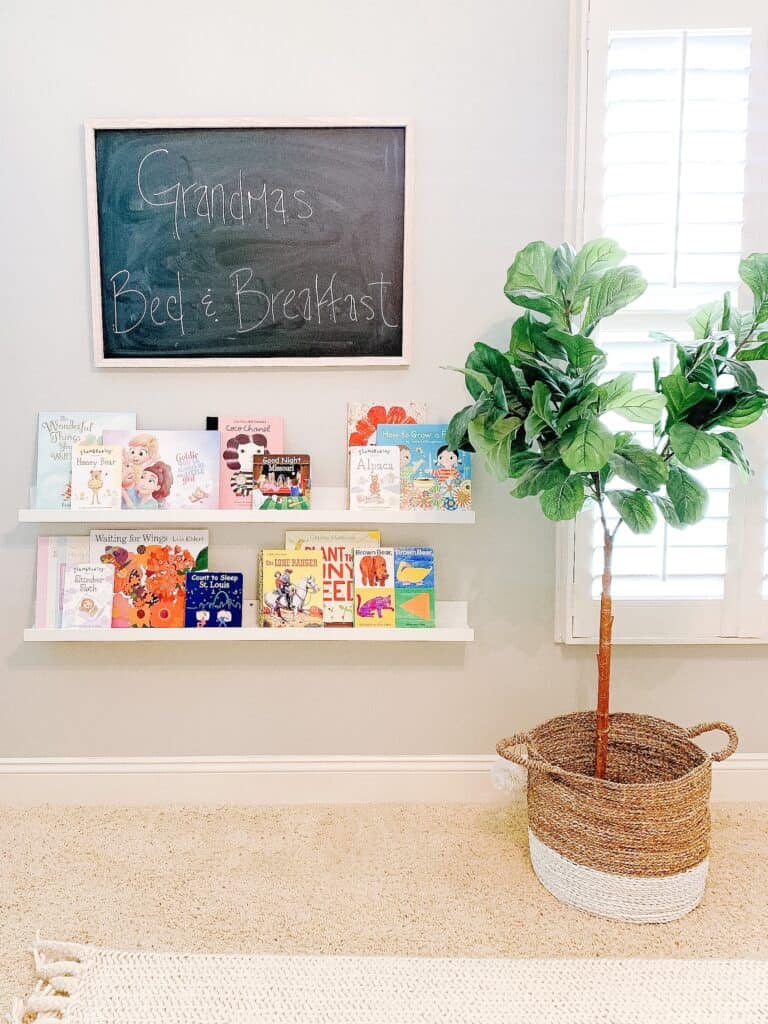 You will have to stay tuned for the next phase of this room – which will include a TV area and desk/table.
Part of the reason for the desk/table set up is so there is a good place to put luggage below and lay out their clothes or personal items when they come to stay. As opposed to a room at home where a dresser would be great, an area for function but not storage is better in this case.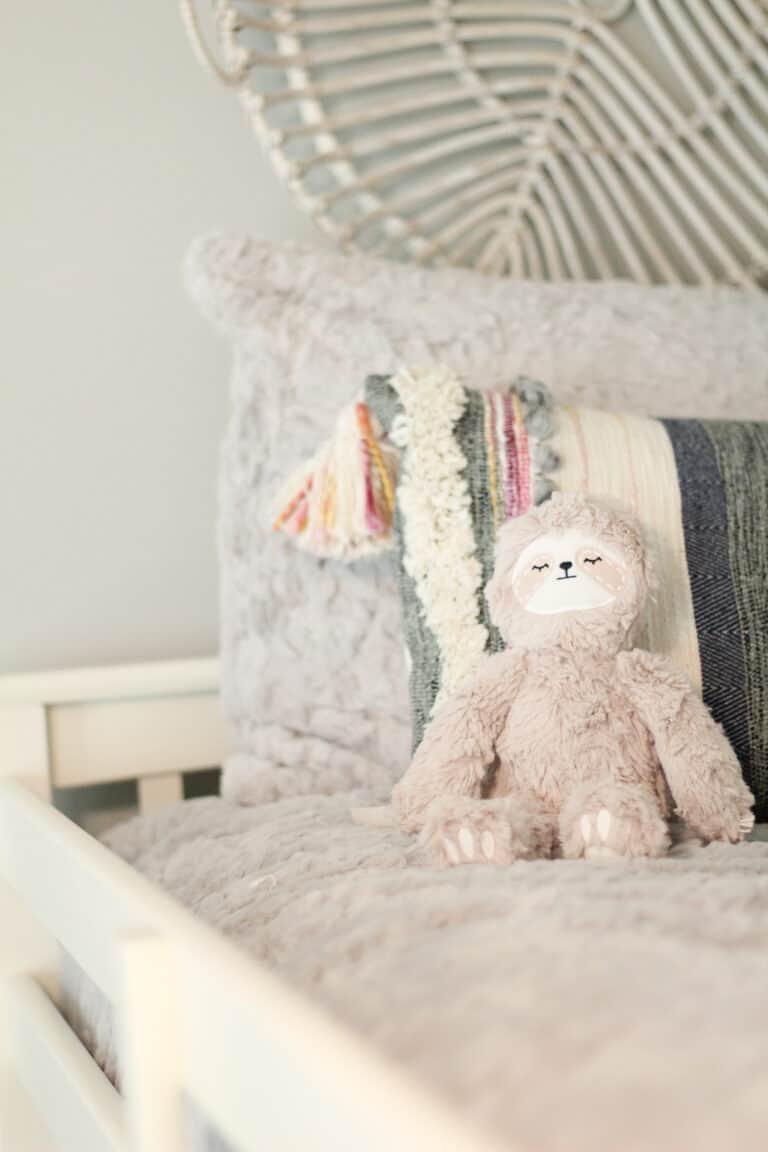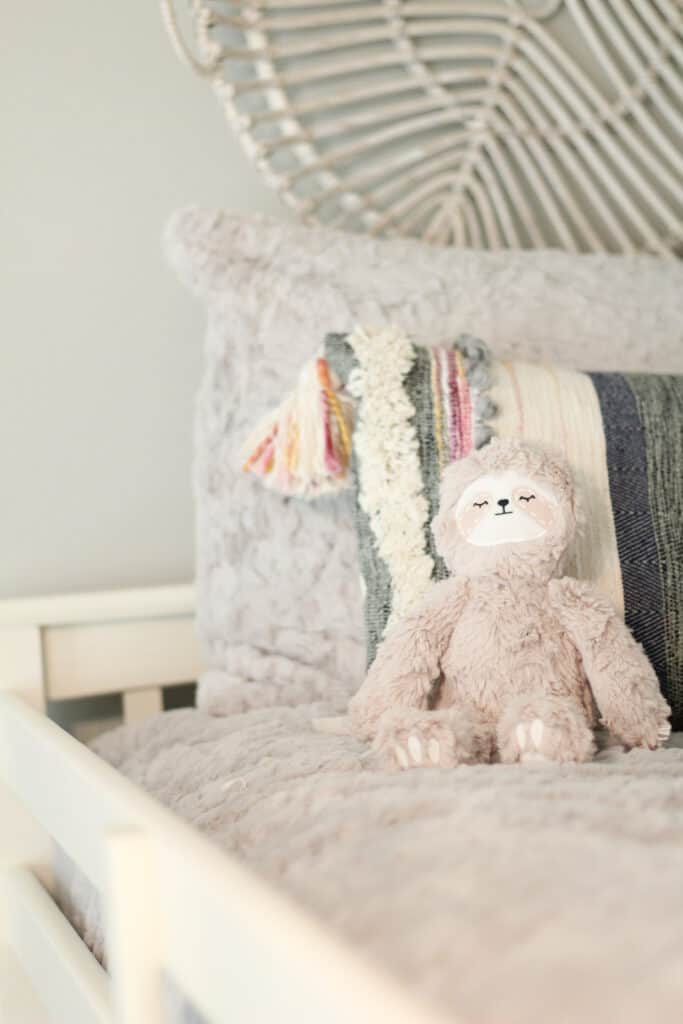 Other Details
As for the other details in the room we went simple and clean. I hung a wicker basket over the beds, added a chalkboard that the kids can use, but also serves as cute decor, and added warm textures.
The rug was actually a rug that used to be in Avé's room before we moved – see here. It is perfect for a gender neutral space and comfortable. I also added some gorgeous throw pillows that are gender neutral but added a pop of brighter color.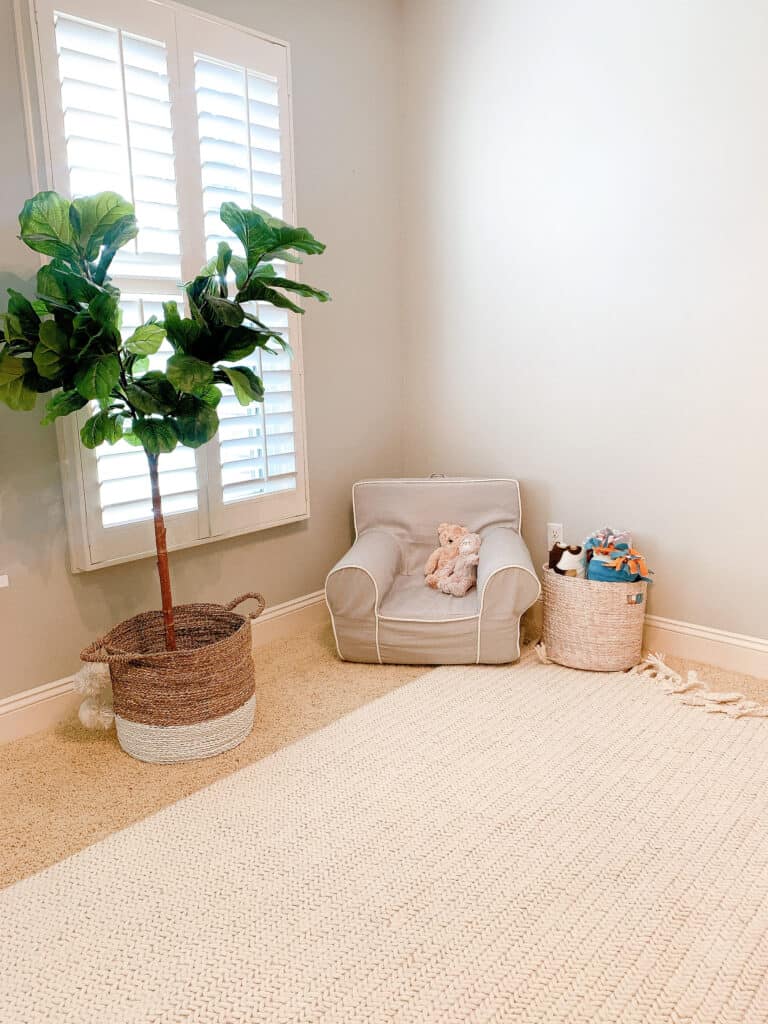 I didn't want to do too many pillows and such because it is a kids space. I figured with one throw pillow it can be put at the foot of their beds when they are sleeping!
Shop this Room
Beds | Rug | Stuffed Animals | Chalkboard | Basket on wall were home goods – but here is a great option | Bedding | Plant | Chair | Book Ledges
Other Kids Rooms
To see some other kids spaces I have done – check out the posts below. I tend to go a bit more involved in my own home of course, but I loved that this showed how you can easily create a pretty, simple space without spending a ton of money or adding a ton of extra decor.
Pink Daisy Room | Rainbow Nursery | Simple Shared Boys Room | Modern Boys Room | Neutral Nursery
Pin Photo Below for Later
If you are looking for this post on a simple room at grandmas house featuring Saranoni Blankets bedding later – pin the image below for later. As always if you have any questions be sure to leave a comment below or DM me on Instagram, and I will be sure to get back to you!