The only thing better than a cornbread recipe is a sweet cornbread recipe, right? I am a mom of 4 – so sometimes I have to come up with ways to make traditional recipes just a little tastier to get those little mouths to give them a try – and this one is a crowd favorite in our house!
this post may contain affiliate links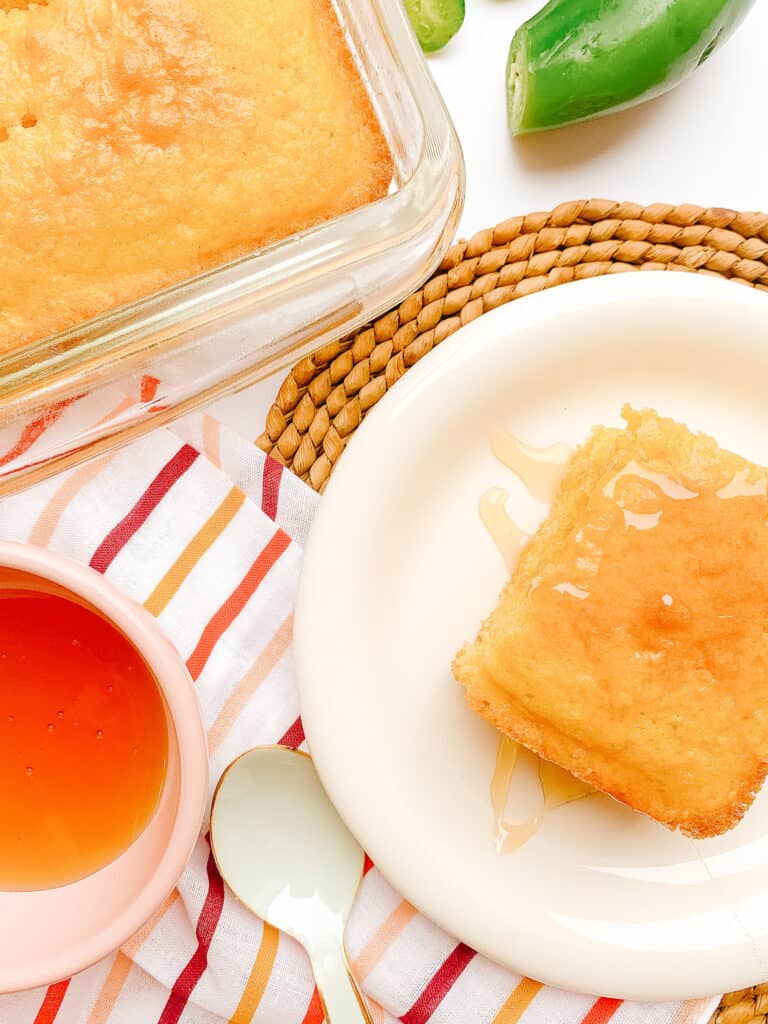 Sweet Cornbread
So when it comes to cornbread recipes – you'll find the full gamete of very savory, to very sweet. I would be lying if I said I didn't like a bit of both, but for the sake of what we tend to eat at our home I'm sharing the sweet.
Now don't be scared – it isn't overly sweet – I mean a little honey on it is still very welcome. Actually when I first tried a similar recipe it was a bit 'too sweet' for me, which is what had me exploring ways to make this a bit more to my taste.
Homemade Cornbread vs Boxed
I have made homemade cornbread a few times in my life and honestly – the box mix is so good and affordable that in my opinion there is no reason to stray.
That isn't to say I think that a box mix cornbread on its own is necessarily a show stopper, but it is certainly a wonderful base to jazz up how you will – and in this case that is exactly what I am doing.
As a busy mom of 4, although I enjoy cooking – there is no way I can spend hours and hours daily making meals, so I love that this is a recipe that I can put together in about 5 minutes and let bake while I get the table ready for the rest of our meal.
Great meals and great dishes do not have to be difficult or expensive and this is a wonderful example of that!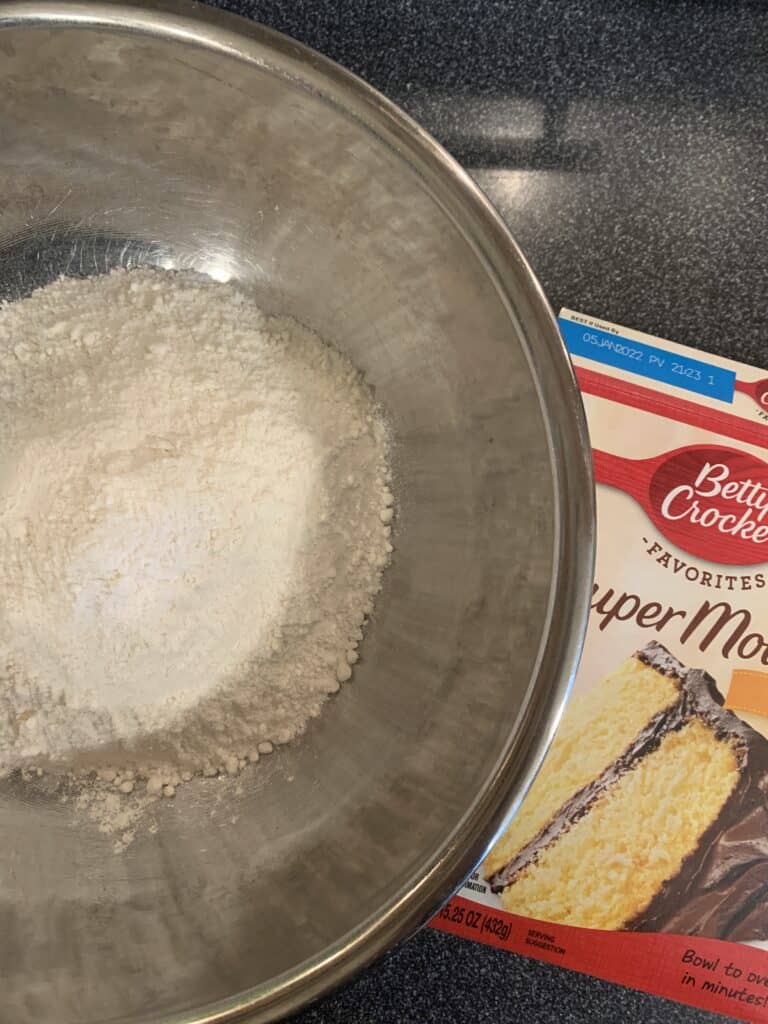 What to make with this cornbread recipe?
Before we get to the recipe – if you are making this cornbread recipe you should be sure to check out this recipe for BY FAR my favorite white chicken chili. I am telling you – you will love it too!
When I make this cornbread I either make it the night before, or I throw it together about 45 min before we serve the white chicken chili – it is hands down maybe our easiest and most favorite meal in our house.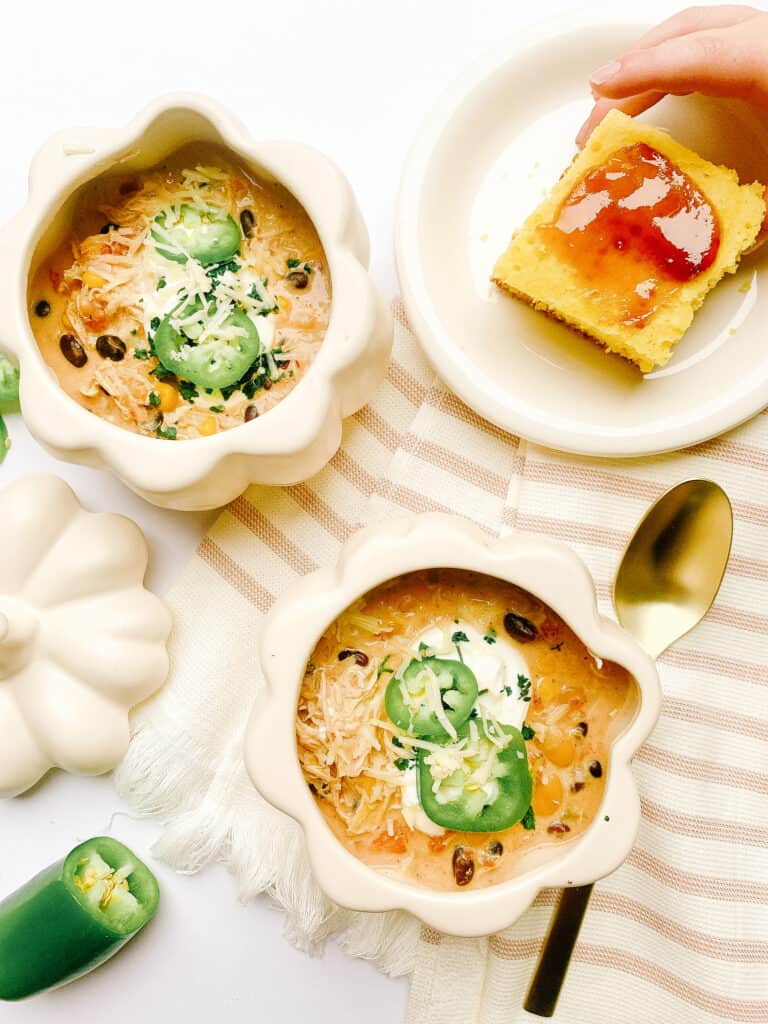 Sweet Cornbread Recipe
Feel free to print the recipe card below to take with you to the store, and be sure to watch the video if you have any questions – although this is VERY easy.
Sweet Cornbread Recipe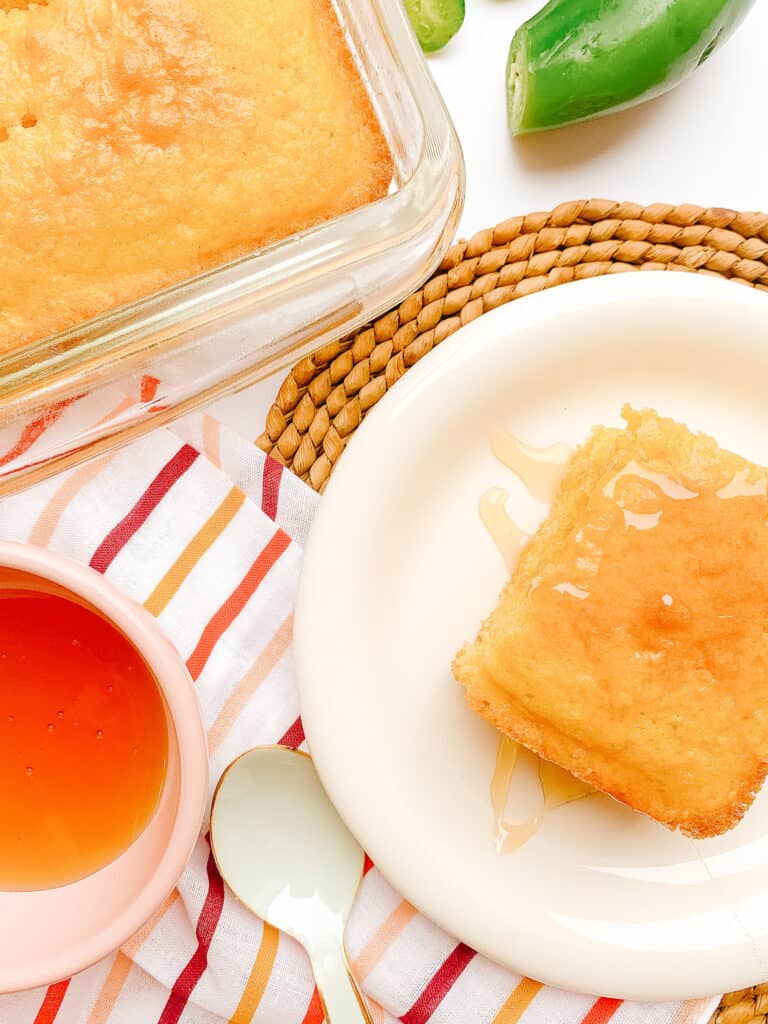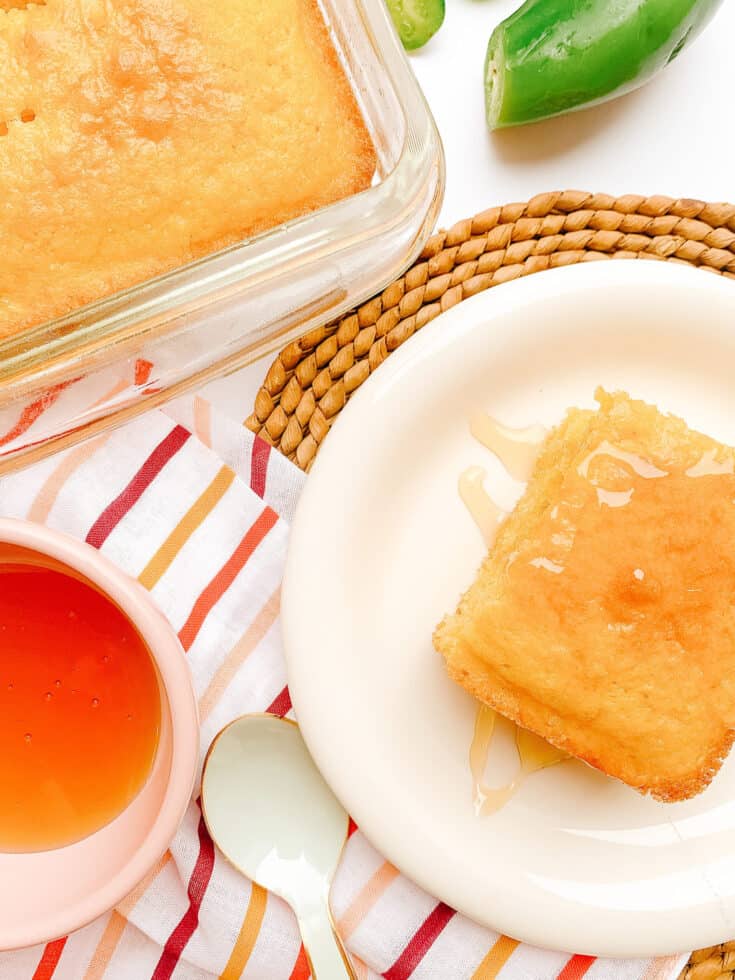 A delicous, easy cornbread recipe that is both sweet and savory. This is a crowd favorite to pair with your favorite meals.
Ingredients
1 box Jiffy Cornbread Mix
1 Box yellow cake mix
2 eggs
1 cup mix
1 can creamed corn
1/3 cup oil 
Instructions
Preheat the oven to 350*
Pour your box of Jiffy Cornbread mix in a mixing bowl.
Add to that 1 3/4 cups of your cake mix (that is roughly half the box so you can double this recipe with 1 box of cake mix if you wish)
Add roughly 1/2 the can of creamed corn (again if you choose to double the recipe you can use just the one can!)
Add eggs, milk, and oil
Whisk until well combined
Pour into a well greased 9x9 baking sheet
Put your cornbread in the oven for 30 min - start checking at 25 min - you will know it is done when you put a toothpick in the center and it comes out clean.
Allow to cool for a few minutes before slicing and serving!
Notes
This is a recipe that can be added to as you wish - we have added a can of green chilis, or diced jalapenos in the past. Serve with butter and honey or a jam of your choice!
Ingredients:
1 box yellow cake mix
1 box Jiffy Corbread Mix
2 Eggs
1/3 cup oil
1 cup milk
1 can creamed corn
Sweet Cornbread Recipe Instructions:
Preheat your oven to 350*
Pour your box of Jiffy cornbread into a large mixing bowl
Add to that 1 3/4 cups yellow cake mix – that is 1/2 the box (so you could double the other ingredients and use the full box).
Add roughly 1/2 the can of creamed corn
Add to that the eggs, milk, and oil
Mix well with a whisk until daily smooth (it will never get fully smooth with the corn)
Pour into a well greased 9×9 pan
Bake at 350* for 30 min (start checking on it around 25 min – when a toothpick comes out of the center clean it is ready to eat!)
Let cool for a few minutes then serve
This is an easily customized recipe – we have added a can of diced green chilis, and diced jalapeños in the past, and both are wonderful additions to make it a bit more sweet and savory.
Serve with butter and honey or your choice of jam – or honestly this is so good my family typically eats it plain.
Other Posts You'll Love
I have not been adding recipes to my blog for long, but I do have a few crowd pleasers that 'everyone' loves. Be sure to check those out and make them now or pin them for later.
Fruit Pizza Cookies (you have to try these!) | Sweet Potato hash | White Chicken Chili
Pin The Photo Below for Later
Hopefully you loved this easy sweet cornbread recipe! Be sure to follow me on Instagram (arinsolange) for more recipes and fun, and pin the photo below to find this recipe again later!