This past week I was making Thanksgiving bingo for Ave's class and honestly – it was so much dang work that I figured I would share with all of you to to use as well. Enjoy this free printable game and play it with your kids this Thanksgiving.
This post contains affiliate links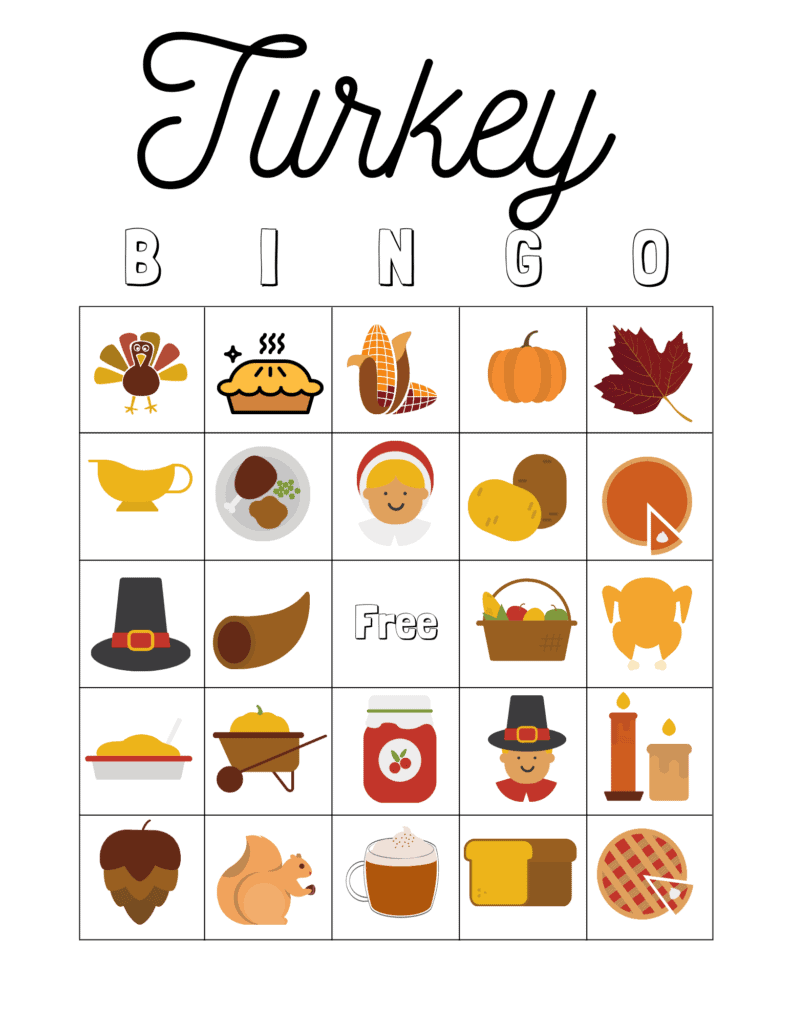 Free Thanksgiving Bingo
Thanksgiving is one of my favorite holidays because it is so low key. Nothing much is going on – in our family there is a whole lot of football watching (not for me) and eating.
With 4 little ones I am always looking for fun ways to entertain them on those holidays. I want time to be an adult, but also – I want the kids to make memories and have fun too.
When I made Thanksgiving bingo for my daughters kindergarten class I figured it would be something fun to play at home with the kids too.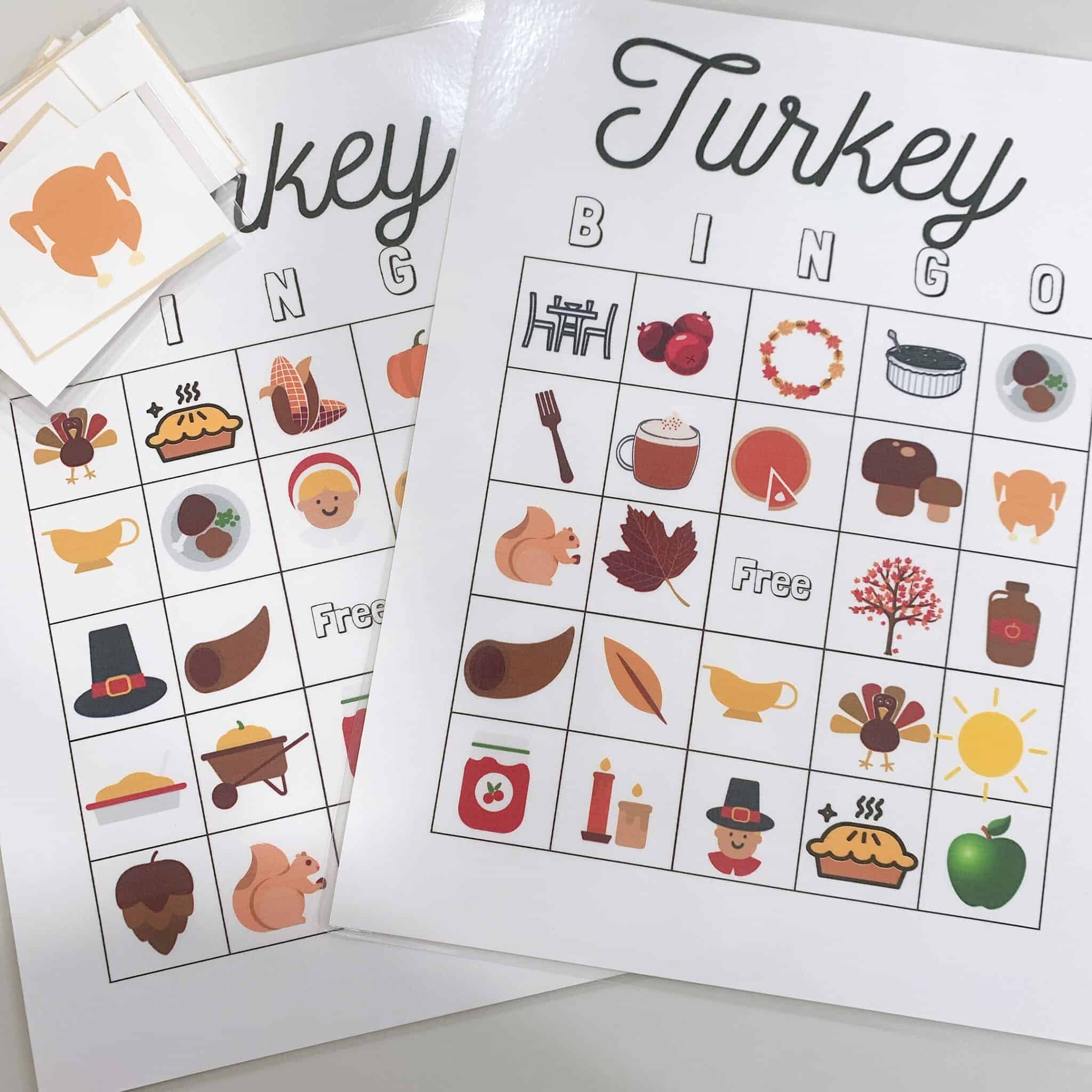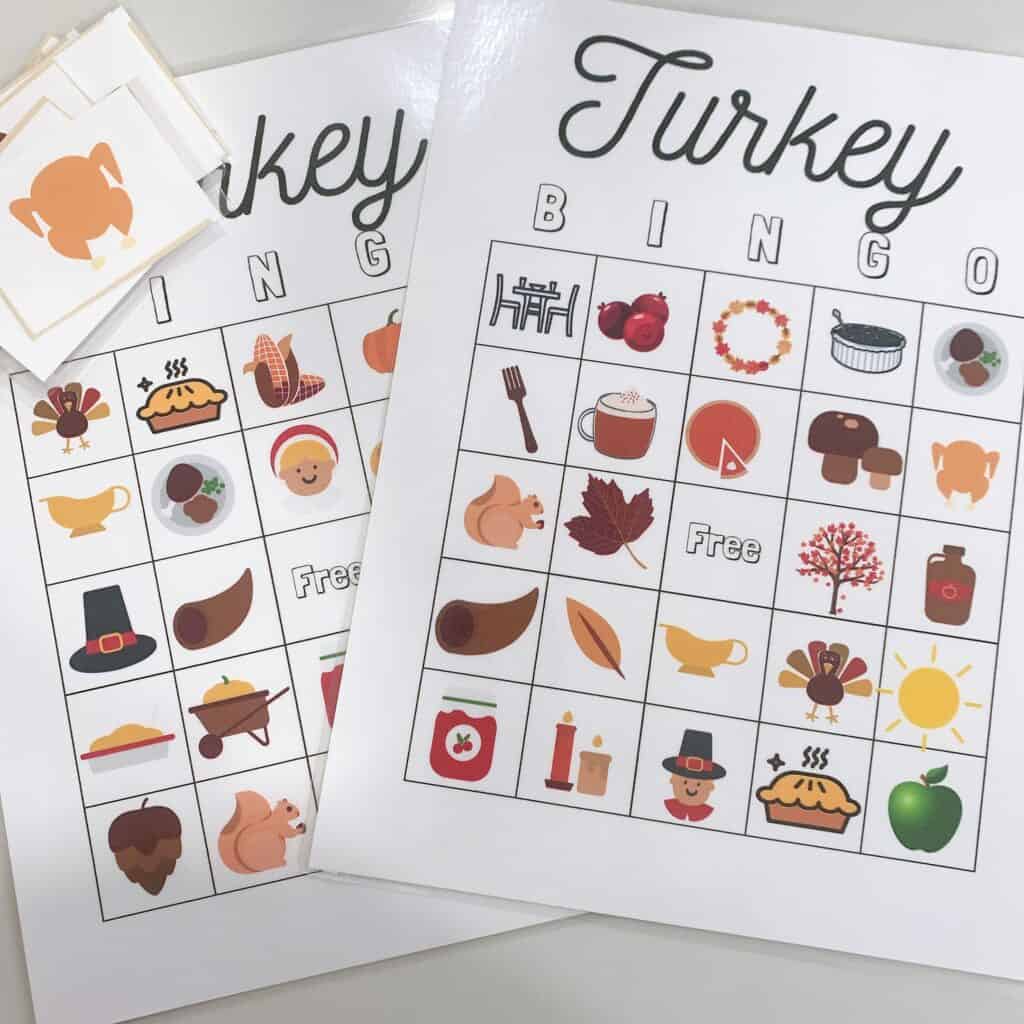 What you need?
For this all you technically need is a printer – for myself, I also laminated mine for the school so they can use them again if they want, and so it allows them to use dry erase markers instead of little plastic markers if they want.
This year is all about NOT sharing (yikes – I will have some back tracking to do with my middle littles), so I sent the option of mini m and ms, as well as the laminated cards so they could go the marker route – either one.
What you are Printing
When you download the file you are going to see that it is so many pages long. That is because when I created this for my daughters class I needed 17 different cards for 17 different students.
So – if you are playing this with family – feel free to print them all and switch out cards between games, or just select a few bingo cards when you print.
You do need to make sure to print the last 3 pages because they are the cards you will draw. Cut them out along the lines and draw them to see what Thanksgiving symbol is up next.
What Ages?
I created this very much so to mimic ZINGO so really I do think that younger kids could handle this all the way from toddler up. The cards are large enough that for a game or two you can likely keep the full family engaged.
No numbers or anything like that are needed, and the printable cards to draw are large enough to help kids recognize the symbol.
PRINT THANKSGIVING BINGO BELOW
Best done on a colored printer!
---
Other Posts You'll Love
Preschool Learning Printables | Gift Guides for your Family
Pin The Photo Below for Later
Hopefully your family has fun with this free Thanksgiving bingo and it helps make your holiday that much more fun. Be sure to tag me on Instagram in photos of you all playing (@arinsolange), and leave any questions below.