Who struggles with living room toy storage. Trucking ahead on 6 Bags for 6 Weeks – we are headed into our living spaces! I can't be the only mom is also now in the position to start talking toys. For this weeks 6 Bags for 6 weeks I will link to several other blog posts on organizing spaces, but I want to talk about some toy storage for your living room.
This toy storage for living room post contains affiliate links
Living Room Toy Storage
This week is week 4 of 6 bags for 6 weeks, and so far we have tackled our kitchens, all our clothing, and bathrooms and linen closets. If you are anything like me you are likely starting to really see the changes.
The whole idea behind 6 Bags for 6 Weeks is to help you all declutter your home in 6 weeks, ridding it of roughly 6 bags per week. Hopefully by the end you have a minimum of 36 bags to donate, and are feeling so much less cluttered and stressed!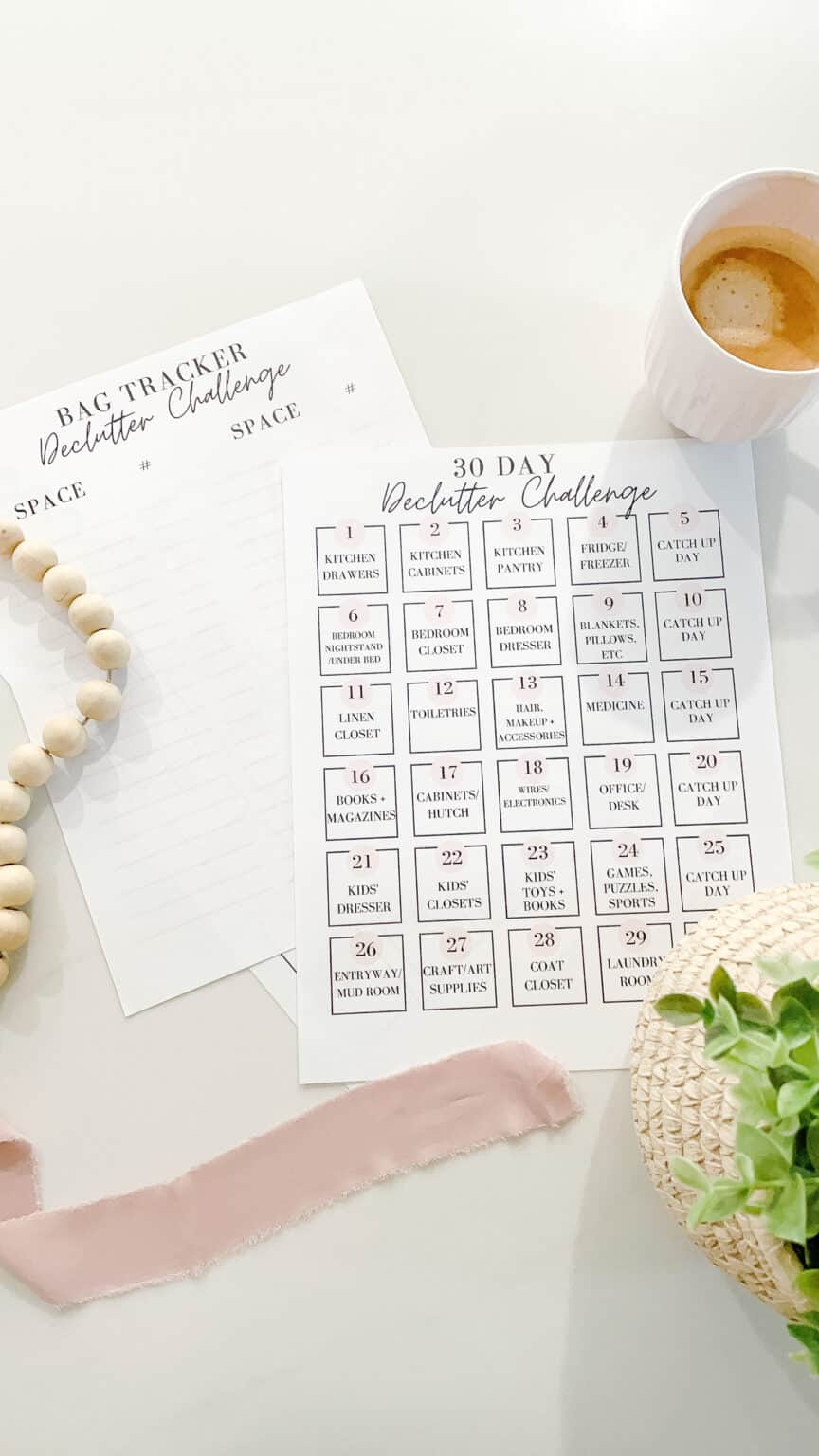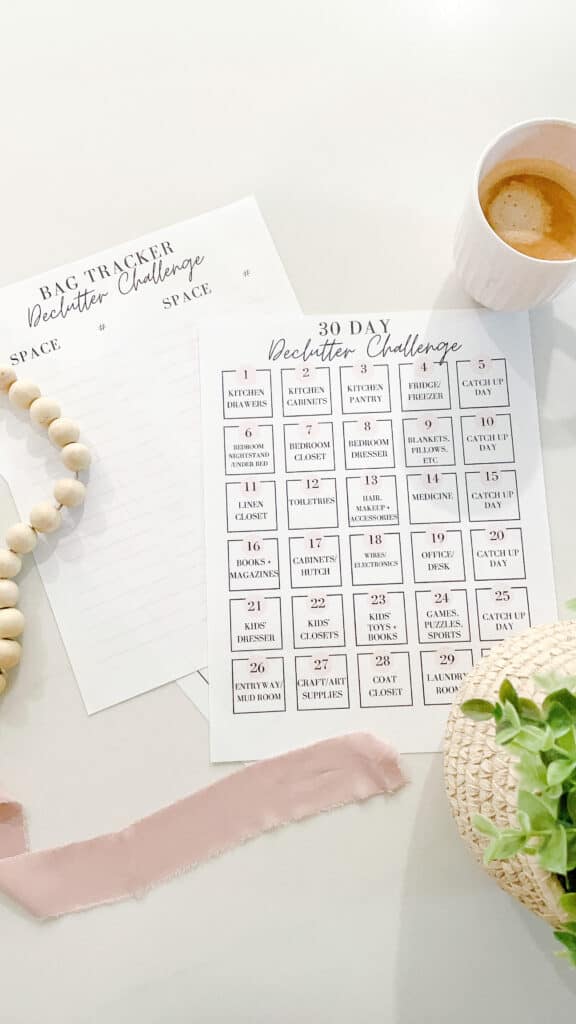 This week we are focusing on living spaces as well as your garage and storage room. These are some bigger ticket areas, so I am assuming it will be a daunting week for some of you! I have several blog posts already written to help with some of the areas, and will link to those, but I am going to focus this post on toy storage for the living room.
I am VERY passionate about helping your kids to love the house they are growing up in, and embracing them and their "stuff", while still keeping your home beautiful. When you stop fighting all the clutter that comes with the little people in your home and learn to embrace it, life gets so much easier.
While you are organizing make sure you check out Jen's post on organizing your living room!!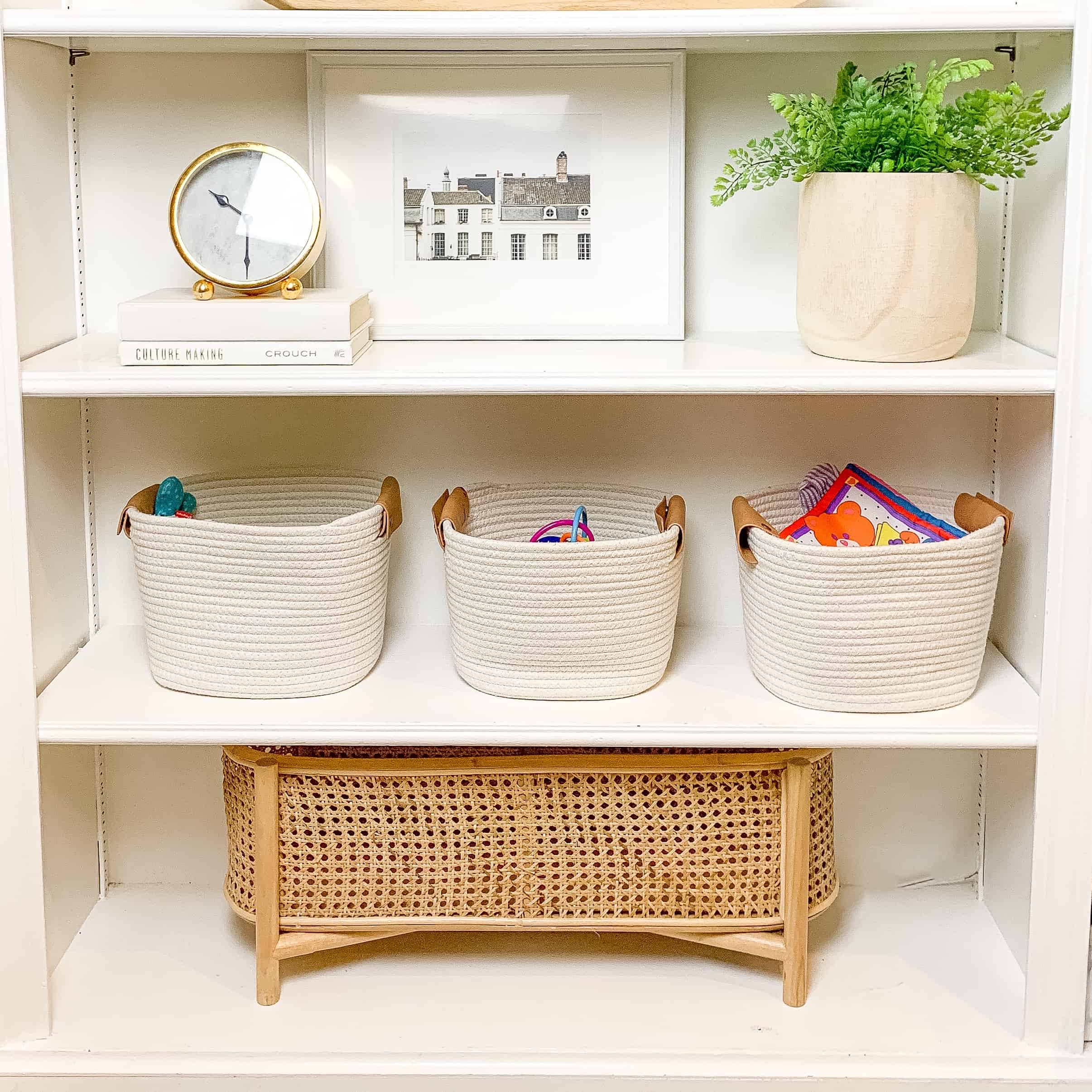 Toys in your Living room
Before I talk to you about toy storage for your living room, lets talk about what toys and items are present in the area. First off, I am well aware that not everyone has a playroom, so there is only so much that can be done if you don't have one.
If you have a playroom – keep 99% of your toys there. Encourage your kids to play in the playroom, and don't feel the need to have nearly as many in your living area. For us once our kids are roughly 3 we move most of their toys to the playroom.
Before that some do remain upstairs because they aren't ready for as much alone time.
Also on that note – try to keep the bigger toys in the playroom. If you don't have a playroom, a toy rotation, or just having fewer toys is also likely a great choice, BUT I am also going to give you lots of tips and tricks on ways to conceal the items you have without forfeiting a beautifully designed space.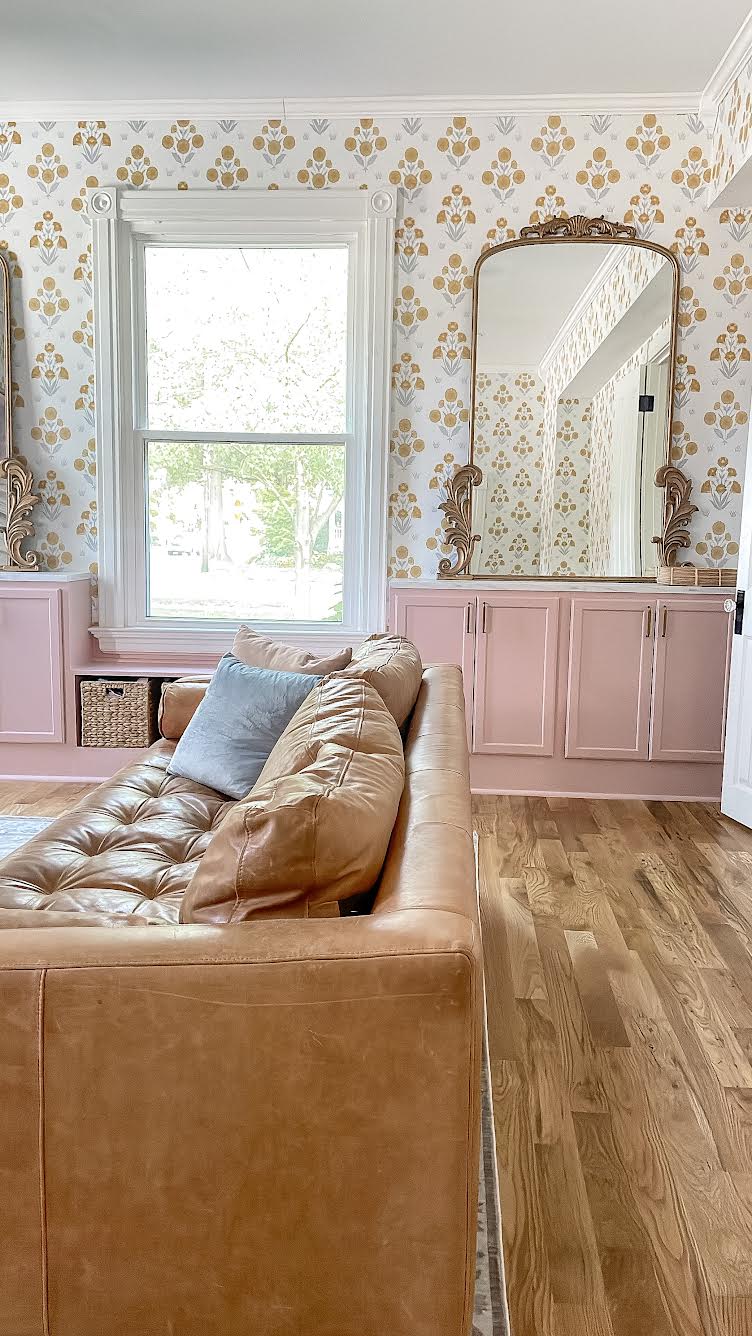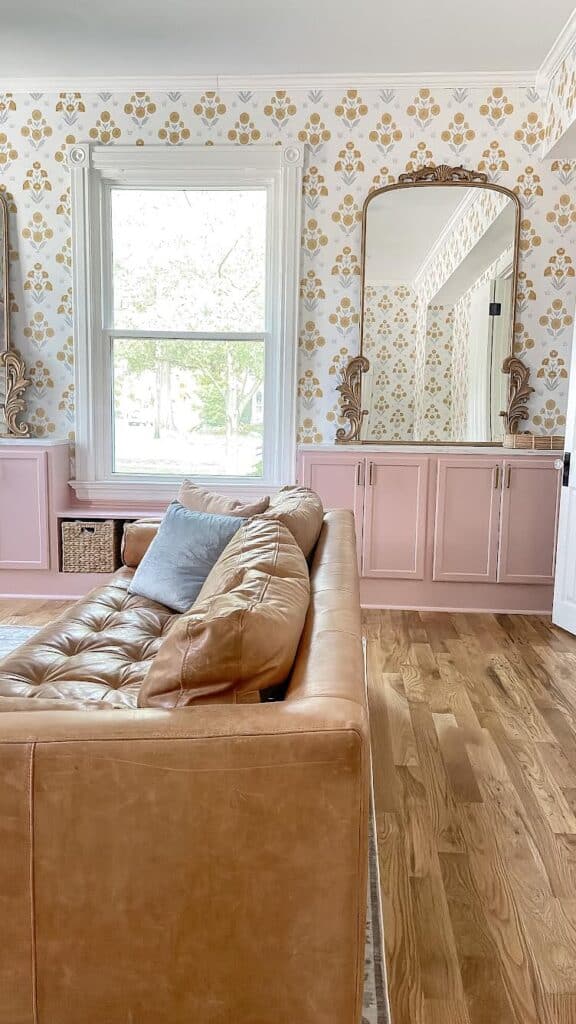 Toy Storage for Living Room
When it comes to toy storage for the living room, the biggest thing is to realize you are mostly looking for functional furniture and adult pieces, NOT pieces made for toys. I am going to round up some items in a graphic below that I think would look amazing in your living room while also functioning well for toys, but also want to give some tips!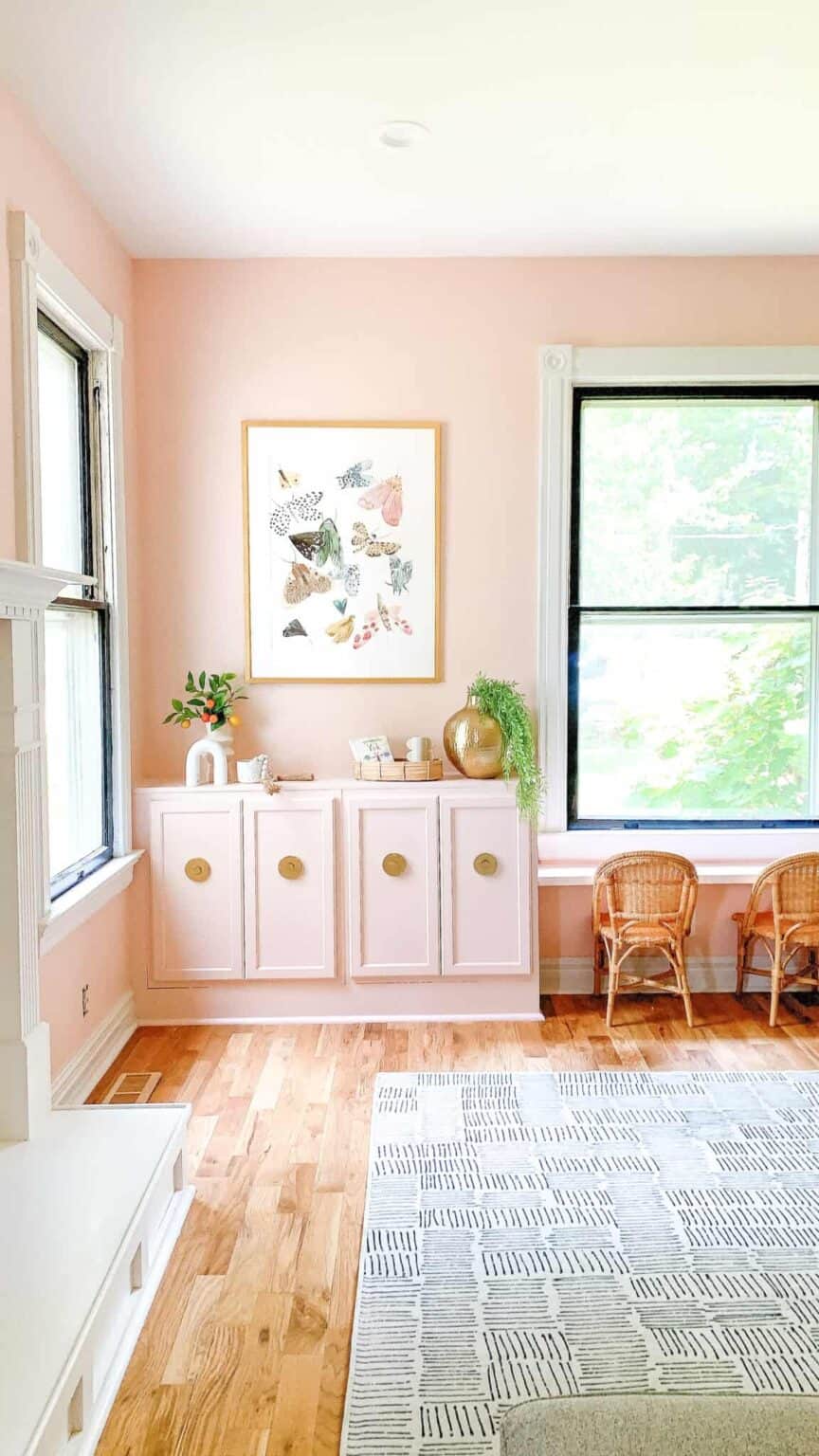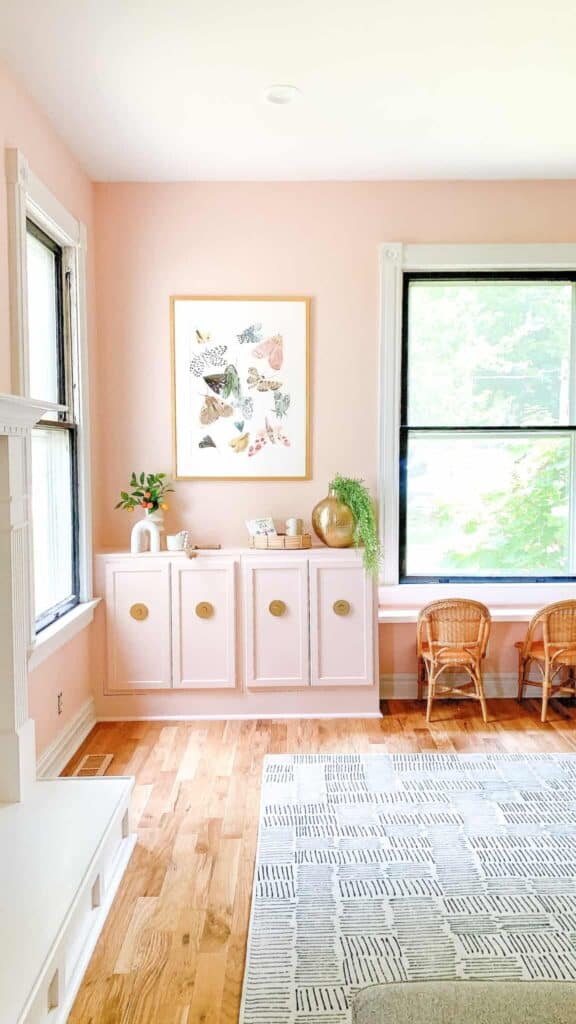 Use Your Coat Closet
If you have a coat closet, keep a few bins on the shelves and any larger toys in the coat closet. It's an easy way to conceal things when they aren't in use.
Purchase purposefully
Only you fully know your space, but think hard before you purchase any piece of furniture. For us, our living room is set up where we have to have a media cabinet of some sort. Instead of a typical media cabinet I went with an antique mid century dresser for tons of storage.
Another place to really consider storage when purchasing is your ottoman or coffee table. There are great coffee table options where you can put a couple of pretty baskets under the table (on the bottom piece) to store concealed toys while still adding texture to the space.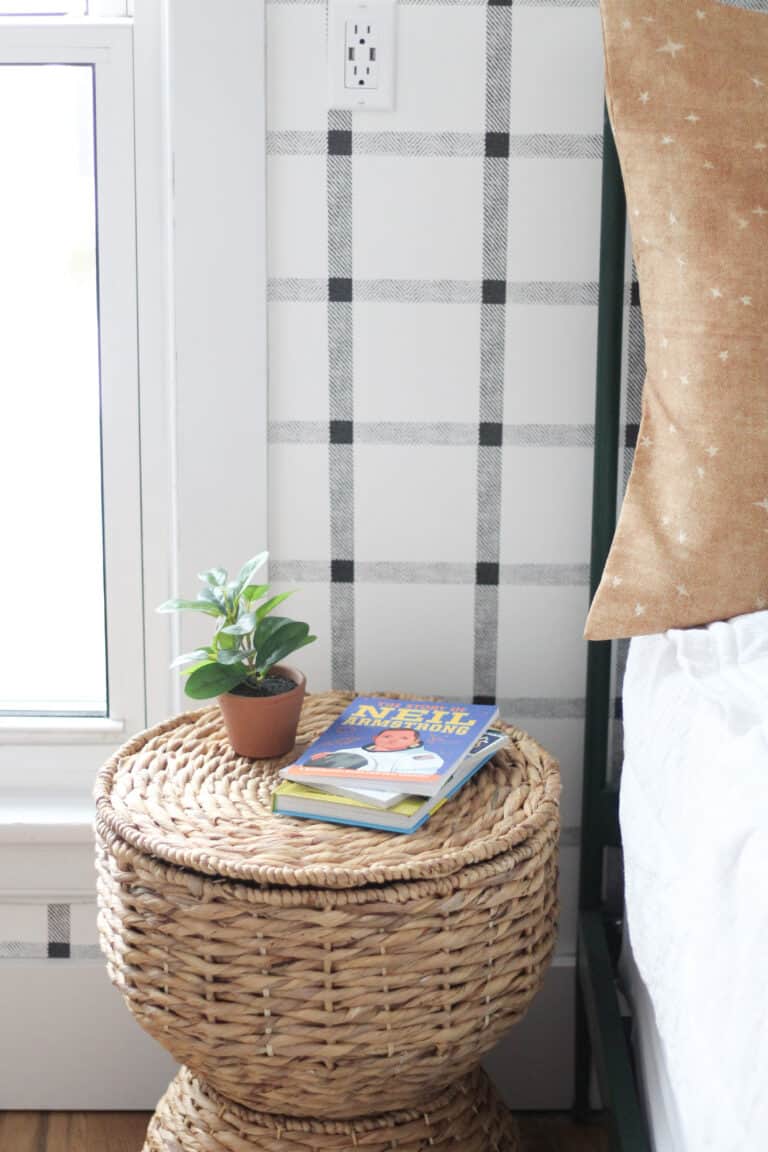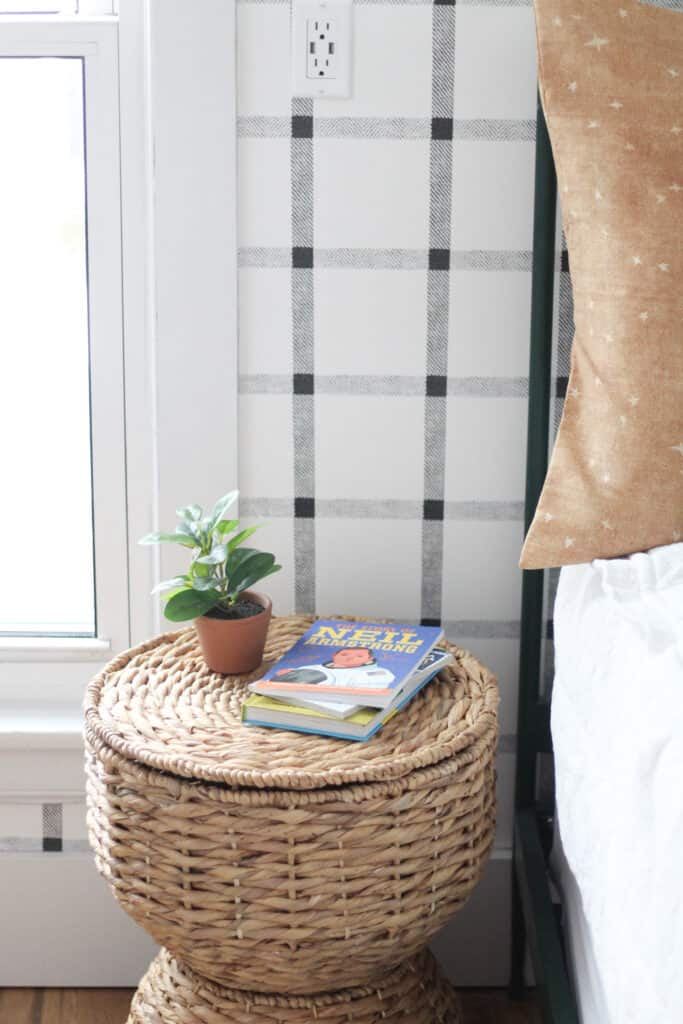 This side table in Jack's room doubles as storage and could definitely work in a living room too!
If an ottoman is more your thing you might consider one that opens to store either toys or blankets in. Sometimes it isn't about finding something to store toys in as much as finding a piece to store other items in to make room for the toys.
For instance – if you buy an ottoman to store blankets in, but previously stored those in a basket in your living room, you now can fill a basket with toys without adding any clutter!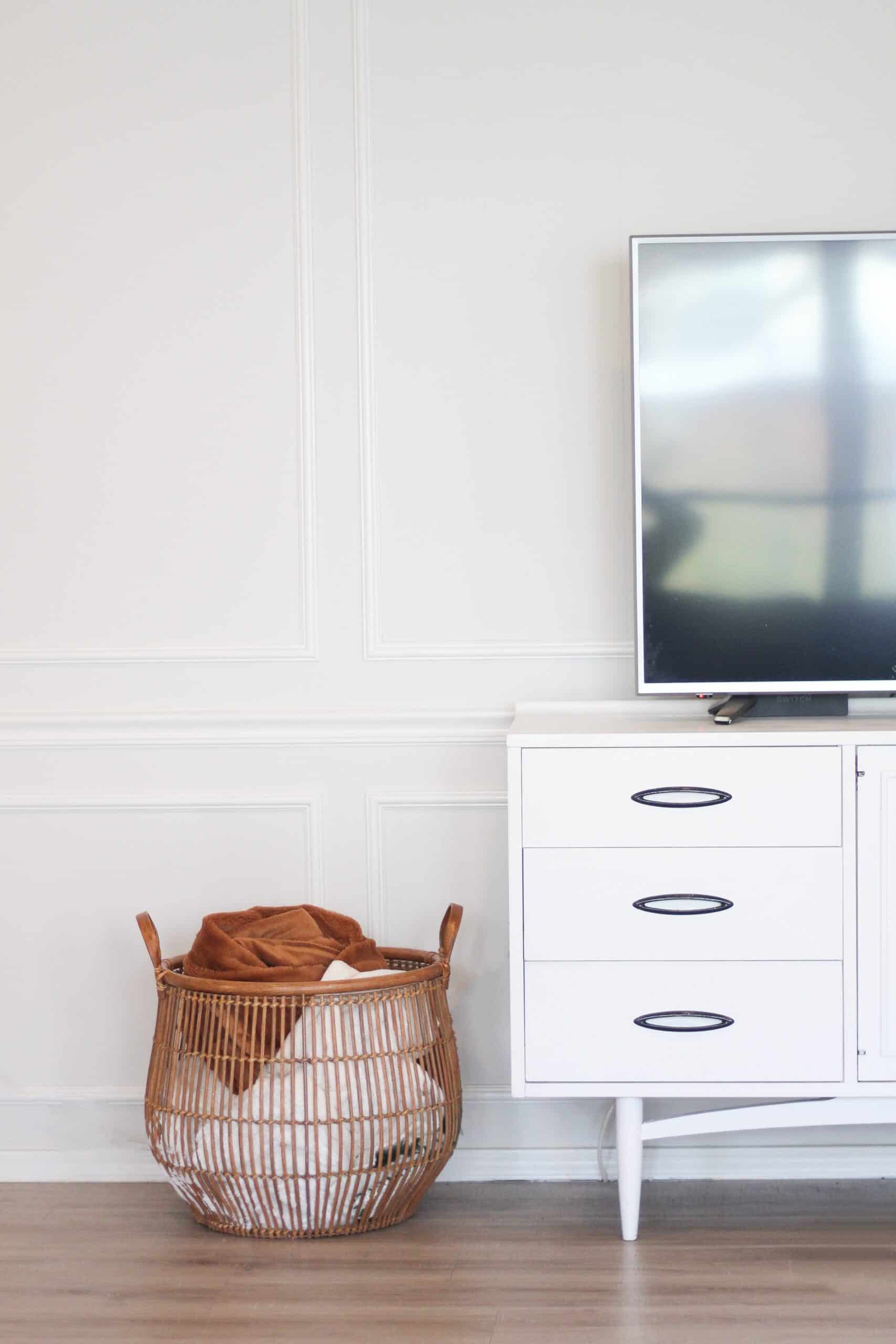 Decorative Areas
We have built in shelving in our living room that I love, and have truly loved finding ways to use the shelving as places for storage of toys. I will link my favorite baskets in the graphic, but also remember that unlikely pieces, like the cane troth in the image below can also hold toys with no one knowing.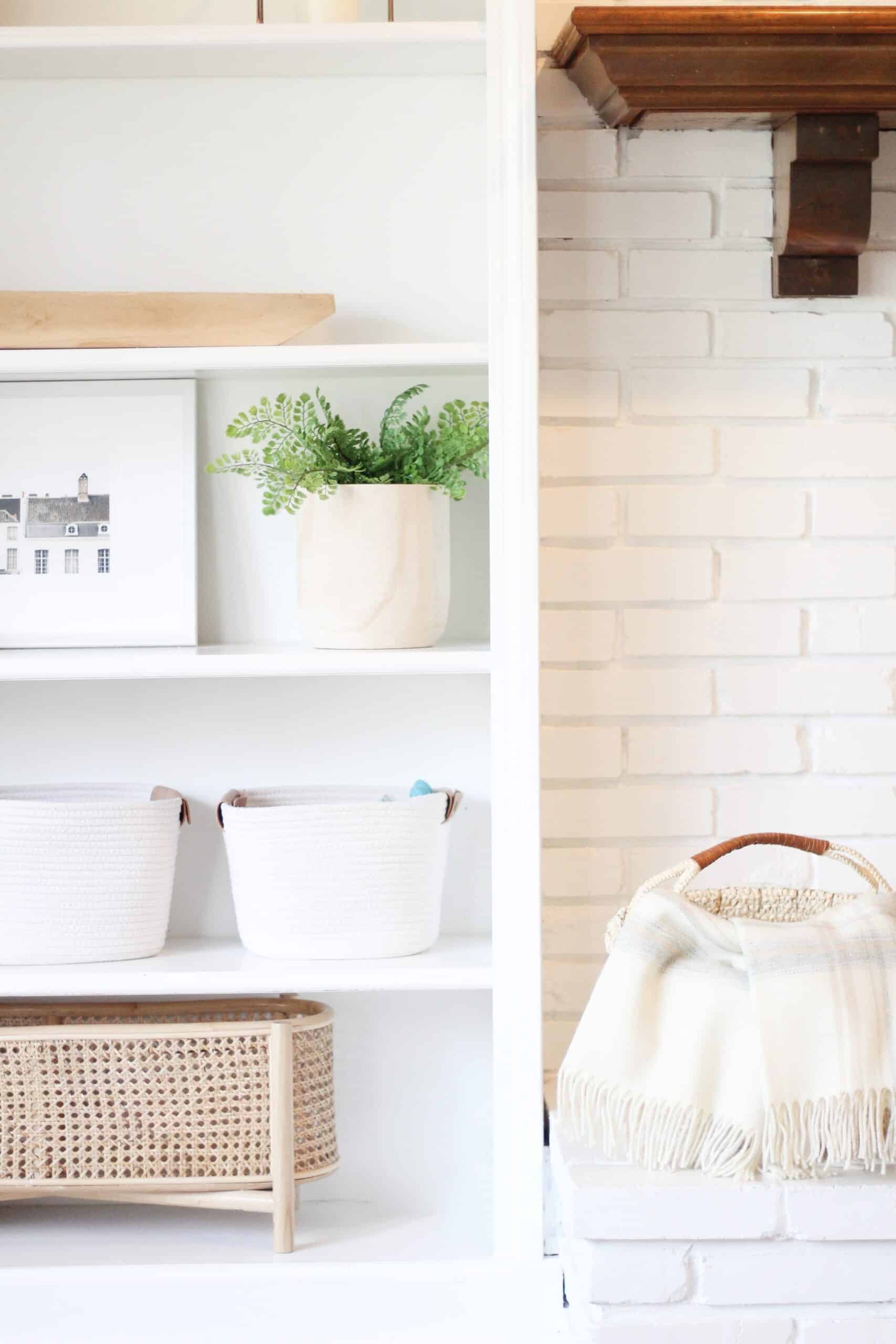 We also used to store the books we kept on the main floor on our built ins with a nice set of book ends. We now have a book nook in our front entry way that I love, but in both cases I loved finding books that were pretty for display as well as great reads for my kids.
Favorite Living Room Toy Storage Ideas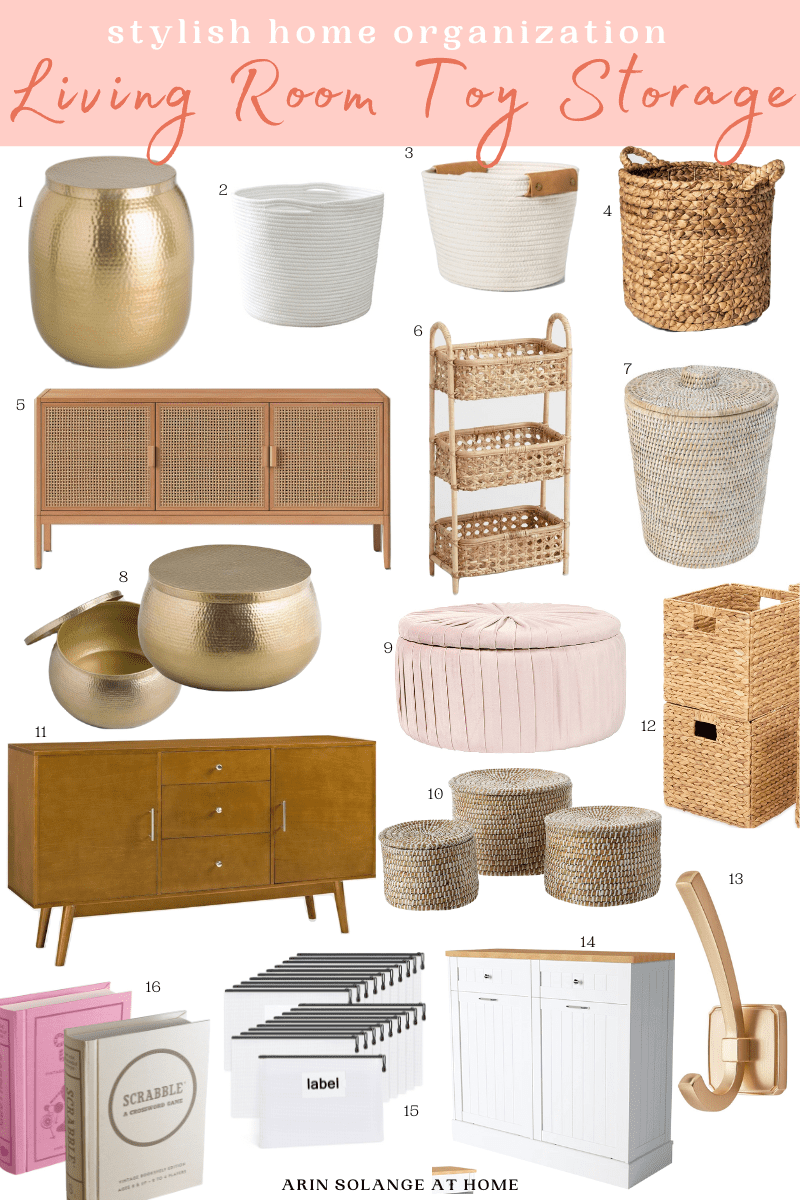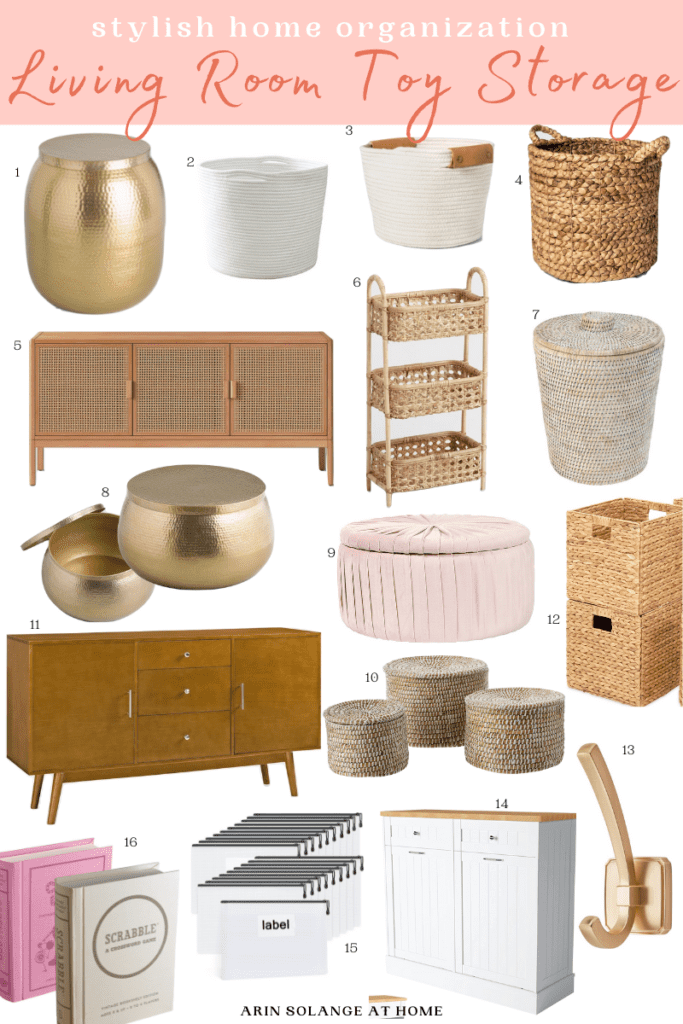 1 | 2 | 3 | 4 | 5 | 6 | 7 | 8 | 9 | 10 | 11 | 12 | 13 | 14 | 15 | 16 (pink // gray)
Over all – my biggest advice to parents is to EMBRACE TOYS and kid items. If you are fighting them fully they will constantly be a sore spot. IF you can find ways to incorporate your kids items into your decor you will all be so much happier!
Other Posts You Will Love
Garage Organization items | Decorative Storage from Amazon | More info on organizing toys in living spaces
Pin The Photo Below for Later
Hopefully now you know exactly how to organize toys in your living room. If you have any questions be sure to let me know in the comments or on Instagram (@arinsolange) and I hope this helps you get that living room in tip-top shape! If you're looking for more items, check out my Amazon Storefront and follow me on Tik Tok for my latest finds!