You guys know that my ability to resist a good Valentine's Day party is basically zero. Last year Party Hop Shop and I set out to do another round of holiday parties with a kids pink cherry Valentine's Day party. We wanted something sweet for our girls to celebrate Valentine's Day together, while also giving inspiration that would be perfect for a cherry birthday party too! Even if I'm a year late at bringing you this post, this party will always on be on trend.
This post may contain affiliate links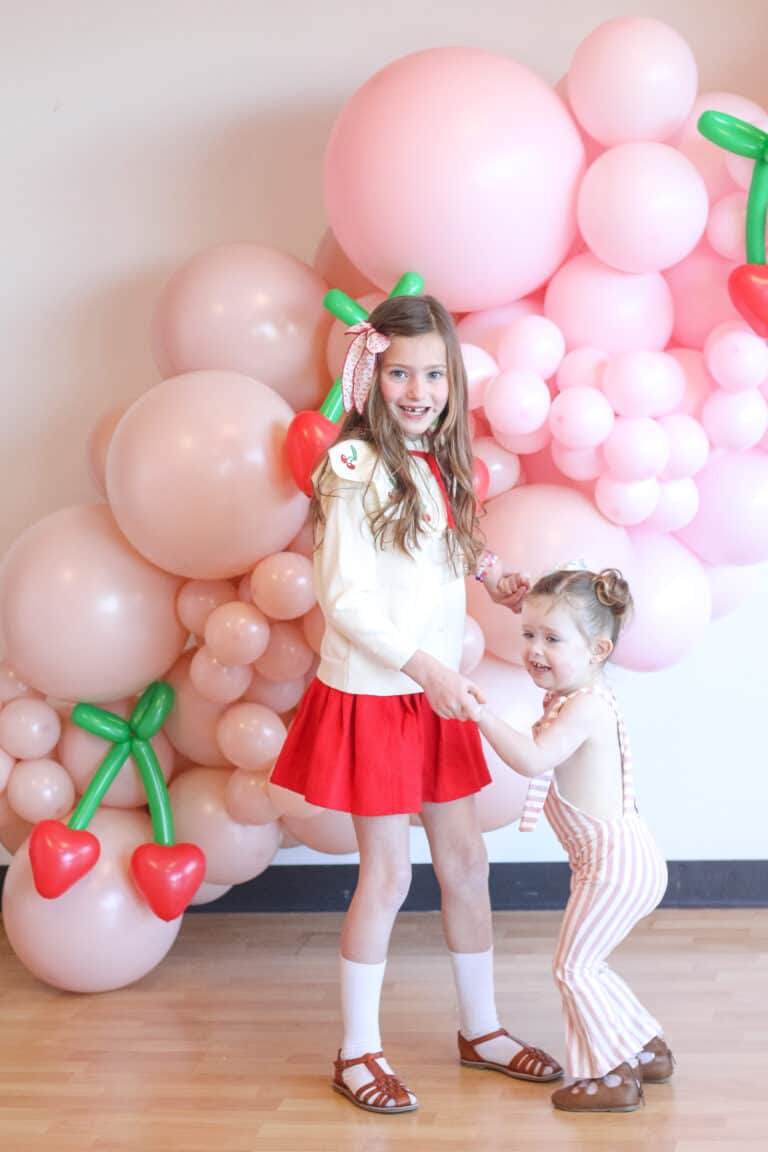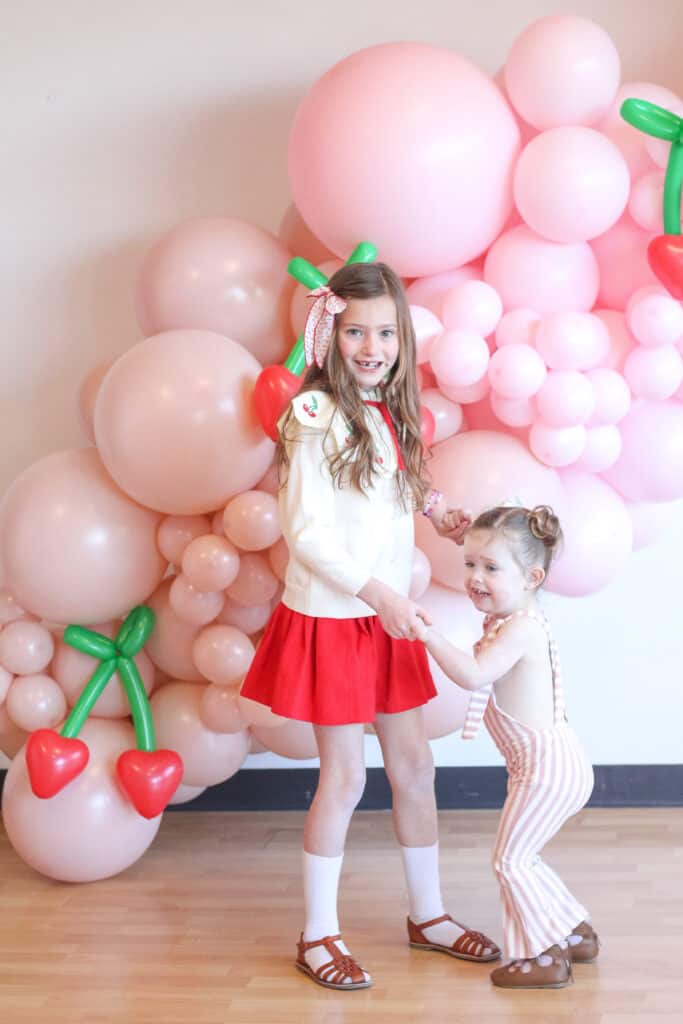 Cherish You: A Pink Cherry Valentine's Day Party
How many of you throw a Valentine's Day party for your kids? Maybe something small, or even a big Galentine's Day party for your little girls? The Party Hop Ashley's and I were dying to put together a party that you could replicate in big or small ways for Valentine's Day or a birthday party and the end results were exactly what we envisioned.
We went with something fairly easy to recreate yourself aside from a few minor details, so hopefully you can use this inspiration at your sweet party too!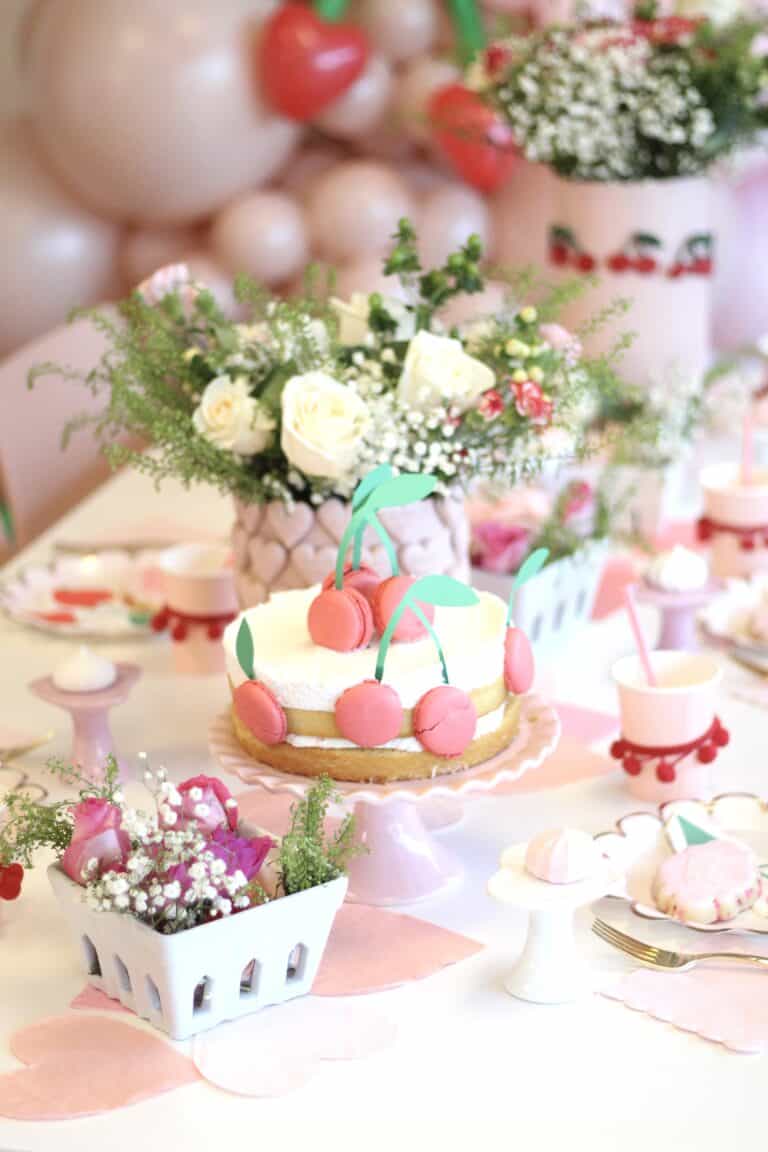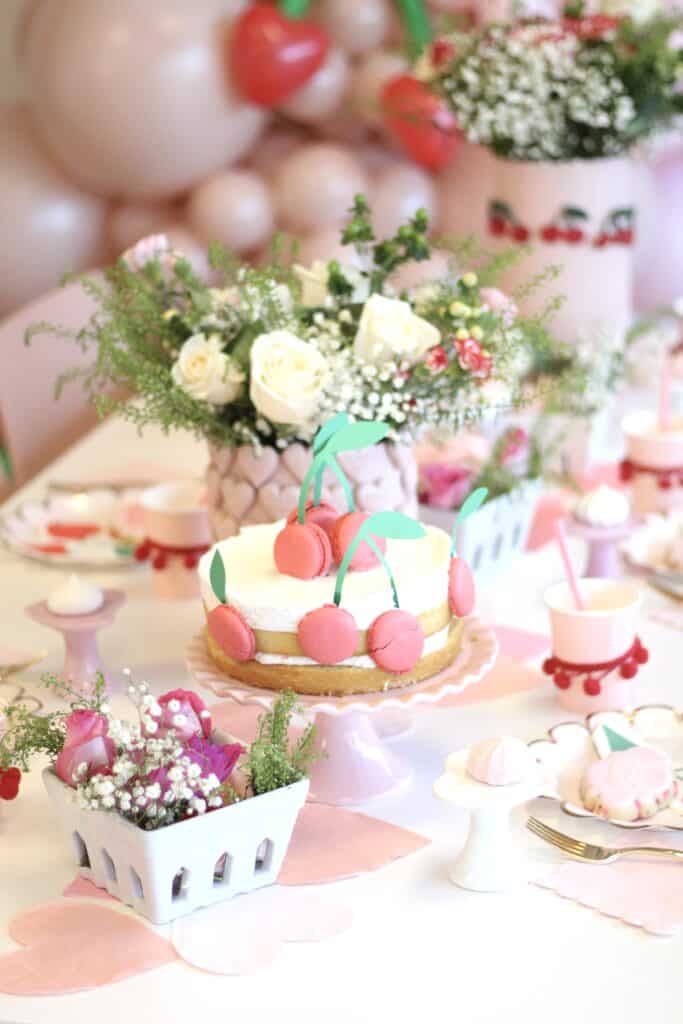 What to Buy for your Pink Cherry Party
If you are looking for supplies for this party, make sure you check out Party Hop Shop first, but I am linking to some of the supplies from Amazon as well!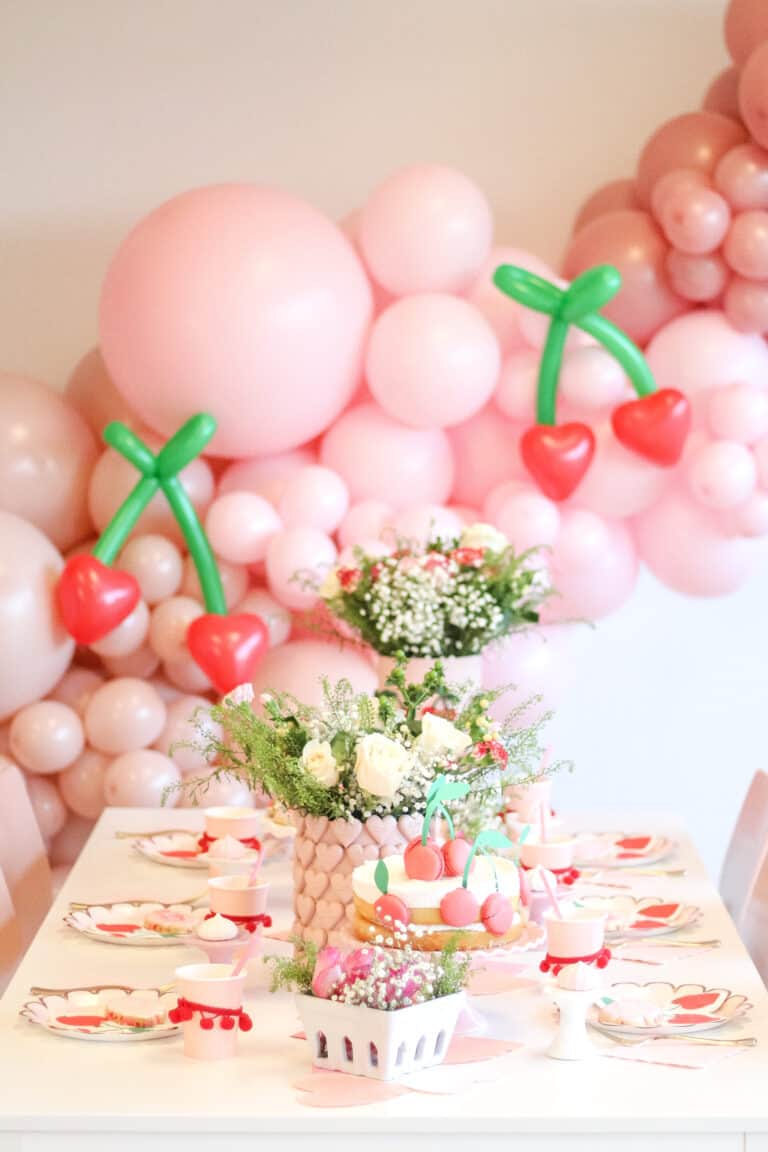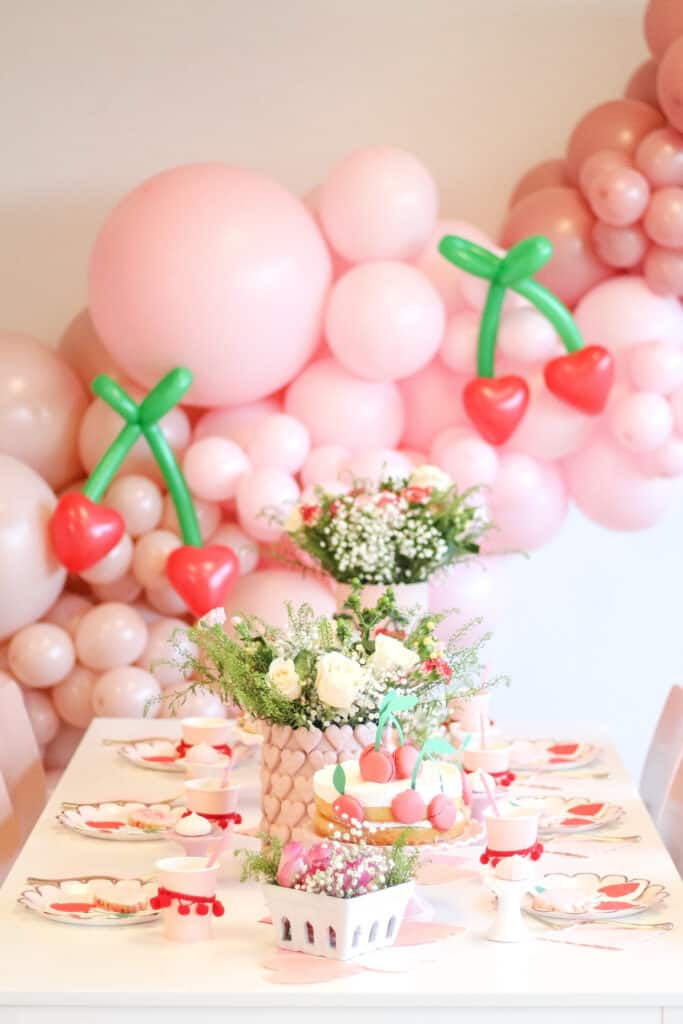 Setting up your Pink Cherry Party
Now for the fun part! Setting up this sweet party.
Prep Work
My overall best advice for any party is to set up whatever you can ahead of time. You will always have last minute tasks that pop up and take up valuable time. If you can set up 90% of it ahead of time, it will save your sanity.
Depending on the location of your party, you may be able to knock out more than others. If you have the party at your own home, chances are you can have the table setting completely done and room decorated ahead of time. That way, all you have to worry about is food prep and hosting duties.
If your party is at a different location or you have curious little ones who like to get into everything, then I'd suggest making sure you have all your supplies gathered together in one area. That way they are easily accessible when it is time to assemble.
Any time I use balloon garland, I always make sure the actual garland is put together ahead of time. This is something that can easily be assembled the night before. Set it aside and you can hang it in your space once you arrive.
If you are making silverware bundles (silverware + napkins), you can also make those the night before so they are ready to go.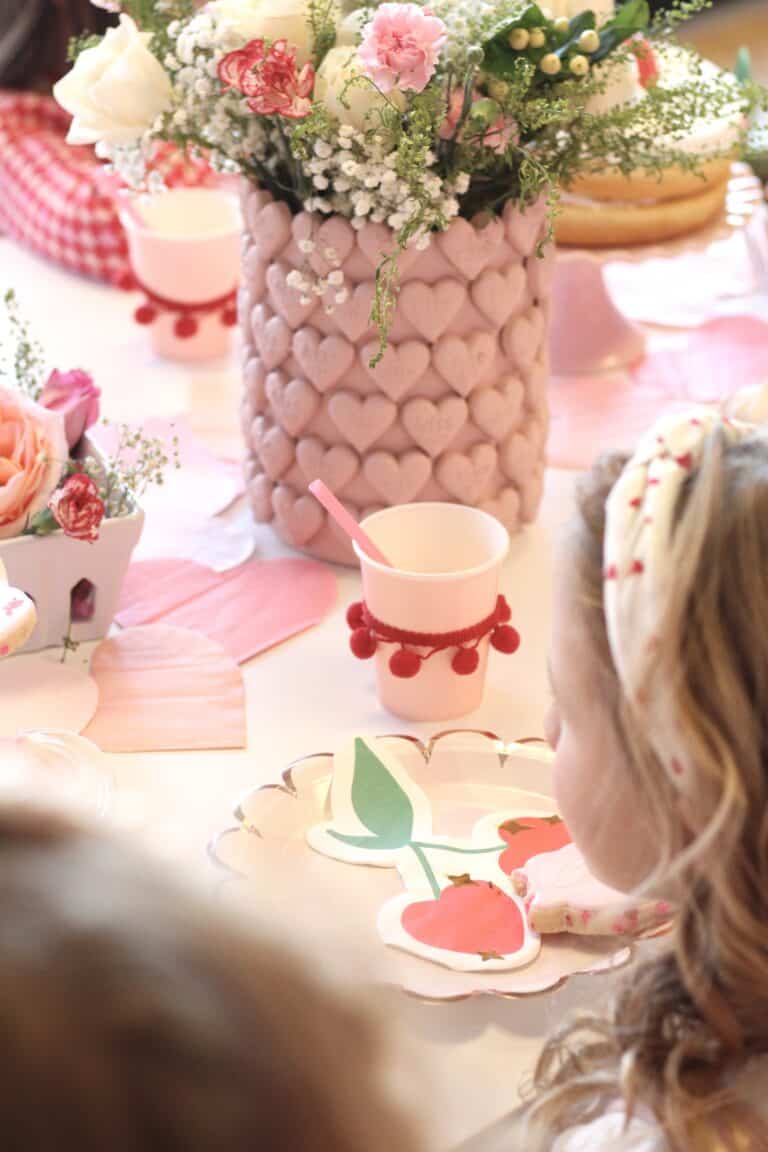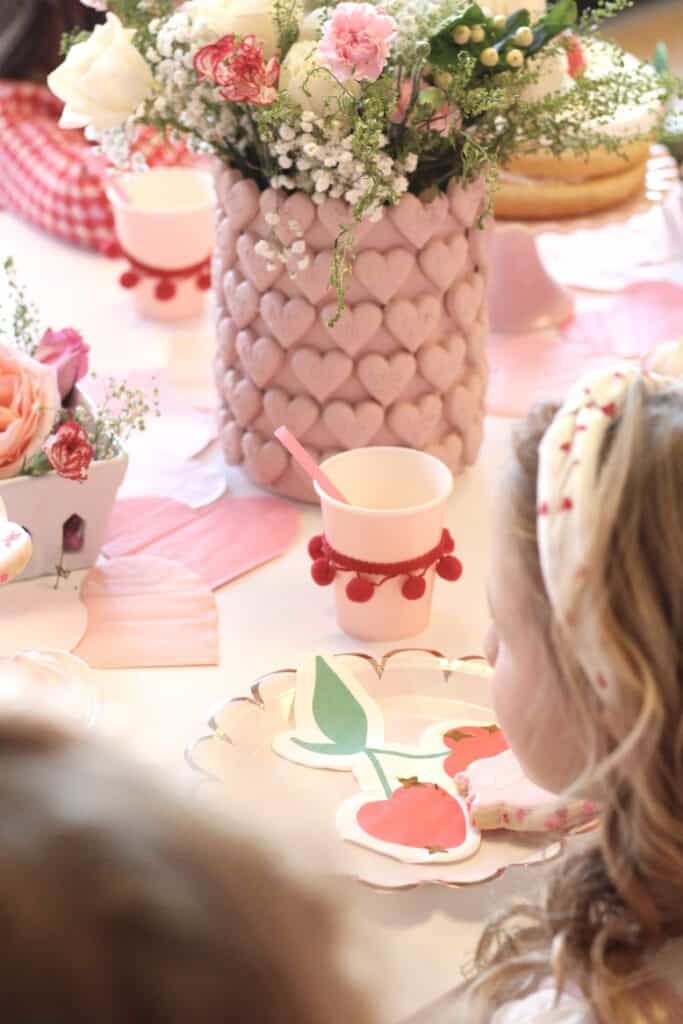 Set The Stage
For this party, we chose to keep it simple and kid-friendly. In other words, think lots of sugar and pink.
Setting the table was pretty simple. We assembled and hung the balloon garland. If you don't have room for a balloon garland, you could also do a cute felt garland or paper garland to hang instead.
Once the garland was up, we tackled the table. Putting together your table is pretty easy once you have all your supplies at your finger tips.
If you want to live on the edge and set your table with a table cloth, I love this scalloped washable table cloth that would be adorable for any girl's party!
Next, set the table using your plates, silverware, cups, and napkins. You can get as fancy and frilly as you want here. Simply set out the supplies or if you want to assign seating, make name cards for each place setting. If I was doing this for a birthday party and wanted a cute way to assign seats, I love the idea of making DIY resin letters for each child's initial. It would be a cute keepsake to take home.
For our table, we chose to use a runner for the middle to add texture and a pop of color. Again, this doesn't need to be a specially ordered runner. We actually used heart napkins that we lined up in the center of table to create our own runner.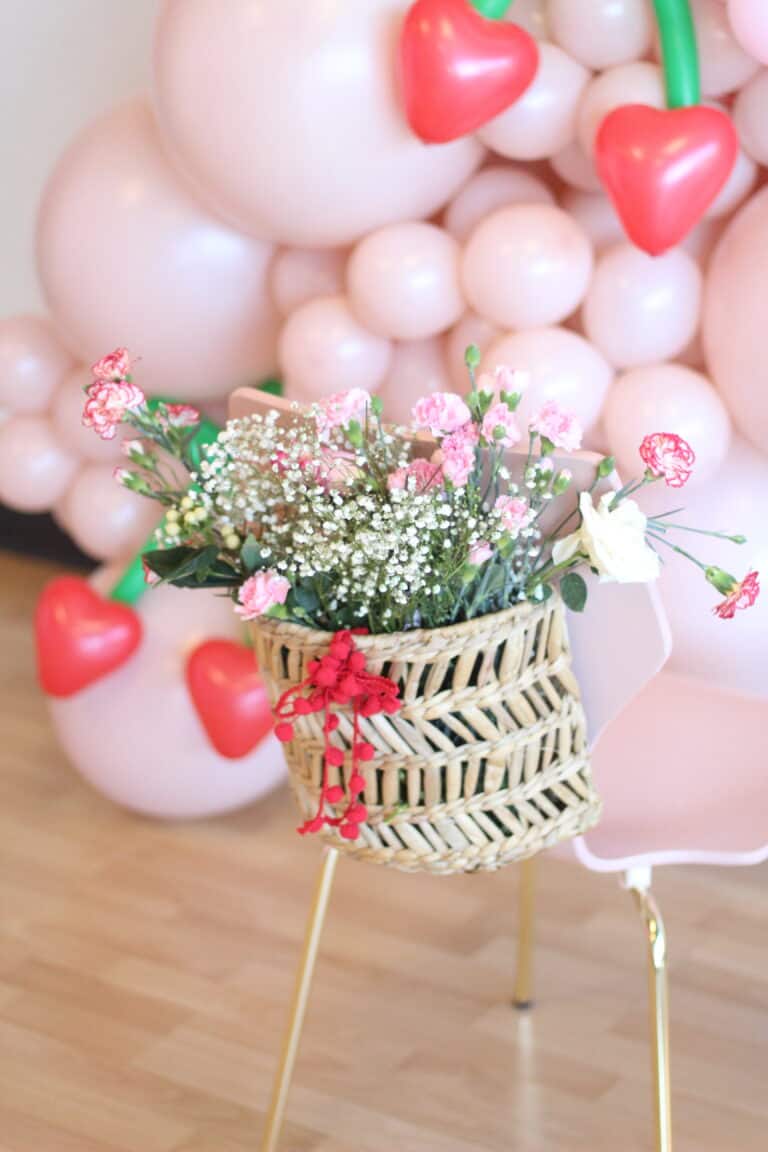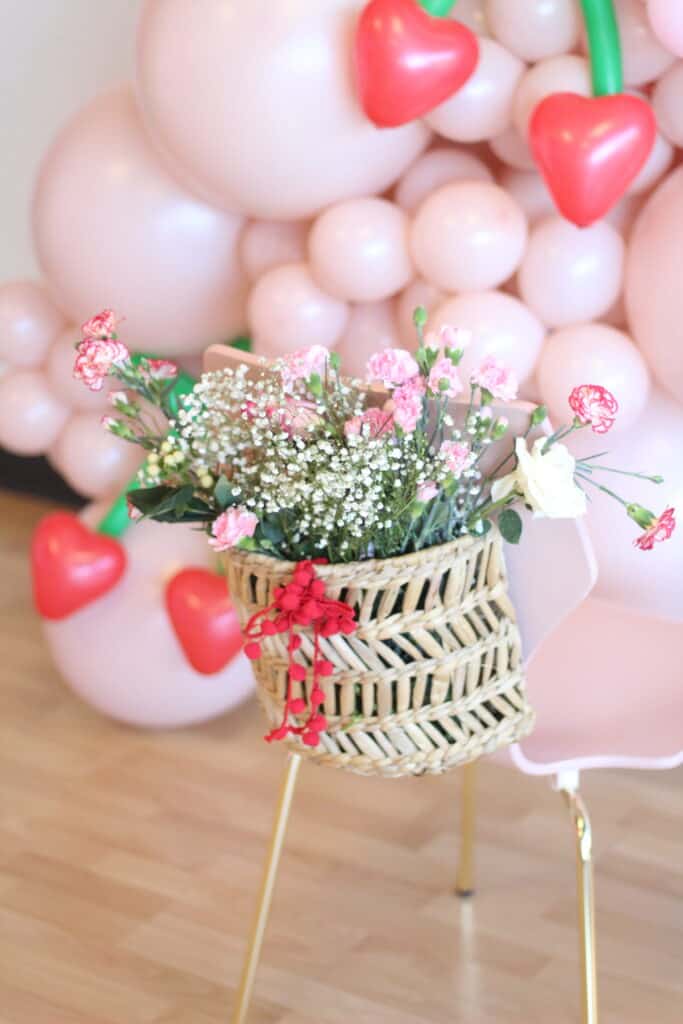 Add The Details
No Valentines Day party would be complete without a ton of flowers! Flowers not only add texture to a table but the different heights help your decor stand out. You can use mason jars, vases, baskets, or water pitchers to hold the flowers.
I used a DIY vase that I made with a cherry and heart resin mold. If you have any interest in making your own, check out my post on how I've made other resin mold vases. Simply swap out the molds for a cherry or heart shape!
We also used a mixture of cake stands to hold various sweet treats. Again, the different heights helps draw your eye upward and creates more visual appeal.
Cherry bowls, heart bowls, and berry baskets helped strengthen our theme and tied in nicely with the rest of the decor. I like to keep the table fairly clear so it isn't overly decorated. If you need to have a basket hold an item, I like to make sure that it is not only functional, but also enforces the party decor.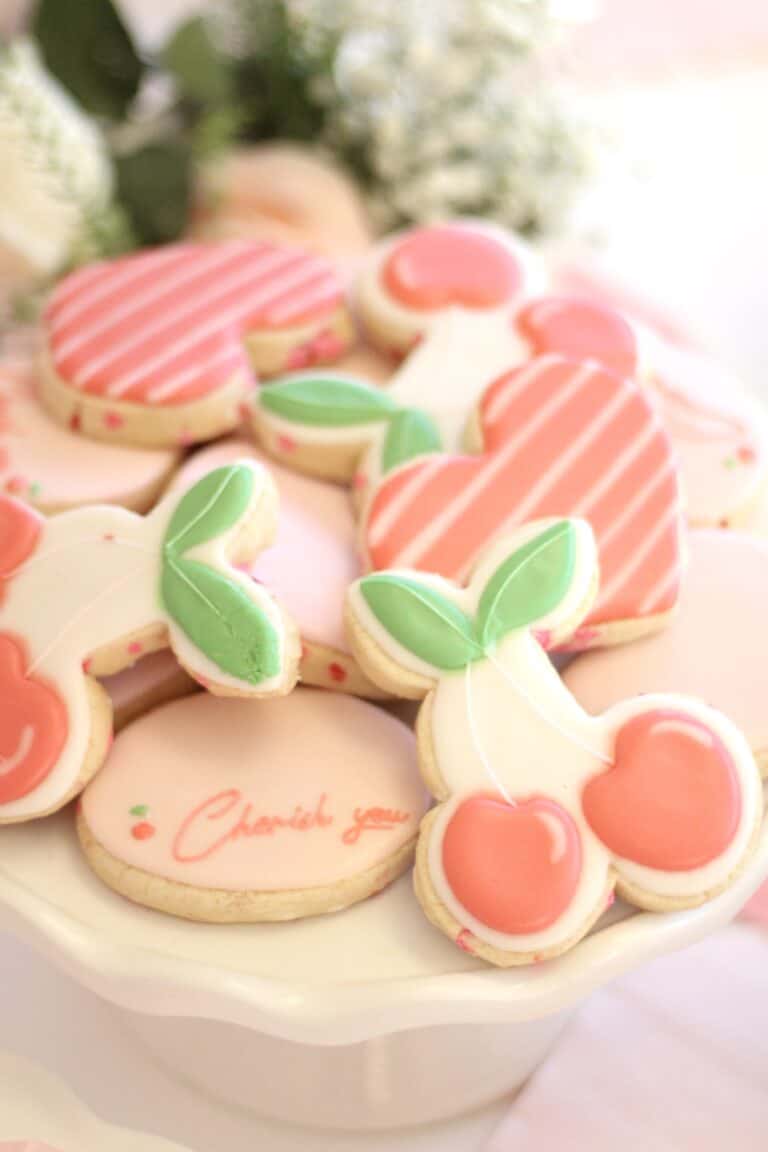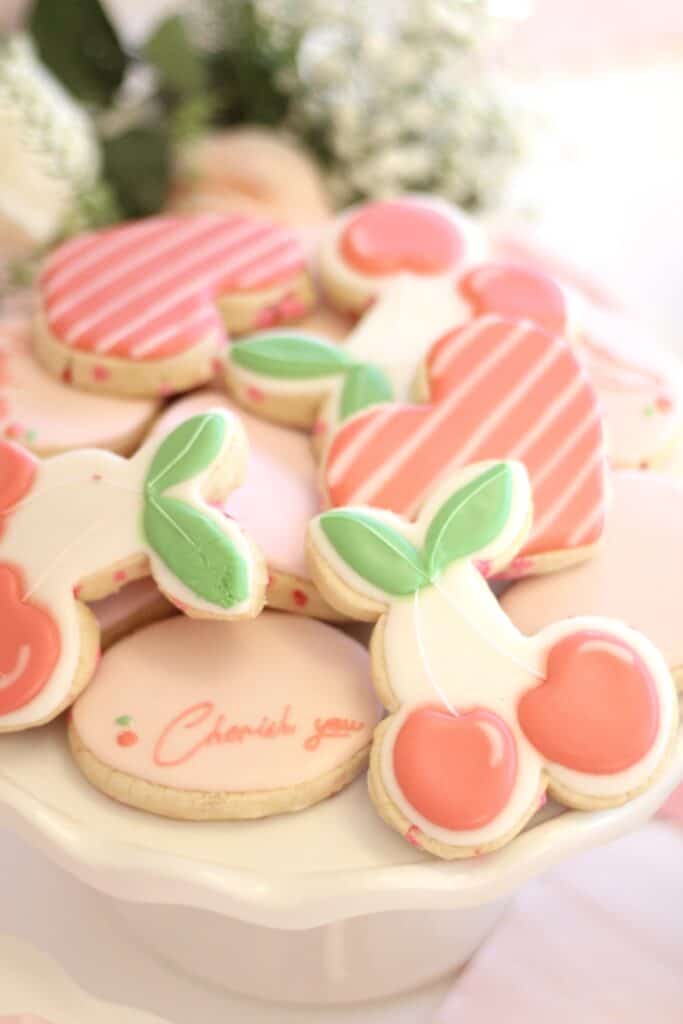 Final Touches
Last, add your final touches. Usually, this means food. We kept our party strictly desserts. We added a few macarons to our cake to resemble cherries. I love buying pre-made desserts or flowers to use to decorate a simple cake. This is an inexpensive way to get a custom looking cake.
Since you've done 90% of the work ahead of time, now you can sit back, relax, and enjoy your party!
Dress the Part
You all know how much I love pink. So naturally, Valentines Day is a big favorite in our household. My girls love getting dressed up and this party was no exception. I'm sharing a few of my favorite outfits for Valentines Day you can get on Amazon.
Pink Cherry Valentines Day Party Supplies
Here is a round up of everything you need to throw your very own pink cherry Valentines Day party!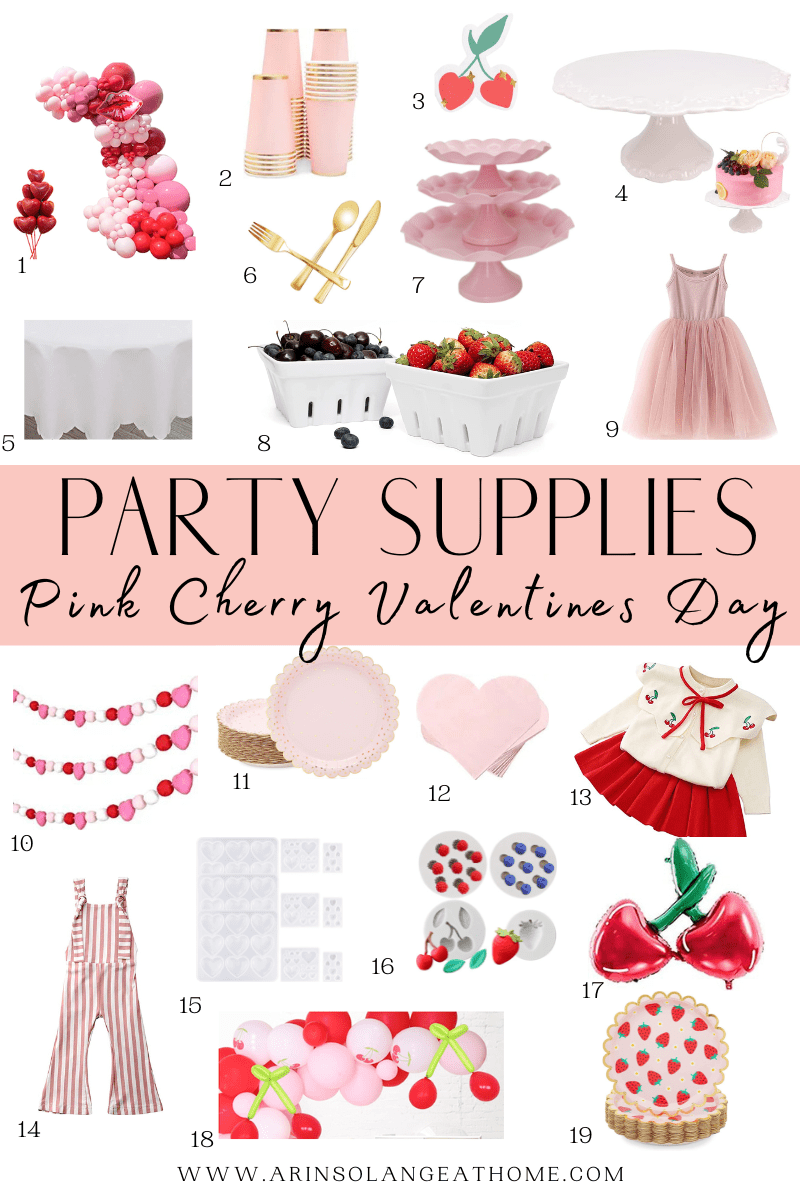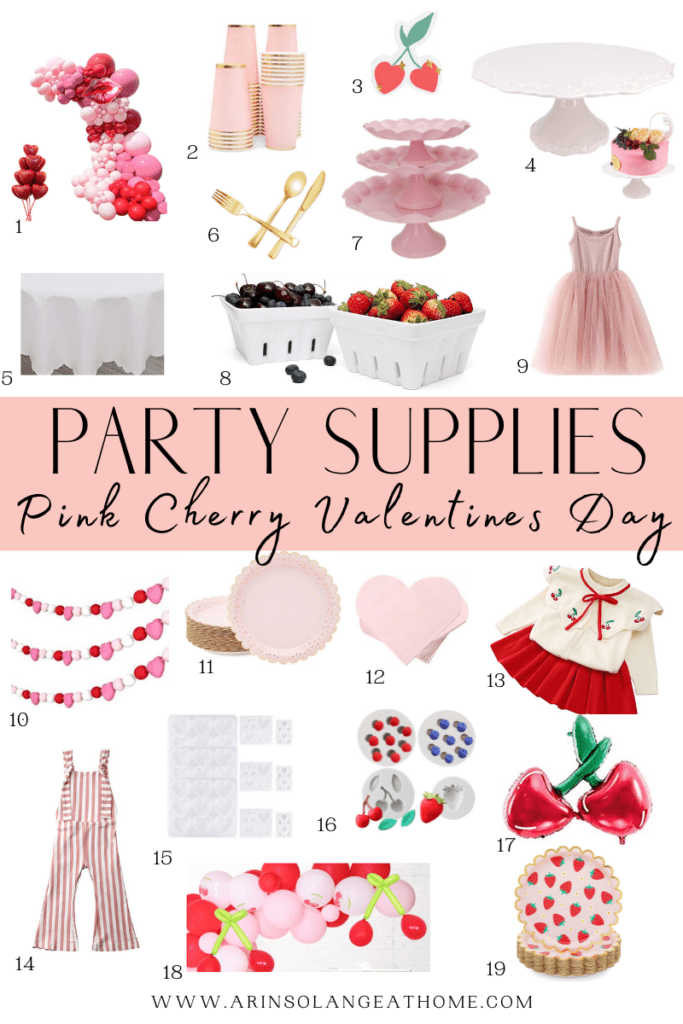 1 | 2 | 3 | 4 | 5 | 6 | 7 | 8 | 9 | 10 | 11 | 12 | 13 | 14 | 15 | 16 | 17 | 18 | 19
Other Posts You'll Love
Galentine's Day Party | Valentines Day Party | Valentine's Day Pajamas
Pin This Photo Below For Later
Hopefully this post gave you some great inspiration to throw your very own pink cherry Valentines Day party this year! I love throwing a party with a theme, and many of these items can be reused for a little girl's birthday. If you are looking for ideas on what to include on your tablescape, make sure you check out my Amazon store front. Be sure to pin the photo below for later, and if you don't already – follow me on Instagram (@arinsolange) and Tik Tok (@arinsolange) for more fun!