Soup and chili season is upon us, and I can't wait to finally share my FAVORITE cold weather recipe. I have been making this crockpot white chicken chili for the past few years and have yet to find someone who doesn't love it and ask for the recipe.
this post may contain affiliate links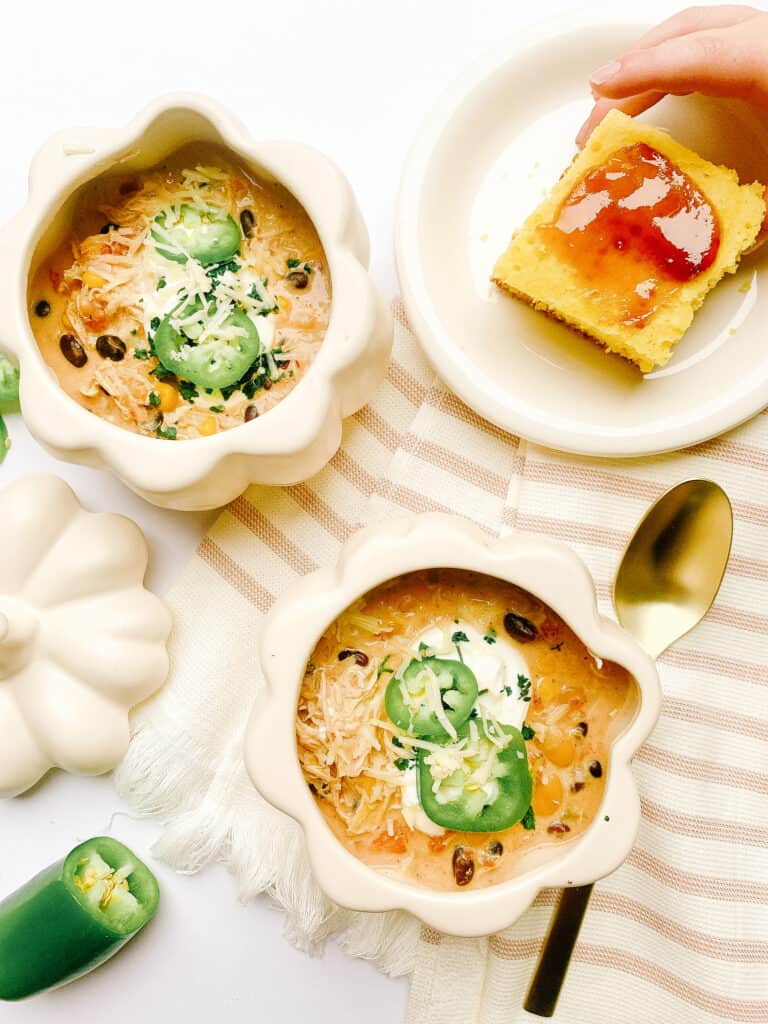 White Chicken Chili
What is white chicken chili? I think everyone has a bit of a different definition for it – but it essentially a chicken soup recipe with beans and a white or broth base of some sort.
As with traditional chili I think everyone has their own special recipe and it is something that can be tweaked and never done 'wrong'.
I started making this a few years ago when I needed an easy recipe for a bible study I host – my husband isn't a huge fan of traditional chili so I thought I would try it – and we were hooked.
Over the years I have taken that original recipe and tweaked and changed it to be 'perfect' and I feel like it is finally time I write it out instead of trying to explain it each time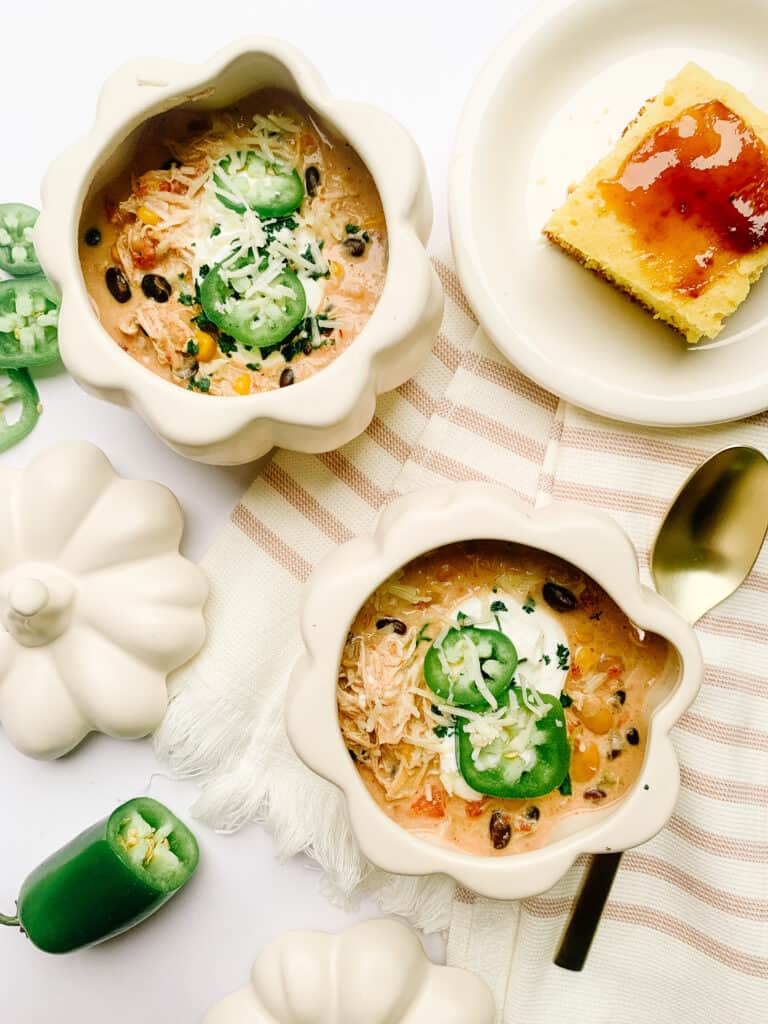 Why I love this Recipe
I am all about easy – honestly I tend to be an either 'easy meals' kind of cook or a baker. I don't love to spend hours in the kitchen, and even more I don't love making a million dishes.
This recipe takes ZERO dishes aside from the crockpot – and I even use the crockpot the night before to bake the corn bread – so it makes for the most mess free meal!
I also love that over time I have found a way to make this crockpot chili recipe please most of my family, and by using rotisserie chicken it is a crockpot recipe that can be added to the crockpot in the afternoon if you want. (mornings can be so hectic with 4 kids).
Recommended Equipment
This recipe is super simple and straight forward, and there is NO reason to go out and buy a new crockpot, but if you are looking for a new one, I am linking mine below.
I personally will be sharing several recipes you can make in that crockpot over the next few months, so if you own it be watching for those.
White Chicken Chili in the Crockpot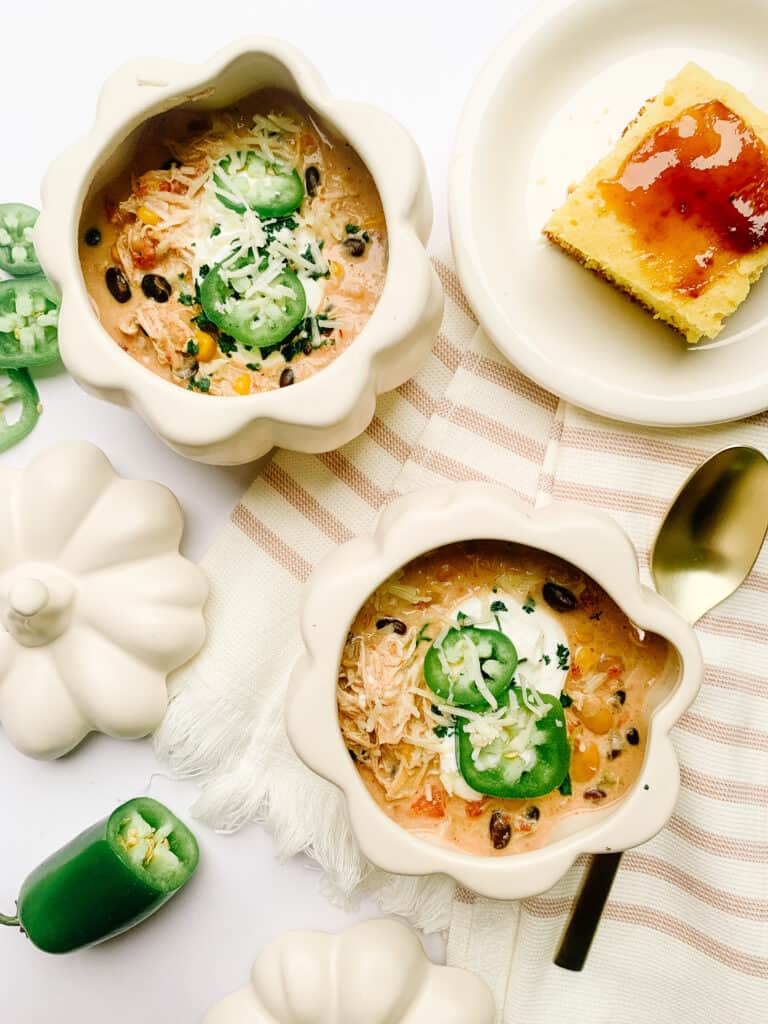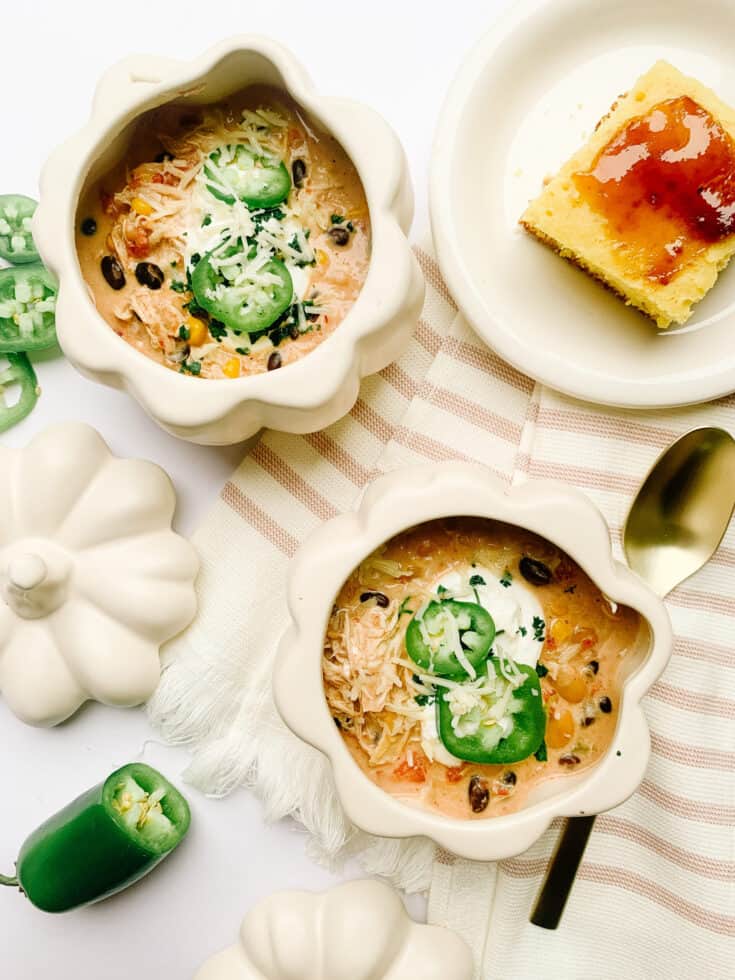 This creamy crockpot white chicken chili can be thrown together in under 10 minutes in the morning and ready to enjoy that night!
Total Time
4 hours
10 minutes
Ingredients
Block of Cream Cheese
1 Can white Beans
1 Can black beans
1 can corn
1 can rotel  
1 jar salsa
Chicken broth
1 Rotisserie Chicken - Large (we get ours from Sam's club, so you might want 2 small ones) 
Chili Powder
Onion Powder
Cumin
Garlic Powder
1 packet ranch powder
Garnish options: Jalapeño, Fritos, Sour Cream, Shredded Pepper Jack or other cheese, Cilantro, and so on
Instructions
1. In your Crockpot add RINSED black beans and RINSED white beans.
2. Pour in corn with liquid, and rotel with liquid.
3. Add 1/2 to a 1 full jar of salsa - this is preference ( I like 1/2 jar).
4. fill your rotell can 1.5 times with chicken broth and add.
5. Throw in the meat off 1 full rotisserie chicken.
6. Add Spices.
7. Add block of cream cheese
8. put on low for 4 hours + - you wont over cook this so just cook until dinner.
9. Stir before serving and top with garnishes.
Notes
This recipe is SO good and such a crowd pleaser. You can adjust the heat level with the Rotell and Salsa you pick.
Servings:
I will be honest – I am not super technical so I don know exactly how many servings there are in this, but I will say that I think you can easily feed 4 adults and 2 kids with this single recipe.
More people than that and I would likely double the recipe.
On that note – it does freeze very well – so if you are looking for a good freezer meal for a friend or family member this would be a WONDERFUL option.
White Chicken Chili Ingredients:
Can of White beans
Can of Black Beans
Can of Rotel
Can of Corn
Jar of Salsa
Chicken Broth
Block of Cream Cheese
1 Packet ranch powder
Spices: Cumin, Chili Powder, Onion Powder, Garlic Powder
** Optional Garnishes: Jalapeño, Cilantro, Sour Cream, Fritos
How to Make White Chicken Chili:
This recipe is REALLY fast – like 10 minutes into the crockpot and push start! The recipe calls for you to set the crockpot to low – if you only have a couple hours you can easily set it to high and eat it much faster.
The chicken is cooked, so there is no harm in less cooking time, it is simply less time for the ingredients to come together for flavor.
Pour both cans of beans RINSED in the crockpot
Pour can of corn with liquid in crockpot
Pour can of Rotel in crockpot with liqid
Add 1/2 – full jar of salsa. This is fully preference, but I personally do 1/2.
Fill Rotel can 1.5 times with chicken broth and add.
Add all the chicken from 1 rotisserie chicken
Add spices
Stir it all
Add block of cream cheese on top
Put on the lid, set it to low and leave it to cook.
You let this cook for 4 hours and up – the chicken is cooked so it is up to you.
Stir before serving and add your garnishes to the bowls.
I personally serve mine with cornbread on the side and will be sharing my go to cornbread recipe next week here on the blog so keep a lookout for that.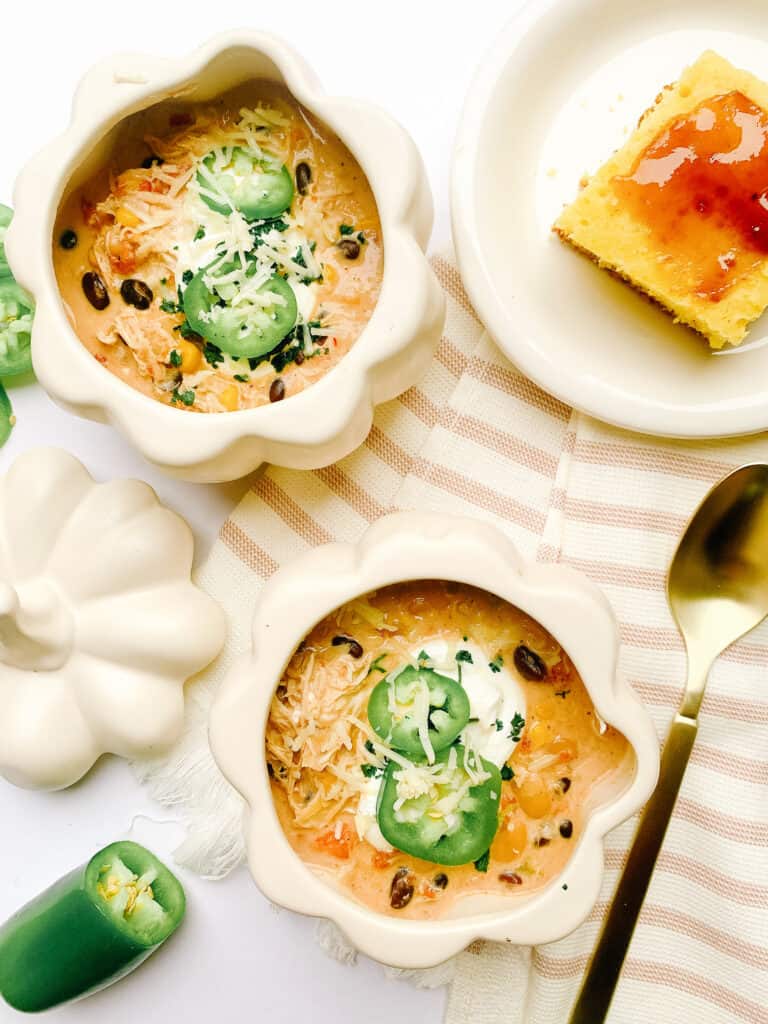 Other Posts You'll Love
Below are a few other posts that I think you will love if this recipe was a hit for you. I haven't blogged many recipes, but have been getting requests so that will become a bit more of a thing here on arinsolangeathome.com.
All Recipes | Freezer Meals | Fall tablescape | Sweet Potato Hash
Pin the Photo Below for Later
If this white chicken chili in the crockpot was a hit for you and your family be sure to pin the photo below to find it again later, and share it with your friends. Follow along on Instagram for more recipes, DIY's, and home decor, and leave any comments you have below!